Displayed in a 900-metre apartment with exhibition space on the fifth floor of Beirut's Residence Marina Bay building on the Dbayeh waterfront is KA Collection (Karabajakian/ Akouri). With his motto, "one can never like something that is unknown to him," Abraham Karabajakian has built a collection of modern and contemporary Lebanese art united under "joy, freedom and harmony."  He does not only want to share his collection with others, but the collector also has the bigger dream to help launch a museum in the Lebanese capital.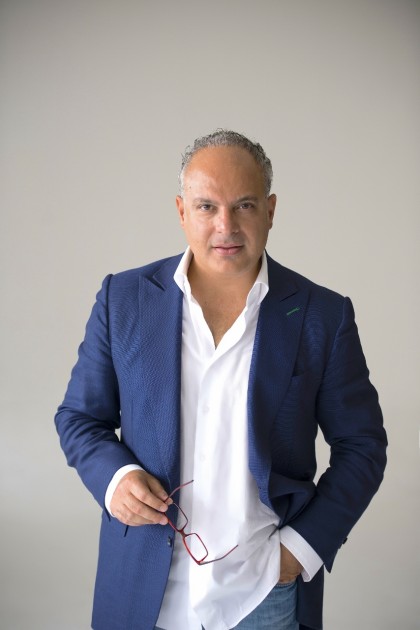 Collecting
What made you want to start collecting art?
Collecting art had not been in my plans when I started acquiring some pieces, I just loved art and being surrounded by paintings and sculptures – it gives me lots of joy.
What is the main motivation behind your collecting?
My motto is "One can never like something that is unknown to him". Consequently, art should be seen, and I believe my mission is to seek for exceptional pieces, try to acquire them in order to share them with more people …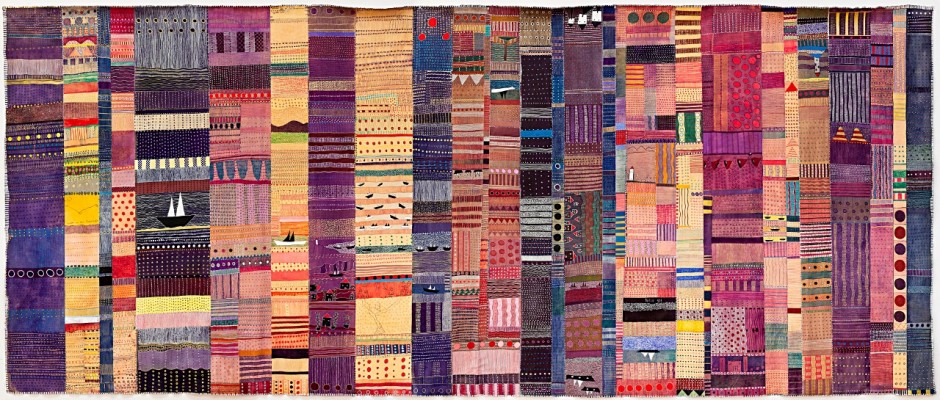 When did you fall in love with a piece of art? What was it?
Every day I fall in love with a different piece; it is all about how many pieces you see! There have been a lot of talented artists over 30,000 years of ART (smile).
What is the focus in your collection? And why do you choose such focus?
The main Focus in KA collection is modern Lebanese artists. First, it is because of my love for Lebanon. Second, it is because a majority of modern artists have passed away and have much fewer advocates since galleries and journalists concentrate more on contemporary living artists … I also cannot hide my admiration of the colors of the 50s and the 60s!
Is there any particular type of art that has consistently attracted you? Or anything that unites all the works you have acquired?
Three words can define and unite the majority of the collection: joy, freedom and harmony! That's why we can find lots of colors, abstraction and smooth communication among the artworks.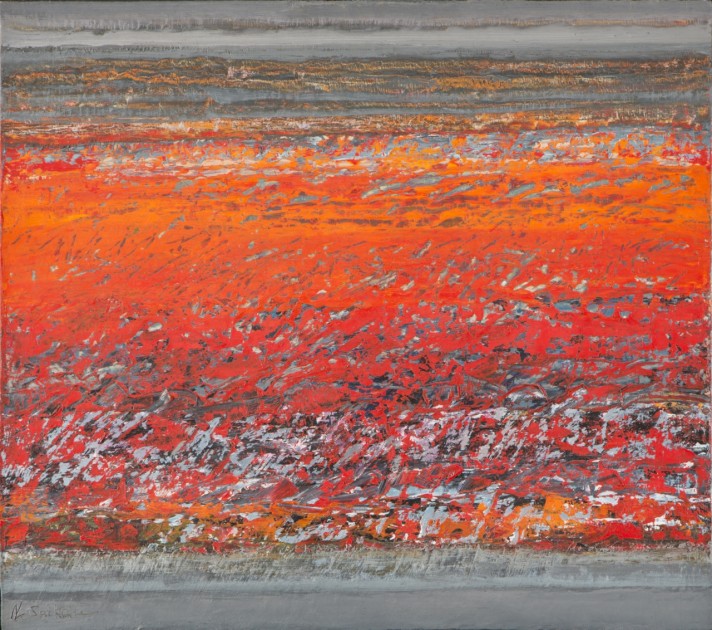 What was the first artwork you purchased? How many artworks do you own?
The first pieces were etchings by Assadour and a lithograph by a Yugoslav painter Kiro Urdin who had done an exhibition in Paris in the mid-90s. The KA collection, which is a joint collection owned by my friend and Partner Roger Akoury and myself, consists of more than 650 pieces in addition to 200 artworks that are in my personal collection.
Where do you display your collection?
Thanks to my partner Roger, we are able to create a private exhibition space in a 900-meter-square apartment completely transformed into a display area at the Marina of Dbayeh Lebanon. More than 100 pieces are displayed at the "KA Modern and Contemporary Art Space''. An equal number of pieces are displayed in my house.
Would you wish to present your art collection publicly? And why?
Yes, definitely. Like I said before, I feel a mission to share art to more people and let more people have the chance to see and appreciate art.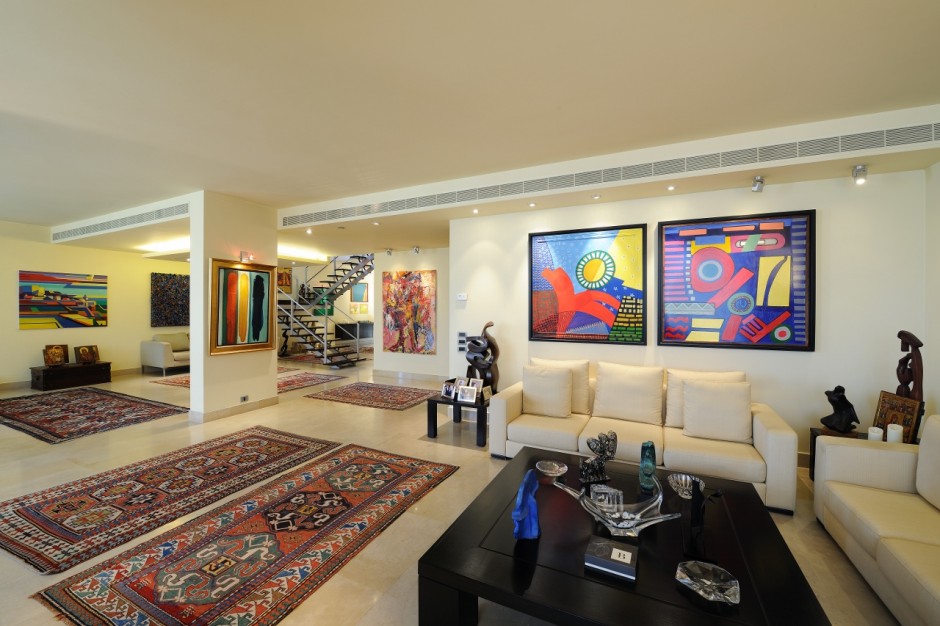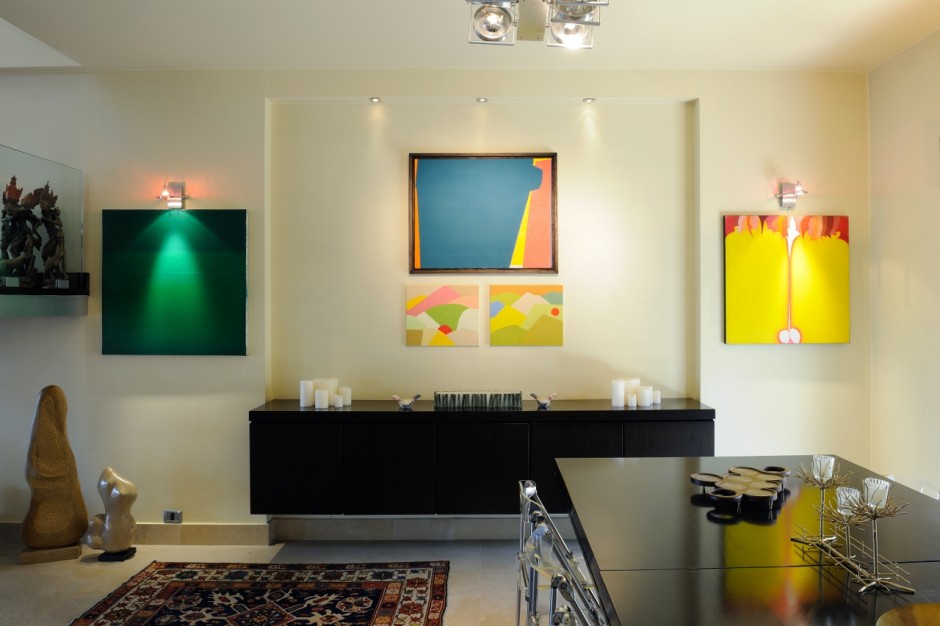 What considerations guide you to make a purchase?
Taste is like muscle! Researching, reading, going to exhibitions, visiting museums, etc. will make us take better decisions. I like buying pieces, but not names! So first, I need to like an artwork, and then I have to be able to afford it (smile).
How important is it for you to meet the artists who created the artwork?
I love meeting artists. In many cases, they have even become close friends of mine; then it makes me understand better their work … But the biggest challenge is to discover the personality and the story of deceased artists through their artworks!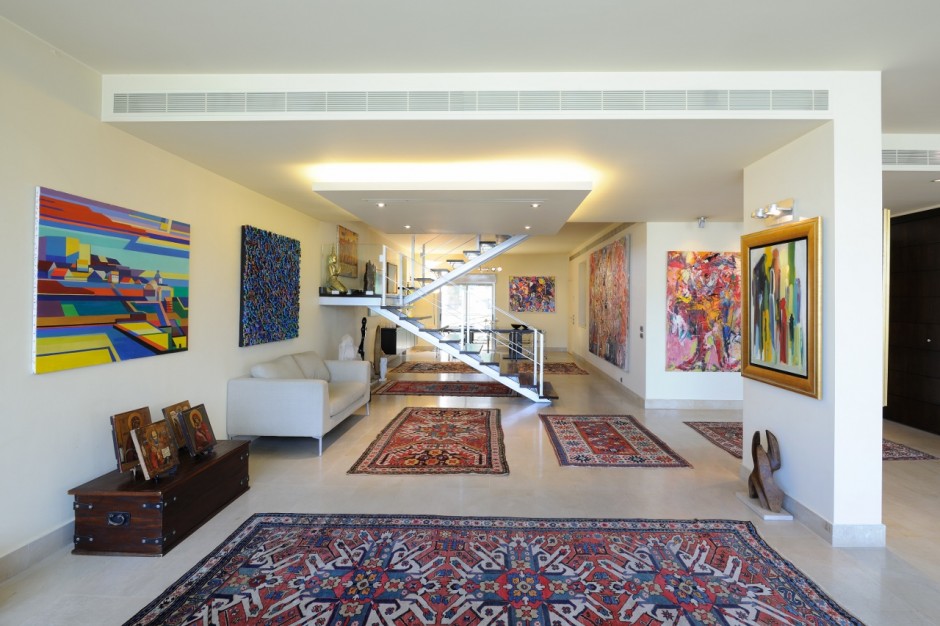 You often spend much time researching and tracking down Lebanese masterpieces around the world. What are the challenges? Any interesting stories to share?
Every purchase is a story, an adventure and a great pleasure! From finding a painting that used to belong to a close family member and was mistakenly sold in an auction, at a private collector's house by pure coincidence, then convincing him to sell it; to tracking a Paul Guiragossian painting, travelling twice to see it through auction houses in Paris, then knowing that the seller has changed his mind! And finally acquiring the same painting after two years in an auction in New York ….(smile)
What is the art collecting scene in Lebanon nowadays?
The will and faith in their own country of many gallerists, collectors, private institutions, curators, auctioneers and art lovers has made the art scene very rich. At the same time, art collecting has grown enormously.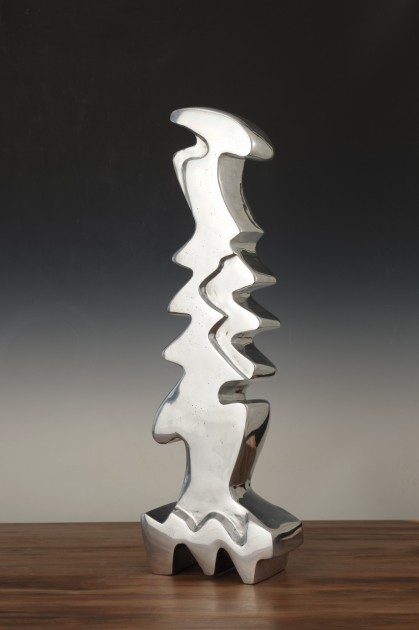 The Art World
What was your happiest moment being involved in art?
The first acquisition that made me have the thousands of happy moments that followed.
Who inspires you in the art world?
Every believer in the power and the importance of art inspires me !
Why has art become important in your life? Is it a passion or an obsession or both?
It is mainly a passion; it is taking me much more time since it became a mission.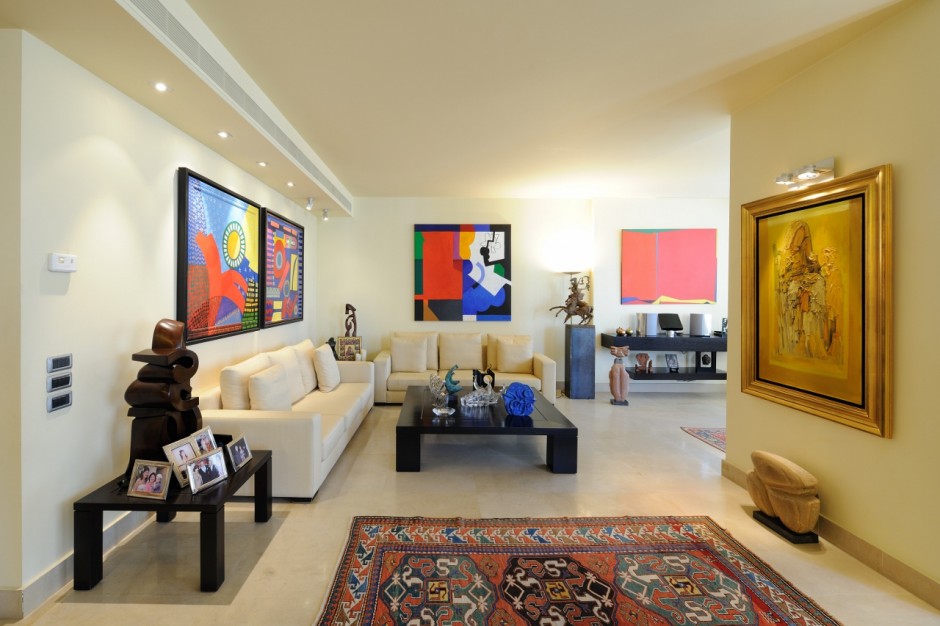 Building a Museum in Beirut
Can you name three Lebanese artists who should be on our watch list?
My favorite artists of the modern period are: Paul guiragossian , Shafic Abboud and Saliba Douaihy .
I would add a lot of great living artists like Hugette Caland, Etel Adnan, Nabil Nahas, Assadour, Ayman Baalbaki and Marwan Sahmarani ….
What is your vision for Lebanese art in the art world nowadays?
It is not about Lebanese art, but more about Lebanese artists and art in Lebanon. Art should unite all the Lebanese, and artists and all art lovers are making and will continue to make Lebanon a better place!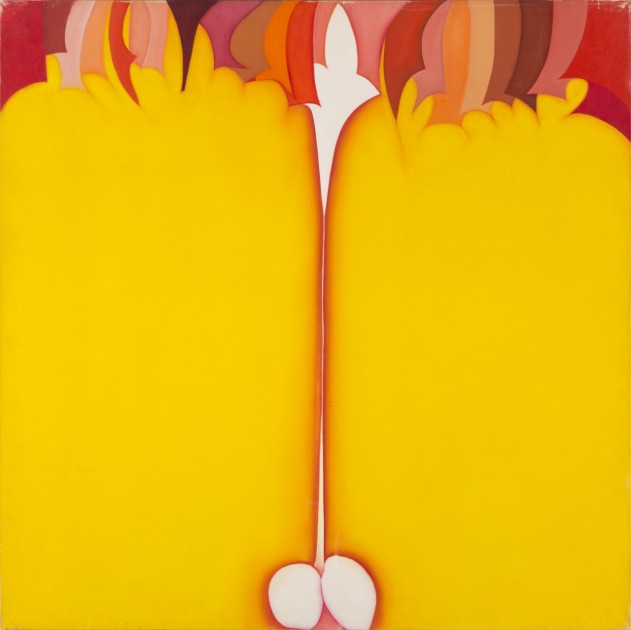 You once curated an exhibition called "Pieces for a Museum" in 2011. Can you share about this exhibition and the experience as a collector also acting as a curator?
The "Pieces for a Museum" exhibition was a project that I did with my friend Tamara Jaber. The message of the exhibition was that we need a museum of modern and contemporary art in Lebanon. I'm definitely not a professional curator, but I love creating exhibitions and changing all the time the hanging in the KA art space or other spaces. The latest exhibition I did was "Men Love Women Artists".
The purpose is always to show Lebanese Art and let people discover new amazing pieces.
You want to open a museum in Lebanon displaying your collection. Why do you think it is important? What do you think is the largest obstacle and how would you overcome that?
I'm part of a foundation that has plans to open a Modern and Contemporary Art Museum in Beirut; my partner and I have decided to lend the KA collection for 15 years.
The wisdom, willingness and generosity of all the amazing people who are part of this project will hopefully overcome all the obstacles and difficulties.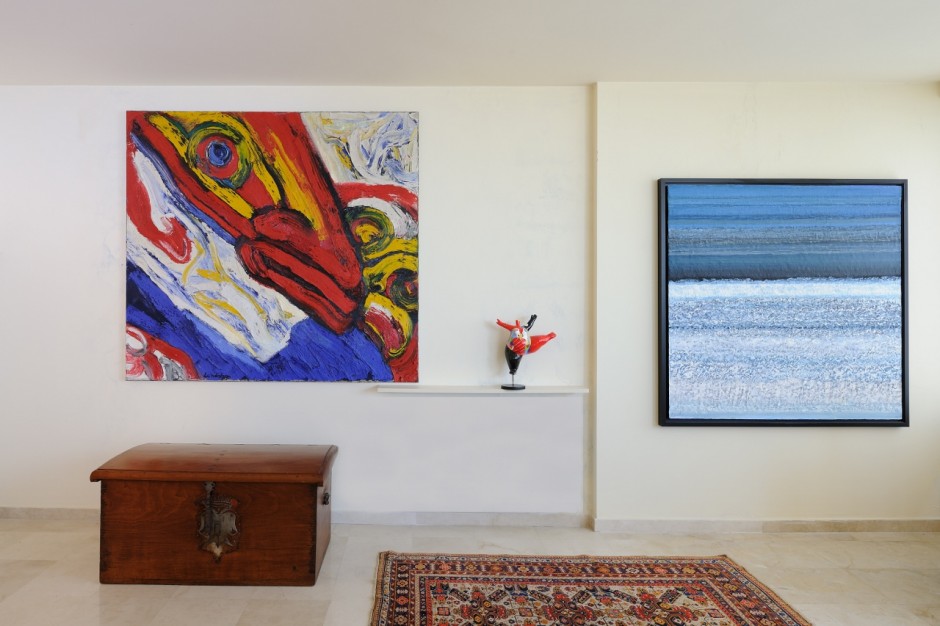 Related: KA Collection
Instagram: @abrahamkarabajakian
A selection of artists Abraham collects:
Huguette Caland
Nadia Saikali
Salwa Raouda Choukair
Paul Guiragossian
Marwan Sahmarani
Ricko Leung