It is more than just an LGBTQ-themed museum exhibition— Patrick Sun has built an art collection that focuses on gay Asian art. In 2014, he founded the Sunpride Foundation to raise awareness and earn respect for the LGBTQ community through art.
Patrick Sun has shared with LARRY'S LIST about the precious moment when he brought his father to LGBTQ-themed show at Museum of Contemporary Art (MOCA) Taipei, the work collaboration by Keith Haring and Tseng Kwong Chi work that is hung above his desk, the advantages of collecting gay Asian art, as well as how art can help promoting equal rights for the LGBTQ community in Asia.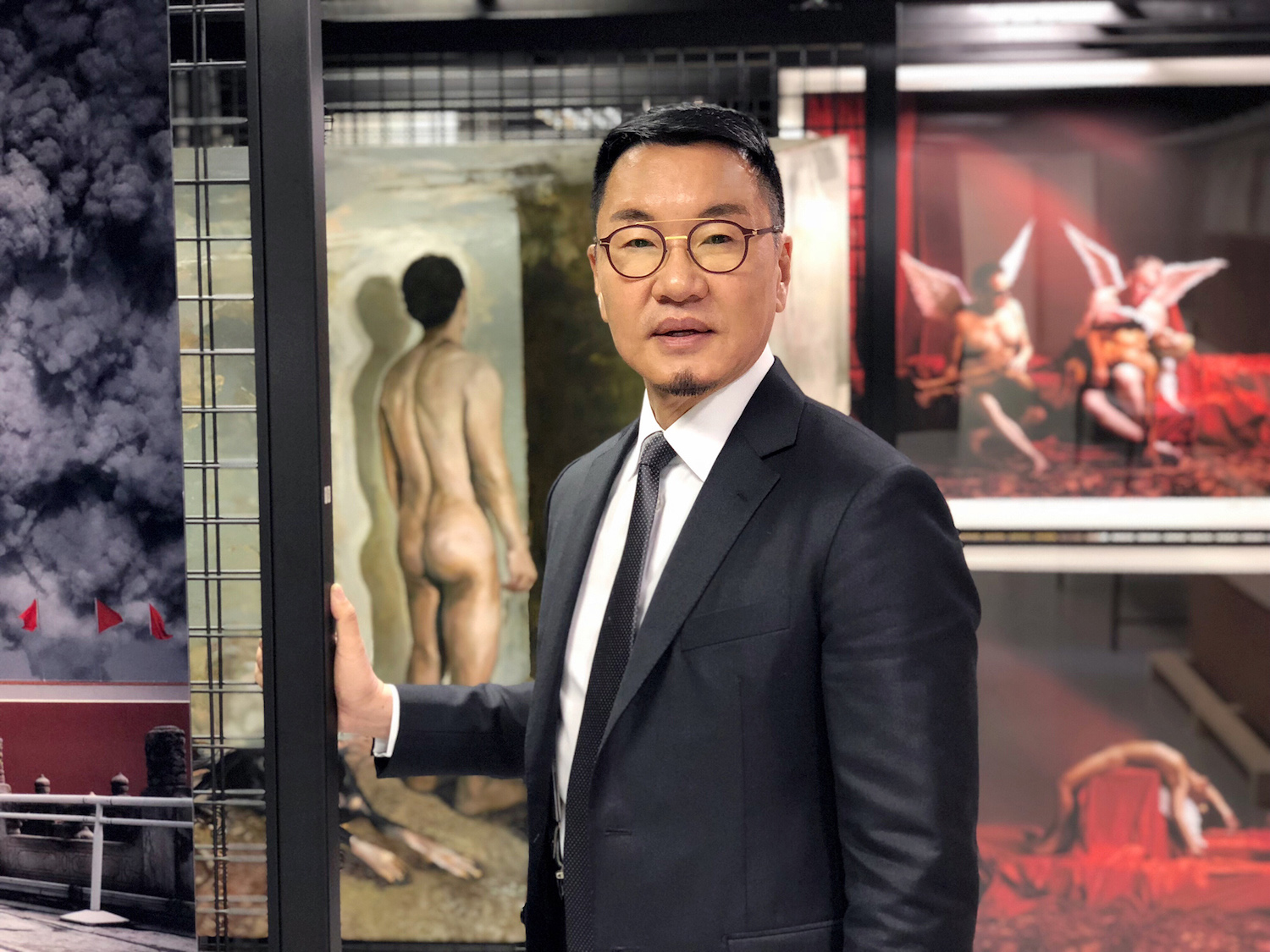 Collecting
What made you want to start collecting art? What is the main motivation behind your collecting?
I first started collecting some thirty years ago—my first project was on Hollywood Road in Hong Kong, an area famous for curios and antiques. Due to work, I frequently visited that area and became acquainted with shops there, and discovered my interest in traditional Chinese paintings. In 2014, I founded the Sunpride Foundation to raise awareness and earn respect for the LGBTQ community through art, and shifted my focus to gay Asian art.
When did you fall in love with a piece of art? What was it?
I collect for the purpose of exhibiting, so it is less personal in the collection process.  But I can tell you one particular piece I bought from an auction house that I just had to get at that time— a painting by Taiwanese artist Xi De-Jin of a young girl in a red skirt. The reason was we were preparing for our show at MOCA Taipei that year, and this was the anchor piece that lent weight to the exhibition as well as highlight our focus on gender issues.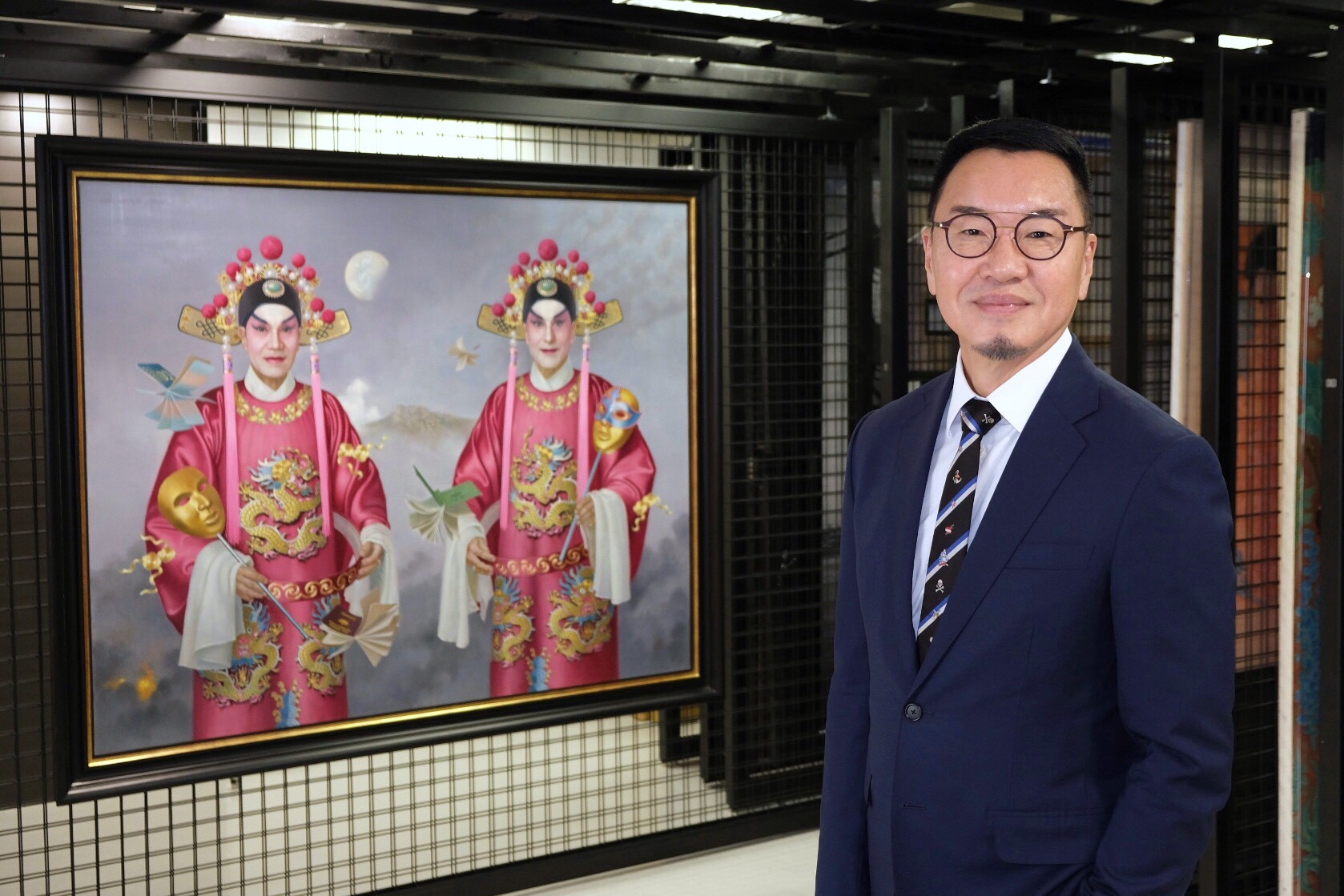 When and how did you decide to focus your collection on Asian art about homosexuality?
In 2014, I founded the Sunpride Foundation to raise awareness and earn respect for the LGBTQ community through art, and shifted my focus to gay Asian art. When I say 'Gay Art', it primarily falls into two categories: work by artists who identify with the LGBTQ community, or works by straight artists that has a gay theme. And we try to collect different mediums— from video to performance to sculptures etc. to echo diversity in gender acceptance.
Any interesting stories while collecting art in this theme?
My father who was 99 years old then in 2017, came to see our exhibition at MOCA Taipei. Being an old-fashioned Chinese family, we never talked about my sexuality in the family, so when he heard about the show and offered to pay it a visit, I was quite taken by surprise. I procrastinated till the last day and brought him to Taipei to see the exhibition. After giving him a guided tour, I asked him what he thought about the show, and he said, "Son, I honestly don't understand art, but the fact that you are doing this in a public museum and seem to have so much support from government, press and your friends must mean you are doing something right."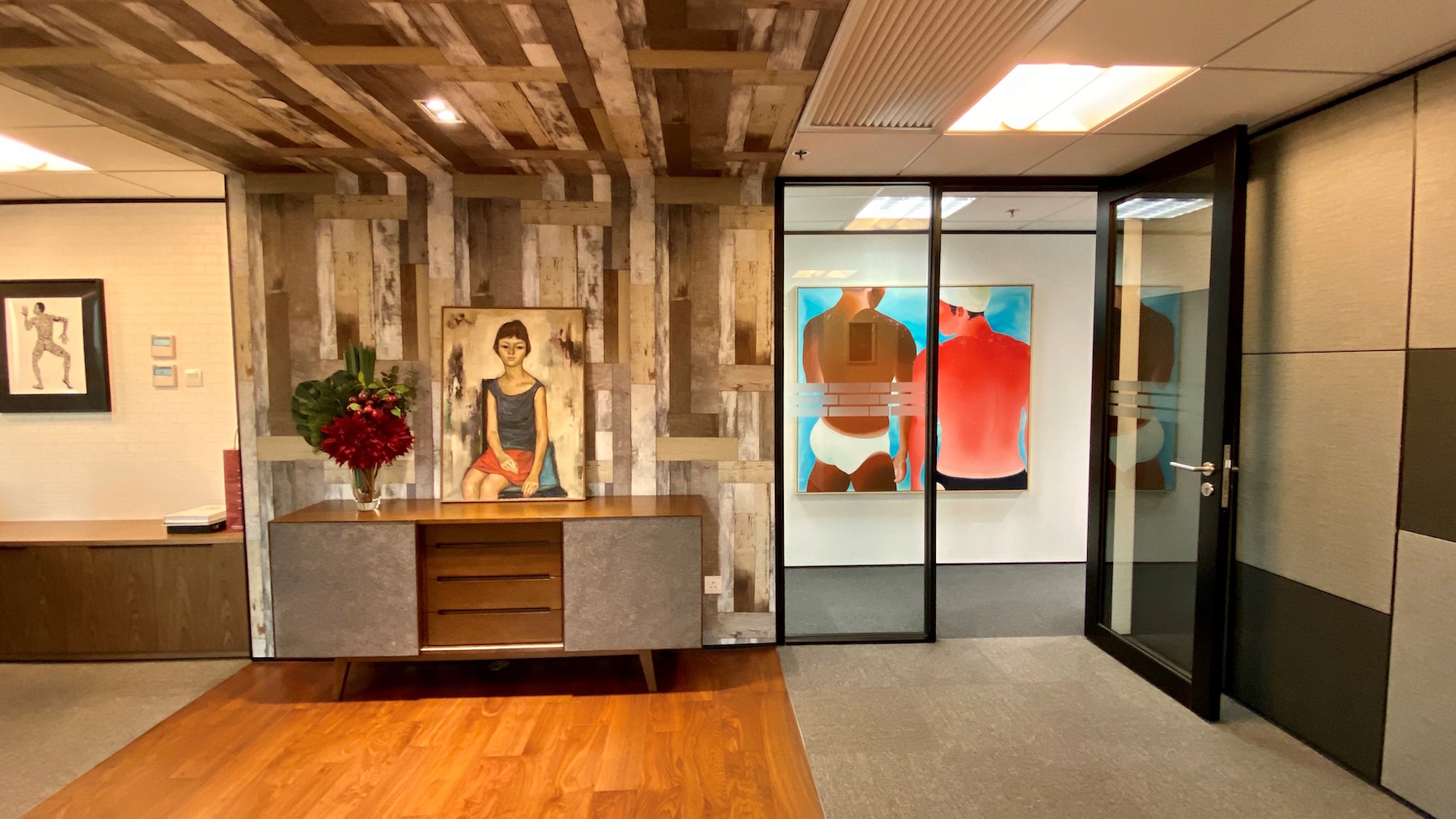 You mentioned before in an interview that collecting gay Asian art also has advantages you had never imagined. Can you tell us more about that?
Many people share my view that this is a good cause. Gallerists, curators, artists and friends, gay or straight, would introduce people, give advice and open doors for me and my colleagues to help in the collection as well as exhibitions.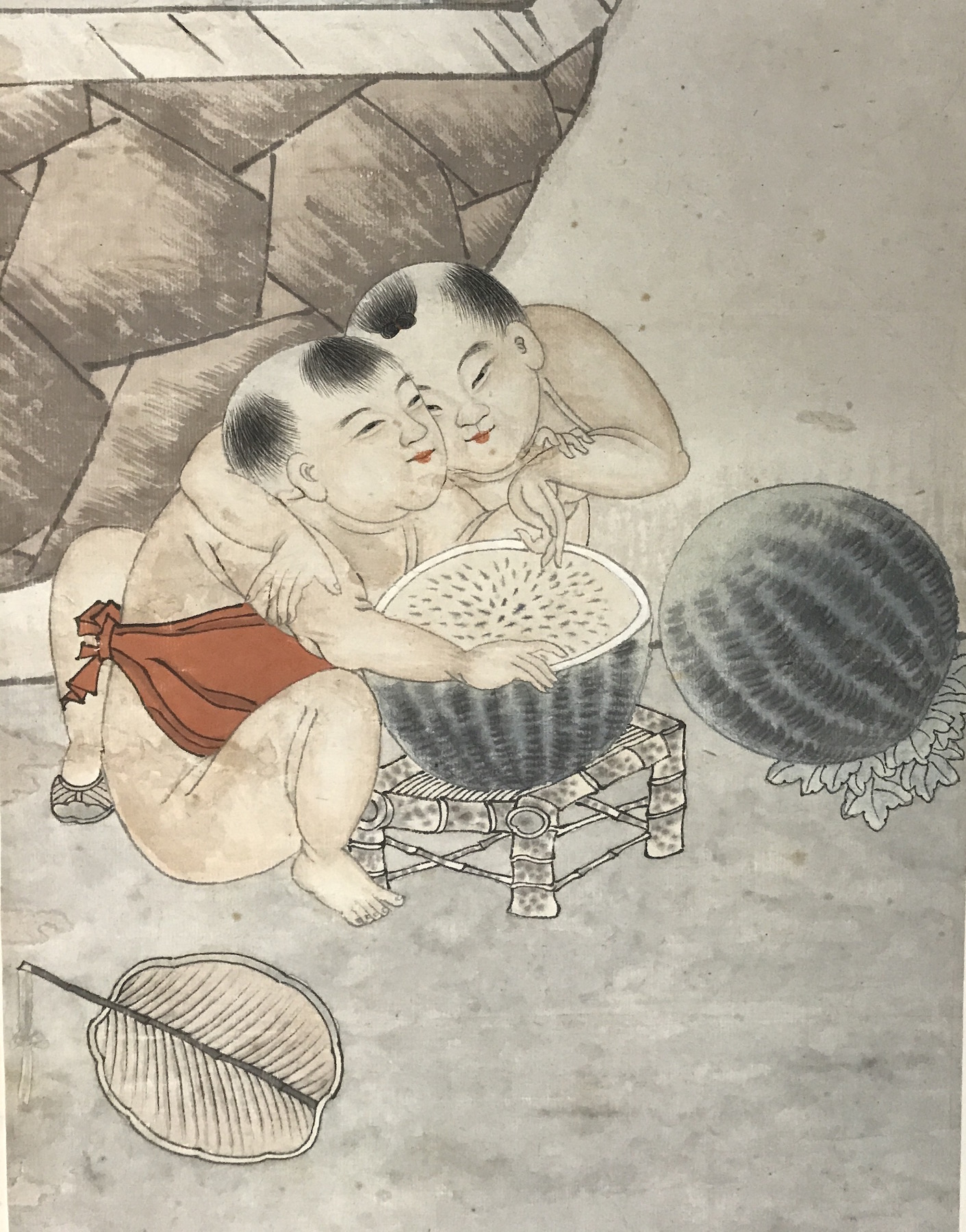 What were the first and the latest artworks you purchased?
When I first started collecting, it was traditional Chinese paintings. There is one work in particular that perhaps portended my subsequent interest in gay Asian art: a painting by Qian Hui'An of two boys eating a stolen watermelon. The subject of brotherly love and forbidden fruit resonates with my subsequent collections.
My latest acquisition is a commissioned work by Arin Runjang—a 5-channel video installation titled "Welcome to My World – Tee", currently on view at "Spectrosynthesis-II" at Bangkok Art and Culture Centre.
How many artworks do you own? Where do you display your collection?
When I last counted, which was before our show opened in Taipei in 2017, we had over 200 pieces of works by 90 artists from Asia spanning from India to Japan. All of the works in the collection are works created by artists in the LGBTQ community or works related to the theme of LGBTQ.
Many of the works in our collection have been shown through the "Spectrosynthesis" touring exhibition – first in MOCA Taipei in 2017, and now ongoing at Bangkok Art and Culture Centre.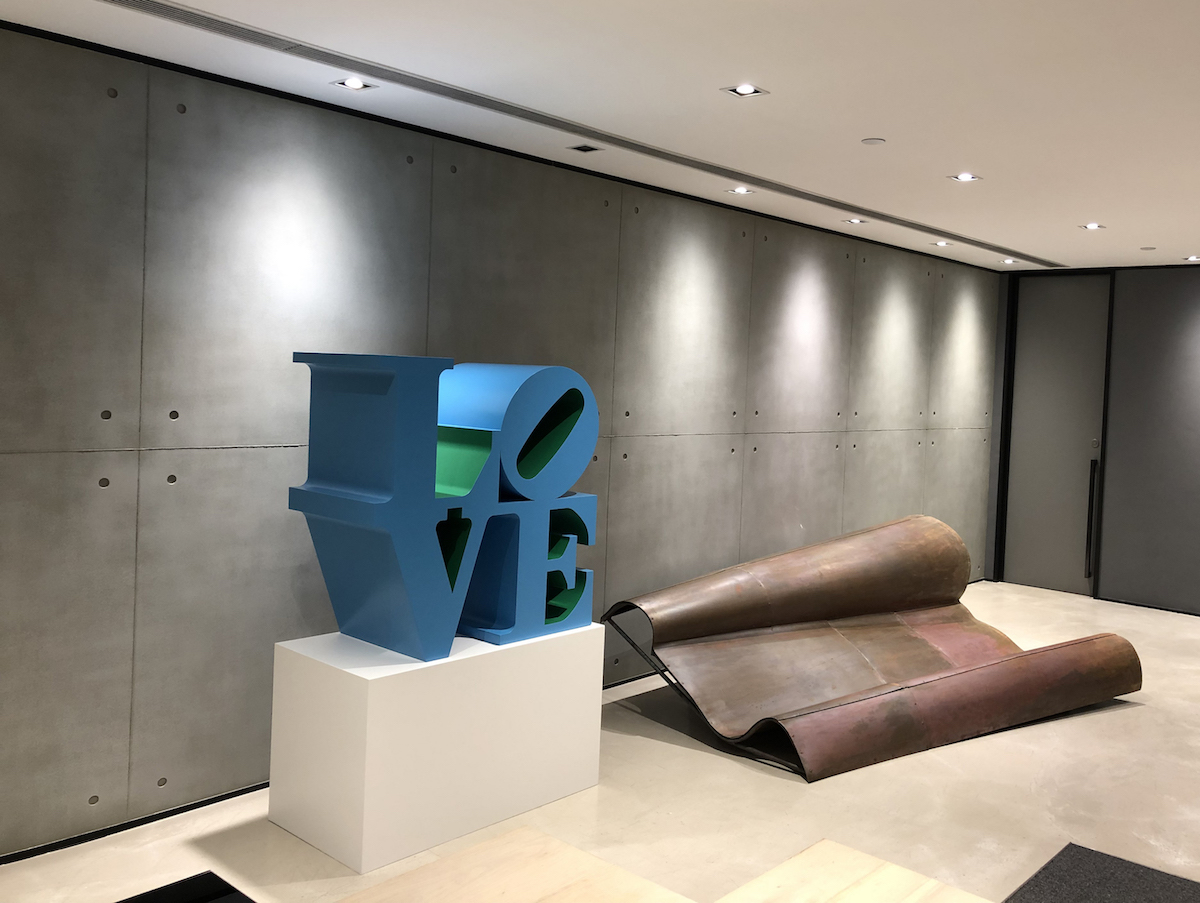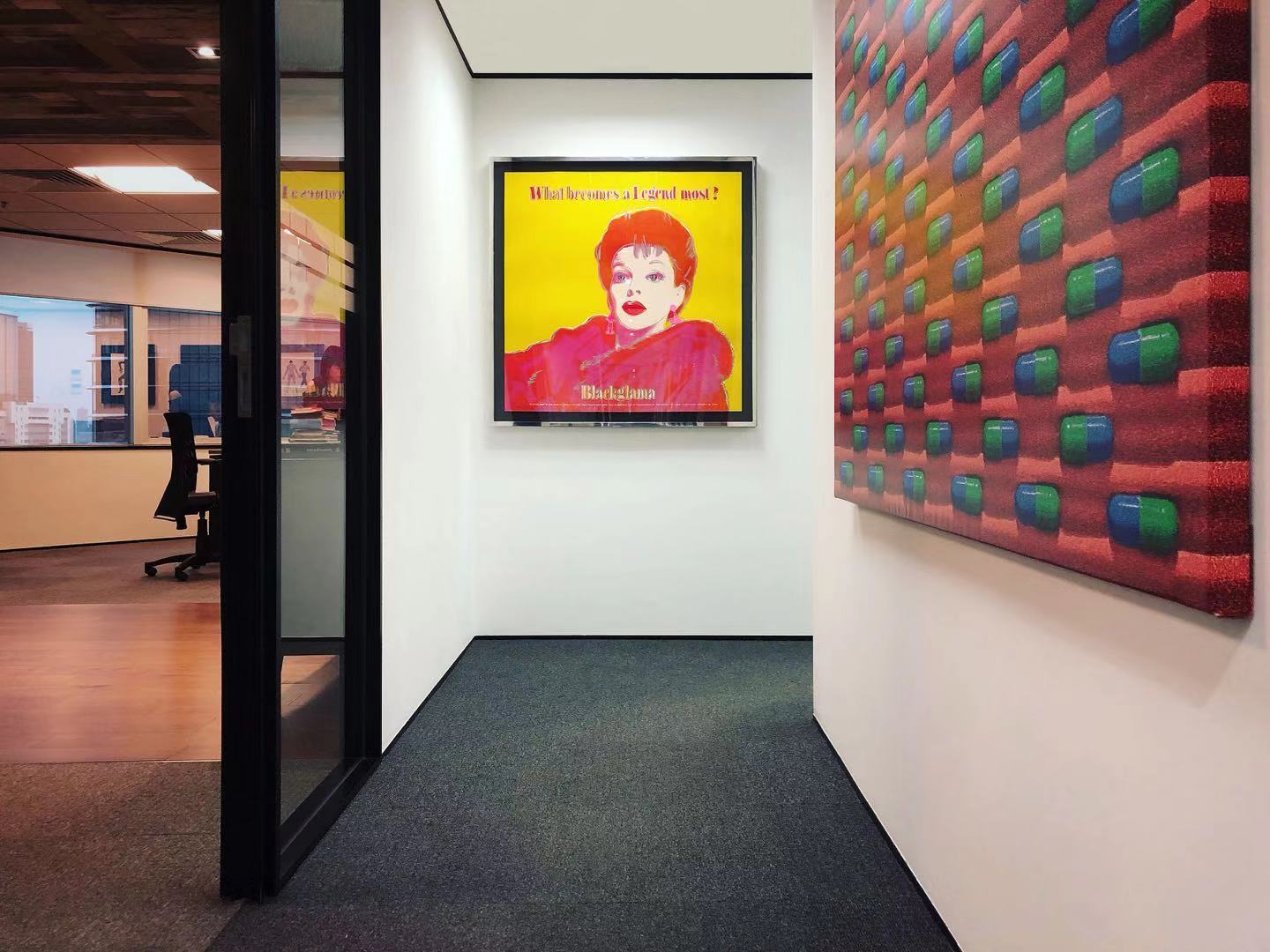 What considerations guide you to make a purchase?
How the work would fit in an eventual exhibition. This is a useful guideline as it helps me visualize the scale and subject matter in making a decision.
What is your most treasured artwork?
As mentioned before, there is less of a personal factor in the collection process so you could say I love them all equally. But the one hanging above my desk is a work collaboration by Keith Haring and Tseng Kwong Chi.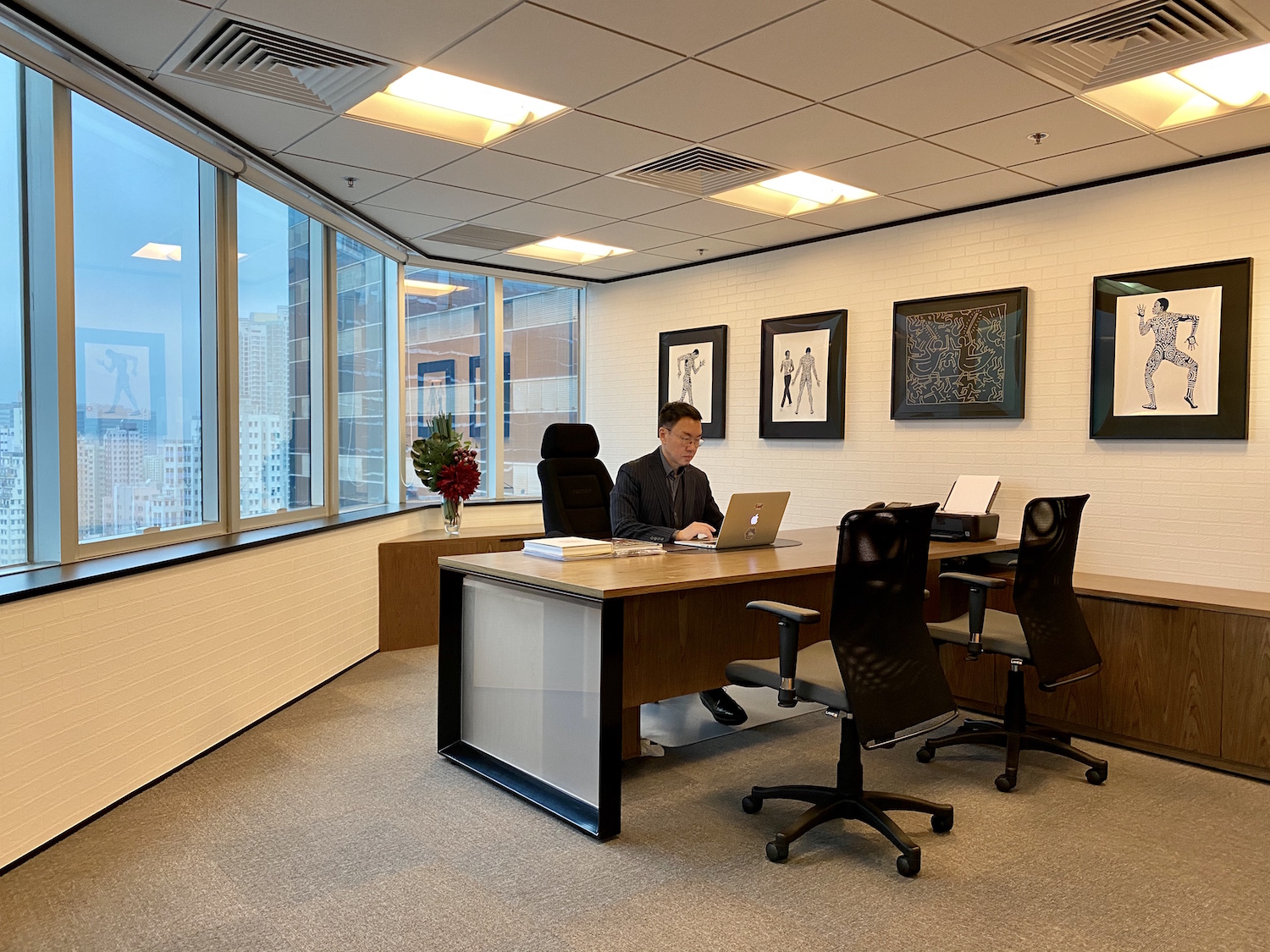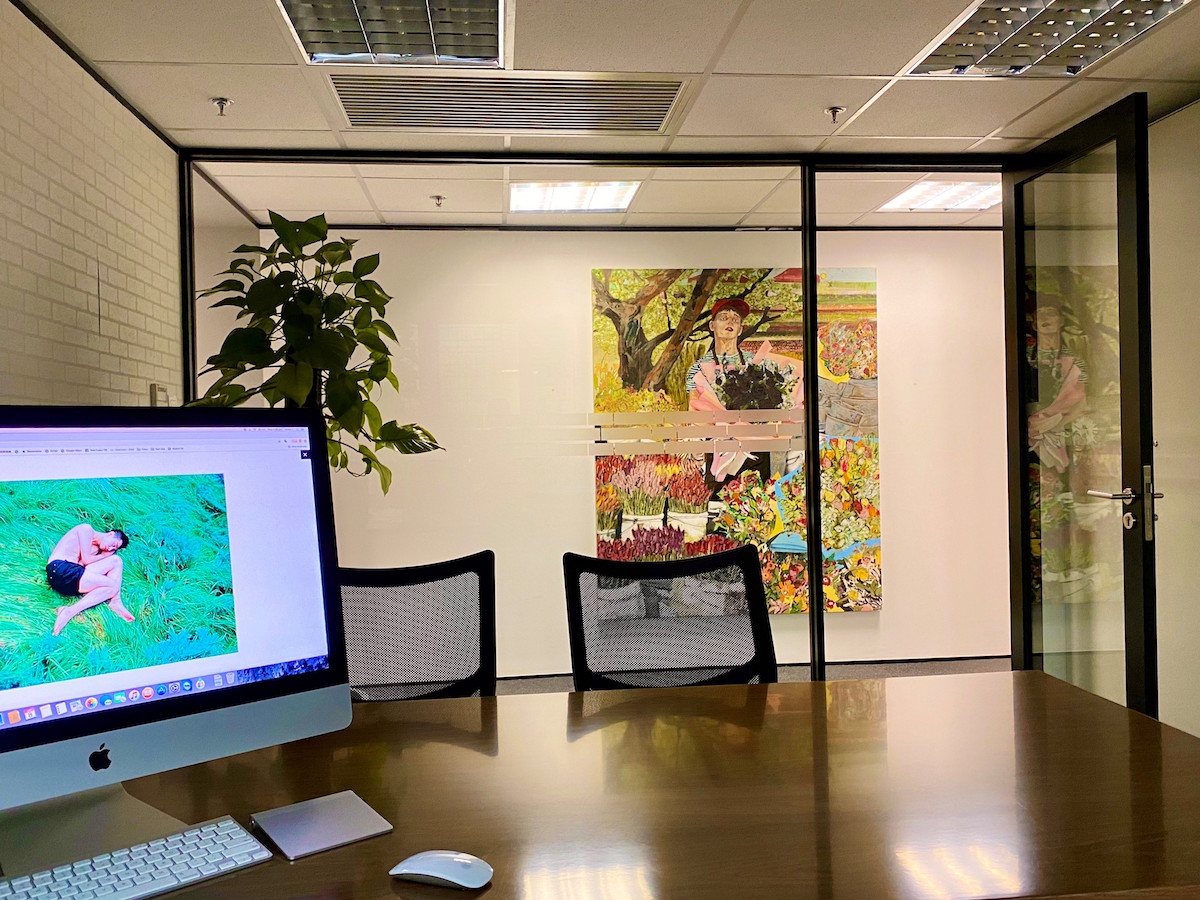 How important is it for you to meet the artists who created the artwork?
Very important.  Besides understanding more about their concepts and creation process, I need to make sure they are comfortable in having their works exhibited in a gay-themed exhibition.  I do not want to "out" anyone inadvertently or cause them any inconvenience socially or domestically.
What is your advice to young and fresh collectors who are interested in LGBTQ topics?
LGBTQ art is not limited to homo-erotica. There are many issues one could explore, e.g. gender, discrimination, stigmatization, marriage, parenthood etc. as well as issues that are relatable to both straight and gay people, such as aging, loneliness, love, etc.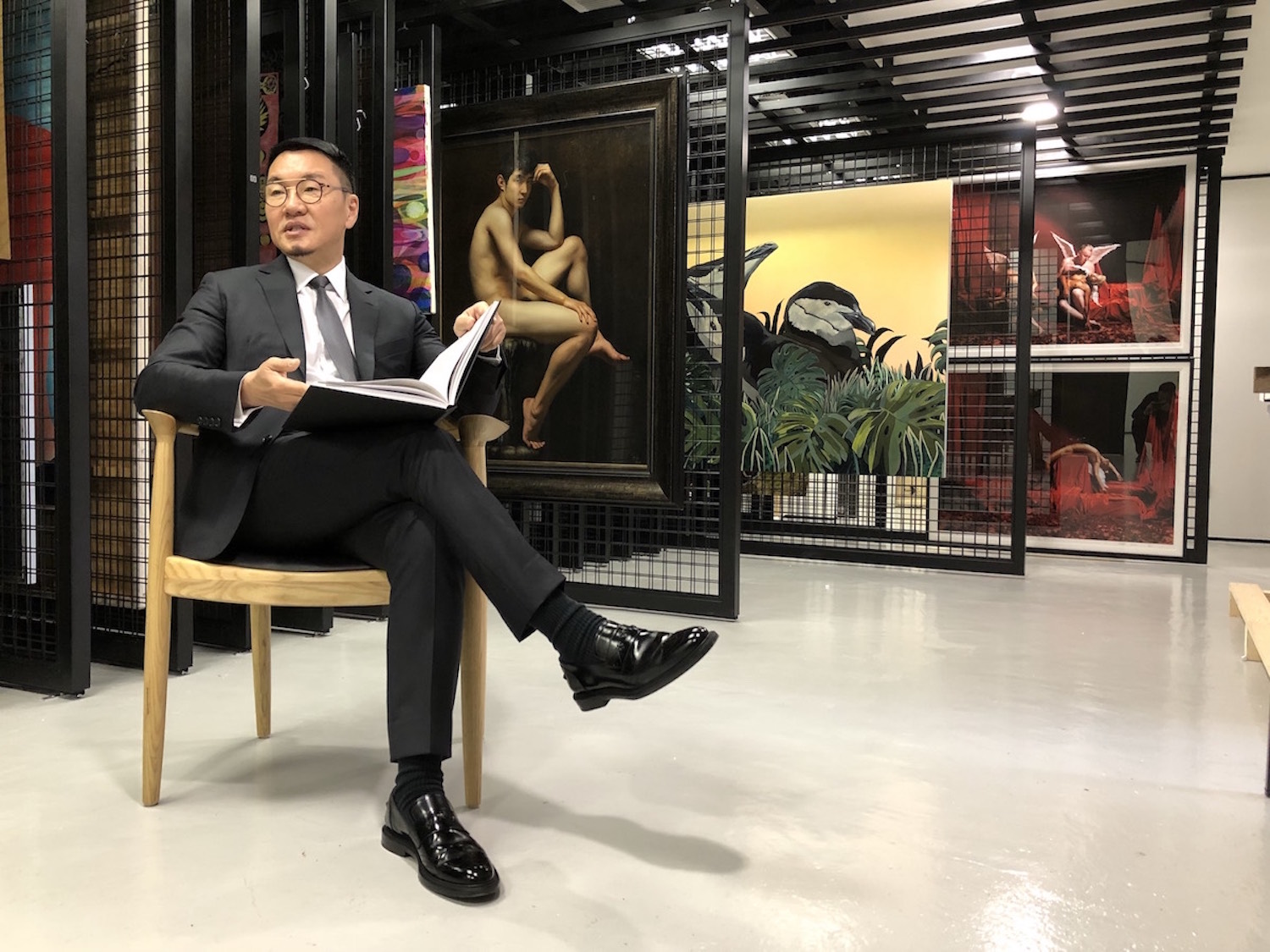 The Art World
What was your happiest moment being involved in art?
22 November 2019 at 10pm: our current show at Bangkok Art and Culture Centre just opened, I was hosting an after party for artists and friends, and people would come up to thank me! This was both humbling and gratifying as I should have been the one thanking them for their participation and support – but it also meant the show was a success, so I could finally relax and be happy!
Who inspires you the most in the art world?
Mr. Uli Sigg. He was the one who helped kick-start my collection and gave me invaluable advice from the very beginning, from seeking an art advisor and recommending artists, to advising me to look at hosting exhibitions as goals.
Can you name three artists whose work is related to LGBTQ theme and who should be on our radar?
None of the artists focus on LGBTQ work exclusively so it would not be right to categorize them this way, but I can name 3 artists in our collection (not all of them gay): Jes FAN, SU Hui-Yu, and Jakkai SIRIBUTR who are gaining more and more international attention.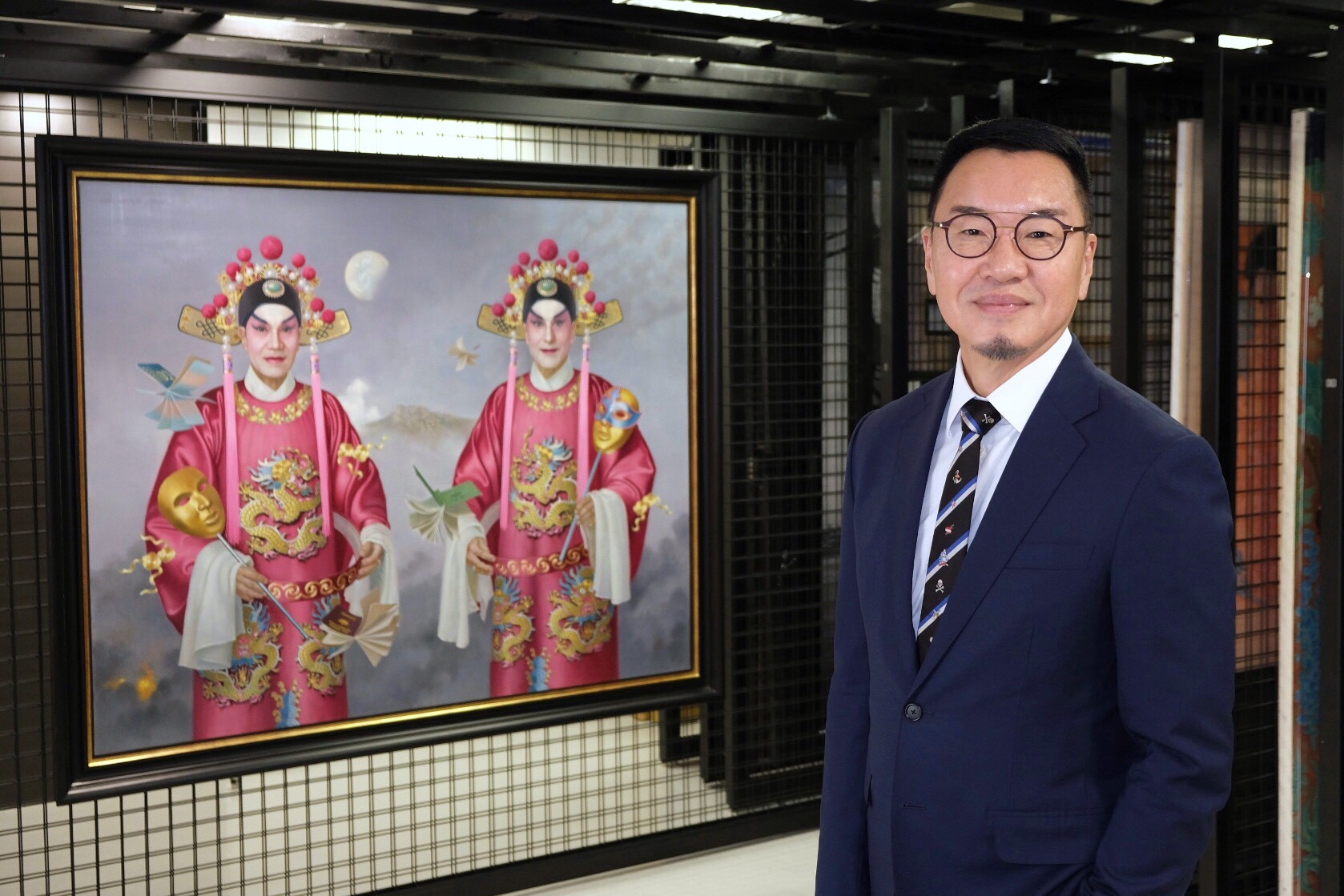 SUNPRIDE FOUNDATION
What is your motivation behind establishing Sunpride Foundation?
Sunpride Foundation was founded with a goal to raise awareness and earn respect for the LGBTQ community through art.
Why did you choose this location / city for opening the Foundation?
Hong Kong is my home – I was born and raised here – so it is only natural for me to set up my foundation here.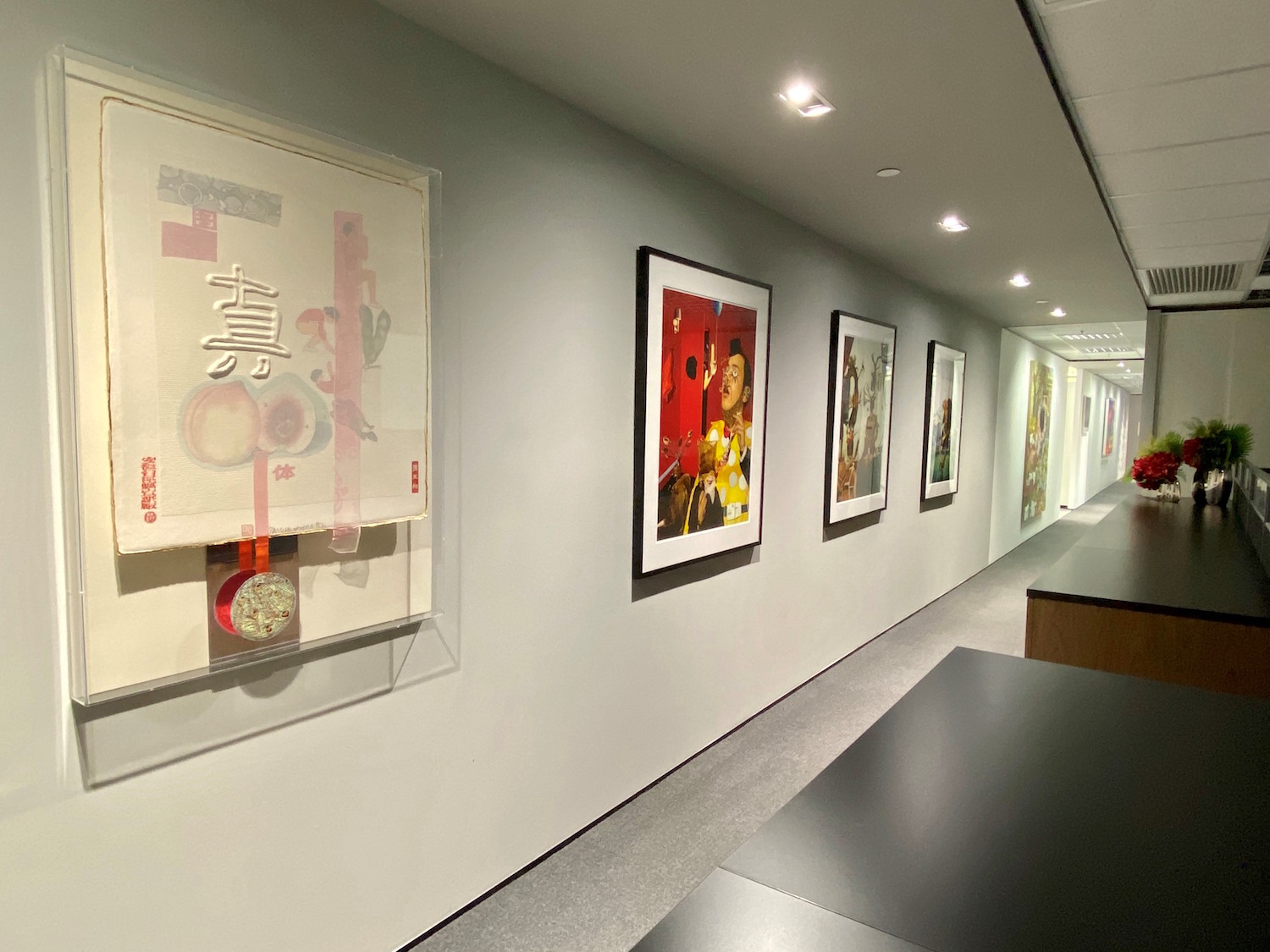 How do you think art can help promoting equal rights for the LGBTQ community in Hong Kong and Taipei?
I see art as a way to support the LGBTQ community, parallel to my support for other gay rights movements, not just in Hong Kong and Taipei but in Asia and beyond. By exhibiting and preserving art that speak to the society at large, Sunpride Foundation aims to foster a stronger, healthier and more equitable world for LGBT people and their allies.
Your Foundation organized the first LGBTQ-themed museum exhibition in Asia at Taipei's MOCA, entitled "Spectrosynthesis — Asian LGBTQ Issues and Art Now", how was the experience?
The exhibition was very well received and saw a record-breaking attendance in the opening week and through its two-month run.
'Spectrosynthesis II – Exposure of Tolerance: LGBTQ in Southeast Asia' is currently ongoing in Bangkok at the Bangkok Art and Culture Centre, and likewise, the high attendance and good feedback thus far have been encouraging.
We hope that the series of Spectrosynthesis exhibitions, by virtue of its divergent values and ideas, will continue to create a rippling effect on other Asian societies in terms of values, ideas and thoughts on the issues of gender diversity, and will contribute to the promotion of equal rights across all communities worldwide.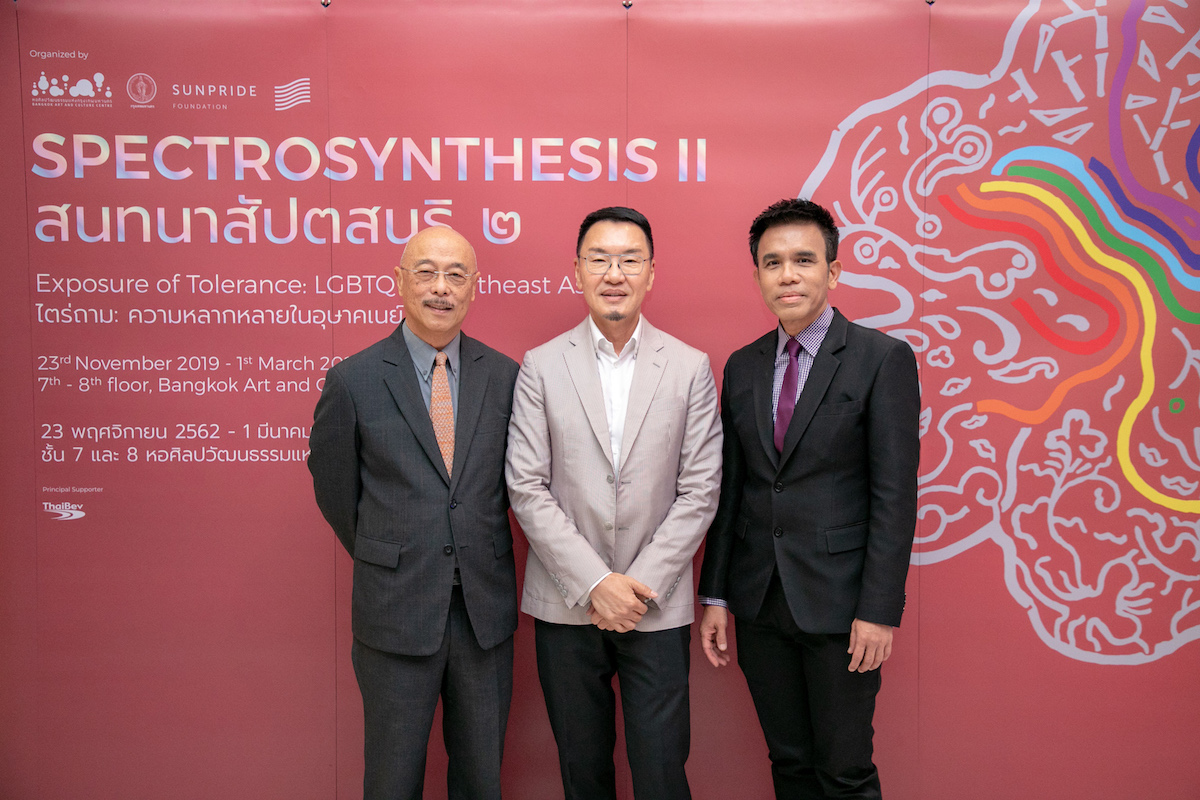 Related: Sunpride Foundation
A selection of artists Patrick collects:
Arin Rungjang
Christopher Cheung
Jakkai Siributr
Qian Hui'An
Su Hui-Yu