Expect mind-blowing, complex dialogue between art and political ideas if you ever get to see CollezioneTaurisano, established by Francesco Taurisano, with Théo-Mario Coppola as director and curator of the collection. Already their motto for CollezioneTaurisano can tell— 'Man is condemned to be free; because once thrown into the world, he is responsible for everything he does' (Jean-Paul Sartre). Social and activist art practices are the focus of the collection.
Larry's List had in-depth conversation with the duo, who talked about their recent purchases of pieces by Brazilian group of artists Opavivarà!, how to affirm CollezioneTaurisano's identity between the private collection and the foundation, how their collection interacts with Naples' art scene and their upcoming international curatorial program, Utopia Bay.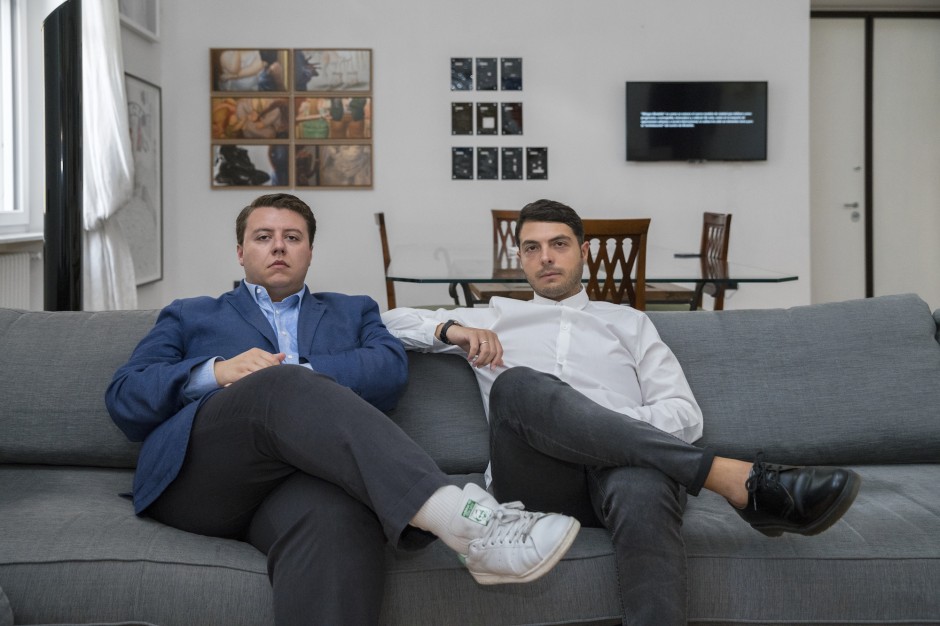 Collecting
What made you want to start collecting art? What is the main motivation behind your collecting?
Francesco Taurisano (F): Thanks to my parents, I have the great chance to be sensitive to art since my very young age. My father, with whom I have always been in conversation about art movements in Italy, started himself to collect in the 70s. This legacy is crucial to me. After many years, now my interest is focused on social and activist art practices. I have also a great concern in more personal approaches. By using anecdotes, details from everyday life, the political involvement is brought through individual and peculiar decisions, which can be identified at the margin as practices of resistance. Now the collection has reached a new step. Since last year, Théo-Mario Coppola is the director and curator of the collection. Together, we work on long-term projects and cultural sponsorship to international events, and he is also in charge of the line of the collection.
Théo-Mario Coppola (T):The first question I ask myself is always about the methodology and the way an individual, or any kind of human enterprise, is able or not to take a strong position towards reality. This is the reason why our motto for CollezioneTaurisano is Jean-Paul Sartre's sentence 'Man is condemned to be free; because once thrown into the world, he is responsible for everything he does'. As director of the collection, I consider both how we can adapt our agenda to the artists and how to consider their way of making art through specific issues: new domination at times of post-capitalism, defense of communities at the margin, concrete utopias and everyday life involvement. CollezioneTaurisano is a platform, affirming its identity between the private collection and the foundation, having satellite presences in Italy and abroad. For both Francesco and me, this is the future of collecting. On one hand, the collection grows. On the other hand, we support residencies, biennials, and international events. We strongly believe the collection of the future is an enlarged community. Of late years, I've been working on the concept of 'affective communities', a polyphonic reality bounding personal narratives and intimate occurrences to shared values, experiences through exhibitions and projects.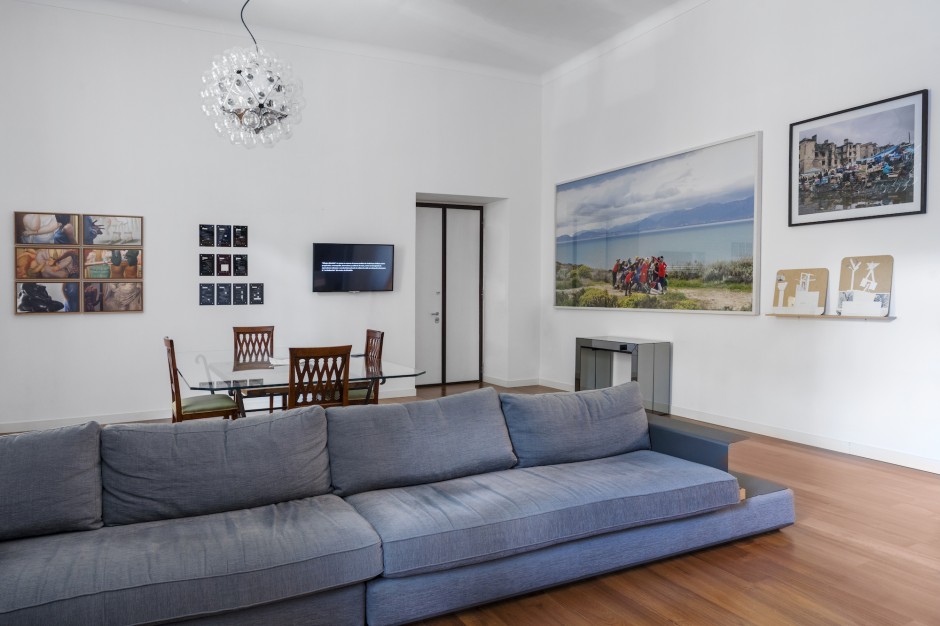 What is your focus and personal methodology regarding the artists in your collection?
F: The central issue is more about the hierarchy of values and norms in society and our choices within this system, according to Jacques Rancière's researches about interrelation between art and politics[1]. The most important to us is the commitment and the personal methodology through which the artists consider the others by collaborating with groups of people, communities.
T: I would also add that community is not only a theme but also a methodology of work. Besides, there is no opposition between aesthetic and ethic; the two words share the same roots, the same etymology. Jonas Staal turns it into another way with his text 'Ideology = Form' and this is precisely what we believe in[2]. There is not our everyday life on one side and the art world on the other side. Both Francesco and I go to demonstrations, sign petitions, support activist movements.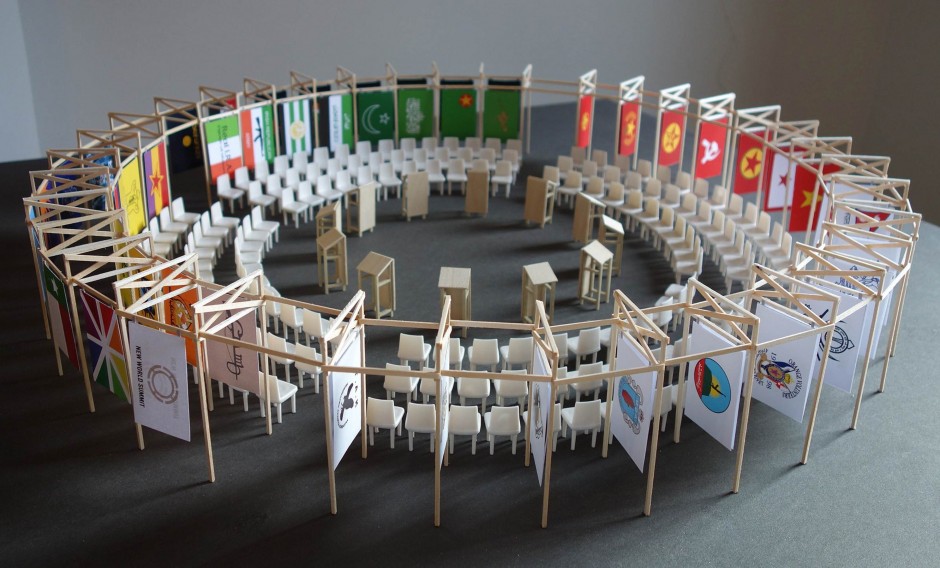 It is stated that your collection distinguishes itself by its 'defence of humanist values' and 'aesthetics of resistance'. Can you elaborate on this?
F: The collection has a predilection for political art from criticism to activism and going through personal forms of involvement. We need to know what we stand for and against, to define who we are in life and in the art world. Some aesthetics and art movements promote a state of mind related to a cynical approach, concentrating on exclusive personal issues, on the fascination for the reign of technologies and new medias. And also, the contentment for dystopia. I believe in a more critical approach considering the limits of our times and the involvement we can bring in our everyday life to improve the way we relate to one each other. Social changes are related to communities and inclusive group adventures. Togetherness is not only a theory, or a smart way of saying this state of mind. It is the reality we can stimulate against cynicism.
T: Humanism is the core of our approach as a collection. Our purpose is firstly based on principles and values, critical thoughts before strategy. We are here to help and encourage artists who need to research, to explore, to exchange opinions and go further in their approach. Concerning what could be easily called 'aesthetics of resistance', a book was recently published by Lars Müller Publishers with the Zurich University of the Arts and the Museum für Gestaltung Zürich[3], in the legacy of May 68. It considers the history of protest movements through their stories (and anecdotes), their aesthetics (and values) and their various strategies, each time in specific cultural and social contexts. There are two main ideas to consider in the aesthetics of protest: resistance needs groups and enlarged communities to fulfill its goals[4]. We strongly believe in the complex dialogue between art and political ideas[5].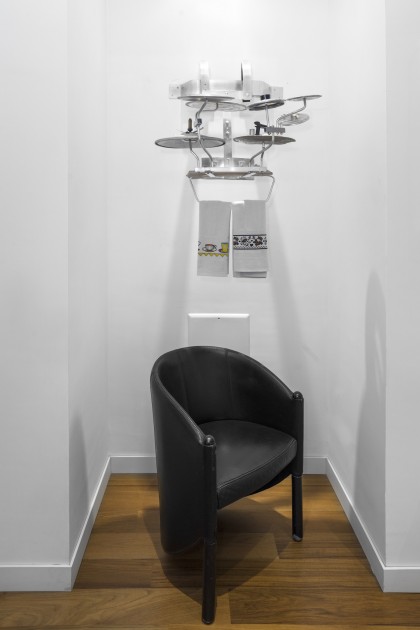 Could you give some examples of works in the collection related to the sociopolitical dimension?
F: Among the recent works which entered the collection this year, we have been considering among others the Brazilian art scene and bought two pieces by Brazilian group of artists Opavivarà! (Batuque Na Cozinha, 2018 and Pinga Nimim!, 2018) from A Gentil Carioca (Rio) and three pieces by Clara Ianni (Clara Ianni, From figurativism to abstractionism, 2017, Clara Ianni, Punhos, 2017, Clara Ianni, Tractatus, 2016) from Vermelho (São Paulo). In a few words, OPAVIVARÁ! is an art collective from Rio de Janeiro, which develops actions in public spaces of the city, galleries and cultural institutions, proposing inversions in the use of urban space, through the creation of relational devices that provide collective experiences. Since its creation in 2005, the group has been actively participating in the Brazilian contemporary art scene and had a solo exhibition at Tate Liverpool recently.
T: The works by Clara Ianni explore the relationship between art and politics. Her practice relies on the use of different medias such as videos, sculpture, installation and texts. The family from which Clara Ianni came was politically affirmed in Brazil: her grandfather translated Marx's work into Portuguese, her parents pledged themselves against the dictatorship, and she herself rubbed shoulders with anarchist groups. Her work questions both the dictatorship that prevailed in his country between the 1960s and the 1980s, and neo-liberalism more recently. It thus commits itself against the notion of progress which, for it, constitutes a 'systematic denial of the past', and fights the practices of occultation in particular stemming from the dictatorship.
T: Following the artists through the years is crucial. Among the pieces we have in the collection by Adelita Husni-Bey, there is 'The Reading' which was exhibited at the Italian Pavilion last year, curated by Cecilia Alemani and The Councilmade on purpose at the occasion of New Photography at MoMA this year. Sometimes, the works echo the identity of the collection itself. There is a piece by Vittorio Brodmann mentioned by Francesco which was made during his stay in Naples. The use of gold in the background refers to a moment of joy and excitement related to the Baroque life in Naples. This kind of anecdotes give the collection a lively aspect.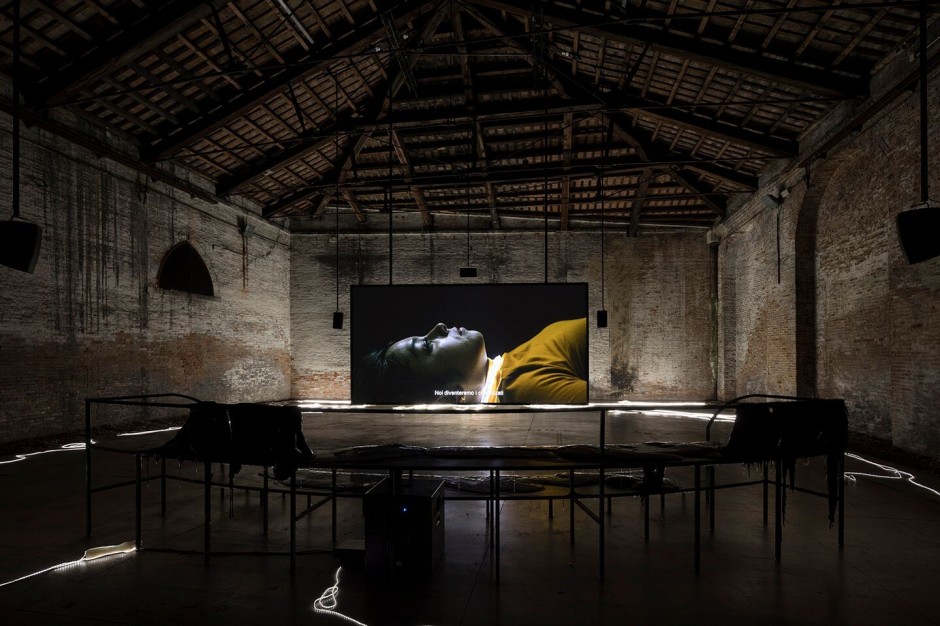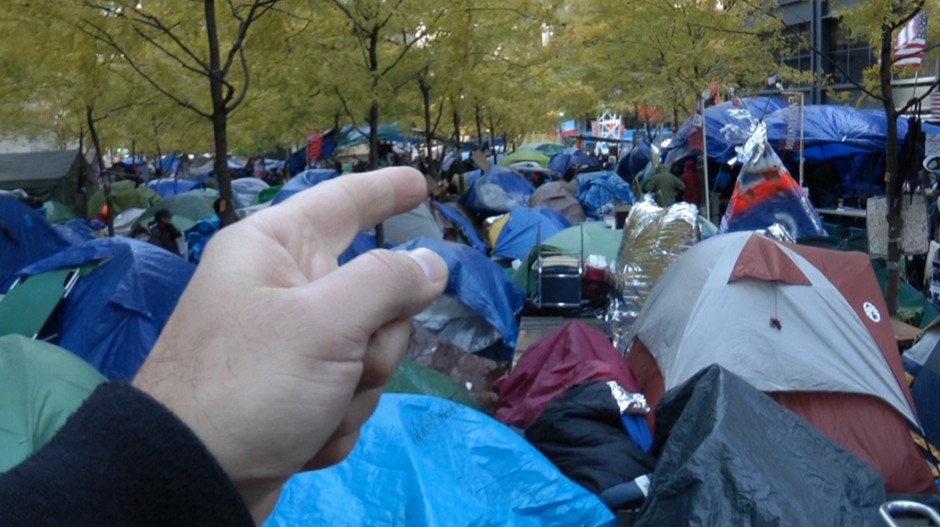 How many artworks do you own? Where do you display your collection?
T: There are several hundreds of artworks in the collection, some collected from the very beginning such as Jacques Villéglé, Piero Dorazio, Mimmo Rotella, Giorgio de Chirico and also recent artworks more difficult to display in a private home as they are installations. Some are located in Naples at Francesco's apartment, some others in Sicily. There are pieces by Marinella Senatore, Simon Roberts, Jonas Staal, Pedro Neves Marques, Romain Mader, Edson Chagas, Candida Höfer, Gvantsa Jishkariani, Marko Tadic.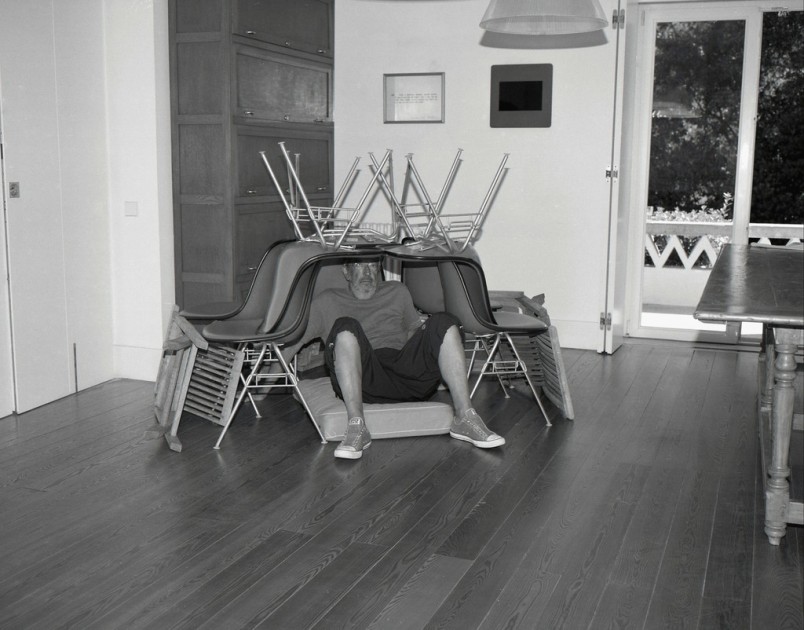 What makes you think an artwork is worth collecting?
F: We have no restriction of medium or continents. Pieces by Adelita Husni-Bey, Vittorio Brodmann, Aslan Gaisumov, Joanna Piotrowska, Henrike Naumann, Charlie Billingham, Leigh Ledare, recently entered the collection.
T: In our case, we search for very specific artworks. Some of them would habitually hardly enter a private collection. This is the case for many installations we have. 'Aural Contract Audio Archive' by Lawrence Abu Hamdan is a good example. Since 2010 Abu Hamdan has been working on a project titled 'Aural Contract'. This title became an umbrella for a series of events, publications, exhibitions and workshops that examine the contemporary politics of listening and focuses on the role of the voice in law. Throughout the project, Abu Hamdan has built up a sound archive, containing audio extracts of my works together with specific moments of juridical listening and speaking gathered from a wide range of sources, such as the trials of Saddam Hussein and Judas Priest, UK police evidence tapes, films such as Decoder and readings from texts including Italo Calvino's 'A King Listens'. This work is an edition of 3. An another one is in a collection in Italy and the last is in the MoMA collection.
F: 'Unmade Film, The Script'(2013) by Uriel Orlow is also a piece you would rather find in a museum. 'Unmade Film' is an impossible film, fragmented into its constituent parts; an expansive collection of audio-visual works that point to the structure of a film but never fully become one. 'Unmade Film' takes as its starting point the mental hospital Kfar Shau'l in Jerusalem. Initially specializing in the treatment of Holocaust victims–including a relative of the artist– it was established in 1951 using the remains of the Palestinian village Deir Yassin which was depopulated in a massacre by Zionist paramilitaries in April 1948. 'Unmade Film' was presented at Castello di Rivoli at the occasion of Uriel Orlow's first solo show in a museum in Italy, curated by Marcella Beccaria.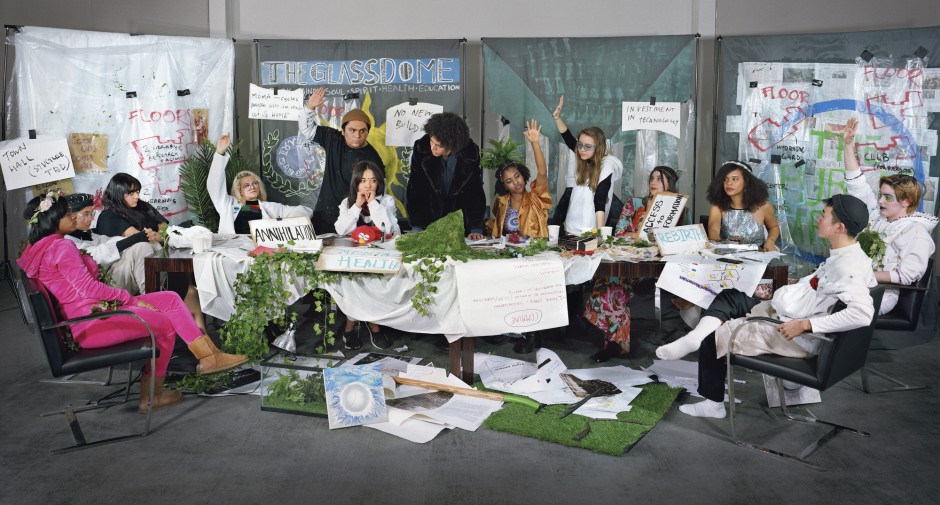 How important is it for you to meet the artists who created the artwork?
T: CollezioneTaurisano is a community, and the priority is always given to the artists. Meeting is one thing, but the most important is to maintain a dialogue. To have a constant dialogue with them is crucial, and their judgment and researches are always welcomed. With some artists who have pieces in the collection, I have almost everyday conversations, and this is crucial. For example, I have this strong relation with Marinella Senatore. We have a huge photography by her in the collection: 'Little Chaos' (2013), part of 'The School of Narrative Dance'. It is related to the performance organized in Cagliari. Trained in music, fine arts and film, Marinella's practice is characterized by public participation, initiating a dialogue between history, culture and social structures. I also have a strong dialogue with Alejandra Hernandez. The nomadic journey became a major interest in her practice which is mainly focused in human relationships, relations with the natural world, on the self as well as on the others, this practice is enriched by getting to know different cultures, religions, traditions, art and crafts, which she often combines, depicting situations in otherworldly realms.  On the other hand, she has an ongoing project, which consists in painting live portraits of people she meets. Also, I have been working several times with Romain Mader. His project 'Ekaterina' appears simply to document sex tourism in Ukraine, through the construction of a narrative in which the artist seeks a bride in an imaginary city inhabited only by women. Mader's embodiment of the role of western bachelor searching for a Ukrainian bride engages with a whole series of obvious stereotypes about such potentially exploitative situations.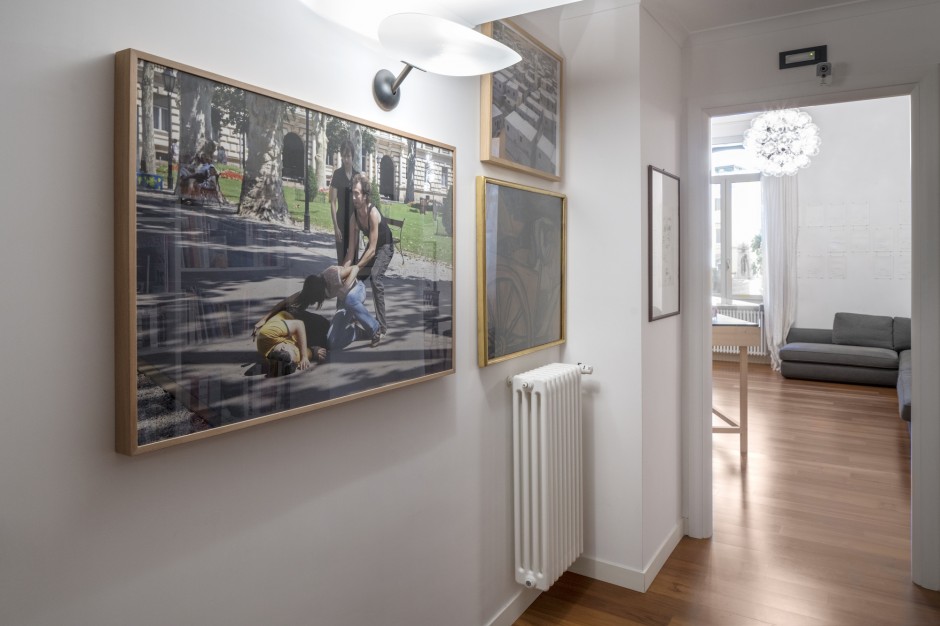 What is the local art scene nowadays in Naples? And how does your collection interact with it?
T: The art scene in Naples is lively and vivid, both for historical and contextual reasons. Naples is often considered as the cultural capital of Italy due to its glorious cultural heritage, stunning Baroque palazzi and extravagant churches and chapels, belvederes and promenades, museums (among them are MADRE and Capodimonte) and colorful scenes from the everyday life. And the metro of course, with the commission project curated by Achille Bonito Oliva with more than 100 artists and architects to transform the metro stations into a city-wide museum with works by Sol LeWitt, Joseph Kosuth, William Kentridge. The bay of Naples is opened on the world. For centuries, it has been an unlimited source of inspiration for writers during the Grand Tour, especially for Johann Wolfgang von Goethe (Italian Journey, 1816) and later for artists. The illustrious sentence "See Naples and die" was used before him by Virgil who lived in the city in 29BC.
Some major characters in the art field are related to Naples. Lucio Amelio, Italian art dealer, curator and actor has been for decades one of the most important figure to make Naples an international art center. He encouraged the dialogue between European and American contemporary arts, hosting exhibitions of artists such as Robert Rauschenberg, Mario Merz, Jannis Kounellis, Cy Twombly. In 1980, he introduced Joseph Beuys to Andy Warhol. He is also well known for his exhibition Terrae Motusorganized in 1982, then on view at the Grand Palais in Paris, and now in permanent display in the Palace of Caserta.
The presence of artists from different generations in Naples is also vital. Some live here some others come for a certain period of time. Hermann Nitsch organized two important performances in 1974 and 1996 with the support of Morra and then opened a museum. In 1974 also, Marina Abramovic performed for six hours iconic 'Rhythm 0′ at Studio Morra. Maria Thereza Aves and Jimmie Durham live and works in Naples. There are hundreds of stories and anecdotes in Naples.
We are very happy Mr Thomas Dane has chosen to open its new venue in Naples instead of Rome or Milano as the galleries coming from abroad usually do. Federica Sheehan, director of the space is a delightful person, bringing energy, intelligence and elegance to the Bay of Naples. And of course, there are many galleries in Naples: Alfonso Artiaco, Raucci/Santa Maria, Fonti, Umberto di Marino, Lia Rumma.
CollezioneTaurisano is part of this history and we are proud of the Parthenopean city. We have a constant dialogue with artists, gallerists, institutions and other collections such as Collezione Agovino, also based in Naples. We dream somehow Naples would become a new Berlin at some point. It has everything for that and maybe more.
What are the upcoming programs or collaborations related to your collection?
F: This year, Théo-Mario Coppola and I are preparing the new strategy for the collection. We are discussing the upcoming partnerships and now working on 'Utopia Bay', an international curatorial program which will be launched next year in Naples.
T: The second main program is an alternative residency program in Modica, Sicily named 'Recollecting: new format with an art collection'. We will be inviting an artist or a group of artists to produce a commissioned work and to reinterpret a part of the collection.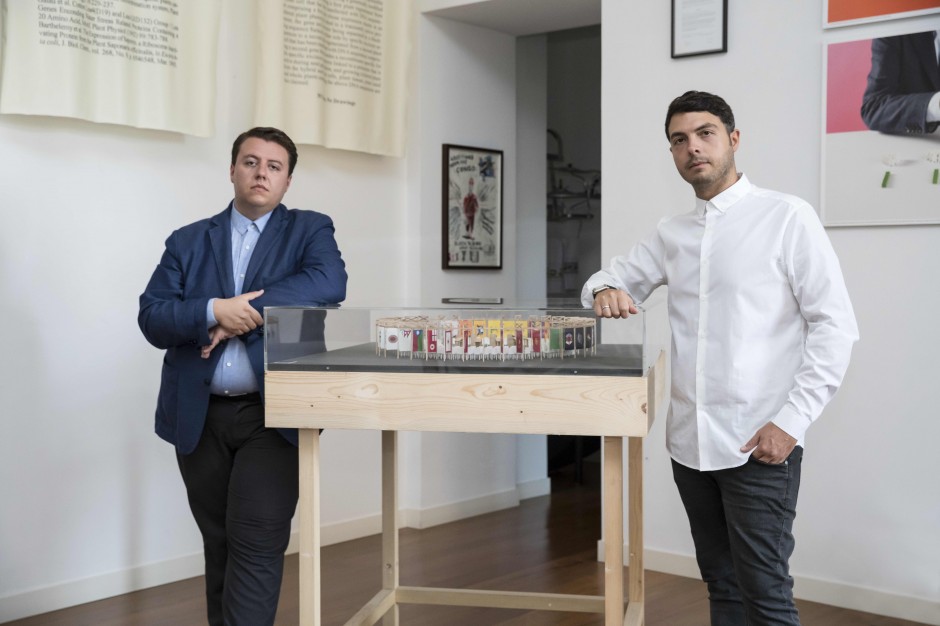 UTOPIA BAY
What is your motivation behind launching a curatorial program like the Utopia Bay? What do you want to achieve through this?
T: Utopia Bay is the answer to a concrete question. What is our personal utopia? And therefore, how do we build and empower communities for the future in art? Utopia Bayis a long-term program consisting in inviting each year international curators, both independent or working with institutions to come to Naples at the occasion of a stay we organize during the autumn. The curators discover the collection through a selection of pieces displayed in the apartment of Francesco in Naples. We discuss our researches and projects. There is also a video screening. Meetings and a tour of the art scene in Naples will be also organized. The purpose is to create a community to re-think how we build our methodologies to promote political art and to gather thoughts and insights. This network is also a way to increase the circulation and visibility of the artworks we have in the collection. When a curator needs to be helped for an exhibition and would like to present a piece, through Utopia Bay, he or she can ask to borrow an artwork for a project. This is how we want to collaborate.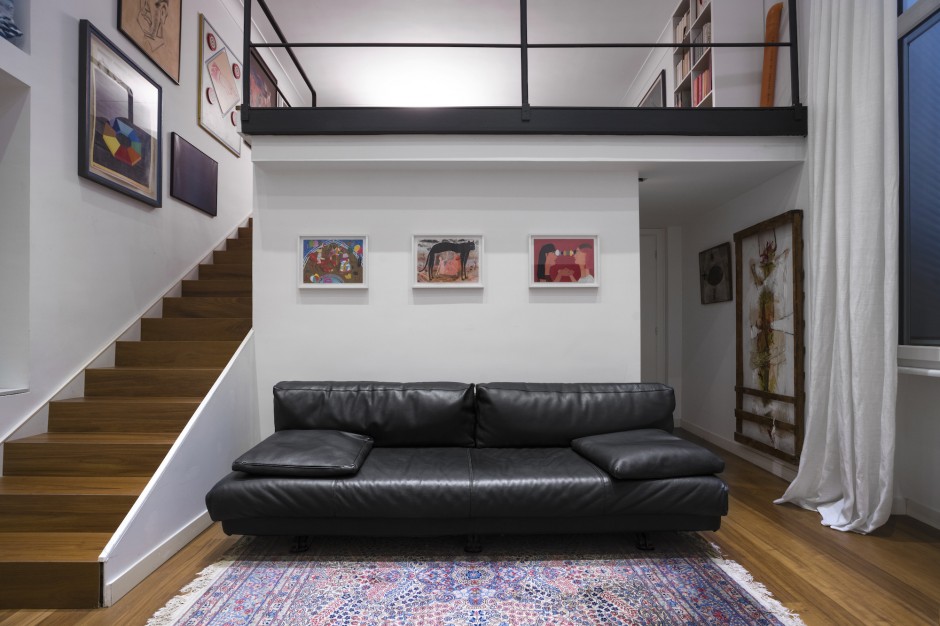 What is unique about Utopia Bay as an international curatorial program?
T: Utopia Bay has many layers and the choice of the name itself refers to the legacy of a series of experiences and methodologies in the art field and echoes the cultural context of the Parthenopean City opened and inclusive. In an interview with Fulvia Carnevale and John Kelsey in 2007, Jacques Rancière explained how to go beyond the so-called 'end of utopias' and 'grand narratives' asserting " (…) what interests me more than politics and art is the way the boundaries defining certain practices as artistic or political are drawn and redrawn.", adding "the main enemy of artistic creativity as well as of political creativity is consensus – that is, inscription within given roles, possibilities and competences (…)."[6]First of all, as a program, Utopia Bayis dedicated to specific researches about social and cultural communities, identity at the margin, political involved artists and aesthetics of resistance. As a community, it creates new relations between the invited curators and enlarge our views on activism, involvement and resistance. As a platform, it helps curators to display artworks they would not have access to normally for their exhibitions and projects. And to go further, this program has also to deal with hospitality and co-authority, but also 'the promise of reciprocity'as called by Erik Hagoort, who identify certain curatorial practices as "the breakdown of the division between artist and audience; the possibility of a genuine relationship becoming an art practice, and in their case (Jacob and Misiano) a curatorial practice"[7].
And how does it relate to your own collection?
T: Involvement, community, narratives are the three key words which relates Utopia Bay to the artworks in the collection.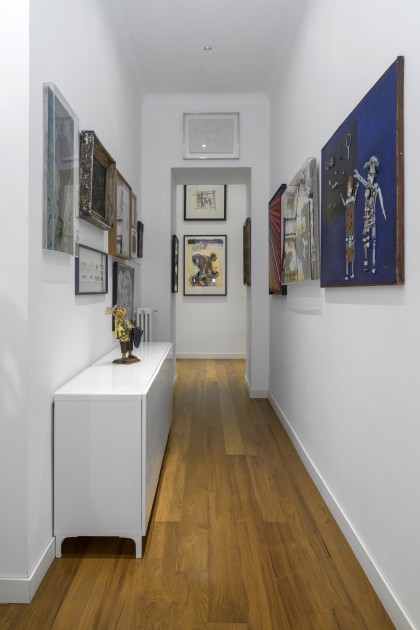 THE ART WORLD
What inspires you most in the art world?
T: In the art world, I would say diversity. Of course, I don't support all the aesthetics, and I have an interest for certain art practices, but the most important is there should be a place for everyone. Art needs democracy to give to all the artists the possibility to express themselves. And concerning more the artists, I would answer obsessions. The key of a great art practice is the combination between personal obsessions and a unique vocabulary, through specific contexts but with the intention to explore wider perspectives.
Why has art become important in your life? Is it a passion, an obsession or a mission? T: I have several artists in my family and had the chance, as Francesco, to be initiated since a very young age to contemporary art. It has always been part of my life. As a curator, if I ask myself why to support the artist, I would say because it is a mission. If I ask myself, how did it start, the answer is passion. And what keeps me going on? Because art is the permanent collection of others' obsessions.
F: As used to say French artist Robert Fillion, 'Art is what makes life more interesting than life'. Art brings to my everyday life force and passion to experience the world–always with the others, as a large community.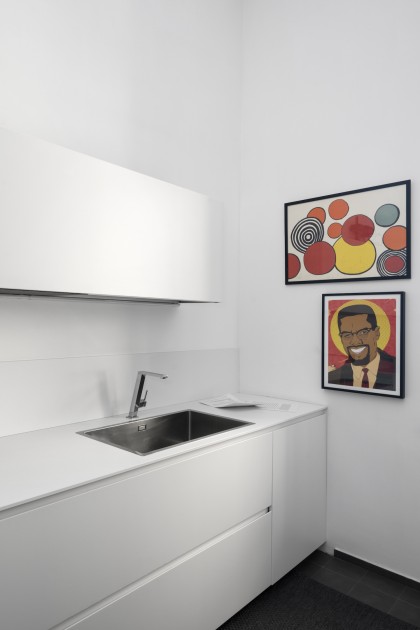 Related: CollezioneTaurisano
Instagram: @collezionetaurisano
A selection of artists Francesco collects:
Adelita Husni-Bey
Joanna Piotrowska
Marinella Senatore
Romain Mader
Uriel Orlow
Many thanks to Max Bossier, VIP Relations & Sponsorships Manager of CODE Art Fair for facilitating this interview.
---
 [1]"
I have tried to show that 'aesthetics', far from being the domain of the pure and passive enjoyment of visible beauty, opposed to the knowledge of deep realities and the commitments of action, was the very place where played the fundamental relationships underlying the categories of action and knowledge, which order them hierarchically or upset this hierarchy."

Interview with Jacques Rancière, conducted by Bertrand Dommergue. 31/08/2015, Mediapart,
https://blogs.mediapart.fr/bertrand-dommergue/blog/310815/entretien-avec-jacques-ranciere-ou-en-est-lart
[2]Jonas Staal is a visual artist whose work deals with the relation between art, propaganda, and democracy. He is the founder of the artistic and political organization New World Summit, which develops parliaments for organizations excluded from democracy, and the New World Academy (together with BAK, basis voor actuele kunst, Utrecht), which invites artists and students to work together with organizations invested in emancipatory politics. He is also the initiator of the Ideological Guide to the Venice Biennale, a free smartphone app that provides insight on the social, political, economic and overall ideological backgrounds of every pavilion in the 2013 biennale. His recent publication 
Stateless Democracy
 (with Renée In der Maur and Dilar Dirik), deals with the cultural and political revolution in Rojava (northern-Syria), and can be download here () Staal is currently working on his PhD on Art and Propaganda in the twenty-first Century at the PhDArts program of the University of Leiden, The Netherlands.
https://www.e-flux.com/journal/69/60626/ideology-form/
[3]
Protest, The Aesthetics of Resistance,
Lars Müller Publishers Zurich University oft he Arts, Museum für Gestaltung Zürich, 2018, 448 pages.
[4]
"From a position of powerlessness, the foundations of power are shaken, its varnished surfaces scratched, and its legitimacy questioned. For protest to become effective, it depends on a community that generates, supports, and furthers it."
[5]
"Protest is aesthetic. The aesthetic demarcation of majority norms is a key strategy in protest. In fashion and art, music and graphics, image and text, narration and performance, protest movements have developed a unique, ever-changing language of their own. Because protest needs to be heard, an aesthetic of protest can often be outlined that frequently includes such attributes as being loud, spontaneous, improvised, and unwieldy. But the opposite also exists : the silent, calm, restrained protest. Protest's symbols and forms of expression have long since been discovered by the economic marketplace and by politics. Because society regularly appropriates its signs, protest needs to continually (re)invent its language of resistance"
[6]Jacques Rancière, John Kelsey, Fulvia Carnevale, extracts from «Art of the possible : Jacques Rancière in Conversation with John Kelsey and Fulvia Carnevale', trans. Jeanine Herman,
Artforum
(March 2007).
[7]'
Pertaining Assimetry'
by Erik Hagoort (p 169-182)in
Cultures of the curatorial. Hospitality. Hosting Relations in Exhibition
, Beatrice von Bismarck, Benjamin Meyer-Krahmer (eds.), Sternberg Press, 2016, 220 pages