I met Aarnout Helb in late January at 21,39, a weeklong program of contemporary art exhibitions, education and open studios in Jeddah intended to foster international interest in contemporary Saudi Arabian art. Among a colorful congregation of artists, collectors and gallerists was an intriguing figure who introduced himself as the founder and director of an Amsterdam museum dedicated to contemporary art from Saudi Arabia. Happily for me, this seemingly fantastical notion turned out to be very real: the Greenbox Museum of Contemporary Art from Saudi Arabia is the only museum in the world exclusively devoted to contemporary art from the kingdom, and has been featured by CNN, Der Spiegel, Arab News and other international media.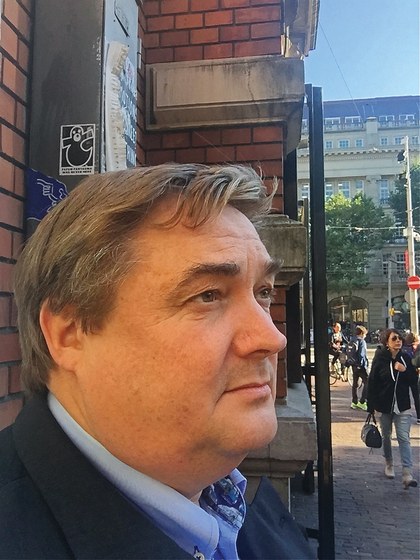 One month after meeting Helb in Jeddah, I found myself searching central Amsterdam for his museum—a task not unlike locating the elusive wardrobe door in CS Lewis's The Chronicles of Narnia. Finally, I arrived at the fifth floor of a nondescript office building in central Leidseplein, just off a bustling tourist square, marked only with signage in the manner of an import-export company or accountancy office. I knocked, and the door swung open.
In a teal-green room of 70 square meters crammed floor to ceiling with artwork, Helb materialized from behind a desk. Perpetually attired in an impeccable double-breasted suit, he is the one-man show behind the Greenbox Museum, an institution whose origin story resembles the opening of a fable. Helb, a Dutch citizen whose family tree includes an Indonesian-Chinese great-grandmother and a Surinamese great-great-grandfather, grew up in Amsterdam and studied law at Leiden University before joining ING, the Dutch multinational banking and financial services corporation. A polymath with affinities for travel, culture and history, Helb became fascinated by Saudi Arabia because of Mecca's importance in Islam, as well as the historically significant Dutch-Saudi trade relationship. He was quick to point out that in the 19th century, Dutch ships transported the greatest number of Indonesian pilgrims to Mecca, and that the Dutch scholar Christiaan Snouck Hurgronje (1857–1936) was one of the first Westerners to visit Islam's holiest city.
Helb traced the specific beginnings of the Greenbox to a sweltering day in 2008, when he wandered into a mosque on Singapore's Victoria Street. He wondered why non-Muslims were forbidden to visit Mecca: was the legal prohibition set forth in the Koran? The mosque's imam was unable to assuage Helb's curiosity, and Helb's own review of the sacred text did not yield an answer, but he was captivated by the Koran's story of a yellow cow "bright in its color, pleasing to its beholders." A Google search fortuitously led him to the work of Ahmed Mater, one of Saudi Arabia's foremost contemporary artists.
Seven years later, Mater's "Yellow Cow Project" (2006–10) features prominently among Helb's collection of roughly 80 works of photography, painting and sculpture by 20 contemporary artists working in Saudi Arabia. The artists include young phenomenon Sarah Abu Abdallah, sculptor and former army colonel Abdulnasser Gharem, photographer (and granddaughter of King Faisal) Reem al-Faisal and Jeddah-born Palestinian Ayman Yossri. The collection tends toward conceptual works, many of them focused on the interlocking conflicts between science, religion, politics and modernity in a society still heavily governed by Sharia law. Several early pieces came from "Edge of Arabia" (2008–15), the groundbreaking traveling exhibition of Saudi contemporary art organized by Mater, his fellow Saudi artist Abdulnasser Gharem and the British artist Stephen Stapleton. One controversial and important work is Gharem's Al-Siraat (The Path)(2007), about the tragic collapse of a concrete bridge during a flood that killed several villagers in the Tihama region of Saudi Arabia. The work was abruptly excluded from the London exhibition of "Edge of Arabia"—at the bequest of whom it was unclear—and in response Gharem produced his first version of The Stamp (2008), an oversize wooden embossed sculpture, measuring roughly one meter across, of a typical Saudi bureaucratic chop proclaiming "have a bit of committment." This powerful testimony to the censorship travails that are practically an everyday part of Saudi life is also in Helb's collection.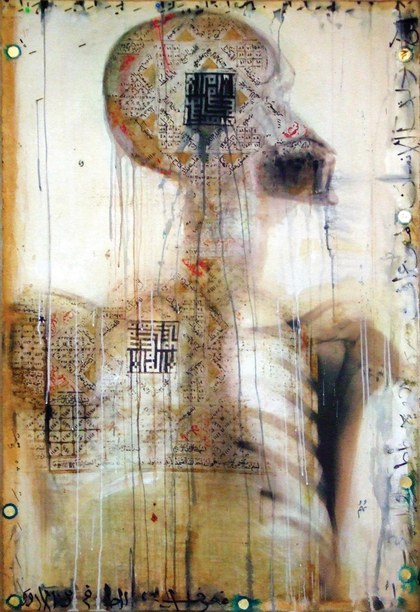 Occupying a large corner of the Greenbox Museum are Mater's "Yellow Cow" videos, prints and editioned pieces (2006–10), one of the artist's most powerful conceptual series that uses the yellow cow as a proxy for the powers of religion and consumption. Also represented are mixed-media pieces from Mater's "Illuminations" series (2003–10), a commentary on science and religion in which coldly clinical upper-body X-rays are bordered by traditional gold leafing, ink, tea and pomegranate to create beautiful yet unsettling portraits.
The Greenbox is an intensely personal labor of love for Helb, who is present three days a week to receive visitors. He openly disdains the minimalist white cube model of exhibiting contemporary art, and chose the term "greenbox" as a direct counterpoint. The particular shade of green on the museum's walls—a deep and tranquil jade, with undertones of blue—is in fact not that of the Saudi flag, but rather is based on the hue of a favorite 19th-century Jan van Heyse landscape painting hanging in Helb's home. A witty outlier leaning against one wall is a large photo of the Greenbox's interior— a literal mise-en-scène. Helb asked me to guess the artist's identity, and was pleasantly surprised when I surmised it was him.
Unlike most Dutch cultural institutions, the Greenbox is entirely privately funded, giving Helb independence and flexibility in policy and acquisitions. Helb considers this freedom essential, telling me, "I believe museums in difficult cultural terrain can hardly be funded by the object of their research without running a serious risk of ending up as a public relations tool, doing away, in my case, with credibility for both the museum, the work of the artists, and ultimately the country itself." He believes that Dutch state museums would do better to integrate art by Middle Eastern artists into their overall programs rather than mounting blockbuster exhibitions that underline cultural and philosophical otherness. Art, he emphasizes, is an important means for advancing progressive and nuanced intercultural understanding, rather than the polarizing dualities often promulgated by the mainstream media. He states, somewhat tongue-in-cheek, that incoming Dutch cultural attachés to Saudi Arabia always pay two mandatory visits: first to the oil conglomerate Royal Dutch Shell, and then to the Greenbox Museum.
What does the future hold for the Greenbox? Helb continues to acquire works and is relocating the museum to a larger space. He has considered various long-term options, including the possible donation of his entire collection to a Dutch museum. For now, the matter of the Greenbox's fate, along with the question of why non-Muslims are forbidden in Mecca, remains unresolved. With the air of a seasoned explorer all too familiar with uncertainty, Helb waves his hand around the museum and cheerfully says, "Perhaps in time it will turn out that this is all an artwork of mine, with Ahmed Mater as my paint."
By Chin-Chin Yap
This article was originally published by ArtAsiaPacific in Nov/Dec 2015. This article cannot be edited nor shared to third parties without permission from ArtAsiaPacific.