"I'm working on an unofficial India-Pakistan pavilion for the next Venice Biennale," declares Feroze Gujral, suddenly remembering the fact in the middle of our conversation in March. "India and Pakistan? Together?" I double-check. "Yes, we keep talking about culture being the soft power, but we don't see many examples of it in the world. This should be one of those things that is larger than the art itself," says Gujral. And to think most interviewers still ask the 48-year-old art patron, businesswoman and philanthropist about her glorious modeling career, one she left over 20 years ago.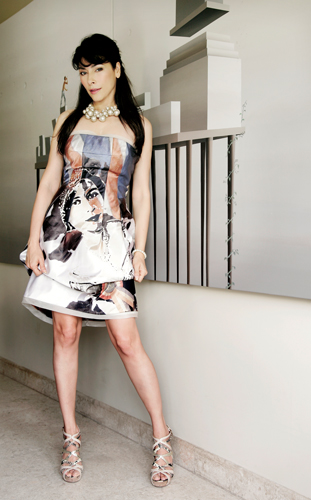 Unquestionably, Gujral is in her milieu among Delhi's social elite, but her vigorous involvement in contemporary art sets her apart. In between sipping green tea and poring over scores of books and artworks at her chic yet homely apartment in Lutyens' Delhi, the charismatic and entrepreneurial Gujral talks about her influences over the years and how she came to her most ambitious, and potentially controversial, art project to date.
Of Indian, British and Arab parentage, Gujral grew up in the cities of Cairo, Paris, London and Algiers before heading off to boarding school in the Indian hill station town of Kausali. Gujral admits that, through her adolescence, her idea of India was defined by experiences at school and holidays spent at her grandfather's house in Hyderabad. "When you're an NRI [Non-Resident Indian], you are obsessed with India in a different way. You're constantly defining yourself as an Indian through learning about India." Fresh out of school, at the tender age of 17, Gujral married the architect Mohit Gujral, son of the eminent Indian painter, sculptor and architect Satish Gujral, and nephew of the former prime minister of India, Inder Kumar Gujral. He is now the vice-chairman of real-estate juggernaut Delhi Land & Finance (DLF).
Marrying into this cultural and political dynasty had a profound impact. "I'm a great traditionalist. I think living with your in-laws teaches you a lot. There's so much I subliminally absorbed from living in Satish's house. I was like a sponge." Collectors from Japan and Europe would visit their home and discuss her father-in-law's art in detail, while debates on film and literature would regularly take place over dinner with guests such as writer and diplomat Octavio Paz and members of the Kennedy family. Several renowned international musicians, poets and artists, including Diego Rivera and Frida Kahlo, were counted among the family's close friends. "When I got married, all the artists came to our wedding. So I recived a Rameshwar Broota, Anjolie Ela Menon, Manjit Bawa and MF Husain as wedding presents!"
Gujral points out these "wedding presents" as we walk around her home. Also on display are black-and-white family portraits of her and her family by revered artist Dayanita Singh. Gujral flew in from Art Dubai the night before, where she made rapid decisions to purchase works by both established artists, such as Monir Shahroudy Farmanfarmaian and Michelangelo Pistoletto, and emerging figures including Youssef Nabil and Hajra Waheed. She says her current approach to collecting is instinctive and light-hearted, yet deep-rooted and sustained. "There are only three things that survive time: art, land and gold," says Gujral, echoing an age-old Indian adage. "My husband is in real estate and architecture, and I like art and gold. Together, Mohit and I dream of building spaces—I would not like to give them names—for art." One such dream space that is currently taking physical form is a private museum for her father-in-law, which Gujral hopes to open in time for his 90th birthday next year.
For this project, she recently spent "an absolute fortune" on buying back Satish Gujral's most treasured works—such as a portrait of Jawaharlal Nehru and a piece on the partition of India and Pakistan—from a multitude of collectors and auctions around the world. As a self-styled custodian of the family legacy, she also set up the nonprofit Gujral Foundation 15 years ago. "My mother and grandmother were very involved in charity," she says. "My giving side comes from them. What we choose to give to comes from Mohit's side." Involved in initiatives that further higher education in the arts, the Gujral Foundation provides grants for artists and filmmakers, as well as prizes for both art and design at various institutions.
As if she didn't have enough on her plate, Gujral also set up a lucrative designer homeware company in 1990, which exported porcelain to 14 countries, as well as an internet business for broadcasting online media in India. However, at the end of 2004, feeling "burnt out," she decided to take some time off, switching track from business to full-time philanthropic endeavors. In 2011, she set up the India wing of the United Kingdom-based arts charity, Outset Contemporary Art Fund. In addition to supporting a contemporary dance program in Bengaluru and an experimental art space in Mumbai, Outset India sponsors an annual public-art intervention in an empty house in central Delhi. The latest edition saw performance and video artist Sonia Khurana install thought-provoking works exploring sleep, sound, dereliction and abandonment; the year before saw the venerable experimental trio Raqs Media Collective excoriate the surface of the building in overlapping, linear patterns derived from software code. "I really see Raqs as philosophers of our time," she says. "I find that people don't engage enough with current ideologies and movements anymore. For me, collaborating with these different people has been very enriching."
Outset India is supporting the talks and educational components of the traveling exhibition "Homelands" (2013–14), curated by Latika Gupta from the British Council collection, and it also backed the inaugural Kochi-Muziris Biennale in Kerala (2012–13). "Kerala has always been mythical to me," explains Gujral, whose family on her father's side was originally from the idyllic southern Indian state. "I didn't know the curators Bose [Krishnamachari] and Riyas [Komu] personally, and there were so many naysayers, but I loved the idea of the Biennale. We got the go-ahead to use Aspinwall House [owned by DLF] and took it from there. Kochi showed me something wonderful, which gave me the impetus for Venice."
Outset India is now in its fourth year, and has been mainly funded by the Gujrals themselves. She is currently planning to restructure and reprogram the organization to make it more sustainable and focused—particularly as planning for the India-Pakistan pavilion gets underway. "Everyone I've spoken to has come to the Venice project with an open heart. We have to believe that it's possible and that things like this can become movements. I don't want to own the idea; I want it to continue."
By  Jyoti Dhar
This article was originally published on ArtAsiaPacific on May/June 2014. This article cannot be edited nor shared to third parties without permission from ArtAsiaPacific.