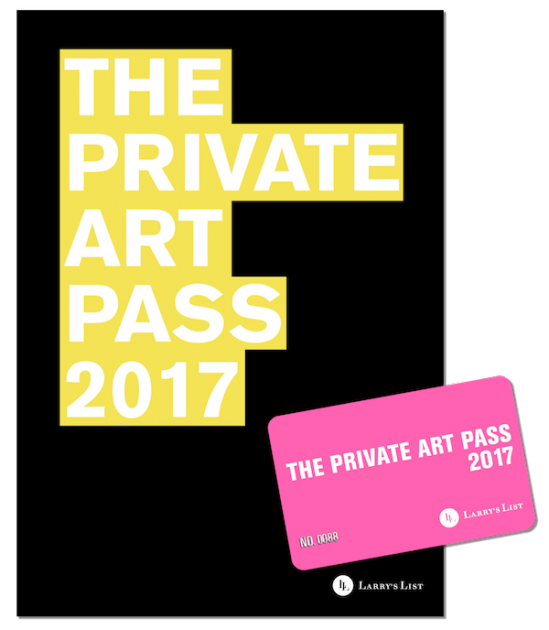 Larry's List is proud to launch THE PRIVATE ART PASS 2017. THE PRIVATE ART PASS is initiated to create stronger ties between private museums, the global private collector scene and selected public institutions by granting privileged access to over fifty institutions and art fairs around the globe.
Highlights:
- Privileged access to 37 museums around the world
- VIP access to 14 international art fairs
- Special conditions and offerings by our partners Artron, G4Si Fine Art and the Rolls-Royce Art Programme
- Limited to 3000 passes
- Pass cannot be purchased and is distributed exclusively to selected art collectors, art KOLs and friends of Larry's List

"With THE PRIVATE ART PASS we want to enhance the network among collectors, private museums and institutions from all over the world. Also, we want to make the life of our global collector friends a bit easier by bundling a number of services in one privilege card.""
- Christoph Noe, Co-Founder of Larry's List

Museum Partners include:
Long Museum (Shanghai, China), Ullens Center for Contemporary Art (Beijing, China), Blenheim Art Foundation (Oxfordshire, UK), Boijmans van Beuningen (Rotterdam, Netherlands), Fondazione Sandretto Re Rebaudengo (Turin, Italy), Sursock Museum (Beirut, Lebanon), Museo Tamayo (Mexico City, Mexico), Phillips Collection (Washington, DC, US), Botero Museum (Bógota, Colombia)
Art Fair partners include:
Art 021 (Shanghai, China), Art Central (Hong Kong SAR), Liste Basel (Basel, Switzerland), Abu Dhabi Art (Abu Dhabi, UAE), Expo Chicago (Chicago, US), SP-Arte (São Paulo, Brazil)
Download the the official press release here.