The countdown has begun – in less than 2 weeks Singapore Art Week, from 19-27 January 2019, starts. If you have not yet done it, book your travels now and mark the exciting events on your art diary.
LARRY'S LIST helps with your preparation by picking some highlights for the week.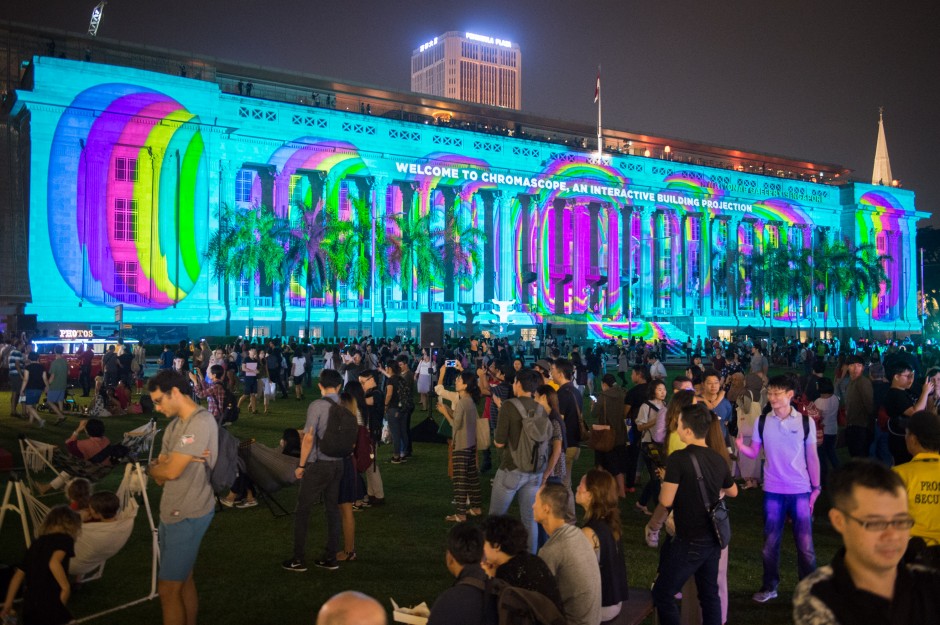 January 16, Wednesday
7.30pm, ArtScience Museum
Opening Reception of the IMPART Collectors' Show 2019: Fabulous Monsters
In times of conflict and uncertainty, one of the responses by contemporary artists has been to retreat to an inner world of fantasy. Discover these dream-like worlds in the private collections of seven prominent Asian art collectors. The artists on show include superstars, such as I Nyoman Masriadi, Ronald Ventura and art market darling Zeng Fanzhi.
January 18, Friday
Evening, Civic District & Marina Bay
Start the Art Trail of the Light to Night Festival
More than a stunning annual urban art event, the Art Week edition explores and references art and ideas that are closely linked with the Civic District location, inspired by histories and stories, in response to the theme of Traces and Echoes. The Art Trail is highlighted by the return of Arts Skins on Monuments by Brandon Tay and Safuan Johari on the facades of the National Gallery Singapore, The Arts House, Victoria Theatre & Victoria Concert Hall, and the Asian Civilisations Museum!
January 19, Saturday
11am – 12.30pm, Artspace@Helutrans, 39 Keppel Road
The Art Week Conversations: Considering Collecting – Singapore: Collecting Under $5K
This is not the usual art market talk and a must if you want to get started in collecting art from Singapore. In its fifth edition, the Art Week Conversations – 'Singapore: Collecting Under $5K' will help kick-start your collecting journey right away.
January 23, Wednesday
6 – 9pm, Block 9 Lock Road, Gillman Barracks
Vernissage of S.E.A. Focus
This special pop-up at the Gillman Barracks visual arts cluster offers an intimate chance to get a closer look and interact with galleries from Singapore, Thailand, Vietnam and the Philippines. The fair promises a holistic art experience through a diverse range of programmes including performances, talks and art tours.
Mark on your agenda also its private viewing on 24 – 25 January.
January 24, Thursday
3 – 9pm, Marina Bay Sands Expo and Convention Centre, Level B2, Halls D-F
VIP Preview of Art Stage Singapore
In 2019, ART STAGE brings together leading artists, galleries, curators, museums and collectors, at a 3:1 ratio of Asian to Western galleries. In addition, for the first time, 28 collectors from Southeast Asia will take on the role of curator of their private collections at the Collectors Stage section.
Don't miss the chance to meet these collectors – the party following the preview starts at 9pm.
Friday, January 25
6.30 – 7.30pm, National Gallery Singapore
Frieze talk: Public vs. Private Museums: Bridging the Divide?
Making its debut in Singapore Art Week 2019, this talk seeks to delve into the difference between 'public' and 'private' in the 21st-century museum landscape and their respective roles?
Experts include Dr June Yap (Director of Curatorial, Programmes and Publications, Singapore Art Museum), Arlette Quynh-Anh Tran (Director, Post Vidai Collection, Ho Chi Minh City, Vietnam and Geneva, Switzerland), Richard Parry (Director, Glasgow International) and Inti Guerrero (Artistic Director, Bella Artes Projects, Manila, Philippines) who will share their thoughts and visions.
7pm till late, Gillman Barracks
Flagship night-time open house event – Art After Dark
Expect: new exhibitions and exciting programmes by their resident galleries and the NTU Centre for Contemporary Art Singapore. Take in the visual feast while enjoying live music performances, browsing new products at pop-up stores, or hopping around the many eateries within Singapore's very own visual arts precinct.
Saturday, January 26
11.30am, Marina Bay Sands Expo and Convention Centre
IMPART Collector Symposium– Private Collections, Public Legacies?
With the collector show as a backdrop, a symposium will explore the topic of "Private Collections, Public Legacy." Speakers on the panel include Singaporean collectors Jim Amberson, Hady Ang and Mark Goh.
2.00pm, Art Stage Singapore, Marina Bay Sands Expo and Convention centre, Level B2, Halls D-F
LARRY'S LIST Collector Talk with Dr. Wiyu Wahono
LARRY'S LIST will host another "Collector Rendezvous," this time with Indonesian collector Dr. Wiyu Wahono. The talk will be set against the works of the artist exhibited as part of the Collector Stage section. Stay tuned for details!
4.30pm, "The Village" at S.E.A. Focus, Gillman Barracks, Block 7, Lock Road S108935
Private Collecting: Motivations, Tastes and Narratives
This talk will explore topics such as the responsibilities and roles of collectors within the larger art ecosystem, and what happens when private collections become public. Speakers include Dr. Cheryl Loh, Dr. Wiyu Wahono, and Lu Xun.
Please note that RSVP is essential for most of the events or VIP passes are required. Please contact Larry's List for any queries.
Stay tuned for further special features on the Singapore Art Week!
For more information: click here
Instagram: @visit_singapore