"Artworks become nothing but objects if placed in a storage room." – Wang Wei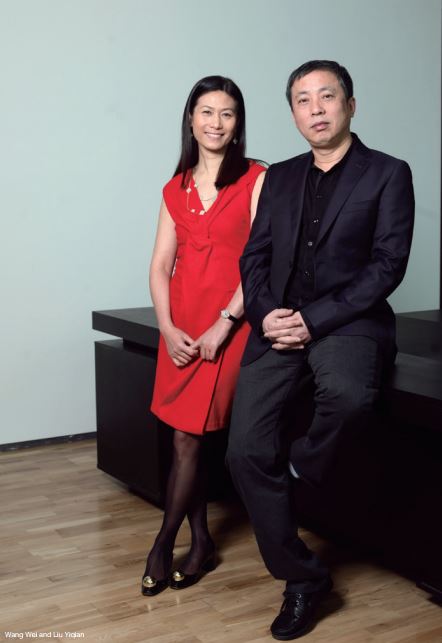 The Long Museum has two venues: one in Pudong and the other in the West Bund. Why do you build two museums in one city?
When my revolutionary paintings were exhibited in the Shanghai Art Museum, I came to realize that I needed to build a museum. The purpose was simple, that is, to share the collections belonging to my husband and me with a wider audience. I once said that artwork becomes nothing but objects if placed in a storage room, and it won't help people understand their cultural significance and charm. So after further discussion with my husband, we built the first museum in Pudong. The museum's first exhibition brought together more than three hundred pieces of artwork, and since then we have organized a series of exhibitions from our own collection as well as works by outstanding artists.
After the success of the Pudong museum, Sun Jiwei, the Communist Party of China secretary of the Xuhui District, invited me to open another museum in the West Bund Cultural Corridor. I thought that it would be both an opportunity and a challenge. Built and designed by Chinese architect Liu Yichun, the hall on the first floor is suitable for large-scale exhibitions of modern art, owing to its wide spaces inside. The Pudong museum focuses on classics, academic studies, and cultural exchange, while the West Bund museum highlights modern and international perspectives such that they prosper on the art scene on either side of the Huangpu River.
Modern private museums were born in the West, and Chinese collectors can learn from them. But some private museums in China learned the hard way. What have you learned in the past three years? You said that the Long Museum is to be the Chinese answer to the Guggenheim Museum, so what do you think we can learn from the West?
We have a young, energetic, and outstanding team. But the practical problem is that our team has no background in museum operation, and they are not experienced enough. I don't think this is a problem for us alone. The lack of professional training of museum staff is a widespread problem in the creative industry in China. I believe that we need to learn how to improve the details of an exhibition, services, and academic management.
I always participate in large exhibitions in the US, UK, and Europe. I feel that new galleries are appearing in China and beyond. The concept of galleries and museums comes from the West, which has a long tradition of system establishment and exhibit arrangement. That is what we have to see and learn, and I will study overseas with some of our core workers on a regular basis.
Many museums have launched their artist-in-residence programs to better support the development of young artists. Your museum has not started this kind of program. What is your take on this?
We have not launched an artist-in-residence program, but we have a hall dedicated to
the works of young artists to make them known by more people. For example, we organized a solo exhibition for the young artist Yan Shilin. The difference between an artist-in-residence program and an exhibition is about the form, and the Long Museum keeps constant attention trained on young artists.
One of the important functions of a museum is public education. Your museum has a Cultural Education Department and has organized many lectures and activities. How are these programs received? And how do you view their performance?
We organize one or two events every week as part of our public education program. In most cases they are free, except some that charge fees to cover the cost of materials. A museum is a public charity, so in addition to exhibitions, we hope to engage more people of different ages through public education. Our educational programming includes seminars and lectures, age specific art studios with a focus on children. We also have performances like concerts, but no visual art. Some of our activities have attracted a big audience, and my husband and I are very glad about what we do.
Your museum also focuses on academic research, and you have established a publishing department. Why are you so enthusiastic about academic research? And what role does it play in the development of the museum?
We have our own publications for each exhibition. In these publications we not only review the works but also have experts and collectors write articles. These publications have been acclaimed in our exchanges with domestic and international peers. I believe that an academic publication not only records an exhibition but also gives indepth interpretation of the event. It helps the outsiders better understand what a museum is and establishes an identity for a museum. Public museums display state-owned collections to promote culture.
What do you think are the differences between private and public museums in terms of function, form, and significance?
A private museum makes up for what a public museum lacks. For example, the ample collections in the Long Museum enrich the national collections. Essentially, both public and private museums are sharing and promoting art. But the private ones may be more flexible and distinctive.
It is said that private museums are empty boxes that burn money and there is no need to build them. What is your comment?
To decide whether it is empty, we have to see whether the museum is doing something substantial. Our museum organizes more than twenty exhibitions every year and heavily promotes our publications, lectures, and forums. We are not just accumulating academic learning alone; we are to help more people come to the museum. So it is meaningful to build a museum. It is a treasure you can enjoy throughout your life. What do you think are the bottlenecks for the Long Museum and the problems facing private museums in China? We have arranged particular events, which are to be held in the main hall in 2019. I am still discussing projects with a few talented artists. Also, we need to improve the way we choose exhibitions and learn how to build a value-based assessment system inside.
There are many private museums in China, and as the founder and operator of such a museum, I am not in a position to discuss the problems other private institutions
might be facing. As far as I am concerned, we need to strengthen the self-cycle of the museums and improve our image and status as a platform.
The derivatives of a cup from the Chenghua Reign of the Ming Dynasty proved to be a huge success. Do you believe that merchandising of art will become a source of funding for private museums?
They can slightly reduce the operation costs. For example, we have three kinds of cups in
our museum. In fact they are expensively made, as seen in the freehand sketching on it. Although they sell well, we don't earn much. Of course, when it comes to derivatives, the more creative they are, the more enthusiastic the market response is. But what we earn from them is much less compared to what we pay for operation.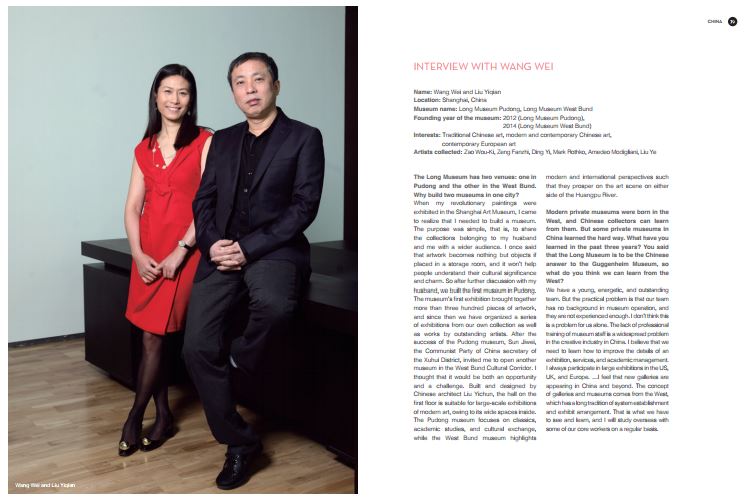 This article was originally published in The Private Art Museum Report, jointly prepared by Larry's List and AMMA Artron. The report can be downloaded here. and hardcopy of the report is also available for  38 EUR / 45 USD.