Chong Zhou is a 25 year old entrepreneur and second generation Chinese collector. With a degree in art history from UCLA, he is a true advocate of Asian contemporary art, devoted to buy works from the best artists from 1975 to the 1980s. After buying his first piece in 2010, he has already amassed a strong collection of prominent names such as Zeng Fanzhi, Yayoi Kusama and Yang Fudong.
Larry's List had the opportunity to speak with Chong about his experience entering the art world as a young collector, his view about the rise of second generation Chinese collectors and how his restaurant, "Le Petit Cochon Vert", is better suited to exhibit his collection.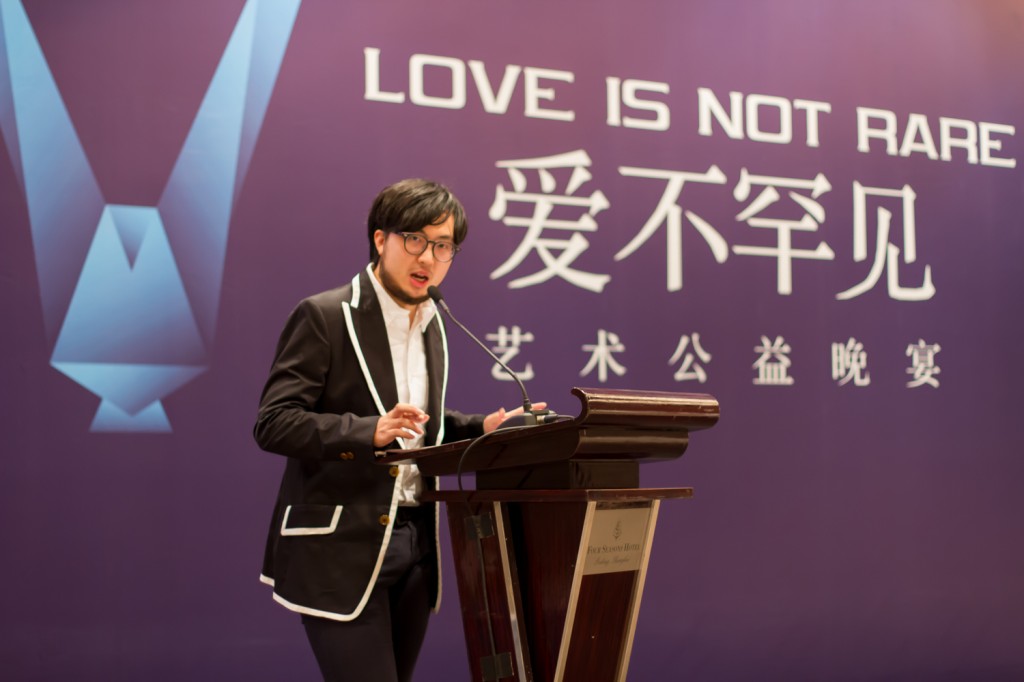 The Collection
When did you start collecting?
My family inspired me to start collecting. They started collecting Chinese contemporary art in 2001 and the first piece I bought was in 2010.
What made you want to start collecting contemporary art?
To continue my family's tradition in collecting contemporary art. But I also consider collecting as my career and favourite hobby.
What is the main motivation behind your collecting?
I want to be a contributor in the development of Asian contemporary art. As an Asian man, I would like to collect our best Asian contemporary art.
What is your focus regarding the artists in your collection?
Post 75's or even 80's Chinese contemporary artists, featuring Asian contemporary artists, etc.
What was the first artwork you purchased?
It was Yayoi Kusama's self-portrait, which I bought in 2010.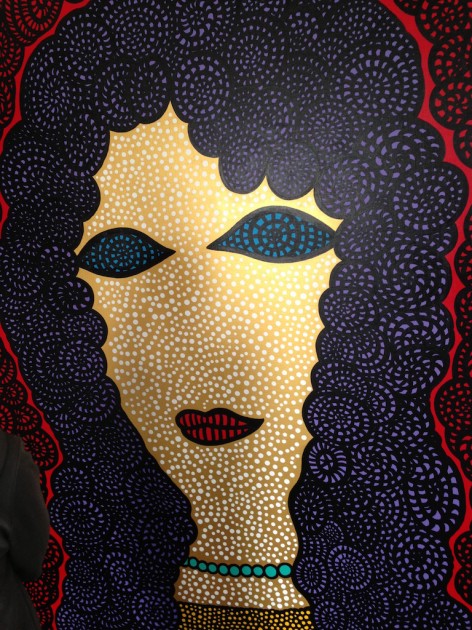 Which artwork have you recently acquired? Why?
It's an artwork from the Chinese artist Yang Xinguang. I really love this artist's craziness and his deep comprehension of Mono-ha art.
How many artworks do you own?
Approximately 150 pieces.
Where do you display your collection?
In my house, in my restaurant "Le Petit Cochon Vert" and in my office.
Is there any artists/kind of artwork that can make you write a cheque without hesitation? 
There are always certain artworks that can instantly catch my eye or raise a sense of nostalgia in me, which makes me want to buy them on the spot. However, I am a rational buyer so I never do that.
What is your most treasured artwork? 
I guess it must be Yayoi Kusama's self-portrait. Some people even said the face is similar to my mother's… How strange.
What attracts you to a particular piece of art?
I always try to connect with an artwork that catches my attention and see if this work can emotionally move me. I also look into several other elements behind a piece of art, such as the artist's influence, the "art megatrends" as well as the artist's represented gallery. All these factors will be considered during my decision-making.

Was it challenging for you to enter the art world as a young collector?
Being young to me is a double-edge blade. It is truly an advantage that gives me more time and opportunity, but it does compel me to study more in order to make up for my inexperience. I always feel that I need to further enrich my knowledge about art.
You mentioned in an interview that this younger generation of art collectors have more time and information to collect. How do you keep yourself up to date with the art world?
During the day, I usually focus on the family business and restaurant. After business hours, I will devote my time to the art world, attending gallery exhibitions, dinners, parties, etc. On weekends, I will push myself to catch up with recent museum shows, if possible.
Is meeting and spending time with the artists an important process to collecting? In what other ways do you make your informed decision in purchasing a work?
Meeting and spending time with artists and becoming friends with them is always a pleasant thing. An excellent artist will share his passion, his ideas and story with you. Continual sharing of thoughts and ideas enables us to start respecting the artist. Perhaps that's why we want to collect their work.
Listening to experts and advisors is also a wise decision.
Do you have any specific goals you would like to accomplish with your collection (i.e preserve culture, provide exposure for emerging artists)?
I only have one goal. I would like to become an influential Asian art collector who owns a certain amount of promising artists' works.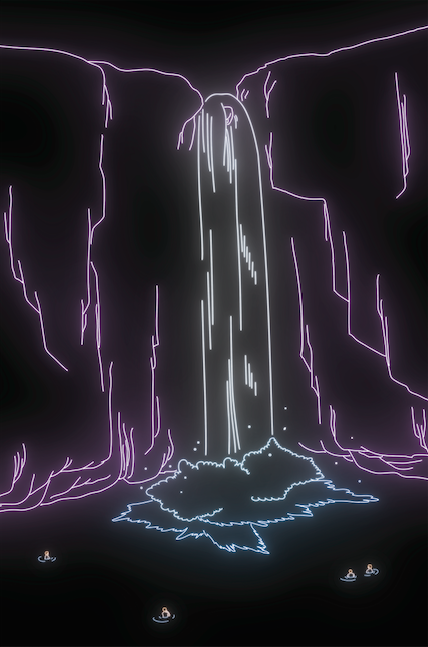 Thoughts on the Art World
What was your happiest moment being involved in art? 
The moment collectors recognised an artist I chose.
Whose art collection do you admire?
Dr. Uli Sigg's. I admire his foresight and wisdom. His collection of Asian contemporary art is always one step ahead of others.
It's been said that younger collectors look at art in a more globalized way and seem to be quite targeted in their choices, staying close to their collection's focus, as they no longer feel limited by their Chinese identity. Do you agree with this statement? Does this reflect your way of collecting?
I agree. Many emerging young Chinese collectors have a strong overseas education background compared to older collectors. As a result, they are more open-minded. They won't restrict themselves to a Chinese-only collection. However, this doesn't mean that they have rejected their Chinese heritage. They will seek a balance between "Western open-mindedness" and restoration of Chinese tradition. This has reflected my way of collecting.
Many fairs will be making their way to Hong Kong in less than three months from now such as Art Basel, Art Central etc. What will you be looking forward to and will you be looking for anything in particular?
Indisputably, today's art scene has seen an upsurge of art fairs, especially in Asia. However, the quality of these art fairs is irregular and they sometimes force art collectors to filter. Based on my observation, I believe the worthy-to-go art fairs in Asia are Art Stage Singapore, Art Basel in Hong Kong, Art 021 in Shanghai, China, etc.
Can you name three emerging artists who should be on our radar? 
Sun Xun, Chiharu Shiota and Kong Lingnan.
What are you especially excited about in regard to art in the next 12 months?
On March 14th I have a forum talk at Asia Society Hong Kong. It will be my first time speaking in front of important worldwide speakers. This will be a challenge for me, but I plan to properly prepare myself for it. Additionally, this year I will launch the second "Love is Not Rare" charity auction in Shanghai. The scale of this project will be bigger than last year, and of course, my personal art project "Art Project CZ" will still continue to collaborate with other galleries or curators.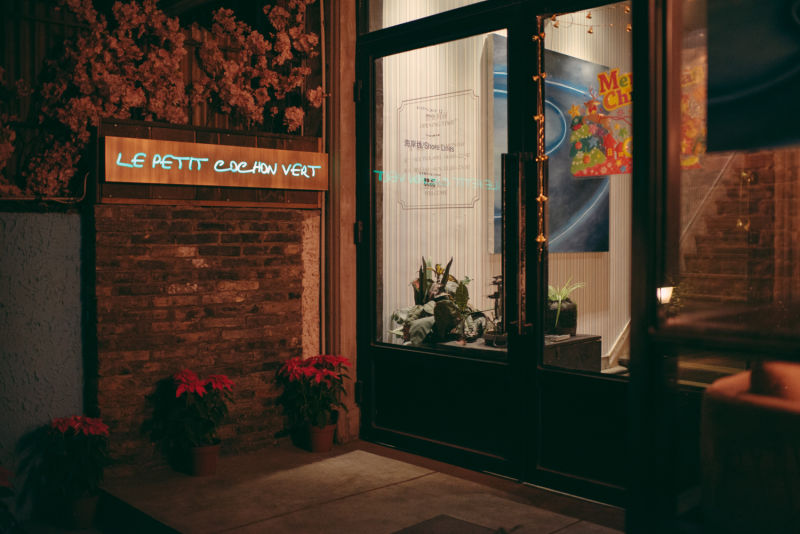 "Le Petit Cochon Vert" Restaurant
Why did you decide to display your art in your restaurant "Le Petit Cochon Vert" rather than in a museum?
I don't own a private museum. There is nowhere else I would want to put my collection other than my restaurant. The restaurant is an unexpected place, but it is an efficient public space to display art in terms of effect. I enjoy the idea of sharing my collection with diners while they eat.
When these amazing artworks are put up in a space such as a restaurant, it creates an artistic atmosphere. The artworks' visual effects become fully "absorbed" within the restaurant's atmosphere. I believe this "absorbed effect" is more interesting, rather than simply worshipping a masterpiece hung onto a white wall exhibited in a white cube. That's why I launched my art project "Art Project CZ", and why my designed motto for this project is "always do 'unprofessional' art projects" (meaning my exhibition does not follow the basic expectations of an art exhibition).
How important do you think it is for collectors to open a public space to show off their art collection?
It is always a generous gesture from art collectors to open a public space to share their collection with the public. Nevertheless, I don't wish for this to become a trend, where more and more public spaces are built in a short space of time. An art collection takes time to assemble; it should not be made too fast.
Read more about:
Artists in his collection:
Claire Bouchara