After the hurricane that destroyed most of the island of Puerto Rico, the gym-coach-turned-farmer and collector Antonio Castro Barreto organized 'Artists for Puerto Rico', a solidity event gathering artists in Puerto Rico and its diaspora to raise funds for relieving the aftermath. On the other hand, the hurricane also brought significant changes to his career and life – the gym closed down, and he helped his brother reconstructing his farm, then he fell in love with agriculture. He even moved from his house in Carolina to El Yunque Rainforest, the lungs of Puerto Rico. Meanwhile, he and friends started growing tobacco and established El Club del Turro while expanding his collection of Puerto-Rican-focused art as well as tobacco items.
While Antonio Castro Barreto described art collecting as his anti-depression pill, Larry's List is glad to share Antonio Castro Barreto's intriguing journey of art and life, full of adventures and wonders.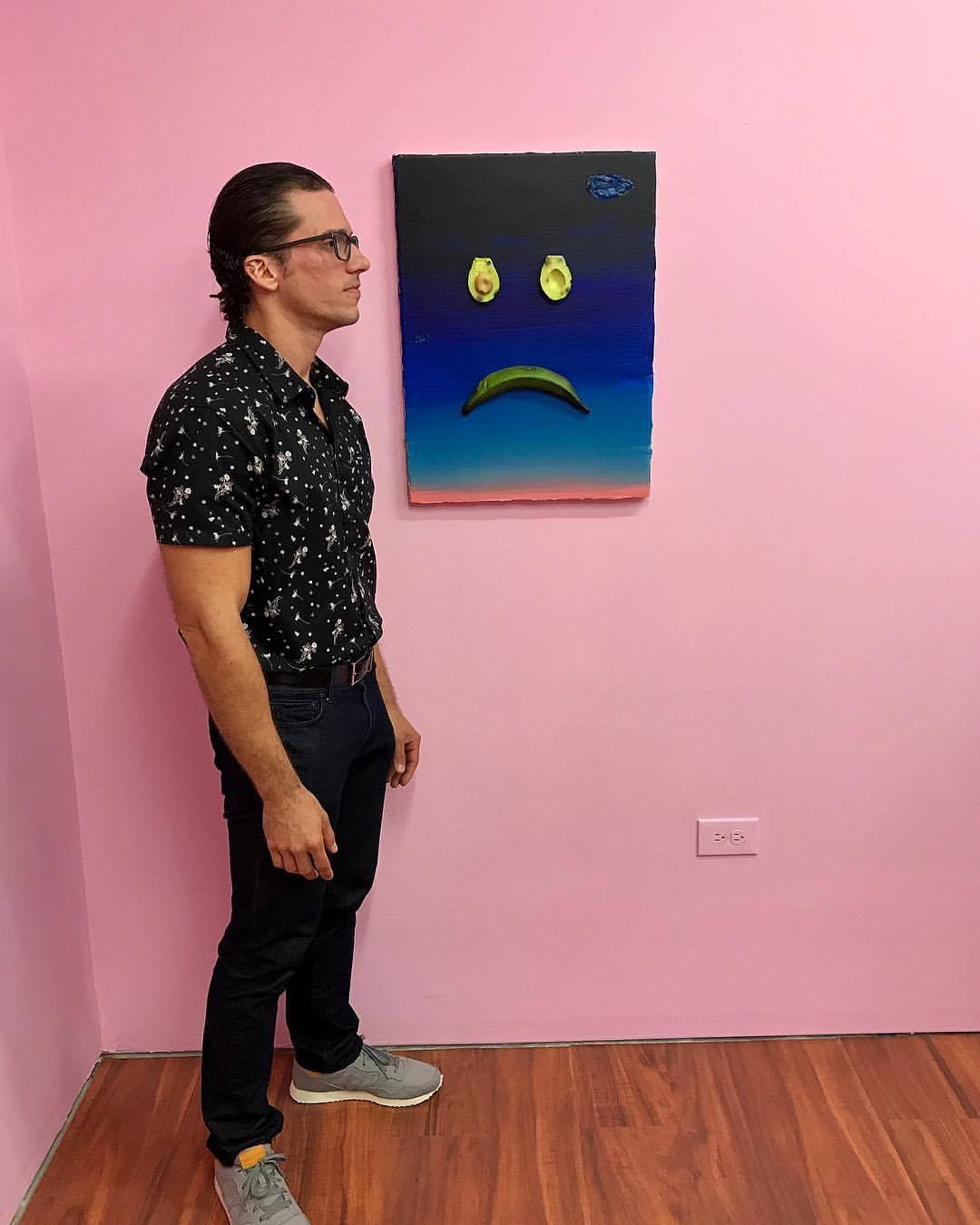 What made you want to start collecting art? What is the main motivation behind your collecting?
I think I have a gene in my DNA for collecting. As a child, as soon as my parents started giving me action figures, I had the ability to catalog them under different categories: some under their strength, powers, abilities; and I even came to identify how rare they were in the market. At 11 years old, stamp books started to accumulate in my room, and I thought of everything possible to find that unique stamp that wouldn't let me sleep.
Then, the baseball and basketball fever came in. I remember when my father took me to special events to meet great Puerto Rican baseball players, like Iván Rodríguez, Juan "Igor" Gonzalez, Ruben Sierra, Joey Cora, Orlando Peruchin Cepeda, Palillo Santiago, Roberto and Sandy Alomar, and many other glories that my country provided to the world of sports. These events allowed me to bring my baseballs, letters, photos and ephemera for them to sign. Being able to closely meet those personages, whom I idolized so much, was unreal.
In those days I used to play a game with my friends that one opponent putting two packs of cards on the table. I bet a certain number of cards in my pack against one of the opponent's pack. When turning the two packs, if the baseball card with the highest number corresponded to the chosen pack, I earned it all. My friends did not have the mentality to collect, and you could find very valuable cards. Little by little I started creating my collection.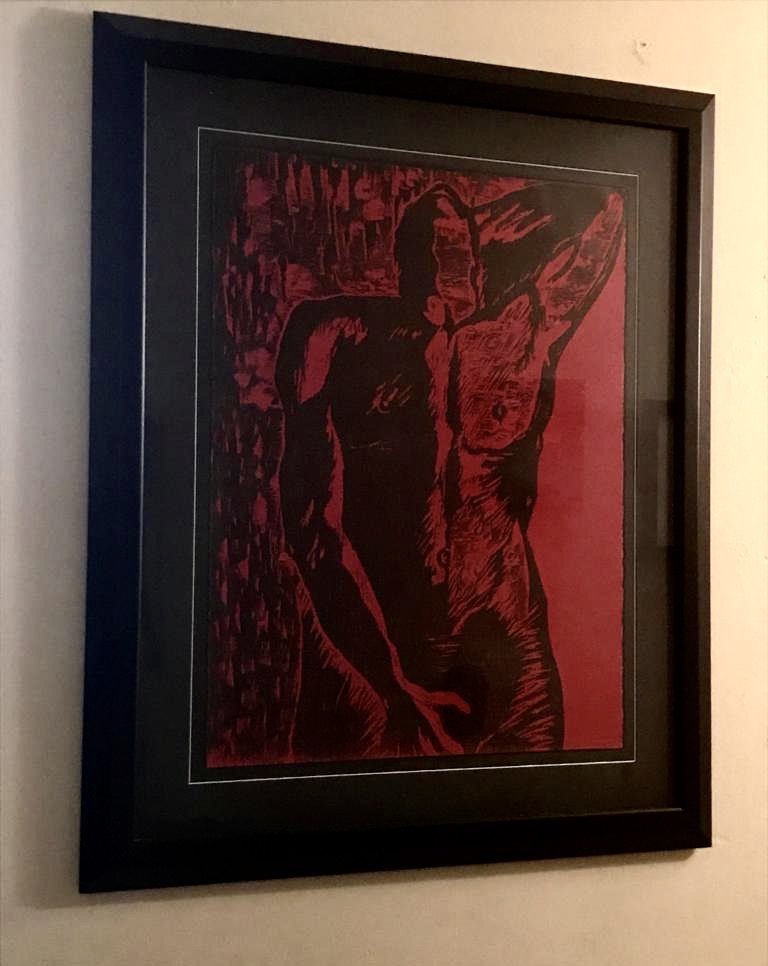 When did you fall in love with a piece of art? What was it?
Feeling love or attachment for a work did not come overnight. At the 90's in Old San Juan (capital of Puerto Rico where there were buildings of colonial architecture), the Noches de Galeria were carried out monthly. All the galleries of the urban area where opened. The art community of Puerto Rico met in that place to taste different artistic expressions, while creating an atmosphere of camaraderie and discussion of the exhibited works, while drinking good wine and beer. I loved these events because I could appreciate sculptures, paintings and performances at no cost, while talking with the artists about their creative processes.
Back in 2007, my process of chemotherapy had just ended due to a diagnosis of testicular cancer. I was 21 years old. I remember feeling happy because those difficult days ended, but at the same time, I was carrying the uncertainty of how to face life, my future and goals. In that sea of ​​feelings, one day I was walking through a mall, and an art fair was going on. I was struck by an engraving of a naked man with one of his arms touching his crotch. The work can be very sexual, but for me it did not represent that. It carried a lot of my life and I was automatically stunned with those bloody reds on paper – colors that I had recently experienced in my cancer process, but that image also carried freedom and a new beginning. If you can say that feeling is falling in love with a piece, then it happened. Her name was Ada Rosa Rivera, and without having a penny in my pocket, I bought it.
I worked hard to buy that artwork, my first work. And still today, I have to sacrifice a lot to include new artworks in my collection. I am a simple citizen, not a millionaire, but I have a great capacity to conquer what I am passionate for. All these events became the pillars for appreciating a work of art from a very personal perspective, while always respecting its autonomy, the connection with the artist, and its historical value.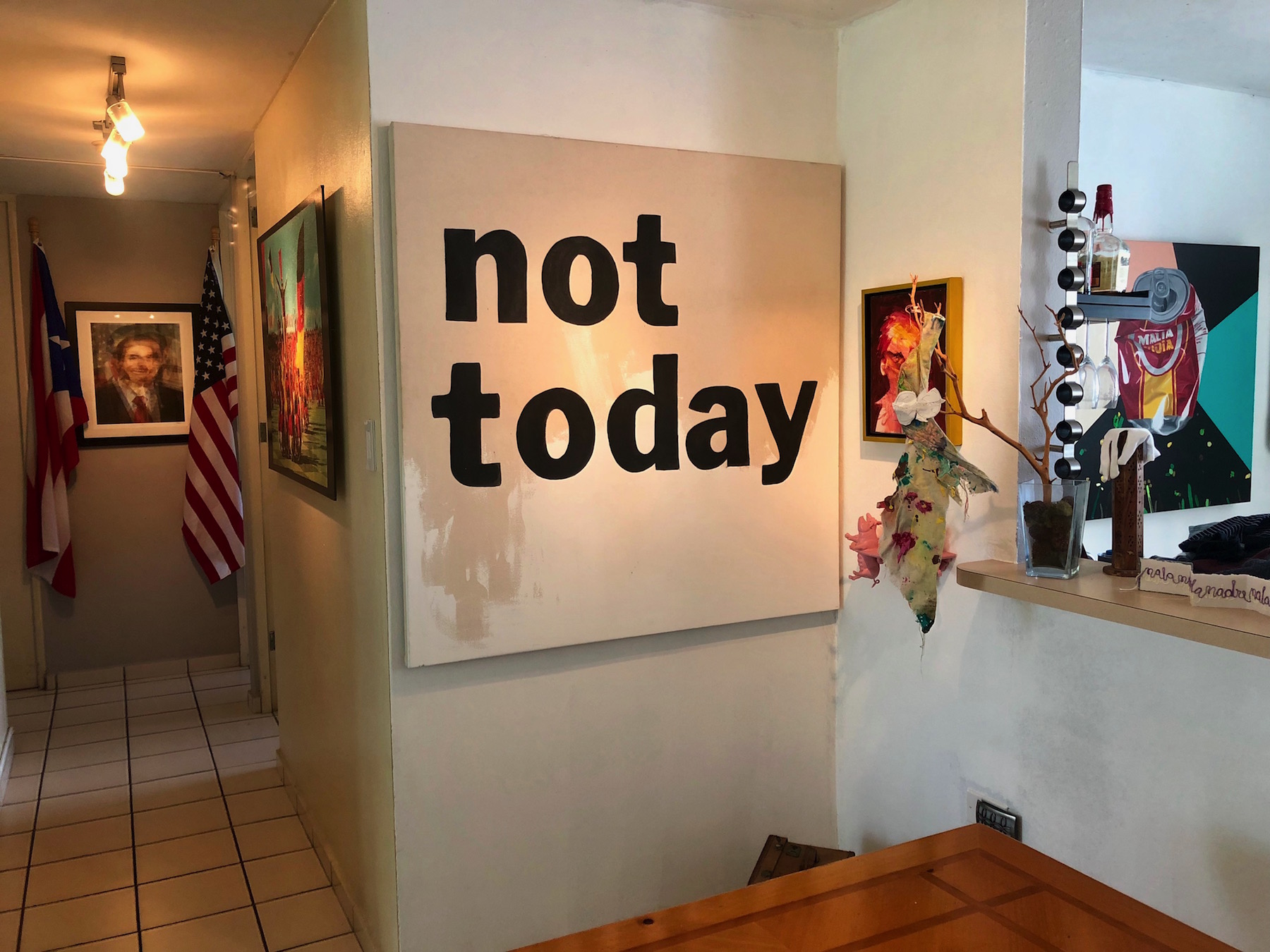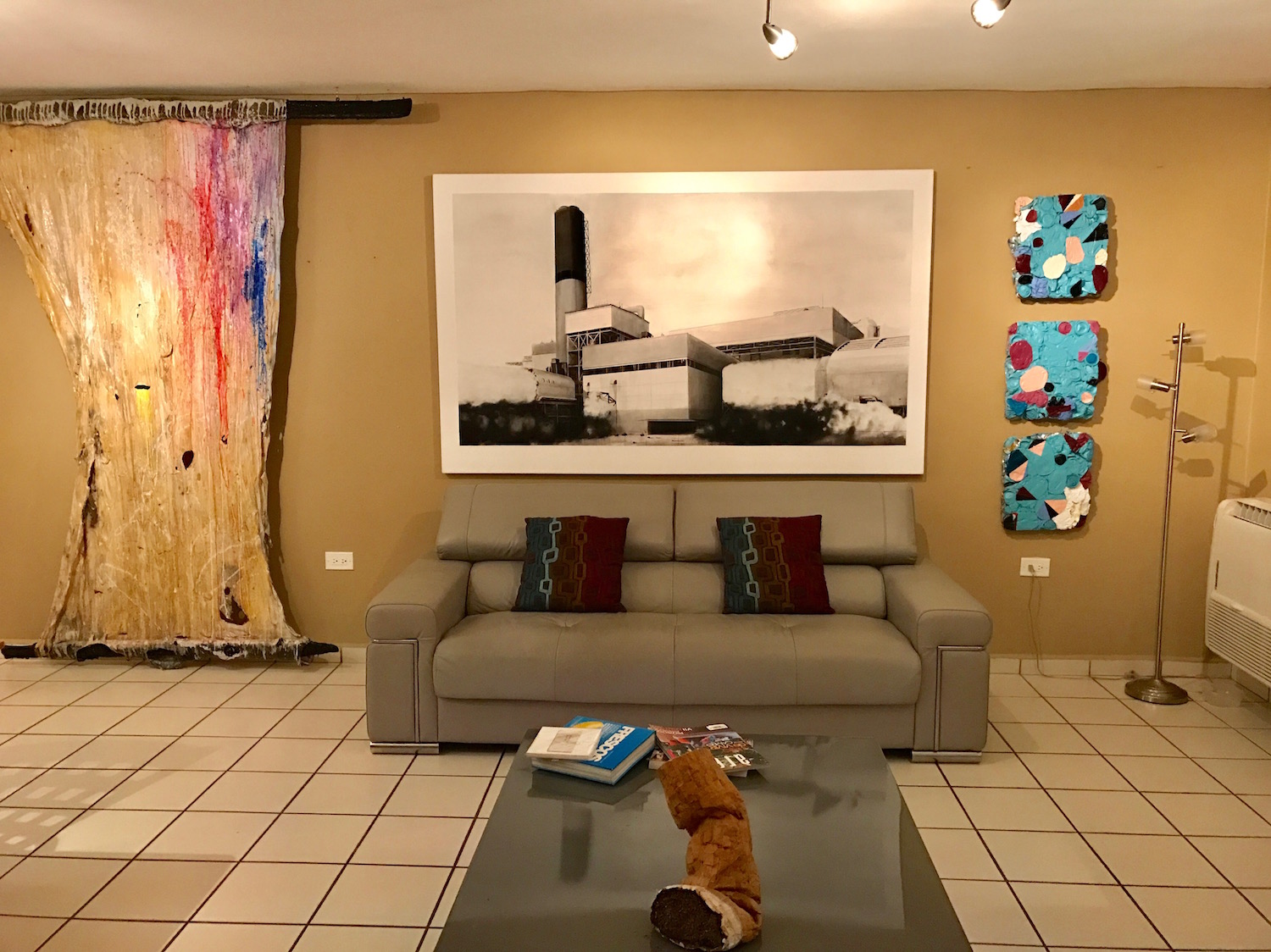 Why do you focus on local Puerto Rican artists? Are you more interested in emerging or renowned artists?
I don't collect art, I collect stories. Every time I desire a work, I need to meet the artist and get a glimpse of his story, his life. Puerto Rico has a very rich political history, including military interventions by Spain and the USA, and armed revolts seeking its independence (Grito de Lares, 1868). Taíno Indians inhabited the island when Christopher Columbus landed in Puerto Rico in 1493. Soon after, Puerto Rico became a Spanish colony and remained under Spanish rule for over 400 years. In 1809, Spain had lost all of its New World colonies except Cuba and Puerto Rico. We are the only territory that never gained its independence.
American troops invaded and raised the U.S. flag over the island and its one million inhabitants. 120 years later we are still a colony of the United States, paying taxes with no right to vote for the president or any electoral decisions, 90% of the goods are imported and we pay the highest maritime taxes for food and supplies.
Puerto Ricans have their culture in their blood, their Spanish language, their salsa and bomba music and are very grounded to their nationality. I think that our history is glued together, in one way or another, in art, and I usually try to find these concepts in my collection. Not collecting works of my people means to betray them and ignore the power or resistance they taught me.
The majority of the works I have are from emerging artists. One reason is because of the art market fixed high prices (which I never understand); and the other one is because young artists tend to be more daring and they roll the dice more fluidly. Just think of your younger years and your capacity to rule the world. They have nothing to lose and everything to overcome.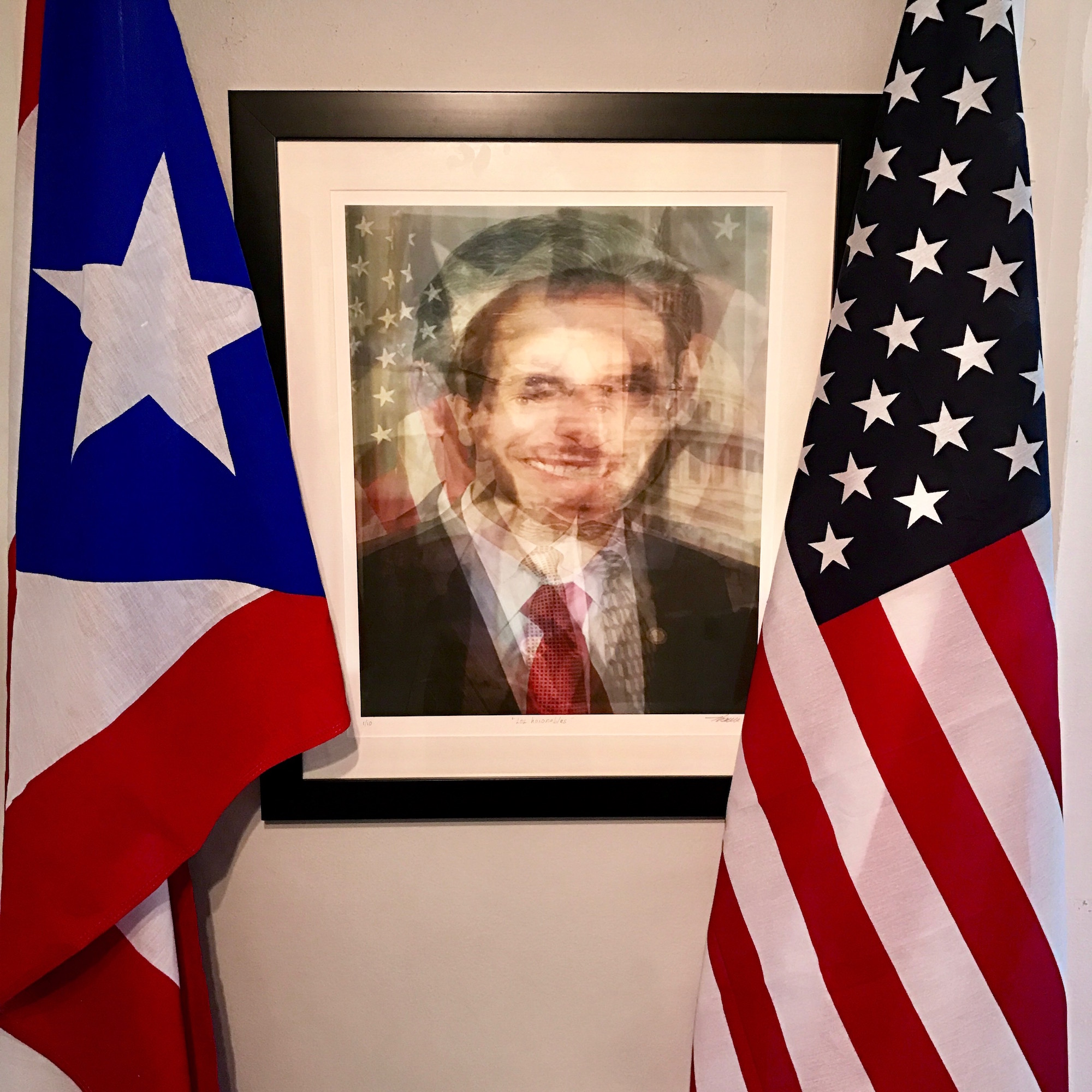 Is there any particular type of art that has consistently attracted you, or anything that unites all the works you have acquired?
I first started collecting big paintings. Right now, I'm inclined to smaller works: drawings, silkscreens and engravings. You can find rare works from artists in these formats at better cost. If I can think of a theme that unites my collection, it will be: experiences, stories, history.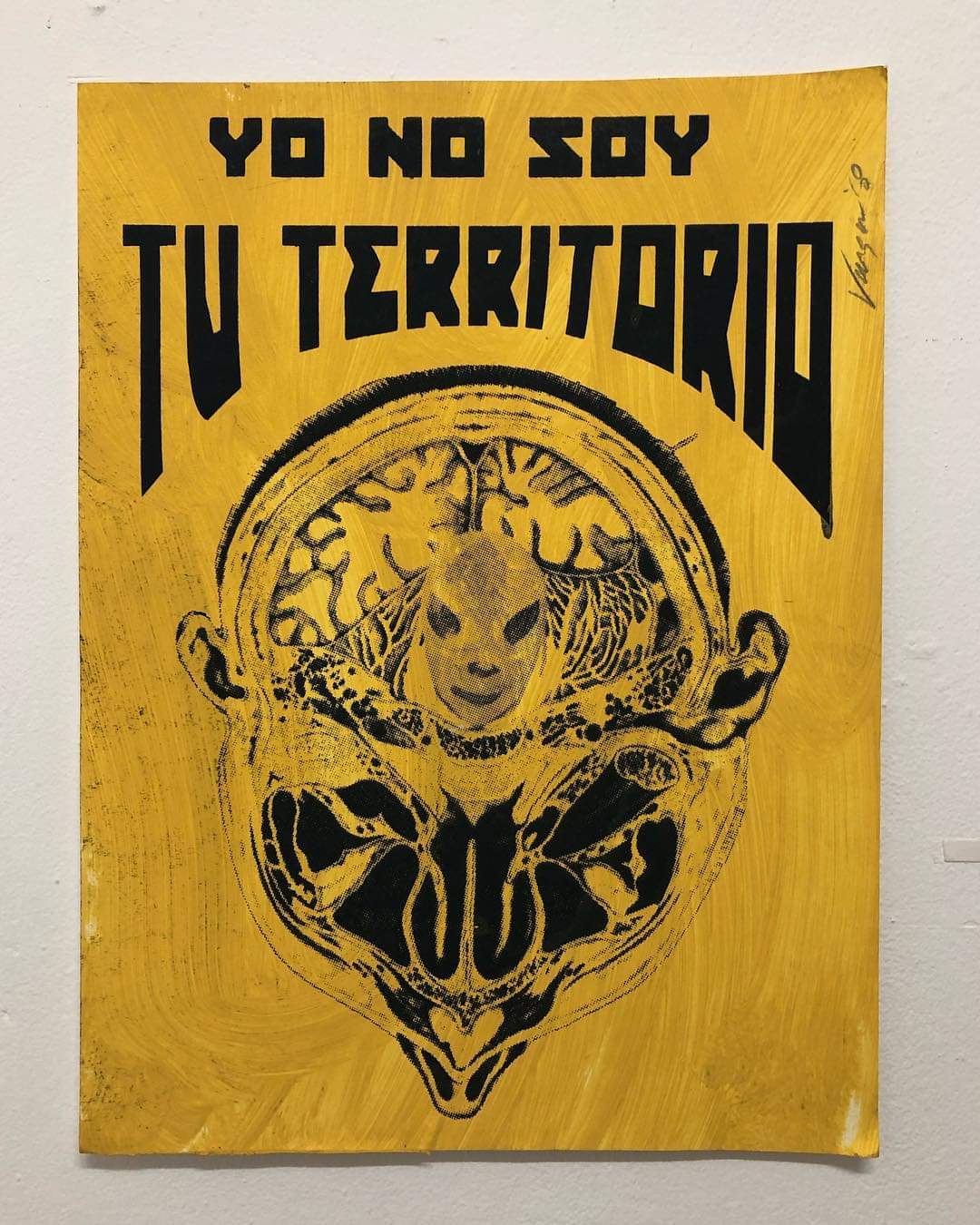 What were the first and the latest artworks you purchased?
The latest work I purchased is an engraving titled Yo No Soy Tu Territorio by painter José Luis Vargas. He actually has a solo exhibition running at Hidrante gallery in San Juan. His practice brings us closer to a timeless space where the past and present bodies of the artist comes together with historical referents associated with collective memory, through a visual vocabulary nourished by science fiction and the supernatural.
How many artworks do you own?
I have over 200 items. There are no more walls to put them in my house so I had to rent a warehouse to protect them. Gladly over the past years, galleries and museums started to get interested in my collection, and some of the works have been chosen to be exhibited.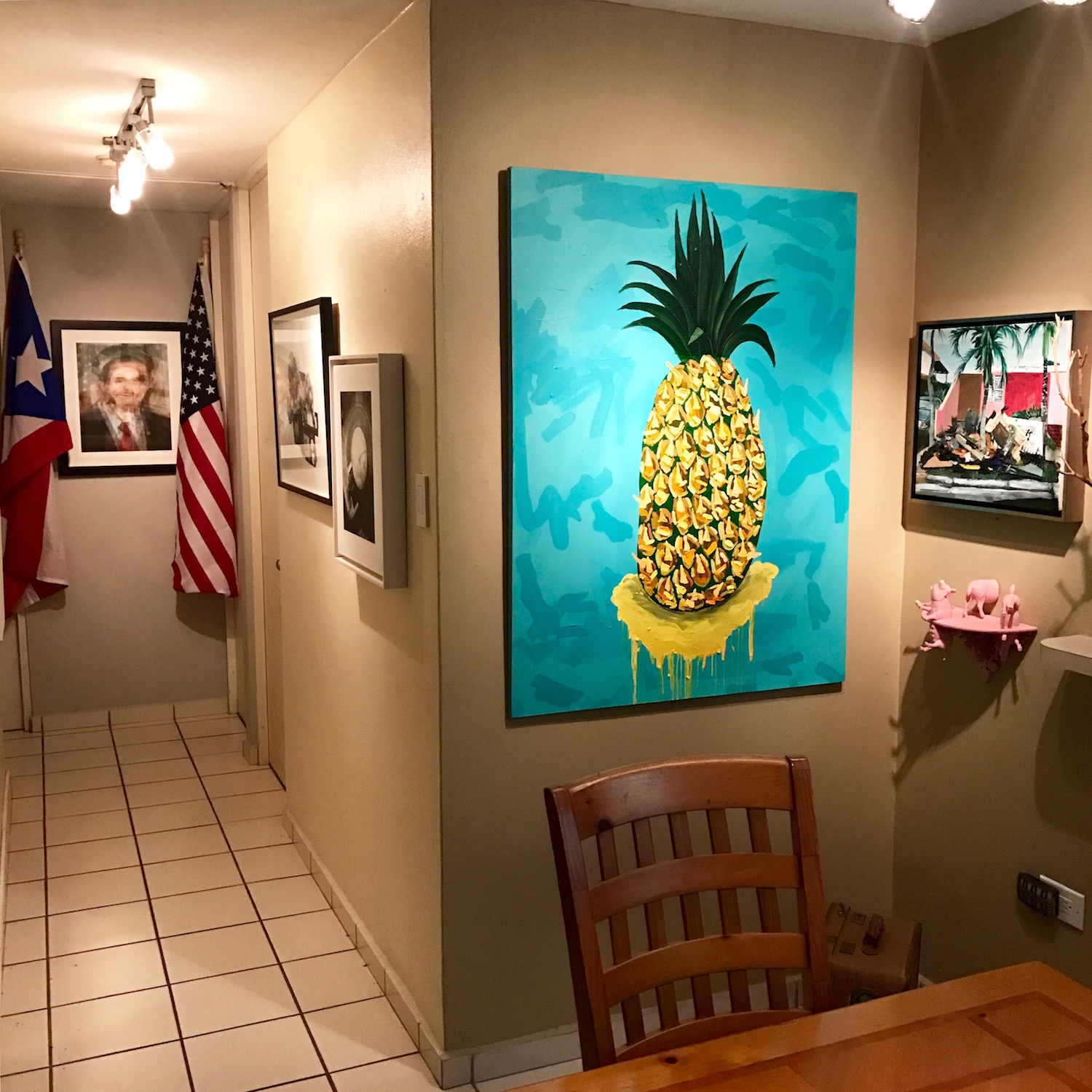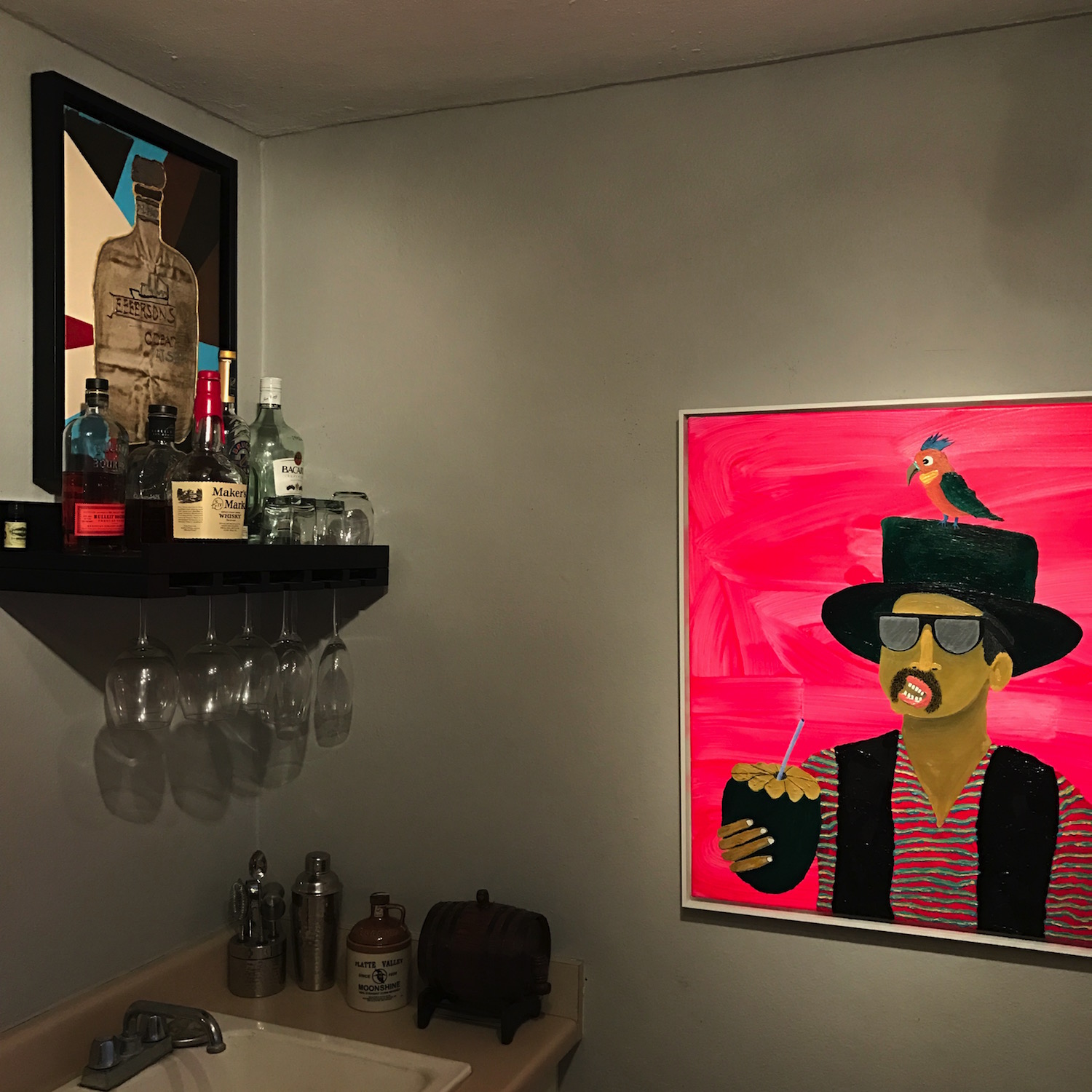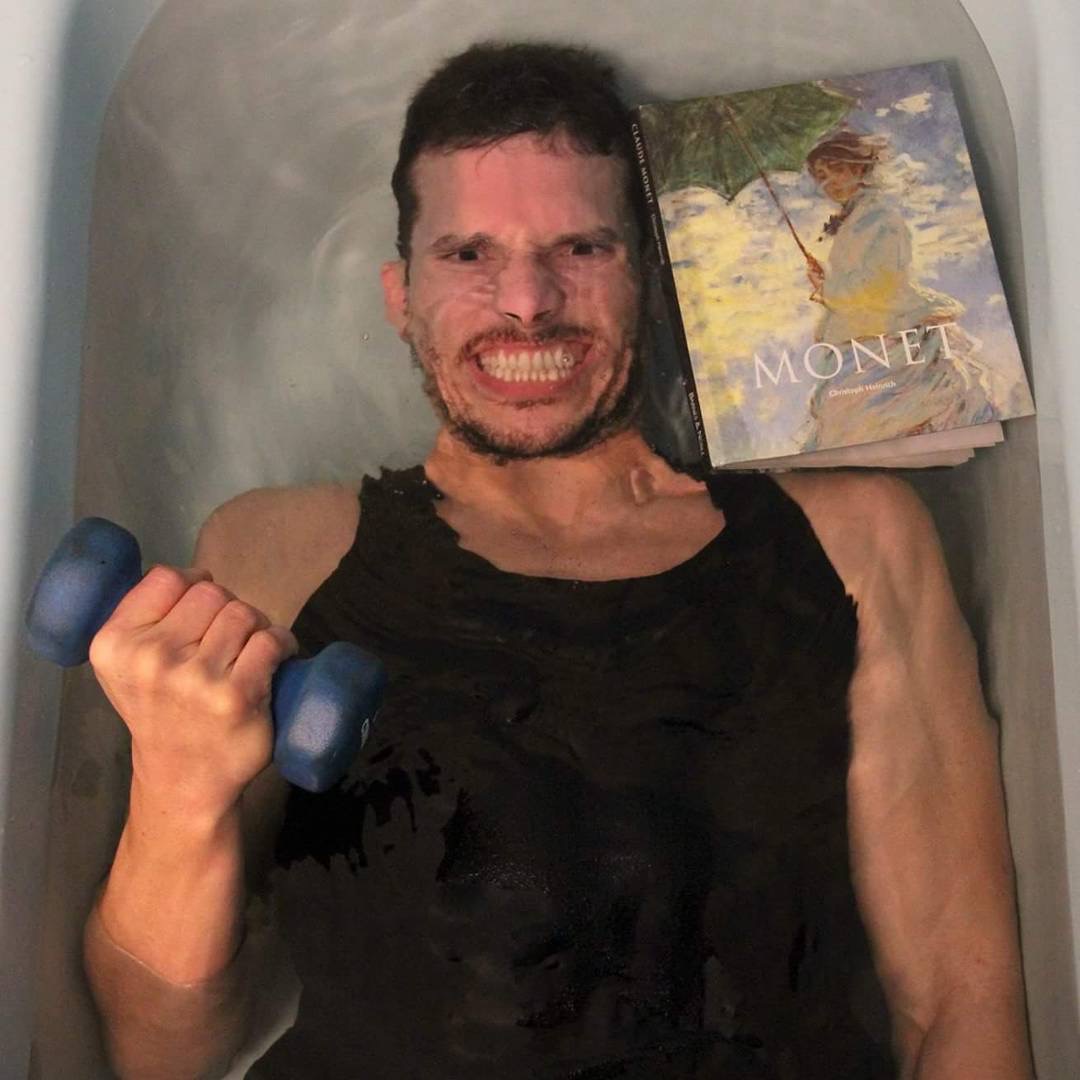 Where has your collection been presented publicly?
Back in 2013 a mixed-media painting of Omar Velázquez was shown in his solo show Undo at the gallery of the Sacred Heart University in San Juan. In 2016, the painting Amanecer en Enero 2 by painter Sebastián Vallejo was exhibited in the show Paramnesia at the Arsenal de la Puntilla Museum in San Juan.
The latest one was organized in 2017 by the Museo de Arte de Puerto Rico, one of the most important art institutions in Puerto Rico, custodian of hundreds of important historical artworks. Contemporanea, Nuevas Colecciones en Puerto Rico, gathered the most important influencers and collectors in the local art scene to show their collections. Two of my works where chosen, a painting by Gamaliel Rodríguez and a sculpture by Jesús "Bubu" Negron. I was honored to be the youngest collector of the pack and later participated in a talk about collecting. It was a very fulfilling experience since I shared my experience with other young collectors.
The doors of my collection are open for anyone with a vision to show what Puerto Rican artists are made of, and I will be very happy to do it.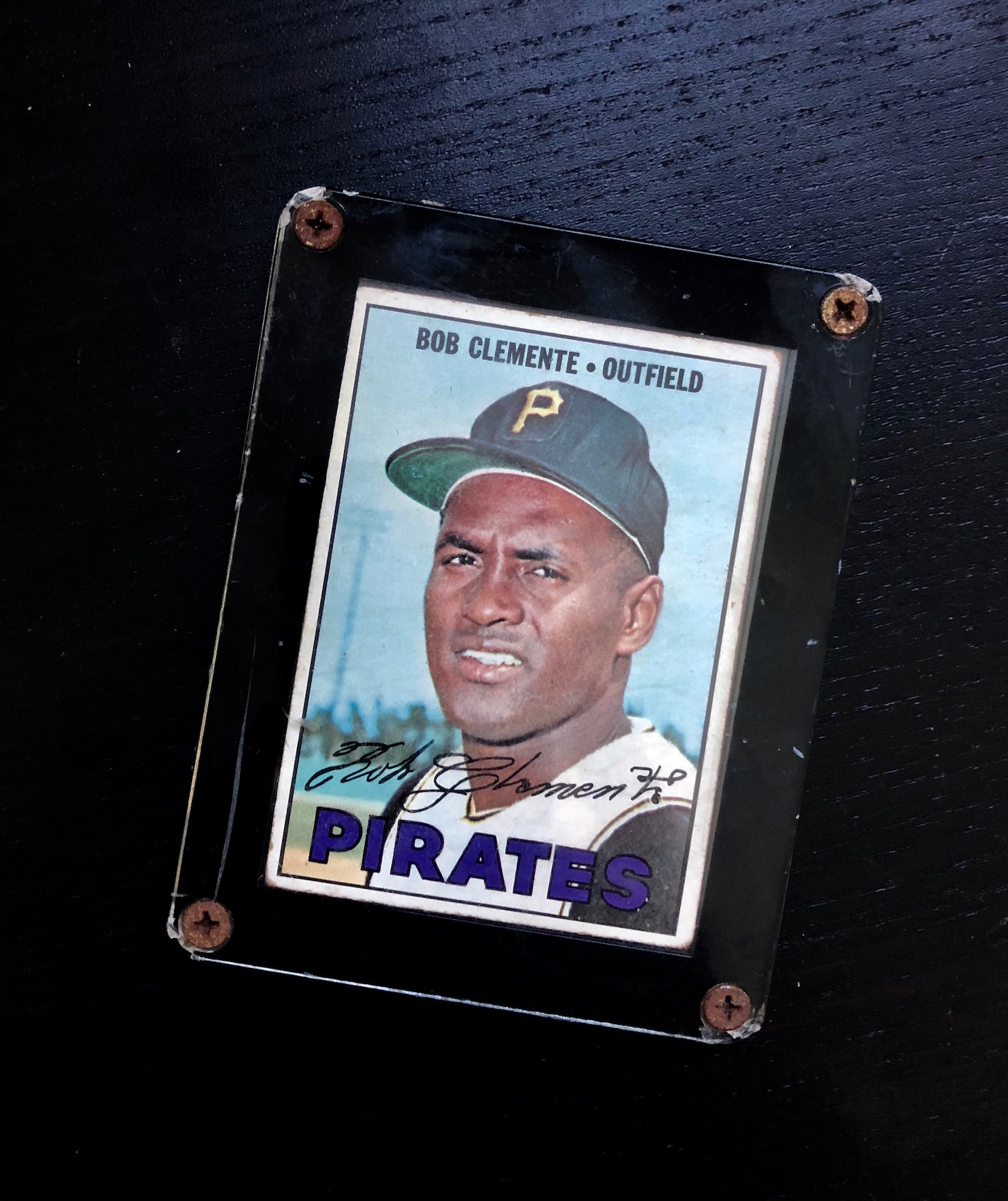 What are the most unforgettable moment during your journey of collecting?
As in any career of a collector, you can achieve unforgettable moments. In one of those ball-card sales, I saw a card from Puerto Rican baseball player Roberto Clemente. The cost was $ 80, and that amount was beyond my reach. I told my grandfather to help me buy it. My grades in school were not very good, so as a wise man he was, he told me to improve those grades and that card would be mine. Those were the hardest months for me as I studied like never before. Grades came good, and I still keep that card today. This piece not only reminds me of the figure of Clemente, but also retains the memory of my grandfather, a man of struggle and perseverance. Those moments became the pillars for my vision through my recent collections of contemporary art and tobbacciana, and I continue to be carried away by the passion I felt as a child.
Slowly but steady, I understood that collecting art is a process that enriches life because it invites me to discover stories that interweave with me and make me a better person. Clemente became my mentor just with his card. Even today, when I have it in my hand, I can hear his powerful bat crushing the ball and feel his long shot from the field to home plate. Collecting has always been one of my best adventures and is a path for me to learn about a subject, scrutinize it and become part of its protagonists.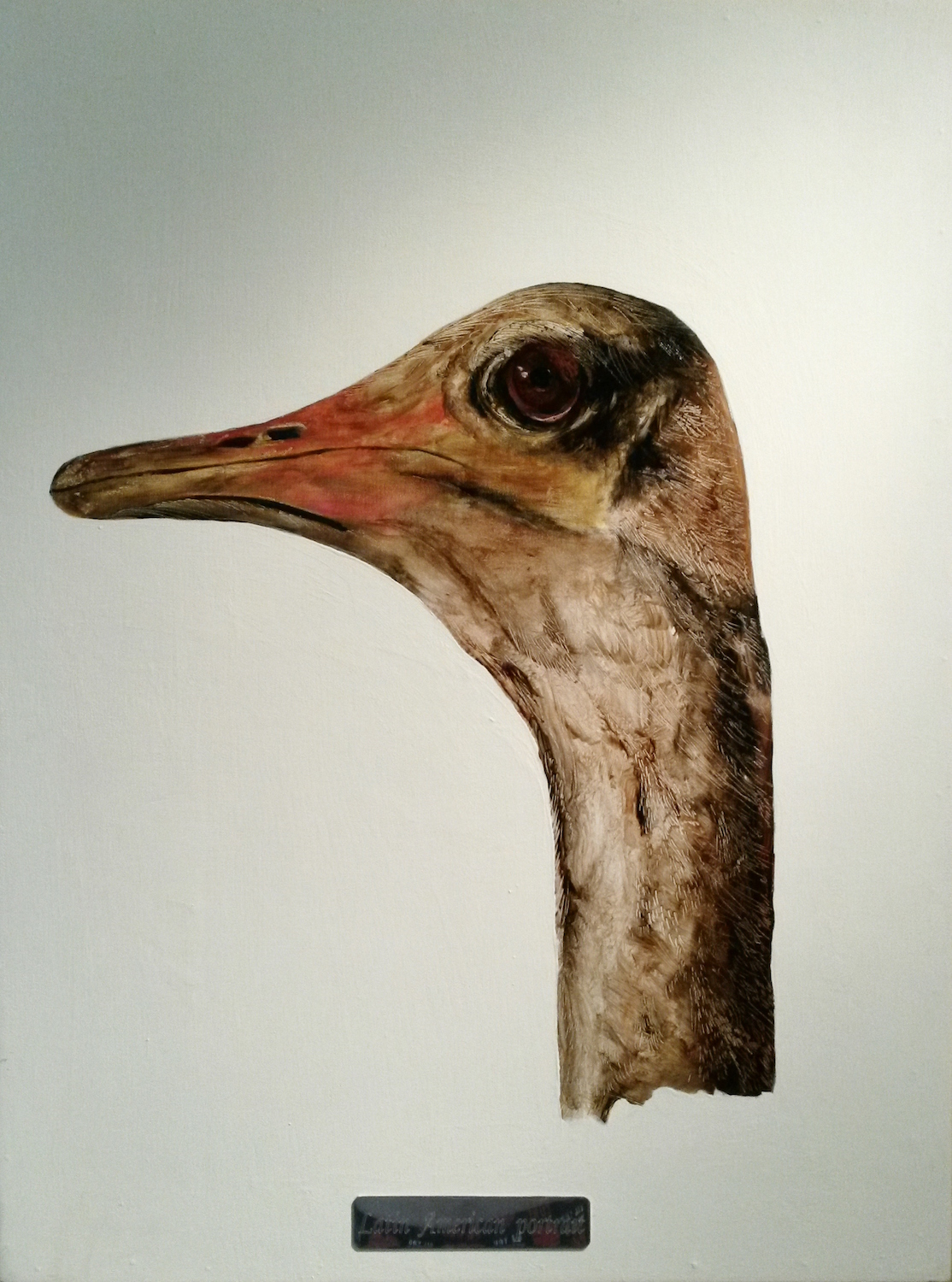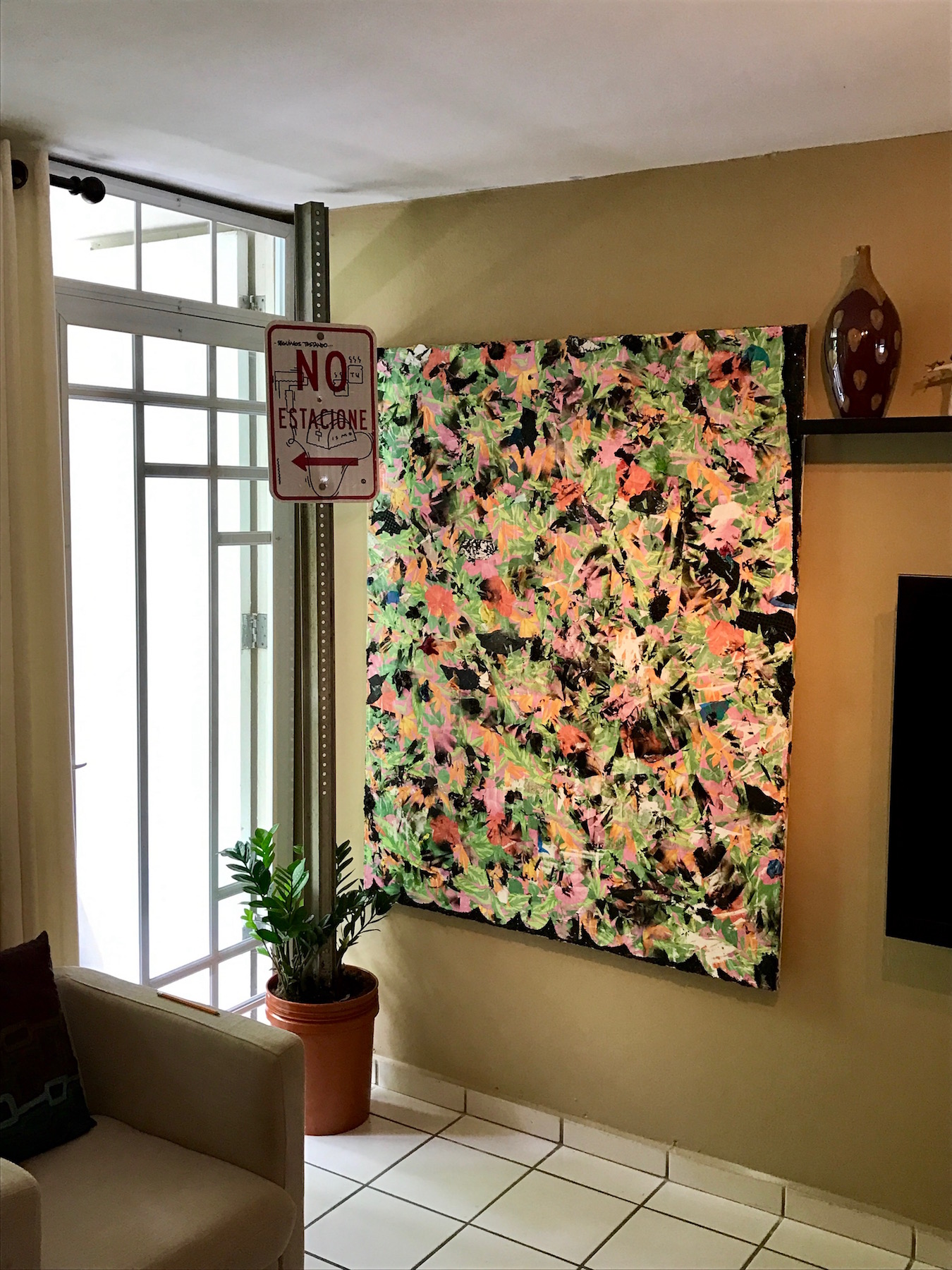 How important is it for you to immerse art into your daily life? And how do you do that?
For me, to be present in this world of art is like drinking water in thirst. It's my anti-depression pill, a way to relax and put problems on hold just to be open to new friends and new perspectives of life. But not everything is color pink. Being a collector is not an easy task on the island. There are just a few of them and sometimes this can be stressful. No one ever talks about the pressure a collector feels, because like me, they want to see artists succeed, and sometimes the only way to do it is buying their work. But I have found new ways of helping, using the network I've grown through all these years of collecting.
A couple of years ago, I met a group of artists with a very unique form of doing art. Of course, they where the underdogs, guys without hairs on their tongues, dealing with a political perspective, denouncing injustice, colonialism, corruption, racial issues, gender identity and bluntly uncovering what people didn't want to discuss regarding cultural institutions and society, and how they behave themselves, good or bad. This group of artists were supervising how art institutions were using their money, questioned about grants given to artists, and simply asking why a person was chosen to direct a museum. All of this while painting big canvases with skulls, politicians' drawings inside cigar cases, chunks of paint as sculptures and crowns made by tortilla chips. Few people talked about them, but they were in everyone's head. With these guys I found a place to learn the nitty-gritty of the behind-the-scene bullshit that comes and goes with the government, and how they behave with cultural institutions.
They were located in a beautiful colonial building in Old San Juan, and I started helping them with the day-to-day cleaning, moving artworks and just criticizing their work. I ended up being a collaborator and a somewhat leader of the pack, doing important art exhibitions and getting visits from curators around the world. Everyone that came to that place got a piece of our history and how the current events where evolving. It became a place of research and investigation even with a 3-month residency program for artists. Those were the good days. Today what we called Pof (Pounds of Flesh) is no longer there, but those rusty walls still have the memory of a group of passionate people expressing their most profound feelings about art and their surroundings. I hope to be part of future projects like this one that really leave a mark for posterity. I'll keep you posted!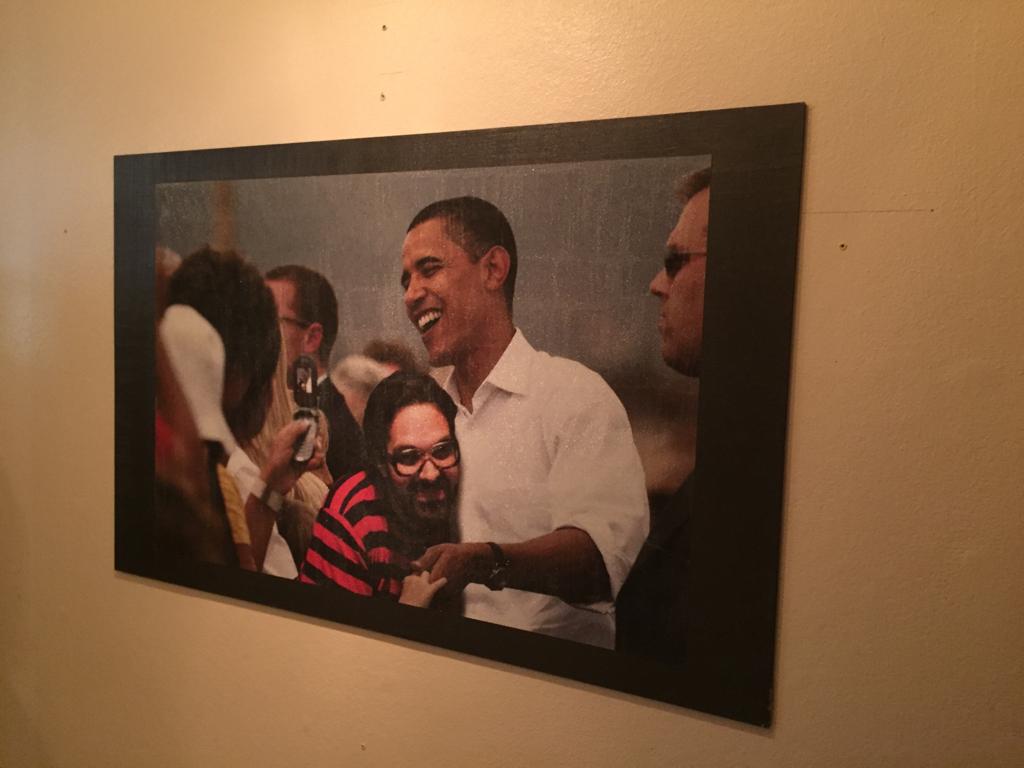 How has your collection evolved during the past years or influenced by incidents in your country or personal life?
Let me talk to you a little about my professional background so we can understand how my personal life has influenced art endeavors. I have a BA in the science of exercise and health promotion and have worked as a personal trainer for 12 years. My love and success on changing people's lives had helped me financially to construct the vast majority of my collection. I remember working at a very high-end gym busting my ass to get that pay check, cash it and spend it all on art. It was a cool ride back then visiting artists' studios and finding that connection with a piece – that was a feeling like having my own auction house and I was the only buyer.
In those years as a personal trainer, I did my first trip to New York. Among all those big buildings and a very good mix of people around the globe, I entered a small healthy food store and saw the employees making homemade yogurt. I was like, "hey let's try that at home". I've always loved yogurt so it couldn't be that difficult. Came back to Puerto Rico, I started burning casseroles and mixing gallons of milk with favors and bacteria. After reading a bunch of literature about fermentation, active cultures, temperature and everything related to yogurt, I started giving those little cups to my clients to try. The results were amazing. I ended up creating a 7-year span yogurt factory in Rio Piedras, with 7 employees producing and delivering yogurt to the whole island. The factory was near the University of Puerto Rico, and I made some contacts with art and business professors that bring their classes to see an example of a locally generated business from scratch. It was an opportunity to meet young artists while tasting a creamy strawberry yogurt.
So then in 2012, I met artist Frances Gallardo. I was in love with her paper works inspired by hurricane trajectories and weather phenomena and the fragility of those knitting type cuts. Her hands flew over the paper with the same perfection that my grandma used to knit the clothes of newborn babies in the family. Meteoro, her first solo show in the Museum of the Arsenal de la Puntilla in San Juan, featured a little booth of my yogurt for people to try. Today I still feel very honored to be part of that exhibition that showcased (for me) her most intimate and diverse pieces of her professional career to date.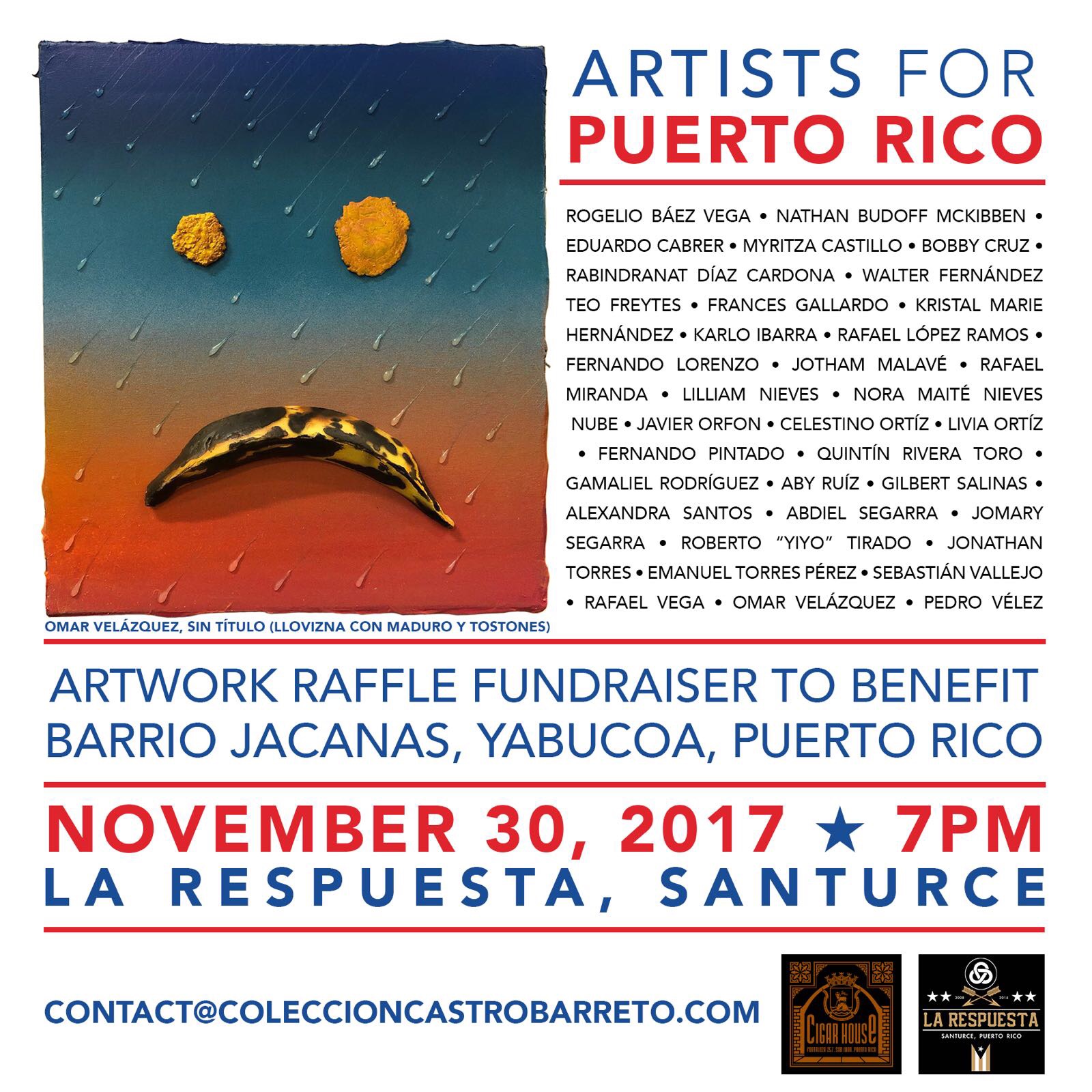 After Hurricane Maria in Puerto Rico in 2017, you coordinated some projects with the artist community. Can you tell us more? What did you want to achieve?
After hurricane Maria, dozens of artists took to the streets to bring love, creativity and moments of leisure for a society full of losses. I needed to do something to help my people. In those critical days after the devastation, my cousin Maribel Castro identified a neighborhood in Yabucoa called Jácanas that was greatly affected by the 100mhp winds and rain: houses without ceillings, elderlies needing medical assistance, children without food. I called the art community to unite by doing an art raffle, called 'Artists for Puerto Rico'. I received a lot of help from artist Nora Nieves, who was able to be the contact to find Puerto Rican artists in the diaspora, specially in New York and Chicago, who sent their artworks without hesitation.
The event was featured in all local newspapers, even Artnet. Collectors and art loversresponded quickly: the reception was monumental. We received around 50 pieces, and I even had to tell artists to stop sending artworks becausewe were already full. Fofito from the iconic art spaceLa Respuesta in Santurce gave us hisplace for free after two museums had denied our proposal, one even wanted to charge us. We collected around $10,000.We made an audiovisual tribute to the artists, and it was screened at the event. Two violinists played live, they had just arrived from playing Hijos del Cañaveral withsongwriter and singer Rene Pérez "Calle 13" at the Grammys. We were able to bring beds to the neighborhood, help from nurses, roof constructions, hot food, basic help, food for the animals, etc. There was also an auction that day of a piece by Pedro Vélez. The artist Quintín Rivera Toro offered a performance, 'The NewNational Puerto Rican Invasion'.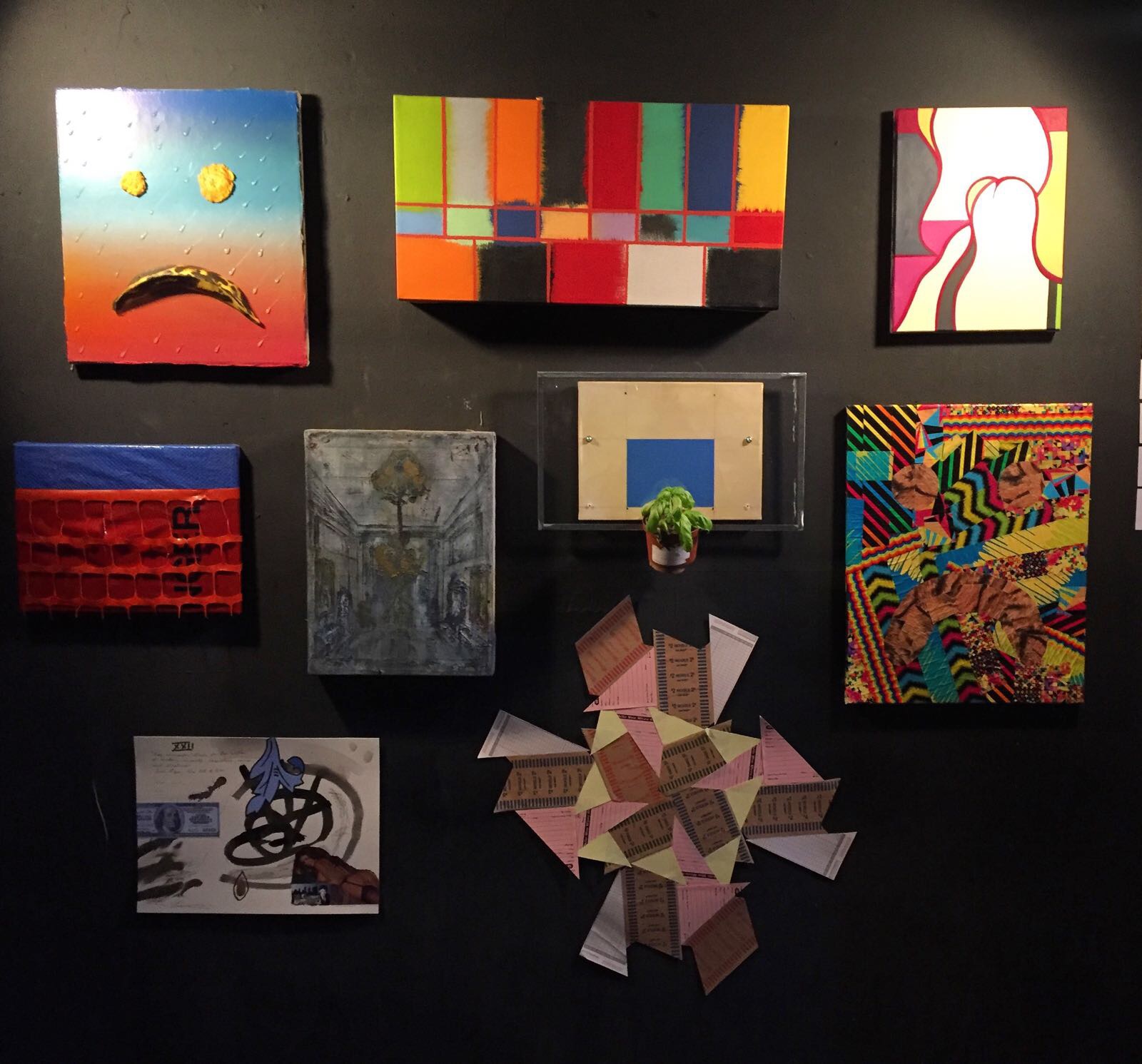 Besides art, you also collect tobacco items, why?
Since the 1900 there is no tobacco industry here even though Puerto Rico had the best tobacco in the World. We want to bring that glory back and try to improve the economy of the island (that is in bankruptcy now). Our mission is to create a cigar 100% cultivated and rolled on the island. We have the best land for tobacco, there is no excuse on not to do it.
While doing this, I started collecting tobacco items from Puerto Rico in a way to keep me inspired. Tobacco boxes were done handmade and the art on them was mostly made by hand using engraving techniques. These pieces are works of art, and I have found some really rare ones. I hope to show this collection one day to inspire Puerto Ricans so they can see what we where capable of. The collection includes 1800-1900 cigar boxes, postcards, ads, labels and rings. Maybe I have to get a new warehouse for them in the future ;).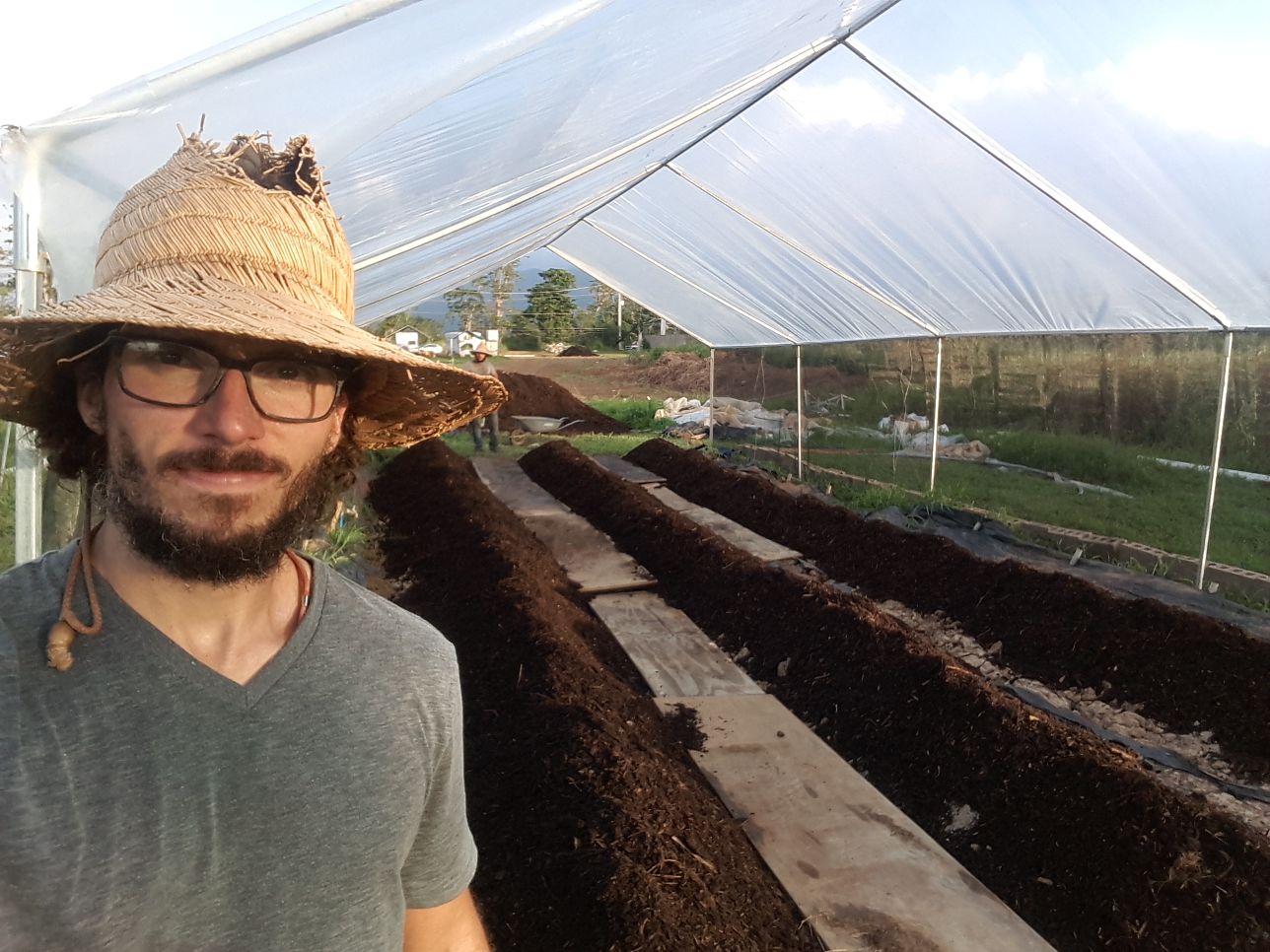 Related: Castro Barreto Collection
Instagram: @castro_barreto_collection
A selection of artists Antonio collects:
Ada Rosa Rivera
Bobby Cruz
José Luis Vargas
Karlo Ibarra
Omar Velázquez