Meet Guy Stanley Philoche, the New York-based artist-collector who has recently made the news headlines on several press media by having purchased $65K worth of art from hundreds of artists in 2020. All started in March this year when some of his artist friends were facing financial difficulties. He then decided to contribute back to his art community and help out fellow artists as he posted a simple video on his Instagram to call for as many artworks as possible from different artists.
LARRY'S LIST had the pleasure to speak to Guy Stanley Philoche to know more behind this inspiring story of an artist supporting other artists: the promise he made to himself at the beginning of his artist career, the most special artworks among those he bought in 2020, how art is like breathing for him, his visions for the New York art scene, as well as some young emerging artists we should watch out for.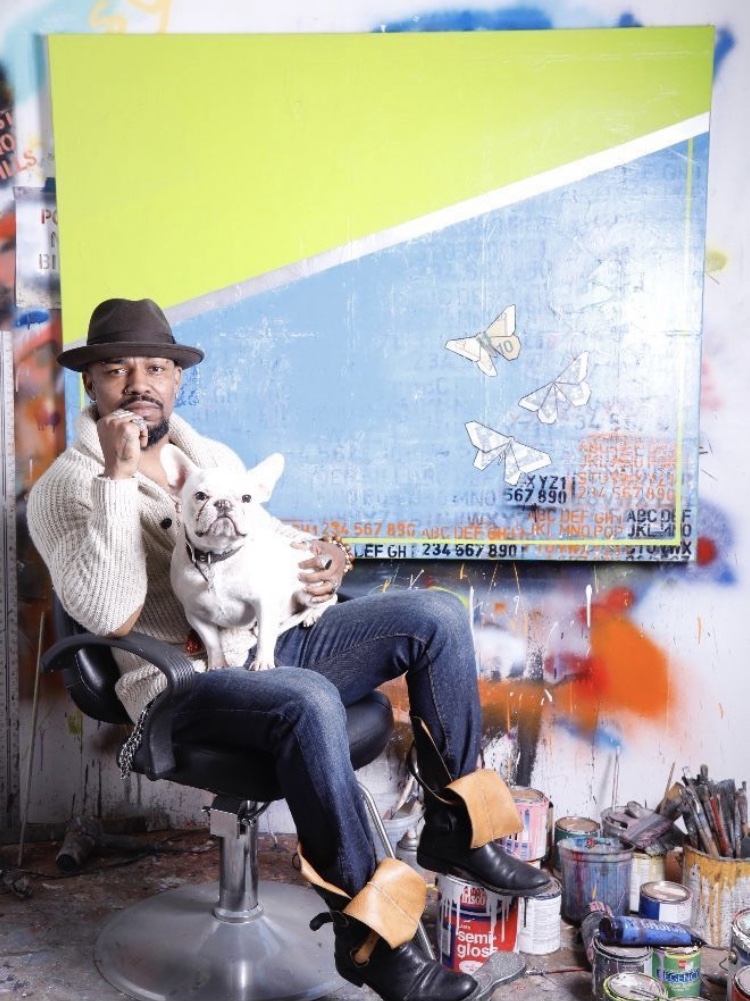 Collecting as a way to support artists
What made you start collecting art at the beginning?
When I came to America from Haiti with my family, I was this awkward kid who couldn't speak English and was trying to find my place in this world. I was learning the language from watching cartoons and started scribbling. Art became my escape and basically saved my life. I owe it a debt that I am not sure I will ever be able to repay, but I made a promise to myself at the very beginning . . . for every painting I sell, I buy a painting from another artist. This is the foundation of me collecting art.
And then what motivated you to make a call for artists back in March this year?
After coming off a sold-out show at Cavalier Galleries in New York City, I wanted to reward myself by purchasing a Rolex watch. I ended up speaking to some artist friends who were struggling because of the pandemic: the fear in their voices made me reconsider taking that action and asking myself, "What can I do to help?" Listening to their stories full of despair broke my heart. Nurses, doctors, teachers, and frontline workers were being taken care of and rightfully so. I'm far from being a rich man, but I just wanted to find a way to support the artist community that has continued to support me, so I put out the call.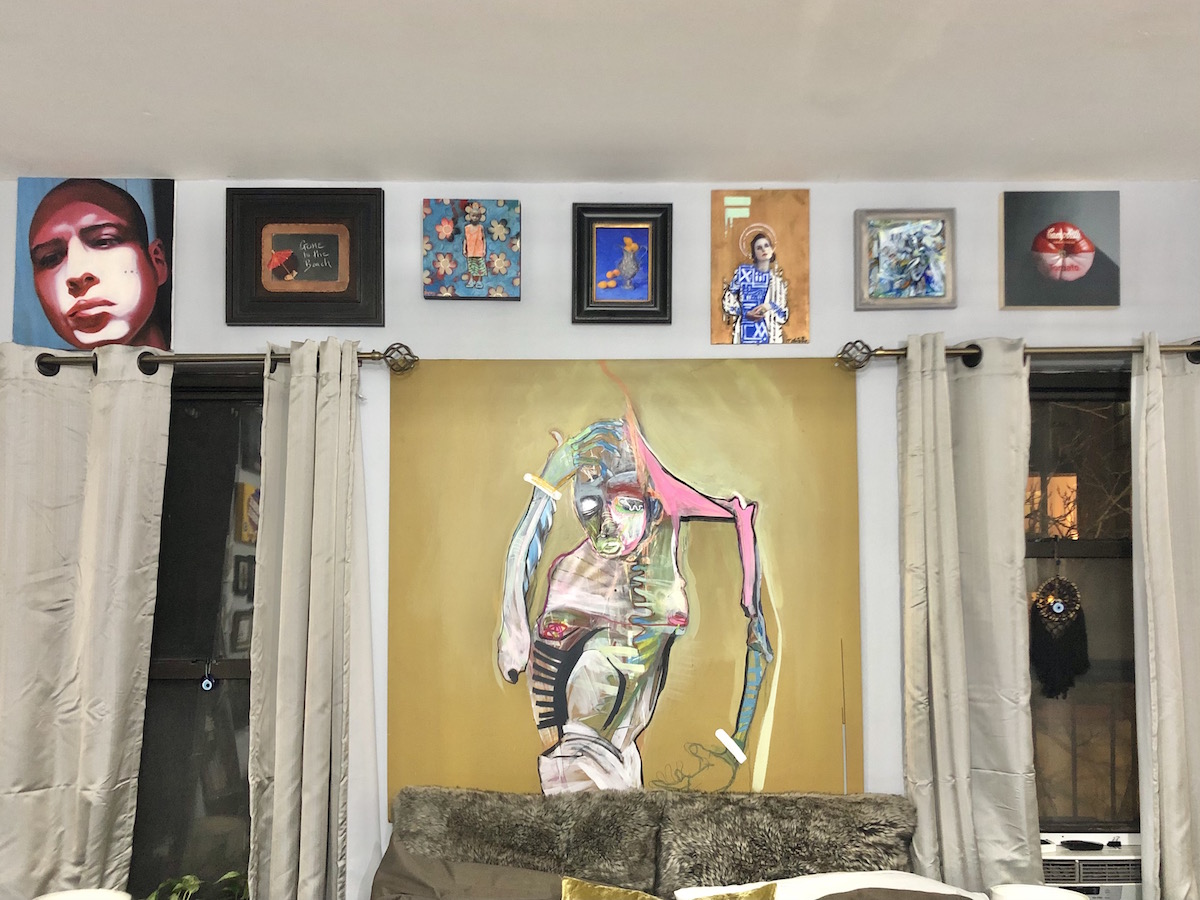 Why do you focus on collecting emerging or even unknown artists?
At one point, I was an emerging, budding artist. The first gallery, the first collector of my work, still holds an important place in my psyche today. It gave me the vote of confidence to believe that I am good enough. And all the sacrifice and hard work from moving to New York and struggling was all worth it. I am hoping that I am giving that same confidence by purchasing another artist's work.
What particular type of art has consistently attracted you?
My tastes vary from paintings to sculptures, abstract, portraits, black-and-white photography. I like it all.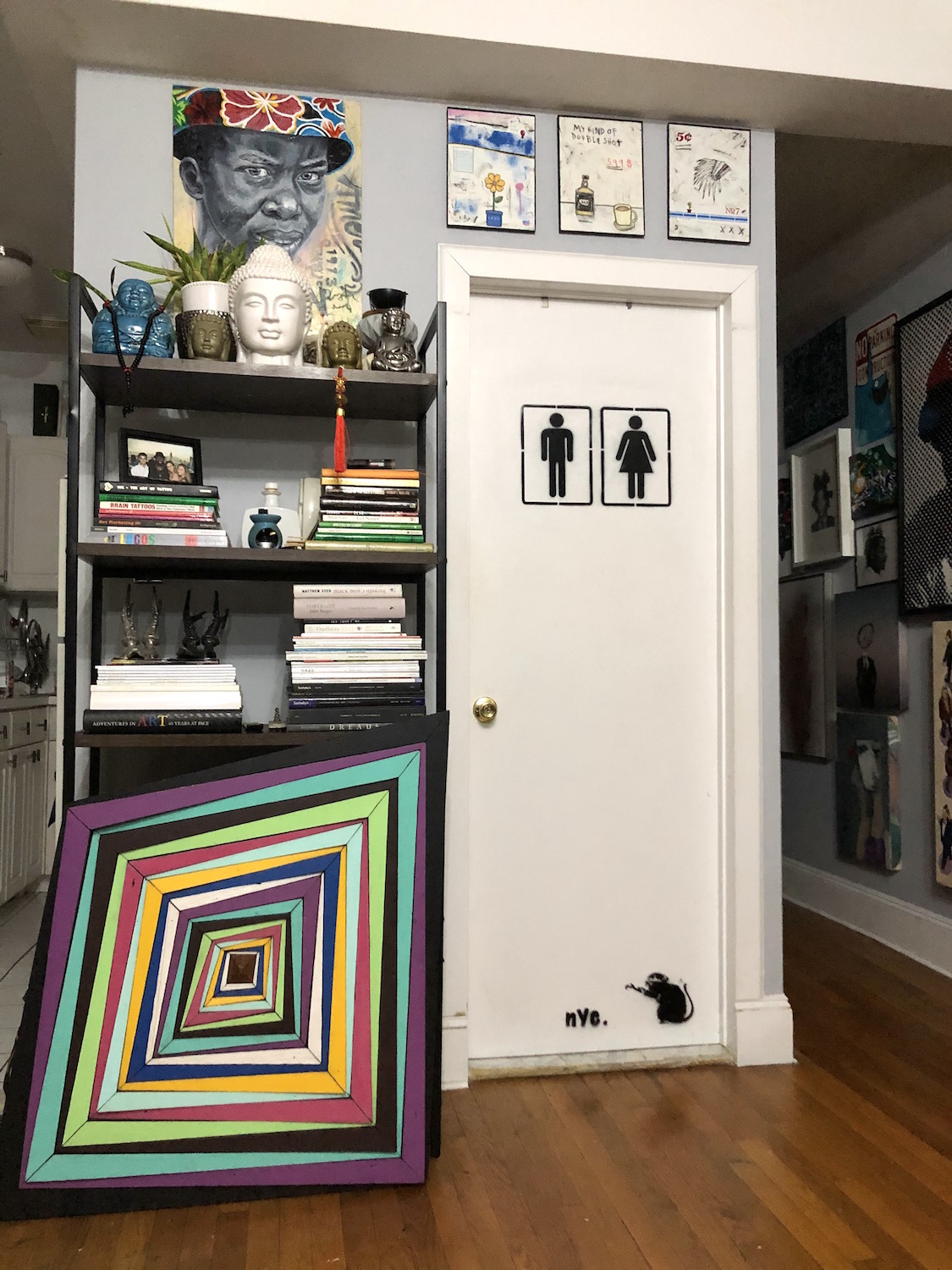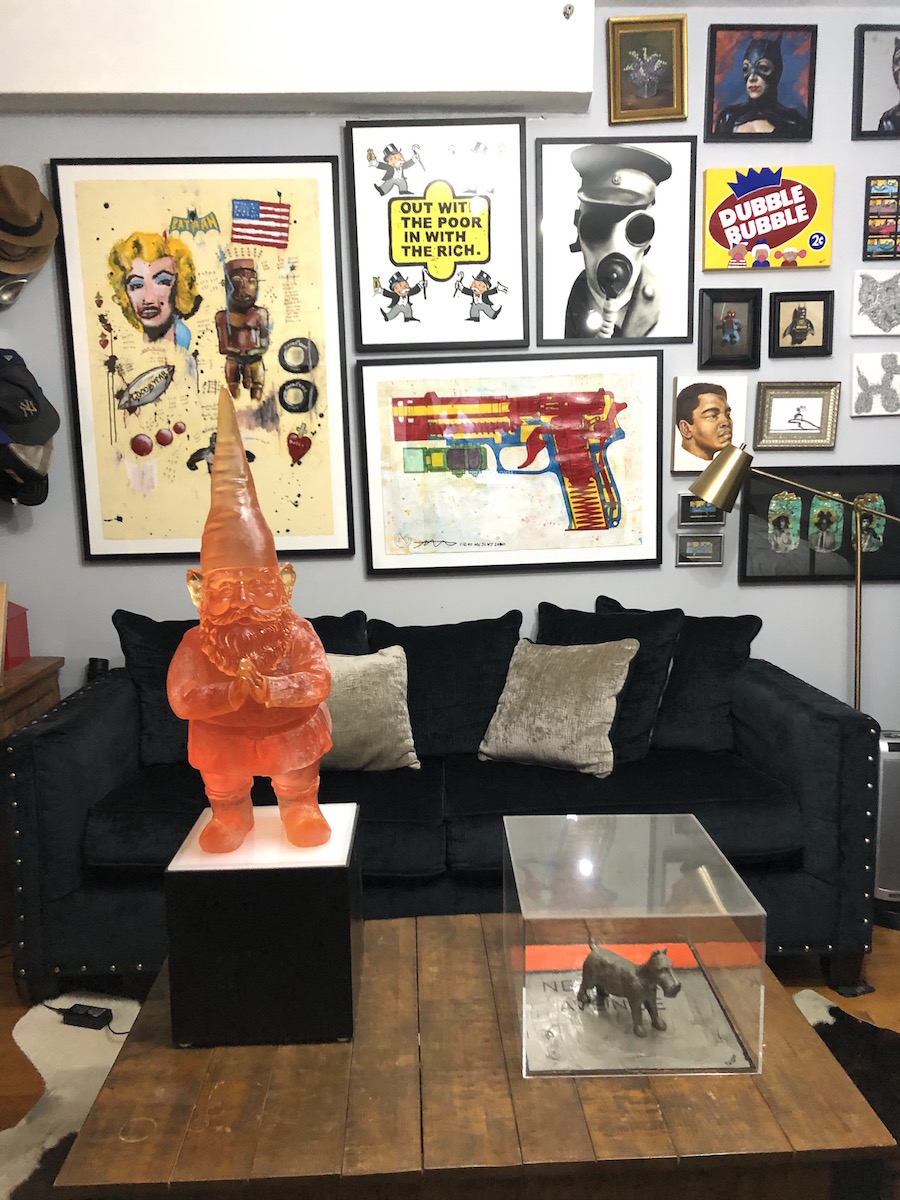 What were the first and the latest artworks you purchased?
Among the first, I showed love to artists who are currently holding residence in the building where I paint. I knocked on people's doors and purchased paintings from those artists. Some of the latest belong to Sam Tufnell, who created a very cool 33-inch gnome on a pedestal. I got an incredible wall sculpture that is mounted on the wall from Roddy Wildeman; and Justin Nissley, a talented painter, made a beautiful self-portrait and a drawing.
How many artworks do you own now?
Wow, to think about that question is crazy—too many to count. I have a storage unit full of artwork. How many were bought this year? I actually hadn't counted before, but since the beginning of March, I would say roughly over 100.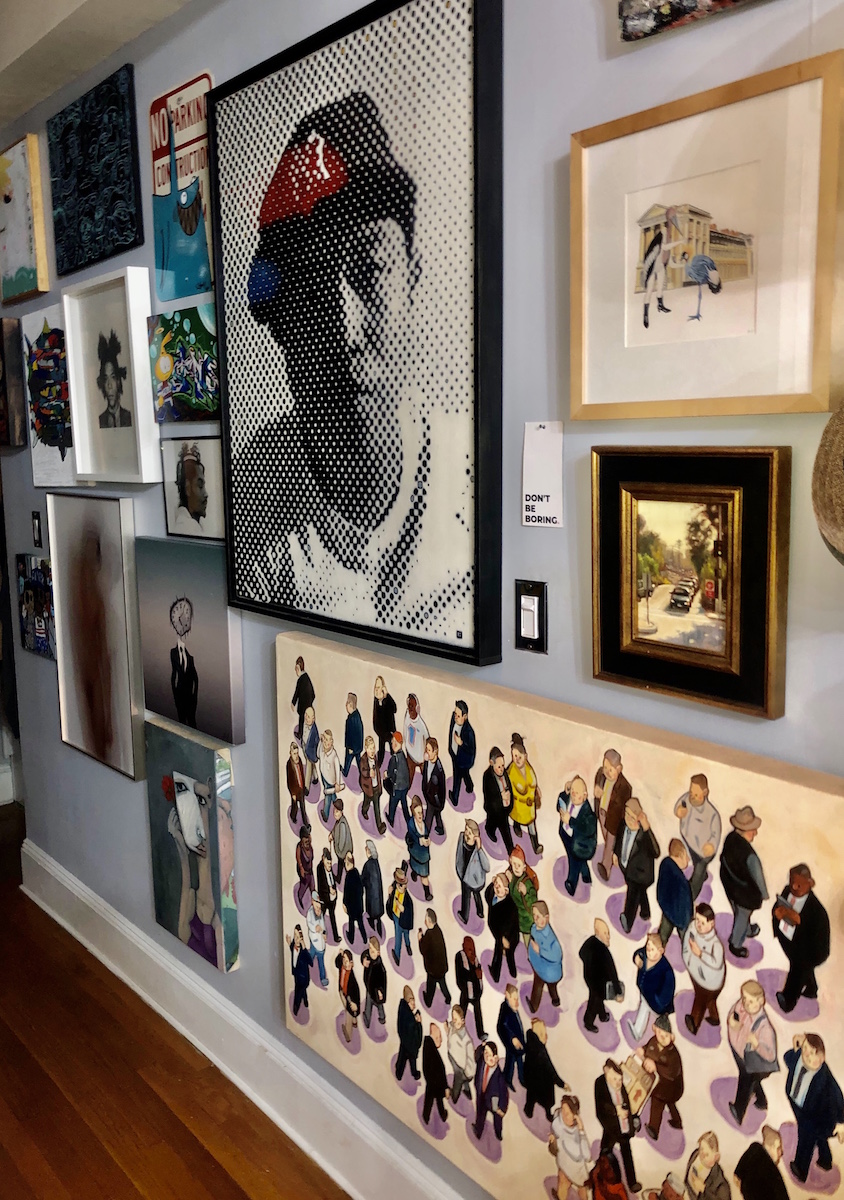 What were the responses when you started showing your latest purchases this year on your social media?
The response has been really amazing. Welcoming an artist to the Philoche Collection has been the best feeling. Artists feel really fortunate that I bought their work, but I am the one who is honored. I am grateful because I am able to purchase it and give back to them.
How did you involve other collectors with your initiative to support artists?
I have been very blessed to have CEOs, lawyers, celebrities, etc., who reached out to me and stepped up. They want to purchase some of the works, but they want to remain anonymous. They trust my eye to select great pieces, and they just want to help. If this pandemic has taught us anything, it's the power of the human spirit to show up and be kind.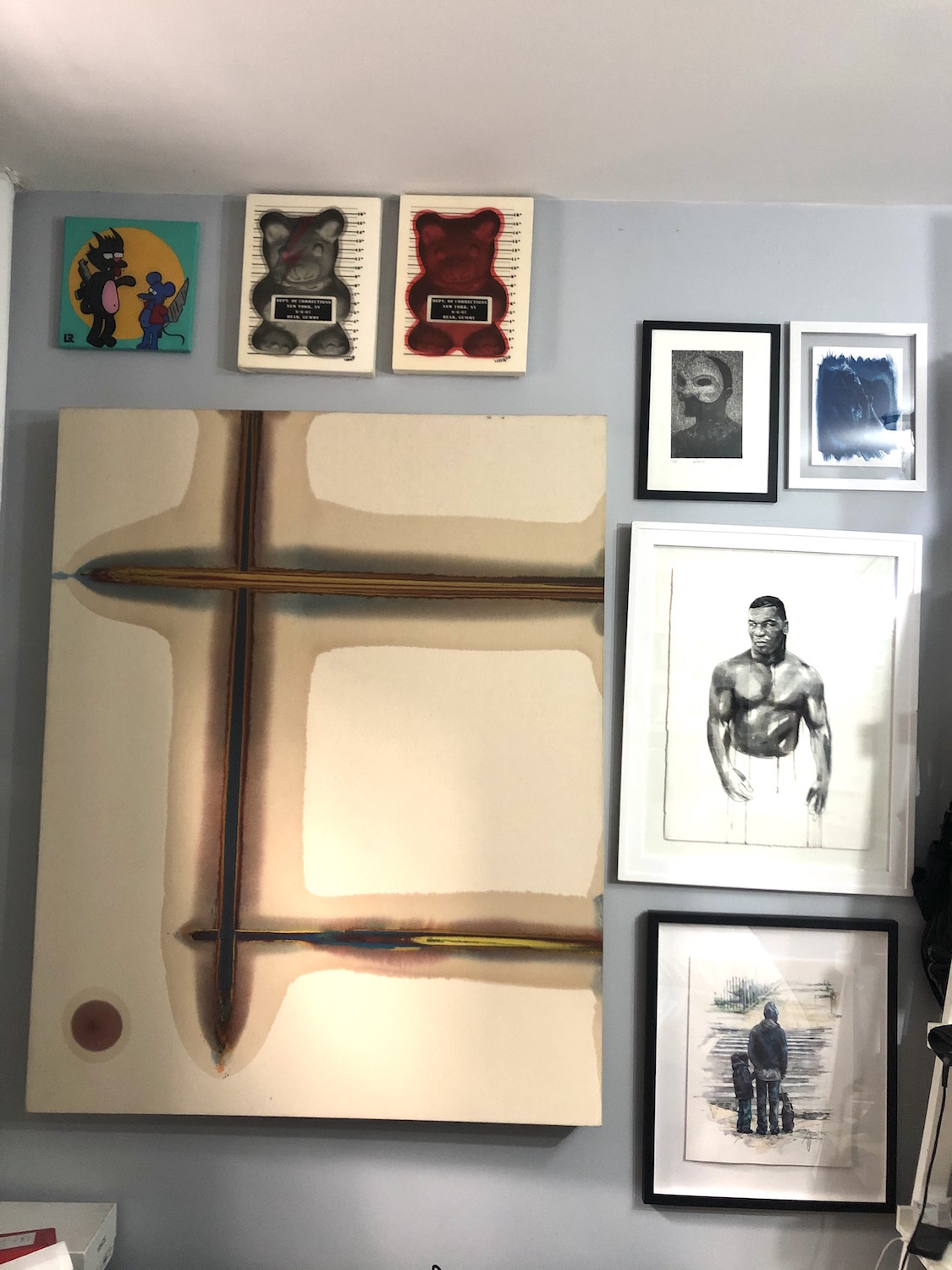 What considerations guide you to make a purchase?
There are three important rules that I consider: A) Buy what I love, B) Buy what I love, and the most important: C) Buy what I love.
Among the artworks you have bought in 2020, which is the most special one?
All are special to me, but among the standouts: I have been able to purchase art from two of my former college professors who are artists in their own right, and I have tremendous respect for them and their work.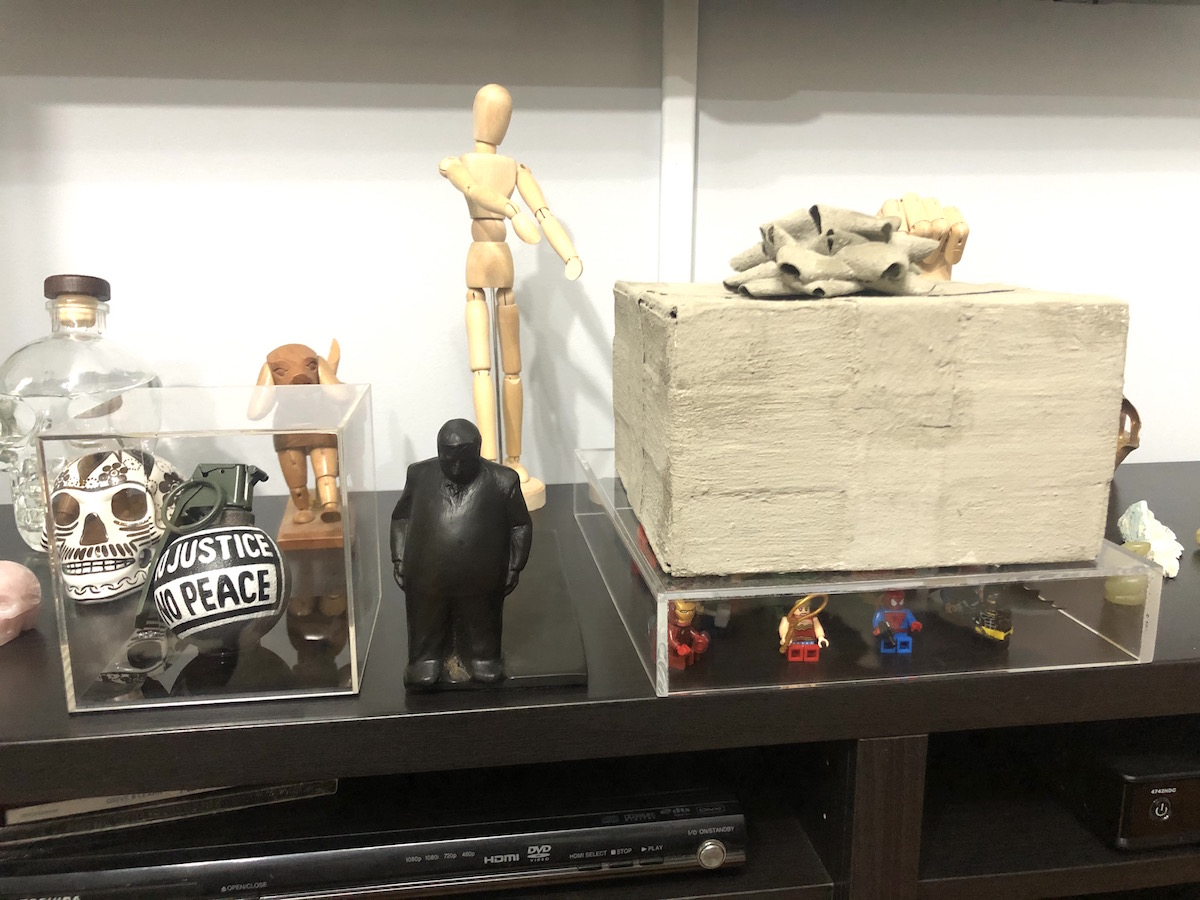 Some people say that kindness is a choice and is contagious. How do you understand this in your case?
Kindness is within all of us. Most people want to help, but they just aren't sure how to give back, whether what they do will make a difference, or what organizations and charities they can trust. Helping people this way is just what works best for me. I am excited that some of my collectors reached out and wanted to help. It didn't surprise me, and I was just really grateful to them. It has been really incredible to get call after call from art enthusiasts wanting to support struggling artists.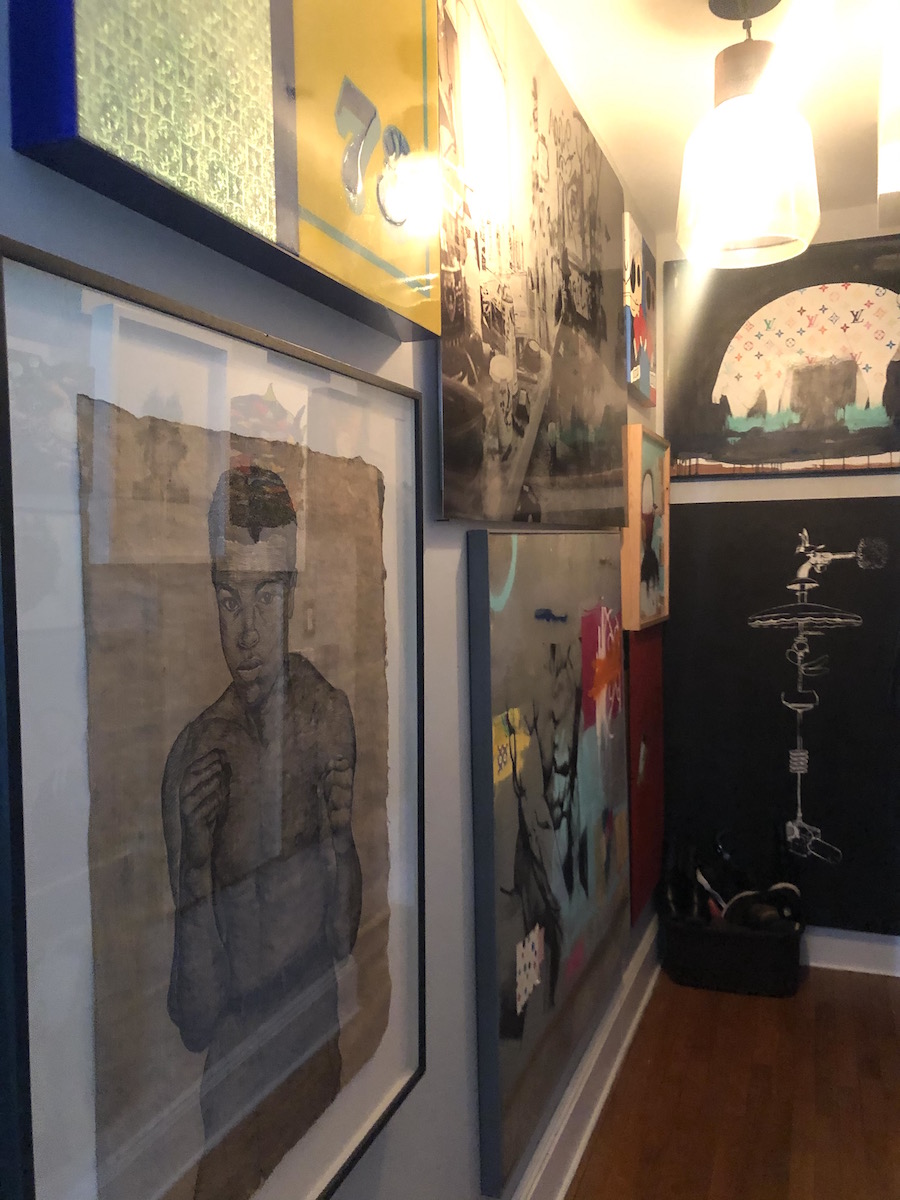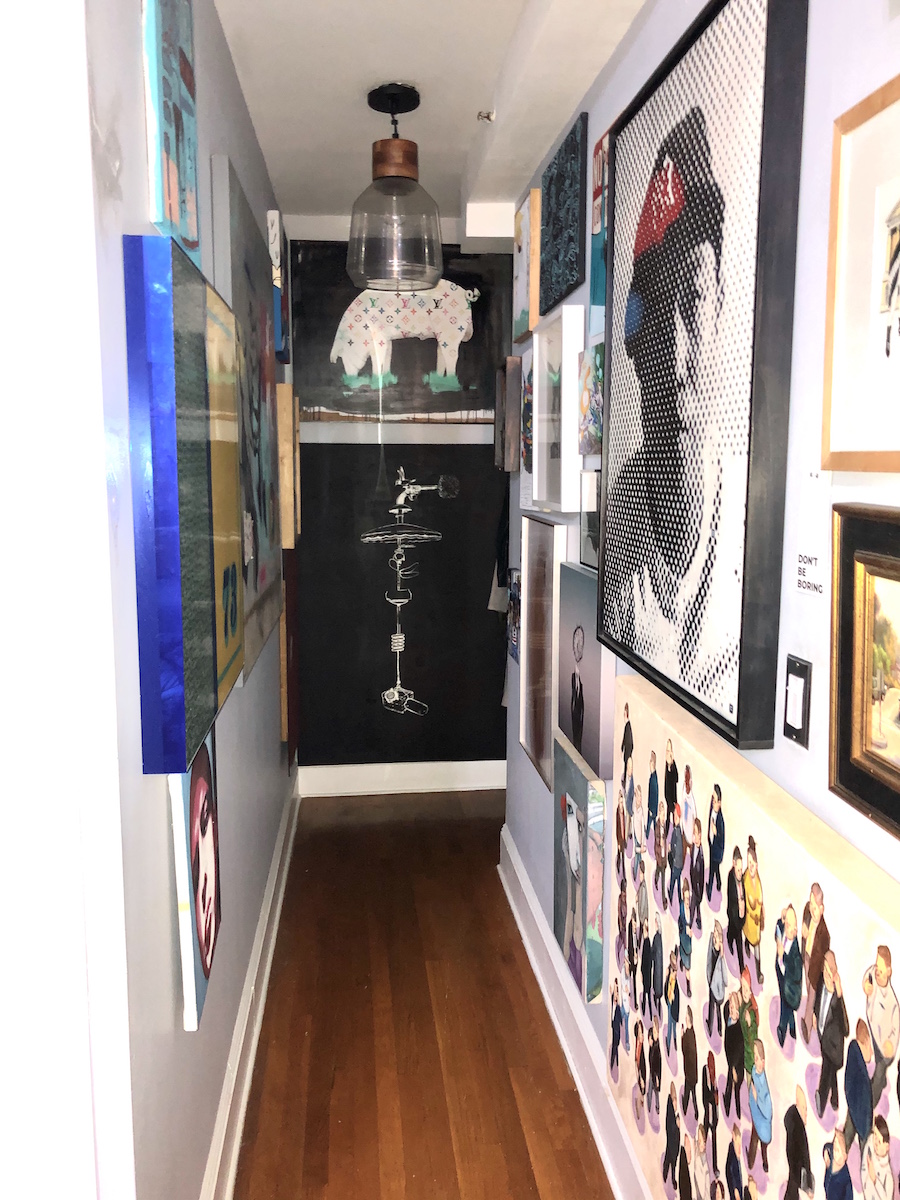 The art world
Why has art become important in your life?
Art has always been important in my life—live by the brush, die by the brush is tattooed on my ribs. I get to live each day doing what I love, and I don't take that for granted. Art is like breathing: it is what I have to do to survive.
And why is it important for you to help other artists?
We help struggling musicians, we help the world; why not help artists before they are famous? If we don't help artists now, there will be no need for future museums and galleries. Artists give new interpretations, new meaning to life. Artists are my friends and family, so it's never a question whether I will help them or not— I will always help my family and friends.
What was your happiest moment being involved in art?
It sounds clichéd, but seeing my name on the freshly painted white gallery walls with those black vinyl letters is pretty priceless. To this day, I still have those letters from my first solo show in New York City over 20 years later.
What's your art-world pet peeve?
Currently, I am disappointed with the lack of work by people of color displayed in major institutions. There needs to be more representation out there across all the arts.
And who inspires you the most in the art world?
My inspiration comes from within; venturing out and living in New York City is a daily inspiration. It is whatever moves me. It could be a conversation that I overheard, a song that is being played, a store window, food, or simply the concrete jungle. LIFE.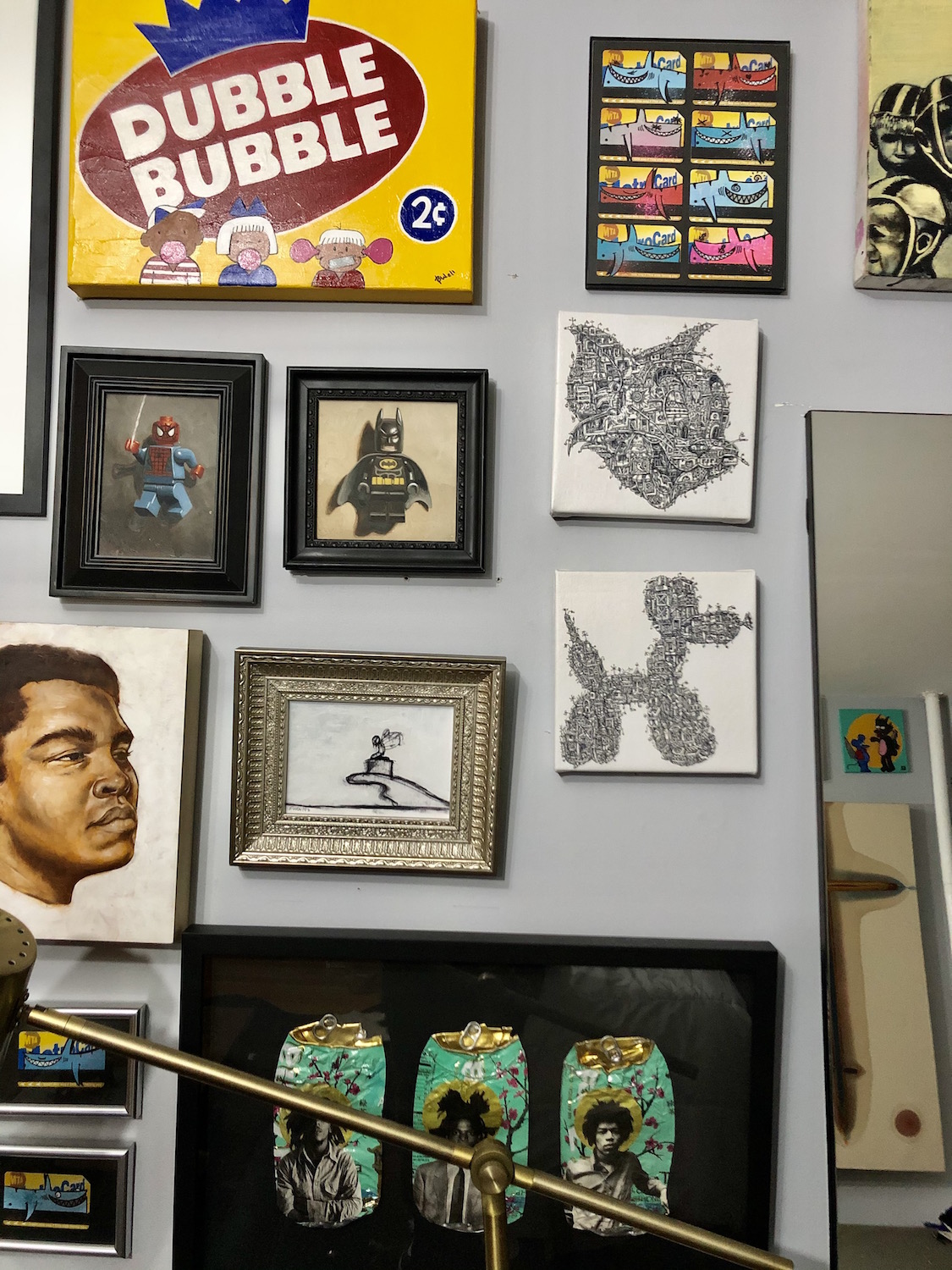 Artists supporting artists
How did your strong sense of belonging to the New York art community develop?
Being an artist in New York City is very competitive. Everyone is fighting for that coveted wall space, that collector to purchase your work, that dealer to represent you, or that art consultant to recommend you, but the true irony is that there is enough for everybody. Belonging is essential. This is where I have honed my talents. I am privileged to be a part of this community. Without them, there would be no me. We are all one; and I simply just love art.
What are your visions for the New York art scene in the upcoming years?
Out of this 2020 struggle, I am hoping a lot of artists took the time to push boundaries. I am hoping they took time to explore and experiment and look beyond the reality and really use their creativity. But also I am hoping that other big-name artists will reach back and give back because at the end of the day, we all must eat. My vision is that all my artist friends keep painting, keep making art, and never walk away from their dreams.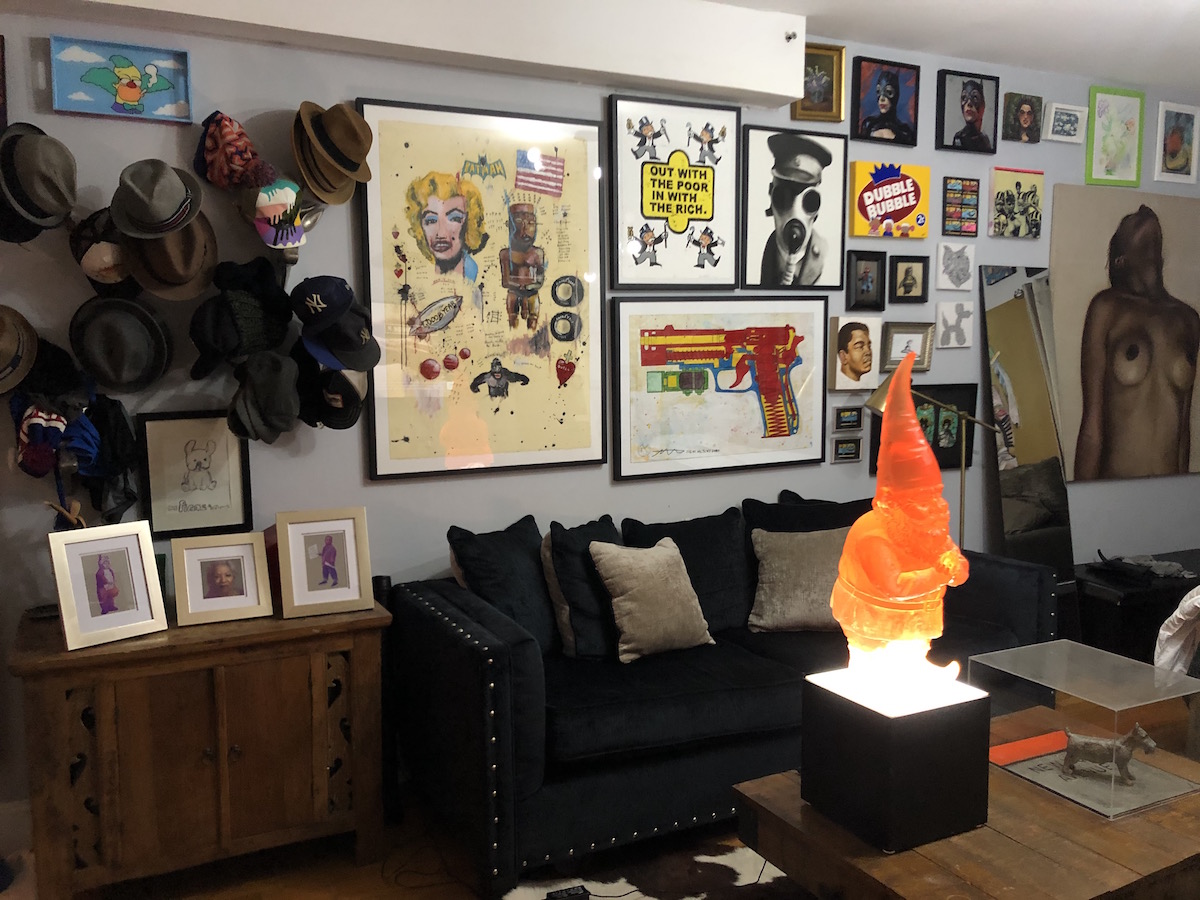 Can you recommend some young, emerging artists whom we should watch out for?
Of course . . . you mean besides Guy Stanley Philoche? Ha ha. There are some really talented artists out there, such as painter Robert Peterson, painter Ronnie Rob, painter Mike Shannon; painter/sculptor Leigh Brooklyn, painter Carrie Robles . . . I could go on and on.
What is your advice to young artists who are struggling in their career especially this year?
Never give up, stay the course, use the struggle to gain focus, and see this year as a slight delay not a derailment. The Olympics were postponed; think about all those athletes' dreams postponed for another year. They just have to train a little while longer. It's the same for them this year. If an artist had a show at Art Basel this year or their first gallery opening, it was just postponed. Keep perfecting your craft, work on your social media, and take this time to work on your vision and create. Grinding never stops.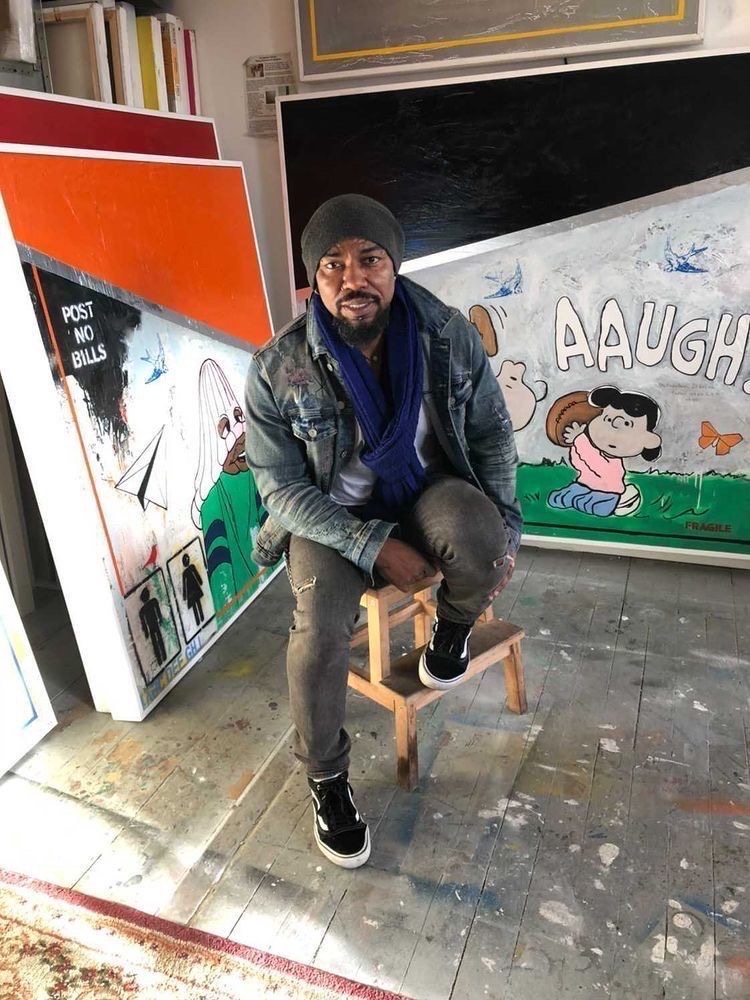 Related: Philoche Studios
Instagram: @guystanleyphiloche
A selection of artists Guy collects:
Jennifer Delilah
Justin Nissley
Patrick Dougher
Sharply
Tara Blackwell

By Ricko Leung