Australian businessman, art collector and philanthropist Patrick Corrigan has slipped comfortably into the role of elder statesman among Australian art collectors. Now 81 years old, there are few who can match the depth of his knowledge, intuition and cunning when it comes to buying Australian contemporary art. For Corrigan, who left school at 15 and has worked in freight forwarding all his life—often owning the company—the joy he gains is as much in the accumulation of the art as in the possession of it. The undertaking is a journey, and the arrival almost inconsequential.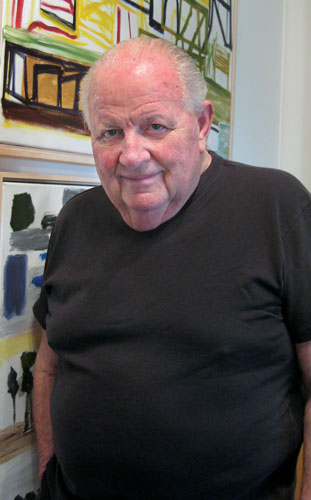 What differentiates Corrigan's approach from that of many other collectors is his enthusiasm and his bloody-minded determination that art should be shared and seen, not stored away in some sterile, air-conditioned warehouse. Every piece that passes through his collection must be on display somewhere, either through loans to institutions or, frequently, through donations to galleries around the country. This is the raison d'être of collecting for Corrigan, and it is a theory he applies to the Sydney apartment block in which he lives. Its public spaces, from its foyer and internal landings to its elevator lobbies, are crammed with museum-quality works from his collection, as indeed are the walls of his own apartment.
Corrigan, who has no formal background in art, has been acquiring art for over 40 years, and his collection now consists of approximately 1,500 pieces. He always buys intuitively. There are no curatorial inquisitions, no art consultants, but instead a simple and direct approach determined by a startlingly clear rubric: "Do I like the work? Does it speak to me?"
We talk in his Sydney apartment beneath the steady gaze of works by Lloyd Rees, Brett Whiteley, Clement Meadmore, Robert Klippel and Ken Whisson, to name a few. The list is a litany of the best of Australian modern and contemporary art from the past 50 years. Every room in his home—including bathrooms, bedrooms and kitchen—is full of art, creating an intoxicating display of major works. But there are also a respectable number of less established artists in evidence, including Ben Quilty, Shaun Gladwell and Callum Morton.
Corrigan had a eureka moment in 2004 when he walked into the National Gallery of Victoria's landmark exhibition "Colour Power: Aboriginal Art Post 1984." He could not believe what he encountered: "There were works by Tommy Watson, Cory Surprise and many others that just knocked me out." The strong colors and passionate attachment to the land captivated him. Immediately, Corrigan decided to shift his collecting focus to post-2000 Indigenous art, only buying works by living artists. Since then, Corrigan has established a significant and important collection of Indigenous art, most of which is displayed in public through exhibition loans. This collection, which now consists of over 500 pieces, "reflects a great enthusiasm on Pat's part," says Edmund Capon, who for 33 years was director of Sydney's Art Gallery of New South Wales, which was often a beneficiary of Corrigan's gifting. "When I first met him, his enthusiasm was photography. Then it was sculpture, then painting. Now, it is Indigenous art. When he gets started on something he finds it difficult to stop."
The resulting collection is without parallel, as Capon freely admits: "The depth and range of his collecting has given Indigenous art a real point of emphasis . . . helping people realize what the art is about." It is in this sphere that Corrigan has made a lasting contribution to Australia's cultural fabric, both through his application of resources and his vision of placing works in the community. The approach is endorsed by Capon: "He is a splendid accumulator and then lends and disperses the work." Thanks to personal donations and loans from Corrigan, Bond University on Queensland's Gold Coast is currently home to the largest private collection of Indigenous art on display in Australia, while Sydney's University of Technology is in the process of deciding where to hang its own extensive loan from Corrigan of around 500 to 600 Indigenous and non-Indigenous works, once its new Frank Gehry-designed extension opens later this year.
At an age when many others have been retired for a decade or more, Corrigan shows no signs of slowing down and keeps more than a weather eye on the art scene. He is a gregarious and natural raconteur—many of the artists he has collected over the years have become personal friends: "Rosalie Gascoigne held her 80th birthday party in my apartment. Clement Meadmore and I used to tour New York jazz clubs together during the 1980s. I loaned three of Ken's works to MCA's retrospective." The last reference is to a major 2012 retrospective at Sydney's Museum of Contemporary Art Australia devoted to Ken Whisson, the 20th-century Australian artist now in his late 80s. Corrigan owns several pieces, which fill one wall of his apartment. The exhibition went a considerable way to bringing Whisson back into the mainstream and out of the cult-status doldrums to which history had assigned him.
There is little Indigenous art on display in his apartment—this is simply because the majority of these works are too large for the low-ceilinged spaces. But it seems to be a subject that is never far from his mind. As we talk, our conversation is interrupted several times by telephone calls from a friend who attended an auction in Melbourne of contemporary Indigenous art the previous evening. "I left bids on a 2008 work by Cory Surprise, Kutarmiti, but it went for more than I was prepared to pay," he reveals. Another artist whose work he loves is Sally Gabori. "Her best work was produced from the ages of 83 to 89, when she painted maybe 20 unique works. I have several," he says.
When asked exactly what a collector is or needs to be, he refers to a quote he made some time ago: "A collector is one of a breed who saves art from the indifference and forgetfulness of time." Corrigan has done more than his fair share of that through extensive donations and loans, and also by simply making a noise about Indigenous art—he has recently published two acclaimed books on his collection—helping change the way that Australians understand a rich and colorful part of their heritage. According to Capon, Corrigan's significance to the Australian contemporary art scene is deliciously simple. "His collection's value is in its breadth. While most collectors acquire vertically, Pat is uniquely different in that his depth is in the range of the collection." Capon also feels that lending and dispersing the collection in the way that Corrigan does "is an incredible and sensible arrangement, which seeks to enhance the public sphere." For Corrigan, the fact that his acquisitions are so accessible to the Australian public is something from which he gains an immense amount of pleasure: "I've never understood collectors who have works in storage. Why don't they put them on show somewhere?" he explains, before departing on the trail of another Indigenous masterpiece for his collection.
By Michael Young
This article was originally published on ArtAsiaPacific on May/June 2014. This article cannot be edited nor shared to third parties without permission from ArtAsiaPacific.