If you want to understand key aspects of Indonesia's modern art history, start by visiting the country's many art collections in private hands. Among this collecting class, one of the most colorful and opinionated protagonists is Poppy Hadiman Setiawan, who resides in a conserved neighborhood near Jakarta's Central Business District. From outside, her home appears modest—a change from the many showy mansions dotting the capital that mimic Western styles—but inside it is strikingly vast. Decorated in an Anglo-Southeast Asian manner, with artworks sprinkled throughout, the home's interior is large enough to house the contents of her art collection, part of which will be in her future private museum.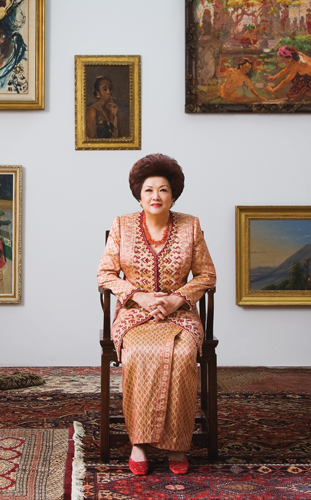 Poppy grew up in the West Java capital of Bandung, often referred to as "Parijs van Java" ("The Paris of Java"). With its cooler climate, Bandung was the favorite residence of the Dutch rulers—there were even plans to relocate the country's capital to the city in the 1930s, a change foiled first by the Japanese occupation in 1942, and then by Indonesian independence in 1945. Bandung's vibrant cultural life in the postwar period included Western-style cafés, theaters and bookshops, many housed in elegant art-deco architecture, and today the city is still one of the country's two main artistic centers. Poppy proudly credits her mother and grandmother with encouraging her to visit its galleries and understand the art she encountered when she was a teenager. Over tea, she recalls, "My mother provided us with the best Western education and took us to cultural events—art, concerts, ballet—most of them organized by the Bandoengsche Kunst Kring: the Bandung Art Circle. My grandmother, at that time, favored celadons and antiques." But it was only when Poppy's husband—the founder of Kalbe Farma, Indonesia's largest pharmaceutical company—was building his business that she began collecting.
She started modestly in the late 1980s, first with a work by the portrait painter Dullah (1919–96), often referred to as "Indonesia's king of realist art," who served as an official "palace" painter during the rule of Sukarno, Indonesia's first president. In 1987, Poppy was advised by her architect that Dullah was the country's best still-life artist, and she bought his traditional oil, White Roses:"It was very easy to understand and I still own it." The other person who helped to guide her in the early days, and who remains an advisor and friend, is the English art dealer Lady Angela Nevill. Poppy, in a graceful traditional kebaya blouse dress, explains that it was important to learn about art before buying, but, because so little was written then about Indonesian modern artists, she resorted to reading Western art history at the beginning of her collecting career. "I had very little knowledge back then," she says. "I was an English literature major who was not fond of reading. But when I started to read about art—the reference books were all in English—I got the bug to read."
In the 19th and early 20th centuries, a school of Dutch colonial painters—many of them from Europe—flourished in Indonesia, producing landscapes of Javanese and Balinese scenes, often for homeward-bound Dutch patrons. Knowing that the Netherlands can be a good place to buy such paintings, in 1992 Poppy acquired a painting there at auction of a Javanese dancer by the noted Amsterdam impressionist Isaac Israels (1865–1934), entitled Ronggeng (a traditional Javanese singer), which she had seen on the cover of a novel by Indonesian writer Pramoedya Ananta Toer (1925–2006). Today, Poppy has an extensive collection of Indo-European paintings, including works by Jan Daniel Beynon (1830–77), Frans Lebret (1820–1909) and Raden Saleh (1811–80), that capture the atmosphere of Indonesia under colonial rule.
In addition to these historic works, Poppy is an ardent collector of modern and contemporary Indonesian art. She tells me, "Except Indo-European masters, I mostly favor modern Indonesian artists such as Affandi, Hendra Gunawan, S. Sudjojono, Lee Man Fong and, from the Bandung School, artists such as Srihadi Soedarsono, But Mochtar and Ahmad Sadali." She adds, "I like the Bandung School. Their works are more formal and Westernized." Here, Poppy is referring to a group of artists born in the 1930s and 1940s, centered around the West Java city, most of whom studied in the United States in the 1960s and were exposed to Abstract Expressionism, Cubism and Color Field painting. She bemoans the fact that there are few Bandung School works on the market these days, though she believes they will eventually be admired—both in terms of historical significance and price.
Her interest in contemporary art grew more slowly. Poppy humbly acknowledges, "By the time I came to appreciate it, the market was already booming." She bought her first contemporary work, Rudi Mantofani's Dunia Jatuh Ke Bumi ("The World Falling onto the Earth," 2007), at Sotheby's Singapore in 2007. This is a large acrylic on canvas by one of Indonesia's most coveted "younger generation" artists, known for his bizarre "visual parables." It depicts a blown-up globe slowly deflating in an idyllic countryside setting. After heated bidding, Poppy acquired the work well above the high estimate. At present, contemporary works make up only 20 percent of her collection—they include works by Dikdik Sayahdikumullah, Nyoman Masriadi and Handiwirman Saputra, all acquired to complement earlier works that she owns. But it's her new enthusiasm for the contemporary that she shares with her family—just as she had learned to appreciate art from her own mother and grandmother.
Poppy maintains friendships with artists, including those who are active
today. For instance, she proudly tells me that she has discussions with Mantofani about his surrealistic style. She is also a patron of the young female Bandung artist Christine Ay Tjoe, and is particularly fond of her canvases and drawings of abstract figures. She loaned a number of works, including a sculptural piece, by Ay Tjoe to the "Indonesian Eye" show in 2011 at the Saatchi Gallery, London, and many observers attribute a bump in the prices of Ay Tjoe's works to this particular exhibition. As a mentor to Ay Tjoe, who is now 40 years old and exhibits in Berlin, Taiwan, Singapore and Tokyo, Poppy has often told her, "Don't only feed the Indonesian market. Send your work abroad where you can make your name." In a recent auction in Hong Kong, Poppy was the underbidder for one of Ay Tjoe's paintings, but when she learned that the painting had gone to an important American collector, she felt no remorse.
Poppy also believes that Indonesian artists need to expose themselves to the art world as much as possible, whether at art fairs in Basel, Hong Kong or New York, or at museums in London or Paris. Her biggest dream, however, is for Indonesia itself to develop a "deeper art appreciation" beyond the market—one that includes more museums, and more books, for local artists. Indonesia lacks both a mature art infrastructure and public museums that are systematically collecting modern and contemporary art. Thus it is up to bold individuals such as Poppy Hadiman Setiawan to help make, or break, the nation's art history. She often reminds her fellow art-collecting friends of the words she attributes to Frédéric Chopin, the Polish composer and pianist: "Art is a nation's mirror. The country that does not preserve its cultural heritage will never see the reflection of its own soul."
By Elaine W. Ng
This article was originally published on ArtAsiaPacific on May/June 2014. This article cannot be edited nor shared to third parties without permission from ArtAsiaPacific.