The love among collectors, art institutions, the broader art community and beyond for Yoshitomo Nara runs deep and wide. The artist's career spans 25 years, multiple exhibitions in world-class museums around the world and an auction record for the highest auctioneered artwork by any living Japanese artist. His iconic girl paintings are instantly recognisable. While the works have a cartoonish and playful element, this in no way detracts from the seriousness of his artistic creations and message. As his personal Instagram account states: No War! No Nukes! Love & Peace!
Having been fans of Nara for many years ourselves and seeing his works in the most amazing art collector homes, we are excited to continue the collaboration with Phillips Auction on the occasion of the Hong Kong sales (see first feature on Liu Ye here) to take a closer look at Nara and his market.
1.  Instantly recognisable emotional intensity
Perhaps the reason why Nara is so loved is the universal appeal of the children who dominate his works. Their innocent faces often portray deeper, complex emotions, such as loneliness, rebelliousness, mischievousness and defiance, in an instantly recognisable style attributed to Nara's application of neo-expressionist influences to his childhood memories. Coming up under the hammer are two outstanding examples of his distinctive iconography from his early years in Germany – "Wisdom Tooth Fever" (1999) and "Wheels Go Round" (1994.) Both canvases are close-up portraits of disgruntled children displaying intense emotion, both reminiscent of universal childhood recollections. For any neo pop art or contemporary Japanese art enthusiast, these two lots will certainly be ones to watch.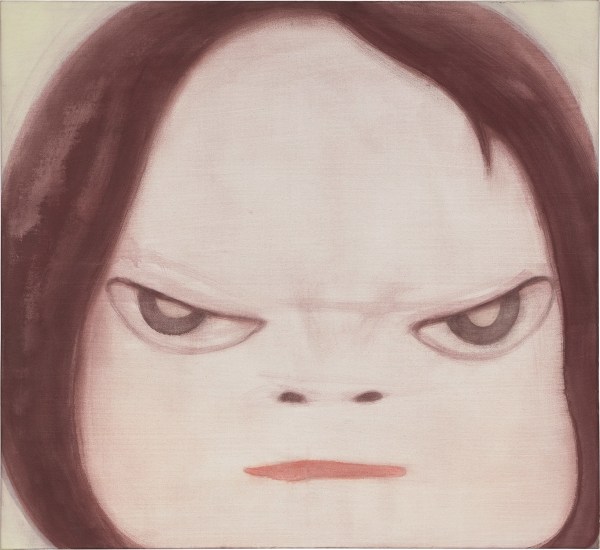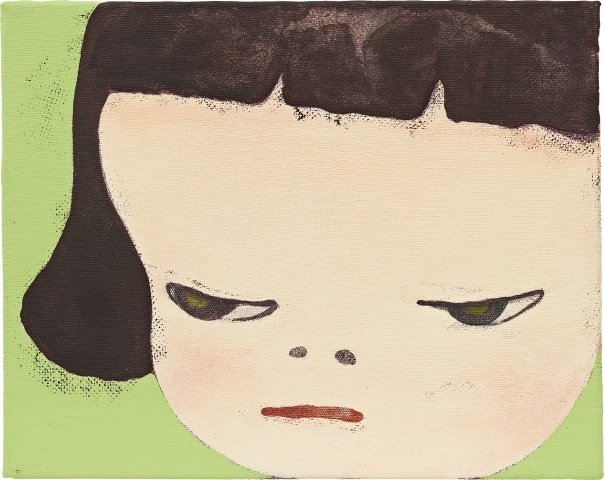 2.  A multidisciplinary artist
Nara is an artist with an expansive multidisciplinary practice. Alongside his most recognisable paintings, he produces sculptures, ceramics, art toys and other collectibles, drawings, installations, photography, lithographs and more, offering a diversity of entry points for all sorts of collectors. Following the Japanese tradition, he also creates woodblock prints, appropriating classical images from the ukiyo-e period and reinterpreting them to fit his iconography of sullen yet endearing children and animals.[1]His series "In the Floating World (set of 16)" (1999) is archetypal of his ability to bring a playful, fresh perspective to traditional aesthetics, making it one of the most important collections in his oeuvre.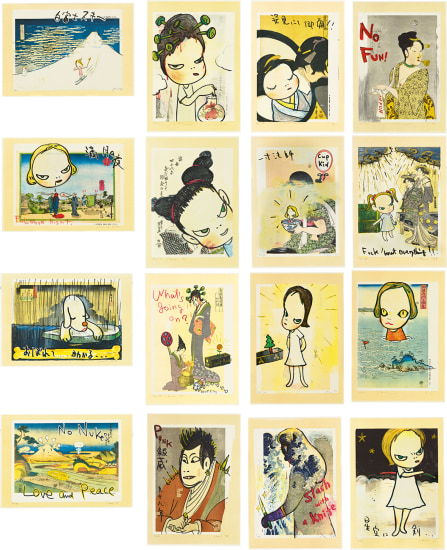 3.  The bronze works
The Phillips auction marks the first occasion that his sculpture "Miss Tannen" (2012) will come up at auction. Not only does this present a rare opportunity to collect a sculpture by the famed artist, but it is also a more unique piece in his oeuvre that speaks of a turning point in his career and his outlook on life. "Miss Tannen" is part of a series of bronze sculptures made by Nara in the wake of the 2011 earthquake in Japan, which deeply affected the artist.The shy demeanour and more-sweet-than-sinister expression are quite unlike his signature portraits of menacing children, and seemingly more akin to the serenity found in traditional Buddhist sculpture in a nod to his newfound sense of impermanence.[2]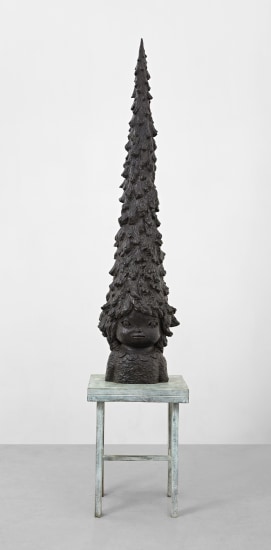 4.  Global collector base
The popularity and demand for Nara Yoshitomo's work is only increasing. Last year he became the most expensive Japanese artist with his painting "Knife Behind Back" (2000) outperforming Yayoi Kusama's previous highest price and all estimated sale prices with a record-setting nearly US$20m at auction.[3]The undeniable appeal of Nara has seen his works find homes in private collections all over the world, from the US to Japan, Thailand and China, to France, Belgium and Switzerland. His art has also been acquired by major institutions like Hara Museum of Contemporary Art, Tokyo; MoMA, New York; YUZ Museum, Shanghai; Museum of Contemporary Art (MOCA), Los Angeles; Art Institute of Chicago; National Museum of Art, Osaka; Centre Pompidou, Paris.
5.  Instagram
Under the name @michinara3, Nara shares with his 200k plus followership insights into his latest works from the studio as well as more private observations about life in the countryside, wildlife encounters and travel impressions. This unique window into his artistic practice and the most immediate of his influences allows collectors to gain a deeper perspective, adding a new layer of meaning. Equally as useful to all collectors, he also includes an IG story category dedicated to "Fakes at Auction" in which Nara highlights— as the names indicates — fake works that are showing up at auctions under his name.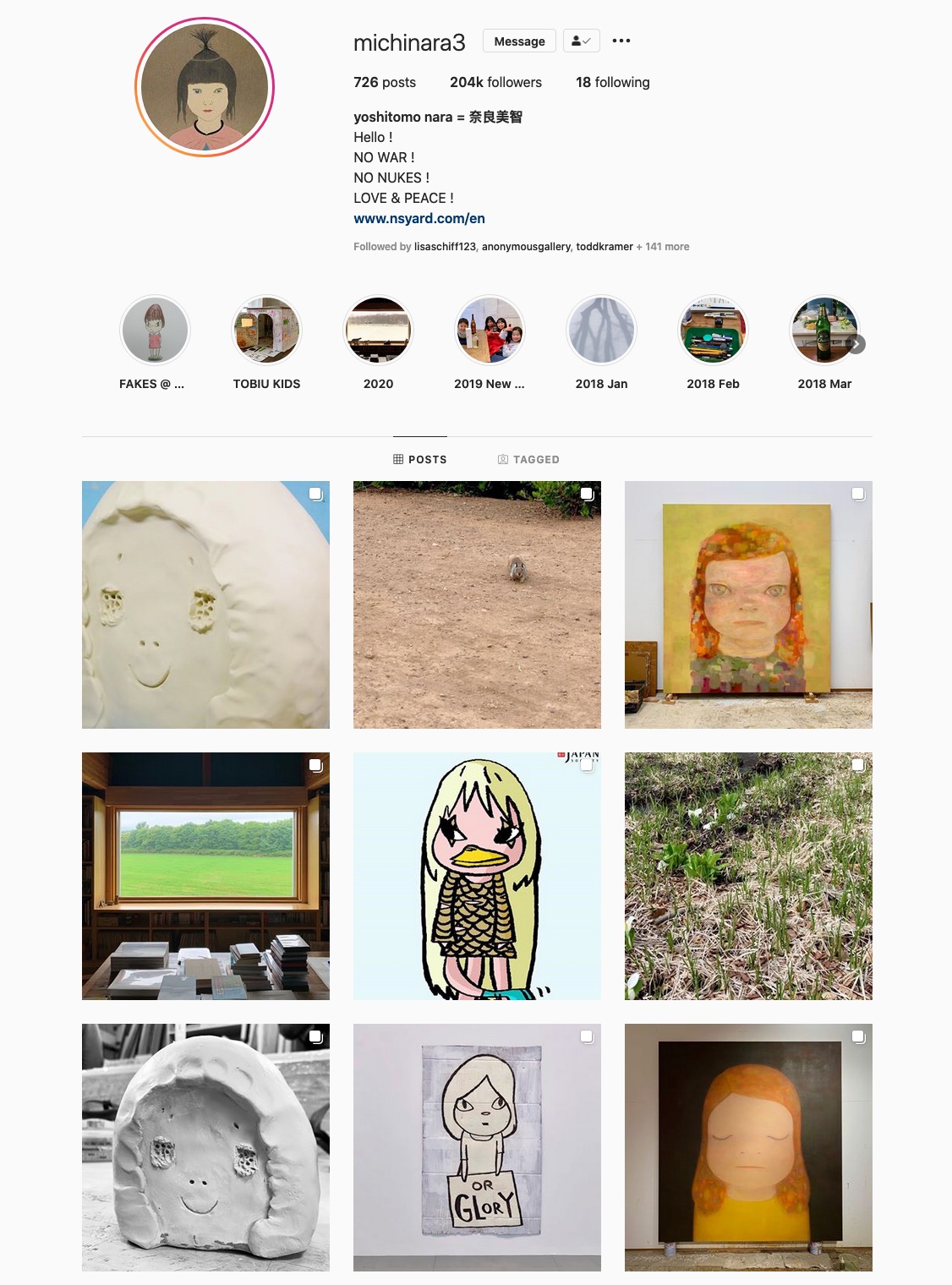 ---
[3]The Value, Yoshitomo Nara Becomes Most Expensive Japanese Artist as His "Knife Behind Back" Sells for Record-Smashing HK$195m(06 Oct, 2019).