To celebrate Christie's 250th anniversary, on November 26, "The Pioneers" evening sale will be held in Hong Kong. The thematic auction will for the first time present a stunning selection of works by Asian avant-garde artists from the 20th and 21st century, who were influenced by Western artists, such as Sanyu, Wu Guanzhong and Kim Whan-ki. On the same night, the Asian 20th Century & Contemporary Art evening sale offers a wide selection of exquisite artworks from modern masters to  important contemporary artists across Asia, many of which represented the icons of their time, such as Zeng Fanzhi and Ronald Ventura, just to name a few. Both auctions are the must-see for Asian as well as Western collectors around the world.
Larry's List highlights six outstanding works from these auctions. Additionally, we tell you which mega collectors already collect those works and their thoughts on the artists…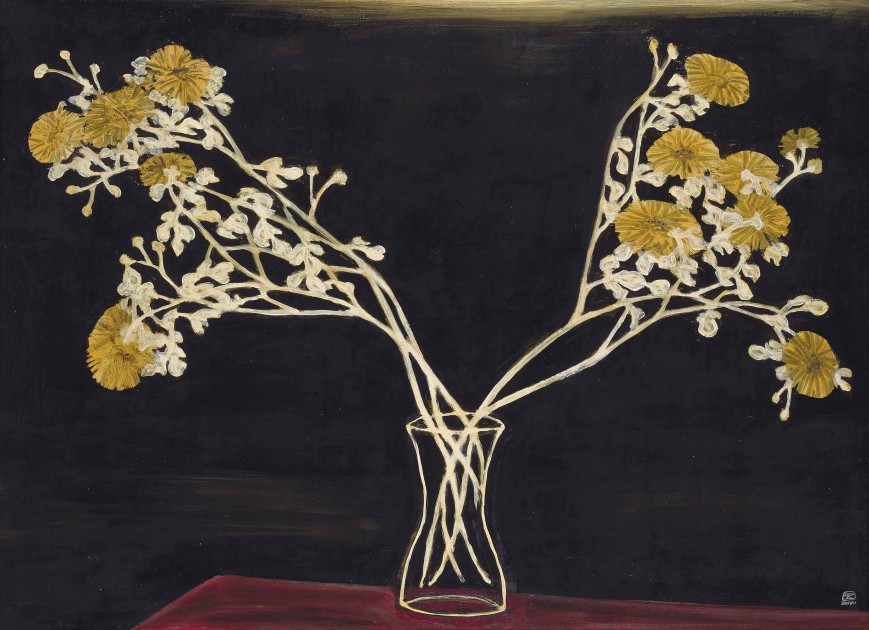 1) SANYU
Collectors of Sanyu: Leo Shih, Richard M. Tsai, Pierre Chen (data provided by Larry's List)
Sanyu was the first Chinese painter who improved the innovations of abstract Western painters by combining them with Chinese elements. Chrysanthemums in a Glass Vase is an extraordinary example of the graceful and pure lines he used to establish his visual style.

The work was in the collection of the renowned French Levy family, with whom Sanyu had a strong relation, since the 1950s and will come to auction for the first time. The video below exemplifies the very interesting history of the the painting.
"CHRYSANTHEMUMS IN A GLASS VASE (1950s)"
Estimate: HKD 20,000,000 – 30,000,000
Sale: The Pioneers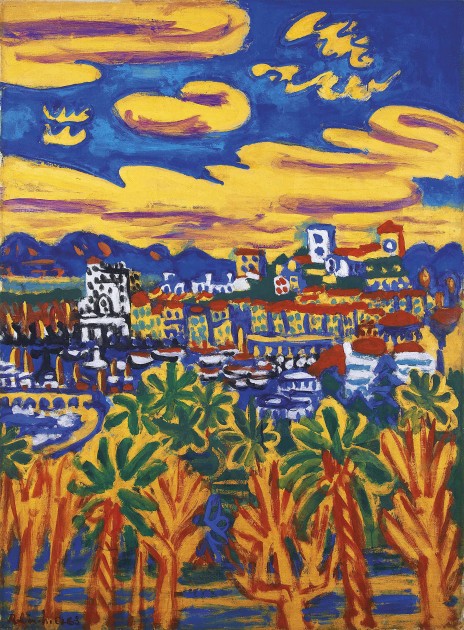 2) RYUZABURO UMEHARA
Collectors of Ryuzaburo Umehara: Ok-Jin Shin, Chieko Hasegawa (data provided by Larry's List)
Umehara Ryuzaburo was a student of Pierre-Auguste Renoir in France, who was a major influence for his work. During the 1960s Umehara travelled to Cannes repeatedly, which resulted in a series of Cannes paintings. The phenomenal painting presented in Christie's Pioneer sale consists of a colorful display of the beach town painted in a simplified style.
Other paintings from the Cannes series are based in renowned museums and private collections all over the world, making the painting a treasured piece for Asian collectors as well as collectors from overseas.
"CANNES (1961-1963)"
Estimate: HKD 10,000,000 – 16,000,000
Sale: The Pioneers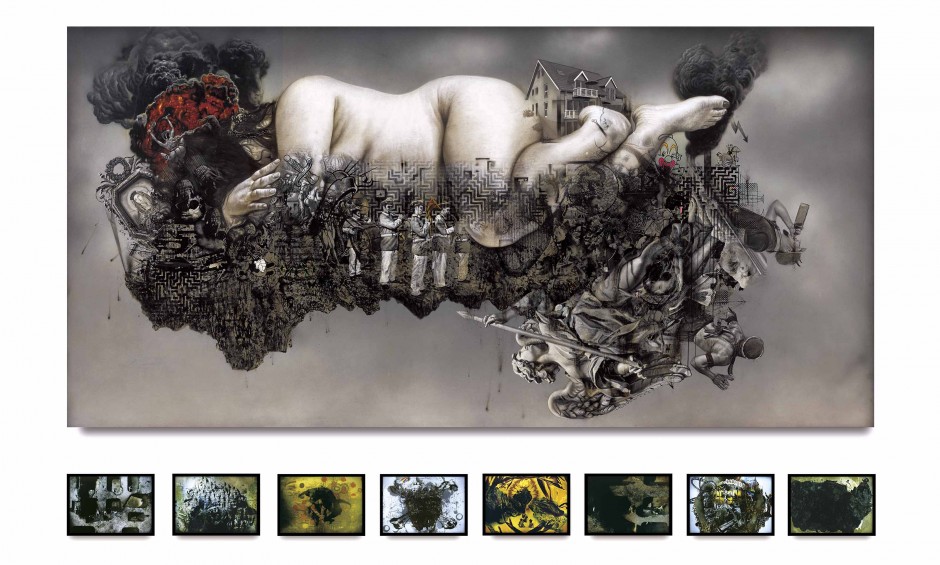 3) RONALD VENTURA
Collectors of Ronald Ventura: Alan Lo, Paulina Que, Paula Dewiyanti (data provided by Larry's List)
Ronald Ventura, who is the most successful Filipino artist on the art market, is internationally known around collectors for his signature style of multi-layered dark paintings.

The 3-metres-wide painting Cumulus combines exactly these two attributes. Dark and perfectly painted scenes surround a lying human body combining hyperrealism, cartoons and classical and graffiti motives. Further, the large canvas is completed by eight lights boxes, which stand for the small islands surrounding the Philippines.
"CUMULUS (2011)"
Estimate: HKD 3,000,000 – 4,000,000
Sale: Asian 20th Century & Contemporary Art (Evening Sale)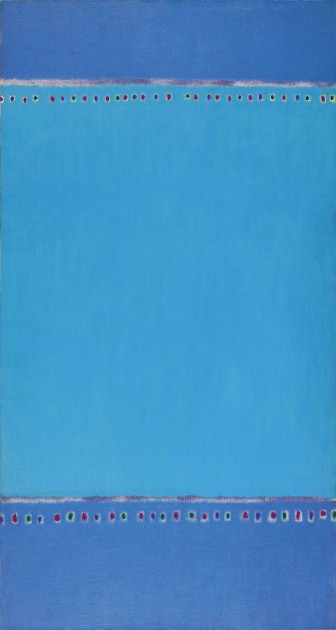 4) KIM WHAN-KI 
Collectors of Kim Whan-Ki: T.O.P, Ok-Jin Shin, Ahn Byung-kwang (data provided by Larry's List)
Kim Whan-Ki lately set the auction record for the highest price ever paid for a Korean artwork at auction and during the last year his paintings caused bidding wars between international collectors.
By belonging to the highly thought-after first generation of abstract Korean painters he raised the profile of abstract Korean art in the global contemporary art community. The large canvas offered in the sale appears in the for Kim Whan-Ki typical blue colors and represents a major work from his New York influenced period.
"4-X-69 #121 (1969)"
Estimate: HKD 10,000,000 – 12,000,000
Sale: The Pioneers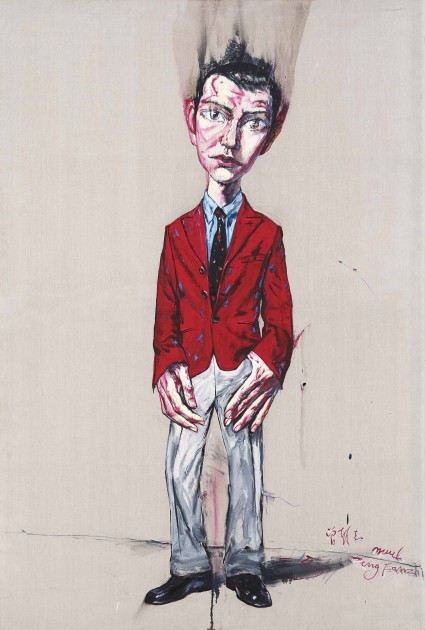 5) ZENG FANZHI
Collectors of Zeng Fanzhi: William Lim, François Pinault, Frank Cohen (data provided by Larry's List)

"Portrait" shows a single figure, which is painted in an expressionist style and exemplifies Zeng's combination of Western and Eastern painting elements. Exemplary for the artist is the significantly big head of the figure, which runs like a common thread through Zeng's oeuvre.
"Portrait (2006)"
Estimate: HKD 6,000,000 – 8,000,000
Sale: Asian 20th Century & Contemporary Art (Evening Sale)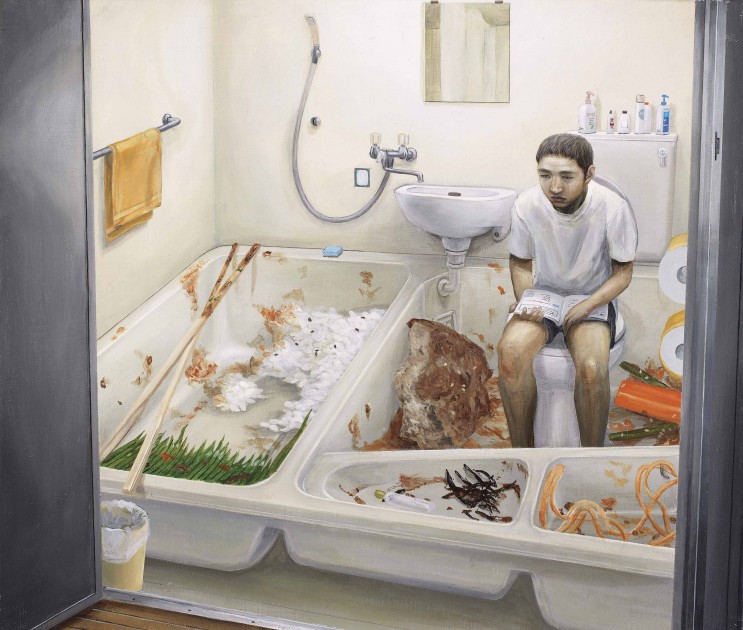 6) TETSUYA ISHIDA
Collectors of Tetsuya Ishida: Wang Wei & Liu Yiqian, Yongha Park (data provided by Larry's List)
Famous Japanese artist Tetsuya Ishida's works deal with Japan's identity and contemporary life. The painting Functional from 1999 shows an isolated individual in an open bathroom filled with work-related objects and alludes to the deficits of the hectic society of Japan. The surreal environment is typical for the work of Ishida.
Tesuya Ishida is not only a highly treasured artist for mega collectors in Asia but was also involved in the main exhibition of the 2015 Venice Biennale, which underlined his significance in Europe.
"Functional (1999)"
Estimate: HKD 1,900,000 – 2,600,000
Sale: Asian 20th Century & Contemporary Art (Evening Sale)
---
¹ ArtAsiaPacific x Larry's List: Between Eye and Beholder
² The Wall Street Journal
³ "Raising Awareness: Hong Kong The Art Harbour" on Larry's List