Liu Ye (b. 1964) is a contemporary Chinese painter high on the list of many serious collectors all around the world. As one of China's most acclaimed artists, his works are representative for a generation of artists that grew up during the Cultural Revolution. In his art, he explores universal themes that cut across East versus West dichotomies. There are a multitude of international influences that have played into his oeuvre, which he draws upon to express his playful and imaginative inner world full of childhood references and real-world icons. On the occasion of a major work by Liu Ye being on offer at the Phillips Auction 20th Century & Contemporary Art Evening Sale in Hong Kong on 8 July 2020, we are presenting seven observations on the artist and his market.
1.  Limited number of works
Liu Ye has only produced around 350 canvas paintings over the past 30 years[1], making him one of the Chinese blue-chip artists with the least works available. As such, his artwork coming up for sale is something of a rarity, especially the larger-size canvases. One such work, "Choir of Angels (Red)" from the late-90s, will be featured at the upcoming Phillips Sales. This is the first time this work has been put on the market since the current owner acquired it in the early 2000s.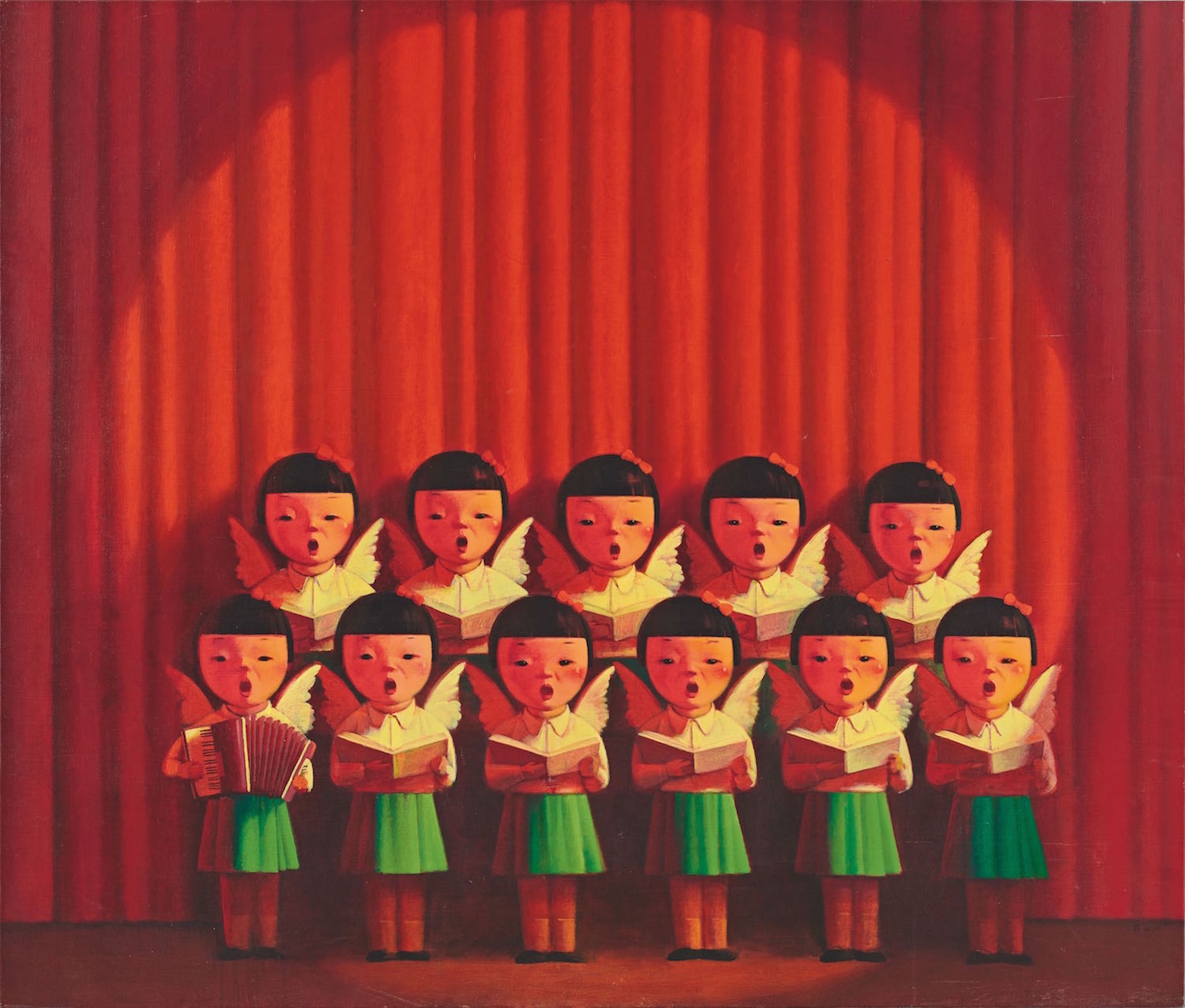 2.  Undeniable popularity
Liu Ye is hugely popular and beloved by many people. His works resonate with those inside and outside of the art scene alike, perhaps due to the universal language of his art and the iconic imagery he has created, ranging from small angels to portrait paintings. With his diverse catalogue, Liu excites not just collectors who like more figurative style works but also those who prefer the abstract. His oeuvre stretches from paintings relating to Chinese pop art in the 90s, to more portrait style paintings from the 2000s (a sample of such work is "Girl!" which will be offered at the Phillips 20th Century & Contemporary Art and Design Day Sale on 9 July 2020) to almost colour field paintings such as his series of "Book Paintings" from the mid-2010s. This diversity is a rare quality in an artist and makes for an engaging collection.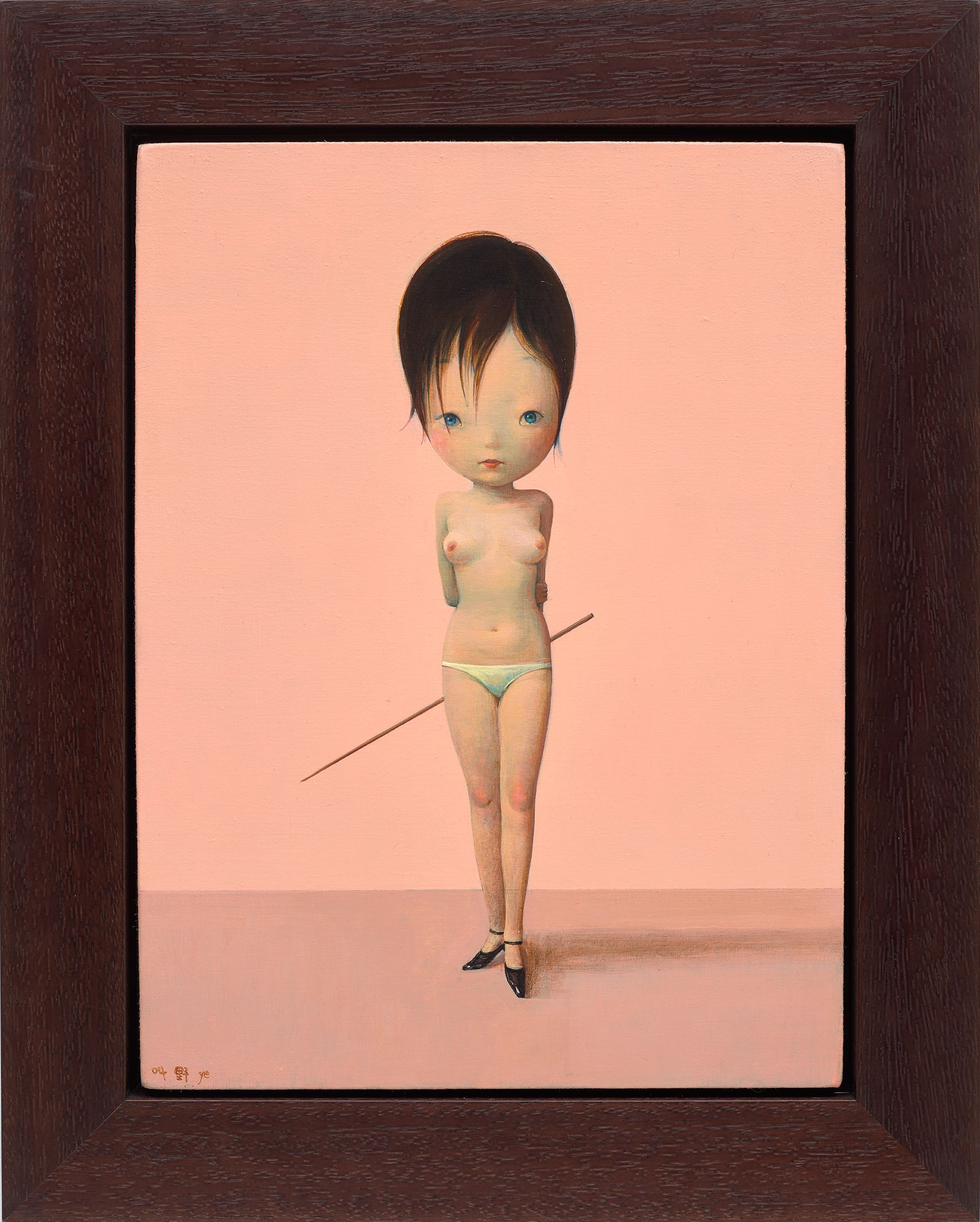 3.  Institutional backing
Over the past five years, Liu Ye's works have been in a number of solo and group shows. Unsurprisingly, The Mondriaan House in Amersfoort dedicated a large solo show to him, as Mondriaan has been a major influence across Liu's oeuvre. In 2018, his works were exhibited in "Hello World. Revising a Collection" at the Hamburger Bahnhof in Berlin. Later that year, Prada Rong Zhai in Shanghai hosted his solo show "Storytelling" (curated by Udo Kittelmann) that was widely recognised in the international art scene and beyond. Fondazione Prada in Milan then invited Liu Ye earlier this year to exhibit his works. The show is still on until January 2021.
4.  A master painter
Not one to stay within the lines, Liu Ye's works keep surprising as he develops and innovates his style. The different influences at play and the maturation of his art tells a story that many collectors desire to incorporate into the dialogue of their collections.More than that, collectors can easily appreciate the technical mastery apparent in Liu's art. As described by Taiwanese collector Yao Chien, "Liu Ye's works are done with such accuracy and finesse. … he always manages to finish his paintings with such carefulness and attention to detail, even on a small canvas."[2]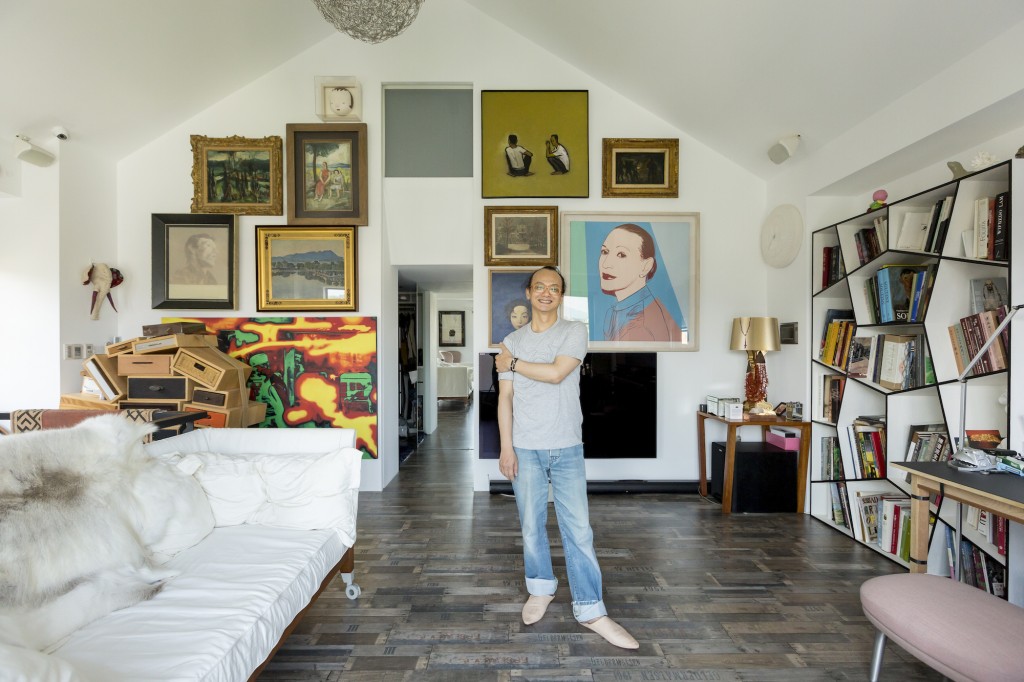 5.  Bridging the East and the West
Much of the appeal of Liu Ye's work lies in his seamless blending of the East with the West, merging influences from literature, history of art and pop culture from both sides into his iconography.[3]Liu Ye evokes European classical masters like Rembrandt and surrealist heavyweights like René Magritte, gives nods to American greats such as Barnett Newman and Andy Warhol, and mixes in Piet Mondrian motifs, all while dominating his canvases with the Chinese red of his childhood.[4]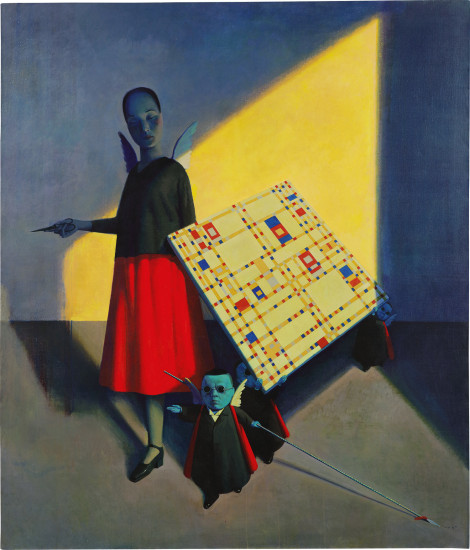 6.  A global and institutional collector base
From China to Germany to the US and to Switzerland, Liu Ye works can be found in private and institutional collections all over the world. This is testament not only to his status as an international artist but to his broad appeal to collectors. Notable collections include M+ Sigg Collection, Hong Kong; Long Museum, Shanghai; Sigg Collection, Mauensee; De Heus-Zomer Collection, Netherlands; Olbricht Collection; Wang Bing Collection, Beijing; YUZ Museum, Shanghai; Friedrich Christian Flick Collection; Museum MACAN, Jakarta; and X Museum, Beijing.
7.  Future market development
Referring to the popular visual iconography, the career development, and the market popularity, it is not surprising that Liu Ye's name is often mentioned together with his Japanese counterpart Yoshitomo Nara (in the 2000s, both artists even exhibited together in Japan). Both artists have appeared in the top league of auction results. The current record for Liu Ye's auctioned works is the painting "Smoke" (2001-2002), which sold for a record HK$52.18m / US$6.65m in October of 2019. [5] At the same time, Nara set a record for his work "Knife Behind Back" (2000) that was sold at a high price of HK$195.69m / US$24.9m.[6] While for a range of works, the auction results for both artists show similarities, there is a gap in terms of the record prices. While Nara has already been widely exhibited and internationally fully recognized, there is still potential for Liu Ye's visibility. But increasing interest from institutions and the recently announced representation of Liu Ye by David Zwirner, the popularity and demand for his works are likely to further increase.
Liu Ye, Choir of Angels (Red), 1999, at Phillips Auction Hong Kong's 20th Century & Contemporary Art Evening Sale, 8 July 2020
Phillips Hong Kong July Auction
20th Century and Contemporary Art Evening Sale
8 July, 4:30pm
20th Century and Contemporary Art and Design Day Sale
8 July, 1pm
Visit phillips.com for more information
---
[1]The catalogue raisonné released in 2015 included 317 canvas paintings up to that date.
[2]Larry's List, The Master Behind China's Hit Tunes Reveals Art Collection.
[3]Prada, Prada Rong Zhai "Storytelling".
[4]Zhu, Z. (1996). Only One Gram. In C. Noe (Ed.), Liu Ye: Catalogue Raisonne 1991-2015 (pp. 17–33). Ostfildern, Germany: Hatje Cantz, Hatje Cantz Verlag.
[5]The Value, Liu Ye's "Smoke" Painting Sells for Record HK$52.18m (07 Oct, 2019).
[6]The Value, Yoshitomo Nara Becomes Most Expensive Japanese Artist as His "Knife Behind Back" Sells for Record-Smashing HK$195m (06 Oct, 2019).