The countdown for the Christie's Asian Art Week in New York is on. During 9-16 September 2016, masterpieces and unseen treasures from every epoch of Asian art will be presented at eight distinct auctions at the auction house's flagship saleroom in Rockefeller Plaza. From Chinese ceramics from The Metropolitan Museum of Art to Gandharan sculpture, from Classical Chinese furniture to contemporary paintings from China and India, over 700 works and objects will guide you through the rich and diverse art landscape of Asia.
LARRY'S LIST highlights five of those amazing treasures to be discovered at the Asian Art Week. Furthermore, we tell you which mega collectors already collect those works …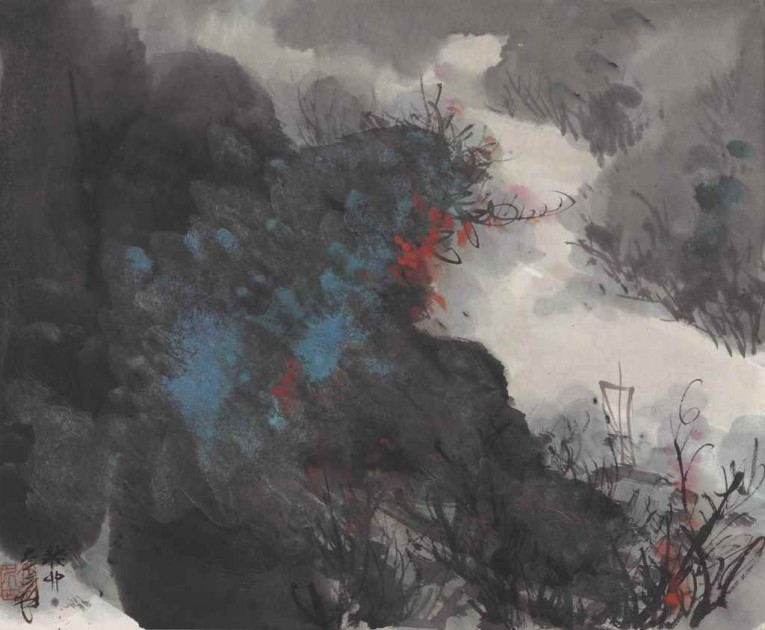 1)    ZHANG DAQIAN (1899-1983)
Collectors of Zhang Daqian: Barry Lam, David Tang, Pierre Chen (data provided by Larry's List)
Zhang Daqian was one of the best-known and most prodigious Chinese artists of the twentieth century. The phenomenal painting presented in the sale marks the beginning of Daqian's modern impressionist and expressionist period in the early 1960s.


The painting "Boat in Splashed-Ink Landscape" is not only one of the great examples of Daqian's landscape paintings but also has a prestigious provenance. It comes from the famous collection of renowned American collectors Ryda and Robert H. Levi.
"Boat in Splashed-Ink Landscape"
Estimate: USD 40,000 – USD 60,000
Sale: Fine Chinese Paintings, 13th September 2016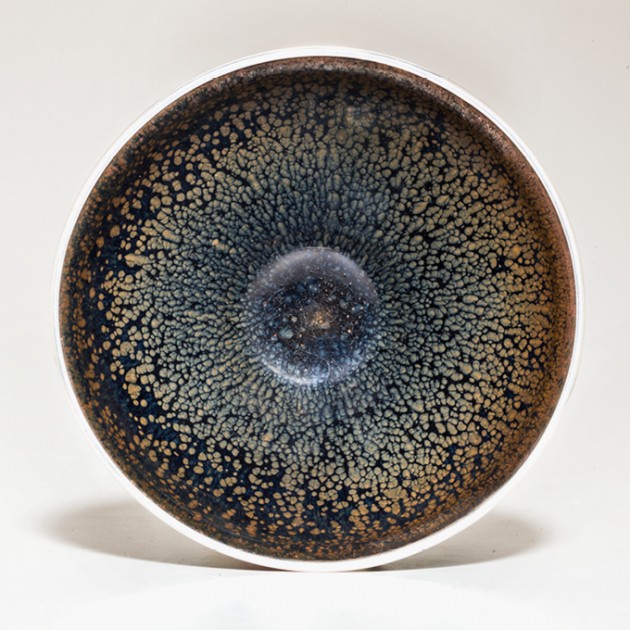 2)    THE KURODA FAMILY YUTEKI TENMOKU
Collectors of Chinese Ceramics: Wang Wei & Liu Yiqian, Robert Chang, Karl Lagerfeld, Alan Chuang (data provided by Larry's List)

Within the Linyushanren Collection sale there are many highlights but there is one piece which stands out: A dark-glazed tea bowl made at the Jian kilns in the Song dynasty. It is important not only for its beauty and technical innovation, but also because it is among the most internationally influential ceramics of medieval China. The bowl is one of a small group of Jian wares with an especially fine and rare 'oil spot' glaze.
A highly important and very rare "oil spot" jian tea bowl (Southern Song Dynasty 1127 – 1279)
Estimate: USD 1,500,000 – USD 2,500,000
Sale: The Classic Age of Chinese Ceramics – The Linyushanren Collection, Part II, 15th September 2016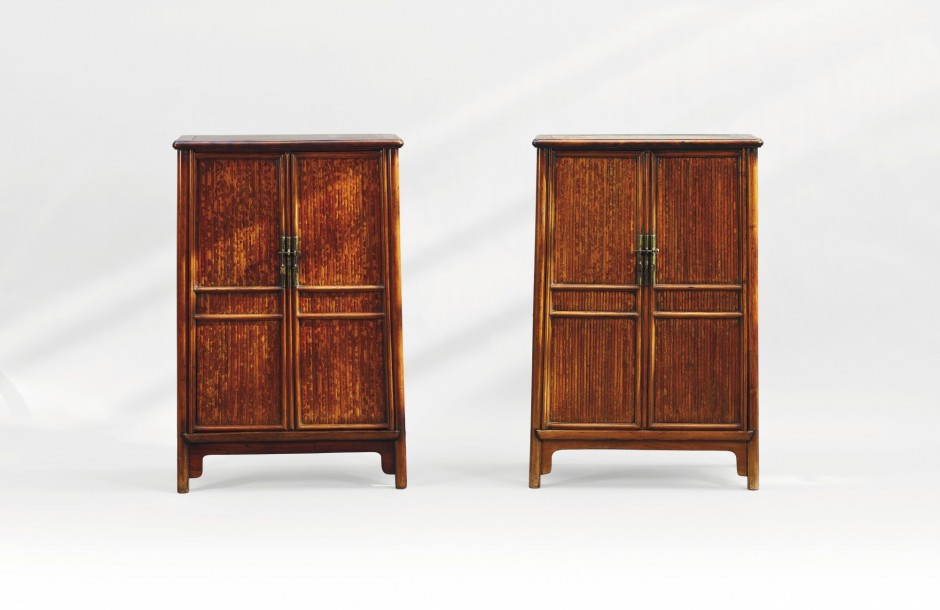 3)    A RARE PAIR OF HUANGHUALI AND SPOTTED BAMBOO SCHOLAR'S CABINETS, YUANJIAOGUI
Collectors of Chinese Furniture: Yip Shing Yiu, C. P. Lin (data provided by Larry's List)
The tremendous round-corner tapered cabinet, yuanjiaogui, offered in the sale has simple lines and is one of the most beautiful and elegant designs in classical Chinese furniture. Each cabinet is made out of 114 strips of finest spotted bamboo which form the panels of the doors and sides. Each interior has dark red lacquer on it painted over a clay and textile base, which was the proper application of lacquer during the Ming dynasty.
The pair of cabinets are perhaps the only known pair in existence. They come from the internationally renowned collection of Marcus and Debby Flacks, who belong to the most admitted experts in the area of classical Chinese furniture.
17th century
Estimate: USD 2,800,000 – USD 3,200,000
Sale: The Flacks Family Collection: A Very Personal Selection, 16th September 2016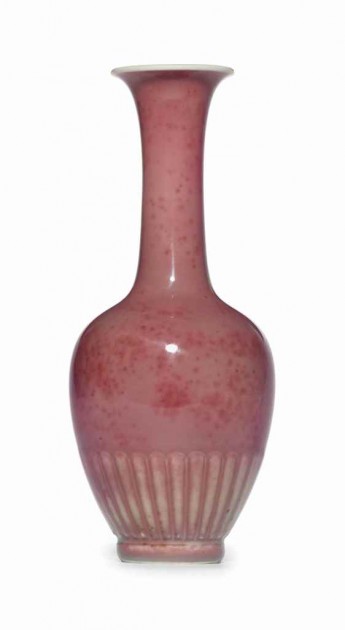 4)    A RARE PEACHBLOOM-GLAZED 'CHRYSANTHEMUM' VASE, JUBAN PING
Collectors of Chinese Ceramics: Wang Wei & Liu Yiqian, Karl Lagerfeld, Alan Chuang (data provided by Larry's List)

The elegant vase offered in the sale belongs to a small, eminently esteemed group of vessels made during the reign of the Kangxi Emperor in the 17th century. Its well-balanced form, with trumpet mouth and a band of chrysanthemum petals around the base is today known as "peachbloom".
Kangxi six-character mark in underglaze blue and of the period (1662-1722)
Estimate: USD 700,000 – USD 900,000
Sale: Collected in America: Chinese Ceramics from the Metropolitan Museum of Art, 15th September 2016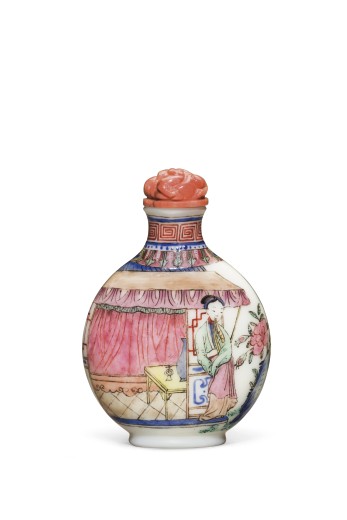 5)    A FAMILLE ROSE ENAMELED GLASS SNUFF BOTTLE
Collectors of Chinese Ceramics: Wang Wei & Liu Yiqian, Karl Lagerfeld, Alan Chuang (data provided by Larry's List)
The sale of the Ruth and Carl Barron Collection offers beginners as well as experienced ceramics collectors the chance of buying snuff bottles from one of the most well-known and respected collections of the category.
Snuff bottles were used during the Qing Dynasty to store powdered tobacco. Smoking tobacco was illegal during this period but the use of snuff was allowed as it was considered a cure. This exemplar of a snuff bottle even shows a marking Da Qing nian zhi (made in Great Qing) in red on the underside. The filigree-drawn motive shown on the white enameled glass bottle displays a lady standing in front of a beautifully designed red surrounding.
Imperial, Palace workshops, Beijing, seal of Wu Yuchuan, 1767–1799
Estimate: USD 8,000 – USD 12,000
Sale: The Ruth and Carl Barron Collection of Fine Chinese Snuff Bottles: Part III, 14th September 2016
---
¹ New York Magazine
² Daily Mail
³ Bloomberg