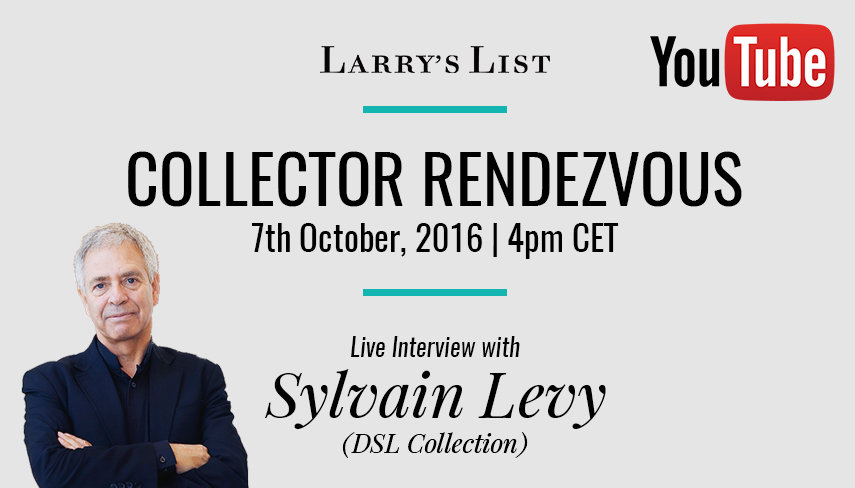 COLLECTOR RENDEZVOUS is the new live format produced by Larry's List starting on 7th October. It will bring collectors closer to the community than ever before.
"We are receiving questions on collectors every day. Now, we want to give the community the chance to ask their questions to collectors by themselves. This format will remove the barriers between collectors and the community," states Max Bossier, Head of Business Development of Larry's List.
Collectors are the most sought-after individuals, the VIPs, of the art world. However, often they are not the easiest to approach. Larry's List will offer art enthusiasts the opportunity to ask collectors what they always wanted to know.
The 30-minute live shows will present private collectors in their homes, private museums or at art venues. They will give insights into their collections: impulsive, unfiltered, and personal.
Each talk includes a 15-minute live Q&A session, in which the audience on the live stream can ask questions in real time.
The first COLLECTOR RENDEZVOUS will be held on 7th October, 2016, at 4pm CET with renowned collector and founder of the DSL Collection Sylvain Levy during Frieze Art Fair in London.
Upcoming COLLECTOR RENDEZVOUS will feature:
– Late October: Steffen Hildebrand (G2 Museum, Leipzig)
– Early November: Timo Miettinen (Salon Dahlmann, Berlin)
How to access to COLLECTOR RENDEZVOUS:
1. Register for the event via this link. It is free!
2. Access the live show on Larry's List via our YouTube channel on 7 October at 4pm CET.
3. Watch the talk and participate by asking questions in the Q&A session on the sidebar.
4. No worries: If you missed the show you can replay it on the Larry's List YouTube channel.