Sitting in the garden of Shalini Passi's New Delhi home is the "Buddha Head" by one of the Indian A-list artists Subodh Gupta. For over 15 years, Shalini Passi and her husband Sanjay Passi have been commissioning and collecting artworks, objects and design furniture from around the globe. Both their collection and their house that displays it are phenomenal. Shalini Passi has a strong affiliation with some of the most prestigious Indian artists. She has shared with Larry's List stories with some of these artists, how artist Riyas Komu came to install his work on a curved surface at her home, as well as which art fair is her recent favourite.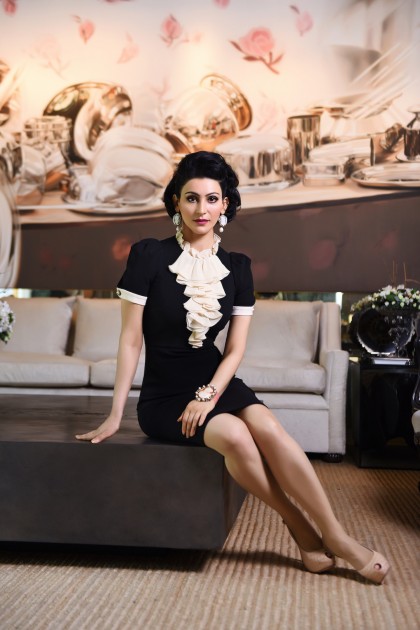 Collecting 
What made you want to start collecting Art?
Collecting has enabled me to understand further the poignancy and meaning of each respective artist.
I wanted to be in an engaging and intriguing position, to view privately within the comfort of my home art pieces every day and also share this experience with not only my friends, but with people who share my love of the arts. Each artist is either conscientiously drawing inspiration from his or her time. So it is a gateway to help engage in part of the artists' personal surrounding landscape and history.
What is the main motivation behind your collecting?
Establishing a greater and more meaningful understanding of an artist's creative incentive and acquiring their best pieces. It is an eclectic but very personal collection. Amongst my collection, you will find Indian Modern and Contemporary works, an Ado Chale table, then from the 18th century: a Flemish cabinet, an Andre-Charles Boulle table, a pair of Dutch flower paintings, through to more contemporary pieces, such as an Hervé van der Straeten's "Passage Console", Jeff Koons and Damien Hirst.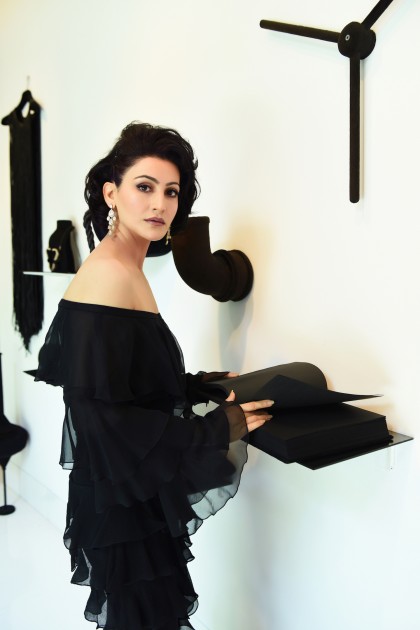 When did you fall in love with a piece of Art?
In 2001, I was immediately overwhelmed and fell in love at first sight with an extraordinary installation by Anita Dube, and I had the immense privilege of acquiring it in 2011.
What was it?
The Theatre of Sade (1998) by Anita Dube.
It is an exquisite and intriguing exploration of the secret fascist pathologies of Libertine philosophy in our times in urban bourgeois contexts. This thought-provoking work is a set of beautifully executed objects covered in black velvet and these 13 elements are meticulously placed for the spectators to view and contemplate.

What is the focus regarding the artists in your collection?
There is not a specific trend or focus with regards to the artists in my collection. However, there is a strong and proud emphasis on certain women's strength through their creative vision and sensibilities. Of course Anita Dube as previously mentioned, Bharti Kher's majestic series of Bindis on aluminium panels, Sonia Khurana's soothingly hypnotic and mesmerizing "Head and Hand" video and the extraordinarily crafted hemp sculpture by the exceptional artist, the late Mrinalini Mukherjee, to mention just a few. Also, all the works in the collection have an individualistic quality of delivering  a personal story. So there is a fluidity throughout, depicting poignant messages interpreted through imagery. 
Are you interested in emerging or renowned artists?
Primarily renowned artists.
Is there any particular type of art that has consistently attracted you, or anything that unites all the works you have acquired?
I have a great affinity with work which is powerful enough to entice and draw you in, which in turn evokes different levels of emotion. It could be quiet and contemplative, or a burst of admirable energy and passion.
The unity is echoed in my previous answer of visual interpretations of a thought, anecdote and personal story telling.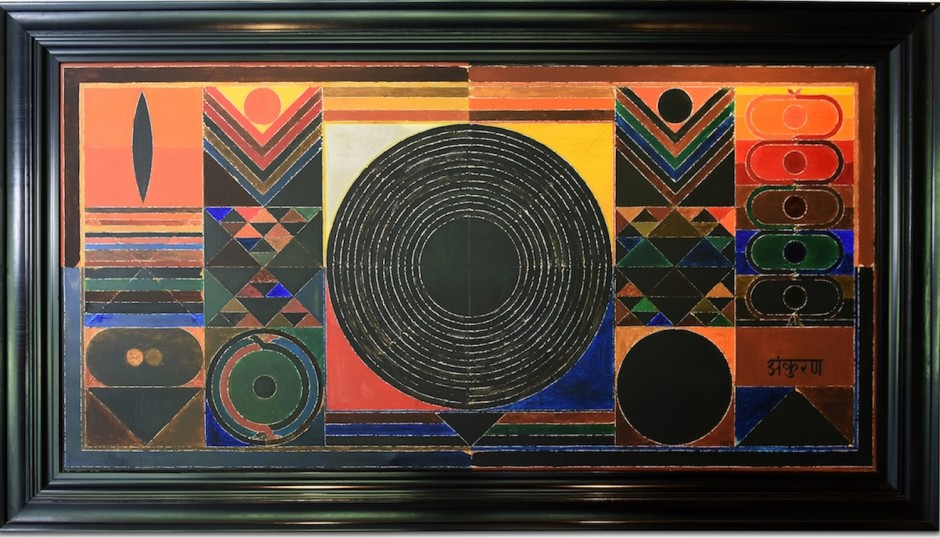 What was the first artwork you purchased?
A painting by M.F. Hussain.
How many artworks do you own?
I have a varied eclectic collection of artworks including some rare pieces of antique, vintage & contemporary furniture and 'objets d'art' which I also consider as pieces of art so it is virtually impossible to give a specific figure!
How do you display your collection at home?
It was essential for me at the beginning to ensure that perfect lighting should be installed. The use of natural daylight and artificial light was a strategic balancing act. Reflections and hues change constantly from dawn to dusk. In addition to the aforementioned, the allocation of space was equally important so that one could view any piece from any angle, be it close up to look with a certain intimacy, or from a particular distance with a wider spectrum. Space, perspective and light were principal elements I adhered to when displaying my collection.
How does the interior design go with your collection?
As the collection is in my home, it was important for me to surround and balance the work with a contrasting amalgamation of subtle and striking decor, which would complement and enhance the artworks thus creating a special living space. My endeavor was to create an interesting tension of dynamics between an artwork and its surrounding setting. So I used a wide range of materials and textures both for the decor and on some areas of wall space. The corridors are painted primarily in white, but I also introduced some bold colour blocks in strategic spaces where I knew certain artworks would benefit from this unique element. So I commissioned particular paint hues, which I had specifically blended and customised, which were then painted on surfaces which were utilised as backdrops for individual works.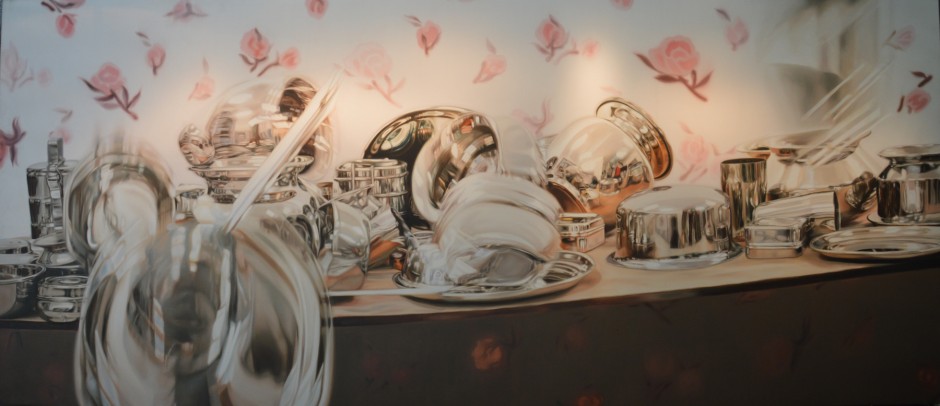 Have you ever presented your art collection publicly?
Yes – I loaned the Mrinalini Mukherjee 1996 hemp sculpture entitled "Kusum" at a retrospective exhibition of her work, displayed at the National Gallery of Modern Art (NGMA) in Delhi in 2015. I have loaned many other artworks to various museums. I feel very strongly that it is important for art to be shared publicly.
Would you consider building your own private museum in India one day?
Yes.
Is there any kind of artwork that can make you writing a cheque without any consideration?
A painting by Rothko, and a drawing by Leonardo da Vinci.
What is your most treasured artwork?
I have three:
1) Acrylic on canvas entitled "Germination" by S.H. Raza.
2) A 25-feet high Buddha head sculpture by Subodh Gupta.
3) Four Bindi panels (untitled) by Bharti Kher.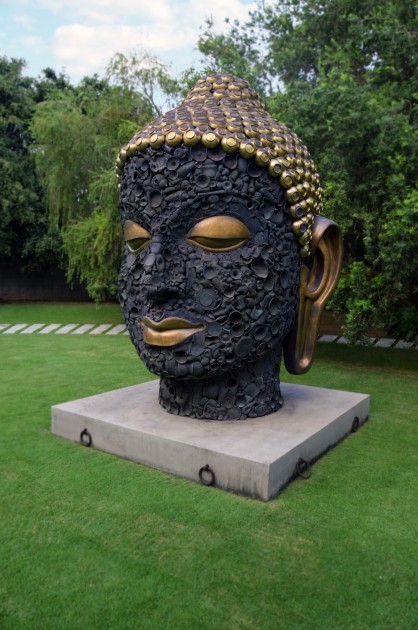 You have a strong affiliation with some of the most prestigious Indian artists including Bharti Kher, Subodh Gupta, Jitish Kalat, M.F. Hussain etc. Could you share any interesting stories you had with any of these artists?
Bharti Kher was working on the bindi series. Over the course of nearly a year, I made several studio visits and it was riveting to see how her work evolved over this period of time, with each layer gaining a new language from the previous visit. It was great to see this work in progress and finally be displayed at my home.
M.F. Hussain created our wedding invitations. It was very moving that this exceptional artist created something so personal and precious, which has given us everlasting memories of this special time in our lives.
Why are you interested in design?
I feel design is an extension of art. It can be used in everyday life for practical purposes, and it is positive to interact with these elements. Good design can change your life. The meaningful and functional aspect can work in perfect harmony. A perfect example of this is the mirror-polished woven aluminium mesh seating by Ron Arad, which is in my main living room.
How does your interest influence your collecting and perceptions of art?
It gives me an interesting interpretation of aesthetics, craft and architecture, thus enabling me to acquire a wider and more diverse knowledge of personal and public space and an artist's vision of his or her surrounding landscape. I am particularly impressed with the architect Amanda Levete's latest endeavor and her spectacular transformation of space at the Victoria and Albert Museum. It is a glorious celebration of harmonising architecture with a contemporary inclusiveness, and at the same time, acknowledging the positive recognition of heritage within and alongside the building. It houses so many extraordinary works of art and continues to display exceptionally diverse and beautifully curated exhibitions every year. I am sure this latest space at the V&A will encourage more people to enquire and engage with the arts, who previously might not have even entertained the thought of visiting a museum or even looking at art.
How is the art-collecting scene now in New Delhi and in India?
There is an interesting mix of corporates, private museums, and currently, a new wave of young domestic collectors who are acquiring cutting-edge art. There is a renewed and positive interest from the international art collectors, museums and galleries (for example Hauser & Wirth and Continua), etc., whose presence is very prevalent at the India Art Fair, KHOJ International Artists' Association (KHOJ) and the Kochi Biennale. On a personal level, the latter is particularly exciting, as Anita Dube has been selected as the curator for the 2018 edition of the Kochi Bienale.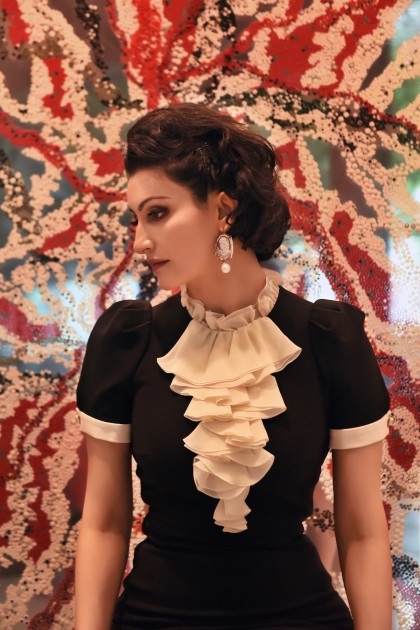 The Art World
What was your happiest moment being involved in art?
Happiest moment – the enthralling journey of installing at home the great works which I have acquired. This sentiment is in tandem with the artists seeing their work in a new environment and receiving their approval is important and touching. Watching Riyas Komu install his ethereal but very powerful poetic work of Persian script made of recycled wood, iron and automative paint, was indeed akin to watching poetry in motion. He had to strike a fine delicate balance of deft subtle engineering in order to place his work on a curved surface and place it in such a way in order to create shadows with the available natural light and the discretely hidden night-time artificial lighting. The end result is that at first glance, this piece almost appears to be floating alongside the wall surface and from whichever angle you view it, the perspective transports you into an uncertain infinity.
Who inspires you in the art world?
From the past, J.R.D. Tata (great supporter of the Indian arts), Peggy Guggenheim and J. Paul Getty.
Today, the artist Bharti Kher – of course I admire her work, but she does not only has an ingenious way of giving a literal voice to her work, but she is extremely articulate when talking about her thoughts and observations of the art world.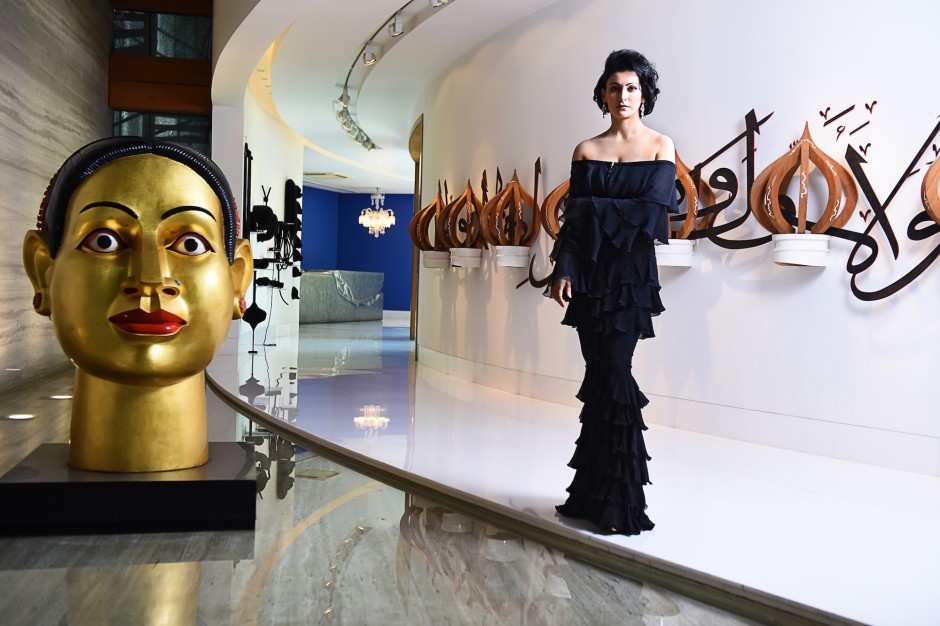 How is the contemporary art scene in India now?
It is exciting and the initiatives being explored and encouraged at KHOJ and the Kochi Biennale are great platforms for discovery and inspiration. The India Art Fair has been very instrumental in encouraging a younger audience and reaching out to prominent international galleries and inviting highly respected specialists in the art world to be guest speakers. So the dialogue is improving to raise more awareness of the contemporary art scene here in India. Sotheby's and Christie's have dedicated auctions for Modern and Contemporary Indian Art.
How would you like to boost it?
It would be very beneficial to have a wider coverage from the international press, as well as more integration, involvement and collaboration with the international art fairs and galleries.
Can you name three emerging Indian artists who should be on our radar?
1) Hemali Buta, 2) Astha Butail & 3) Asim Waqif – not listed in order of preference as they are all exciting and have dynamic aesthetics, and each one has a very interesting visual train of thoughts.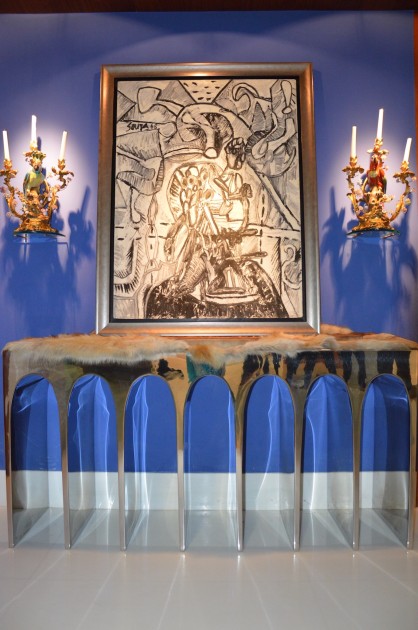 What is your advice to other collectors who might be interested in the Indian art scene or market?
Spend a considerable amount of time researching and connecting with the galleries in India. It would be very beneficial and rewarding to visit the annual India Art Fair, KHOJ, the Kiran Nadar Museum of Art, the Devi Art Foundation, the NGMA in Delhi and the Kochi Biennale in Kerala. Also, visit Bangalore and Chennai, where there are creative platforms to visit and engage with. In Mumbai, in addition to the galleries, they should definitely visit the Dr. Bhau Daji Lad Museum.
Many galleries continue to promote and nurture both new and established Indian artists, such as Vadhera Art, Delhi Art Gallery, Nature Morte, Galleryske, Experimenta, Chemould, Chatterjee & Lal, Arushi Arts, Sakshi Gallery and Tasveer Gallery.
There are very few art publications in India, but these publications are worth reading and give objective and critical insight to the art scene in India: Take on Art and ART India. However, most importantly, visit the artists' studios and view their work in progress.
Which art fairs do you attend?
Art Basel in Switzerland, FIAC in Paris, TEFAF in Maastricht, Design Festival in London, Masterpiece London, Frieze London and New York, Armory Art Fair in New York, Design Miami and Art Basel Hong Kong.
Which is your favourite?
This changes depending on the year so I cannot name one all-time favourite. They all have their strengths and weaknesses, and also, the cultural and political climate can affect not only the country holding the fair, but also the participating galleries and artists.
Currently, my favourite art fair is the recent Art Basel in Switzerland.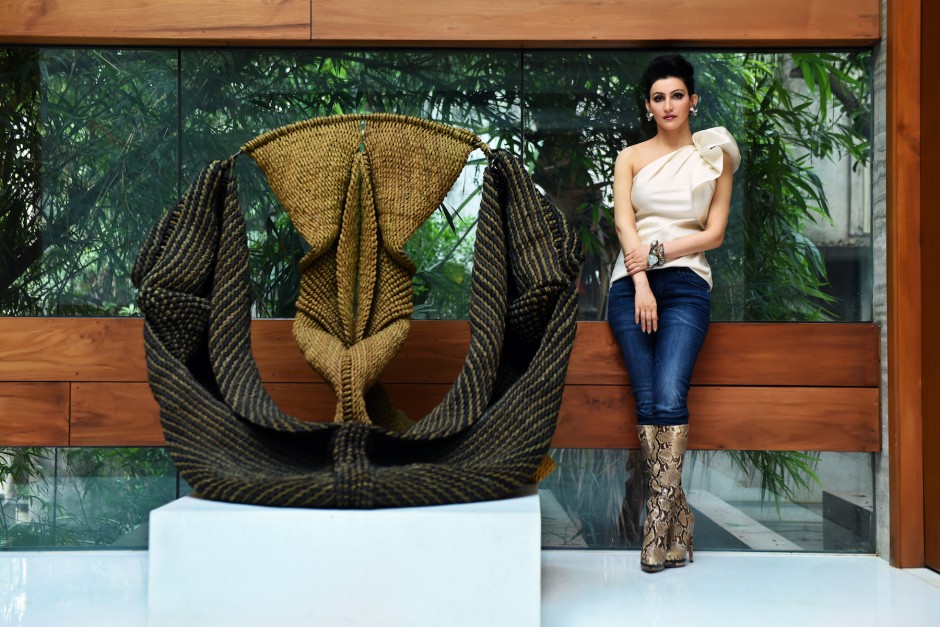 Instagram: @shalini.passi
A selection of artists Shalini collects:
Anita Dube
Bharti Kher
M.F. Hussain
Riyas Komu
Subodh Gupta

By Ricko Leung
Facilitated by Noelle Kadar, International Director of India Art Fair