Charles and Leah Justin have been collecting contemporary art for over 40 years. Today, they live together with their artworks in the Justin Art House Museum (JAHM) with an aspiration to provide a distinctive experience for visitors, that is also intimate and personal. Their fantastic collection has a strong focus on the theme of 'Space' – reflecting the architectural background of Charles Justin. Consisting of a diverse spectrum of art practices, the collection has a strong emphasis on digital and video work. Like other house museums, JAHM reflects the persona and direction of the Justins, who have shared with us their challenges and advice on collecting digital and video art.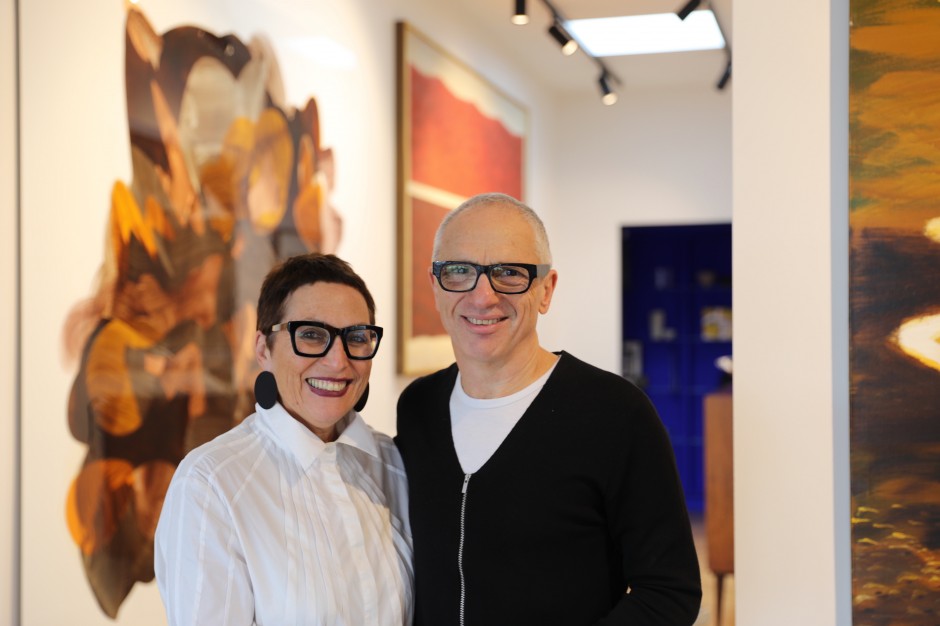 Collecting
What made you want to start collecting art?
When Charles was in the final years of his architectural studies, he was asked by close family friends to design their house. In lieu of fees, they offered that we select a work of art.
When did you fall in love with a piece of art? Which artwork was it?
We went to a highly regarded gallery which no longer exists. We both wandered around and independently fell in love with the same work, which we then purchased. It was an abstract work by Lorraine White, who was an emerging artist. 45 years later, she is still emerging, but we still love that painting and have lived with it and enjoyed it everyday for the last 45 years.
What is your focus regarding the artists in your collection? Are you more interested in emerging or renowned artists?
We principally collect emerging artists, although we also have in our collection recognized, established artists. We are prepared to buy from artist-run spaces and even from graduate exhibitions. Our decision-making is very visceral, and we are prepared to back our instincts. We would rather support younger artists trying to build their careers, rather than chasing big-name artists.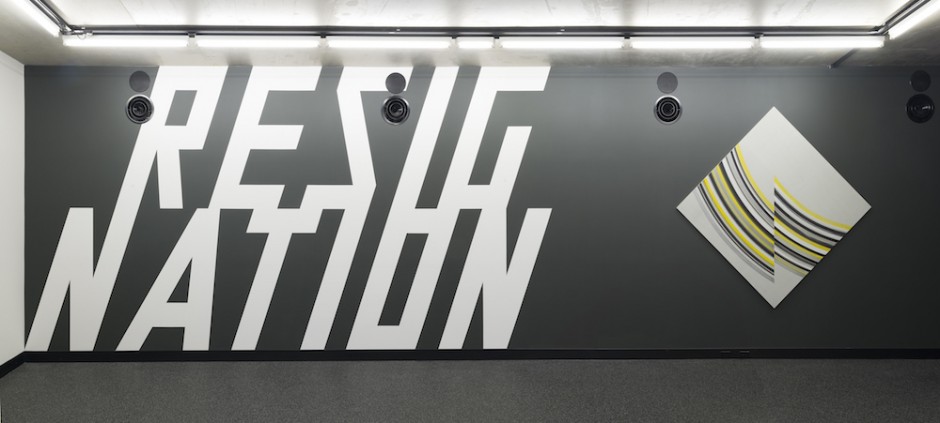 Your collection also has a strong emphasis on digital and video work. Which difficulties do you face while collecting this genre? What are your advices to collectors who are interested in collecting digital and video works?
Our main challenge for us in collecting this genre is that we are both technologically challenged – we are a pre-computer generation. So when it comes to storage, display, reproduction, we need expert assistance. As collectors of digital art, one of our primary challenges deals with guaranteeing authenticity of the artwork, as it can be copied exactly and easy to distribute publicly. Having documented authentication from the artist that you own the original has been an important part of our collecting process. The other difficulty faced, is keeping up with changing technology to ensure that the medium in which the work is presented or stored is still current. You also need to ensure that you have a master copy and a working copy to protect against wear and tear, and possible corruption of files.
How many artworks do you own?
About 300.
What considerations guide you to make a purchase?
We realised early in our collecting that the works were principally non-objective or abstract, and focused on the theme of 'space', which is understandable with Charles's architectural background. Therefore, when considering works to add to the collection, we assess whether it fits into the collecting focus. With each new artist whom we add to the collection, we look for a new perspective in the exploration of the theme.
When considering new works by an existing artist in our collection, we look for an evolution in the development of their practice and whether it still fits within the theme of our collecting.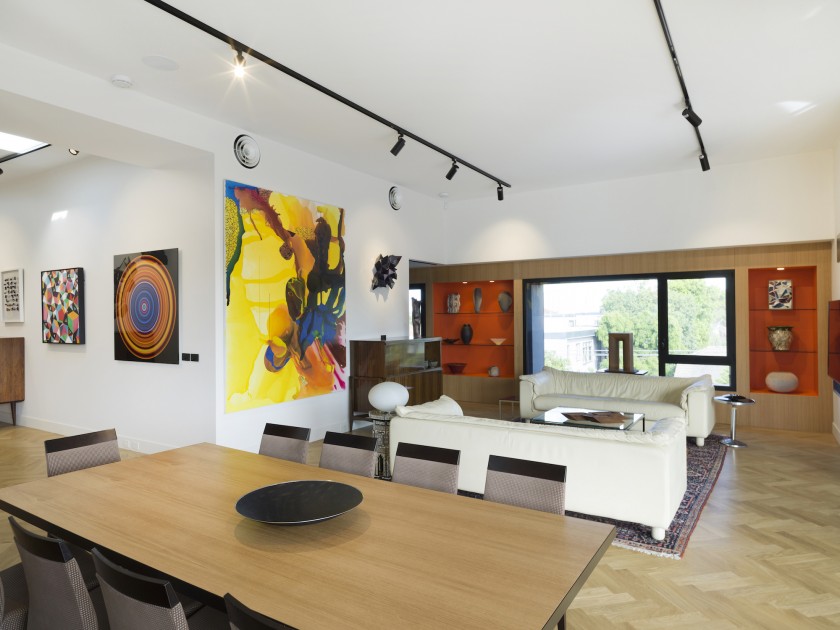 How do you make collecting decisions as a couple? Do you always agree?
Charles acts principally as the curator and makes the majority of acquisition decisions. However, if it is to be a significant purchase within the context of our collecting, Leah is consulted to review the acquisition. If she has a strong objection, the acquisition does not occur. If she is uncertain, there is a robust discussion on the relevance of the work to the collection, and a collective decision is made.
What is your most treasured artwork?
There is no one work that we would identify as having precedence over the others. It's like asking a parent to choose which one of their children they love the most. You love them differently, but you love them absolutely!
How important is it for you to meet the artists who created the artwork?
We do not believe meeting the artist is critical. Nonetheless, we have met the majority of the artists in our collection, and with many of them, we have had very rewarding discussions about their works and art in general. Our view is that, the way we respond to an artwork is not necessarily connected to the artists' intent in creating the work. Our attitude does not in any way diminish what the artist thinks or feels; it just allows for a broader, richer and more diverse way of interacting with the art.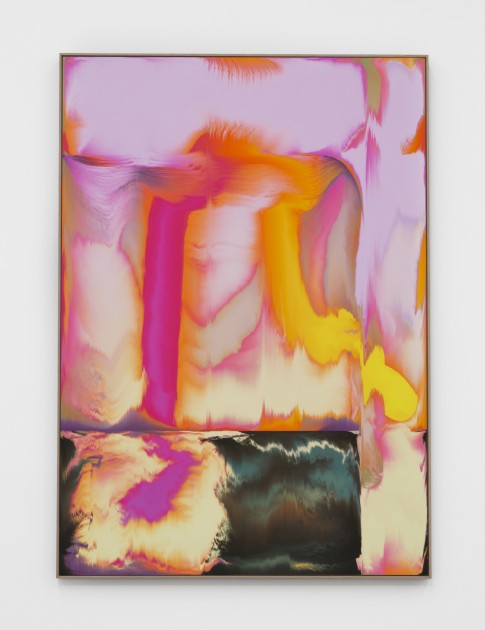 Outside the Well-Trodden Path…
Can you name three emerging artists who should be on our radar?
Justin Andrews, Ollie Lucas, and Michael Candy.
What are you especially excited about in regard to art in the next 12 months?
We are excited about the potential of new technology to impact on art practice. As an example, the work of Michael Candy utilises social media to interface with his work, exploring social and political events in real time, which is interactive and dynamic. This adds a whole new dimension to the way that audiences can interact with the art.
How would you describe the Australian art scene?
The Australian art scene is challenging. Many commercial galleries have closed, government funding is reducing and the culture of patronage, especially for contemporary art, is not growing. This scenario makes it very tough for emerging artists. Artworks, in relative terms, sell for significantly lower prices than in Europe and the US. Nonetheless, the art produced here is of a high calibre, yet it seems Australian art is positioned outside the well-trodden path connecting Europe, Asia and the US.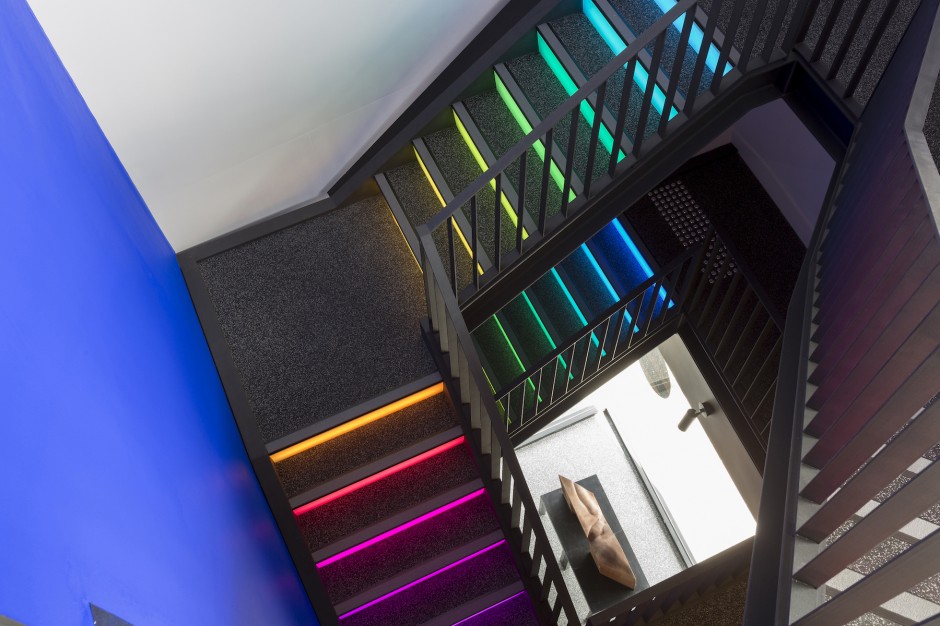 The House Museum
How did you come up with the idea of the JAHM?
It was the confluence of several factors. We started visiting smaller private museums and enjoyed the more intimate experience and seeing different art. Charles was retiring from his architectural practice. Our collection had outgrown our home, which was also not suited to our life as we grew older. We visited the Lyon Housemuseum here in Melbourne, which was the tipping point. We then decided to build a customised house museum where we could share our collection and love of art with the public.
The building of your House Museum is designed by your architect daughter. Is she also an art collector? In which ways is it specifically designed for displaying art?
Our daughter Elisa has art in her home, but would not be classified as a collector. She enjoys art and her artistic talent was recognised by her being accepted into the highly competitive, Victorian College of the Arts at the completion of her high school studies, but she chose to study architecture instead.
Our house museum was designed to optimise wall space for the display of art. We have several dedicated gallery spaces that feature track lighting throughout. HDMI cabling is reticulated throughout and connected to our AV hub to display our video works. The architecture is classified under the building code as a public building and has all the access, and health and safety features of a public museum or gallery.
The architecture has a high 8-star environmental rating. How did it achieve that?
The high rating was achieved by a series of initiatives, including the recycling of the existing building; double glazing; high thermal performance to walls and roof; LED lighting; low energy equipment and fittings; collection of rainwater for irrigation; use of natural materials such as timber, stone and recycled rubber; and passive solar design principles.
Why do you decide to dedicate one of the exhibitions every year to exhibit art that is not from your collection?
Our vision was much broader than our own collection. We believe that art is about ideas and we wanted the exhibitions to explore a diversity of themes. Therefore, the second exhibition could be initiated from several sources, such as appointing an external curator, drawing on another private collector to unlock their collection to the public, or commissioning an artwork specifically for the space at JAHM. Each of these sources would explore a strong concept for our visitors to experience and be challenged by.
What upcoming projects have you planned for your museum?
In 2017, the first exhibition is drawn from our strong digital collection, which includes videos, digital prints, digitally manipulated photography, digitally printed sculpture and works interfaced with social media. Its working title is "DIGITAL -The World of Alternate Realities", and it will explore how our contemporary lives straddle the real, the virtual and unreal. Our second exhibition in 2017 is from Canberra collectors, Susan Taylor and Peter Jones. They will be selecting and exhibiting works within our gallery, that will focus on the first 3 years and last 3 years of their 20 years of art collecting, highlighting the evolution in their collecting practice. They also hold mini-exhibitions in their spare bedroom at home in an exhibition space titled "Spare Room 33", which is also open to the public. One of these exhibitions will take place in our gallery annex, which is of a similar scale to their spare bedroom.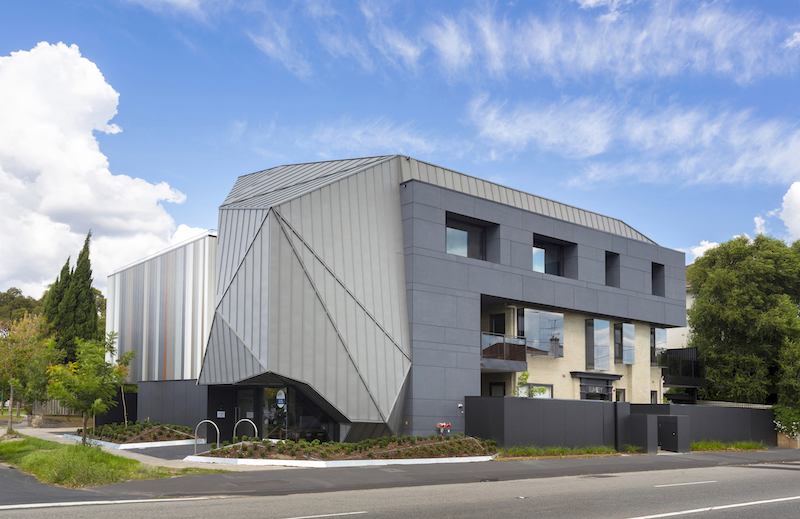 Related: Justin Art House Museum (JAHM)
Facebook: JAHM
A selection of artists Charles and Lean collect:
Justin Andrews
Lars Breuer
Ollie Lucas