Teresa and Andre Biet are the brains behind Art Incubator, a non-profit charity established in 2014 with an unusual model to award an artist a financial grant (with no restrictions on its use), as well as a solo exhibition in an established gallery, and mentoring in professional practice. With a Bachelor of Social Science, Teresa Biet spent 10 years building a successful career in management consulting before her art and collecting adventure. The art collector and advocate couple went further to expand their endeavours by opening Shirlow Street Studios this January, a new creative hub that offers affordable spaces to up-and-coming visual artists in a central location.
LARRY'S LIST spoke with the couple who explained how they fell in love with a cobalt blue glass chair made by a German contemporary glass artist, why they were often in awe of some Japanese kinetic sculptures, and their motivations behind Art Incubator and Shirlow Street Studios.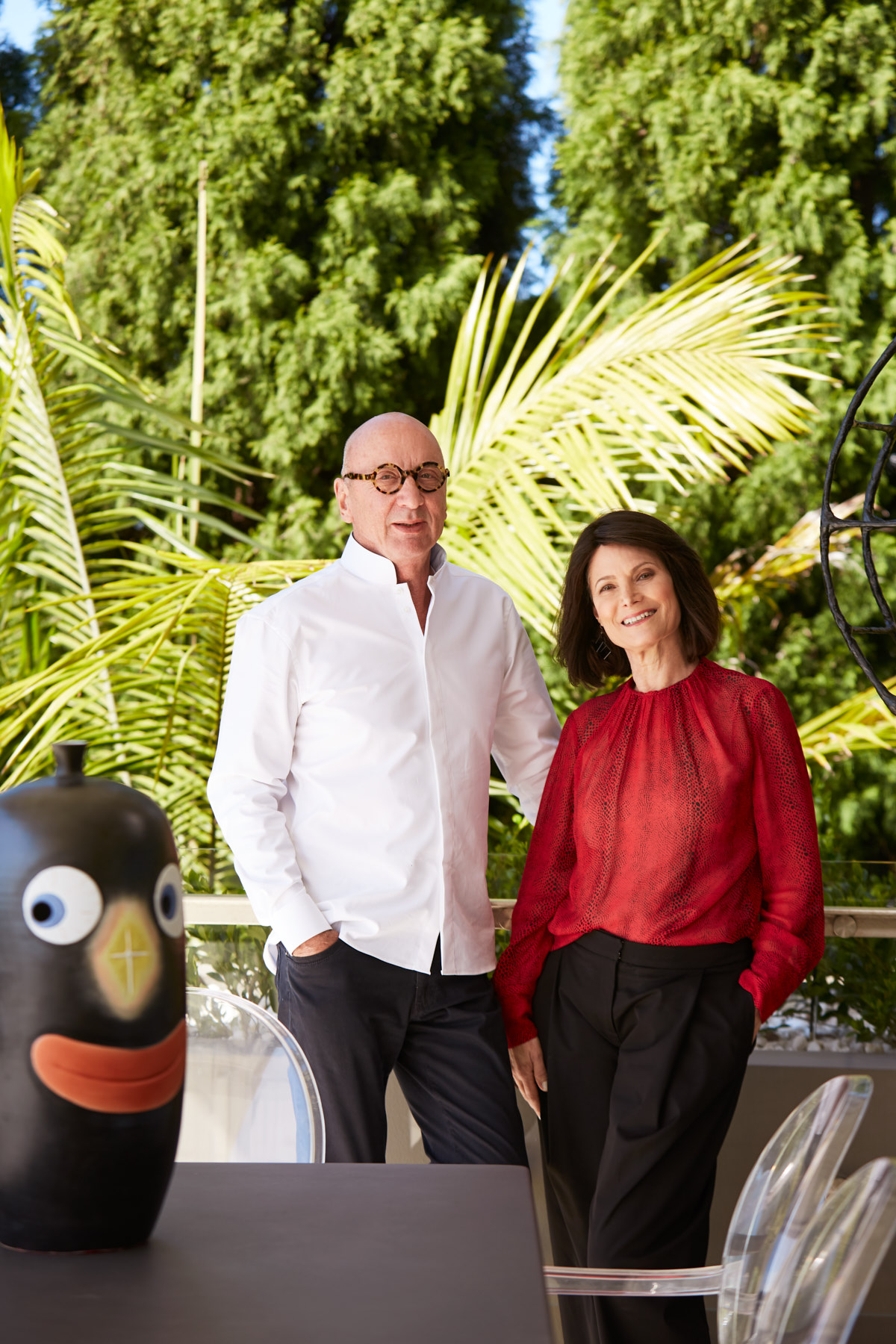 What made you want to start collecting art?  What is the main motivation behind your collecting?
Our early exposure to art was through the prism of artists whose work reflected and commented on the socio-political world in which they lived. Growing up in South Africa, art was frequently used by artists, (both visual and performing), to comment on the Apartheid era at the time. Our first artworks were by painters of this ilk – Eli Kobeli who started the township art movement and Joe Maseko. We still own those works more than 45 years later.
Moving to Australia in the mid-1980s brought about a change of focus and contemporary art become our passion. Our collection now has an emphasis on Australian contemporary art and Indigenous art with the latter often reflecting Australia's history and addressing current issues of heritage and colonialism. The works of indigenous artists, such as Reko Rennie, Christian Thompson and Robert Fielding, are an important part of our collection.
Our collecting style is instinctive, and we are always cognisant of the importance of purchasing work as a way of supporting artists while bringing the art we love into our personal space.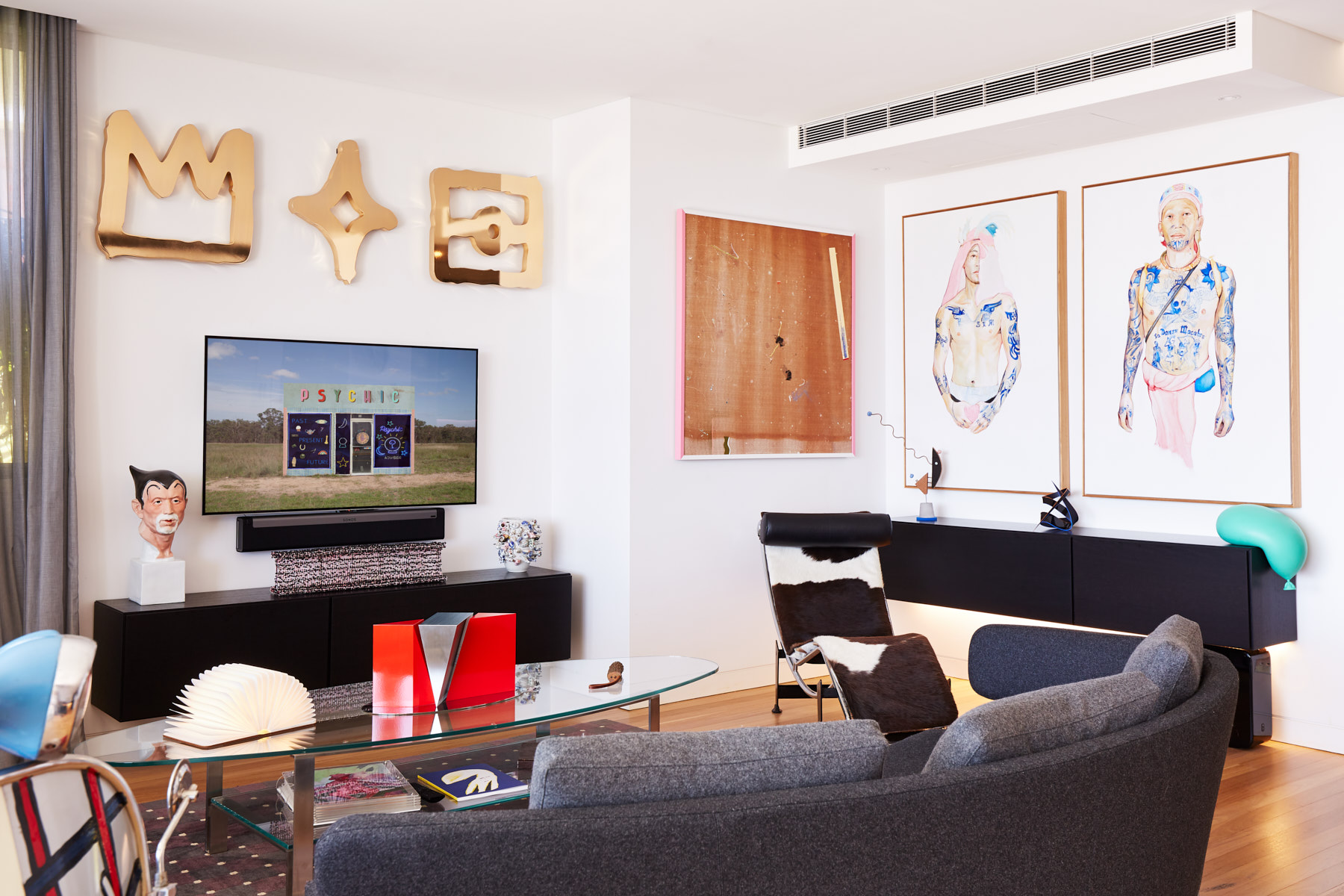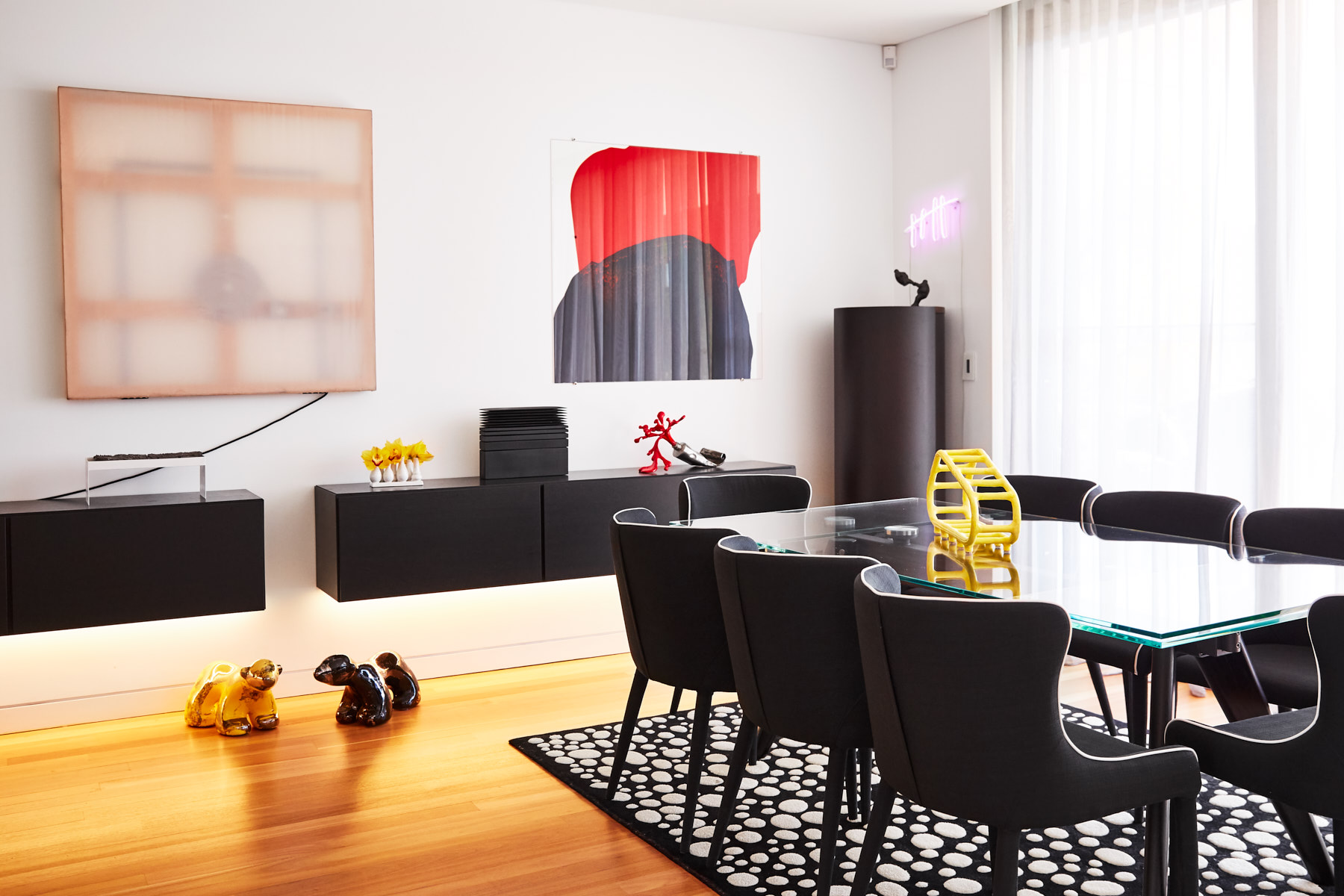 When did you fall in love with a piece of art? What was it?
This is a very difficult question as we are both constantly falling in love with artworks. Having said that, perhaps one of the least smart things we ever did was to become emotional about a cobalt blue glass chair made by a German contemporary glass artist based in Italy. The reason this was not a very intelligent but rather emotional decision, was due to our lack of foresight regarding the logistics of getting this beautiful piece safely from Europe to Australia. Suffice it to say that it was a very real challenge.
Nevertheless, when an artwork stops either of us in our tracks, we are drawn-in, and an inner conversation begins. If the artist is present to discuss the work, the conversation almost always leads to a much deeper understanding of, and meaningful connection to the work.
For instance, we visited the studio/furnace of glass artist Brian Hirst and saw his votive vessels made of blown and cast glass, engraved and enhanced with platinum, creating both an object and its shadow. The exquisite detailing was extraordinary. Some years later, in 1994, Brian won the Grand Prize at the Hokkaido Museum Modern Art Competition –  "World Glass Now" in Japan.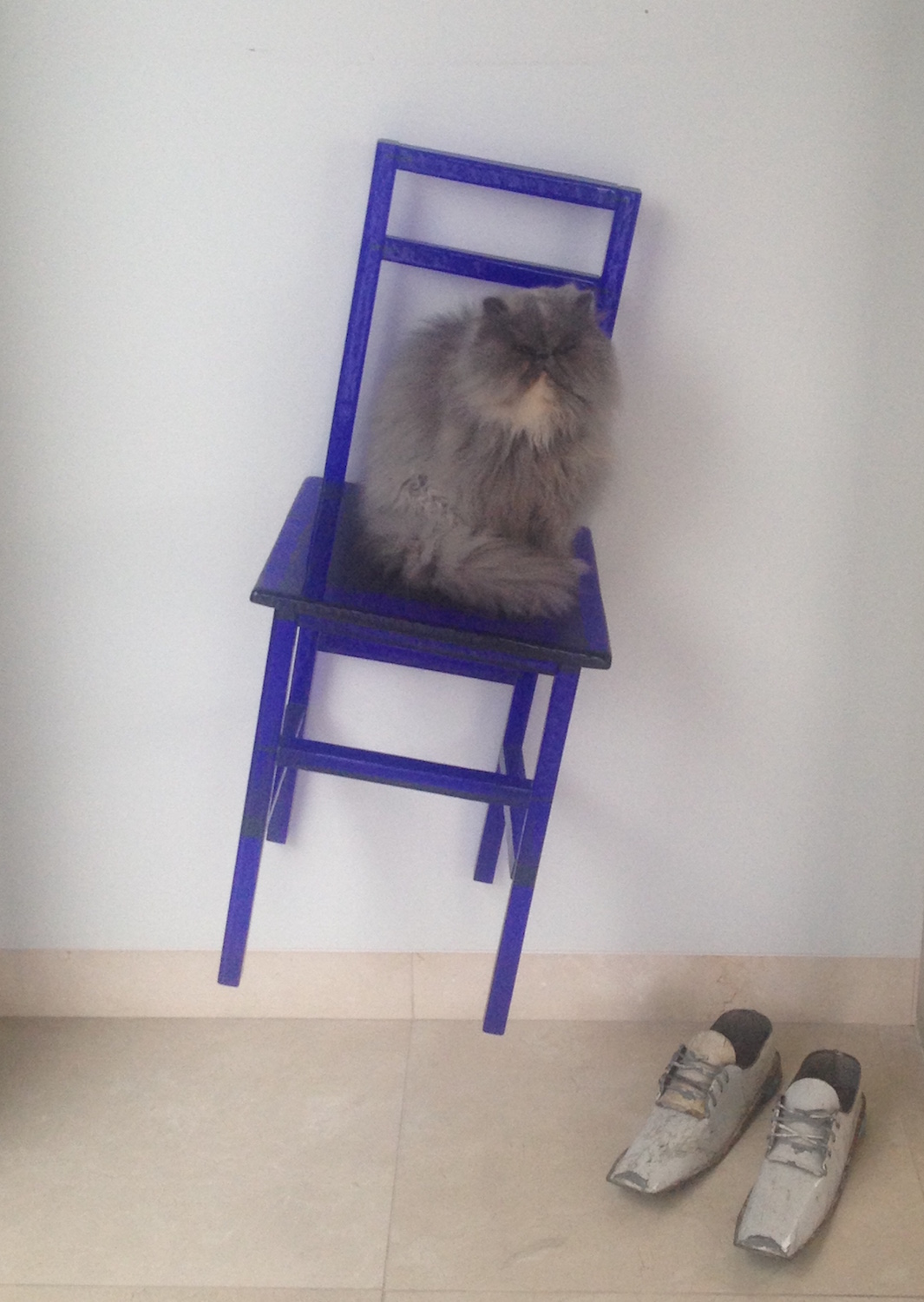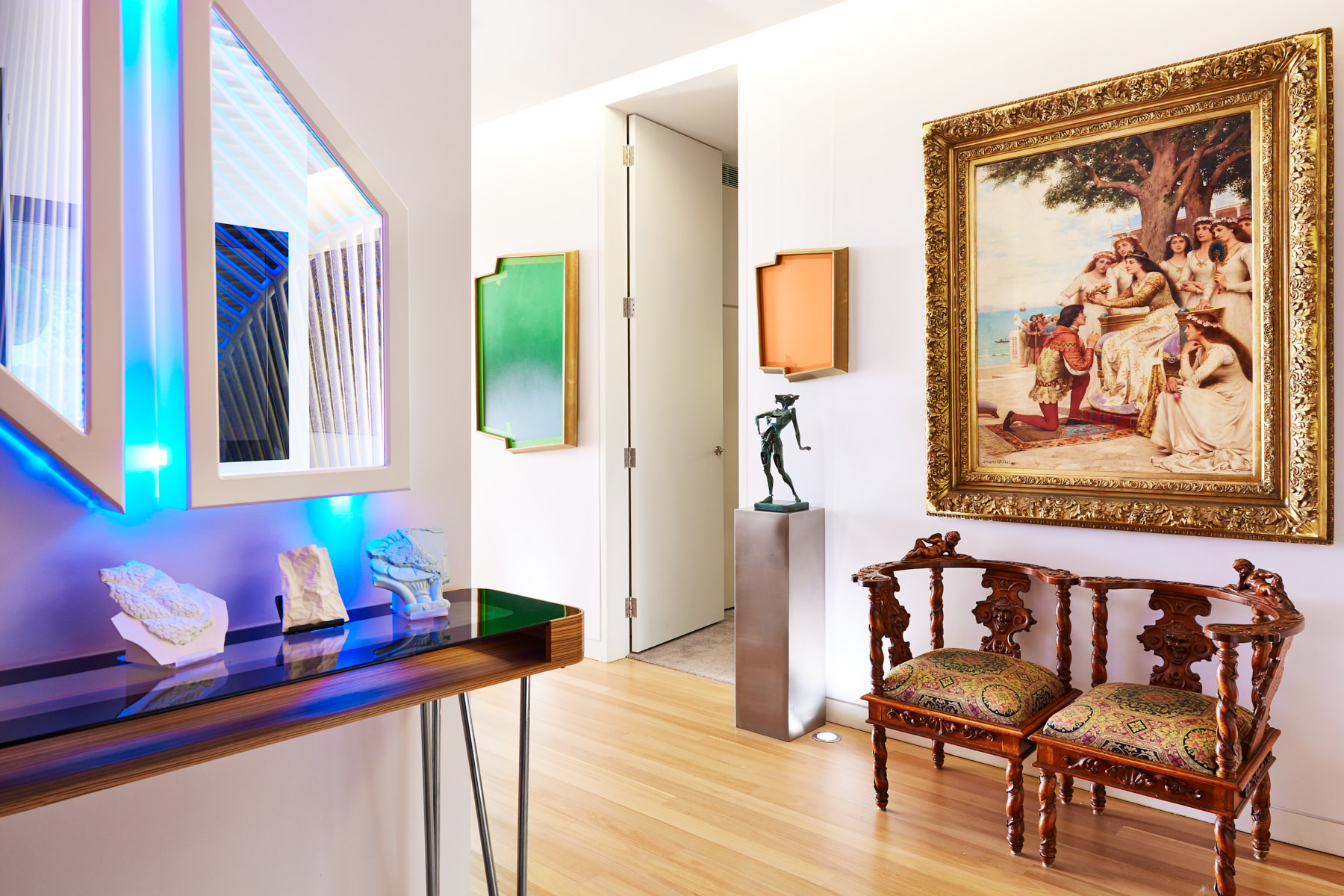 What is your focus regarding the artists in your collection? Are you more interested in emerging or renowned artists?
Our focus is unequivocally on emerging, early and mid-career artists. We feel very strongly about not buying "names". We do not buy art for investment but rather as a passion, and with our shift towards collecting emerging artists, we are very cognisant of the important role this plays in assisting such artists to pursue their practices.
However, we own a Jacques-Clement Wagrez from the mid-1800s as well as works by established contemporary artists, an example of which is a very large diptych self-portrait by Mike Parr, measuring approximately 241 x 179cm.
Our collection is very dynamic in that we are continually doing re-hangs as we acquire new works, bring some out of storage or gift artworks to our children.
Is there any particular type of art that has consistently attracted you, or anything that unites all the works you have acquired?
We have an eclectic collection with no particular theme. It includes paintings, video art and a lot of sculpture both for indoors and out. It is also international including works by artists from China, Cuba, Japan, Korea, India, Iran, Israel, Pakistan and of course Australia and Europe.
We are often in awe of the skill and precision of many of the Japanese kinetic sculptors such as Harayuki Uchida and Kaoru Matsumo, whose works produce unexpected, very graceful cadence of movement. Other non-kinetic Japanese sculptors whose works we particularly like and in fact own, are Koichi Ishino and Masayuki Tsubota.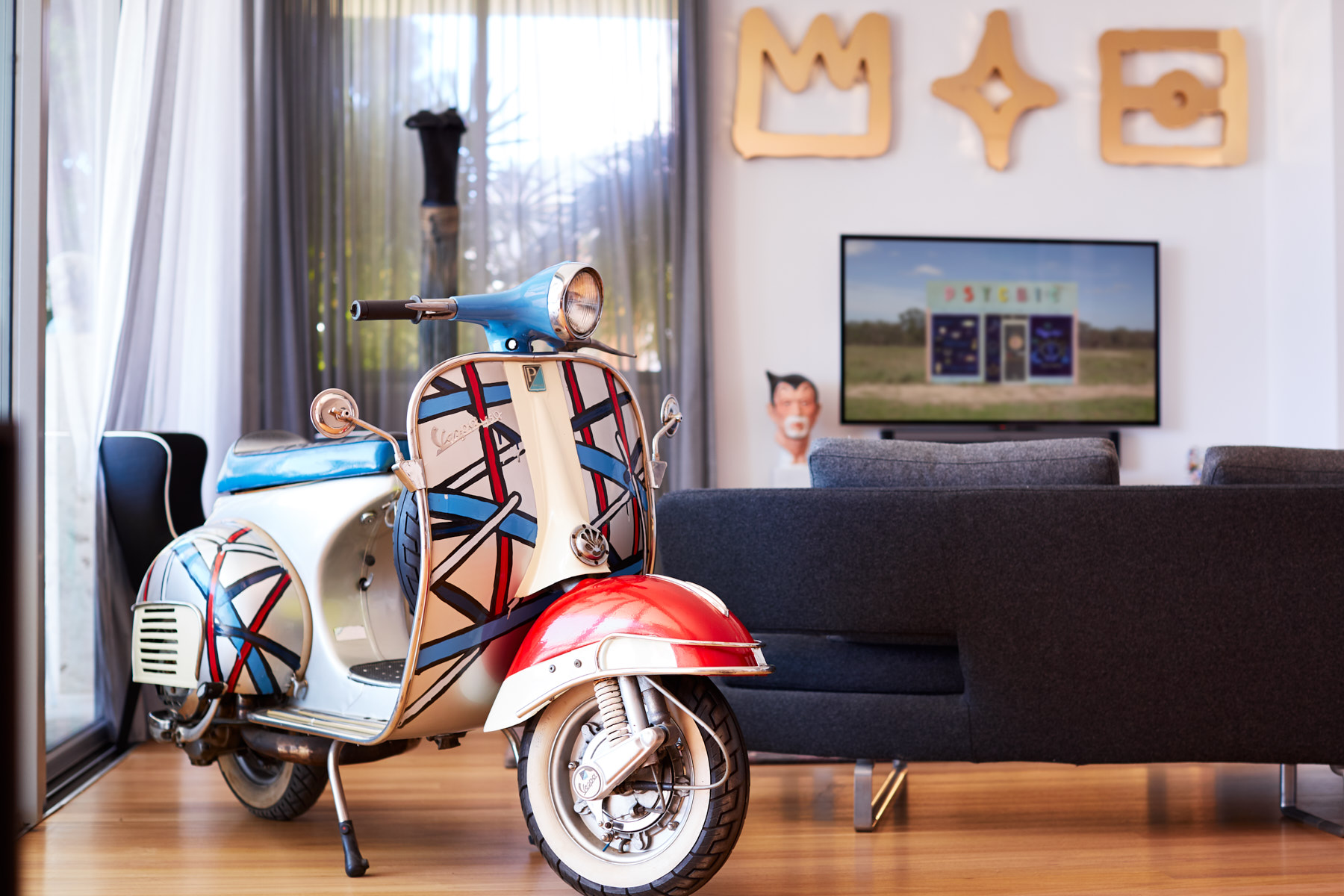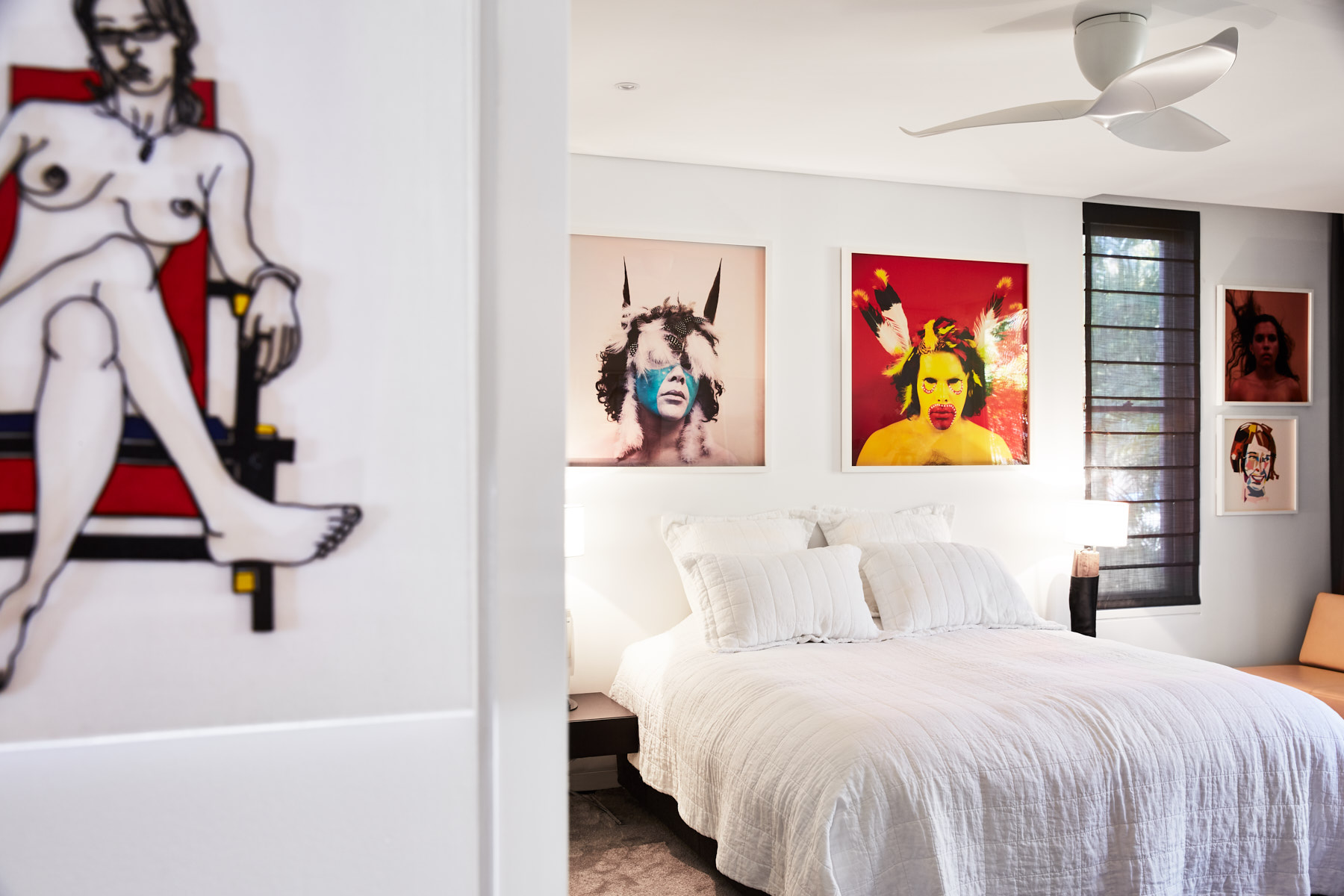 What was the latest artwork you purchased?
Our most recent acquisition is a work by Izabela Pluta, which had just come off exhibition at the Art Gallery of New South Wales in Sydney. It is a photographic work printed on aluminium sheet and forms part of a body of work which depicts in-situ rock formations as sculptures – in this case along the coast of Japan.
How many artworks do you own? Where do you display your collection? How many of them are in storage?
We recently moved to a new house, and as a result, more pieces are currently in storage than would normally be the case. We have pieces out on loan, and our adult children who are building their own collections, frequently cherry-pick from ours, and we're really happy to see those works exhibited, shared and appreciated.
The collection is fully documented.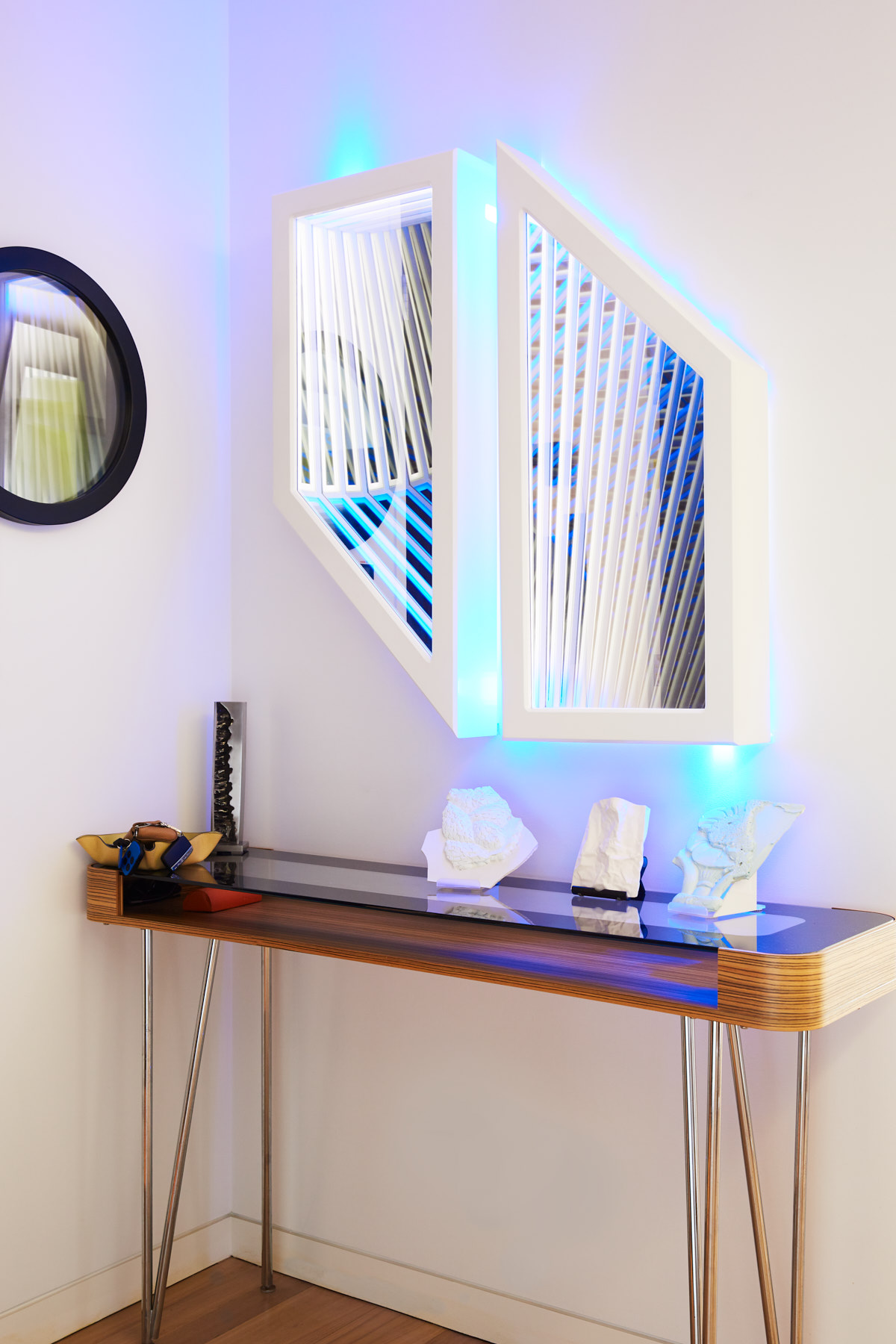 Have you ever presented, or would you like to present, your art collection publicly?
We are a rather private family preferring to keep a low public profile and wouldn't want to present our collection publicly. However, we have hosted visits at the request of several galleries and institutions.
How do you discover artworks or artists for collecting? Which digital platforms, museums or art fairs?
Largely as a result of our art foundation (Art Incubator), we have developed a very extensive network of artists, gallerists, curators, writers, and educationalists, etc, and are never short of opportunities to acquire art.
We do not use digital platforms other than perhaps to gain an initial view of an artwork.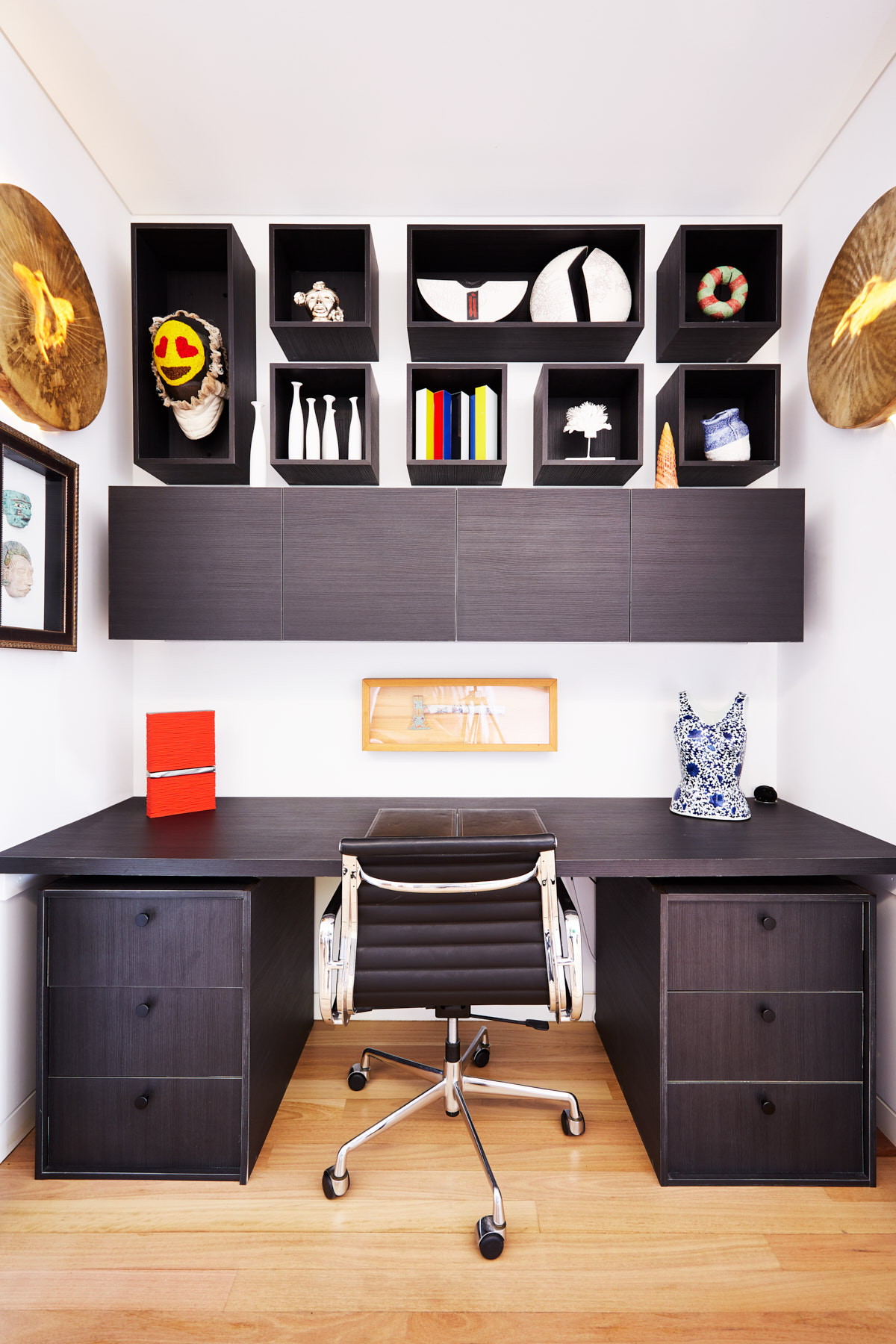 What is your most treasured artwork?
Choosing a single most treasured artwork is a bit like choosing a favourite child – an impossible task.
How important is it for you to meet the artists who created the artwork?
We have developed strong ongoing relationships with many of the artists in our collection. The insight into their practice through discussions and visiting their studios fosters a deeper understanding of their work.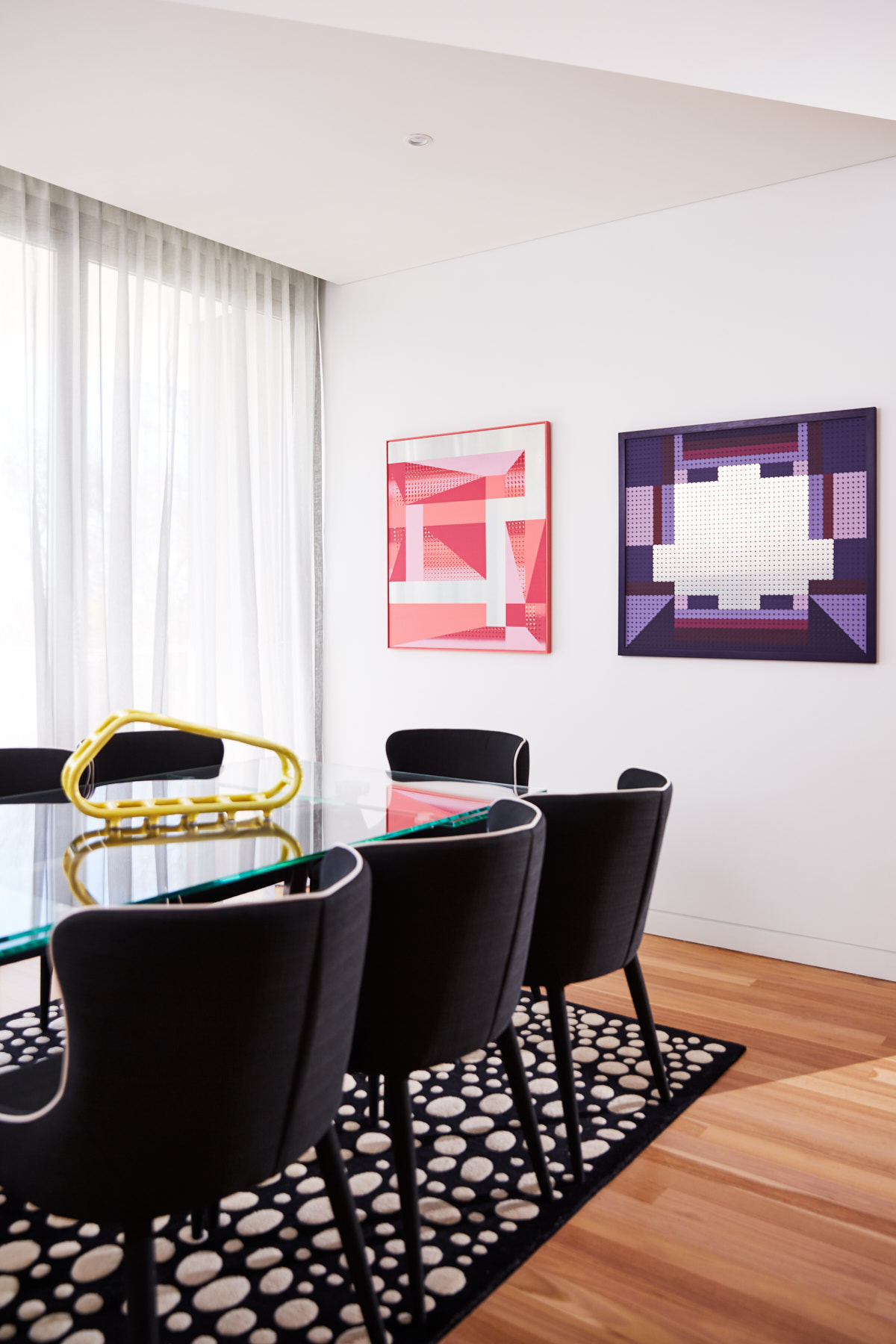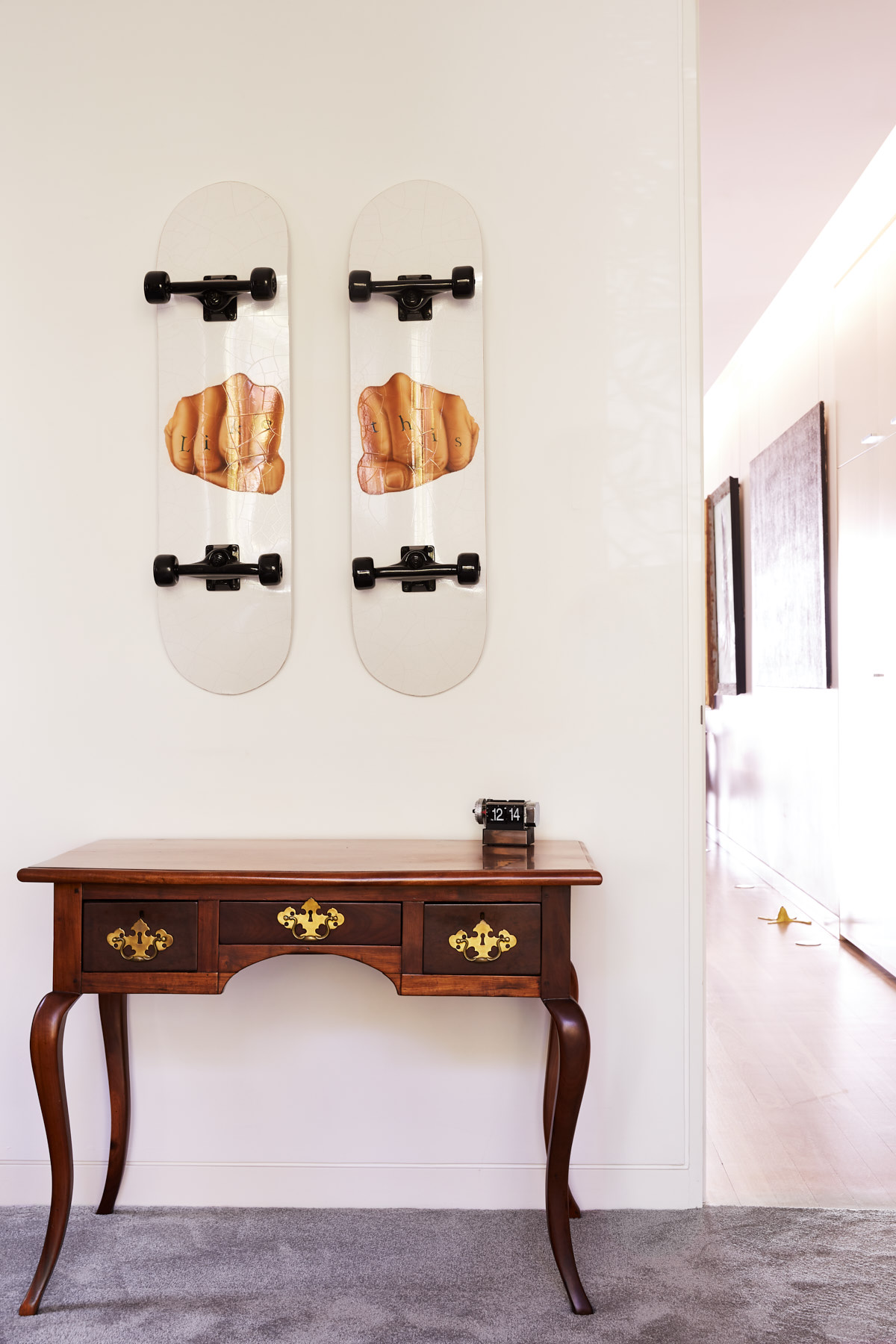 What motivated you to set up Art Incubator?
In very simple terms, there is in Australia a paucity of support for emerging artists. Whilst we have collected the works of emerging artists for many years, we felt strongly that more could be done. We consequently established Art Incubator, which is a not-for-profit foundation, to support emerging Australian artists. This support is provided not only through a financial grant, but very importantly includes facilitating a solo exhibition in an established gallery and mentoring in best professional practice. For many of them, this is their first solo exhibition in a major gallery. The program also assists them with building their networks within the art world.
How do you discover or select potential candidates for the Art Incubator program?
We do not have an application process as such. We select grant recipients through regularly visiting art school graduate exhibitions, by visiting artists' studios, galleries, peer reviews and recommendations from arts advocates. We follow the progress of prospective recipients before making a decision. Apart from having the obvious talent, we want to satisfy ourselves that prospective grant recipients are committed to a career as an artist.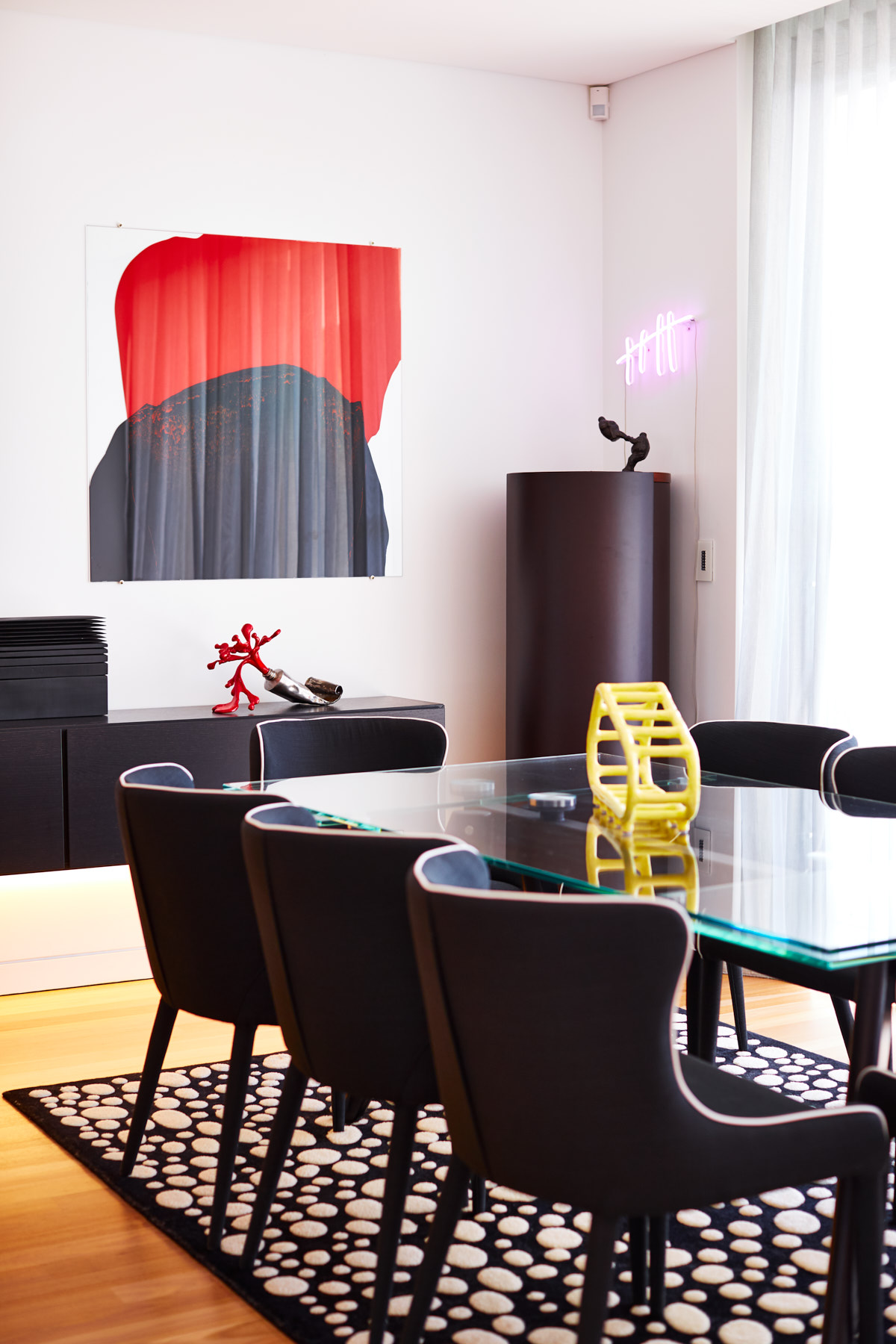 You are having some new developments to further help artists.  Can you explain more?
We have long been aware of the lack of affordable, centralised artists' studios in Sydney. So many of our conversations with artists revolve around this issue. In early 2019, we opened  SHIRLOW STREET STUDIOS, a new multi-studio facility in the vibrant suburb of Marrickville, famed for its eclectic mix of industrial workshops, trendy cafes, craft breweries and of course artists. Originally a food-processing factory, we acquired a building and have created eight purpose-built studios with breakout spaces. SHIRLOW STREET STUDIOS offers Sydney-based visual artists a new opportunity to further their professional practice through subsidised rent and inclusive peer-support platforms, with career opportunities scheduled throughout the year.
Working across painting, sculpture, photography, and installation, the eight artists are among the most dynamic and promising creatives working in Sydney today — with a combined portfolio of national and international exhibitions, institutional commissions and notable art prizes under their belts.
For us, one of the most rewarding results of establishing these Studios is experiencing the tremendous sense of community which the artists have developed. It has in fact become a creative hub as in addition to the artists' studios, it also houses an industrial design studio and workshop.  This has led to collaborations with the artists and the creation of long-lasting relationships.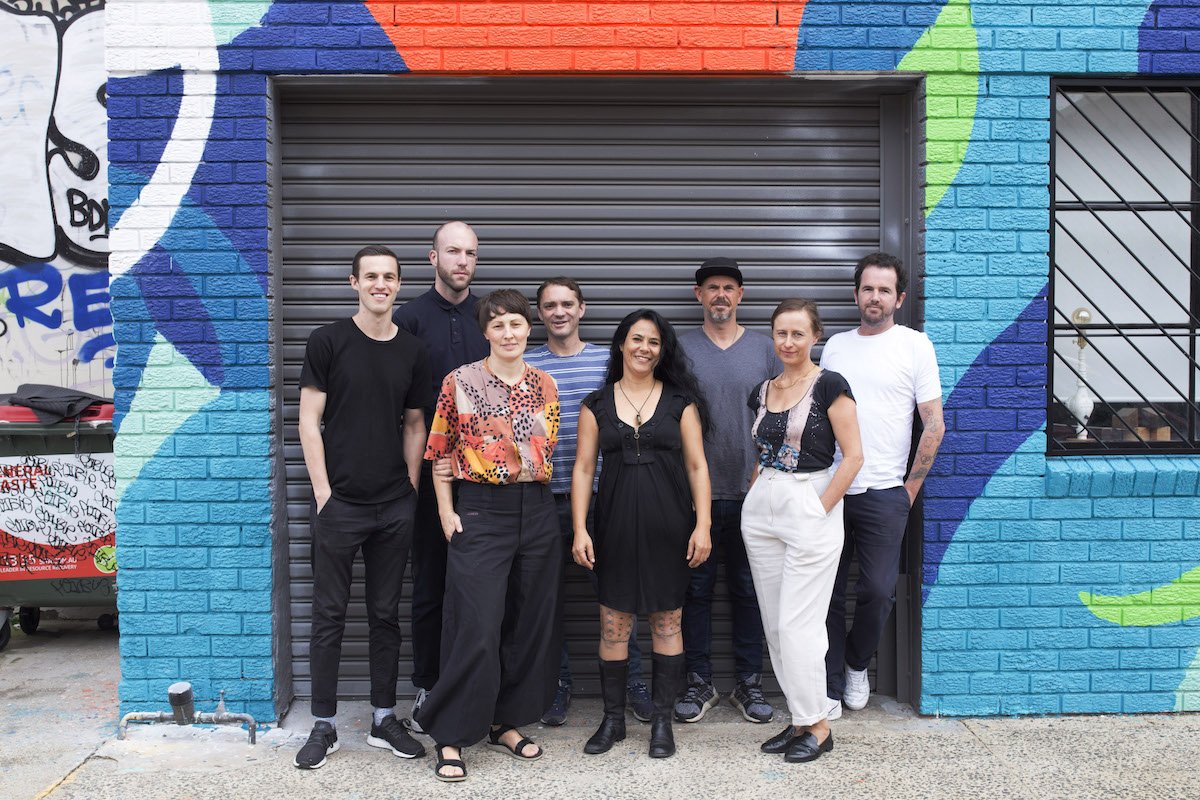 Who inspires you most in the art world?
The artists.
Can you name three emerging artists who should be on our radar?
We independently made shortlists of emerging artists to watch and had no problem agreeing on the following three:
Alice Couttouppes
Alice works in clay – in both its raw and vitrified states. Her works explore the socio-cultual and political ideas around our interaction with nature.
Mason Kimber
Mason  is a visual artist whose work explores the in-betweenness of architecture and memory. He applies an archaeological approach to painting – creating frescoes and collages in which fragments of history are embedded and recollected.
Yioryios Papyioryiou
Working with aluminium and acrylic paints, Yioryios produces extraordinarly elegant sculptures which deny the harshness of the materials he is using.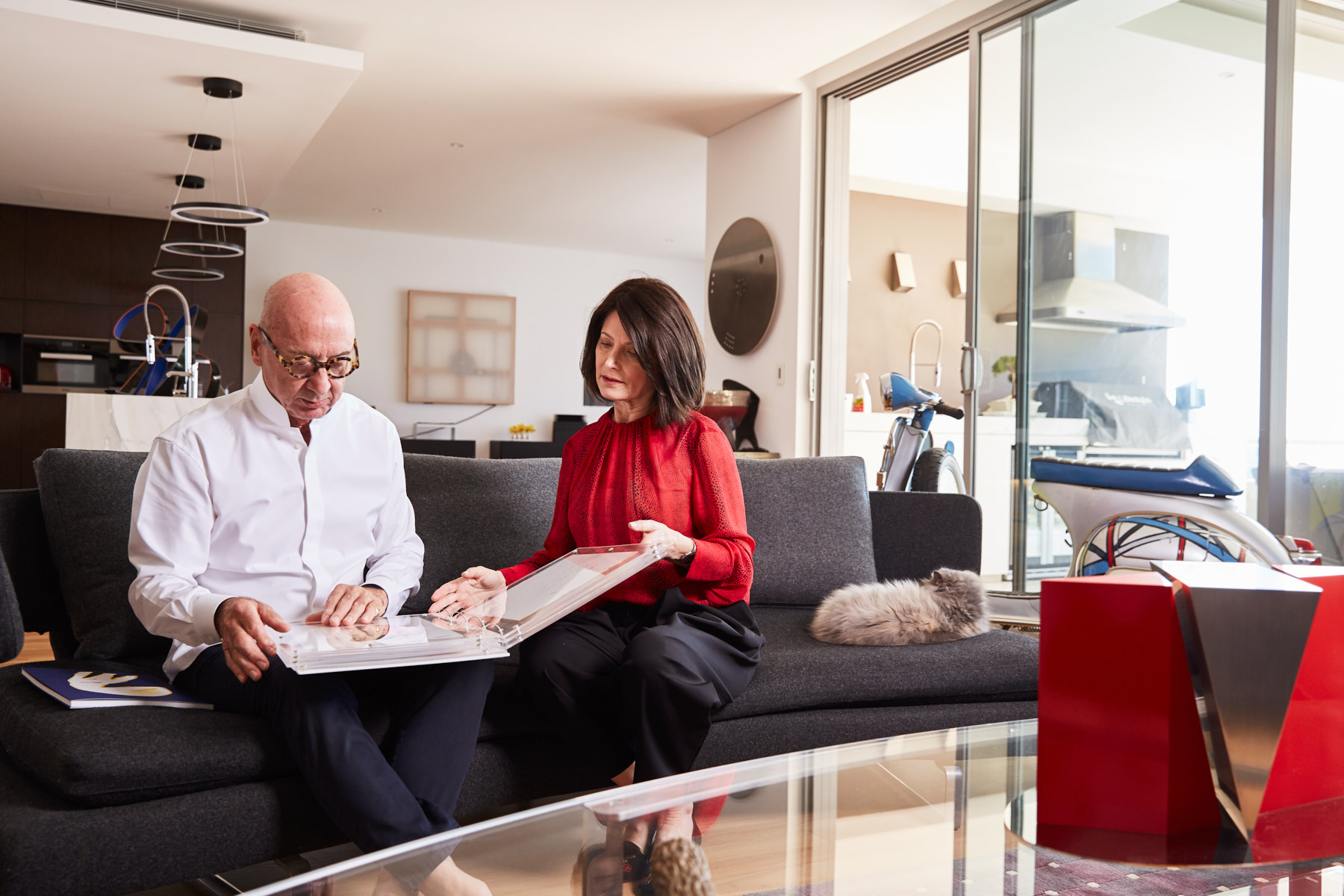 Related: Art Incubator
A selection of artists Teresa and Andre collect:
Shaun Gladwell
Jonny Niesche
Alice Couttoupes
Stevie Fieldsend
Yioryios Papayioryou
By Ricko Leung