Both in their early thirties, Johanna and Friedrich Gräfling have been collecting contemporary art together for over a decade and are operating two art spaces. She has a background in art history while he is an architect. In 2010, they opened an experimental art space in a former slaughterhouse in Friedrich's native town, Aschaffenburg. That experience then gave birth to their two other projects: Salon Kennedy in Frankfurt and Kunstverein Wiesen in Wiesen, about 60 kilometres from Frankfurt.
The collector couple shared with LARRY'S LIST the works of art that constantly surround them, such as a tattoo by Malte Zenses; the romantic story behind their engagement ring by Alicja Kwade; how they engaged artist Michael Sailstorfer to destroy a house they own with wrecking balls; as well as their motivation and experiences of running various art spaces and projects.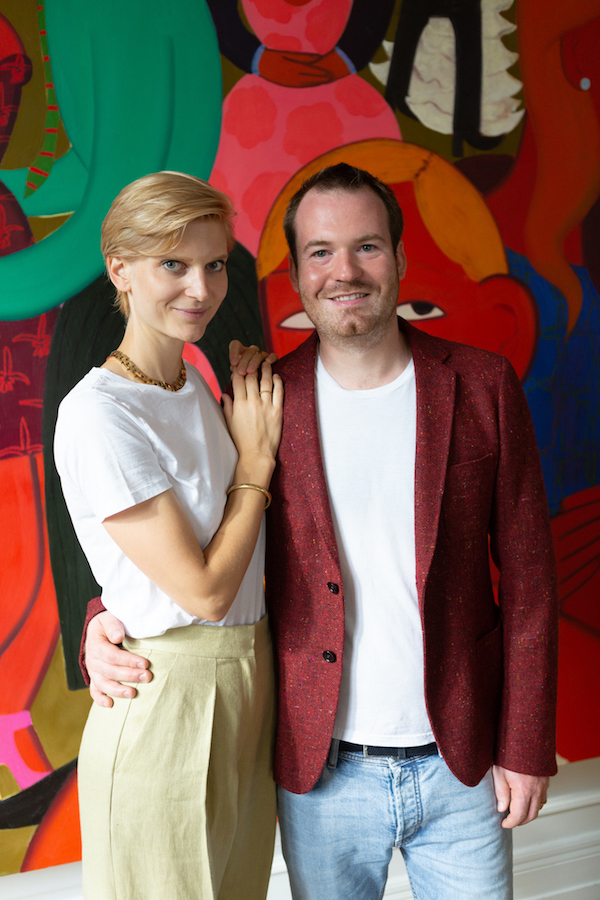 Collecting
What made you want to start collecting art? What is the main motivation behind your collecting?
Our main motivation behind collecting art, is an internal discourse of the times we live in. Both on a personal, but also broader on a socioeconomic and political level. There really wasn't a main/key incident that made us start— it is an overall interest in the discourse around contemporary art, paired with the famous, at times dangerous, "collector gene".
When did you fall in love with a piece of art? What was it?
For us, it is not about falling into love with a single work. Obviously there is a visual attraction, but as we are very interested about the artists practice, a single piece is always one portrait in its wider setting for us. Hence, the first acquisition of an artist's work is the longest process and often takes years.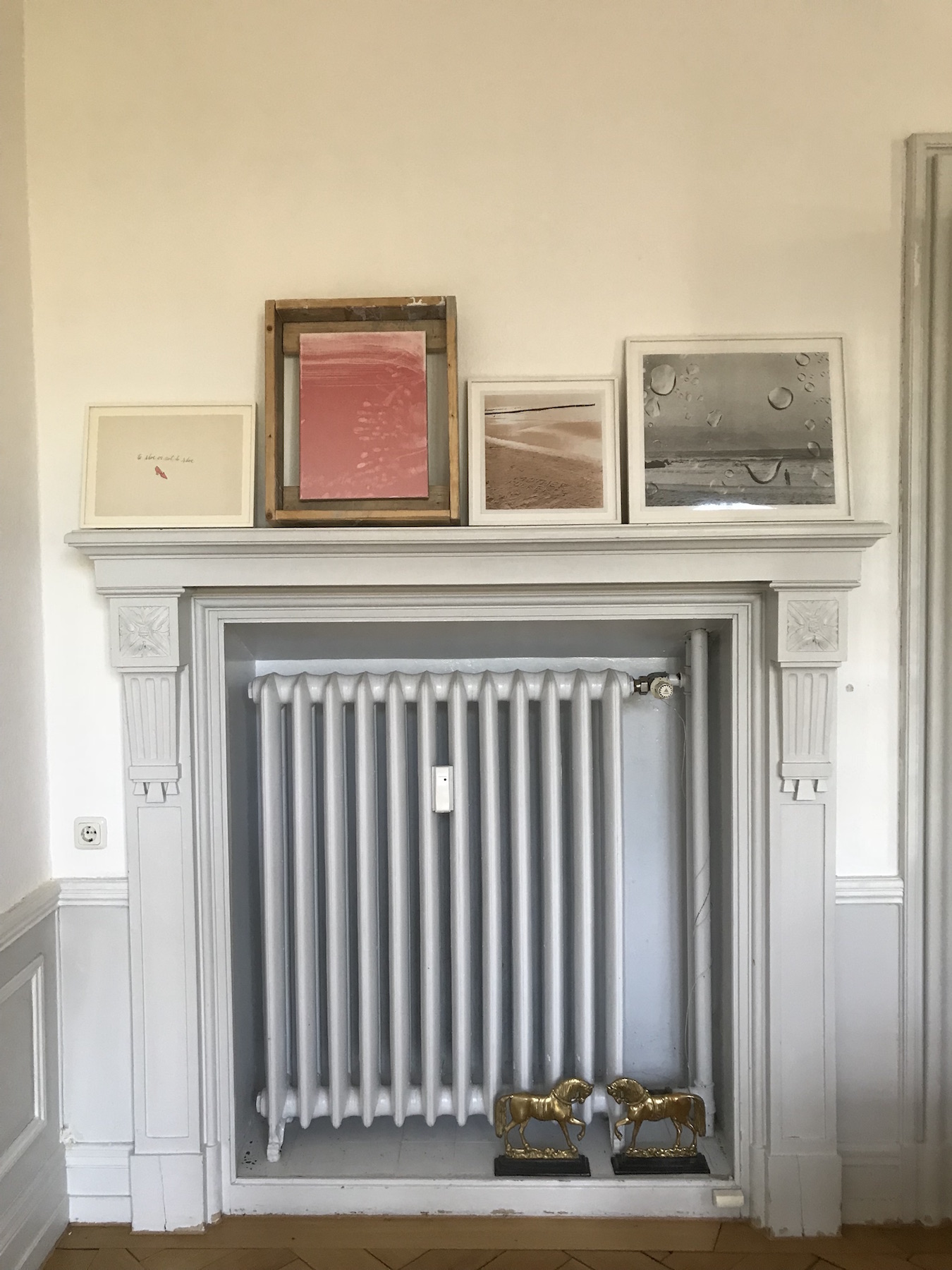 What is your focus regarding the artists in your collection? Are you more interested in emerging or renowned artists?
It is a mix of both; definitely contemporary, and most artists are still alive. The majority is from our generation (+10-15 years). But as mentioned before, it is really about the content, given circumstances, and overall practice.
How has your background in architecture and art history influenced your perceptions or taste in collecting contemporary art?
Both fields have in common that an element is seen and related into context. This, we would say, is the main influence— be it spatial, historical, social, political, philosophical or a personal atmosphere. When looking through the archive many positions are conceptually driven and don't actually focus on a purely visual output.
What were the first and the latest artworks you purchased?
The first Friedrich purchased: Anne Hardy.
The first Johanna purchased: Michael Sailstorfer.
The first we acquired together: Alicja Kwade
And the latest  one was "die Jagd" by Christian Jankowski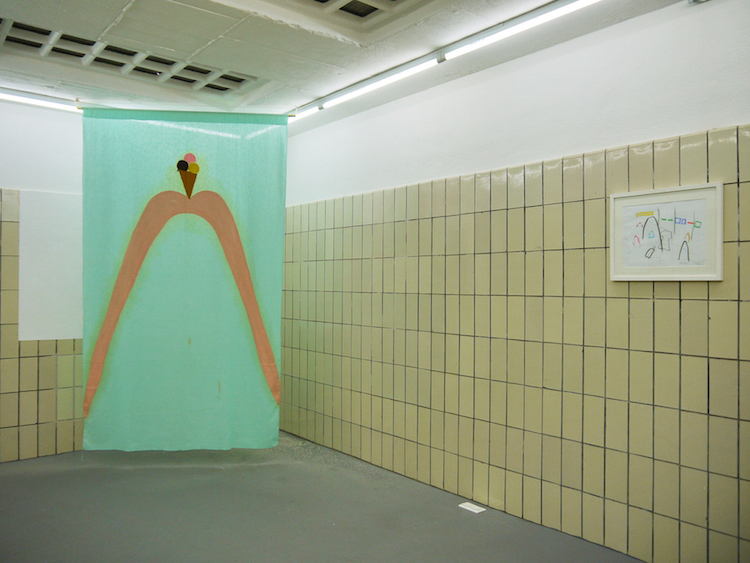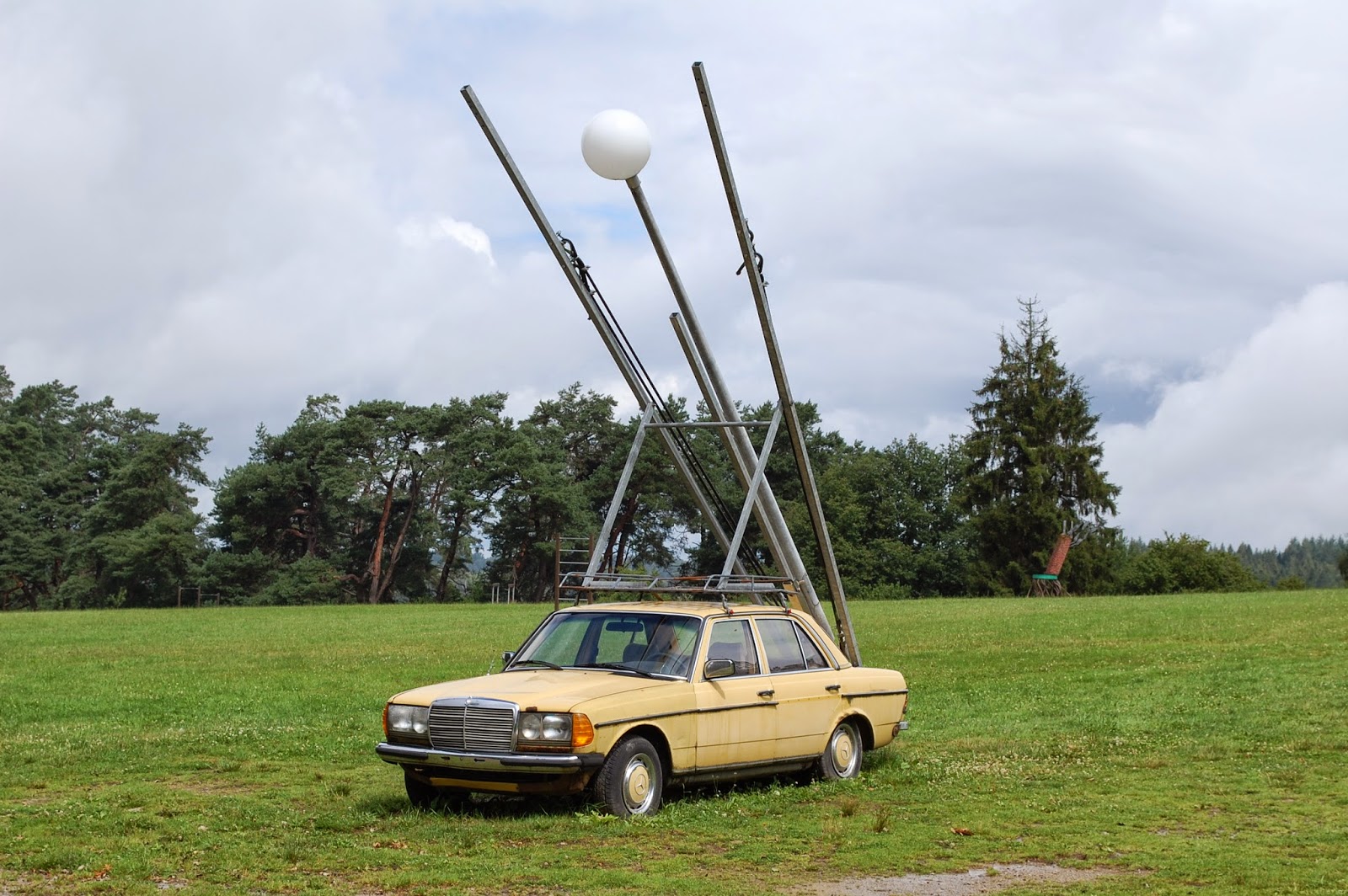 How many artworks do you own? Where do you display your collection?
It is hard to say in exact numbers, but we definitely accumulated several hundred works. We are constantly surrounded by works of the collection, be it in Frankfurt or Wiesen, or even constantly with a tattoo by Malte Zenses, or a "Bordsteinjuwel" by Alicja Kwade in form of a ring.
Have you ever presented/ Would you wish to present your art collection publicly?
There are constantly individual loans by institutions, such as a work by Laure Prouvost right now. The entire collection has never been presented, but parts have been exhibited. Both externally, but also in joint projects with both artists as well as fellow collectors. Gregor Hildebrandt, for instance, curated an exhibition with works of the collection eight years ago; and in 2016, we put together the exhibition "warum bin ich eigentlich Deutscher / Why am I actually German", with Sammlung Haus N by Peter and Gunda Niemann. As nearly 90% are always in storage, it would be nice to collaborate with institutions more often to get the works out there and make them available to a broader audience.
What considerations guide you to make a purchase?
We always take quite some time to decide whether we make a purchase or not. Sometimes we follow the artists for years to get an understanding of their practice and a glimpse of where they will be going. As we attempt to collect the artists in depth, meaning that the goal is to cover entire periods of their working, rather than just one work, buying a work is never an impulsive action.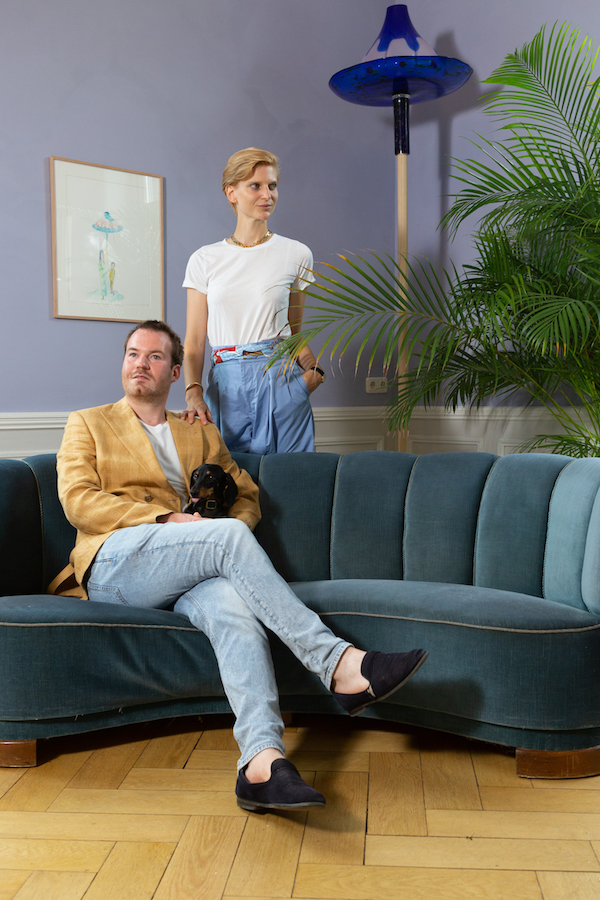 What is your most treasured artwork?
Even though this is almost impossible to say, I would probably go with my engagement ring by Alicja Kwade, that I always carry with me.
Friedrich surprised me with one of her "Bordsteinjuwelen". For this work, Alicja collected stones from the street, sent them to a gem cutter who is instructed to treat these stones as raw diamonds and to select the cut with the least amount of material loss. Instead of picking them up herself, she agreed that Friedrich sent her a selection, which is then cut to fit onto a ring. So he collected a couple of gravel stones in front of the house we used to live in in London, sent them to her and let her decide for the rest. The result is a truly unique and beautiful gold ring with a dark brown stone that appears as a diamond – utterly romantic!
Why is it important for you to collaborate with artists and build a personal relationships with them?
The collaborative aspects trigger our own creativity— the personal relationship comes as a result— that is nothing we actively force. At the same time, it is of course intriguing to understand the artistic process behind: how a work develops, and where the artist is coming from, etc.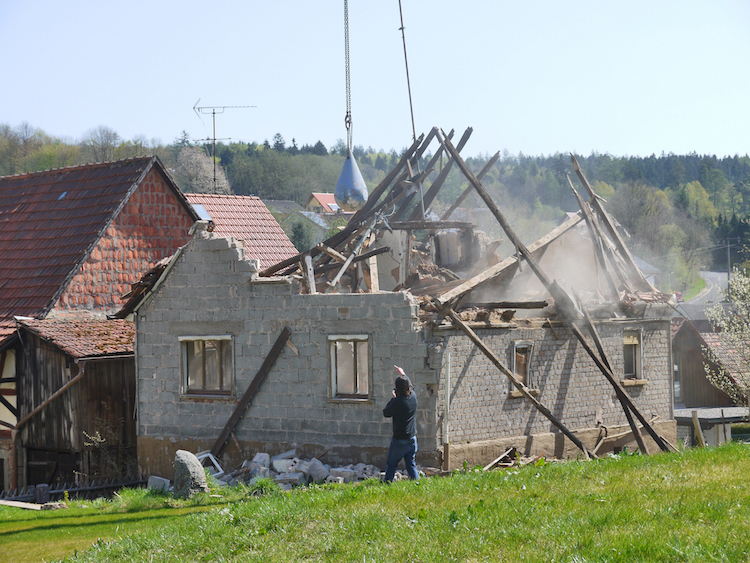 You have done quite some projects with various artists. What was your happiest/most memorable moment during these projects?
One memorable moment was definitely seeing the change in people's perception of art and the impact that art can have when we were working on the production of "Tränen" with Michael Sailstorfer.
For this work, he destroyed a house we owned with wrecking balls that had the shape of tears. It was quite a slow process and the result is a very poetic video that functions on various levels. It is at the same time brutal yet very tender and beautiful. In the beginning, the people living in this small village had no idea and no understanding of what we were doing. They didn't see the artistic aspect of it – it was just very impractical and a waste of time as you could have just teared down the house in one day with a bulldozer. Yet, by the end of it they realized the attention the work has caused across different media. When the attention spilled over from the artist and the work itself onto the village and the region, they expressed some notions of pride and a sense of unity. Now the work has travelled the globe, having been shown in New York, London, Berlin, Hamburg, and is even in the permanent collection of the Städel Museum in Frankfurt.
From your over-a-decade collecting experience, how would you advise young and fresh collectors?
Only buy what speaks to you, and don't listen to trends. In the end, you have to want to live with it. Collecting art is not about chasing the next big financial deal – it is a very personal endeavor that evolves over time. And find your personal angle—whatever it is, content, visuality, concept, personal relation etc… Never buy because others do.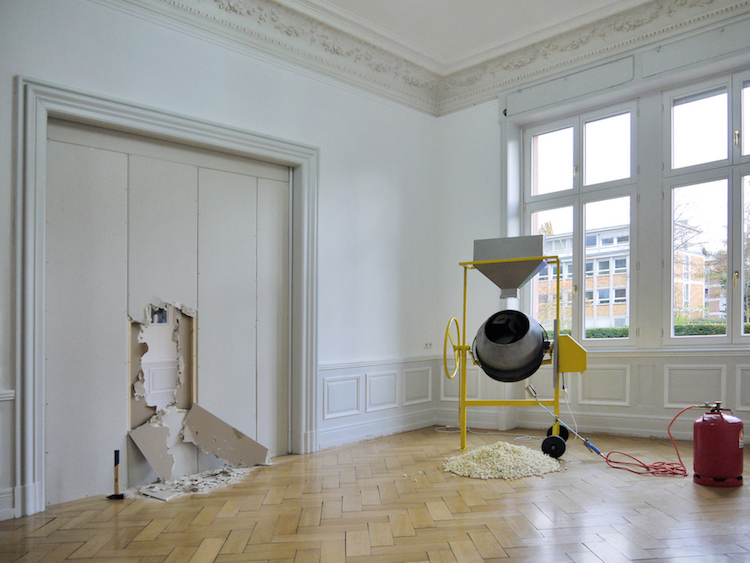 From former slaughterhouse to Salon Kennedy
What are your motivations to open an exhibition space?
We wanted to offer a blank slate to artists— away from galleries and institutions, where they could experiment, work with the space, and ideally try new formats of works and display. At the same time, we tried to create a space to bring people together through art— where they could learn about art, meet the artists personally at intimate events and gatherings, and thereby break down barriers of entry that often exist within the art market.
Why did you choose the former slaughterhouse in Aschaffenburg back in 2011 for making exhibitions?
We didn't specifically choose it as our exhibition venue— it happened to be available, and we found it suitable for our purposes. Plus we liked the historical setting— from a storage of a candy factory to a slaughterhouse, and to an art space.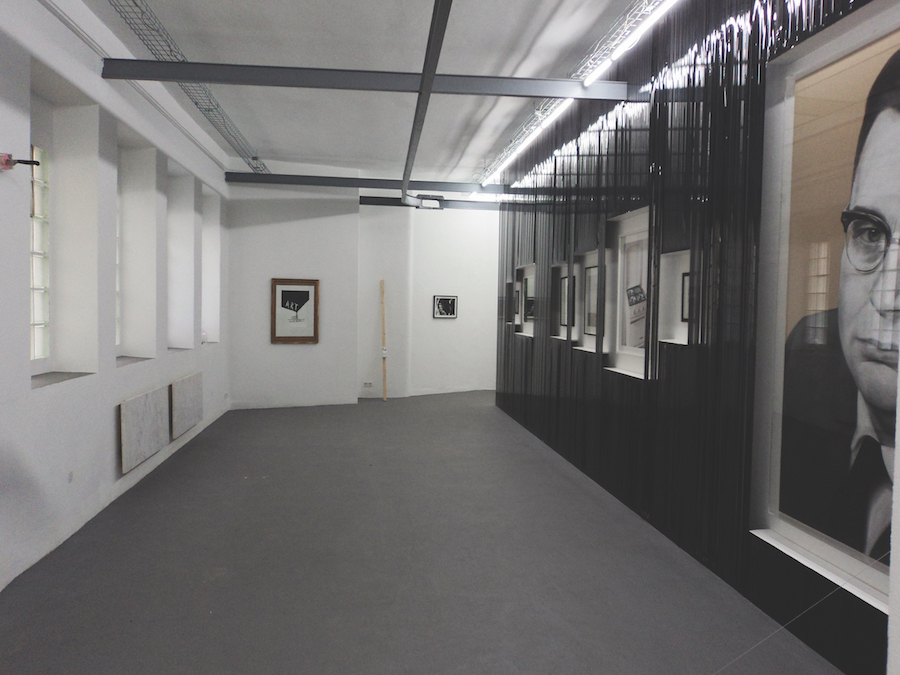 How has Salon Kennedy evolved from your experience of running the exhibition space in Aschaffenburg?
In Aschaffenburg, we mainly worked with the collection— only bringing artists in once in a while. It was never supposed to be permanent— we did exhibitions there in the summer to lure our friends into coming to the small town. So I guess we already saw the power of art in bringing people together, in striking an interest. Apart from that, we had fun with the curatorial aspect of an exhibition and tested these grounds. One exhibition was curated by playing "Stadt, Land, Fluss", a  famous german game where one picks a letter and the rest comes up with a city, country, river, etc— we transferred this to our collection. and thereby created quite random links between the artists and works— obviously any academic would be rather irritated.
There are more and more private museums developing. What do you think the challenges and advantages of establishing a publicly accessible space?
It really depends what the intention of the museum is. Is it the traditional space to archive and showcase items? Then, visitor numbers are quite irrelevant. Hence, the challenges are the proper conservation of the works.
Yet, if we are talking about showcasing it for the purpose of getting as much attraction as possible, then this becomes the challenge. Where do you locate it, how do you get people in, etc… Overall, the advantage of not operating on a public level is of course the personal freedom on what, where, and how you work.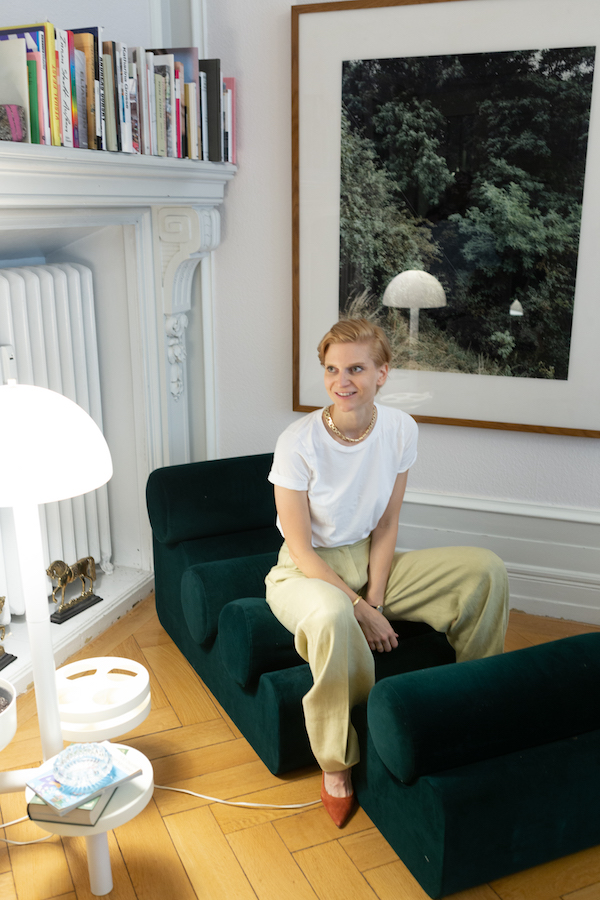 Related: Sammlung Gräfling
Instagram: @graflings
A selection of artists Johanna and Friedrich collect:
Alicja Kwade
Christian Jankowski
Jorinde Voigt
Laure Prouvost
Michael Sailstorfer