With a relentless commitment to art and his community, Jordan Schnitzer is making his massive collection of almost 9500 prints available to the public through through a far-reaching exhibition program which consists of traveling exhibitions, educational programs, and cultural outreach projects throughout the United States. Recently honored with Distinguished Advocate of Printmaking Award, Jordan Schnitzer believes that art is for everyone and the great availability of prints enables more people to appreciate art.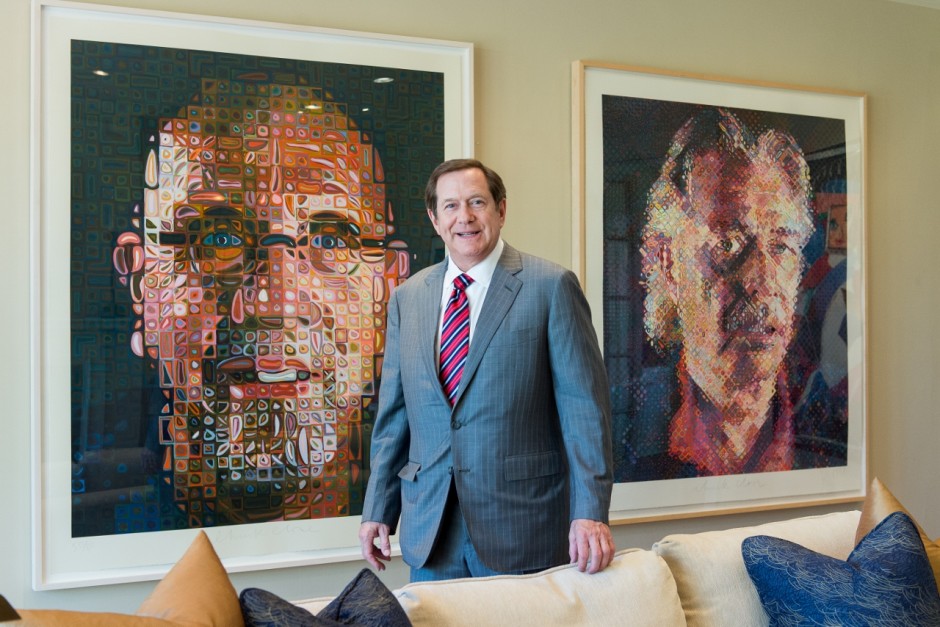 Collecting
What made you want to start collecting art?
It is related to my childhood. When I went to the first grade, my mother enrolled in the Portland Art Museum Art School, now known as PNCA. So she started bringing home canvasses, oil paints, pastels, charcoal, etc. She was termendously interested in art and three years later the teachers convinced her to open the Fountain Gallery of Art. So I grew up with a gallerist mother in a home full of art.  Thus, I would recommend every parent surrounding their children with art in their homes.
So you started collecting art since you were very young, then why would you start collecting contemporary prints and multiples in particular? What was the first printmaking artwork you purchased?
From the time I was little, I started getting art as presents, so I had art in my room. When I was 14, I bought my first piece of art, a study by a local artist Louie Bunce. After my mother had retired and handed over the gallery, I felt very committed to continuing the work to support local artists in our communities. I was on the board of the Portland Art Museum at the time, and there was an exhibition of prints and multiples of what I will call the New York school. So I suddenly thought, I can continue supporting regional, local artists by buying a few prints.
Then in 1995, there was an exhibition of 56 of my prints at Jordan Schnitzer Museum of Art. The most impressive was seeing parents and their children come and I saw trans-formative experience of seeing art masters in those children's eyes. So I thought it would be fun to build up a significant private collection of prints and multiples. Why prints and multiples? I love the collaboration of printmaking. And because they were more affordable that I can buy more prints and would be able to have big retrospective exhibitions of individual artists.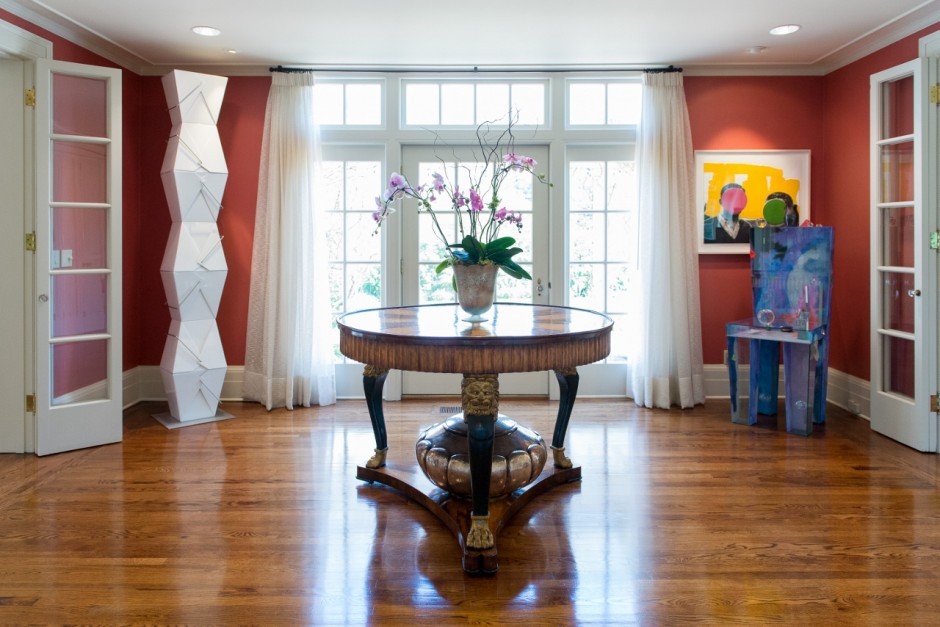 What is your focus regarding the artists in your collection? Are you more interested in emerging or renowned artists?
What I would like to do is to build up what I will call a lending library, that is a public collection of the greatest of our contemporary modern masters. So I'm not taking this risk buying unknown artists. I wish I had the time and money to do that too, but I'm focusing on building up the works of Jasper Johns, Lichtenstein, Enrique Chagoya, Kara Walker, Sarah Sze, Richard Serra and others. I have 250 artists. Among them, for example, Ellsworth Kelly, I have virtually every print and multiple he has done, but I still have a lot more to go with Louise Bourgeois, Jasper Johns, and a number of artists.
So in a couple of years I'm going to also start allocating some money to start buying some emerging artists too, just because it is so much fun.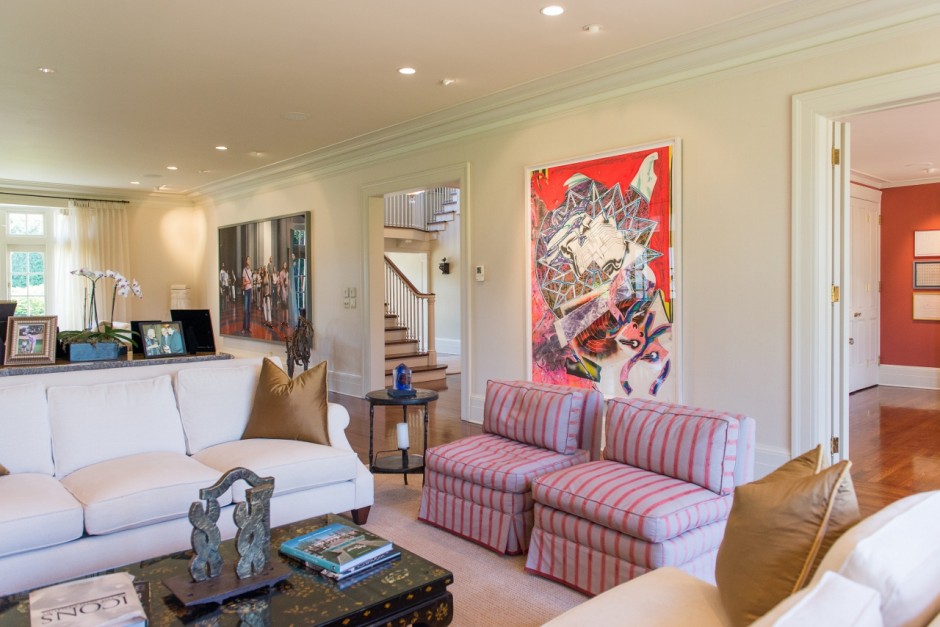 How many artworks do you currently own?
I have now up to almost 9500 prints.
Where do you display your collection?
They are shown in the Jordan Schnitzer Family Foundation. Also, I've had a hundred exhibitions at 75 museums across the country, and one or two in Europe.
What is your motivation behind setting up the Jordan Schnitzer Family Foundation?
The Jordan Schnitzer Family Foundation is for the public to see art. It is also one of the financial vehicles to help fund the outreach programs at other local museums.
We also have started publishing catalogue and art books. We have done a catalogue and a book about John Baldesarri and we've published a 850-page catalogue for Ellsworth Kelly and also a book called Letters to Ellsworth. You don't actually make money publishing art books, but I think It's important to document all of the artists' work for the general public as well as scholars.
So about collecting, what considerations guide you to make a purchase?
Well I buy from a number of publishing houses, eg. Gemini, down in Los Angeles, Tandem – there're so many excellent publishers – Pace, Two Palms Press and others. I also buy from auction houses including Sotheby's, Christie's, and Phillips. There are a number of dealers I work with. There is never a shortage to buy.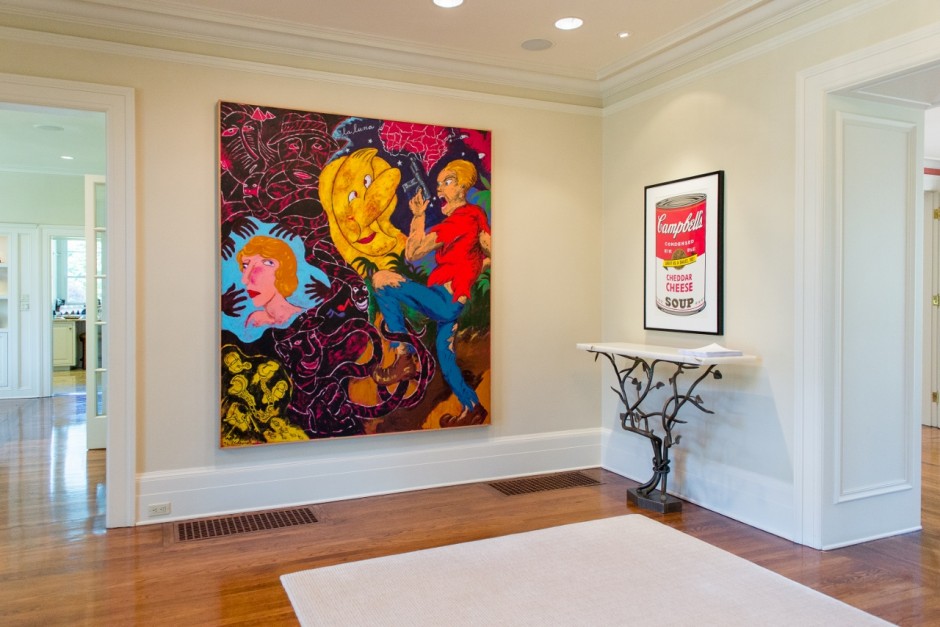 What is your most treasured artwork?
I think the study that I bought for $60 when I was 14. I paid my mother's gallery $5 over 12 months. It's still in my dressing room now and I've had it ever since I was 14. So I think a beautiful abstract study is the most treasured one.
How important is it for you to meet the artists who created the artwork?
Not really important though I am lucky to have met some artist. When you read a novel or watch a movie, the experience of getting excited about a book or a movie isn't really dependent on meeting the author or the actors. Once the artists create their work, I think the work then takes on the light of its own, and it can become more "colorful" and "larger" than the artist.
What is your advice to young and fresh collectors?
I would say: go to art fairs and galleries, ask questions, eg. "Why do you have this artist work in your gallery? What's going on with this work?" There're no stupid questions and galleries are there to be a bridge to the public.
Also, don't force yourself to make judgements. It's okay not to understand enough an artist or an artwork –give yourself a chance. It's like food –if we only ate the things that are right, we never get a chance to expand our power with the choice of food. Too many people think they don't understand art and then get frustrated. But if you just go back and keep looking at it, eventualy you will be amazed, something will come to you. Just like trying out different cuisine: Mexican/ Chinese/ Italian/ Thai – who knows, suddenly, wow you discover those tastes you've never felt before in your life. But if you hadn't got into that restaurant, you might have never known how the might have changed your life.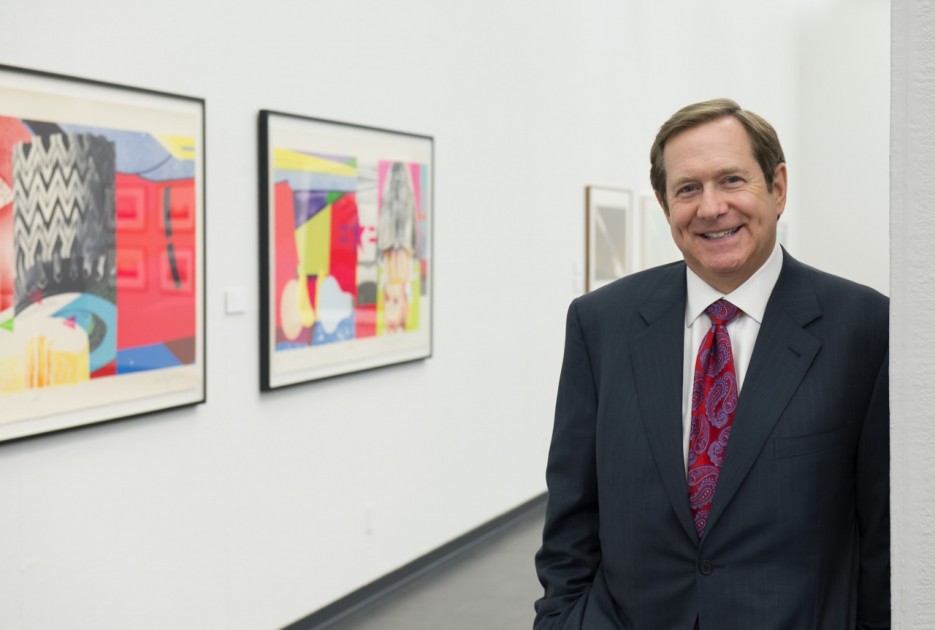 Promoting Printmaking – Art for Everyone
How do you feel about being recently honored with Distinguished Advocate of Printmaking Award?
It feels wonderful and I've been fortunate to get a number of awards. I am grateful to have been working with many amazing partners who work very hard to best serve the communities. Without them, all the printmaking exhibitions of my collection might not have been so great and well presented. Meanwhile, there  is no award I can get that  touches my heart more than being a facilitator, the person between the artist and the museum, to present these amazing artists' work to wonderful museums around the country, including Andy Warhol, Chuck Close, Frank Stella, Richard Serra and many others.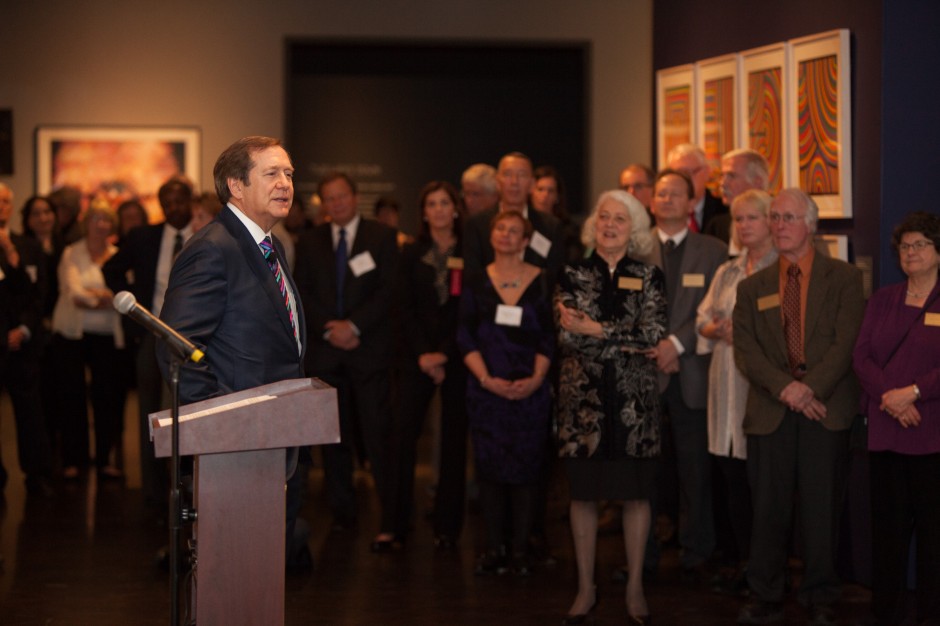 What is your vision for printmaking art in the contemporary art world?
I think people think of prints and multiples as a second-class art form. But they're actually all originals and of limited edition. Artists love their works on paper as much as their sculptures or canvas or other art forms. The advantage of prints and multiples is they're more available and less costly than other forms. What's the most exciting is that prints have been around for five hundred years. And behind the art of printmaking are the wonderful print masters, print makers, and publishers who worked closely with artists so that they're able to collectively, collaboratively produce the most amazing works on paper ever.
Now sometimes someone would ask me, "Is it bothering you that with an edition no. of 150, there are 149 other prints out there besides the one you have?" I would say, "Not at all. When you watch a popular movie in the cinema, did it bother you that there were 200 other people in the cinema with you? And that maybe around the country it was shown in a thousand other cinemas at the same time?" Of course not. That doesn't distract you from your experience. Instead, I love the thought that if I'm looking at an amazing Marilyn print by Andy Warhol, that there might be another hundred people looking at the same print at the same time. It makes me feel part of the more universal community.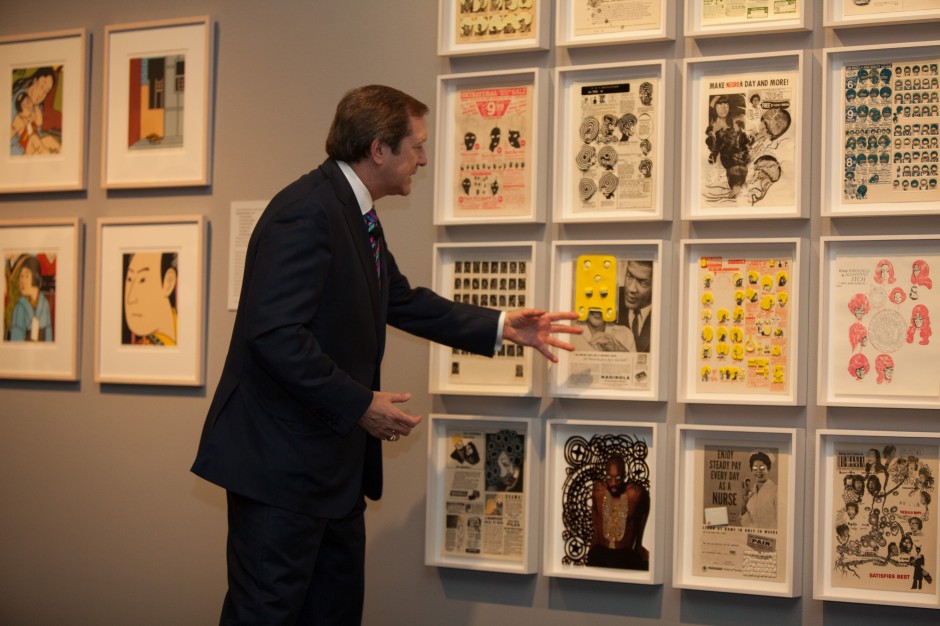 What are your upcoming plans to further promote printmaking art?
Well, I think by continuing to get prints and multiples to more museums. We have 25 new museums and more exhibitions to come. The upcoming exhibitions help get the various artists' work to more and more communities. Second, we're helping people understand how marvelous it is to collect prints and multiples. You can't afford a painting by a well-known artist, but perhaps you might be able to a print by that same artist. So I hope to create more experience for the public to experience printmaking art, as a way to promote it.
You are also a philanthropist and have provided funding for two university museums. What motivate you to do so?
Well, first I went to the University of Oregon and I was involved with that art museum for 30 years now. And I think University campuses are a very special place where you have young people with great potentials there. I hope to help them understand how wonderful the experience of going to a museum is . If we can work with students on campuses around this country and around the world and make them feel comfortable going to a museum, then maybe when they go back to their home towns around the country, they'll go to their local museums and make that part of their life. Then, that can be life-changing sometimes.
I think museums and art are for everyone, especially in this complicated world… Now more and more people are living in bigger cities, like Beijing, Hong Kong, Singapore, New York and they live in smaller, smaller spaces. Those people's lives are more confined and they need art more than ever.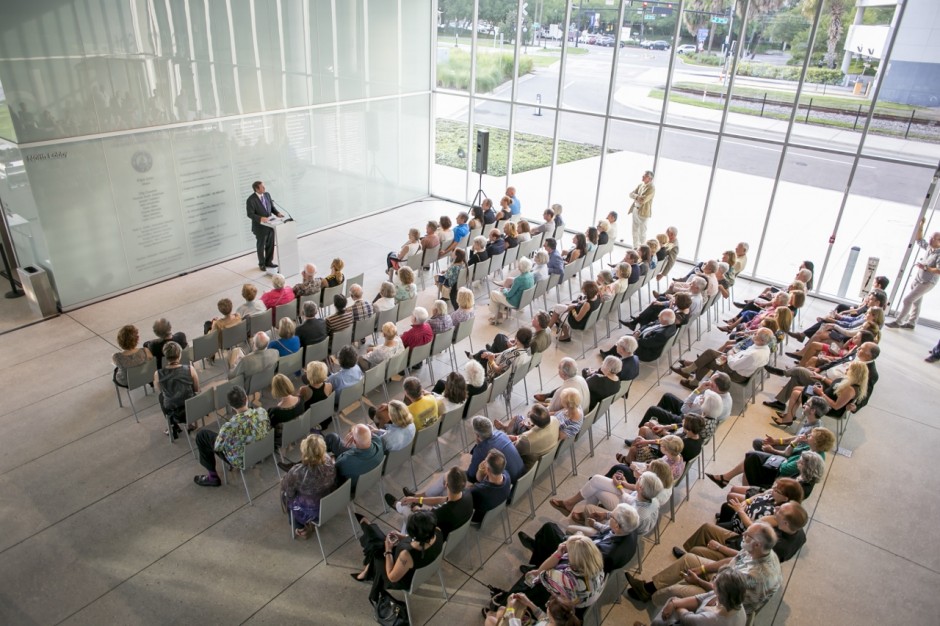 More about Jordan Schnitzer: Jordan Schnitzer Family Foundation
Ricko Leung