It was a California dream come true when Italian art patrons Pierpaolo Barzan and Valeria Sorci moved to Los Angeles last year from Rome with their two children. It wasn't for the surfing or the region's silky sandy beaches that ignited their decision to move, but the couple's realization that things were moving at a fast pace in the art scene on the West Coast. The Roman art patrons are avid collectors of emerging contemporary art with eclectic taste, collecting a wide range of mediums and style. To help support young emerging artists, the couple founded the non-profit organisation Depart Foundation in Rome in 2008. The foundation aims to foster broad education and critical discourse to enhance creativity and innovation in the realms of art, design, architecture and the sciences within the contemporary scene in Italy and beyond. While still maintaining their branch in Rome, Barzan and Sorci recently opened new headquarters in LA, West Hollywood and Miami. Actively involved in the art scene by being part of the Hammer Museum and LACMA patron circles as well as Pierpaolo Barzan who is a trustee of the American Academy in Rome, the collecting couple are responsible for debuting many a soon-to-be market darlings.
Discover in this interview why they believe the Italian art scene is in decline, who they think the next collecting breed is in Rome and where they are envisioning of bringing Depart Foundation next.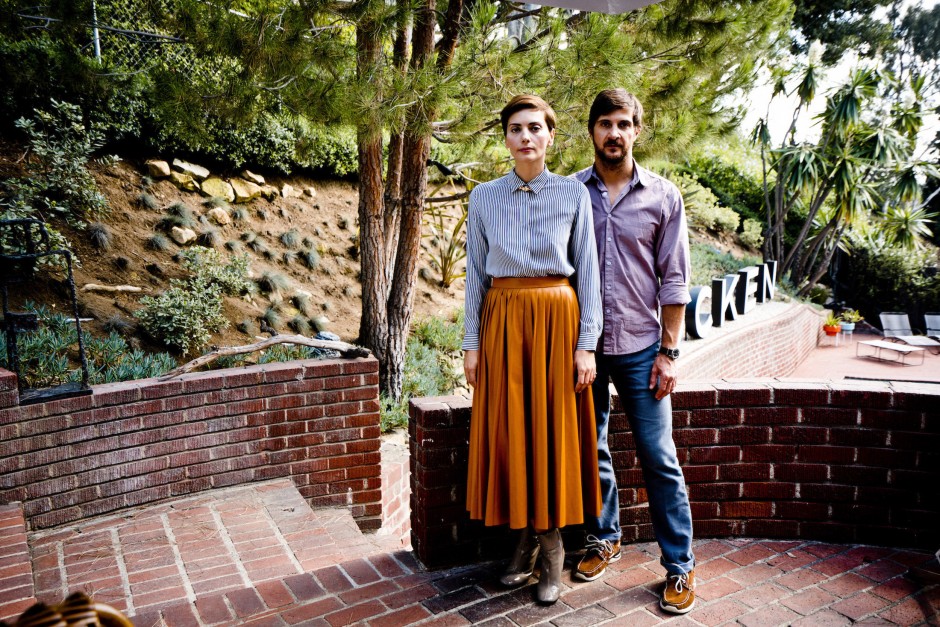 The Collection
 When did you start collecting art?
We started collecting in 2004. At the time we were spending a lot of time in NYC and we experienced the rising of a new generation of artists: Joe Bradley, Nate Lowman, Dash Snow, Dan Colan, Ryan Mcginley.
Do you remember your first purchase?
A work on paper by Yun-Fei Ji, from James Cohan Gallery.
How and why did you decide to focus primarily on emerging artists?
We started to collect artists from our generation because they were more accessible and they instinctively resonated with us. However sometimes we like to acquire also more established artists to create a more interesting dialectic within the collection.
What are the benefits of collecting emerging artists' works? Do you enjoy taking risks in collecting?
I think that you can minimize the risks of collecting by making sure that you collect what you like. I like to collect emerging artists because you can have a relationship with them and sometimes nurture their career.
Which artists do you have in your private collection at home?
We like to rotate works often. At the moment we have an eclectic group of artists: Sterling Ruby, Ryan Mcginley, Pietro Roccasalva, John Anderson, Lucien Smith, Michael Dean, Giorgio Andreatta Calò, Piero Golia, Harold Ancart, Nikolas Gambaroff, Sam Falls…
What type of art do you find yourselves mostly attracted to? Is there a theme, which unites the whole collection?
We like to collect all type of media and we are not scared of large installations. There is not a specific theme to the collection; I think at the end the collection is defined by our own sensibility.
Have you ever shown your collection to the public?
We showed part of the collection at the American Academy in Rome in 2013. The title of the show was ANAMERICANA and it was curated by Vincenzo De Bellis.
What do you hope to achieve with the collection?
We love living with art and our children seem to like it too. However, we definitely plan, one day, to donate at least part of the collection to an institution in order to make it accessible to a larger audience.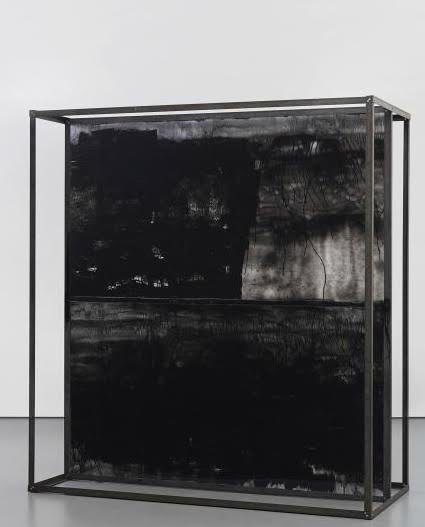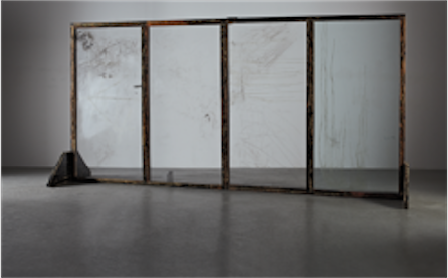 Thoughts on collecting
What considerations guide you to decide whether you like an artwork?
We consider if we would like to live with it or in case of larger works how they fit within the context of the entire collection.
Where do you find exciting artists today?
We like visiting galleries and art fairs and we also exchange ideas with other collectors and curators.
What kind of relationship do you like to cultivate with artists?
We became good friends with some of the artists we collect, but we do not necessary try to meet or get to know all the artists we collect.
Collecting as a couple, how does the conversation go when deciding on a purchase? Do you ever agree?
In most instances we agree.
What is your art collecting strategy? How do you do your research?
We always try to collect artists that are part of a cohesive art scene. We travel a lot and see a lot of shows. The internet and social media are powerful tools to discover new artists as well.
What do you enjoy the most in art collecting: the research, the discovery or the purchase?
We like the whole process: the discovery, the interaction with the dealer etc. But the most exciting moment of course is when you install the work in your house.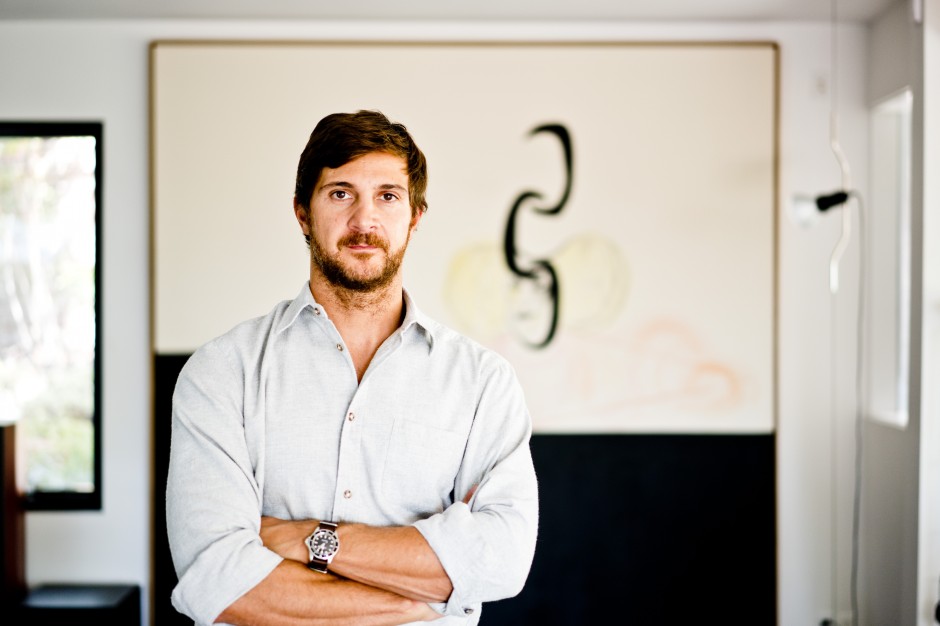 Depart Foundation
You recently moved from Rome to LA. You also created another headquarter there for Depart Foundation. Why did you move to LA? And what do you hope to accomplish with the foundation there?
We used to come to LA for the summer holidays. We always liked California: the light, the outdoor… After a while we simply fell in love with LA. Los Angeles has always been a great place to discover new artists. There are great art schools and right now it seems like the whole art world is moving here. With the Los Angeles space, the foundation will continue on its mission to support emerging contemporary artists. The space will also help us strengthen the cultural dialogue between the US and Italy, by showing Italian artists in Los Angeles and American artists in Rome.
I read in one of your interviews that you had thoughts of bringing Depart to Shanghai. How come?
I've been going to Shanghai for over 20 years. The art scene has grown a lot in recent years but there are not many venues to showcase young artists. My idea is to fill that gap. Also this is in line with the vision of Depart as a global institution. In fact we've also recently opened a new satellite space in Miami.
What are your thoughts about the contemporary art scene in Italy?
I regret to say that it is not very exciting. We have weak and underfunded art schools and very often dysfunctional institutions. It is a pity because we have an incredible tradition but we have not been able to nurture the new generation of artists. Fortunately we have a great group of energetic curators that is doing its best to keep the Italian art scene relevant.
Are there any young Italian artists we should keep an eye out for?
We like Marco Palmieri and Gabriele de Santis.
How is the art collecting scene in Rome? Is it a younger or older generation? Is there a strong active network?
In Rome and in Italy in general we have a great collecting tradition. We have a group of very committed and knowledgeable collectors that has been collecting for many years, assembling very diverse and sophisticated collections. In the past years, I also experienced the rise of a new breed of young collectors, a very positive signal for the Italian art world.
Claire Bouchara
Note to readers: Depart Foundation announced last month the launch of a new permanent project space in Miami Beach, set to open in December 2015 with the exhibition Wonderwheel, curated by Italian curatorial/editorial platform, CURA. The project space, located within the new South Beach oceanfront property Nautilus, has been established in partnership with Depart Foundation advisory board member and owner and co-founder of SIXTY Hotels, Jason Pomeranc.
Read more about 
A selection of artists the couple collects