Apparently, partying in Shoreditch back in the 1990s could get you more than just a hangover. For example, if you were a skilled chef partying with hungry artists and exchanging food for art, it could get you an art collection. Mark Hix, the celebrated British chef has an advantage that sets him apart from other art collectors. From his party days in East London, he developed a wide network of artists with whom he remains close friends with today with the likes of Tracey Emin whom he taught how to cook, and Damien Hirst who he is also reputedly known to have on speed dial. London's most eminent restaurateur has accumulated a unique collection of works from his YBA friends. He commissioned them to create artworks, which are hung on the walls and ceilings of his restaurant empire totalling 8 venues such as Tramshed in Shoreditch, Hix Soho and Hixter City to name but a few. His trendy restaurants not only provide a feast for the eyes but also for the stomach. Mark Hix is a culinary master of British food with unrivalled knowledge of ingredients with provenance as well as having an original take on British gastronomy.
Mark Hix tells Larry's List how partying with the YBA scene got him the art collection he has today.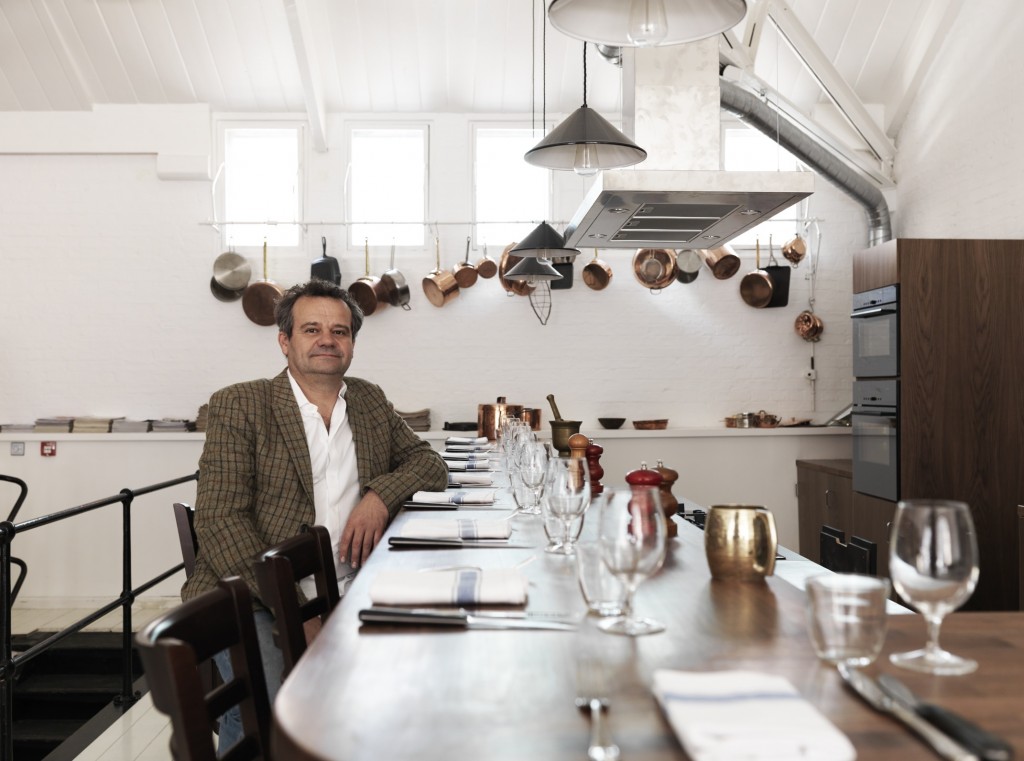 From partying with the YBAs to exchanging food for art
How did you get into the sphere of visual art?
Hanging out in the east end basically at new young gallery openings and after show parties. I would host new gallery after-show dinners and exchange it for work.
You are known to be friends with the YBA crowd such as Damien Hirst and Tracey Emin. How did you come to enter this social circle?
One party leads to another then you end up feeding them all and it becomes a bit like a club, which occasionally spirals out of control.
How did you come up with the idea of exchanging food for art?
It's something that's been happening for hundreds of years, the artists used to do it in Paris and now I'm doing it in London. More people see the art in a restaurant than a gallery or museum and artists like to eat and drink.
How have your relationships with these artists come to be now?
They're my mates.
How has your passion for art developed since then?
Well when Tramshed opened, I had in mind to support emerging artists so I set up a gallery. And we now have the Hix award for young college graduates.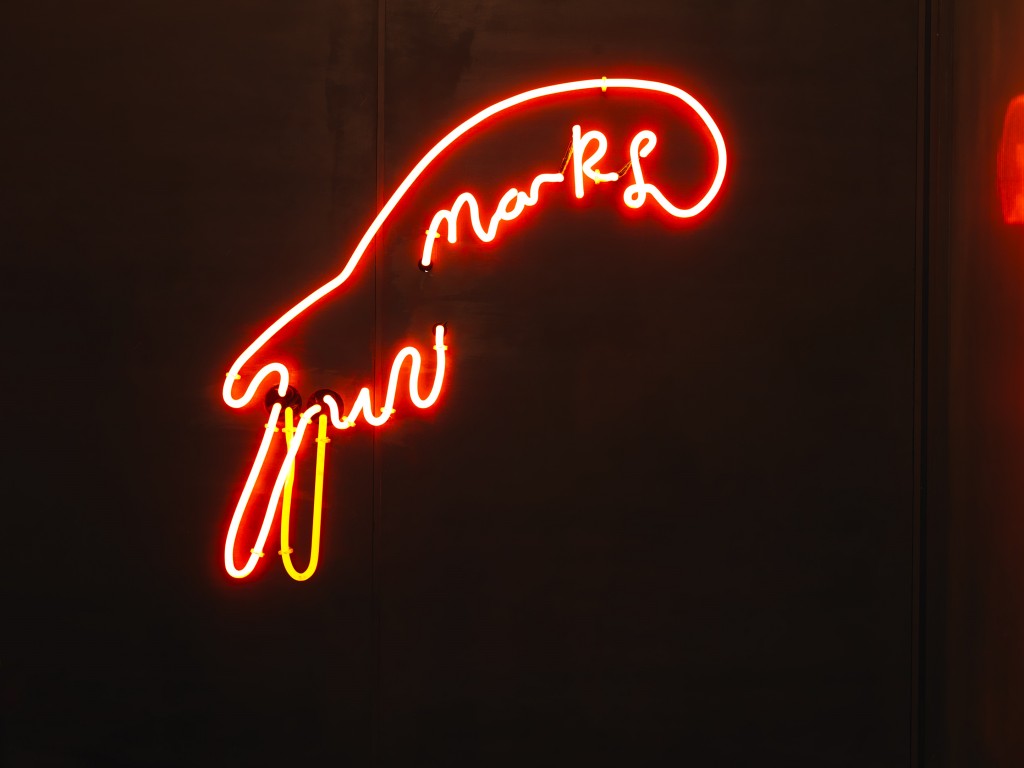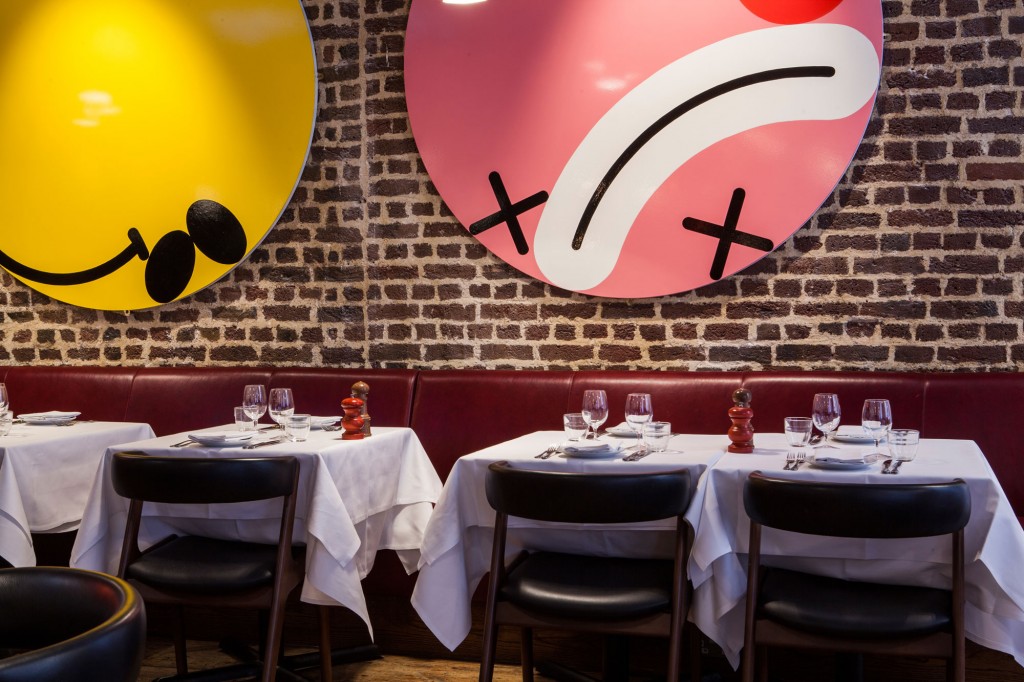 Thoughts on collecting
What is your focus regarding the artists in your collection?
Friendship and enjoyment of life. I don't really own much where I don't have a relationship with the artist.
Can you name a few of the most established and emerging artists in the collection?
Well we have Tracey Emin and Damien Hirst who are kind of rock stars but we also have pieces by Antony Gormley, Harland Miller, Michael Landy, Polly Morgan… The list goes on.
What was the first artwork you commissioned? And the most recent?
Most of the large pieces in Scott's were commissioned by me when it first opened. Then, when I set up on my own fucking beautiful backwards noble and Webster, then the mobiles in Soho for the first, we didn't have enough wall space so I decided to use the ceiling. Henry Hudson's working on a piece for Hixter Bankside at the moment, a sort of Dickensian HIX Feast.
Is there one artist you haven't commissioned yet or wish to?
No idea but I'm sure that will come soon.
Did you give free reign to the artists when commissioning a work from them?
Sometimes I'll have something in mind for a particular space, but I pretty much let them do what they want.
Do you know how many works you have in total in all eight restaurants? Or an approximate number?
Oooo, hundreds.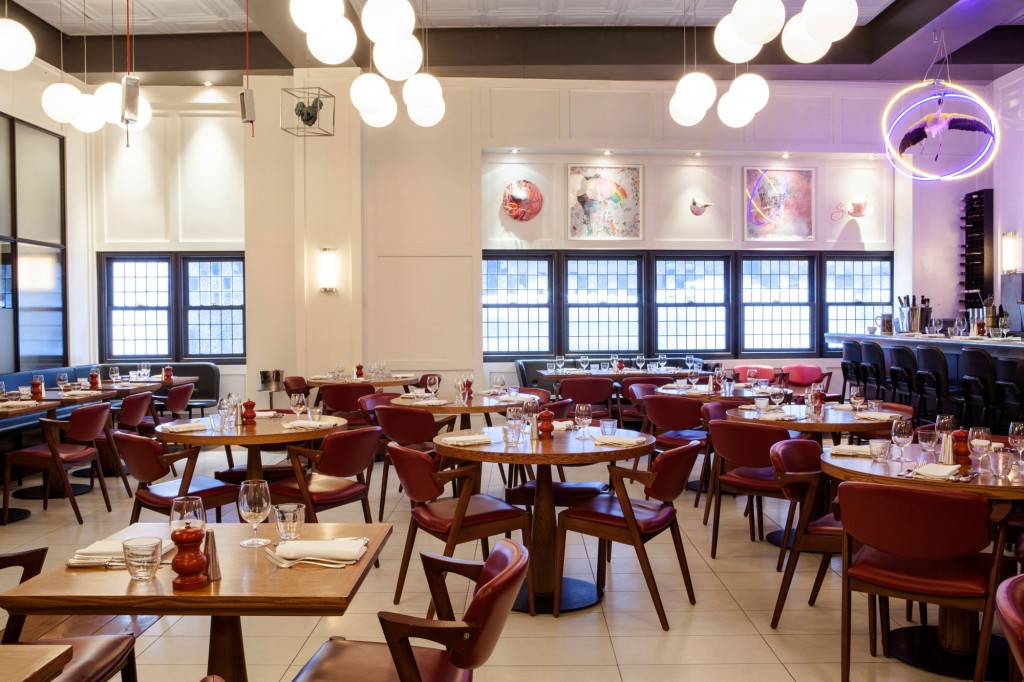 Which artwork(s) could you never part with?
All of them! I've never ever sold anything and wouldn't.
Do you also have a private collection in your home? Did you purchase them or were they commissions?
Yes, I have a lot of pieces which have been gifted to me over the years, I also enjoy buying work for myself, not just for the restaurants. And I often buy from the CNB shows.
Your philosophy is that a restaurant should always be fun. Is your taste in art framed in that same state of mind? In what other way would you describe your personal taste in art? 
Oh that's really difficult, art is like food, you don't have to like the whole menu to enjoy one dish. I like art that I like, it doesn't have to be part of a larger thing.
Do you search for artists or do they come to you?
I tend to meet a lot of artists through friends and at parties. The emerging artist takes an interest in the gallery in order to gain exposure and become part of the restaurants collection.
Can you name three young British emerging artists who should be on our radar?
Antony Micallef, Danny Fox and a 2013 HIX Award finalist Oliver Durcan. He's making a lot of movement for such a young guy.
Do you visit art fairs at all? If not, why? If so, what do you look for?
I was part of FRIEZE for 4 years, HIX was the hub of socialising and fun. I go to a lot of fairs abroad; it's good to see what's happening outside London.
In what other field do you think you would have fallen into if you didn't end up being a chef?
An art dealer.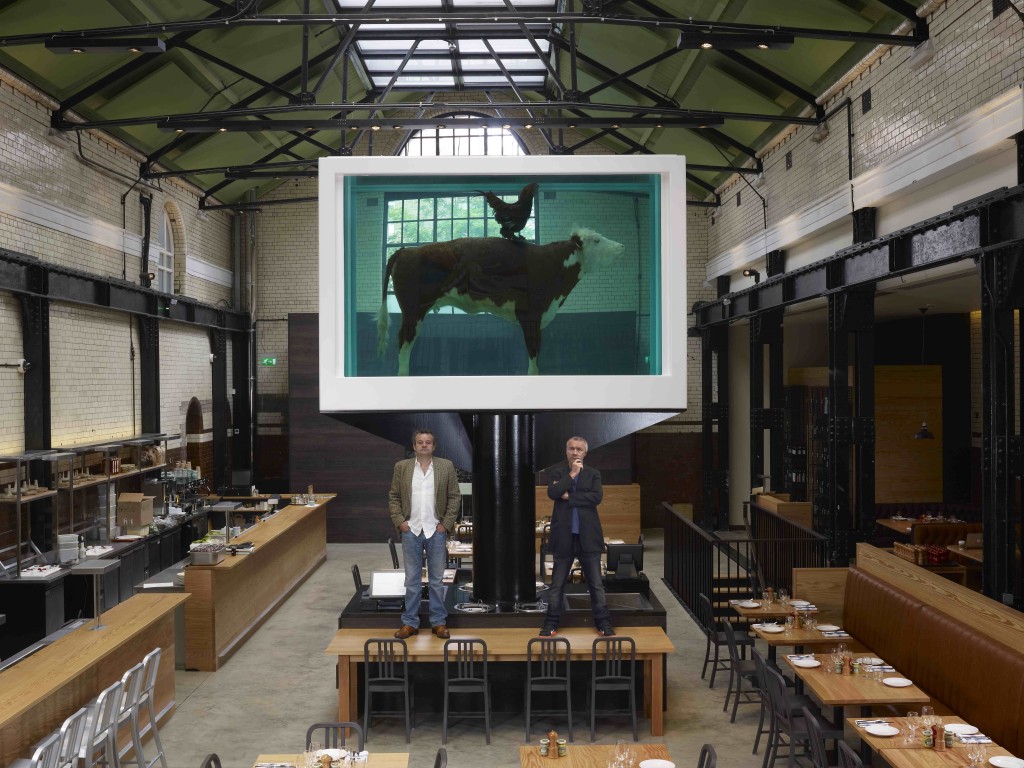 The Restaurant Empire
How did you come up with the idea of mobiles for the restaurant Hix Soho?
This was simply because there was no wall space so I asked the artists to be more inventive.
Do you ever alter or move the art works around in any of your restaurants?
Not really, sometimes we do it for particular events or exhibitions in CNB Gallery.
What are the strangest reviews you received from customers about the artworks in your restaurants?
That Glenn Ligon was racist…
Cock N Bull Gallery in your restaurant Tramshed exhibits established artists as well as lesser known ones. Additionally, you have the HIX Award  for Emerging artists. Is promoting emerging artists important to you? What do you hope to accomplish with such an award?
Yes it very important that we give back and support emerging talent in all fields. Rebecca Lidert the Gallery Director does just that through not only the HIX Award but the internship program she runs.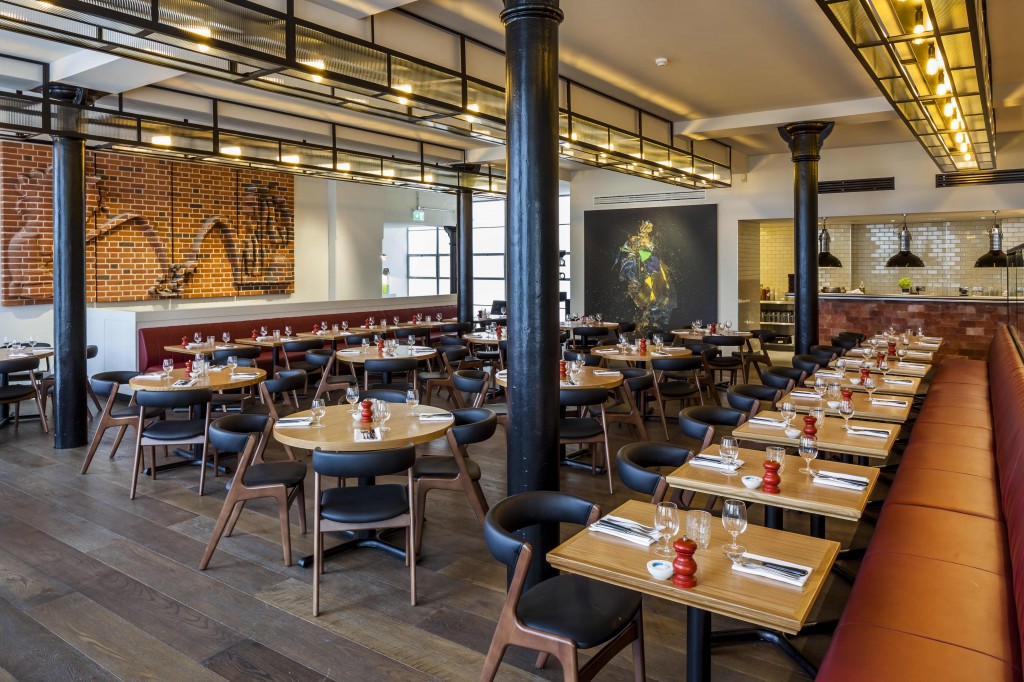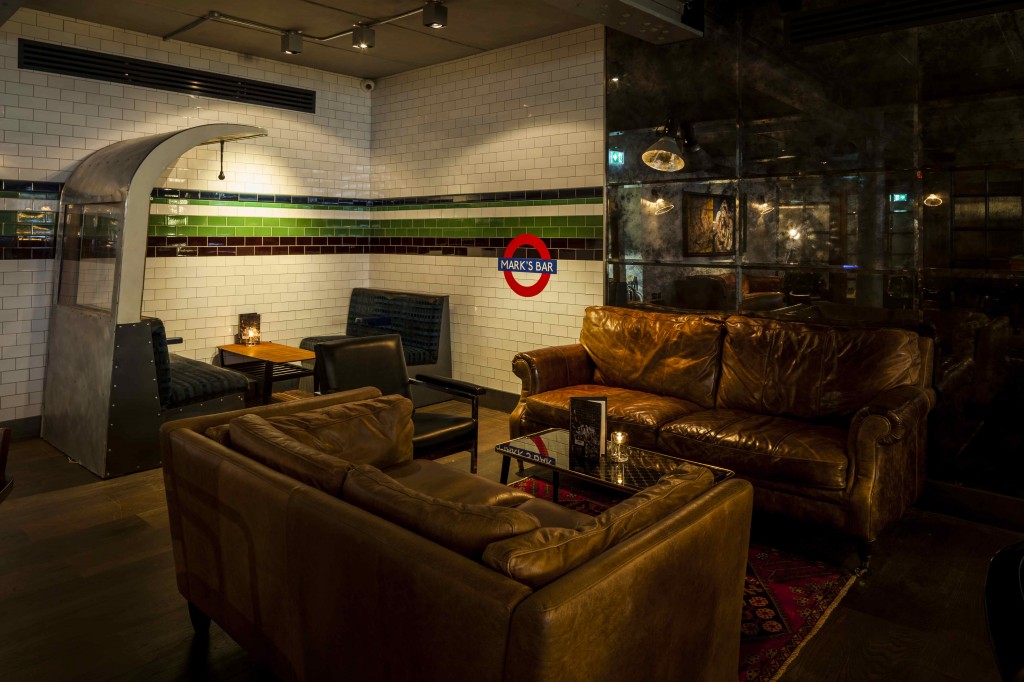 There are more and more restaurants transforming into art galleries. Do you find it to be a technique to get the best artworks by the best artists?
No, just go with what you love and are passionate about, that tends to be what people relate to, what you love, others will love.
Why is it that art and cuisine seem to pop up in the same conversation today?
Because we are all looking to be stimulated, food and art are the perfect tools to do that.
You mentioned "Restaurants are a great medium for art, if you get it right." What are the dos and don'ts, in order to make it right, in your opinion?
Enjoy what you're doing the rest will follow.
 Claire Bouchara
Read more about 
A selection of the artists Hix collects: