'Multi-talented' may not be even enough to describe her broad scope of experiences and skills. Karen Robinovitz has been a Contributing Editor at Marie Claire and Elle Magazine and penned high profile pieces on fashion, art, relationships, travel, health, beauty, design, and lifestyles for Harper's Bazaar, the New York Post, the New York Times, Glamour and few others. In 2003, after writing three books and working as on-air talent on television, her career path took a turn towards marketing and communications, consulting for a mix of luxury and accessible brands. With a heavy focus on digital and social media, she co-founded Digital Brand Architects in 2010, a boutique agency that juxtaposes digital communications and curation marketing with talent management of online influencers.
Besides, Karen Robinovitz has also been an art collector for over two decades. She shared with Larry's List the evolution throughout her journey of collecting, how has art impacted her life, her views on the process of art making and which artists are on her wish list.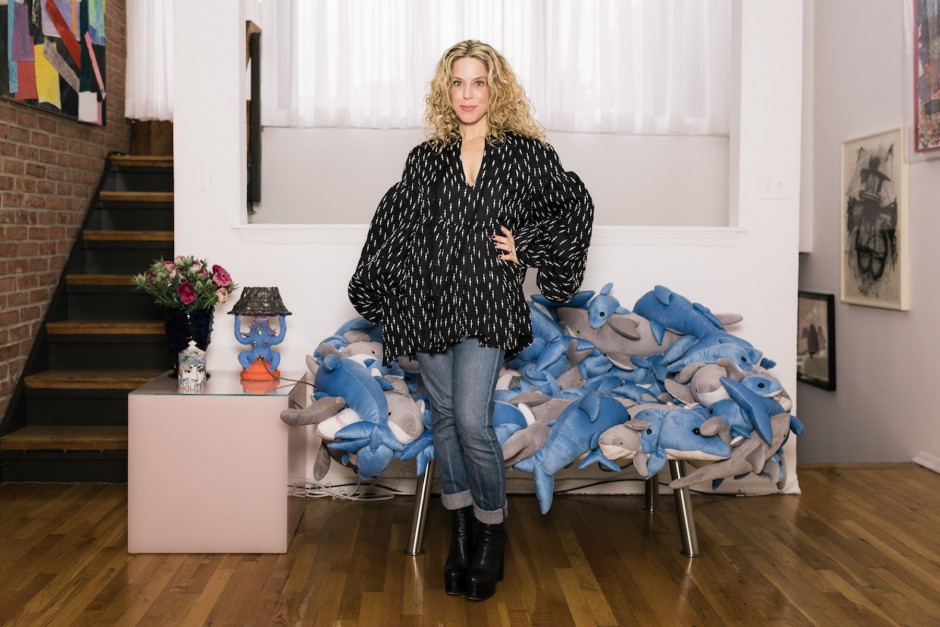 Collecting
How did the very first moment happened — the one thing/experience that dragged you into the art world and expand your interest so much to even start collecting?
I have always loved art, which has been a kind of visual and emotional escape for me for as long as I can remember. Growing up, my mother spent time with me in museums. The more art I saw, the more I refined my taste, the more I wanted to see art. It was a Picasso girl with yellow hair that did me in as far as falling in love with art, visually and intellectually.
Collecting is another story. Once you cross the line of buying your first major piece, it's like the line wasn't even there. You're hooked. There is no going back.
I started collecting in my early 20s, but at that time, my sensibility wasn't as evolved. My taste really began to take shape in the early 2000s. When I acquired Richard Serra's Trajectory #1 in 2004, it was the beginning of the point of no return.
Soon after, I bought Marilyn Minter's Barbed, a Rachel Howard drawing, and Wangechi's Mutu; the obsession hasn't stopped since.
Tell me about the favourite piece of work inside your collection — the one that you will point out among the rest of your collection. Why and what was the story of collecting it?
Choosing a favorite is a little like asking me which child I love most. It's hard. I have an emotional connection to everything I collect and different pieces resonate more with me at different times, even after owning something for a decade. Right now, the Toyin Ojih Odutolah from a few years ago is taking my breath away every time I walk up the steps – it's on the wall by the stairs leading up to the living room.
When I first spotted her work at Art Basel in Miami in 2010, it stopped me on my track. I felt an immediate connection to her style, the energy of her drawing, her way of portraying skin, and the textural, personal nuance of her work.
It took two years for one to become available. When I got the call that there was one drawing where the figure was wearing fur – months earlier, I had seen on Toyin Instagram a work in progress where the subject was wearing fur and I freaked out, emailed the gallery and told them I had to have fur in mine… she just nailed the texture perfectly – I dropped everything I was doing to get to Jack Shainman to see it.
I knew it was the one. It went on loan to a museum before it came to me and I appreciate it every day.
What have you newly discovered about art and the art world/market when you first started collecting?
The politics. I'm used to it now, but it took some time for me to wrap my head around it. I'm not driven by the market though; I often love pieces by artists who become market darlings – that's when it can be challenging to acquire their work.
How many artworks do you own until now?
About 70.
What is your focus regarding artists inside your collection? Are you more interested in renowned or emerging ones?
I like the mix of emerging and renowned, mid-career artists as well as different media. My taste has changed over the years; it's now a bit more feminine than it used to be – softer, painterly even when it comes to sculpture. I love Donna Huanca's approach to sculpture – it's like a piece of her performance and painting in one.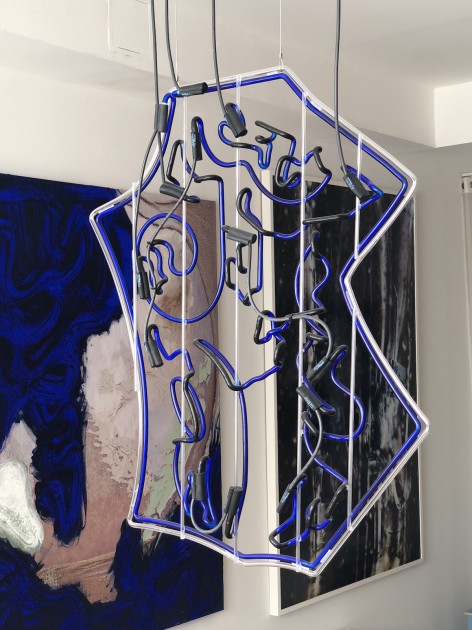 Where do you display your arts and have you ever presented your collection publicly?
I live with as much as I can fit in my home. A few things will rotate here and there, and I'm sure I will need to begin to rotate more. I can always figure out a shift to open even a sliver of a wall for something, but I'm going to have to start installing on the ceiling soon. I haven't shown publicly.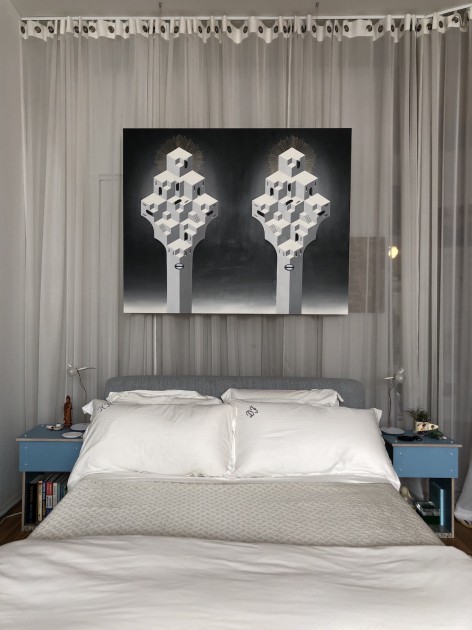 Are the works of your favourite artists the same as your most desirable works to collect?
There are artists who are way out of my reach, but being in the presence of their work, be it James Turrell, Gerhard Richter, Cecily Brown, Louise Bourgeois, Julie Meheretu, is still important for me.
I also fall in love with artists I am able to collect all the time. I meet a lot of the artists I collect, which adds another emotional dimension to the work – it gives it a personal feeling.
What are the first piece of art and the latest piece that you collected?
The first "real" piece – Jose Parla. The most recents are Ivy Haldeman, Grace Weaver, and Alex Gardner.
Comparing these two pieces, how do you see your changes throughout the journey of collecting?
My earlier inclinations were more aggressive than they are now, and I think, in essence, so is my nature and life. I am very career-focused, and when I was younger, it was always such a hard push (not in a step on others' way but in a nonstop, proving-yourself sort of manner) to find my way. Now that I'm in my 40s and am more established with two-plus decades of experience, I can come at things with a softer approach.
I also think as I get older, I get more and more in touch with myself as a female in the world. It just happens that most of the works I am attracted to are created by women as well.
Art World/Philosophy

As a curator, influenza, art collector and many more, how do all these identities give you a special aspect of the art world and art itself?
I really just look at the art world from a place of pure enjoyment. Art transforms me and opens my belief system. It impacts the way I see the world and invites me into someone else's experience.
I'm lucky to have got involved with the Brooklyn Museum and have curatorial insight. Since I spend so much time in galleries, I get to know those who work there; they inform me of a nuances of works which expands my understanding. I visit a lot of studios, which also allows me to see works from an intimate point of view.
All of that informs my inclinations and understanding of art.
Besides the motivation to collect works of art, how has art impacted your life in other ways?
Art is my number-one source of inspiration. I work in marketing/ branding/ communications, heavily in the digital space; and I find that art installations, performances, and expressions are a huge reference for my ideas and what's possible in the world.
Art is also an outlet for activism. You can get a sense of social and political values and perspectives which can be incredibly eye-opening and smart.
How do you define great art, as a collector/viewer?
Emotion. How does art make you feel? For me, it's all about how the viewer reacts and responds to work, be it visual, performative, experiential, and conceptual.
There are pieces I love, but don't necessarily want to live with; I can appreciate the impact of works that I may not want to acquire as much as I do when I want to own something.
It is so beautiful to see that you embrace art in many, many aspects of your life — a combination of art, people, space, lifestyle, languages — and I do see many expressions of human body languages inside the art pieces you feature in social media. There is a beauty in the combination of art and people together. I am very interested in hearing your philosophy of art being around/with people. What is art to you?
To me, art is freedom. It is an opening of the creative spirit, whether you make art, collect it, or just like to experience it. I love seeing installations with friends and family and hearing their responses. It's also a great way to spend time with someone new – you can immediately see how someone thinks based on what moves someone.
Art opens a dialog about things that aren't always easy to talk about, which is  really important especially in the world we're in now, which is sadly full of upheavals.
Do you believe that the value of art also comes from the process of creating it?
That depends on the artist. Some art is all in the idea. Sol LeWitt once said that the art was the idea and concept – he didn't care to see a fabricated sculpture in a collector's home, for example. Some art is about the process – what goes into creating something. Other works are about the meaning behind it. And some pieces have to be fabricated with massive teams and machinery versus the artist's hand. There is always a debate on what makes something valuable. So for me, it's personal, and it always goes back to how it makes me feel.
How does the process of art making interest you? If so, have you made choices of collecting based on the process of the art making rather than the outcome inside your own collection?
 I live and collect from emotion. I appreciate process and like to hear about it. But sometimes process can be about historical reference versus the physicality of tools. I have works that are very traditionally process-oriented and works that aren't. But process doesn't sway my decisions about what I want to collect.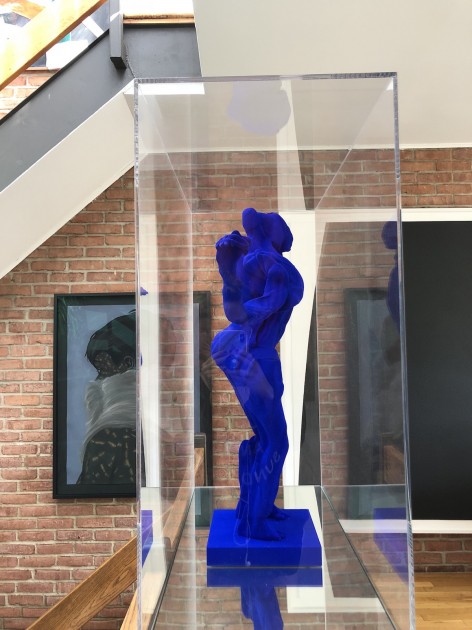 The future
Moreover, how do you envision your art collection to be in the coming years? What are you looking for at the very moment?
I hope to own works by artists I admire like Lorna Simpson and Judy Chicago at some point. I also love art with a sense of humor – Erwin Wurm's hot dogs crack me up. Would love a bronze on the kitchen table.
Right now, I'm coveting Loie Hollowell (I have two pastels, but I'm dying for a shaped canvas), Tschabalala Self, and another Emily Mae Smith and Julie Curtiss. Trust me, the list goes on.
Instagram: @karenrobinovitz
A selection of artists Karen collects:
Alex Gardner
Grace Weaver
Ivy Haldeman
Loie Hollowed
Mira Dancy