Quality over quantity is John Morrissey's philosophy, collecting only emerging contemporary artists, who he believes have a high potential of becoming historically significant. The 46 year old probate litigation attorney from West Palm Beach, Florida already had a knack for collecting since he was a child from collecting baseball cards to comic books. Named one of the top young collectors of contemporary art while still in his twenties by ARTnews and more recently in his forties by Modern Painters, Morrissey is a self-taught art collector whose love for art started during his time at law school, routinely filling his study breaks reading art magazines.
John Morrissey shared with Larry's List his take on the rise and popularity of emerging female artists and who his favourites are.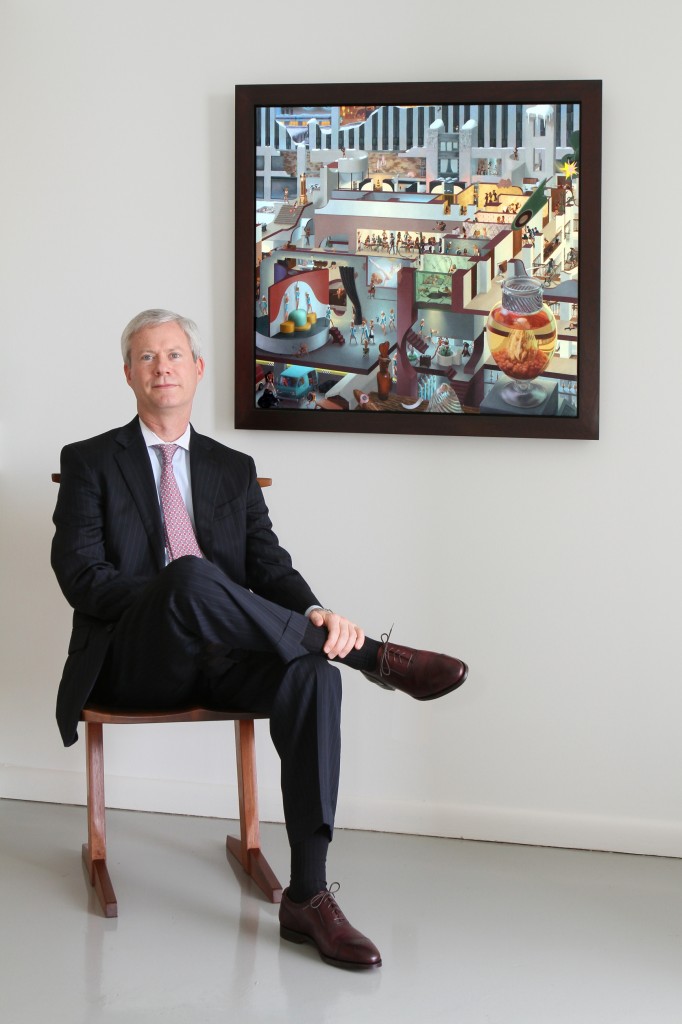 The Collection
Originally a lawyer from Palm Beach, Florida, how did you become interested in art and start collecting contemporary art?
I have always collected things. I collected baseball cards and comic books as a kid, so it made sense to graduate to a more expensive variety of collectibles once I became gainfully employed as an attorney. For me, it is easy to think of expensive paintings as trading cards for the affluent.
How many artworks do you own?
I have collected approximately 300 paintings, drawings and photographs over the last 23 years. I also have a collection of mid-century furniture, comprised mostly of pieces by George Nakashima.
What is your collecting strategy? What is the main motivation behind your collecting?
The challenge for me is to "discover" young talent before they become art stars, to watch their careers progress and their markets grow, to assist along the way to the extent possible, and to ultimately end up with a few rare and historically significant pieces.
What is your focus regarding the artists in your collection? Are you more interested in emerging or renowned artists?
My focus has always been directed towards emerging figurative painters and photographers. Most of the artists I collect are women or minorities, and many of them happen to be Yale Art School graduates. Among the artists who I collected in depth before the turn of the century include Cecily Brown, Karen Kilimnik, Jack Pierson, Enoc Perez and Katy Grannan. Artists who I have collected in depth in more recent years include Kehinde Wiley, Mickalene Thomas, Hilary Harkness, Anj Smith and Natalie Frank.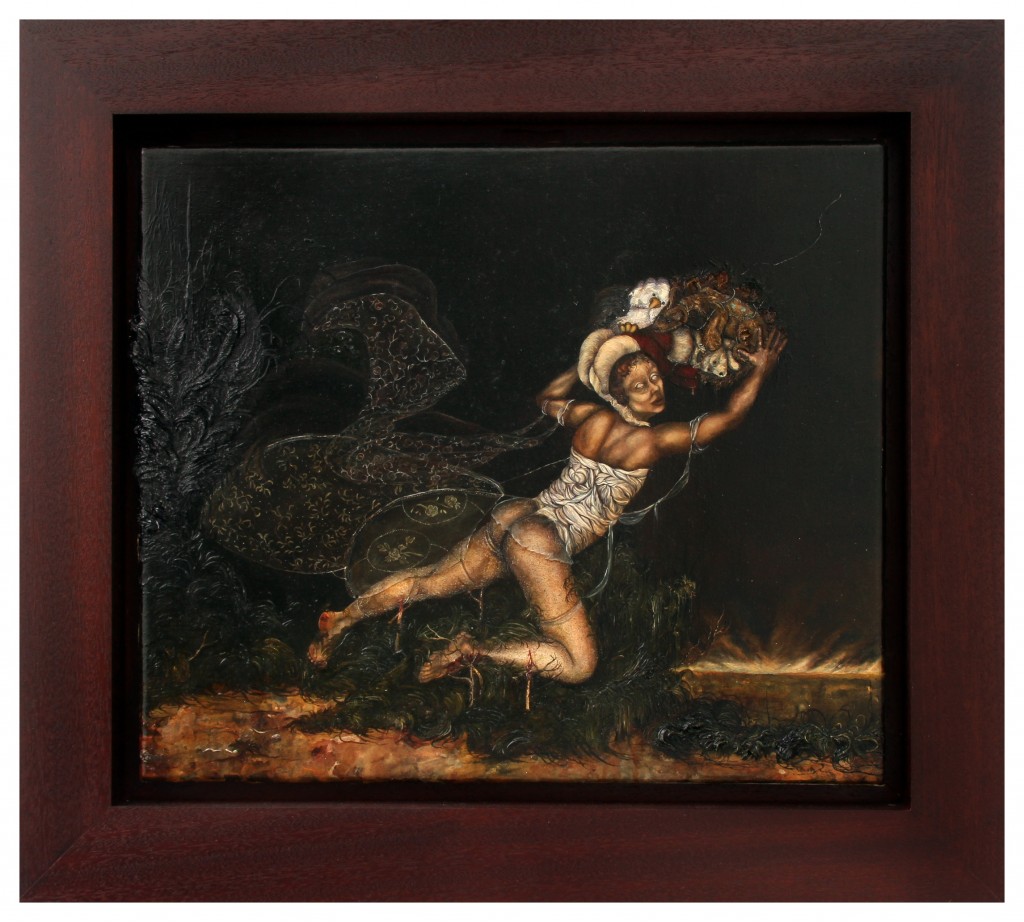 You appear to own many female artists. Could you tell us more about them, and your attraction to their work?
So often we view the female body and sexuality through the male gaze. Art history was dominated by male artists, many of whom spent their entire careers reveling in women's physicality. As female artists are taken more seriously and given more opportunity to advance in the art world, it is exciting see them give their interpretation of the female form. Female artists can explore, capture and celebrate feminine energy and sexuality in their own unique way. The best among this new generation of images by female artists will find an important place in art history.
What is your most treasured artwork?
My favorite paintings are Hilary Harkness's "Mother Lode" and Anj Smith's "Zingarella." They are both intimate canvases; in fact, they are so heavily condensed with minute symbolic details that they must be viewed at close range. The detailed narratives suggest that these artists' technical skills are only outmatched by the intellectual content of their work.
How many pieces would you say you buy in a year?
The number of purchases can vary from year to year. It may take an entire year to save up for one or two expensive paintings from an established artist. Alternatively, a number of less expensive paintings from an emerging artist, or a series of drawings or photographs, can be purchased over the same period.
In the past year, which was fairly representative, I added a dozen pieces to my collection. They include additional pieces of mid-century furniture by George Nakashima, additional paintings by Anj Smith, the "Geographic Delay" series of large watercolors by Firelei Baez, and the "Ginger Entanglement" series of large photographs by a very young Los Angeles photographer named Amanda Charchian.
Where do you display your collection?
I rotate the artwork hanging in my home and office from time to time, and there are occasional museum loans.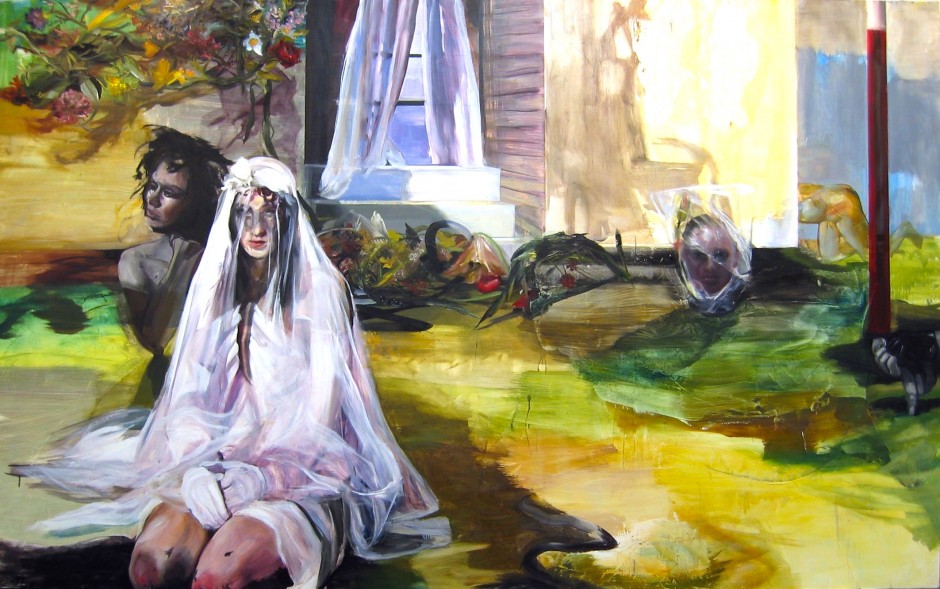 How important is it for you to meet the artists who created the artwork?
I have been fortunate to meet and develop relationships with a number of artists whose work I collect. Such relationships allow a collector to find out more about the artist's career, methods, motivations and aspirations. It is important to discern whether an artist can speak intelligently about his or her work, place the work in a historical and cultural context, and effectively promote his or her career. As a collector of emerging artists, I have found that artists can be a wonderful source of information in the process of discovering other young talent.
Do you rely on art advisors or how do you make your decisions concerning purchases?
I am a self-reliant collector. Retaining an art advisor would reduce or even eliminate the analytical aspect of discovering young talent, which would make the process far less interesting for me.
Being a full-time lawyer, you must have a demanding timetable. How do you find the time to research and view art?
I have always been passionate about collecting art. It is easy for me to make time for this passion.
What sources do you read to keep yourself informed and updated about the art market?
I spend approximately 30 minutes on the internet each morning before work to read current events in the art world, review new articles about artists in my collection, and research emerging artists who I find interesting. I review most articles posted in Blouin Artinfo, Artnet News and Artdaily. I also scan articles posted in ARTnews, Artforum, Artfacts, The Art Newspaper, New York Observer and Larry's List, as well as videos posted in Vernissage TV and The James Kalm Report.
Thoughts on the Art World
What trends have you noticed in today's art market from your side of the pond?
There has been a societal trend toward gender and race equality for many years, and this sentiment is echoed in the art world among museums, galleries and other exhibition spaces to progressively exhibit more women and minorities. It is also appears that recent auction records for important female and minority artists are rising more rapidly on average than their white male counterparts. This trend has influenced my acquisition of artwork from a disproportionate number of female and minority artists in recent years.
Did you attend Art Basel Miami Beach last December? What was your take on it?
I have attended Art Basel every year since it debuted in Miami Beach in 2002. The established galleries at the main fair provide an opportunity for updates on the artists who I have collected in the past. A number of my artists were pervasive at the most recent fair, including Jack Pierson, Karen Kilimnik, Enoc Perez, Kehinde Wiley, Mickalene Thomas and Natalie Frank. The satellite fairs are breeding grounds for young talent, and they provide an equally important opportunity for me to search for new artists to add to my collection.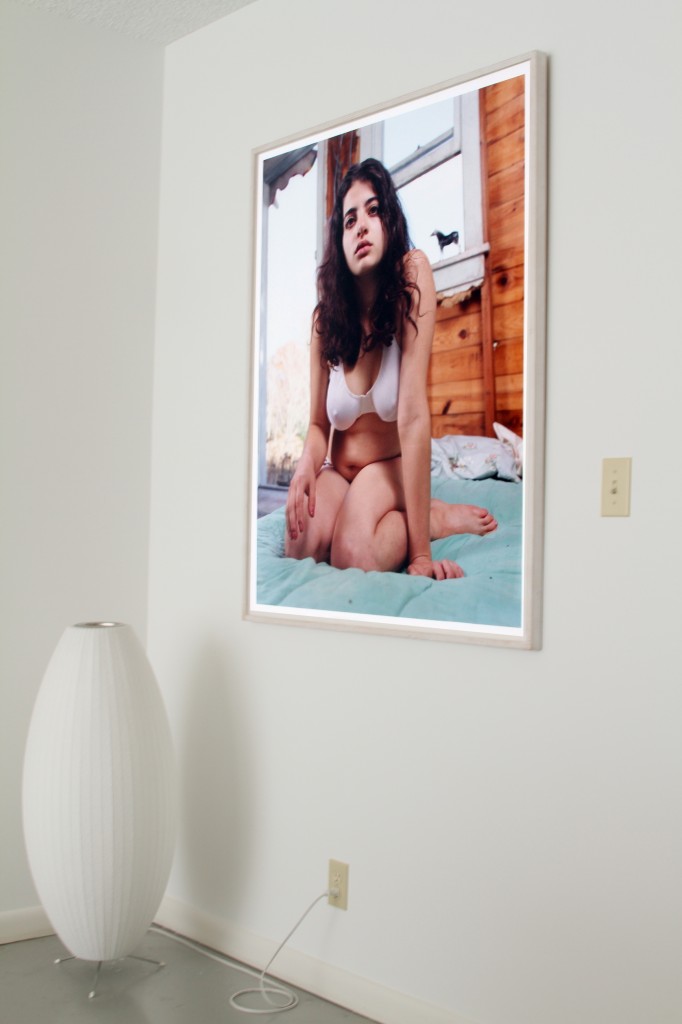 It has been said that you have a knack for spotting talent. How do you notice it? Can you tell us which artists will be popular in the years to come?
I have not met anyone who can predict which emerging artists will become the most celebrated and successful of their generation. It would seem equally as hard to foretell which works by those emerging artists will become the most historically significant. There are too many unknown variables and unforeseen circumstances that affect a young artist's career.
There are, however, a number of factors that a collector can consider in determining whether a young artist has a better chance of success than his or her peer group. A non-exhaustive list of examples might include the following: the artist's level of talent, motivation, intelligence and savvy; the artist's degrees, grants, awards and residencies; the artist's teachers, mentors and art world friends; the artist's supporters, including galleries, museums, exhibition spaces, writers and patrons; the location of the artist's studio; and the universal recognition and appeal of the artist's imagery.
What advice would you give to fresh young collectors?
Discovering emerging artists who possess the ability and drive to achieve great success requires significant time and effort, along with a willingness to be patient and assume calculated risk. A self-reliant collector should expect to keep abreast of the art market and market trends by reading, attending art fairs and gallery openings, and speaking to other collectors, artists, gallery dealers and museum curators. Knowledge of both contemporary culture and art history is advantageous when evaluating how well an artwork collates contemporary subject matter with the influence of art historical references. Finally, a rudimentary understanding of the gallery system and auction market is helpful.
Can you name emerging artists who should be on our radar?
Two female figurative painters who I am most excited about are Hilary Harkness and Anj Smith. Harkness is represented by Mary Boone Gallery in New York City, while Smith is represented by Hauser & Wirth in London. Harkness and Smith have wild imaginations and amazing technical skills. The intricacy of their paintings requires extraordinary time and attention to detail, which explains why neither of them produce more than a few paintings each year.
I am also excited about Natalie Frank and Firelei Baez, two artists who are slightly younger and more "emerging" than Harkness and Smith. Both of these artists are quickly making names for themselves with energetic, visceral works. Frank will have a solo exhibit a The Drawing Center in New York City in April, while Baez has a solo exhibit scheduled at Perez Art Museum in Miami later this year.
What are you especially excited about in regard to art in the next 12 months?
I am most excited about the forthcoming exhibits of artists who I have collected in depth over the past few years. These include Kehinde Wiley's "A New Republic" at Brooklyn Museum in New York, Natalie Frank's "The Brothers Grimm" at The Drawing Center in New York City, Firelei Baez at Perez Art Museum in Miami, and Anj Smith at Hauser & Wirth in London.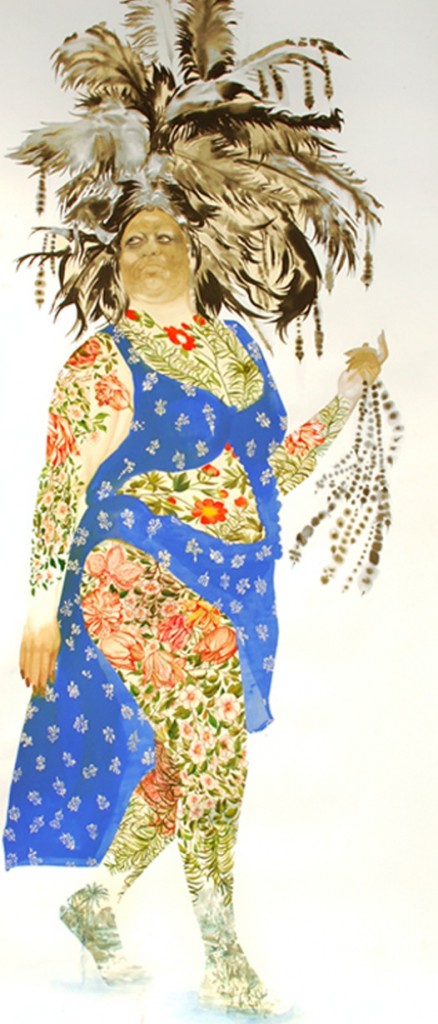 Have you ever presented your collection publicly?
I frequently lend work from my collection to museums and exhibition spaces around the United States. Selections from my collection have been the subject of several curated exhibits in my hometown, including shows at the former Palm Beach Institute of Contemporary Art, Florida Atlantic University Galleries, Armory Art Center, and Ann Norton Sculpture Gardens. I have also loaned work to such institutions as The National Portrait Gallery, New Museum of Contemporary Art, P.S.1 Contemporary Art Center, Norton Art Museum, Aspen Art Museum, Madison Art Center, Philbrook Museum of Art, and Knoxville Museum of Art.
Do you have your own museum or exhibition space?
It would be nice to have an exhibition space someday. Most of my collection is crated and packed away in storage. I own a number of works that have not seen daylight in years, which is unfortunate.
Do you have any exciting upcoming projects with your collection in partnership with museums or galleries?
My most recent loans include Hilary Harkness paintings to The FLAG Art Foundation, and Kehinde Wiley and Mickalene Thomas paintings to the Boca Raton Museum of Art. The Boca Raton Museum of Art has also requested the use of a few works by Loretta Lux and Katy Grannan for a forthcoming photography exhibit.
Do you have any specific goals you would like to accomplish with your collection?
I do not want to end up with hundreds or thousands of objects. I would be satisfied if, over the years, I collect a few rare and historically significant pieces that ultimately comprise a transformative gift to one of the museums in South Florida.
Read more about: 
The artists he owns
Recent acquisitions
Claire Bouchara