Businessman by trade , Simon Mordant has an office on the 34th floor of one of Sydney's premier CBD towers, with breathtaking views across the harbor and the greensward of the nearby Royal Botanic Gardens. Its wood-paneled and thickly carpeted spaces are a quiet home to some of Simon and his wife Catriona's private collection of contemporary art. The minimalist simplicity of Clement Meadmore's small, twisted-steel sculpture Terpsichore (1993) is framed against the spectacular view; nearby, a multi-canvas, Zen-inspired painting by Lindy Lee glows red like a harvest moon. Further along one wall, in recessed boxes, are several small maquettes by Richard Goodwin, Hany Armanious and Micah Lexier. A serene painting by John Young presides over one of the boardrooms, perhaps as a salve to corporate decision-making. According to Simon, "Having works in the office stimulates debate and discussion."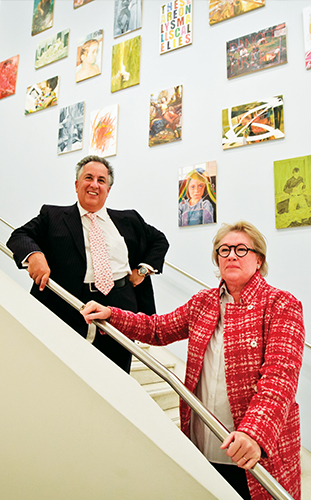 To many, Simon Mordant is better known as an art-loving philanthropist, who has become chair of Sydney's Museum of Contemporary Art (MCA) Foundation, and is the Australian commissioner for the 2013 Venice Biennale. He is joint chief executive of Greenhill Caliburn, a corporate advisory firm that he and two friends originally started in 1999 as Caliburn Partnership, and which they sold to the US investment bank Greenhill in 2010 for USD 200 million. While this reaped millions for the finance impresario, the dapper and genial Simon, and Catriona—elegant behind owlish glasses—say there are many in Australia who are far wealthier. Nonetheless, this tidy sum has been enough to maintain homes in Sydney, New York and Italy. Importantly, it has also been enough to support the Mordants' consuming passion for collecting contemporary art.
The Mordants are the first to admit that their collection has no general theme over and above that of being "contemporary." It is predicated on a simple philosophy: they buy works they can live with in their homes or at Simon's office. "We buy things we love," they told ArtAsiaPacific in April. "It is never about filling gaps in the collection, and it isn't for investment ." This approach informs their acquisition process; hence they rarely buy at auction and never directly from artist studios. The collection now numbers somewhere between 500 to 600 works, "and in all the years of collecting we have never sold a single work." Yet, as they sit and reflect, Simon remembers one that was
"de-acquisitioned" for a better work by the same artist. "A decision I have always regretted," he says, refusing to name the artist involved. Yet many of the artists whose work they acquire—some emerging or unknown when they first encountered their art—have subsequently become friends through studio visits and correspondence. "We like to know what is going on in an artist's mind," explains Simon.
Their collecting is also mindful of an ethical expediency that, they say, is part of the responsibility of wealth, a sort of noblesse oblige, about which they share strong views. According to the Mordant's, wealthy members of society are not philanthropic enough and do not give enough money to the arts. He has recently voiced the radical view that there should be
a "philanthropy tax" in Australia, levied against the wealthy, which they could offset through philanthropic activities. In 2009, for example, the Mordants pitched in AUD 15 million ($10 million more than their initial 2007 pledge) to kick-start the stalled MCA fund-raising process. Catriona said, "I don't think Sydney can do without a museum of contemporary art. Every great city has one. For me, it [the donation] was a no-brainer."
However, Simon comes from a family that, in his words, had "no interest in the arts." His father, a chartered accountant, and his journalist mother, shipped him and his younger brother off to boarding school when he was seven years old—which, he says, dramatically diminished his family life. A nanny used to take him to galleries during the holidays, and he bought his first piece of art at the age of 14, for 50 pounds, at London's Royal Academy Summer Exhibition—"a hand-colored etching," which he still has, titled The Hangman's House, Salzburg, by Judith Feaney. Emigrating to Australia in 1983, at age 23, just three years later he became the youngest-ever partner at the financial services firm Ord Minnett. The year he first became involved with the MCA, 1988, was also when he met his wife, Catriona, on a blind date at a popular outdoor opera concert in Sydney. They married six weeks later. Before marriage, the young Simon's collecting was eclectic and centered around artists such as Victorian painter Lawrence Alma-Tadema. But it was in 1994 that there was a "eureka" moment, when the couple was confronted with a work by Jenny Watson, I Have Laddered My Good Black Stockings (1990), which propelled them along a contemporary art path. It was not the first contemporary piece they had bought together—that was a large oil-painting by Tim Maguire—but it was "a key inflection point for us," recalls Simon.
Work by other Australian artists quickly followed, such as Bill Henson, Janet Laurence, Tracey Moffatt, Bronwyn Oliver and Dale Frank—many of whom were still very much emerging at the time. However, as the Mordants' horizons grew, so too did the scope of their collection. "It became much more international in flavor," notes Simon. They began to collect works by artists such as Antony Gormley, Rachel Kneebone, Gavin Turk, Bill Viola, Damián Ortega, John McCracken, Yinka Shonibare and Julian Rosefeldt. Their taste has also developed: Kutluğ Ataman's work was the turning point for their interest in video art, despite having supported the work of Australian video artist Shaun Gladwell from early on. They are currently installing six televisions at their new Sydney home to accommodate a recent video acquisition, Gladwell's Centred Pataphysical Suite (2009), shown in that year's Australia Pavilion at the Venice Biennale.
While they are known to be against inheritance, newspaper reports that they plan to "give it all away" are, they say, exaggerated. From his father, Simon inherited a pair of cufflinks, and apparently the one thing the Mordants' son, Angus, has his eye on is their wine cellar. "We have been blessed by doing well here in Australia and we both believe in putting back into the community," they explain. This is a phrase often heard among the wealthy, but the Mordant's actually put it into practice. Recently the couple has dipped into their private purse once again, this time to the tune of AUD 1 million to help raise funds
to build the new Australia Pavilion in Venice. Simon, as Australian commissioner and the pavilion project's chief fund raiser, is now eagerly shaking the collecting tin around Sydney's moneyed elite, although the actual building will not be ready until 2015.
As part of the recent celebrations for the MCA's new Mordant Wing and refurbished original galleries, the couple hosted a private viewing of Swiss-American artist Christian Marclay's 24-hour cinematic tour de force, The Clock (2010). This complemented the museum's public exhibition, "Marking Time." The reopening attracted a flurry of publicity, with 4,200 visitors flooding through the gallery on its first day, and 100,000 within the first four weeks. Says Simon, of this project, "Working with the MCA and seeing how our donation has helped change a community gives us a huge amount of pleasure. It is so exciting to actually see people in the building. Anyone who has money should be doing it."
By Michael Young
This article was originally published by ArtAsiaPacific (print content) in Jul/Aug 2012. This article cannot be edited nor shared to third parties without permission from ArtAsiaPacific.