From Chinese actress Zhao Wei to Uli Sigg, they are all in the ink collecting game.
If you thought ink art was a matter of the past, reconsider now! Contemporary ink is vigorously heating up the art market, with (young) artists and collectors drawing their attention to it more year after year. The medium of ink, which has the foundation stone of artistic tradition in China and its neighbouring countries for over two thousand years, is brought back into the spotlight to fit the growing appetite of today's art world.
Here are 6 facts you cannot afford to miss:
1.    Collector's Love Towards Ink Art
Naturally, we start with the collectors: There are a number of collectors who have realized early the value of contemporary ink painting, not only collectors from Asia but from all around the world. Among those there are Jerry Yang, co-founder of Yahoo, owes a monumental three metre wide ink and watercolour on paper image of a Dictionary from 1991 painted by Liu Dan, as well as Uli Sigg, former Swiss ambassador to China, known as the largest private collector of contemporary Chinese art in the world; His exhibition of Landscapes at the Kunstmuseum Lucerne curated by Ai Weiwei in 2011 was a stunning display of contemporary artists, many using ink art, to present innovative views on a loaded topic in traditional Chinese culture. Both collectors have their artworks illustrated in, the authoritative "bible" on art in Contemporary China – Ink Art: Past as Present in Contemporary China published by The MET on the occasion of the major exhibition in 2014.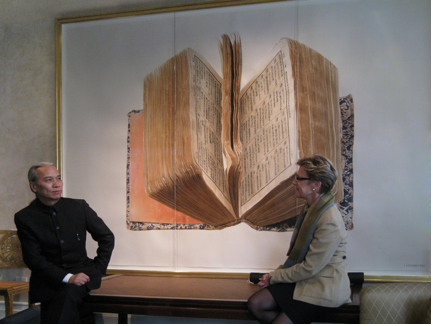 Another example is young mega-collector Adrien Cheng, the Executive Vice-chairman of New World Development and founder of K11 art foundation. He displays part of his ink art collection in The Pavilia Hill, a five blocks of 31 storeys linked by a sublime Japanese landscape garden created by the celebrated Japanese architect Shunmyo Masuno. The ethereal ink painting located, at a contemporary tea pavilion, is by the renowned Chinese artist Zheng Chongbin, which juxtaposes with Japanese aesthetics Wabi-Sabi.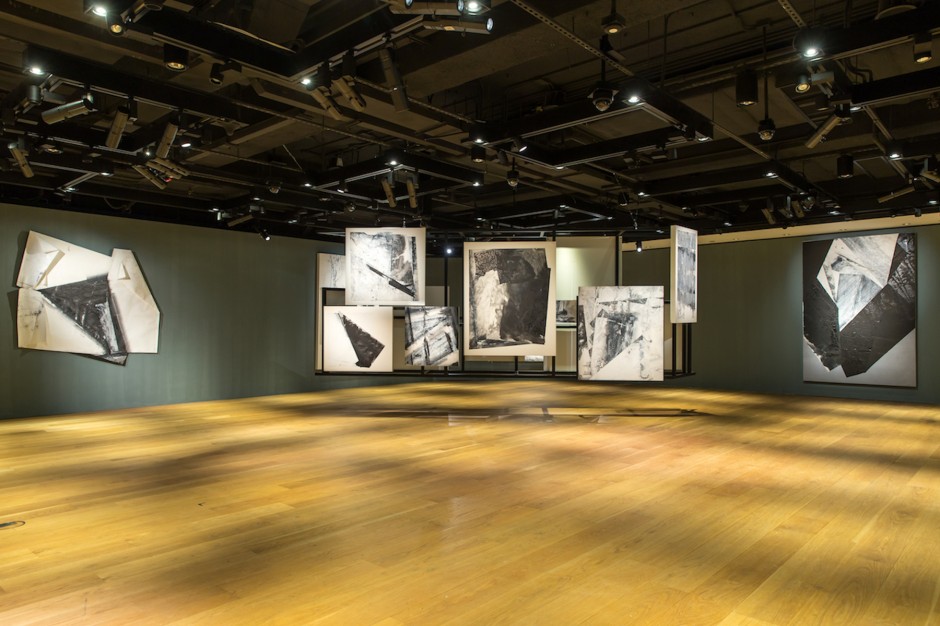 Also in Hong Kong: The MK Lau Collection is currently on view at art & event venue Duddells under the title 'A Taste of the Master II – Paintings from the MK Lau Collection' showcasing art from the 20th century, including ink paintings of leading masters Zhang Daqian, Lin Fengmian and Wu Guanzhong. Let us not forget to mention Chinese actress Zhao Wei who visited the solo show of Cai Xiaosong at Sotheby's in early May this year.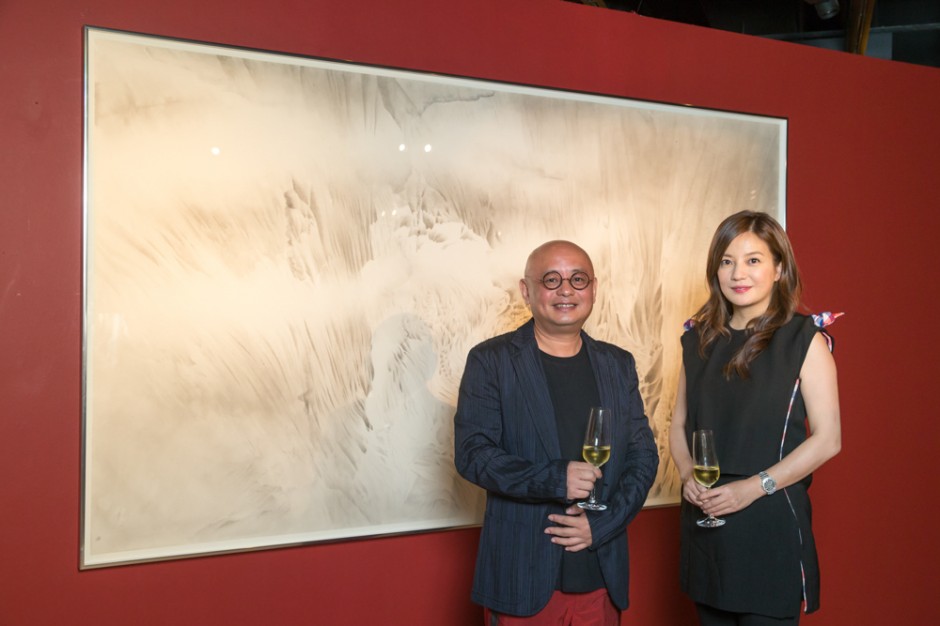 2.    The Marriage of Old and New Or From Food Porn to Videos
Ink painting is perhaps the medium where the marriage of old and new brings out the most interesting result. The art of dipping brush into black ink, which the tradition of Chinese art is deeply rooted in, is successfully being reformed by various artists in the contemporary era to resonate with their modern cultural identities. Over the years ink painting realised a surprising variety of mediums; it is no longer confined to works on paper or indigestible subject matters of the past. Some examples:
Shanghai-based artist Yang Yongliang uses video to create digital land- and cityscape. Appearing on first sight as classic paintings, the viewer realizes over time that elements such as ships, birds, or person are moving.
Li Jin, who is best known for his lush and colorful representations, is boldly playing with subject matters using ink, depicting sensuous men and women surrounded with food in various states of undress and sexual intimacy, to truly realize 'foodporn.'
Ni Youyu was awarded winner of the Chinese Contemporary Art Award – founded by Dr. Uli Sigg – in 2014: he focuses on the contemporary by having a foot in the past. This Summer the Kunstmuseum in Konstanz, Germany, will host his solo exhibition showing his Song-Dynasty inspired golden canvases.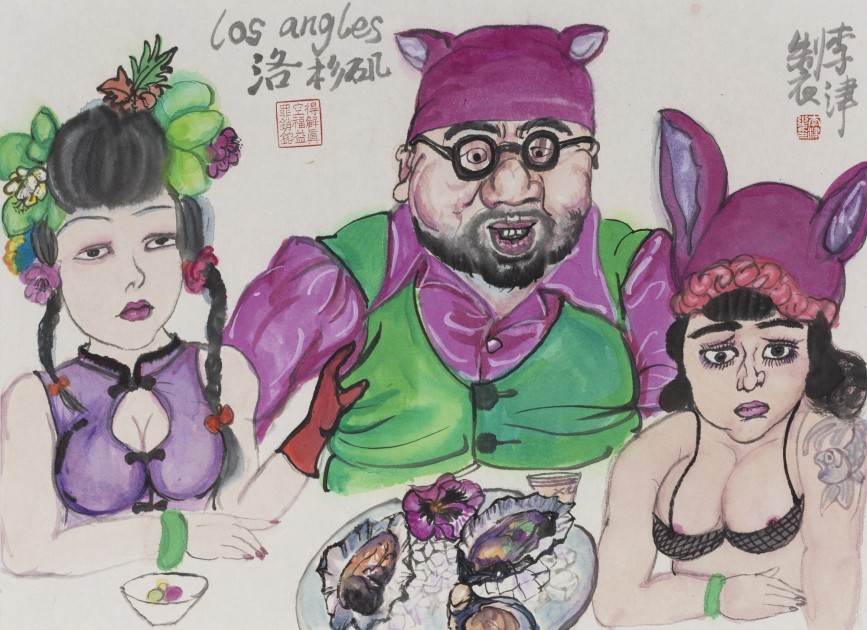 Sotheby's Los Angeles S2 Show 8-28 June 2017 – June 2017
Li Jin, b.1958
FOOD AND SEX 2017
ink and color on paper
24.5 by 33.4 cm; 9 5/8  x 13 1/8  in.
3.    No Place to Hide Or Not Accepting a Wrong Brushstroke
The distinctive characteristics of ink allows the artist to be as spontaneous as he wants, but a considerably long hours of training is required to result in a precise work with a high degree of completion and mastered skills on the genre of ink art.
Even one wrongly drawn brushstroke is not accepted on a Chinese paper, once drawn, no going back. Implying double meaning expressions, Qiu Zhijie* said in his manifesto that when you do Chinese ink painting, no assistant can help you, that there is no place to hide nor there is a way to withhold the truth. Instead, ink artists rather expose their life wholly by making experiences of their life visible in the painting. Passed on from the traditional Chinese painting, ink art incorporates spiritual and philosophical factors into the work.
*Qiu Zhijie, multidisciplinary artist and critic is the curator of the China Pavilion at this year's Venice Biennale.
4.    From MET to Venice Biennale
For decades, ink painting has gained recognition all over the world as the truly innovative art of Asia as exhibited at the Guggenheim, Metropolitan Museum of Art in New York and the Museum of Fine Arts in Boston, to the British Museum in London and the Guimet Museum in Paris to name but a few recent exhibitions. The Metropolitan staged an exhibition solely for ink art "Ink Art: Past as Present in Contemporary China" in December 2013-April 2014 that featured multi-faceted works by artists from Yang Jiechang to Ai Weiwei International art lover's festival – Venice Biennale – has been also showing a number of artists celebrating ink art throughout the main show. Plus, various positions, which make use of ink in their artistic practice, both in traditional and innovative ways, are featured throughout the national pavilions. Not surprising, the Chinese pavilion, is showing significant ink works by the leading conceptual artist Qiu Zhijie.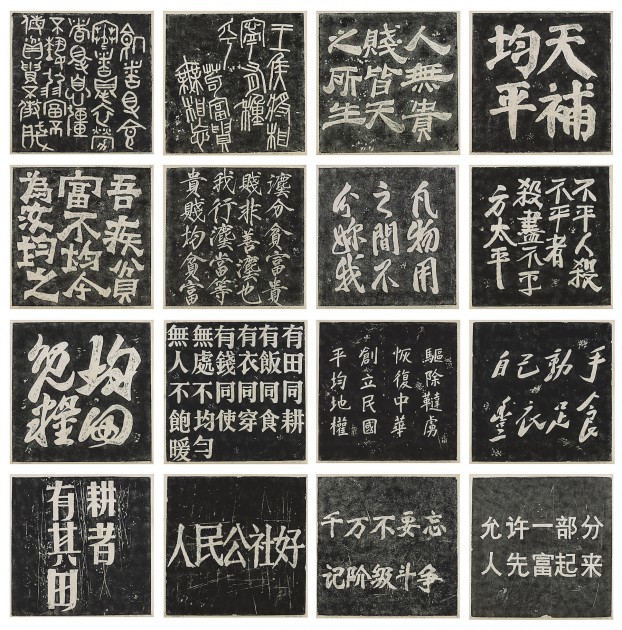 Sotheby's Hong Kong Auction: The Origo Collection – Contemporary Ink Art 4 April 2016
Qiu Zhijie b. 1969
MONUMENTS: REVOLUTIONARY SLOGANS OF SUCCESSIVE DYNASTIES (SET OF SIXTEEN WORKS) 2006
ink rubbings
each 80 by 80 cm; 31 ½  by 31 ½  in.
Estimate  150,000 — 250,000  HKD
LOT SOLD. 300,000 HKD
5.    Beyond China
The establishment of the Contemporary Ink Art at auction serves as a confident response to a general market that seeks to recognize artists using ink as a primary medium, many of whom have been trained or inspired by traditional painting in China. However, the influence of the arts in China and its radical painting concepts can be traced around the world for centuries.
Today, the boundaries are blurred between geographic origins, cultural backdrops, and interpretation of traditional concepts of artist's works. Ink is a medium widely used in art practices in Japan, Korea, the Middle East, Southeast Asia, Central and South Asia and beyond. Ink art is no longer confined to works on paper or subject matter and within China—and collectors are taking notice.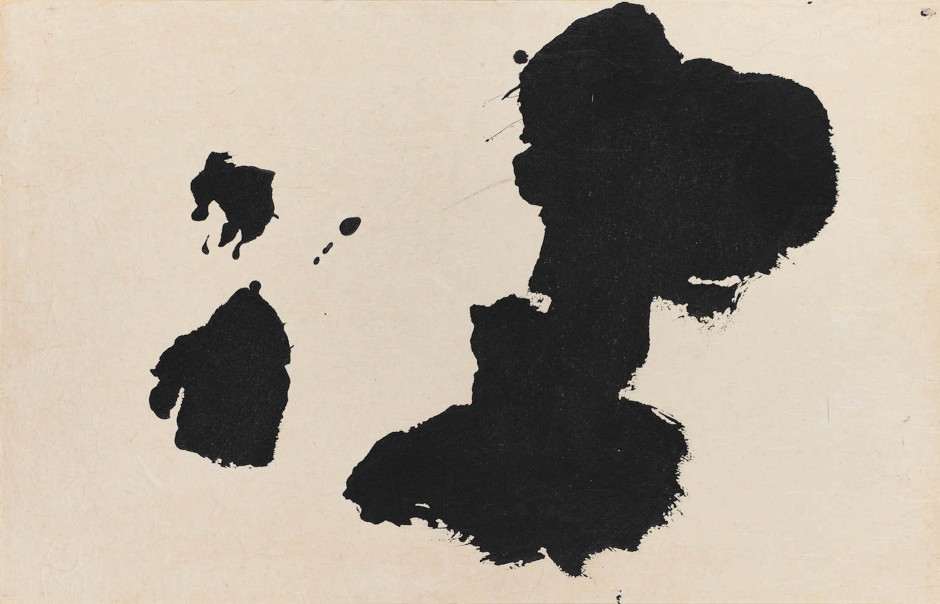 Sotheby's Hong Kong Auction: Contemporary Ink Art 4 April 2017
Morita Shiryu 1912-1998
SUGOI (GHASTLY COLD) circa 1960s
sumi ink on paper
59.1 by 91.8 cm; 23¼ by 36⅛ in.
Estimate  120,000 — 220,000  HKD
LOT SOLD. 287,500 HKD
6.    The Market On the Rise
Of course, let us not forget about the market: Auction houses are taking note of the market and reacting accordingly. Sotheby's Hong Kong is leading the way of the market by dedicating a department entirely to contemporary works of ink. Since 2013, they staged five dedicated sales of ink art with a continued momentum from HK$25million to HK$73million. Origo Collection, which is the first single-owner collection of contemporary ink art at auction was first presented in April 2016, achieving a total of HK$43.5million: The record of three-quarters of a private exhibition of 28 ink works by the artist Li Jin being pre-sold in Sotheby's in 2014 and Liu Dan's work was selling for up to a top price of HK$7million, which double exceeded its pre-sale value. The market unquestionably shows that contemporary ink art is 'on fire.'
If it is already 'on fire', still worth considering to enter the market? Maybe Sotheby's specialist Katherine Don has the answer ad she told the Financial Times: "Appealing price points nowhere near any other category."
Stay tuned for the next sales coming up at Sotheby's Hong Kong Contemporary Ink Art in October 2017…