Start the clock as Hong Kong art madness week has begun. Prepare for the city to be overtaken by a flock of sundry art collectors from the blue-chip buyers to the niche collectors, battling it out for the best names and greatest artworks. Get ready for the launch of various cultural events, gallery openings and VIP parties, attracting the enthusiastic art collector socialites. It will be easy to be overwhelmed by choice. Therefore, we decided to  predict and select the main events and venues art collectors are bound to attend. So, fill up your calendars and have your Google Maps at the ready, as Larry's List gives you the lowdown on the places to go, to  "bump into" the top and prominent art collectors during Art Basel HK.
Good week, and good luck…!
1. Art Basel Collectors Davidoff Lounge: the VIP gravitational force field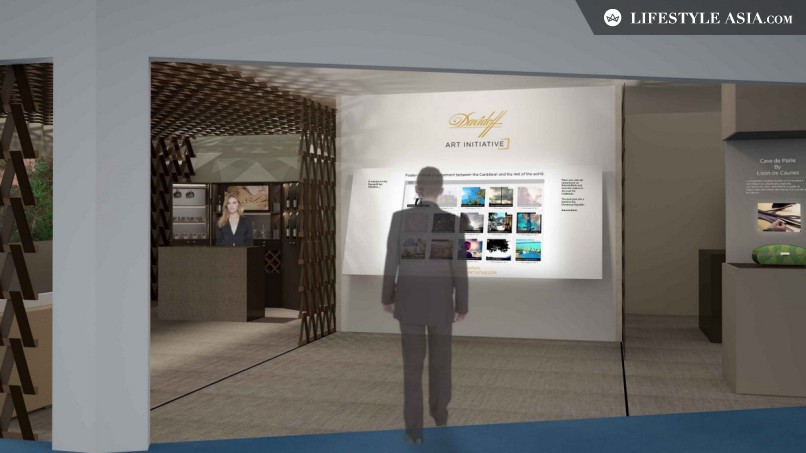 Art collectors with a VIP ticket will gravitate to this exclusive lounge where the elite, the wealthy and cigar enthusiasts will come to mingle or rest from the taxing studying of booths. This brand new Caribbean-inspired lounge, designed by Swiss design firm Atelier Oi, will showcase the Davidoff Art Initiative along with photographs by Dominican artist Políbio Diaz, with the aim to promote emerging contemporary art from the Dominican Republic and the Caribbean.
2. Mandarin Oriental, Pierre: a taste of luxury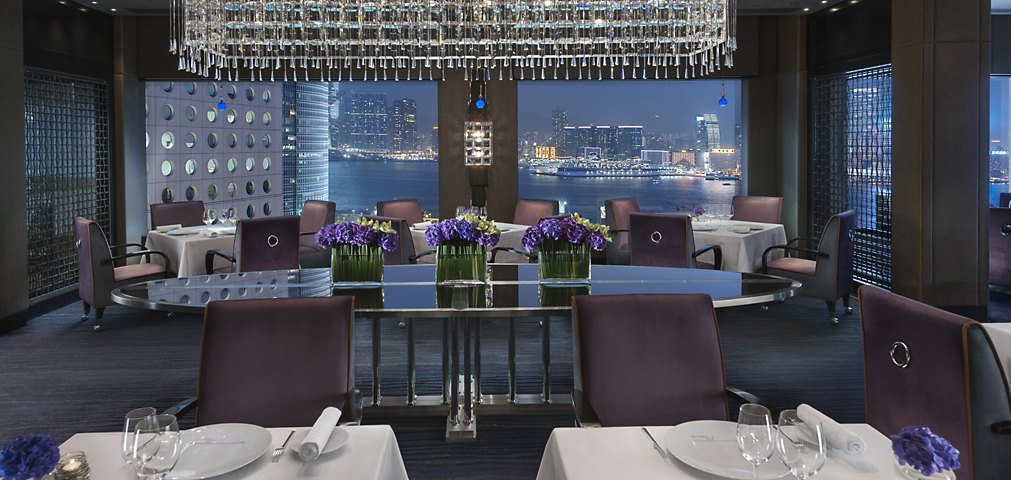 The Michelin-starred chef Pierre Gagnaire has concocted an art themed seven-course menu inspired by the works from the UBS art collection, available from the 11-21 March 2015. The works by MadeIn Company, Lee Ufan, Cy Tombly and Sigmar Polke will also be on exhibit in the restaurant during this period. Additionally, the Clipper Lounge will showcase an installation by SCAD alumnus and by artist Jason Hackenwerth. Expect the presence of big spender collectors ready to splurge on tasteful edible art; or those who couldn't find their happiness in the art fair, reverting to expensive food to fill the void.
Address: 25/F, 5 Connaught Road, Central.
3. China Club: "you can't sit with us."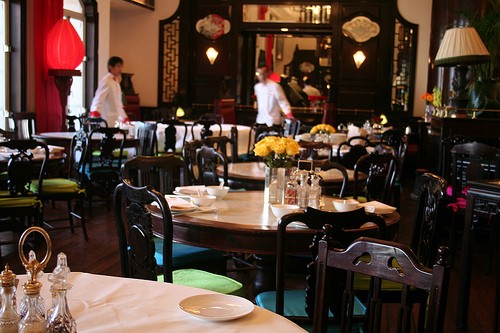 Where the privileged come to eat and drink, China Club is a members-only restaurant attracting the crème-de-la-crème crowd of expats and high society types. The restaurant serves traditional Hong Kong Chinese food in a Shanghai-style atmosphere. You can expect a distinctive selection of high brow art collectors taking a break from the hustle bustle of the art fairs.
Address: 3/F, The Old Bank of China Building, Bank Street, Central.
4. VIP Shuttle Bus: a little more conversation, a little less walking
For those who possess the VIP card, it will not only grant them access to the Davidoff Lounge but also to the VIP shuttle bus which travels from the Mandarin Oriental hotel to Art Basel art fair. It is a perfect opportunity to strike up a little conversation with fellow collectors and art enthusiasts to either share thoughts or to check out the competition.
5. Emmanuel Perrotin has another party up his sleeve.
For those who will want to let loose after keeping up appearances by slowly strolling down the corridors, Galerie Perrotin has an  exciting evening prepared.  Renowned for his entertaining art openings and parties, the French art dealer Emmanuel Perrotin will surely not disappoint this weekend. The gallery will be hosting an invite-only preview opening for the artist JR on the weekend, with Brit electronica duo Basement Jaxx. The cool kids and fashionable socialite collectors are bound to make their way to Connaught Road for this exclusive event.
Address: 50 Connaught Road, Central.
6. Pedder Building: Bedder get there early.
Start rummaging your way to Central and Hollywood Road; for Thursday night is Art Gallery Night on the 12th March. Art collectors will be making their way to leading galleries including White Cube, Galerie Perrotin and Pace gallery. These galleries will be presenting stellar shows to start off the art fair weekend. Pedder Building will be a popular venue with international renowned galleries stacked up in the tower such as Pearl Lam and Gagosian. However, it is advised to get there early to avoid the never ending queue in the cramped busy street of Pedder and from being intoxicated by Abercrombie & Fitch's perfume next door.
Address: Pedder Building, 12 Pedder Street, Central.
7. Duddell's: "Hong Kongese"
Duddell's will be kicking off their new exhibition "ICA Off-Site: Hong Kongese" on Thursday 12th, showcasing local and international artists in collaboration with the Institute of Contemporary Arts's (ICA) director Gregor Muir and co-curated by Al-Senussi and Abdullah Alturki. The exhibition will challenge perceived notions and stimulate debate, experimentation, creativity and exchange with visitors. The show will bring together 20 artists including Zeng Hong, Haroon Mirza and Dexter Dalwood.
Sitting on top of David Tang's flagship store Shanghai Tang, collectors will surely find it to be worth a detour for one last splurge before dinner or drinks.
Address: Level 3, Shanghai Tang Mansion, 1 Duddell Street, Central
8. Chai Wan Nite: a party in an industrial building
Chai Wan Nite is considered to be the most anticipated party on the annual arts calendar. The invitation-only event on Saturday 14th March will present an exciting line up of live acts from China with European DJs. With the artistic direction from the MAP office, an industrial space will be converted into a performative and music platform built from recycled materials from Chai Wan's industrial buildings. The event will also feature a large neon work created by Rirkit Tiravanija, a multifaceted concert by Didier Faustino and a music programme put together by Shane Aspegnen.
Location: Chai Wan
9. MIRA – Absolut Pop Up Bar at Vibes: Warhol drinks and more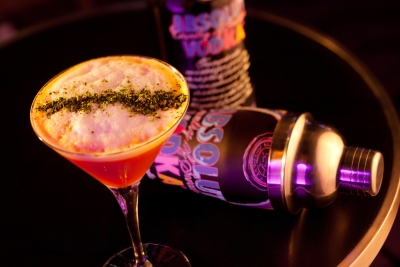 The alfresco lounge bar Vibes, located at the modish hotel MIRA in Kowloon, collaborated with Absolut Art Bureau to produce a pop up bar installation, featuring Secret Walls x HK artists who will create live digital mural impressions. What is more, Vibes has also prepared limited edition Andy Warhol inspired cocktails to tickle your tastebuds.  It will be the trendiest venue to celebrate Art Basel HK.
Their opening night launch will be on Thursday 12th March from 7pm-9pm.
Address: Vibes, 5/F, The Mira Hong Kong, 118 Nathan Road, Tsim Sha Tsui, Kowloon
10. Upper House: breakfast with a view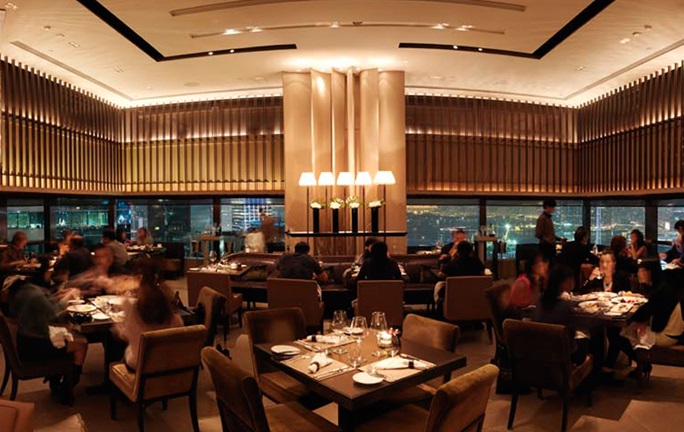 With the many art fairs, exhibitions and parties it may be difficult to find time to visit Hong Kong in all its glory. Yet, those who will stay at Upper House, one of the  luxurious hotels nearby the art fairs in Admiralty, will have the chance to get a glimpse of Hong Kong before the day even starts. Indeed, the breakfast venue is located at Café Grey Deluxe, which offers a stunning view of Victoria Harbour. Upper House will be a popular choice of accommodation by art collectors and art professionals alike.
Address: Level 49, The Upper House, Pacific Place, 88 Queensway, Admiralty.
Claire Bouchara