As we all know, collecting takes time and space: two precious elements art collectors wish they had more of. Lack of walls is a frustrating issue for our beloved collectors, but rather than bulldozing them down out of anger (hopefully not on a wrecking ball), some have opted to hire an architect or designer to completely remodel their homes to put their art center stage. Such collaborations have resulted in the most eccentric and boldest interiors, demonstrating there is no need to compromise comfort for design.
Marvel at some of the best extravagant and colourful art collector houses, as Larry's List gives you an insider's view of their daring interior design; from the opulent to the minimalist.
No need to knock, just come in.
1. Disco Madness: Tommy and Dee Hilfiger, Miami Florida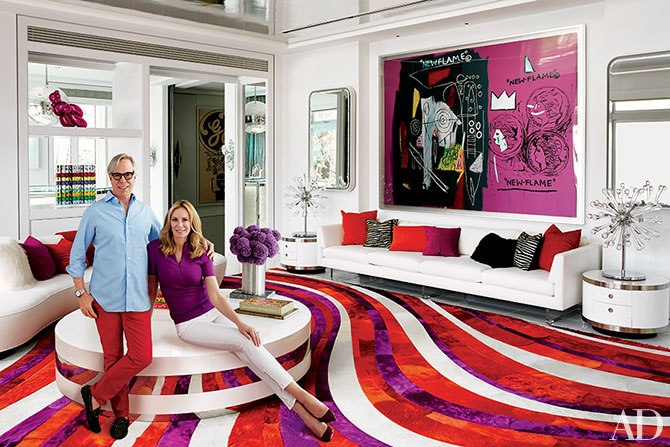 Architect: Martyn Lawrence Bullard
Location: Miami, Florida
"If it's not shagaledic or groovy, it's not coming into the house" said Dee Hilfiger's, Tommy Hilfiger's wife, to famed architect Martyn Lawrence Bullard, who transformed their Miami beach house into a polychrome palace with vibrant and "groovy-chic" furnishings. It was important for the couple to showcase their colourful large scale art works of pop and post-pop with artists featuring Damien Hirst, Keith Haring, Andy Warhol, Jean Michel-Basquiat and Tracey Emin, within a different atmosphere and decor from their other houses. Bullard thus designed a 1960-70s disco madness style interior with a kaleidoscopic array of colours, materials and furnishings "screaming glamour and sex appeal."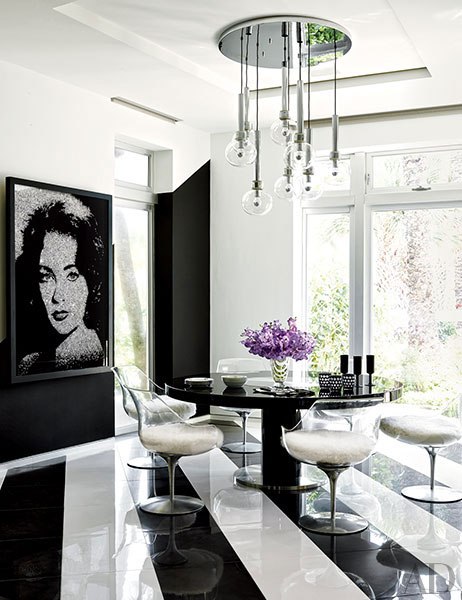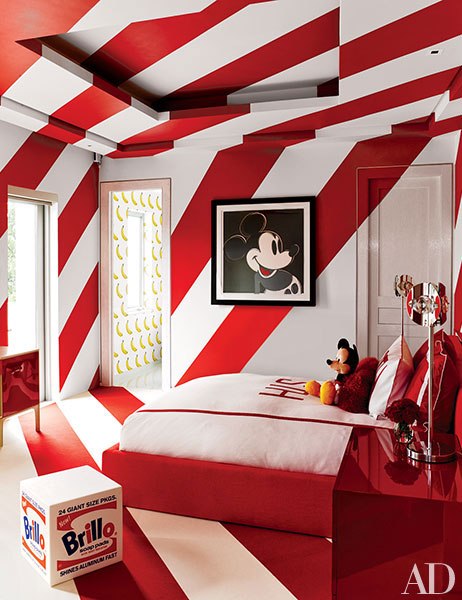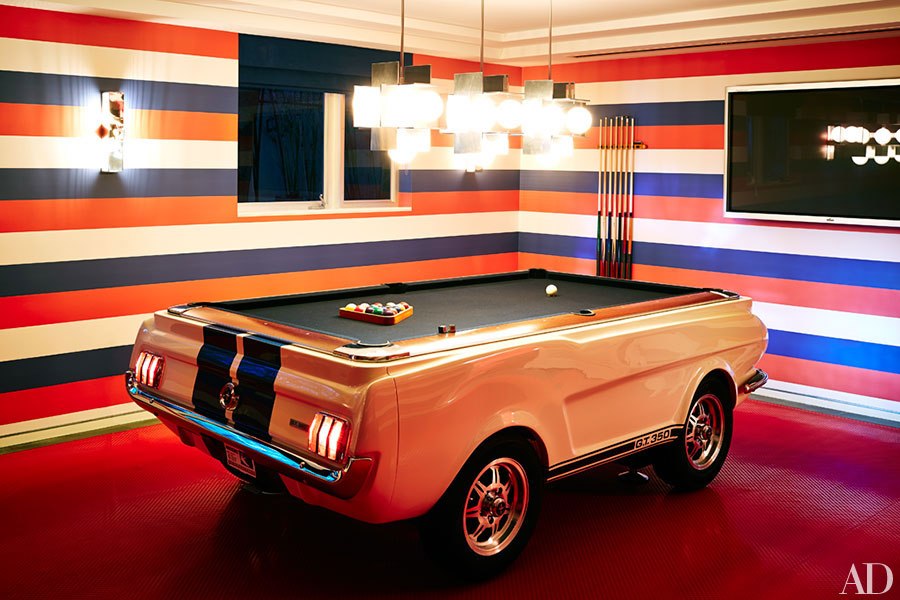 2. Minimalist Pop: Richard and Lisa Perry, Manhattan New York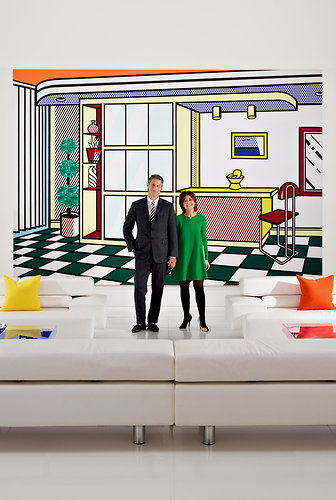 Architect & Designer: David Piscukas & Tony Ingrao
Location: Manhattan, New York
With a more minimalist take on pop art interior design, fashion designer and growing art collector and buyer Lisa Perry, decorated her Manhattan penthouse as a tribute to the 1960s. This 2000 sq ft victorian-style home with fortunate high ceilings was transformed into a modern space with minimal lines and white interior, resulting in a futuristic space by architect David Piscukas and designer Tony Ingrao.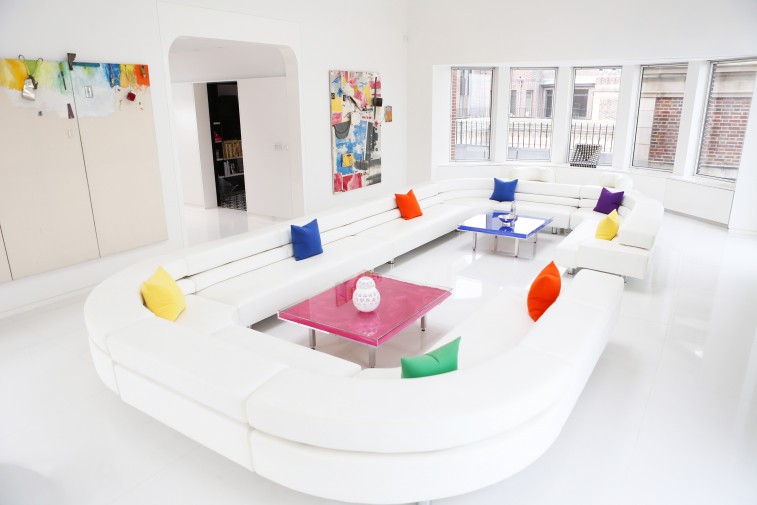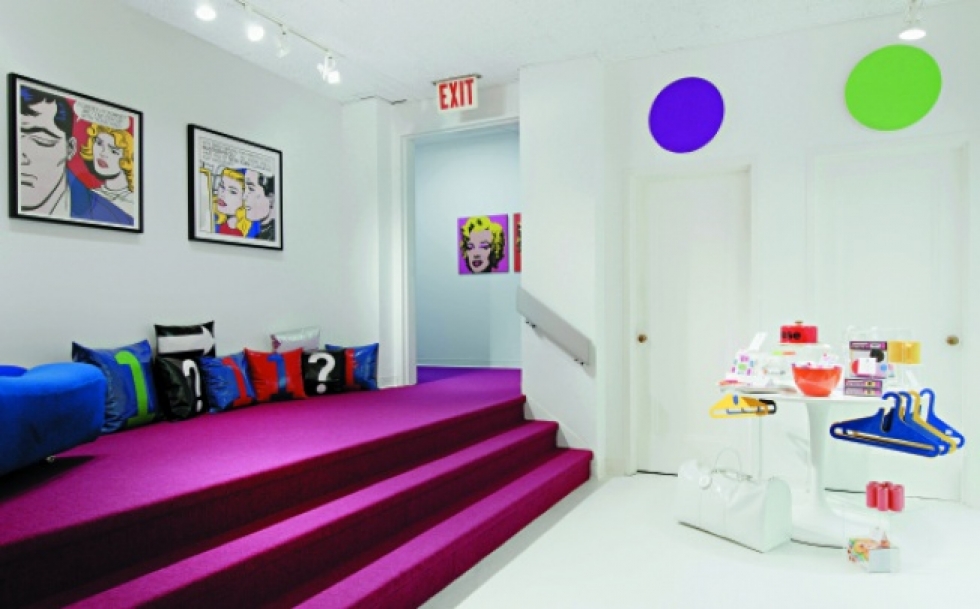 3. Baroque Pop Art Fusion: Aby and Samantha Boardman, Manhattan New York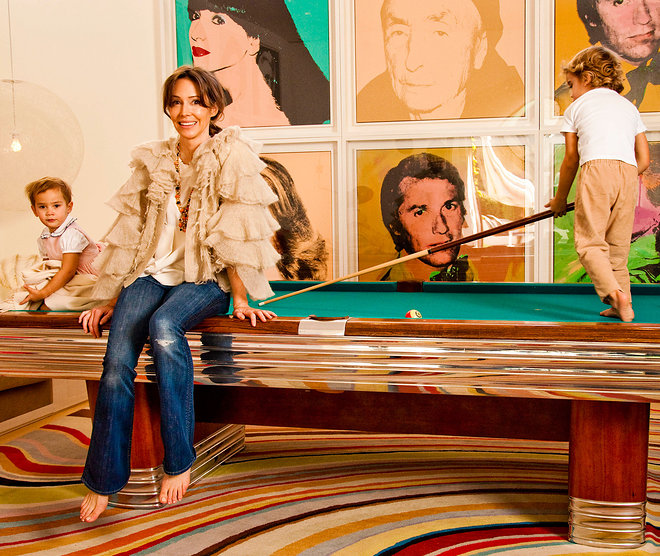 Architect & Decorator: William T. Georgis
Location: Manhattan, New York
Samanthan Boardman M.D and the real estate mogul Aby Boardman knew exactly how they wanted their house to be, with the help of architect and designer William T. Georgis. With an art collection including more than 800 pieces with sculptures and antiques and artists by the likes of Andy Warhol and de Kooning, their Manhattan townhouse was revamped into a baroque-like chic home. The fusion of glamour and eccentricity is represented across the house, where each room has a different feel and personality, such as the "Game Room" where the walls are complete with Andy Warhol portraits. The baroque touches are found in the living room with an enormous chandelier and an ornate gold mirror.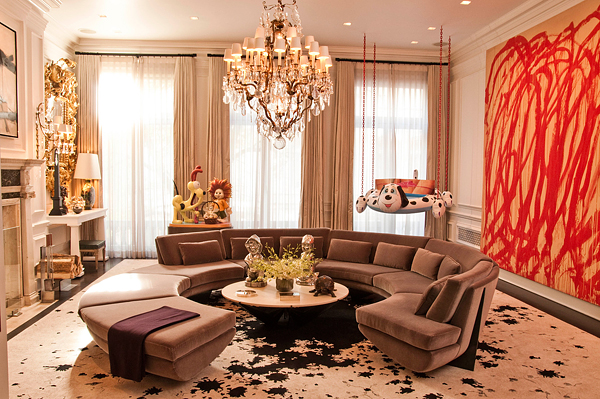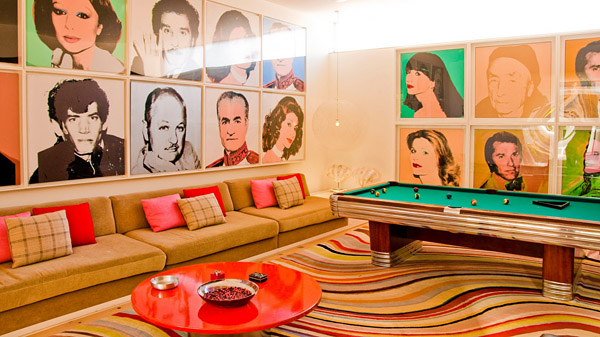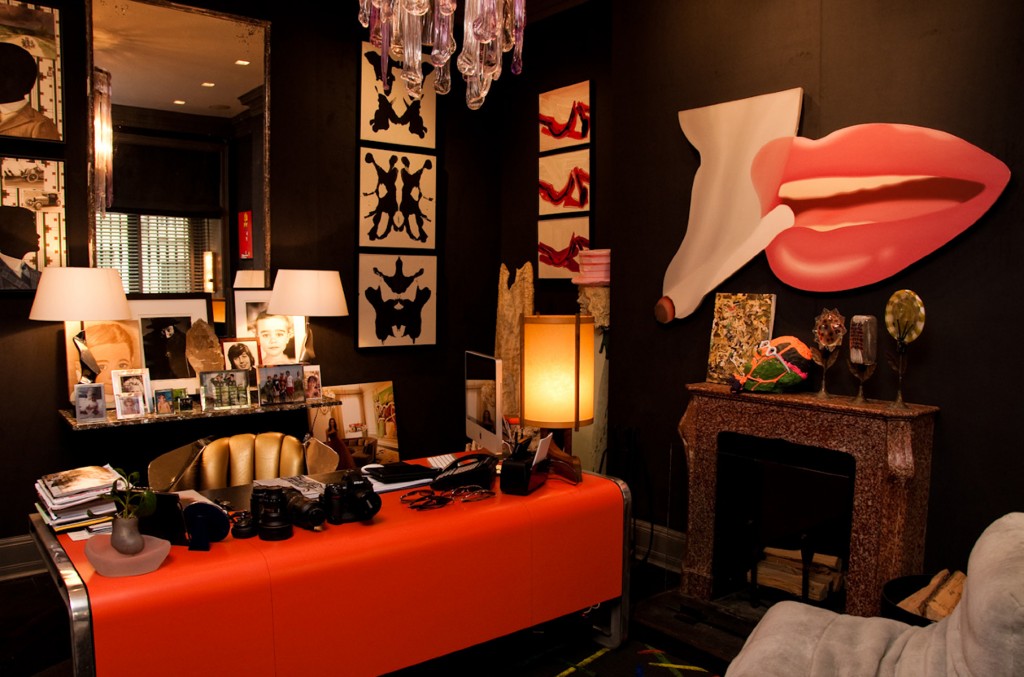 4. "Prismatic Loft": Canadian Art Collector, Montréal Canada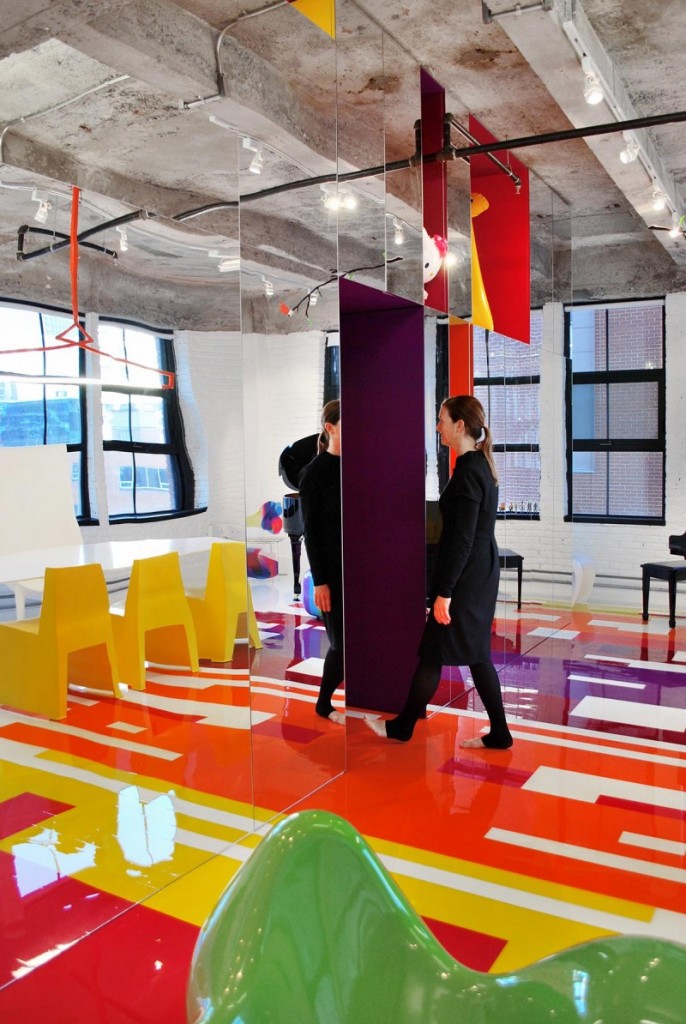 Architect: Jean Verville
Location: Montréal, Canada
This colourful and open space loft shows a perfect amalgam of style and efficiency. Designed to house a collection of contemporary art and design pieces, architect Jean Verville transformed this 15,069 sq ft home into a  vibrant three-dimensional space using the client's five favourite hues. The yellow which is spread across the walls and floors helps to hide the storage spaces and hence creates a dynamic interior design despite the absence of usual furniture. In addition, while the colours make up an interesting and playful space arrangement, the pure white details soften the overall atmosphere.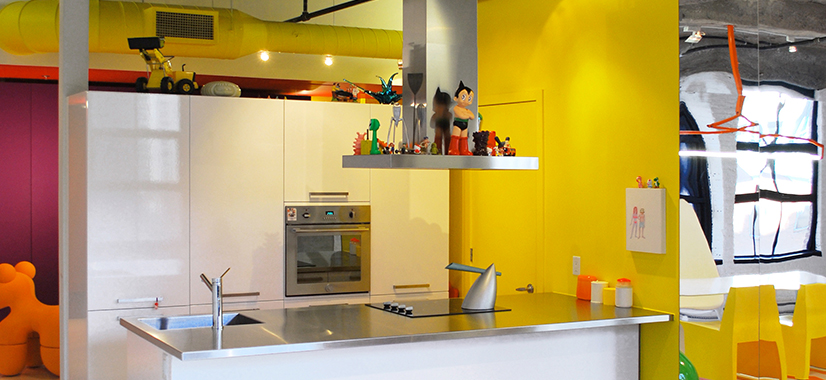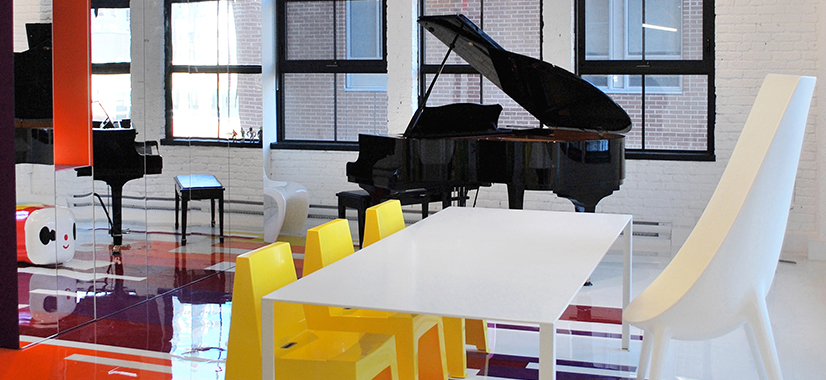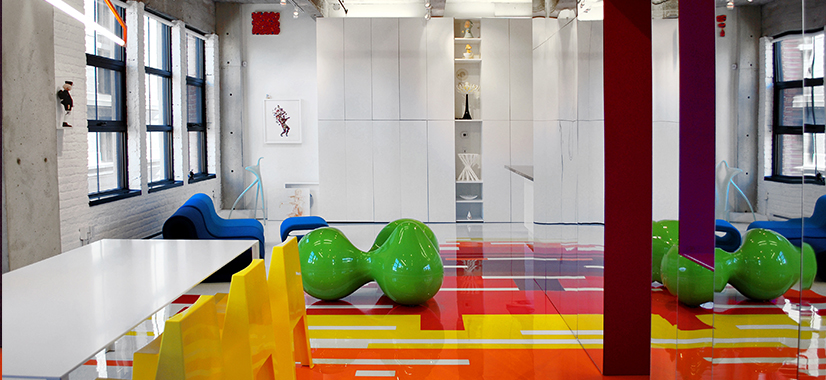 5. Quirky Colourful : Holly Hager, SoHo New York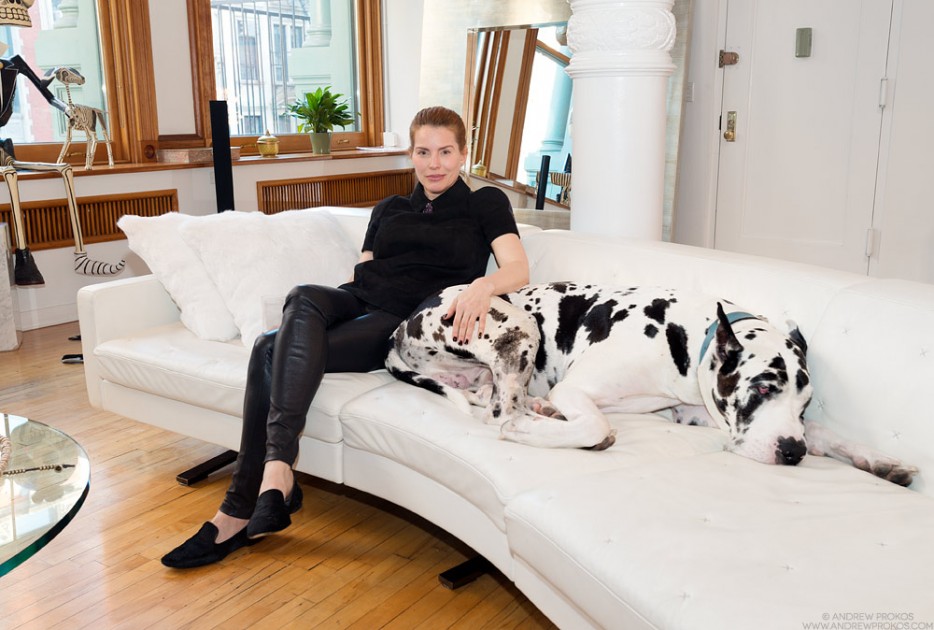 Location: SoHo, New York
This spacious art-filled SoHo loft, owned by art writer, art collector and founder of Curatious Holly Hager, provides an ideal environment for art display. The added white partition walls in juxtaposition with the red brick walls surrounding the home give a homelike art gallery appeal to the loft. The subtle colours of the furnishings put the vibrant artworks in the limelight, giving a touch of personality and quirkiness to the home.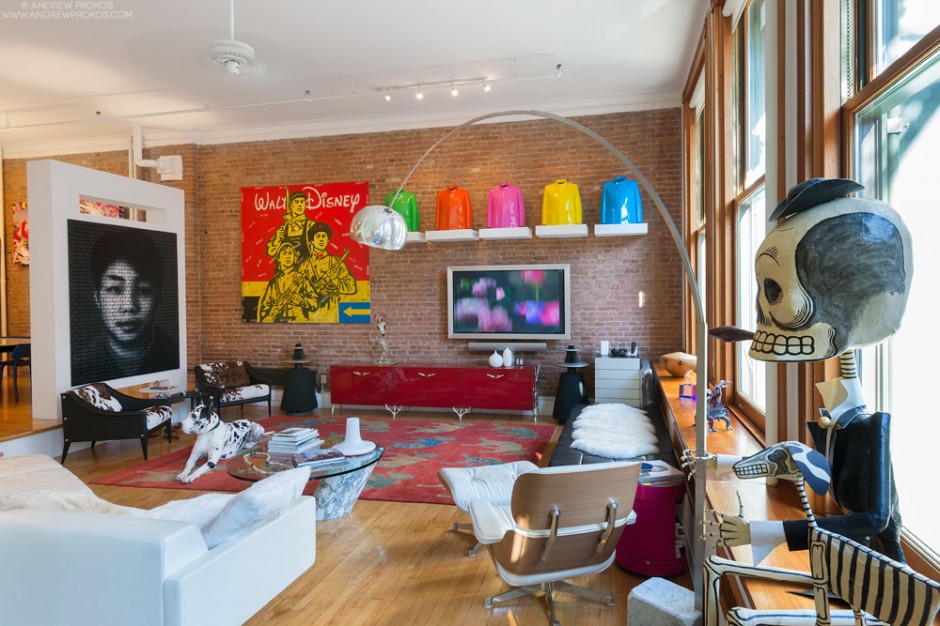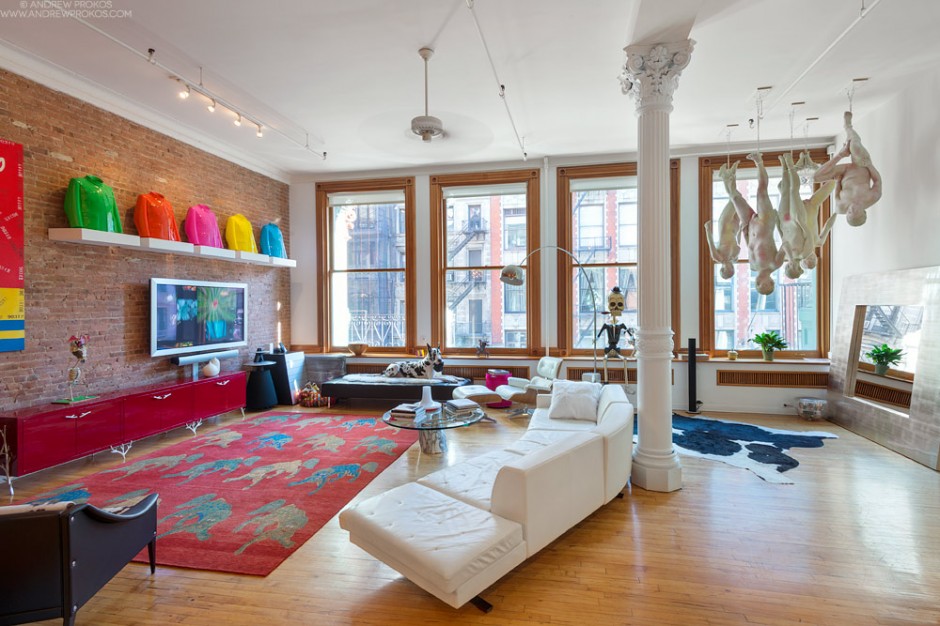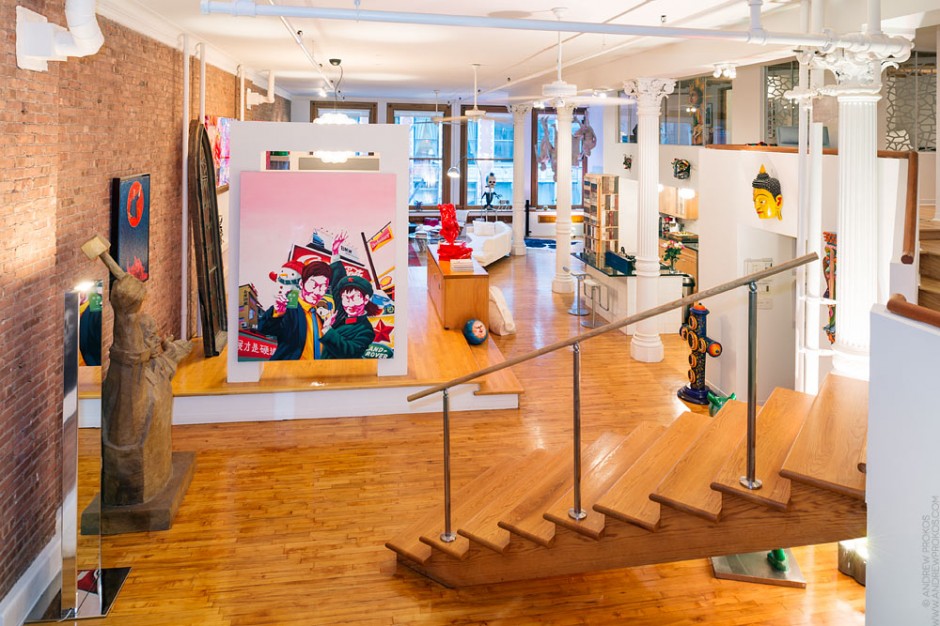 Claire Bouchara