This week in Hong Kong: Phillips Auction confidently presents two major sales, Warhol in China and the 20th Century & Contemporary Art & Design Evening Sale, tempting collectors with a top quality selection of highly sought-after artists.
On the 28th of May, 'Warhol in China' will auction over 200 unique photographs which were taken by Andy Warhol during his trip in Hong Kong and Mainland China in 1982. Right after, Yoshitomo Nara will take the baton as a main representative of the '20th Century & Contemporary Art & Design' evening sale, along with works by Ed Ruscha, Danh Vo, and Anselm Kiefer. Will we see sales in excess of 100 million Hong Kong dollars?
Larry's List recommends top 10 highlights from the auctions on May 28, 2017, for our collectors.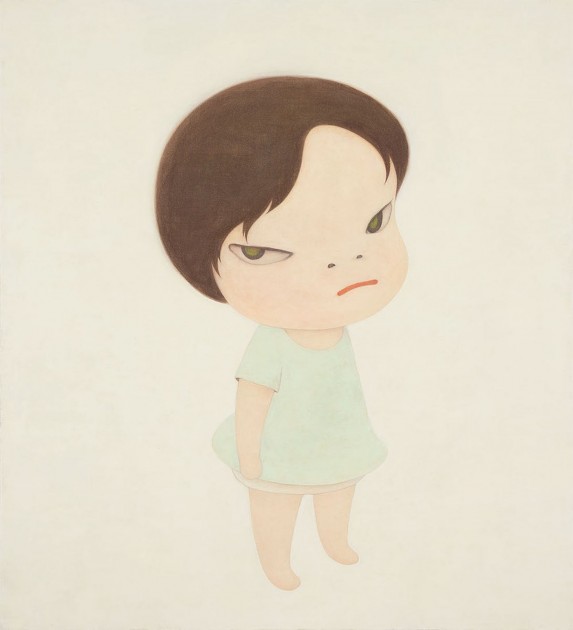 Last Warrior / The Unknown Soldier, 2000
Acrylic on canvas
165 x 150 cm
Estimate:
HK$20,000,000 – 30,000,000
US$2,560,000 – 3,850,000
Nara's works have made their way into public and private collections around the world from Zabludowicz Collection to Long Museum, from MOMA to Leeum, Samsung Museum of Art. The 'Last Warrior / The Unknown Soldier' is a superlative example of Nara's renowned portraits of children. Exceptional in its painterly execution as well as choice of colour palette, it is among one of Nara's best works to appear at auction in recent years.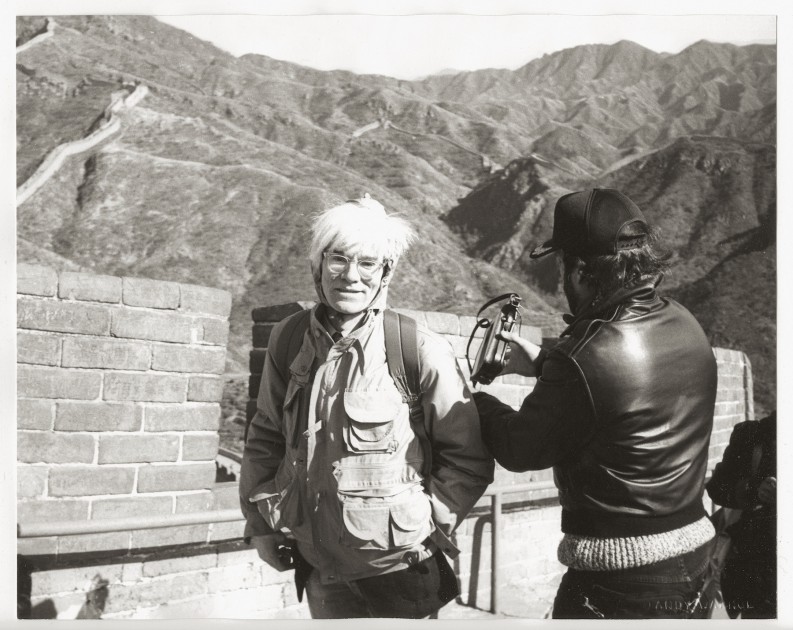 © 2017 The Andy Warhol Foundation for the Visual Arts, Inc. / Artists Rights Society (ARS), New York.

Andy Warhol at the Great Wall, 1982
Gelatin silver print
20.3 x 25.4 cm
Estimate:
HK$120,000 – 180,000
US$15,400 – 23,100
This work is offered in 'Warhol in China', a standalone auction of over 200 unique photographs and hand-drawn pieces taken during Warhol's trip to Hong Kong and Beijing in 1982. This rare collection has never been offered at auction in its entirety, and this particular photograph captures an intimate glimpse of Warhol as a tourist rather than the famed paparazzo.
3)    ZHANG ENLI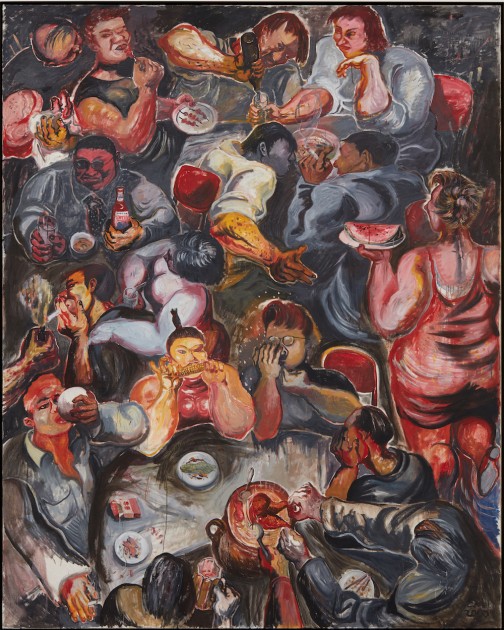 Eating #4, 2000
Oil on canvas
247.7 x 198.1 cm
Estimate:
HK$5,500,000 – 7,500,000
US$705,000 – 962,000
This work exemplifies Zhang Enli's mastery of portraying psychological nuances, and is one of the finest examples of the artist's renowned Portrait series to ever come to auction. Standing  two and a half metres tall, this impressive painting is a masterwork that offers a probe into the life experience of Chinese people and contemporary society.
Voyage au Bout de la Nuit (Journey to the End of the Night), 2004
oil, acrylic, emulsion and metal on canvas
190.5 x 283 cm
Estimate:
HK$5,500,000 – 7,500,000
US$705,000 – 962,000
Standing almost two metres tall and absorbing the viewer in its vast, variegated surface, this monumental canvas by Anselm Kiefer takes its title from the famous novel from 1932 by Louis Ferdinand Céline about nihilism and defying any singular philosophy, and reflects Kiefer's deep fascination with the grand morass of history and humanity.
5)    JONAS WOOD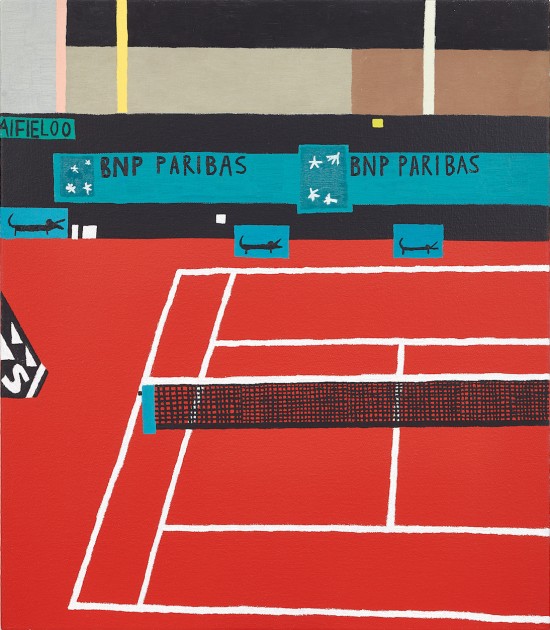 Mini French Open, 2012
oil and acrylic on canvas
59 x 51 cm
Estimate:
HK$400,000 – 600,000
US$51,300 – 76,900
Jonas Wood's oeuvre is most notable for his reconsideration of the golden era of 20th Century American painting, drawing fine comparisons to artists such as Edward Hopper. Wood creates bold works that that distill and deconstruct the subjects from quotidian life, and render them in colour blocks that reflect an interest in abstraction.
6)   DANH VO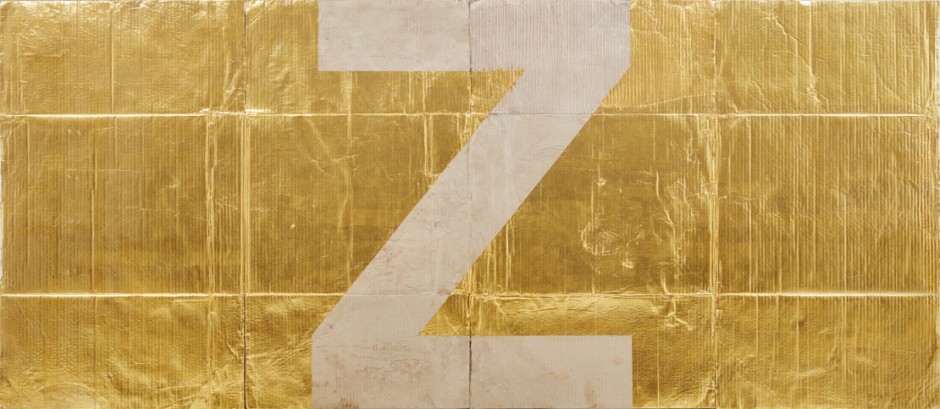 Alphabet (Z), 2011
gold leaf on unfolded cardboard box
91 x 213 cm
Estimate:
HK$1,500,000 – 2,500,000
US$192,000 – 321,000
Danh Vo's 'Alphabet (Z)' illustrates the artist's principal ideas of coexistence or perhaps convergence – where discarded Vietnamese cardboard boxes are lined with opulent gold leaf, and ironically given the same treatment as sanctified objects in Southeast Asia.
7)    GEORGE CONDO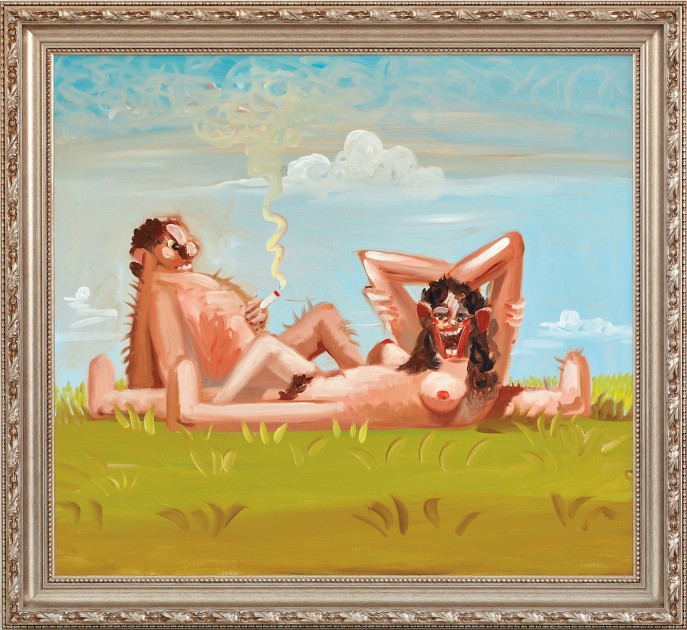 Naked Lunch, 2008
oil on canvas
91.7 x 102 cm
Estimate:
HK$1,400,000 – 2,400,000
US$179,000 – 308,000
Known for his signature brand of figuration featuring fractured portraits, bold lines, and aggressive imagery, Naked Lunch is the American painter's humorous recontextualization of Manet's famed 'Le Déjeuner sur l'herbe'.
Small Flies and Other Wings, 2013
oil on canvas
165.3 x 150.5 cm
Estimate:
HK$900,000 – 1,200,000
US$115,000 – 154,000
Ruminating on the transitory nature of living and fragility of life, 'Small Flies and Other Wings' is composed of wings of various insects in recognition of the ephemeral and fleeting beauty of the creatures, as a commentary from Ay Tjoe on frenetic urban societies where one's mark is often untraceable.
Fin de Fiesta, 2009
oil on canvas
167 x 208.2 cm
Estimate:
HK$4,600,000 – 6,200,000
US$590,000 – 795,000
This candy-colored 'Fin de Fiesta' reprises the brothel scenes that have long been a feature in Botero's work, where the Colombian artist observed beauty in all vagaries of the human body and humor, in its fleshy flamboyance and grandiosity.
10)    SHIRO KURAMATA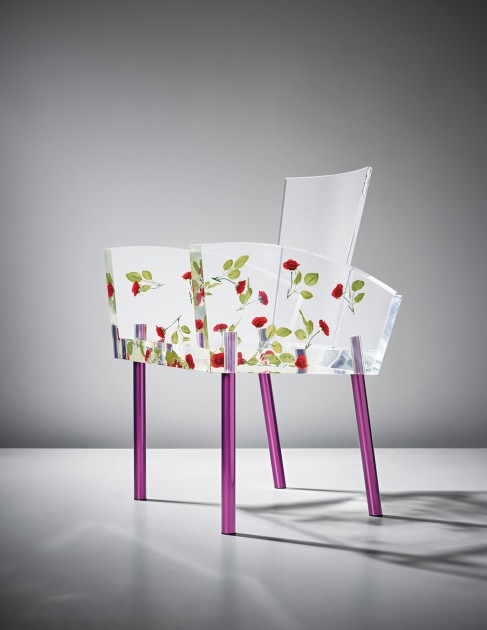 'Miss Blanche' chair
Designed 1988
Acrylic, synthetic roses, anodised tubular aluminium
90.8 x 62.8 x 59.8 cm
Estimate:
HK$2,200,000 – 3,200,000
US$282,000 – 410,000
One of Japan's most revered 20th Century designers, Kuramata was an influential and creative tour de force. Highly desirable, an edition of 56 'Miss Blanche' chairs were produced and are part of institutional collections such as the Museum of Modern Art in New York, the Museum of Modern Art in San Francisco, the Dallas Museum of Art and M+ Museum in Hong Kong.