We all say the best way to a man's heart is through his stomach. Yet, this may no longer ring true today, especially for those who work with food daily such as professional chefs. Despite food holding an ever important place in the minds of cooks, another element seems to have made its way into their hearts and it wasn't through their stomachs. In our increasing visual world, chefs found art to be another source of emotion as a majority of them have been collecting art and displaying the collection either in their homes or in their restaurants.
The boundaries between gallery and restaurant are increasingly becoming blurred. More and more restaurants are becoming the ideal venue to hang and exhibit art works. What better way to attract a crowd to art other than food? Restaurateurs are even taking on the role of curators such as Mr Chow, Mourad Mazouz of Sushi Samba, working with and commissioning artists to create one of a kind pieces for their restaurant. Chinese collector Chong Zhou even dedicated his restaurant "Le Petit Cochon Vert" to display his art (see: Interview with Chong Zhou). For other professional cooks, it is a way to fuel their creativity into creating innovative delectable menus and to enhance diners' experience.
With a cup of passion, a pinch of love and a sprinkle of creativity, Larry's List present the chefs who each made the recipe of a great art collection.
1. Massimo Bottura
Restaurant: Osteria Francescana (Modena, Italy)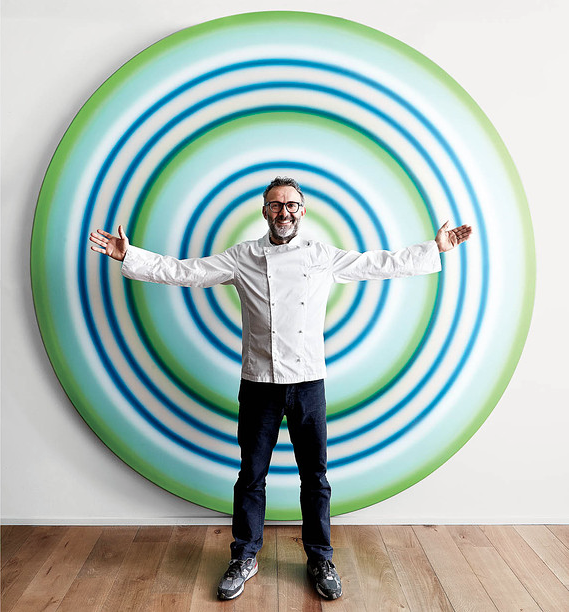 The famed Italian chef Massimo Bottura, portrayed as the Jimi Hendrix of Italian chefs, possesses a world-class collection of contemporary art, with pieces exhibited at his restaurant Osteria Francescana and his home, which serves him as inspiration to create exceptional menus for his Michelin-star restaurant. The venue houses works by artists such as Maurizio Cattelan's pigeons, Gavin Turk's "Bin Bag" as well as pieces by Olafur Eliasson and Mario Schifano. His home is also graced with works by David Salle, Robert Longo and Vik Muniz. He is a man who loves big pieces and has long standing connections with artists, collectors and gallery owners who are some of Bottura's childhood friends.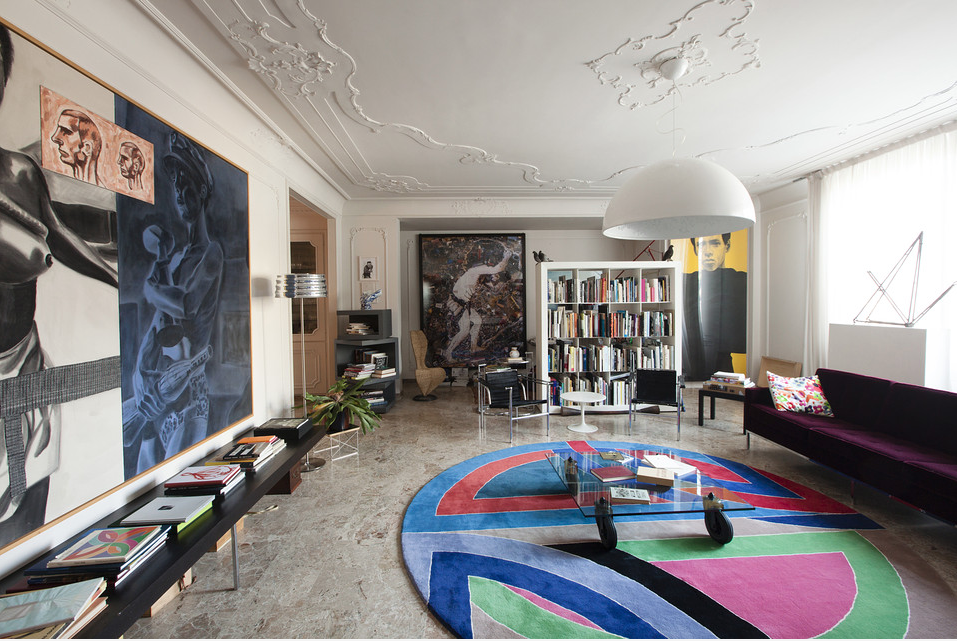 Quote: "The plating is 'fake casual'. We use colour like Damien Hirst in his spin paintings."
2. Leah Chase
Restaurant: Dooky Chase (New Orleans, Louisiana USA)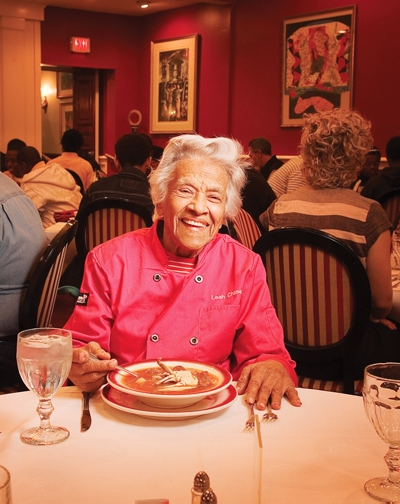 Leah Chase, known as the "Queen of Creole Cuisine", is the chef executive of New Orleans-based restaurant Dooky Chase. Her husband  Edgar 'Dooky" Chase and herself are patrons of African American art and have helped create opportunities for these artists to showcase their talents. Their collection displayed on the walls of their restaurant, was at the time considered New Orleans' best collection of African American art. The colourful dining rooms exhibit the paintings of renowned artists such as Elizabeth Catlett, John Scott, Jacob Lawrence, Bill Hutson and Winston Falgout.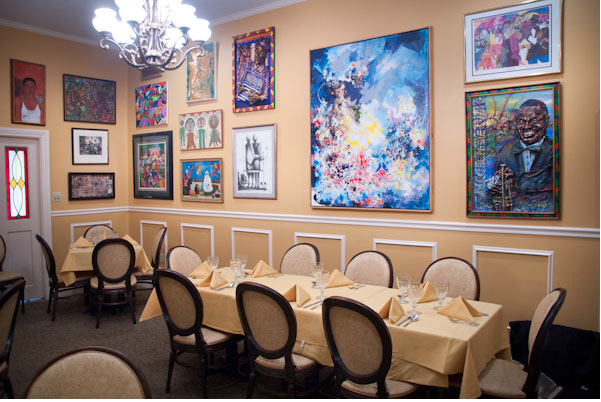 Fact: She famously told Barack Obama not to put any hot sauce on her gumbo until he had tasted it first. 
3. Pierre Gagnaire 
Restaurants: Pierre, Mandarin Oriental (Hong Kong) and Hotel Balzac (Paris, France)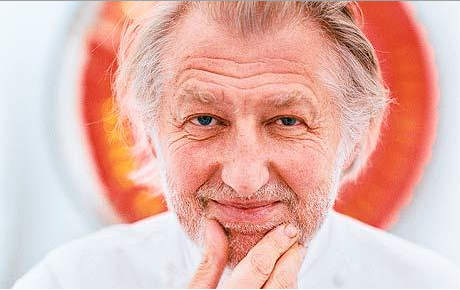 Pierre Gagnaire was one of the first chefs to embrace the idea of food as art. He is famed for creating luscious works of art on each plate (see: Where to spot the top collectors during Art Basel HK 2015) and marks his culinary eras by dish and year, like a painter. However, his connection to art does not end there. He is known to visit galleries to seek inspiration for new dishes for instance in Hong Kong to Ben Brown Fine Arts and Angela Li gallery for his restaurant Pierre at the Mandarin Oriental. Additionally, his love for art and his spontaneous personality led him to create his own art collection of food-related photographs featuring Marc Riboud and Willy Ronis.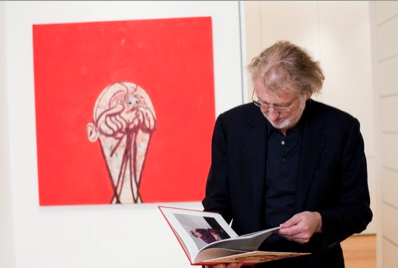 Quote: "I buy art that provokes a big reaction in me and that's what art should be."
4. Mark Hix
Restaurants: Tramshed (London, UK) & Hix (Belgravia and Soho London, UK)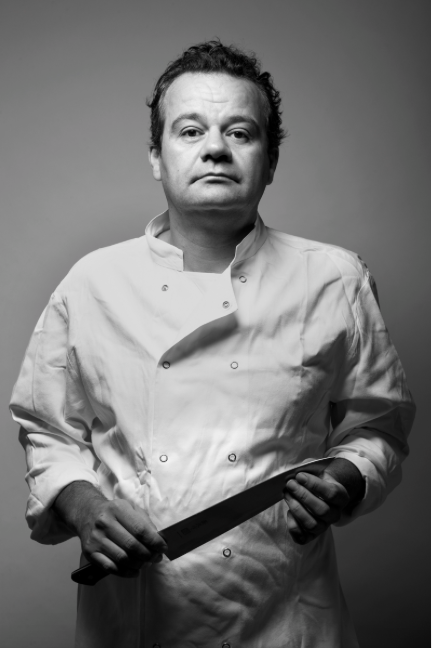 Mark Hix is a chef, restaurateur, art collector and journalist. His long connections and friendships in the art world from his party days with artists in Shoreditch East London  has led him to put art as centre stage in his numerous restaurants. He has worked with and commissioned many artists to create centrepieces for his restaurants such as Damien Hirst's iconic cows in Tramshed (see below) and neon bar signs in his Belgravia restaurant "Hix" in London by Tim Noble and Sue Webster.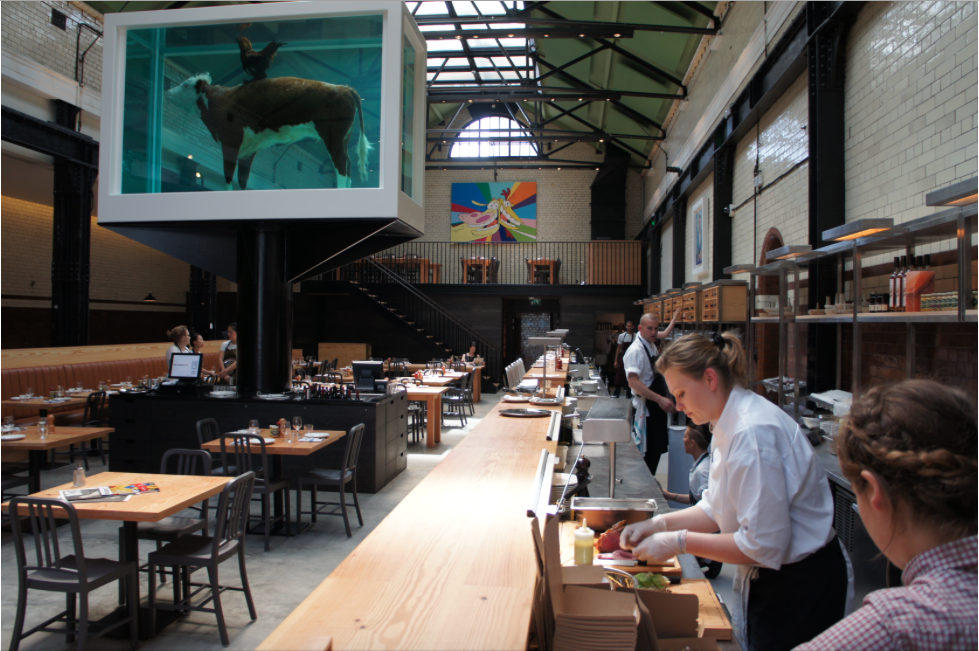 Quote: "Food for art became a kind of currency, a way for me to collect."
5. Michel Roux Jr.
Restaurant: Le Gavroche (London, UK)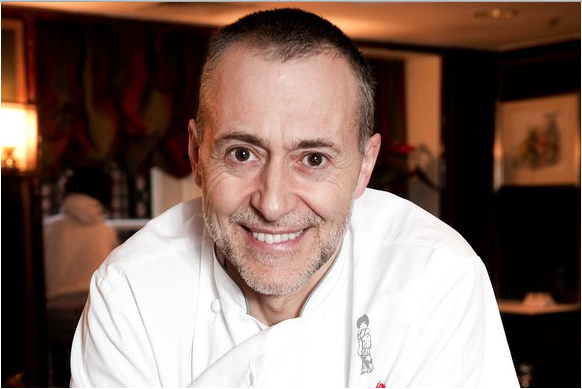 Michel Roux Jr, who confessed to have a fun and quirky taste in art, possesses an eclectic collection in his home, while Le Gavroche also boasts a large fine art collection with original works by Picasso, Miro, Dali and Giacometti. He has been collecting drawings by Manchester-based artist Rachel Goodyear, creating black and white illustrations with flashes of red. Despite his love for fine reds, he confessed in an interview that the most expensive purchase he's ever made was for an artwork.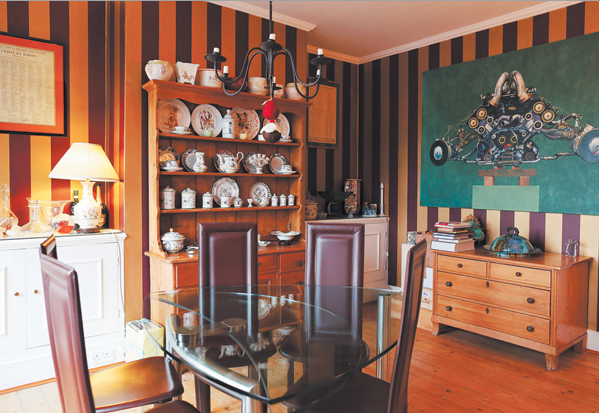 Quote: "The art is there for people to enjoy the experience, whether they like it or not. It is their personal taste. It asks questions and feeds your mind, while we feed your body."
Claire Bouchara