At the age of 26 and with art history background, Alexandre Goffin has co-founded an art and cultural publishing house and a soon-to-open private museum— besides having collected art for five years. He has a soft spot for minimalist art while enjoying (re)discovering artists who are "not so famous yet".
Connected with Alexandre Goffin via his art-filled Instagram profile, LARRY'S LIST is revealing what an "art historian's disease" is, where Alexandre Goffin displays his collection, his first and latest purchases, the emotional value of his graphic-designer grandfather's sketches from the late 1940s, what motivated him to co-found a private museum, and moreover, how he makes use of his Instagram to promote art and collecting to people around.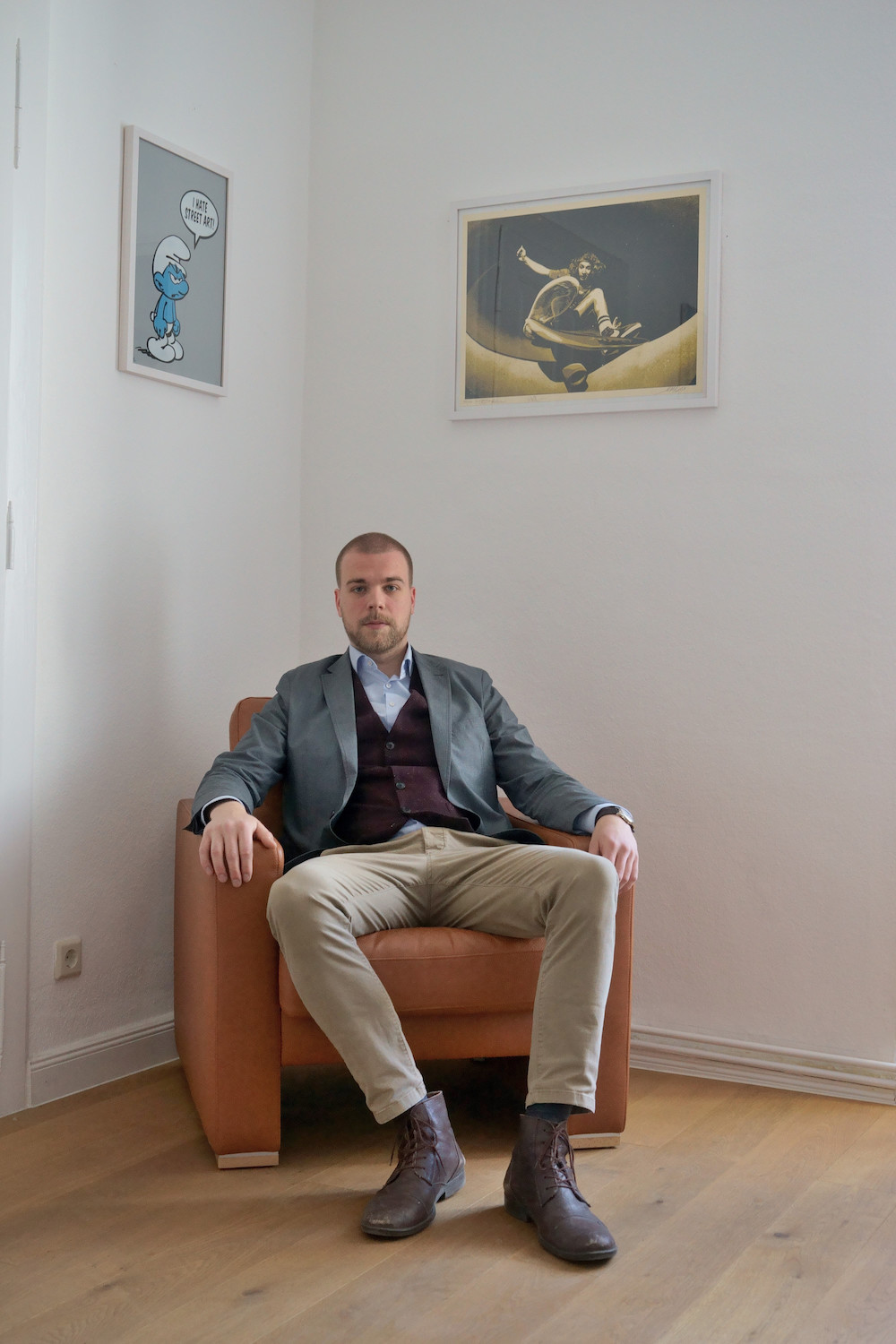 Collecting
What made you want to start collecting art? What is the main motivation behind your collecting?
When I began my studies of art history at the University of Heidelberg, I started asking myself what I should do after graduation in a few years. Since I have always loved connecting with other people, organizing, and meeting new interesting personalities, I was looking for a way to combine all of these qualities with my love for art. Very quickly, I got interested in the art market and in the way that art is traded. I was fascinated by the idea of owning a piece of art, of owning something in which someone has put all of their emotion and inspiration, and which is very rare or unique in the best way. I decided to save some money to buy the next piece of art I would love so much that I would want to have it with me all the time, in my apartment (– and that I could afford of course). From this point on, I discovered many different motivations to buy art. Sometimes it is the chance to get something that no one discovered before; sometimes it is just because I love the piece due to its minimalism; sometimes it is a piece from a certain group that I like to collect items of; and sometimes I can't even explain to you why I can't stop thinking about a certain piece and then have to have it. But there are some criteria for me to buy a piece of art—one decisive aspect being the quality of the artwork or the provenance.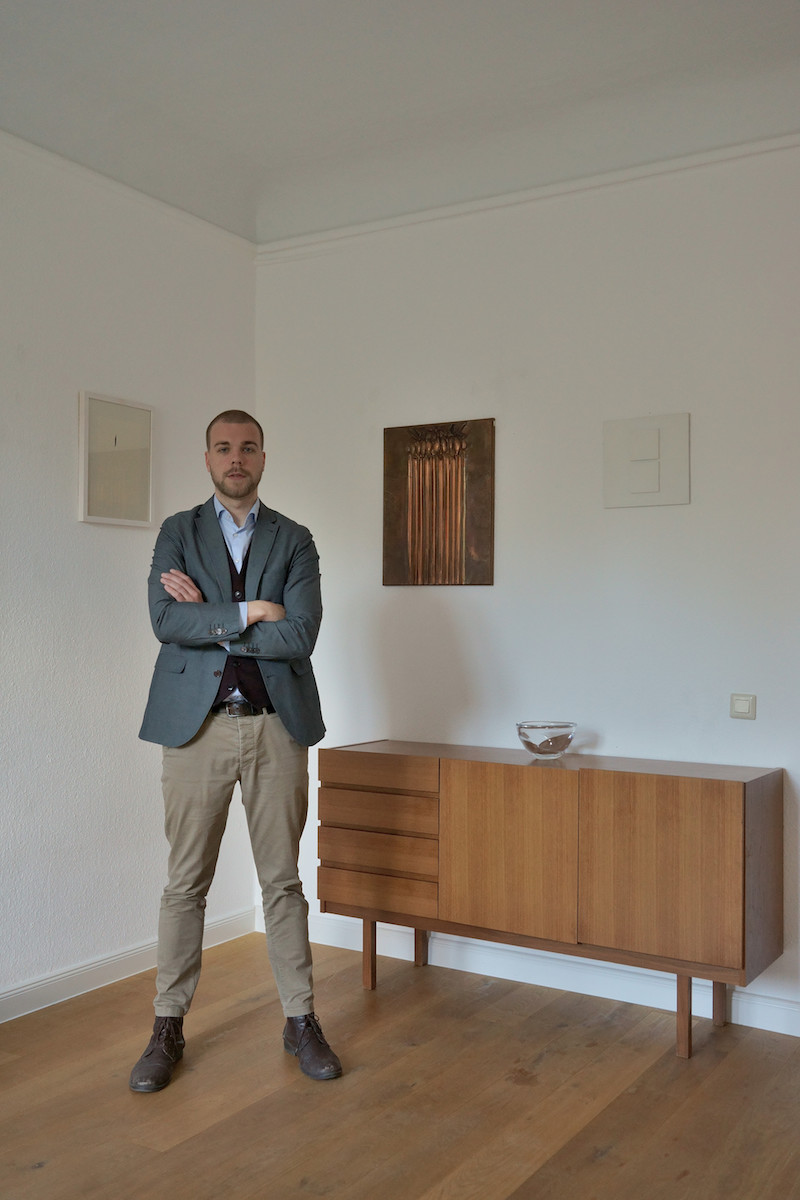 When did you fall in love with a piece of art? What was it?
I fell in love with each piece in my collection. One of these numerous times was when I saw a work by Mimi Kunze in a small exhibition in Heidelberg. Her way to create dimension on the paper with just sketching a person with Japanese Ink made me fall in love instantly.
What is your focus regarding the artists in your collection? Are you more interested in emerging or renowned artists?
To be honest, I am much more interested in the emerging ones. That does not mean that they have to be contemporary artists, but I like to find the ones that are "not so famous yet". No matter if they are young and at the beginning of their career, or if they've been forgotten over the years.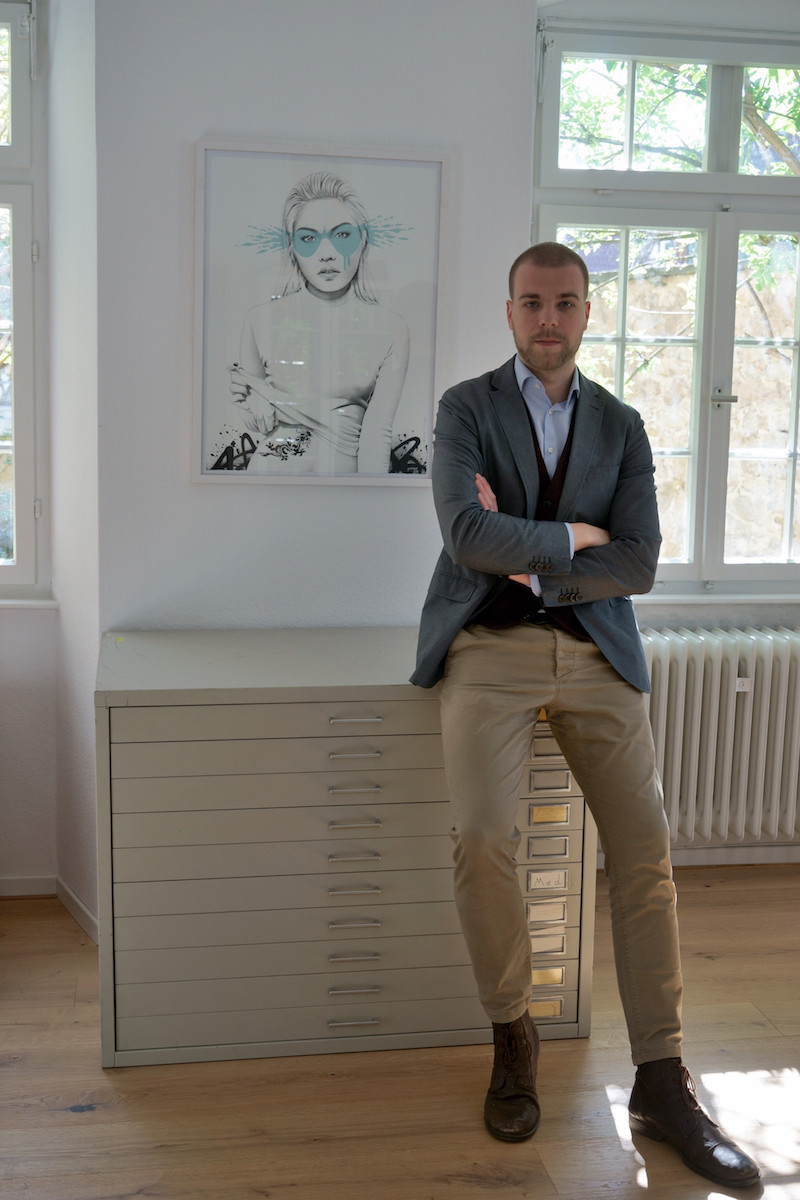 Is there anything that unites all the works you have acquired?
Definitely. They all are minimalist solutions for an artistic "problem".
My FinDac, for example: I like it very much because, when you know his works, you will notice that this specific edition is a very minimalist way of his style of expression. So you can say that the unifying aspect of my collection is the search for the most minimalist piece.
How has your art history background influence your perceptions and choices in collecting?
This is hard to tell. Sometimes I buy something and my collector friends would say: "Oh, this one you bought because you are an art historian." – like one of them told me when I bought my Horst Linn. I think what my friend was trying to tell me is that I might have bought it not only because it is the most minimalist one from this series, but also because it is a very early work of the artist, and therefore has historical value in the artist's life. Personally, I wouldn't say that the historical dimension of the work is one of my motivations to buy a piece of art. However, I've realized that I am always thinking about the historical context of an artwork – but that is just what you might call an "art historian's disease".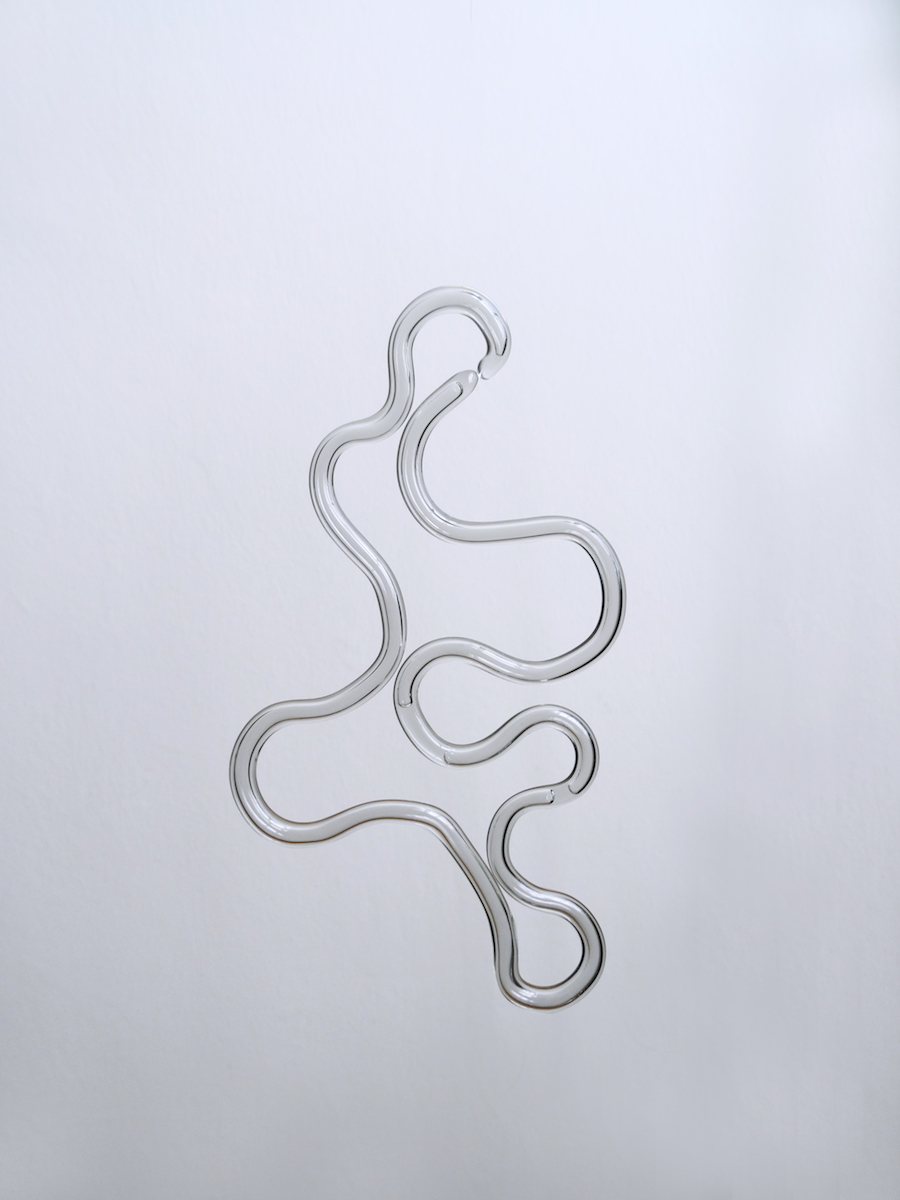 What were the first and the latest artworks you purchased?
The first one was a print by Leo Erb I bought from the money that I earned during my first internship at Galerie Julia Philippi. The latest one is a piece I am wearing as a necklace by Clara Schweers.
How many artworks do you own? Where do you display your collection?
I never really counted the artworks in my collection, but I would say less than 50.
To be very honest: most of it is still packed and stored because I moved some months ago, and had no time to hang everything on the walls again. But 90% of it is in my home, a few things in the museum we opened at Bauschlott Castle, and some pieces are at my girlfriend's place.
Have you ever presented your art collection publicly?
I gave two works to the museum at Bauschlott Castle which I founded with a friend, but I never showed my collection in its entirety to the public.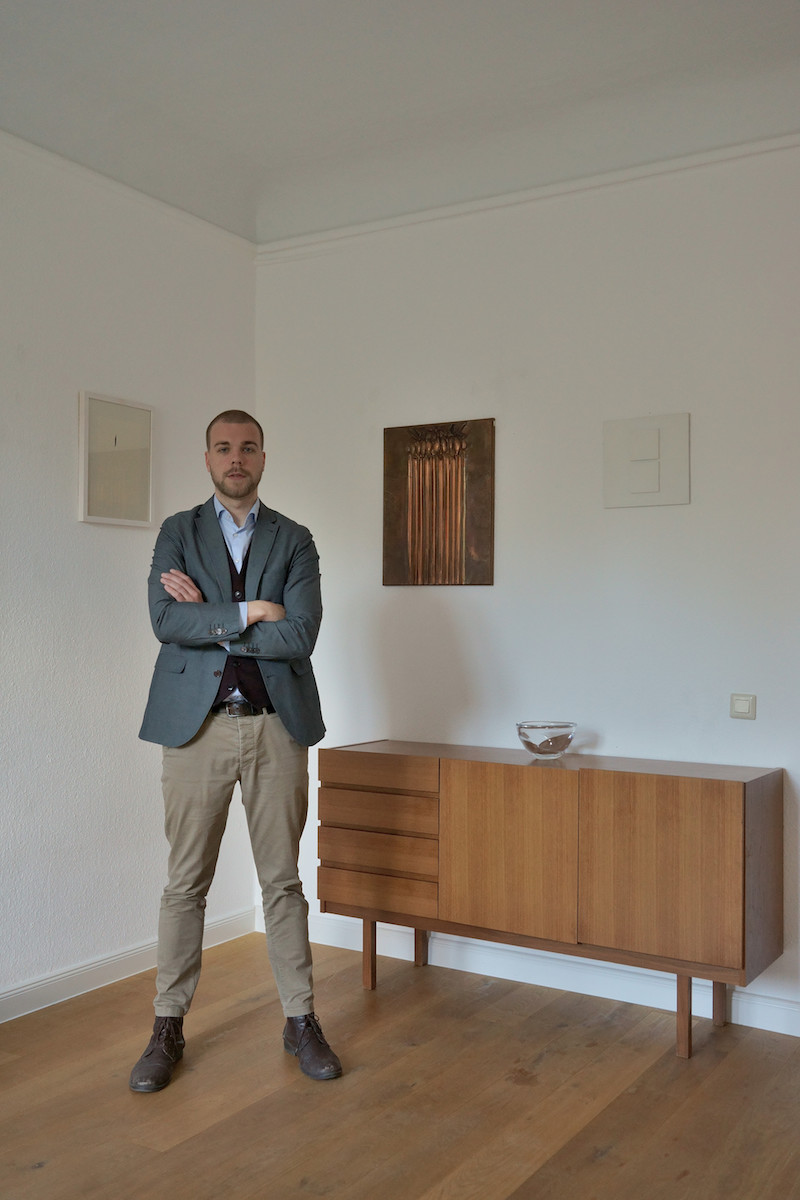 What is your most treasured artwork?
I have some sketches that my grandfather made in my collection. He was a graphic designer for election campaigns and poster advertising from the late 1940s. These pieces have a great emotional value for me.
How important is it for you to meet the artists who created the artwork?
It is not important for me but I am always happy when the opportunity arises. However, I also like meeting artist I do not collect. So for me, there is no mandatory connection between meeting the artist and collecting the artist.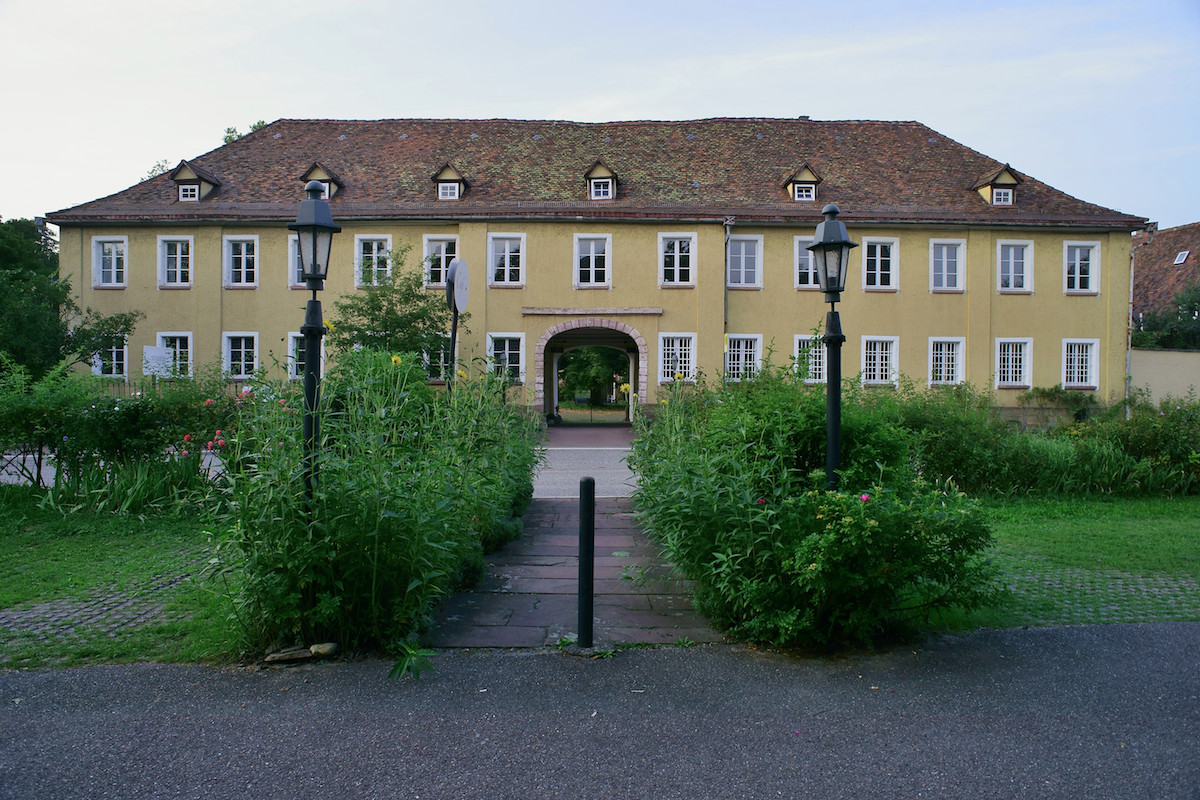 The upcoming Kunstmuseum Schloss Bauschlott
What is your motivation behind opening a publicly accessible space to exhibit art?
We founded the "Kunstmuseum Schloss Bauschlott" because we wanted to give the people in our area the opportunity to see high-quality art and to take a walk through more or less 2500 years of art history. It all starts with the antiquity, comes to baroque, then the 19thcentury, and through the 20thcentury we reach the contemporary. The artworks on display are loaned from various collectors. It is not a white cube. The exhibition is shown in a wing of the castle. Additionally, we filled the rooms with furniture from the respective times to match the artworks. We want everyone to feel comfortable at our museum no matter if you are an art historian, a collector or just a curious guest from our Café.
Why did you choose this location for opening the museum?
We chose this place because we are building a kind of "cultural think tank" here at Bauschlott Castle. We want to make cultural topics accessible and  understandable for everyone— without losing quality in our contents. That's a very important aspect. Therefore, part of our journey is the opportunity to show the history of art to the people without making them feel uncomfortable.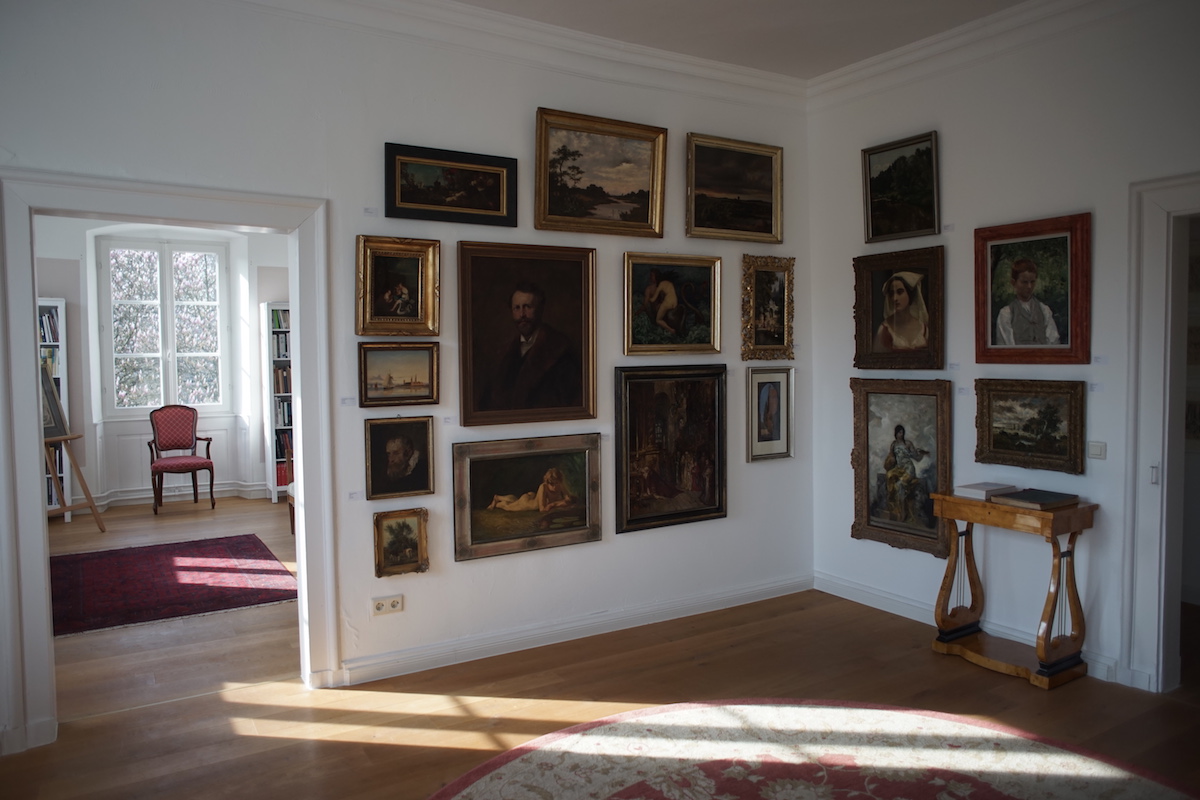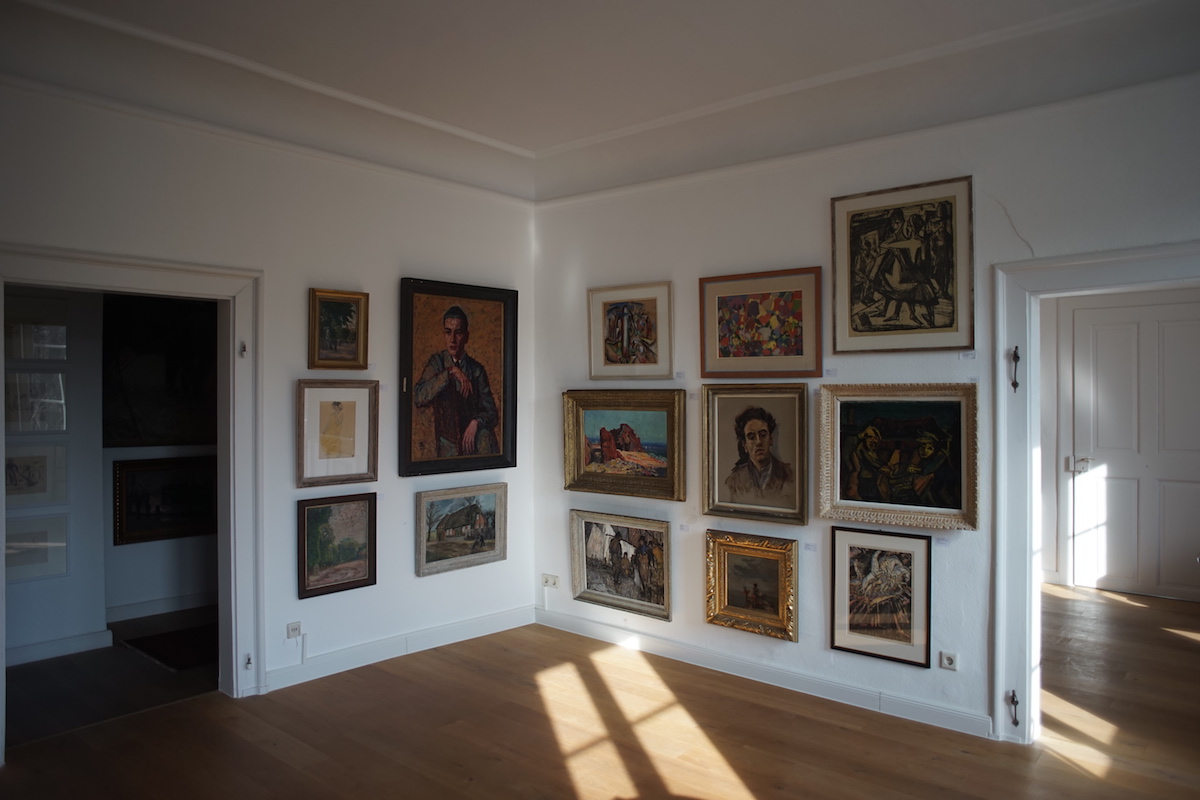 The Art World
Who inspires you the most in the art world?
I am very inspired by every collector of whom I feel like they are collecting from the bottom of their heart. No matter whether I like what they collect or whether I personally think that it is worth being collected. But if you are an authentic collector with everything you have (and you're not just buying expensive "blue ships" because someone told you to do so), you inspire me.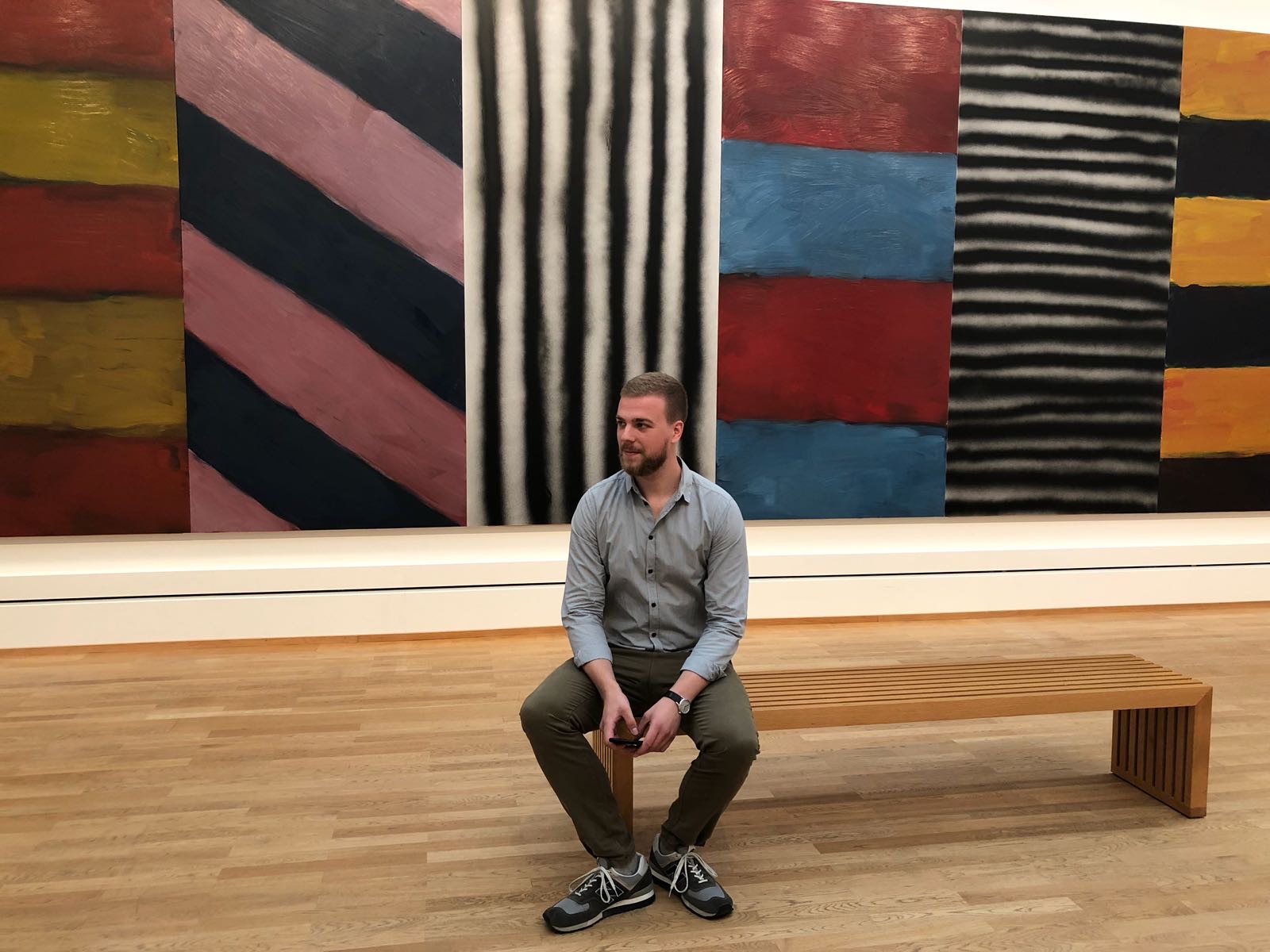 You are also actively promoting art and collecting to your peers. In what ways do you do that?
Everything started with my Instagram @new_generation_artcollector. I wanted to share my "life as a collector" without showing my collection; not because I do not like to show my pieces, but I did not want it to seem like I would try to boast about collecting art (I was a student when I started, and unfortunately, things can often be misunderstood). I started to share pictures and stories from wherever I went as a collector: art Fairs, museums, galleries. I thought, people could be interested to know where a young collector goes to see art. After a while, I had to realize that what was a matter of course for me did not mean the same for others. Not even thinking about it, I ring the bell at every art gallery on the second floor of a house when I spot one, or I ask the art dealers at the fairs about the prices of artworks I will never be able to afford. For me, this is nothing to think about as it comes naturally, yet for most people this feels like something they would never dare – at least it seemed like that. People started to ask me questions about how to start talking to dealers even though you might not be planning on buying anything. Simple answer: Just talk to them. Another question that occurred a lot, "Did you win in the lottery so now you can collect art?" Answer, "Why do you think you have to be rich to collect art?" It became clear that there are so many clichés surrounding the art world and even more when it comes to the art market. In order to help overcome those prejudices, I started the New_Generation_Artcollector Podcast. I am talking to several persons from the art market like collectors, dealers or art fair directors to answer people's questions about the market. My goal is to convince people to lose their worries about how to start collecting. Even when you try to get into the rules of the market, some people (especially young people) don't know where to start. They are shy or just have no time in between everything else to think about where to get some quality art. Oftentimes, they are unsure if the artwork is worth the price or how to transport it; or they saw a piece somewhere but can't remember the place or they want a second opinion to something they saw. And at this point you can ask me, and I will try to help you. I am young too, and I can't spend millions on art. But I am reading nothing but art magazines, blogs, and catalogues all day so there might be a chance that I will be able to find something you're looking for. ;-)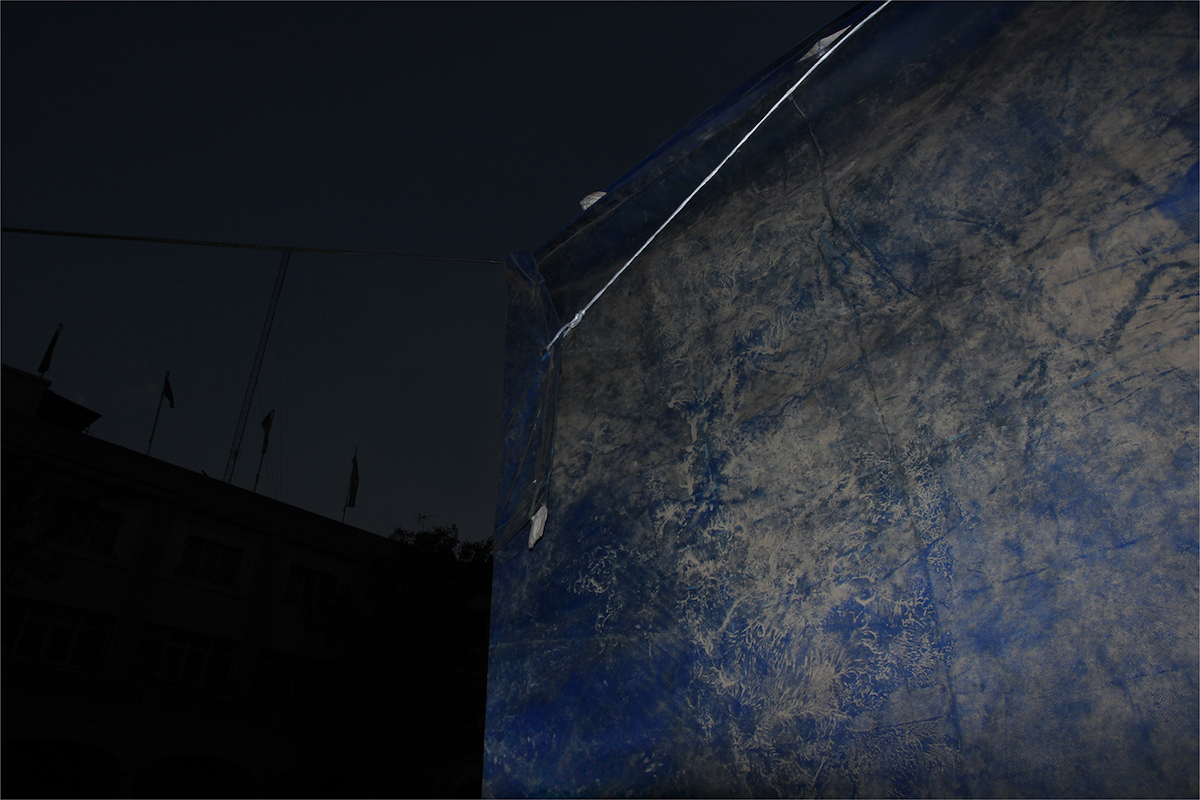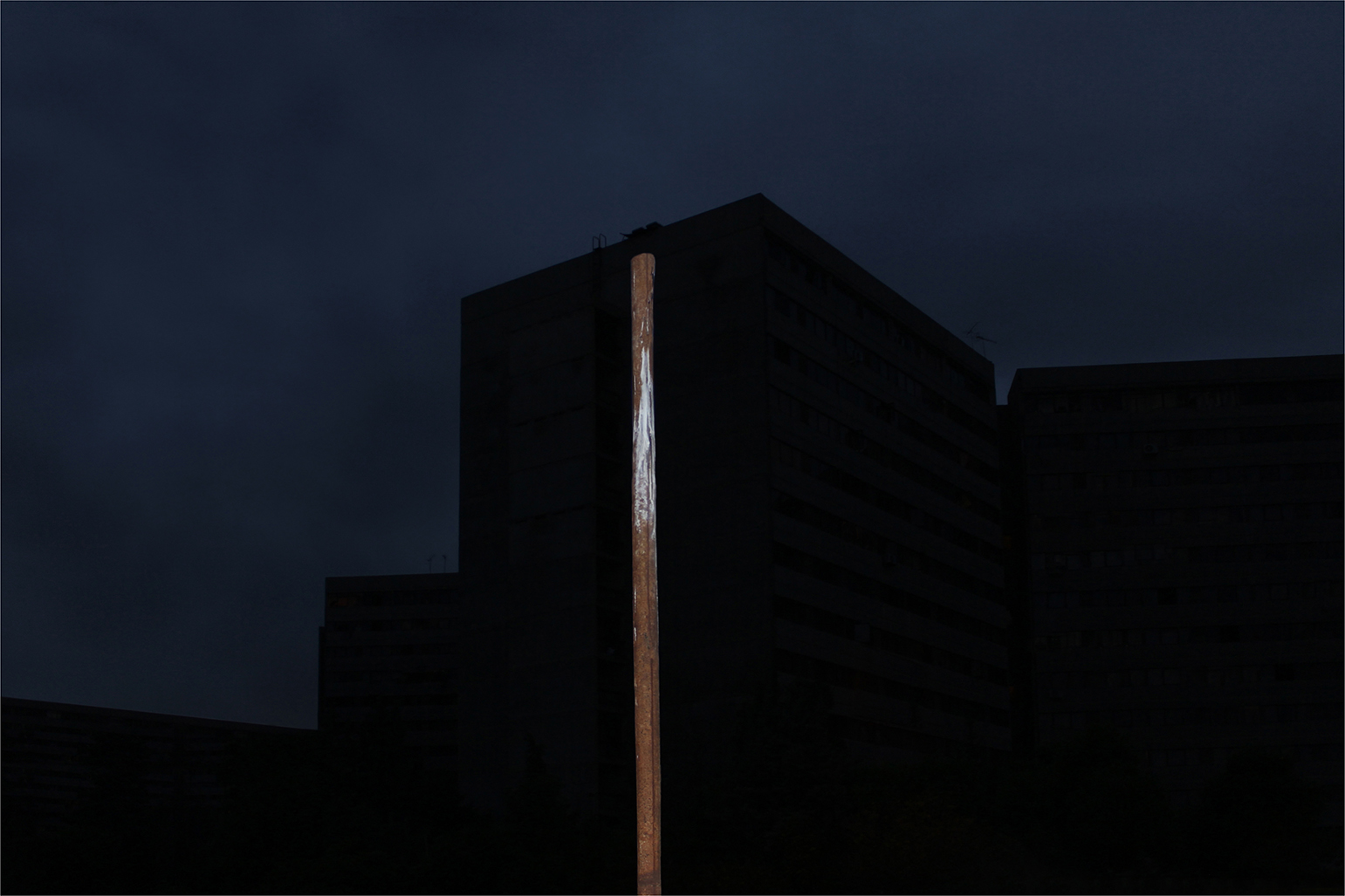 Can you name (three) emerging artists who should be on our radar?
Clara Schweers (@claerira). She is a young artist and designer from Cologne, and in my opinion, she is asking the right questions.
Nooshin Shafiee (@nooshin.shafiee). A young photographer from Iran represented by Emkan Gallery (@emkanofficial) at Tehran.
Valerian Goalec (@valerian_goalec). He has found an amazing way to combine art and design in a very interesting way.
What other art projects are you involved in these days?
At the moment I am founding my own art gallery. It is a project where I want to combine every aspect I mentioned before about promoting art and collecting. I plan on realizing exhibitions with artists I am representing. Sometimes in cooperation with other galleries, like Emkan Gallery Tehran for example.
As well as with artist estates we manage. Furthermore, the project will also include art advising and traditional art dealing focusing on affordable art like urban art and the likes. It will be a place young collectors can visit to buy art or to network with other people who are interested in art, no matter young or experienced. The idea is to break all the clichés of the art market and to obliterate the image of the art dealer or gallerist ignoring you because you are looking young and not like a billionaire. I am a young collector myself, I am 26 years old, and I do welcome everyone at my place who is interested in collecting or just watching and talking about art. That's the idea.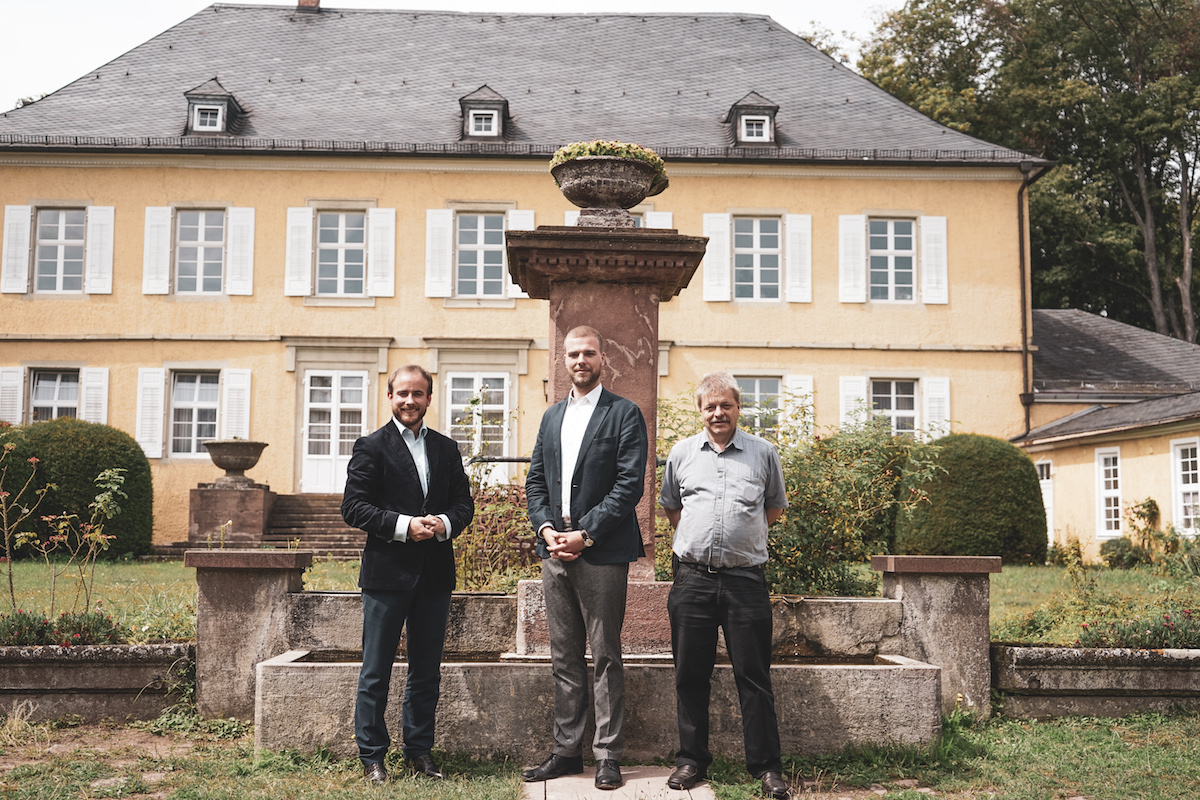 Related: J. S. Klotz Velagshaus
Instagram: @new_generation_artcollector
A selection of artists Alexandre collects:
Clara Schweers
FinDac
Horst Linn
Mimi Kunze
Nooshin Shafiee

By Ricko Leung