Melissa de la Cruz is the #1 New York Times, #1 Publisher's Weekly and #1 IndieBound bestselling author of many critically acclaimed and award-winning novels for readers of all ages. Her husband, Michael Johnston, formerly an architect, is also full-time writer of fantasy novels. Back at Columbia University, Melissa de la Cruz majored in art history and English while Michael Johnston graduated from architecture school. The couple do not only construct fantasy worlds for readers through their words, but they have also constructed an art collection full of awe and wonder by Daniel Arsham, Ryan McGinley, and JR, to name a few.
They spoke to LARRY'S LIST about their most treasured artworks, what they are excited about in the Los Angeles art scene in the upcoming months, as well as what they think of as art-word pet peeves, with Michael Johnston telling us about 'art poseurs'.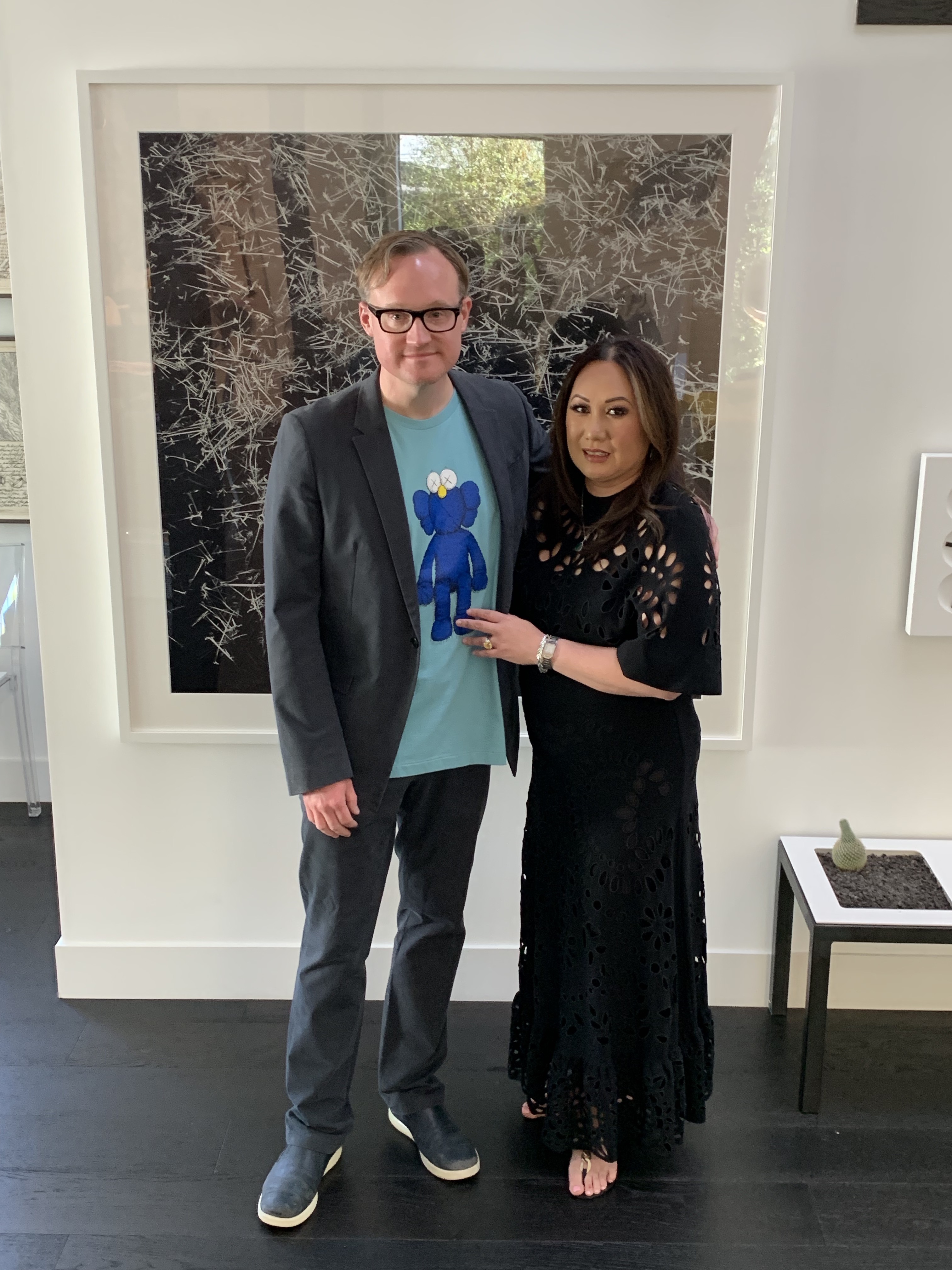 Collecting
What made you want to start collecting art? What is the main motivation behind your collecting?
Michael: I see the collection as an extension of my work as a writer. Each piece is a moment of inspiration, an intersection of sorts; it forces me to stop and look and think about what's standing in front of me. I seek out pieces that carry within them some inherent sense of wonder or mystery, some indescribable element that captures my eye. People often say that visiting our house is a bit like going to the museum. I take it as a compliment.
Melissa: When I was in my teens, I fancied myself an artist. I was accepted into the program at RISD for college, but decided to attend Columbia instead. I had some inkling I was a better writer than I was an artist. Still, I didn't want to let go of my love for art, and so I was an art history major (I also majored in English). Collecting is a way to express myself through art, and to engage with high culture. It brings a lot of joy into our home and in our lives. We live with our collection, we are able to ruminate on it and enjoy it every day. The first piece we bought was 'Cheese Circle' by Ed Ruscha.
When did you fall in love with a piece of art? What was it?
Michael: The work of the Todd Hido caught my eye years ago, and I still follow it. The House Hunting series is a favorite. I own two large pieces and two small pieces from the series. Each carries some sense of the uncanny. The series is comprised of houses photographed in the rain or in the snow, always at night with natural illumination. Hido said that he shoots like a documentarian and prints like a painter, and I think the quote holds. There is a fuzzy, impressionistic quality to the images that somehow makes them more than just photos.
Melissa: The large-scale Ryan McGinley photograph in our living room – I swooned over it, and when we installed it and saw how massive it was, I just fell in love with it. I love how much motion and dynamism is in the piece, this guy just being battered by waves. How amazing to capture the strength in nature and our relative weakness in the face of it.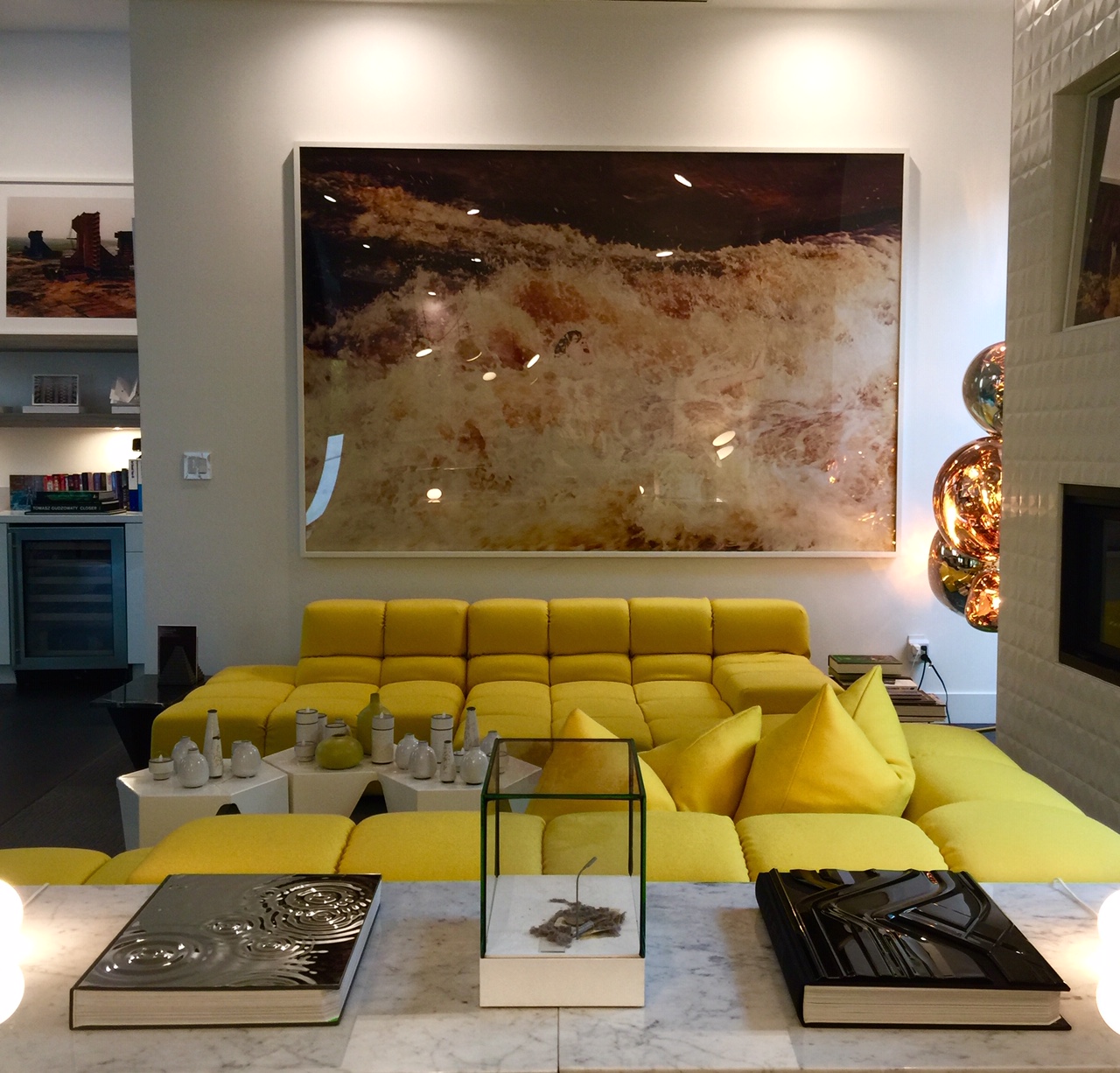 What is your focus regarding the artists in your collection? Are you more interested in emerging or renowned artists?
Michael: I think art fairs and regular visits to galleries have focused our attention on emerging artists. I enjoy watching someone's work grow and evolve. I've already seen artists go from making small pieces that we hung beside our door to making large-scale installations at the Metropolitan Museum of Art in New York City and exhibitions at the Biennale in Venice. That artist is Sopheap Pich, and we own one of his earliest works as well as a large-scale recent piece.
Melissa: Right now I think we are interested in emerging artists, but those who have shown in a major museum and or gallery. But we also just buy on impulse at art fairs. If we see something we like, we buy it. We're not looking for investments. We collect for the joy of it. Of course it's always fun when you see the prices go up, but that's not why we collect art.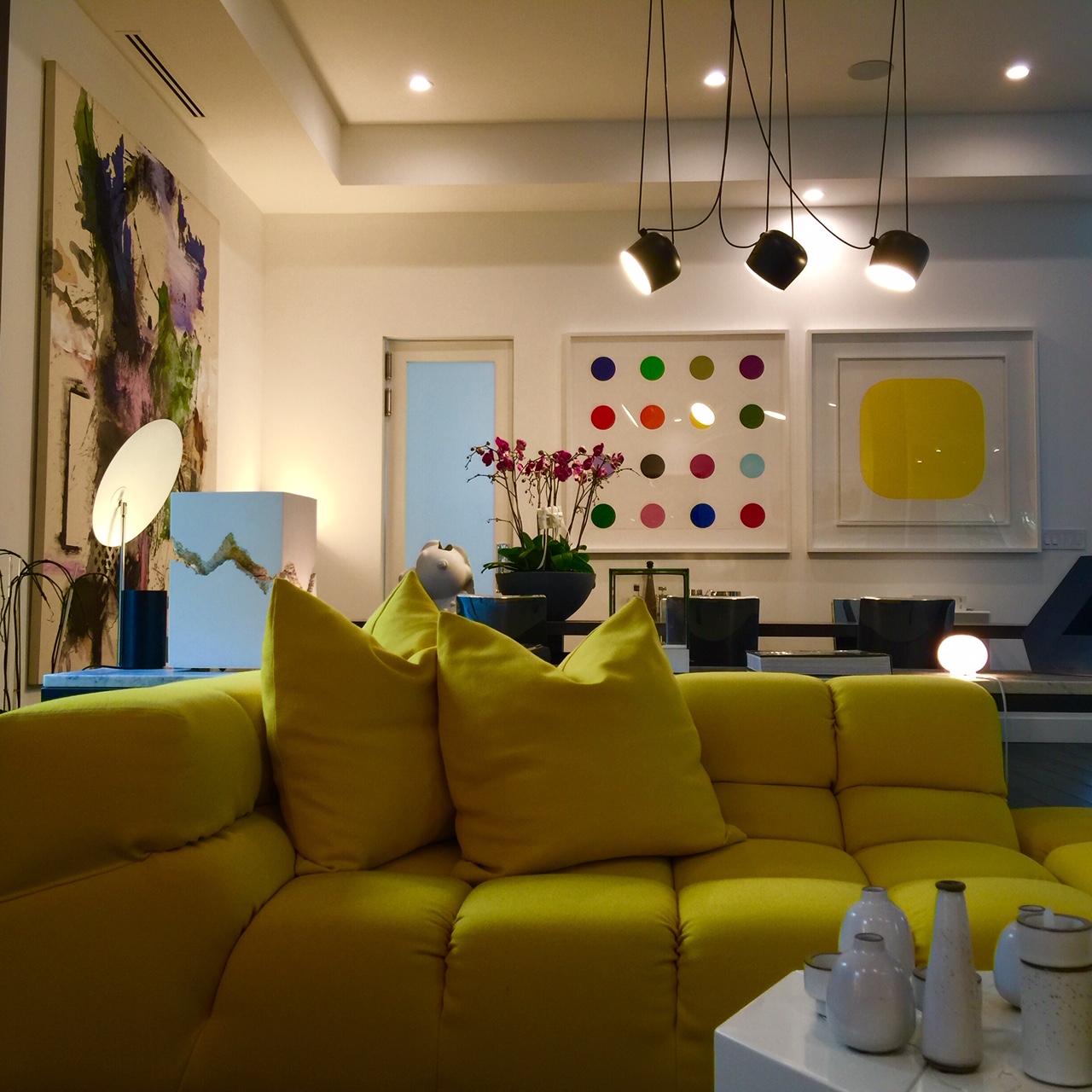 Is there any particular type of art that has consistently attracted you, or anything that unites all the works you have acquired?
Michael: I was trained as an architect at Columbia, and I've always had fascination with visionary architecture. I'm in the process of building a collection of books and works on paper that trace the history and genre of art from the 18thcentury to the present. I have original works Lebbeus Woods, prints by Brodsky and Utkin, Daniel Libeskind, and etchings by Piranesi. This collection is separate from the rest of the work we collect, and that doesn't bother me. I like the idea that we collect a range of different works, each with its own distinct affect.
Melissa: I think for me, I like a very bold, very strong point of view. I like a sense of humor and wonder. Each piece we collect expresses something that we believe about the world.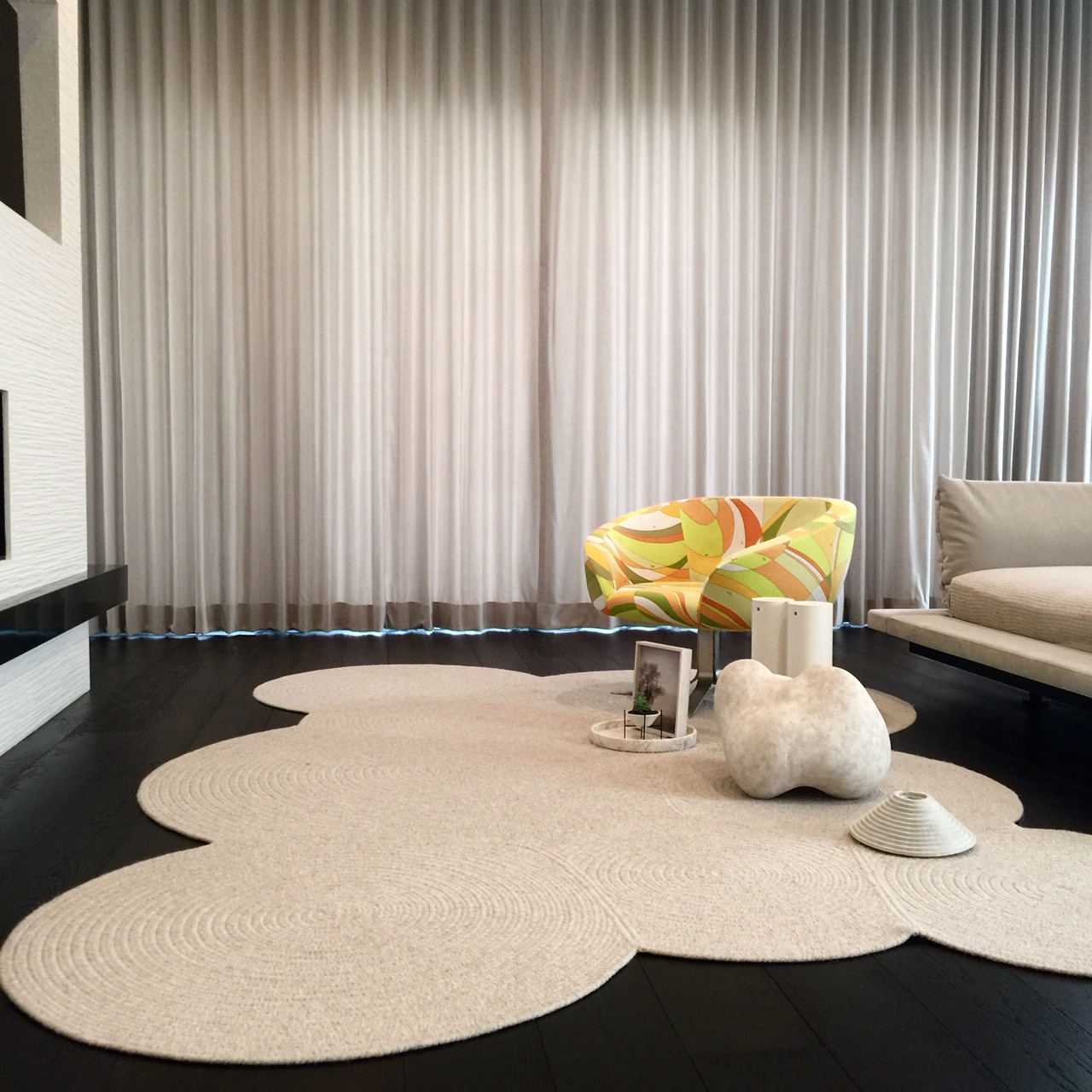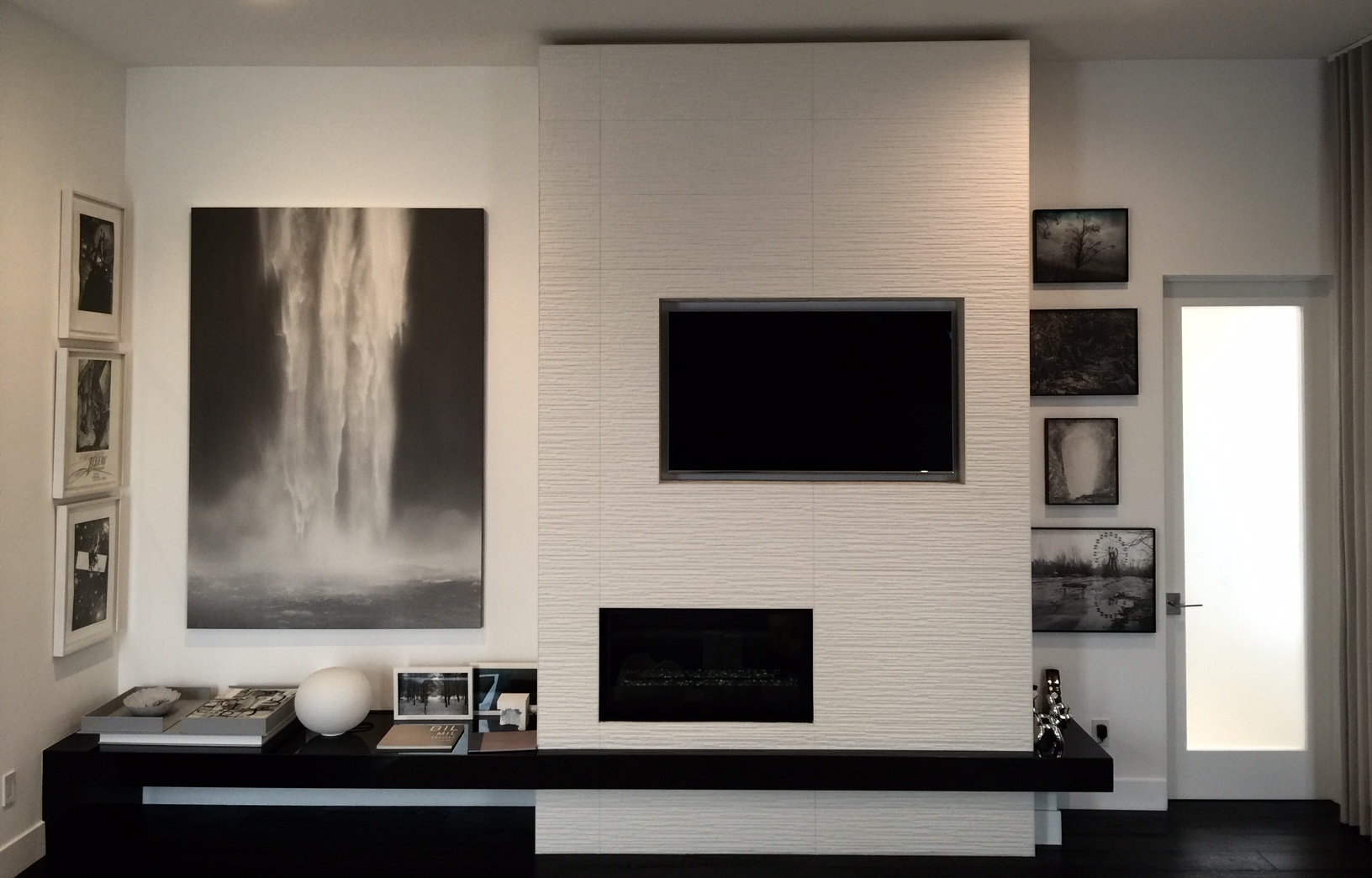 How has your art history studies influenced your taste and perception in collecting?
Melissa: My focus when I was an art history major was on modern art, art after 1945. So I've always been interested in new and upcoming artists as well as the art of the 'modern' period. It means a lot to me that we own art from this time.
Michael: As I've said, I collect a works by architects as a subset of our collection, but I also collect works that are architectural in nature. I have an interest in artists, like Daniel Arsham or Samarra Golden, who create pieces that intersect with the architectural environment.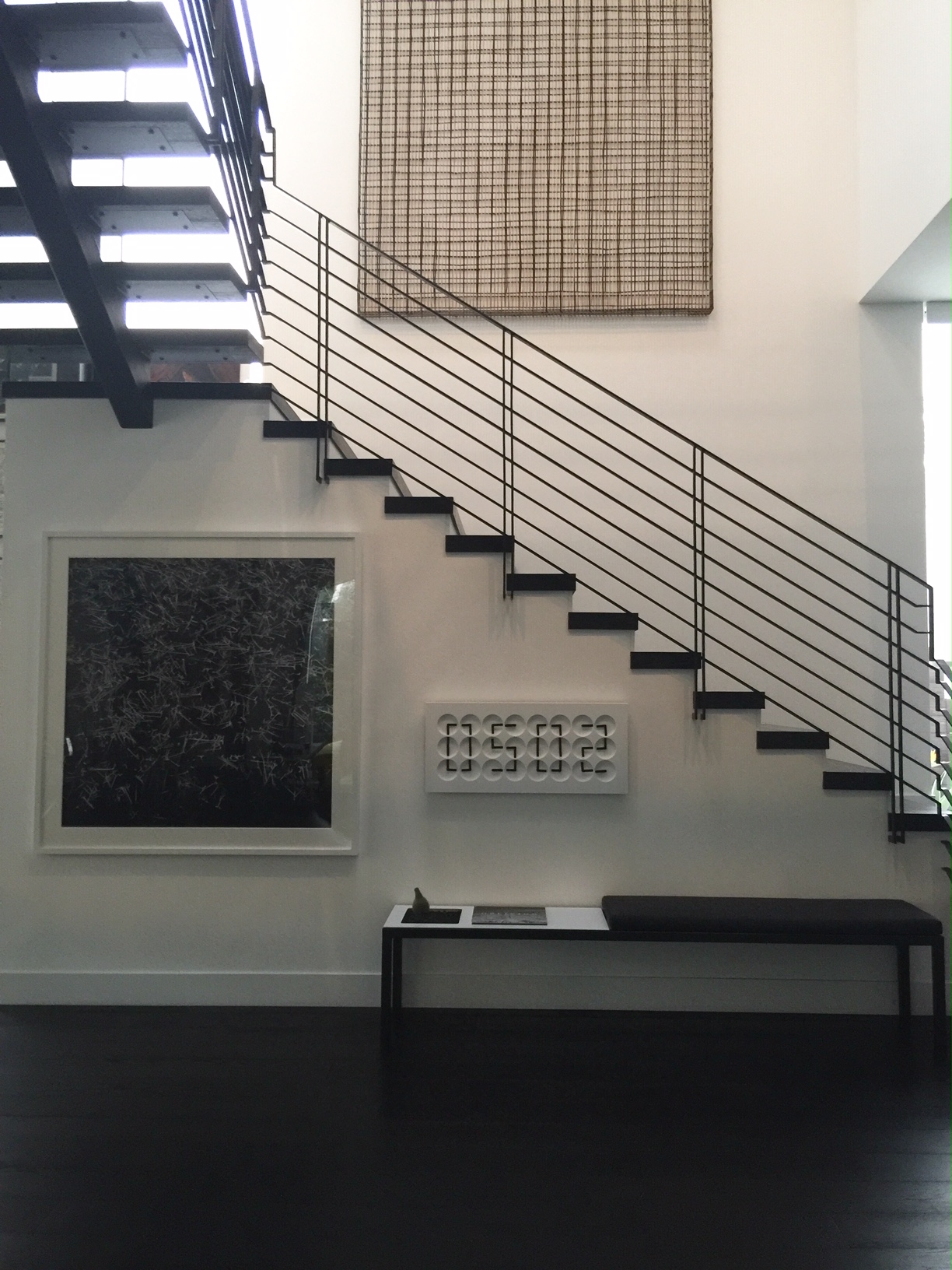 What were the first and the latest artworks you purchased?
Melissa: I believe we started with 'Cheese Circle' by Ed Ruscha.
Michael: We are in the process of acquiring a large-scale installation by Samarra Golden. If installed, it will occupy the wall of our stairwell. It's comprised of a fully set table with four accompanying chairs. Hung on the wall, the piece creates an unsettling image, a common scene transformed by an uncommon location.
How many artworks do you own? Where do you display your collection?
Michael: No idea how many. As for displaying the collection, it's mostly on the wall or sitting on a pedestal in our home. But we also have a secret art closet where we store all of the pieces we are not showing.
Melissa:I don't think we've ever counted, but we have spent in the seven figures. It's insured.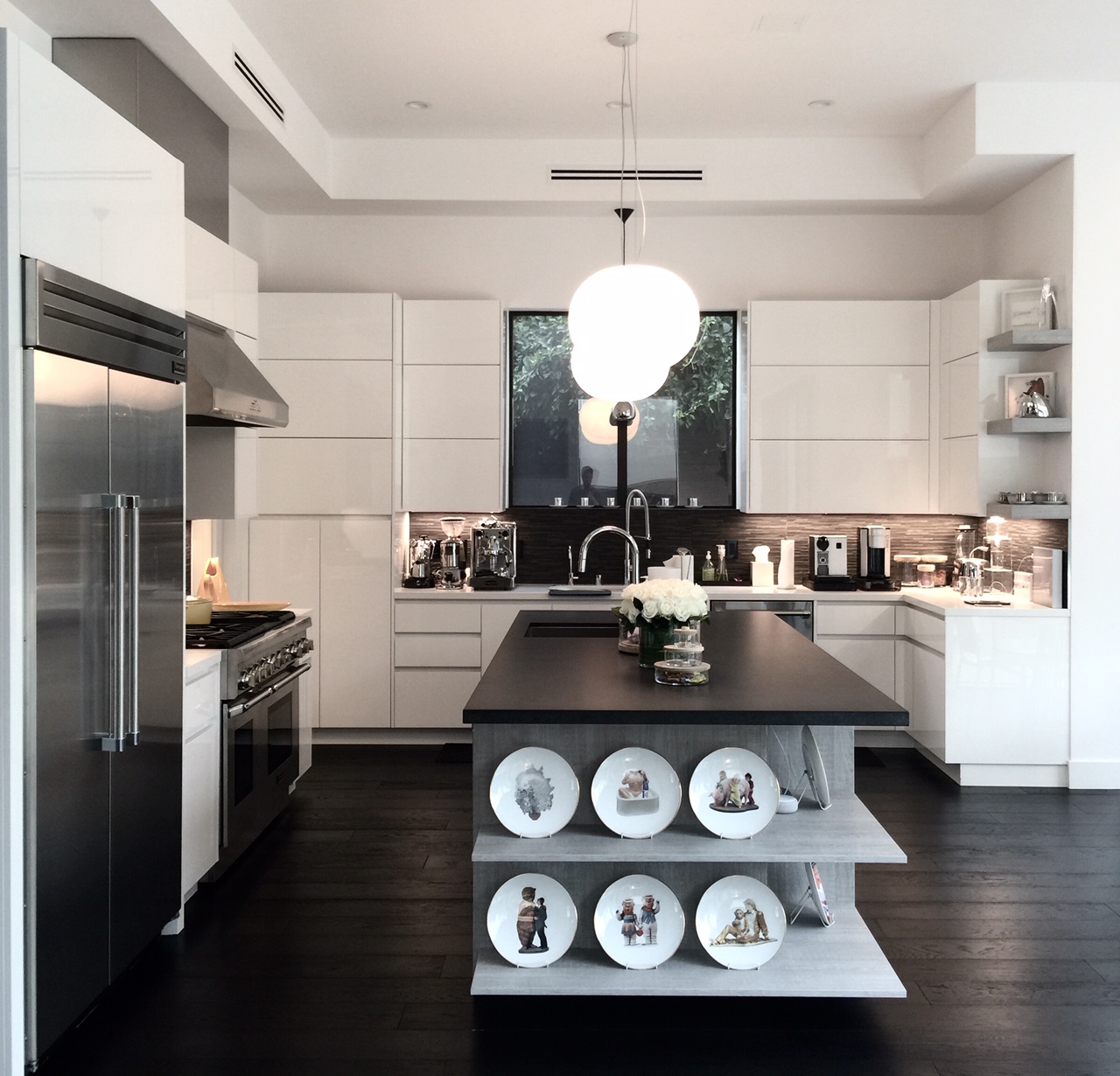 Would you wish to present your art collection publicly?
Michael: The collection is for me. I don't buy with an eye for reselling or impressing anyone.
Melissa: We would be open to it for sure. We have been asked in the past, but it didn't work out with our schedule. Maybe some time in the near future. We work with a few museums.
What is your most treasured artwork?
Michael: I have an original pencil drawing from Lebbeus Woods, who died a few years back. He is not well known in the art world. Lebbeus was one of the last great visionary architects. He chose to draw in pencil rather than build. The computer has replaced that medium in architecture, so I don't think we'll ever have anything like his work again.
Melissa: It's hard to pick a favorite! Each piece brings so much joy. I do love the Elizabeth Neel that we bought from Anne Anka's collection. I'm good friends with her daughter Amelia, and the provenance of the piece, and our personal friendship means a lot when I look at that massive colorful canvas, which anchors our dining room.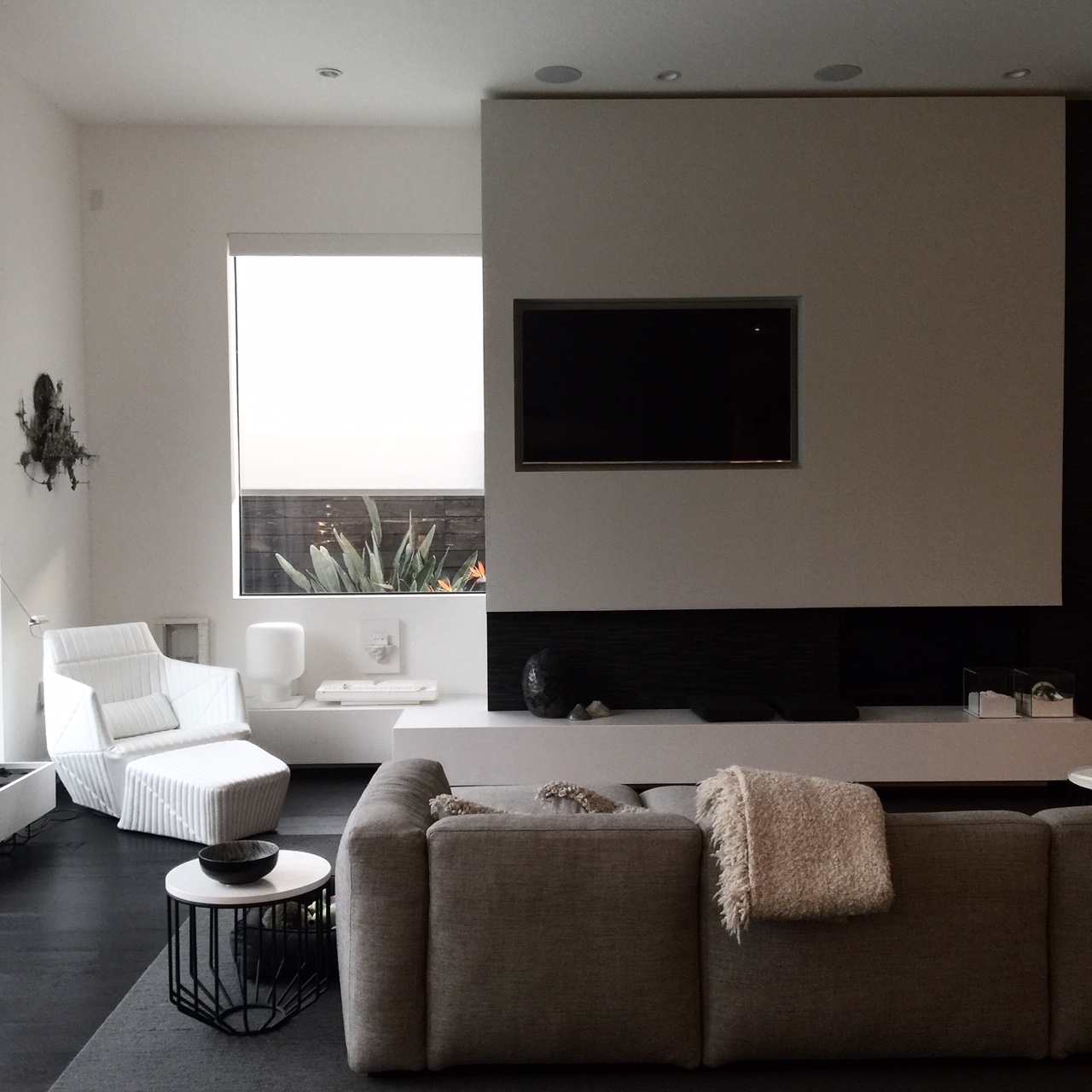 How important is it for you to meet the artists who created the artwork?
Michael: I've met a few of the photographers we collect, and I enjoy it. I thank them for their brilliant work, but that's the extent of it. I have an amazing large-scale piece by David Maisel on my wall. When he posted it on his Instagram, I was very happy to correspond with him regarding the piece. I've met a few of the other artists we collect, people like Daniel Arsham, Todd Hido, Ryan McGinley, and JR. I always ask for a photo —why not?
Melissa:It's not terribly important, but it is a great honor to meet them. We had the pleasure of meeting Ryan McGinley when we were living in New York last summer, and we were so thrilled to finally meet him.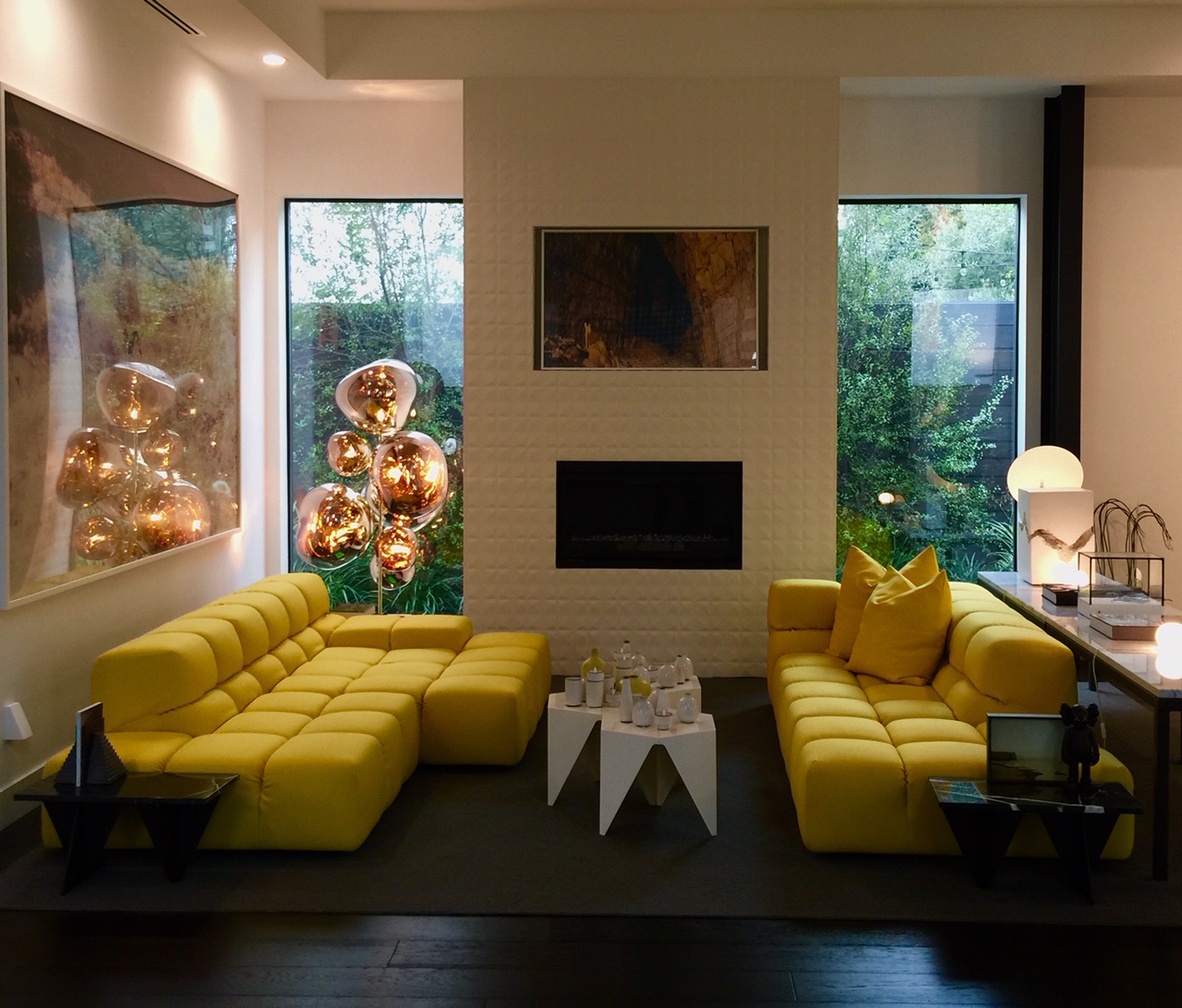 Art and Writing
How does your passion for art interact with your writing? Do you get inspirations for your books from artworks? If yes, what are they?
Michael: The artworks never directly inspire my writing. The connection is indirect. The works I acquire inspire me on a daily basis. They fill the home with moments of inspiration. Kris Kuksi is probably the only artist whose works have a quality that is similar to what I produce. I own 'Animalia' by Kuksi, which was featured in his recent Rizzoli monograph. A friend of mine looked at the work and said, "I can see why a fantasy writer would collect one of these." Still, there's no direct inspiration, but I could spend weeks looking at one of his works. I have three more in my office, and I enjoy them each time I glance up from my computer.
Melissa: When I was writing my Blue Bloods vampire series, it was filled with references to important works in art history, as the books were set in Florence, Venice and Paris. I would research something historical, like the Gates of Paradise in the Duomo in Florence and put them in my book. In my novel "Someone to Love", the character is an aspiring artist. Certainly, works of art make it into my writing. The Venice Biennale is a favorite event to set scenes in.
If you have to choose an artist as the main character of a book, whom do you want to write about?
Michael: In my writing, I try not to gaze at my shoes too much. If you write in your backyard, you get hemmed in by the limitations of that reality. I write epic fantasy for adults, so I tend to find inspiration in more detached subjects, in antiquity, history, a bit of architecture.
Melissa: I read an interesting short story by Han Ong in the New Yorker recently, where one of the characters was an artist clearly based on Georgia O'Keefe. I thought it was really well done and a fun way to present an artist in a literary work. I'm not sure whom I would put in my books, I'm not as interested in artists' personal lives or personalities as I am in their work. It's the work that matters.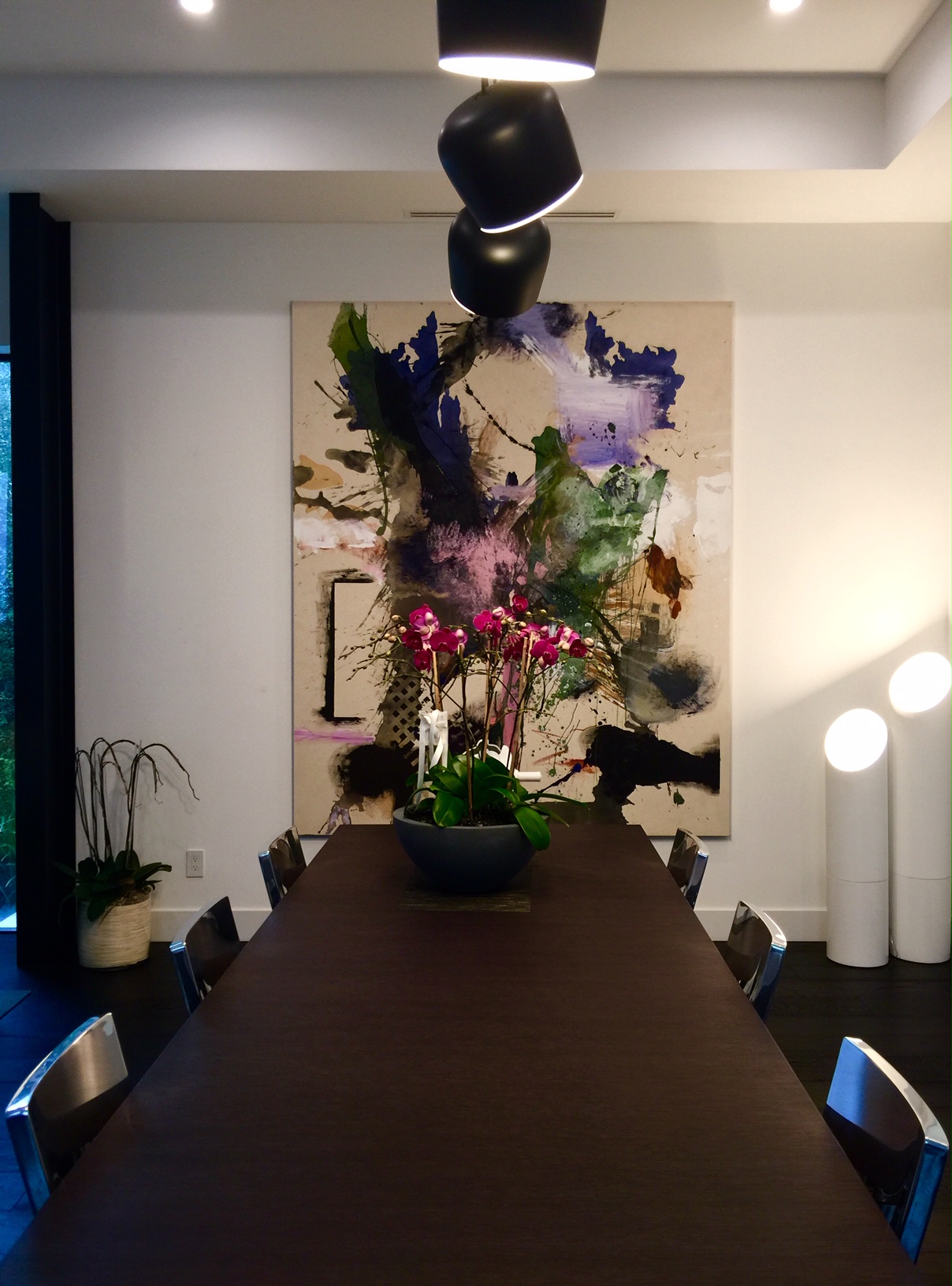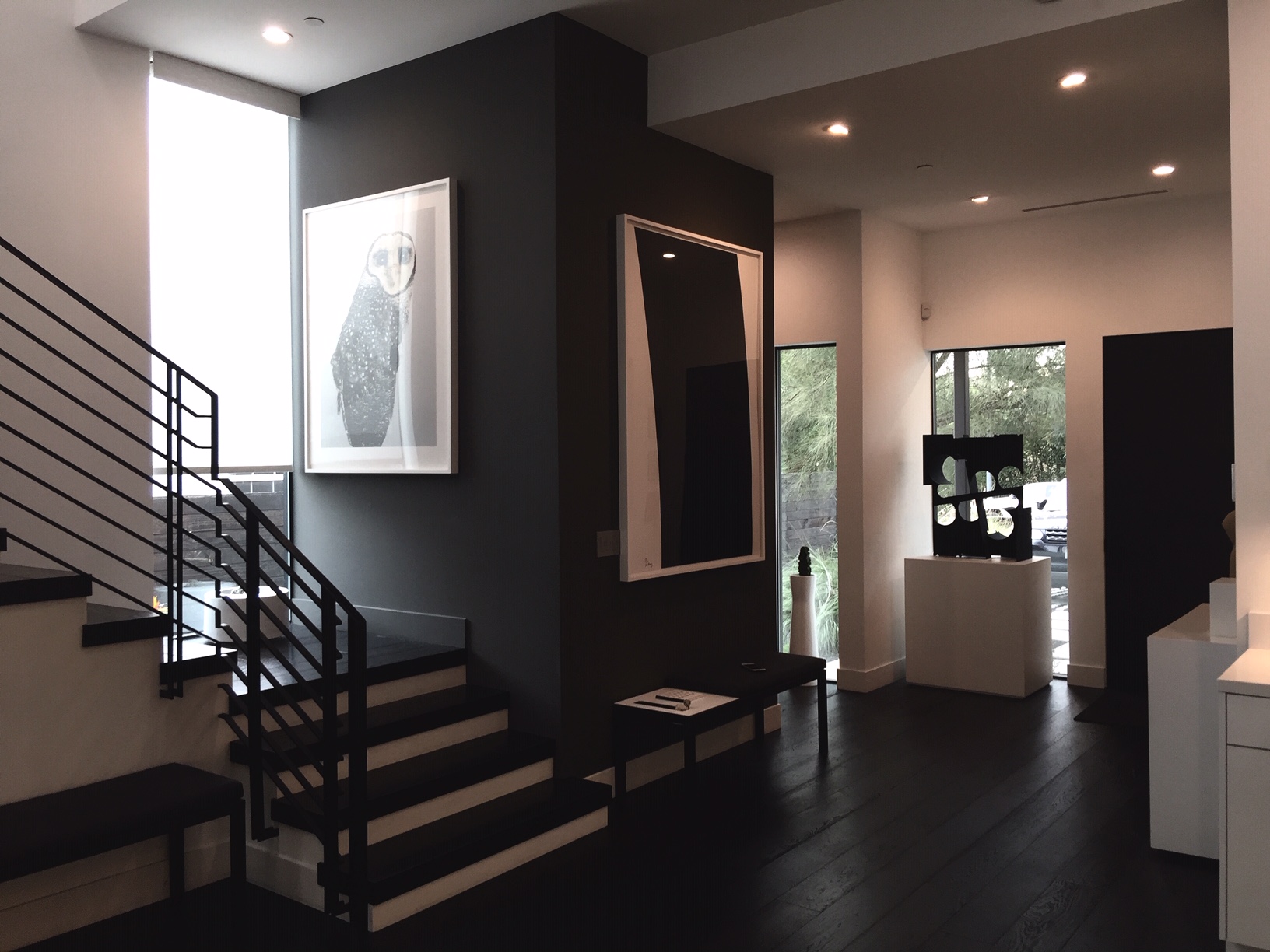 The Art World
What was your happiest moment being involved in art?
Michael: There are few things that can top a visit to the Venice Biennale.
Melissa:I think the joy of being around like-minded people who appreciate art is very satisfying. It's like being home, among your own kind.
What's your art-world pet peeve?
Melissa:I think the commercialization of the art fairs, where there are parties for objects or things that don't even remotely pertain to art is a little irritating, or people who attend the events just to be at an event, but they have no interest in art. Art poseurs I guess?
Michael: I have that same pet peeve. There are companies at Art Basel Miami throwing parties for their new app. I'm always tempted to ask them to leave. Go away!
What are you especially excited about in regard to art in the next 12 months?
Melissa:The first Frieze fair in LA was a huge success, we look forward to more art events in the Los Angeles area. Hopefully the fair will stick around.
Michael: The recent proliferation of high-profile galleries in Los Angeles have really transformed the city. When I moved here twenty years ago, it felt there was very little to see in art. Now, we go on bi-monthly gallery walks. I hope the galleries stick around.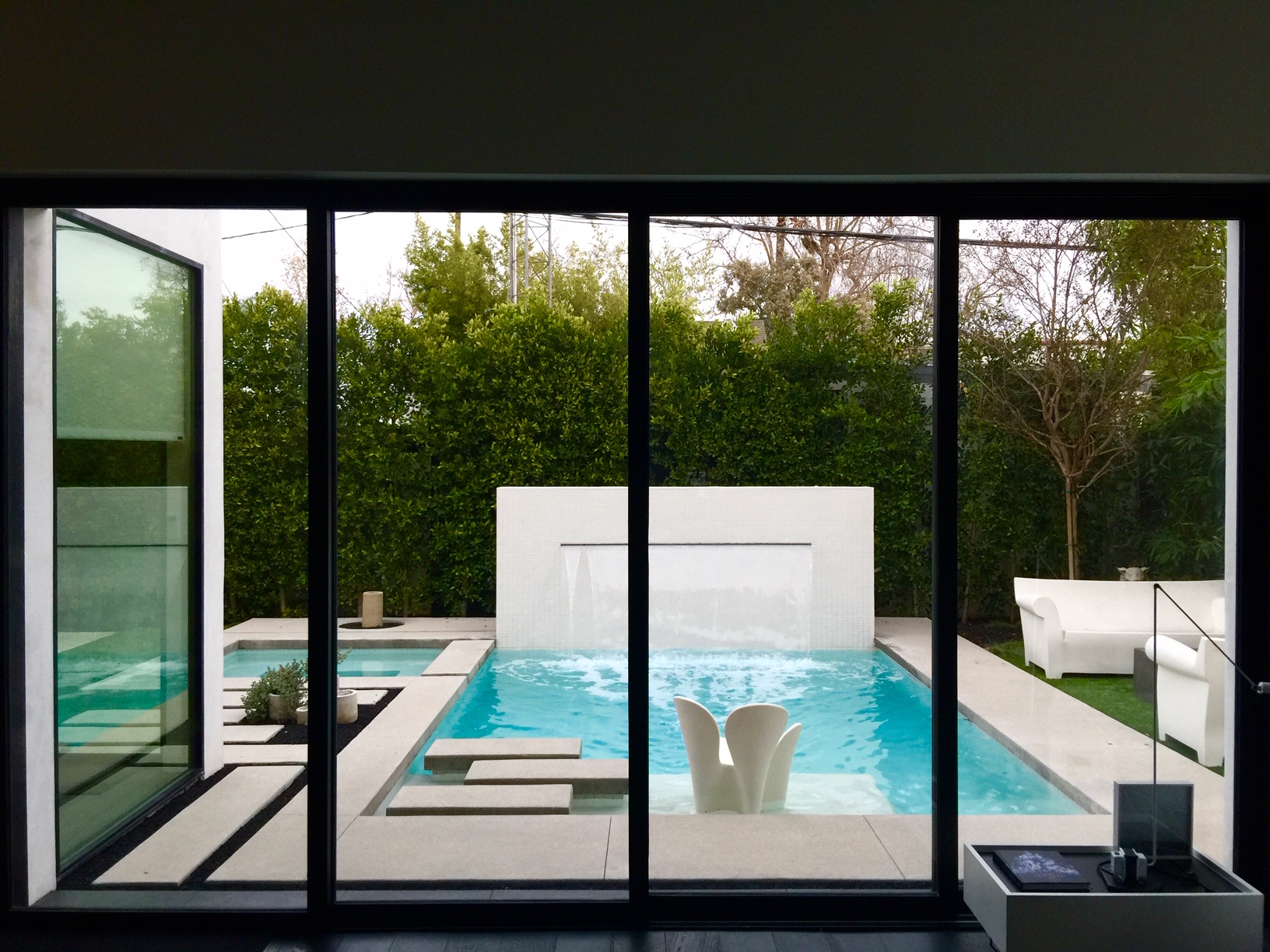 Related: Melissa de la Cruz, Michael Johnston
Instagram: @authormelissadelacruz, @mjohnstonauthor
A selection of artists Melissa collects:
Daniel Arsham
Ed Ruscha
JR
Ryan McGinley
Todd Hido