With an art collection gradually spilling over to their medical cabinet and hospital, medical doctors, Olivier Vandenberghe and his wife Barbara De Muynck, started collecting art together over a decade ago, when their first son was born. They focus on works by emerging Belgian artists. Following these artists in a long term, they have built pleasant personal relationships with some artists, who recently shared their own health concerns with the doctors — demonstrating a great deal of trust in their relationships.
LARRY'S LIST hopes to provide insights from the words of this medical doctor couple about how art is a daily escape for them as medical doctors, how the story behind a work attracts them, why seeking cocoon of trust in beauty is important especially during uncertain times, also how they continue discovering art and artists when they cannot visit museums or galleries these days.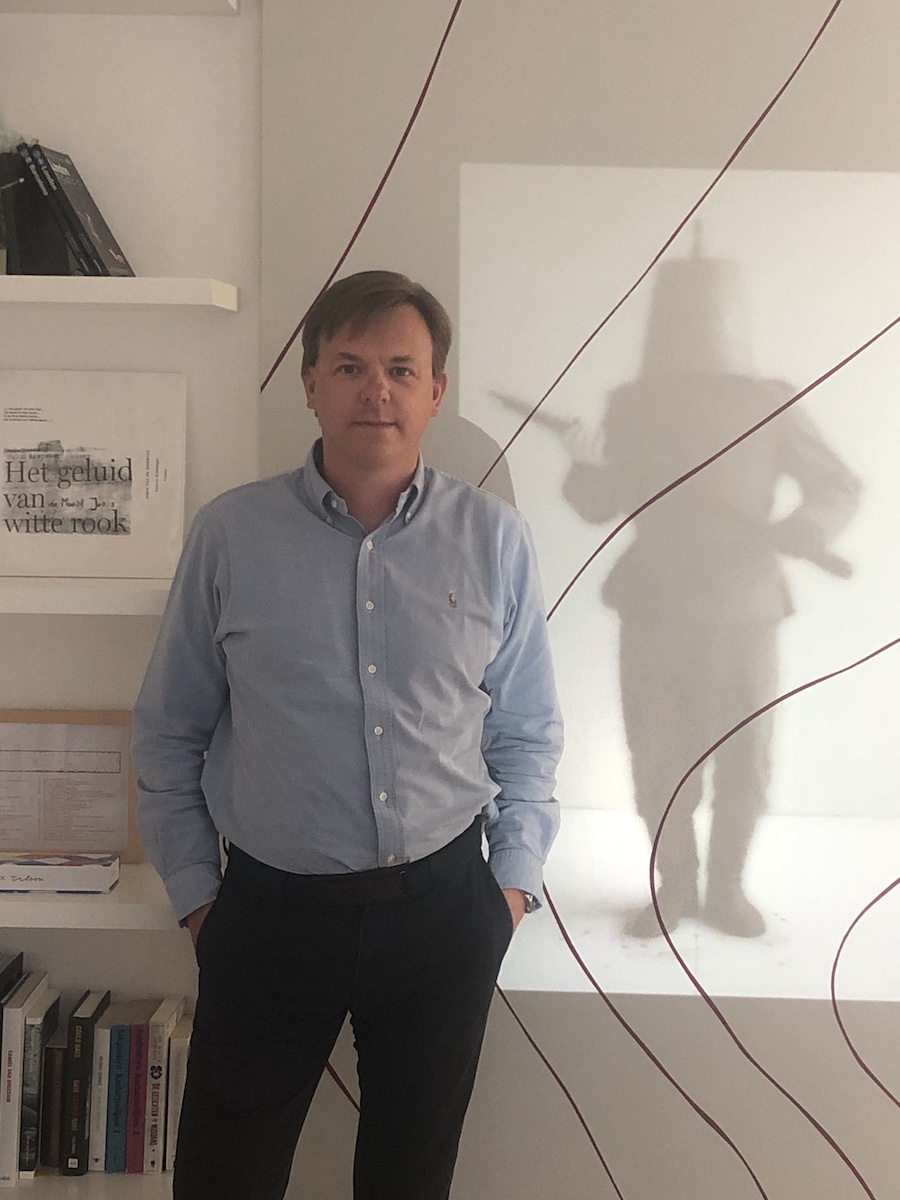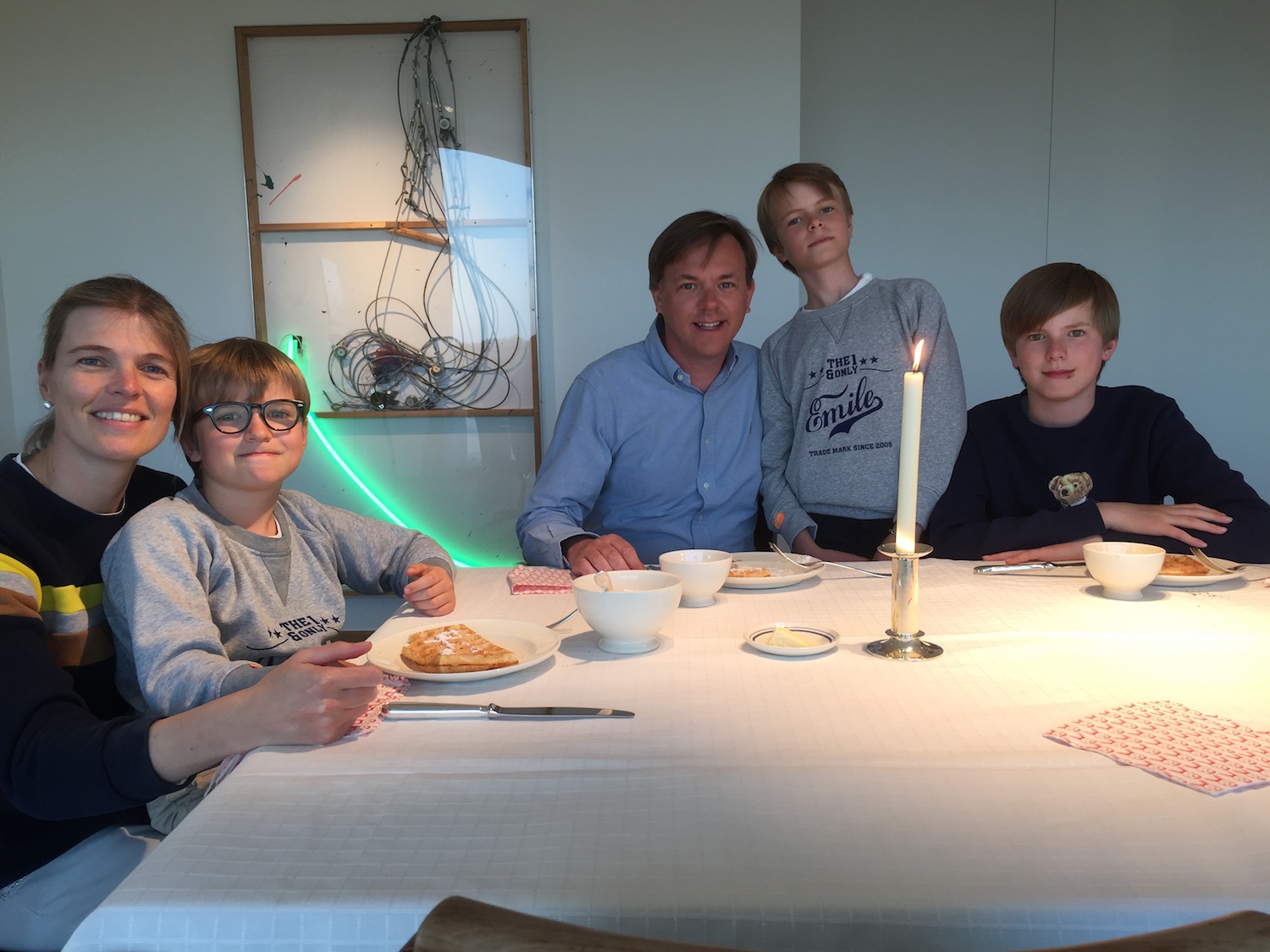 Collecting
What made you want to start collecting art? What is the main motivation behind your collecting?
As a young student, I was already interested in art. Even in high school, I organised group visits to museums during free moments. So it's a long story.
My wife, Barbara De Muynck, saw art and beautiful object through her parents. Her father is an architect and has a fine eye for art, curiosa, and furniture —quality of life… in all aspects.
When we graduated and started our practice, we built a house, had some space and a small budget… so we got started…
For us, art is an anti-poison for the daily concerns in life. We are both medical doctors, we see lot of misery… small or big, and then art can relate. Art can put things in the right context. Art cannot cure, but it can heal, motivate…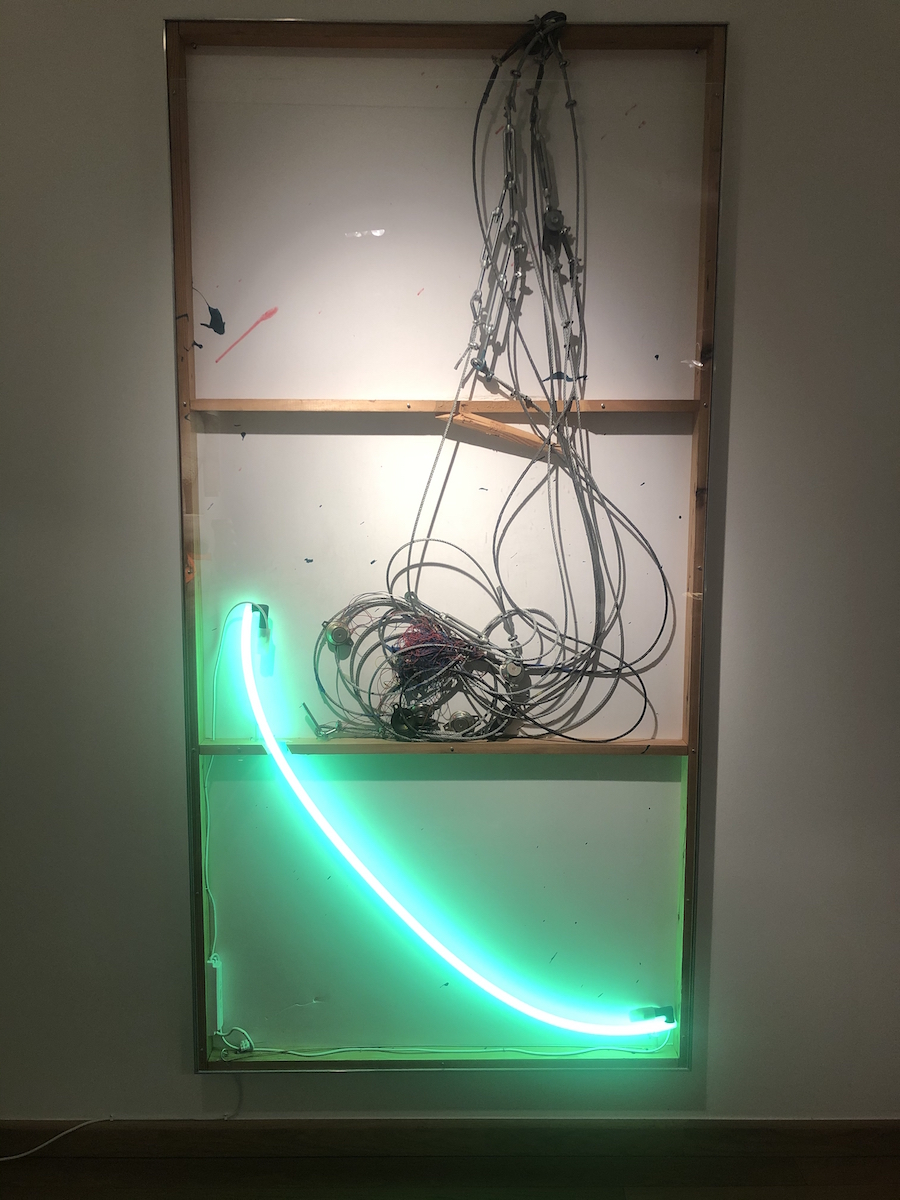 When did you fall in love with a piece of art? What was it?
For me, art is about sensation. The most strong sensation of "coup de foudre" was "Staalkabel and green neon light and various collectable objects" by Joris Van de Moortel in a solo show in Galerie Nathalie Obadia, Brussels. During the Brussels art days in fall 2013, I discovered this show, "Getting Comfortable Slowly", during a gallery tour. I was blown away at the first sight. The coloriet of the neons, captured together in objects of all origins in one installation—reproduction and transformation—a still life of a chain reaction.
I was thrilled by this show. It was the beginning of a long-term friendship with these artists. We bought serveral pieces by him. He created also a work in situ for our house, "Zonnebeke by night", a big neon constuction on the roof of our house—living with and under art.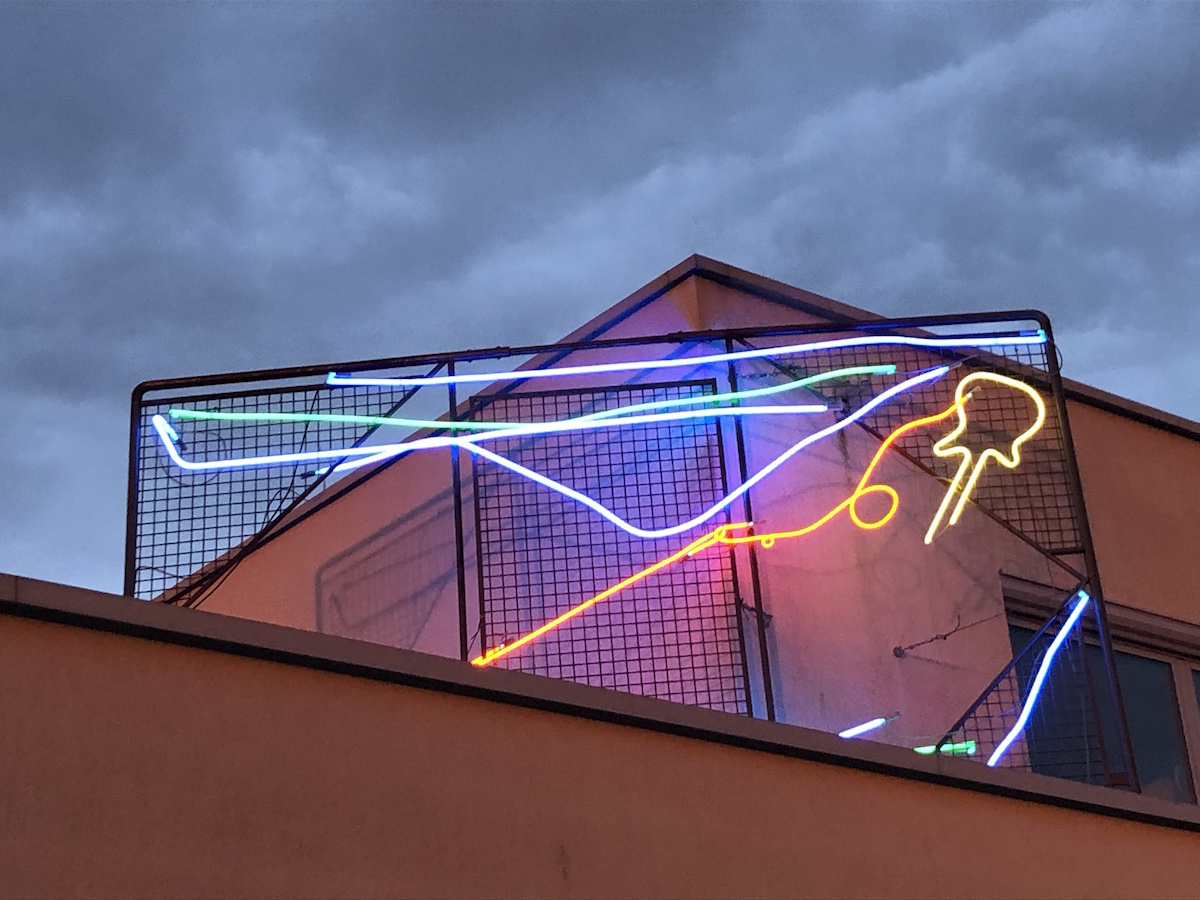 What is your focus regarding the artists in your collection? Why are you more interested in emerging Belgian artists?
We focus on young Belgian artists because we know the art scene quite well; and also for budget reasons— young artist are still available. We work for our money… so it must be reasonable.
We follow the artists in a long-term. With most of them, we have a good relationship. For example, Kasper Bosmans—we have been following him since his graduation at HISK in Gent, Belgium. HISK offers a post-graduate course in arts and provides young artists a studio and guidance for two years. Kasper Bosmans works with local elements that he matches together with historical and global aspects. He connects small and big aspects of life together; or as Philippe Van Cauteren, SMAK Gent, wrote down in a letter to Kasper, "His work marries aesthetic elegance with conceptual depth."
Afterwards, he was picked up by Gladstone Gallery in Brussels and New York. We know him very good; we see each other; we know his trajectory, his inspirations, and his concerns… And that motivates us—the story behind a work…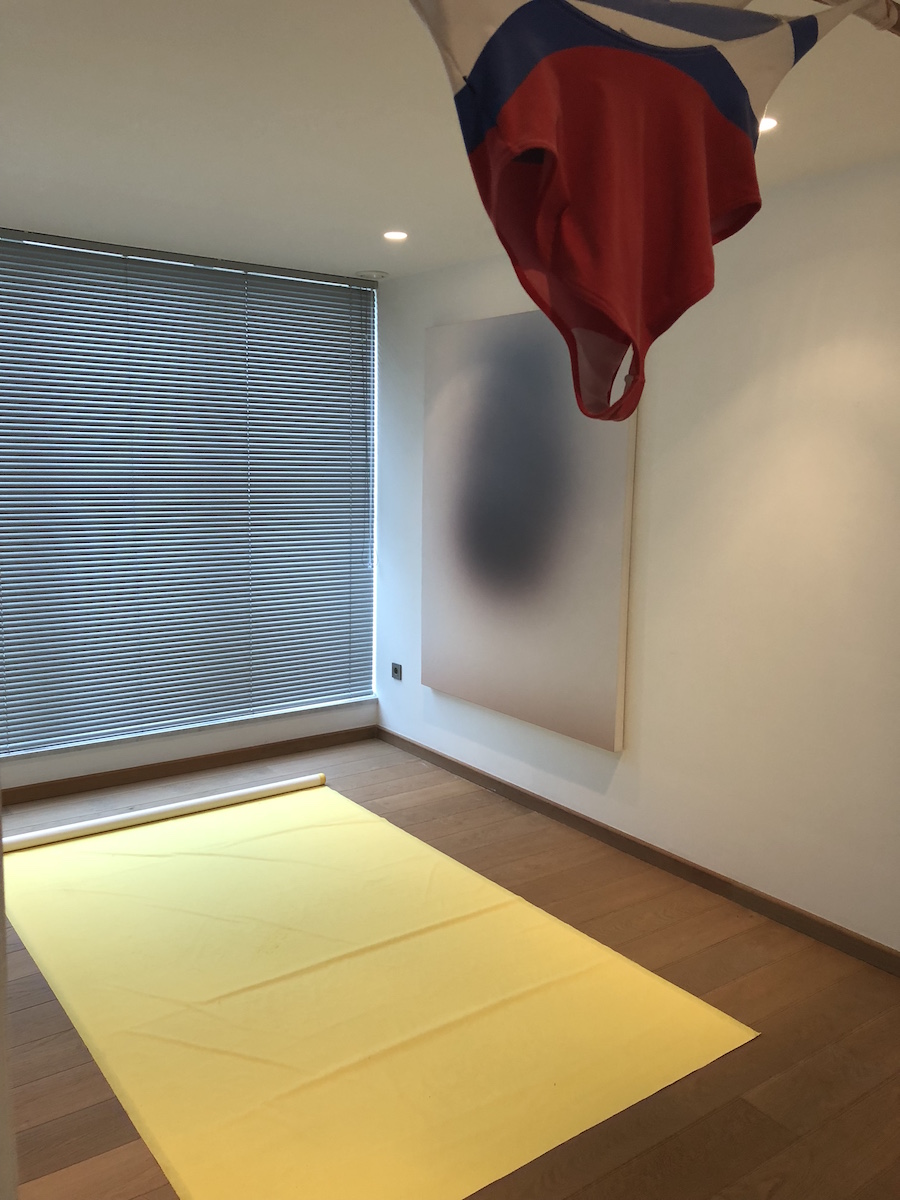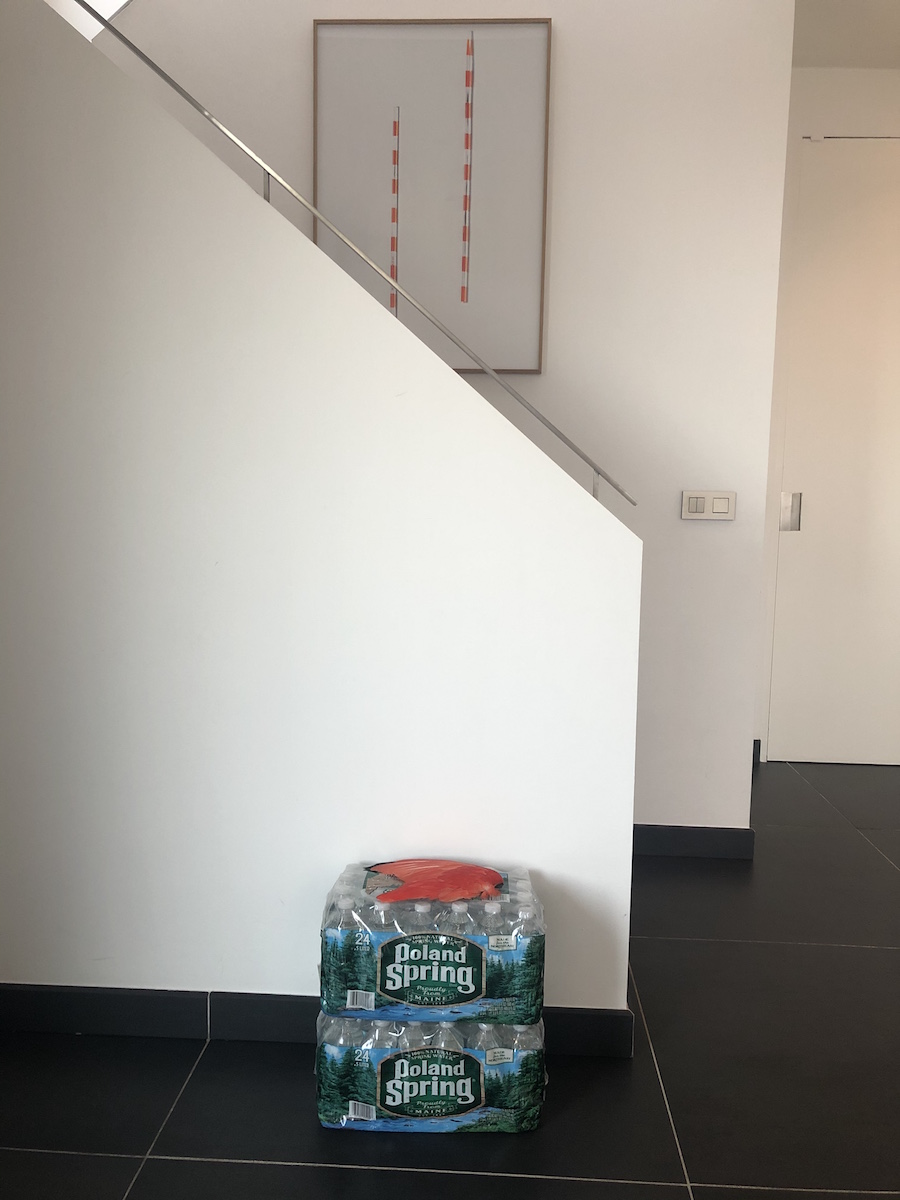 Is there any particular type of art that has consistently attracted you, or anything that unites all the works you have acquired?
As I said there must be a story after a work. It's not just the aesthetic aspect, there is always a link… with life, our life…or literature, for example, "The cloud library" by Fabrice Samyn. It's a sculptural and performative work. Throughout an exhibition, the artist has been shaping "clouds" that he observed through the window of the gallery. The procedure is based on a protocol. The instability of a spring cloud is sculpured in three-dimensional shape. So we catch the clouds…in our library. Art and literature comes together.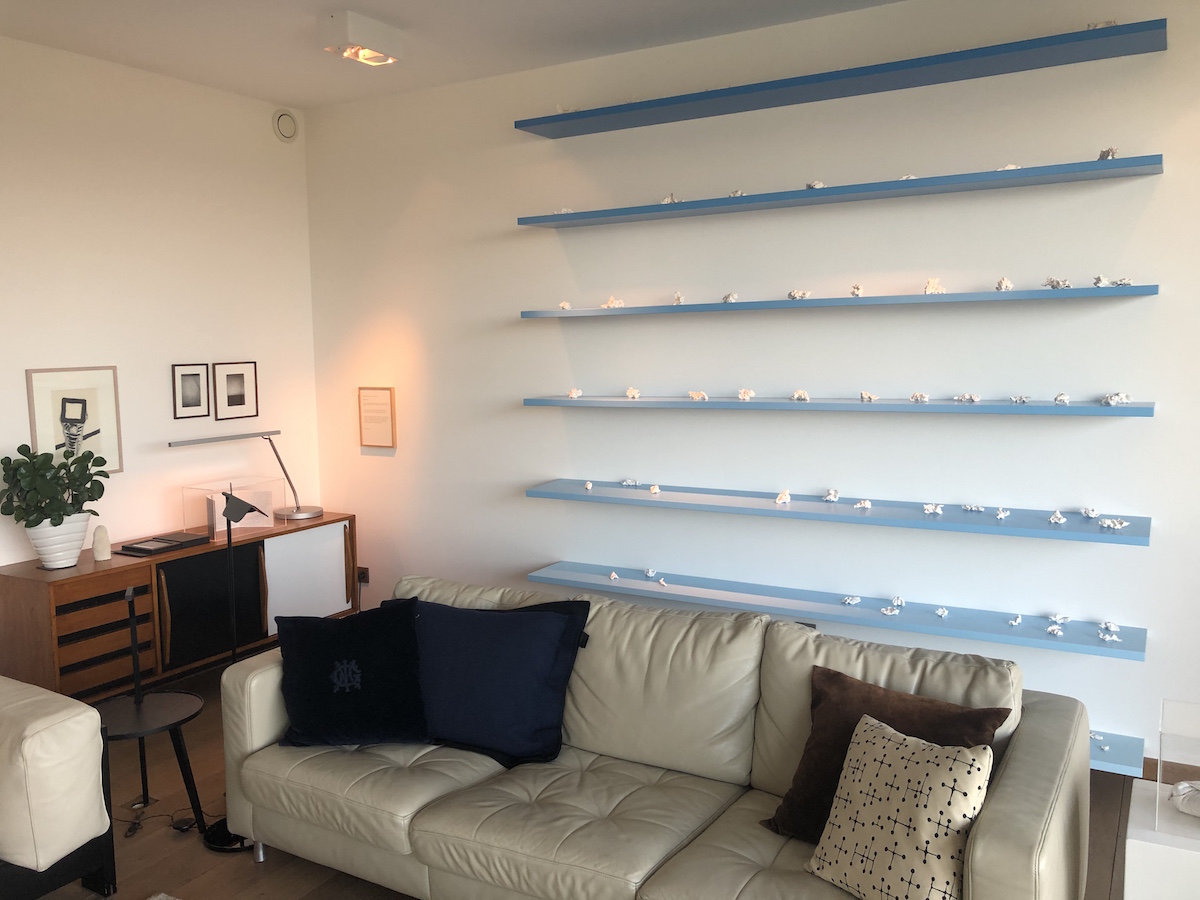 What were the first and the latest artworks you purchased?
When we were students, we received already some artworks from my parents-in-law: editions, curiosa, vintage… but also soms unique pieces when we graduated or get married—memories for life.
The latest artwork is a pencil drawning "Afrolampe" by African artist, Jean Katambayi Mukendi. I saw his work for the first time in a solo show in Trampoline Gallery of Simon Delobel in Antwerp, a real fine man…who had a complete new and fair vision on art and gallery work. Then, I saw the work of Jean Katambayi again in a group show in Gladstone Gallery, Brussels that was curated by Kasper Bosmans… So you see… the link among our artists is there again. The pencil drawning was made by the artist when he got stuck at airports while travelling. Due to problems with visa, border controls… the artist get stuck in airports. The fine lines on the artwork…shows a timeline of travelling, of immobilisation. Also "Marsphairlines" is a work of Jean Katambayi. Again, the dream of travelling in dark times.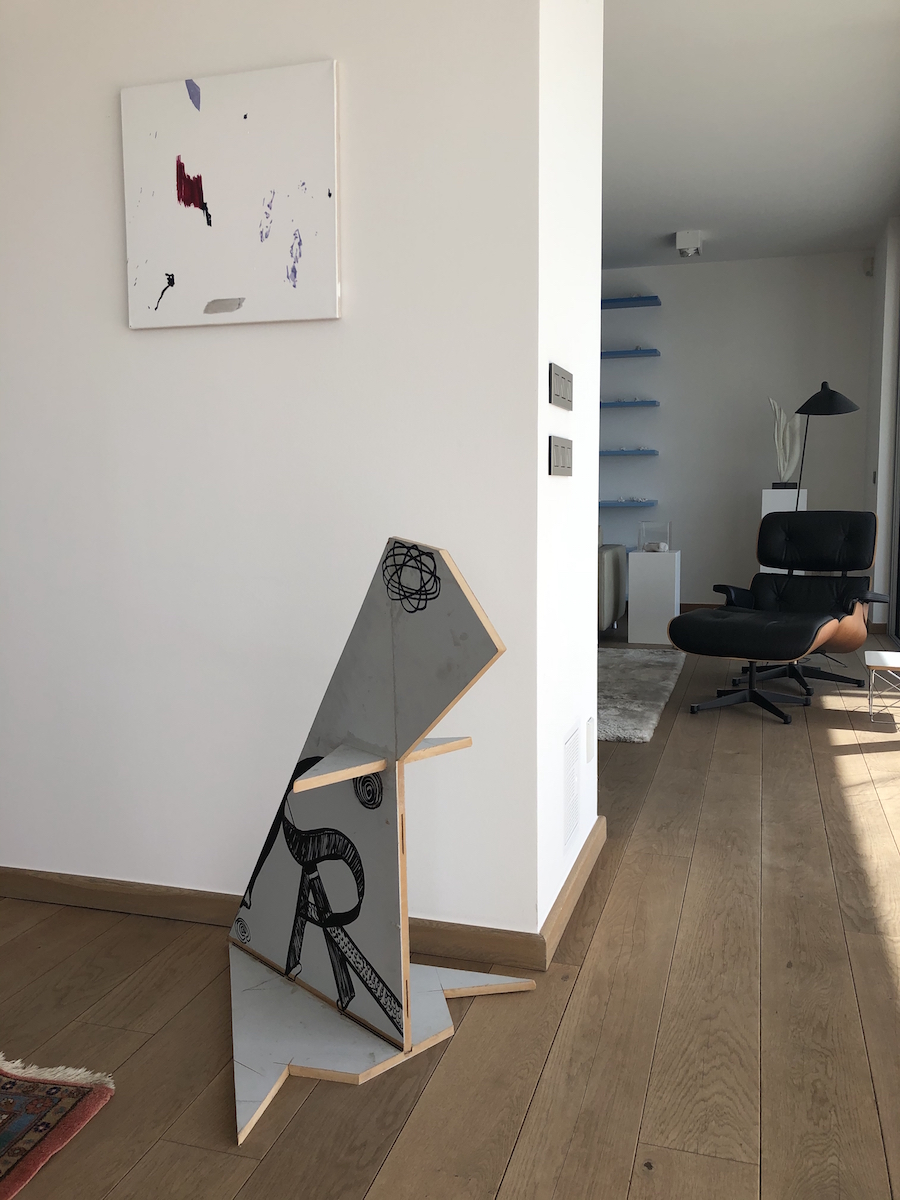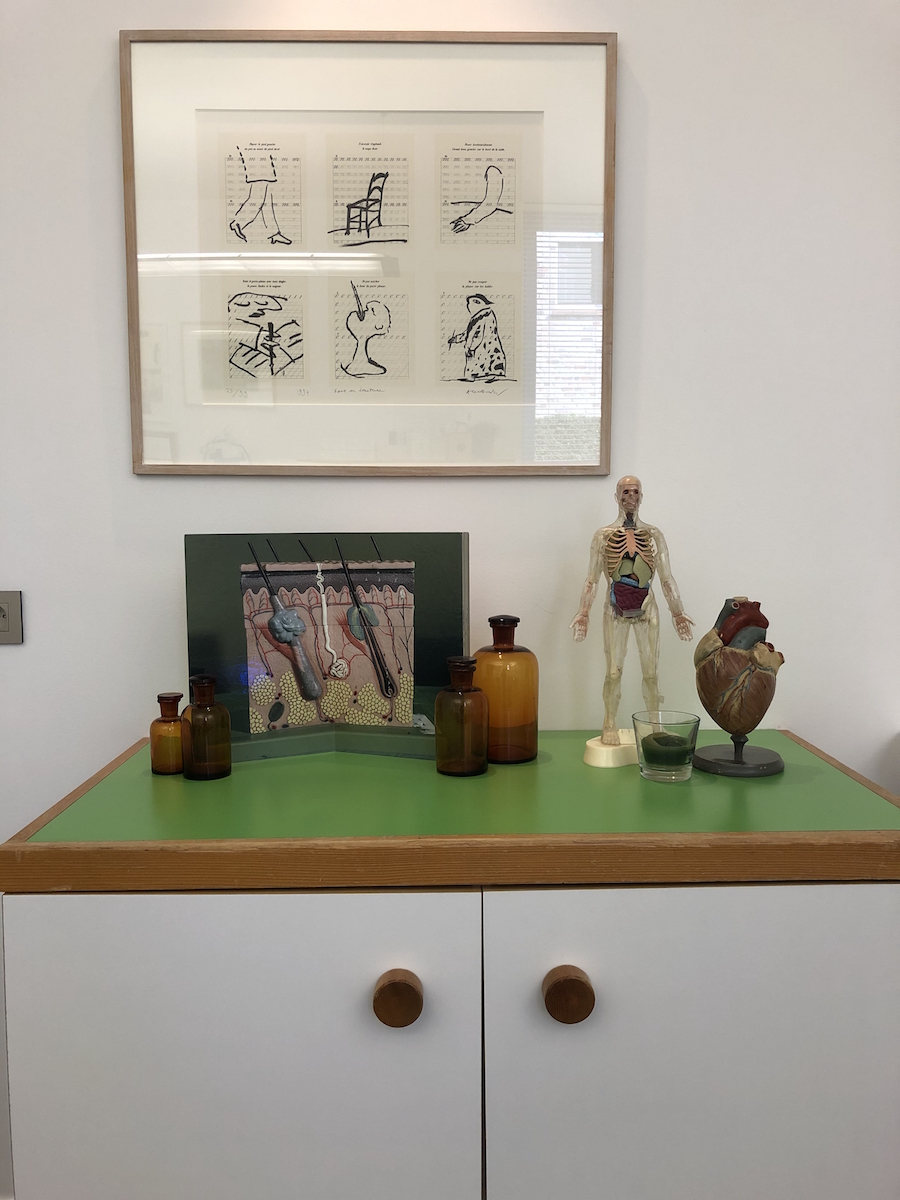 How many artworks do you own? Where do you display your collection?
We don't count our artworks… sometimes we say to each other to stop buying works…but at the end of the year…we have again our acquisations. It's contagious…
We still have enough space to show our works… and we have the possibility to spread the works at the our medical cabinet, in the hospital… They open conversations with collegues and patients.
Have you ever presented/ Would you wish to presentyour art collection publicly?
No, we didn't show our collection… it's also too modest to show…but if we could help an artist by showing or loaning out some works, we surely would do… Also, articles like this interview should be meant for the artists.
What considerations guide you to make a purchase?
I read and follow the artists for a long time…mostly I know their careers, their stories, their works…but we don't have the possibilities to buy all our dreams, there is no budget…
But sometimes you have this "BAM", a "coup de foudre"—you feel it, you really get nervous, physically excited…and then it's quickly decided.
Most shows are in Brussels…2 hours driving… so getting back home after an opening…I can really be excited by shows. Driving home is like a meditation, a mental escape, and it is in these moments that you decide to buy a work.
How important is it for you to meet the artists who created the artwork? You have become friends with some of the artists you collect, and are there any interesting/memorable stories to share?
For us, the close relation with an artist is very important. But it grows naturally…it's not a condition to buy an artist's work.
But if we buy a work, we mostly make contact with the artist…we stay in touch… we show them the environment in which the artswork comes. We really live with the artworks, with children hopping around. Some artists really appreciate this. It becomes a family affair. Some artist stays in our beach house in De Haan, Belgium with their childeren, or just come to the sea to work or write in totaly silence—living with art.
As I am a general practitioner and emergency doctor, people easily talk about their lives, about their problems and concerns. It opens a conversation; they trust you; and this offers a new dimension to their art. Like now, in this COVID-19 pandemic, I was frequently contacted by some artists, national and international, partly because they were worried and concerned about us. Otherwise, they have also fear and doubts about their own health. They were worried about some symptoms and had questions for the future… So in these confidential moments… you feel that artists trust you, and trust in the artworld is so valuable.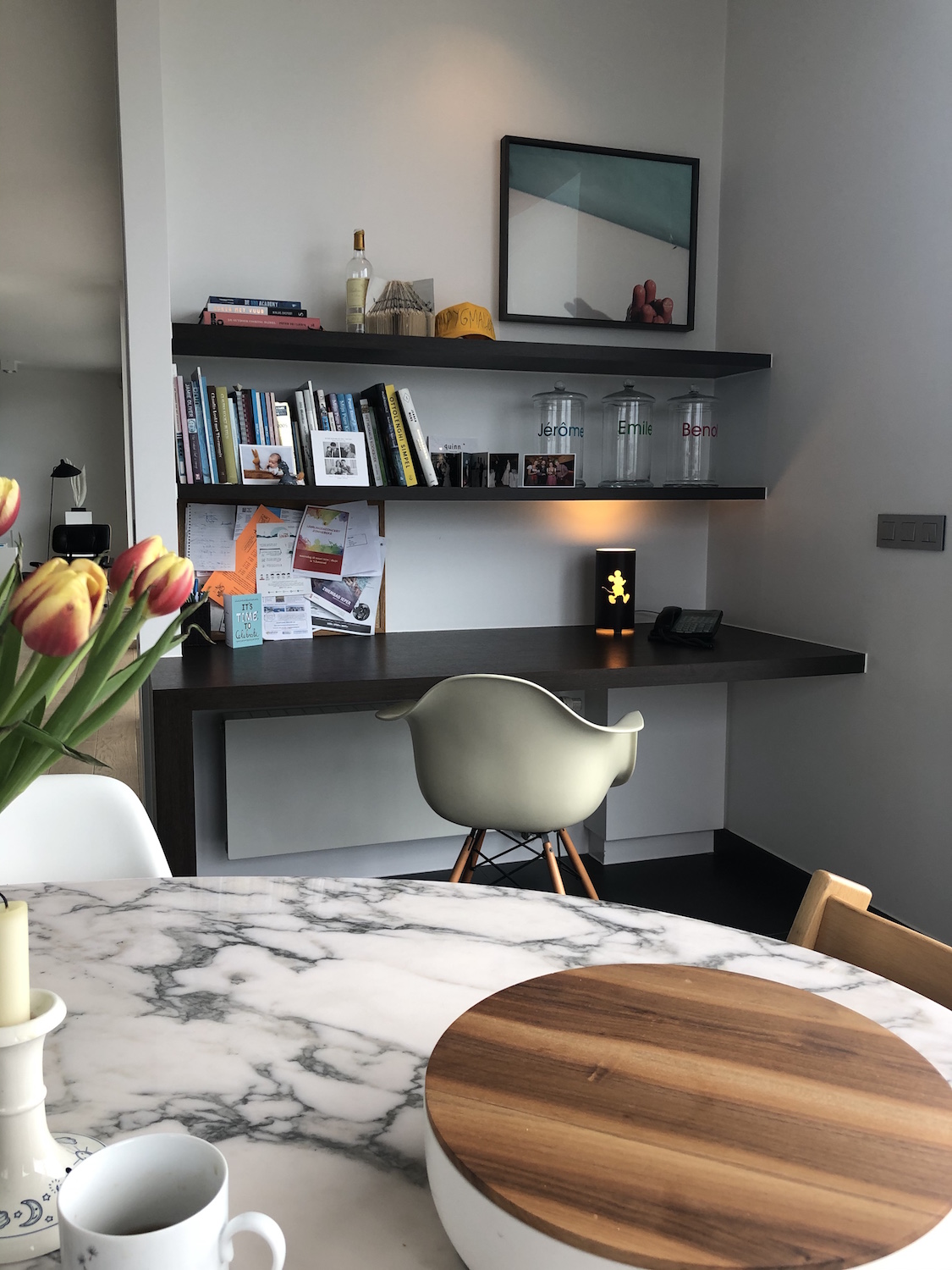 The Art World
What was your happiest moment being involved in art?
The daily escape from reality!
As doctors, we see daily small and severe problems. It's problem-solving…the whole time. But those small moments of beauty, of dreaming, of admiration…really encourage us. I have this not only in the artworks itself, but also in the literature about art, in magazines, in websites like yours… a mental escape…
Art cannot cure, but it can comfort, it can heal or just motivate us, to go on!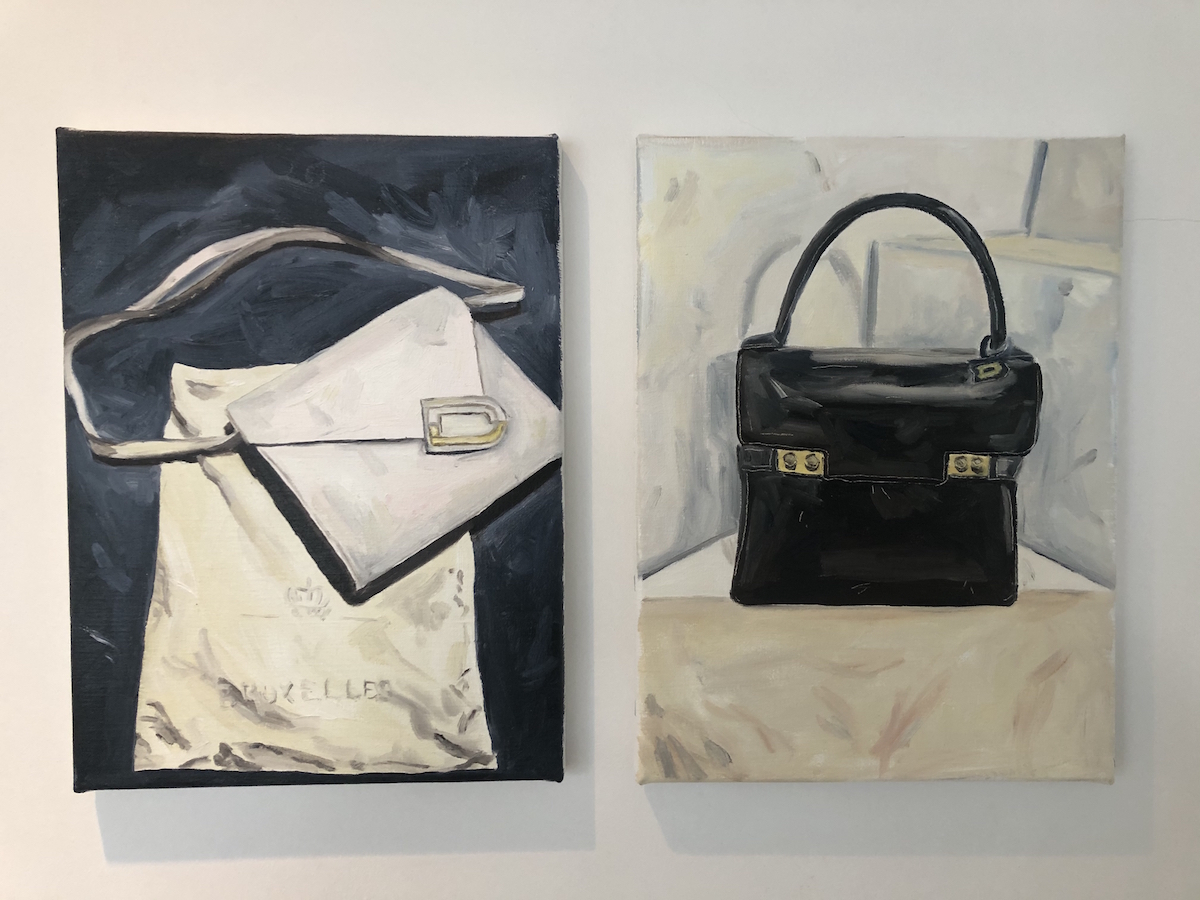 Can you name some emerging Belgian artists who should be on our radar?
Recently, I bought some works of very young artists full of talent.
Marlies De Clerck is a driven painter. Even in this hard time, she is working daily in her studio, lifting up banal things to art pieces. This diptyque shows Delvaux bags, sold on ebay…and she captures them in a painting. In Belgium, Delvaux bags is a status symbol, It-bags "avant la lettre"… When you have to sell them, there is mostly a unplaesant reason… Why is someone selling his bag? Again, a story behind a work.
Another recent work is of Antoinette d'Ansembourg. She makes sculptures of fragile things. "Soft cactus" is an example of this game.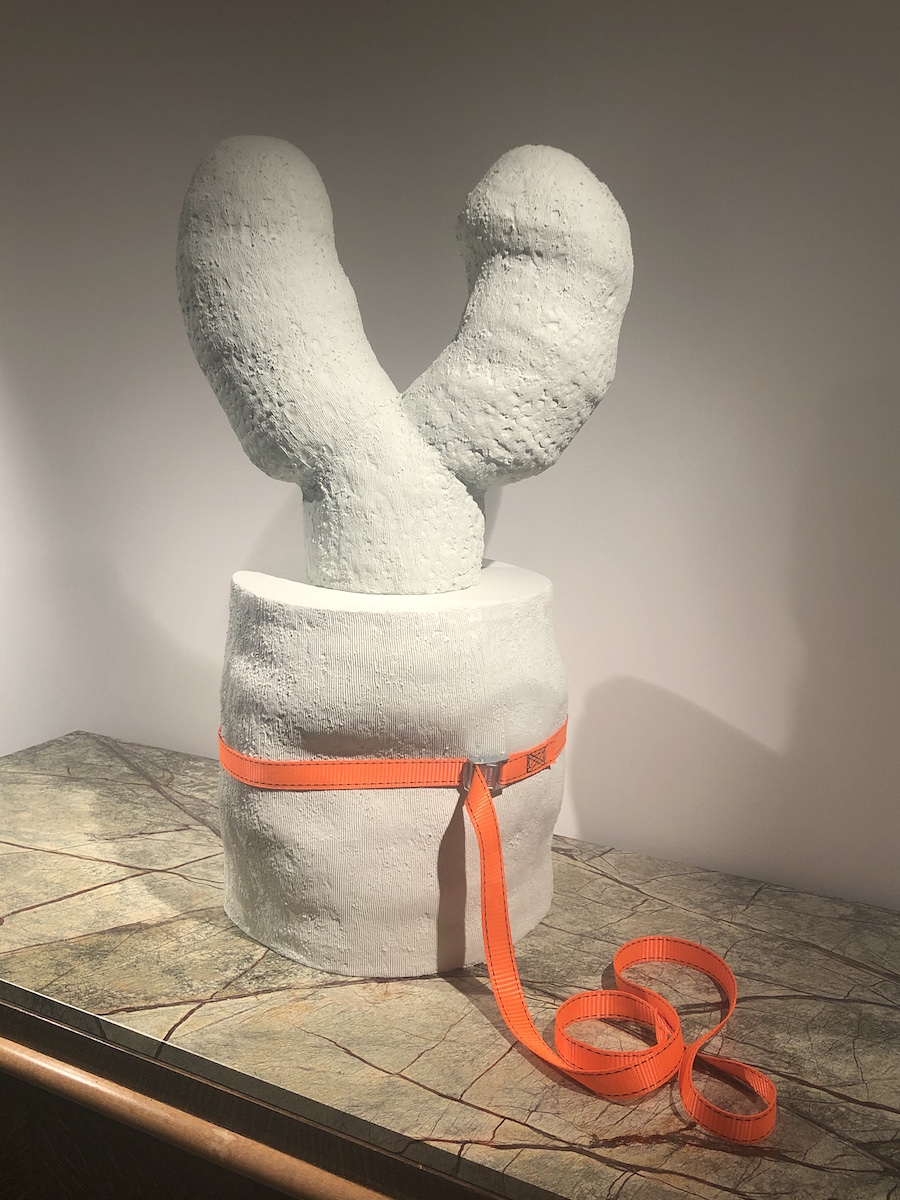 When you cannot visit museums and galleries these days, through what channels do you continue discovering art and artists?
We stay in close contact with the artists. Personally, they encourage us, and we stay interested in their work— all together.
And I see that galleries do a really big effort to stay in touch with their collectors. They share videos, studio views… It helps people in quarantine.
And of course Instagram! I am really addicted to my window to the (art)world.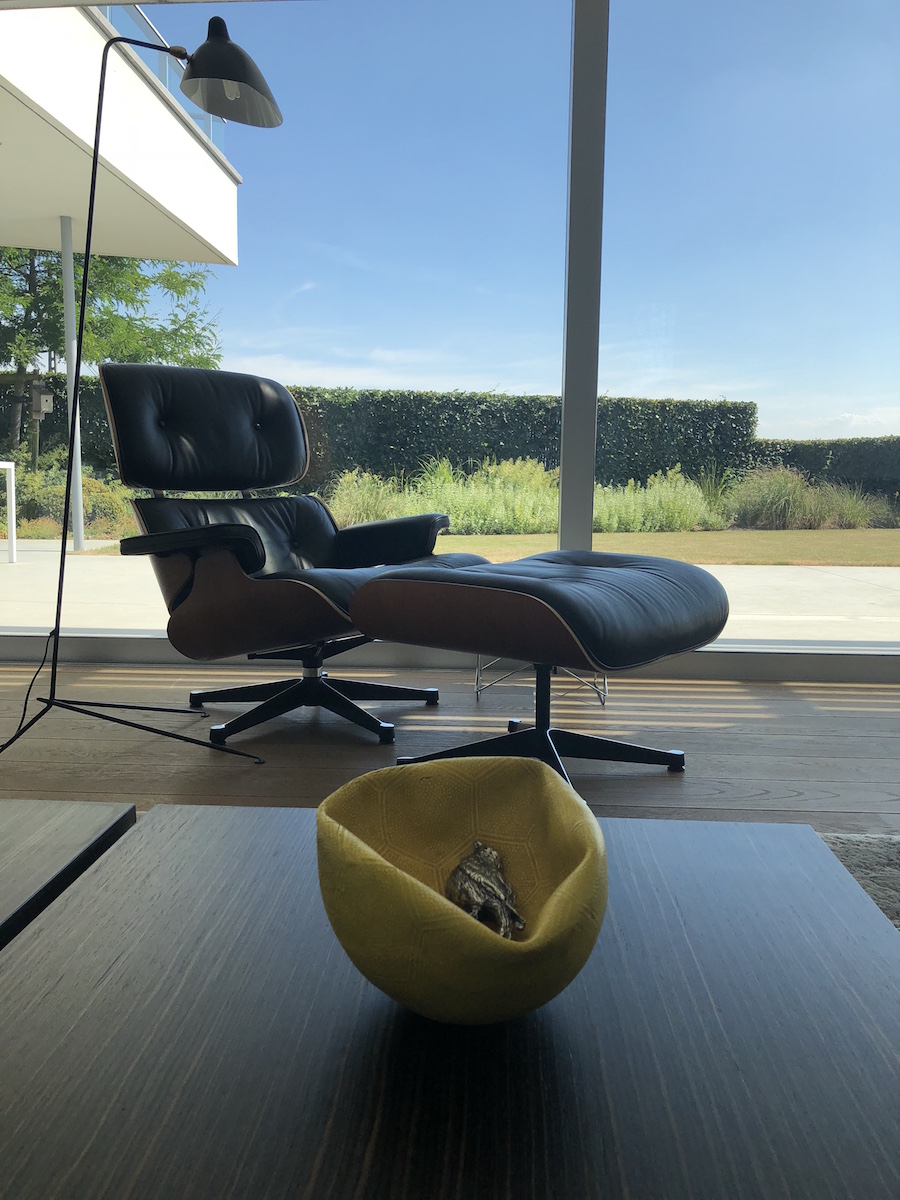 Some say that art is especially important during hard times or uncertain times. What do you think about this?
These are really strange times. We are fighting again an unseen and unknown enemy, COVID-19.
People are afraid, for their health, but also for society—how will this situation evolve?
After these acute medical problems, we are afraid of a lot of psychological and social problems—people were alone for such a long time, people will have financial problems… so the next year will be extremely important.
Can art be trusted? Maybe for those who have access to it! But everyone should look for beauty, for this mental escape, for a cocoon of trust.
What roles can art collectors play during difficult times in the art world? How do you think art collectors can support artists and bring about changes in the art community during these days full of uncertainties?
I'm afraid that travelling around will be difficult for quite a long time… so we have to look for new ways to bring art to the collectors. Collectors are hopping on planes, from fair to fair… Maybe we were travelling too much for art?
It will be more direct, one-to-one, without the glitter and glamour… so it will be maybe more sincere. Quality will be more important due to the lack of financial resources; the objects shown must be perfect.
More to the point… back to basics…  But let us now focus on the basics… and that is to cure our patients and beat this virus!
For a free world.
Instagram: @vandenbergheoli
A selection of artists Olivier collects:
Antoinette d'Ansembourg
Jean Katambayi Mukendi
Joris Van de Moortel
Kasper Bosmans
Marlies De Clerck