Nicolas Laugero-Lasserre says, "art is not a commodity like any other; it carries values." That is the philosophy he has been passing on to students as an art business school director. As a collector of street art, his motto is to share as much as possible with the public as he thinks the very DNA of street art is sharing. He believes in the good influence of an art filled environment on people and does everything he can to share the access to art and culture to others. Therefore, he founded the first floating art museum in Europe and the first floating urban art museum in the world, Fluctuart, which opened last year.
On behalf of LARRY'S LIST, Max Mogan Gielniewski met with Nicolas Laugero Lasserre, who talked about the mindset behind his collecting art, how he got addicted to sharing his collection with others starting from a gallery show, where his collection can be seen in public, what motivated him to set up Fluctuart, and three street artists he recommended to be on our radar.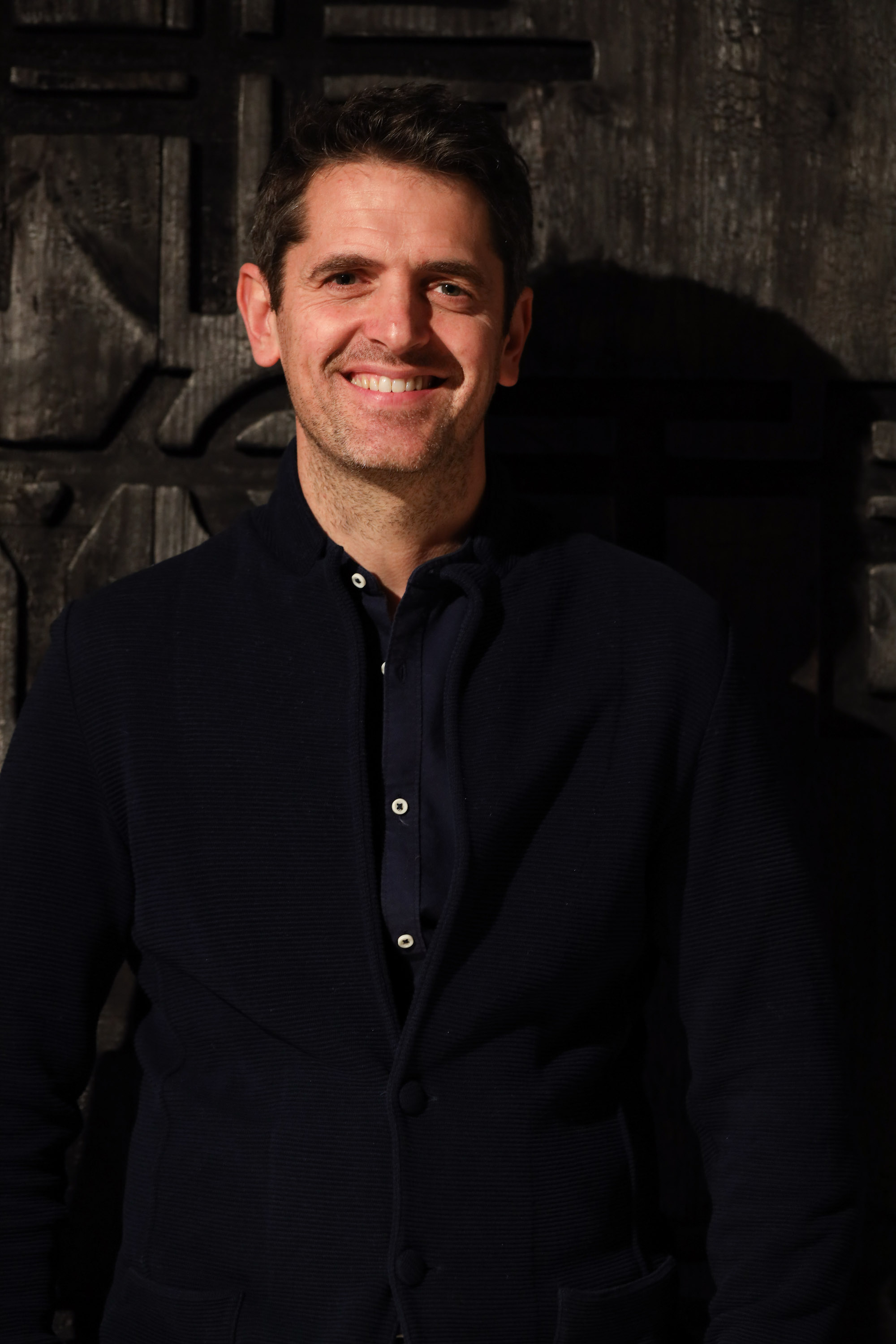 Collecting
What made you want to start collecting art? What is the main motivation behind your collecting?
Unlike most of the collectors I know, I am not born in a family of collectors. I didn't even have much of an artistic culture – occasionally, I went to museums with school like every child, but there wasn't any passion behind it.
It's when I arrived in Paris when I was 20, that I discovered the world of fine arts by meeting artists; fascinated by people who create every day, I wanted to keep some works as a testimony of the encounters I made, but I didn't consider myself as a collector. It was all about my relationship with the artists I knew.
One day, Art and You Gallery asked me to show some of my works. They were the one to call me a young collector. I made an inventory of what I own – and I was surprised to find that I already had 80 artworks. Thanks to this exhibition, I realized I had a power to share this culture, this passion. When people came to see the exhibition, I felt some of them thought "If someone like him started collecting out of nowhere, why not me?" From then, showing my works to as many people as I could has become a priority. I turned rapturous about it and organized over 50 exhibitions in 10 years, and today, I even lost the count – I fill uninhibited and rightful in this quest to share.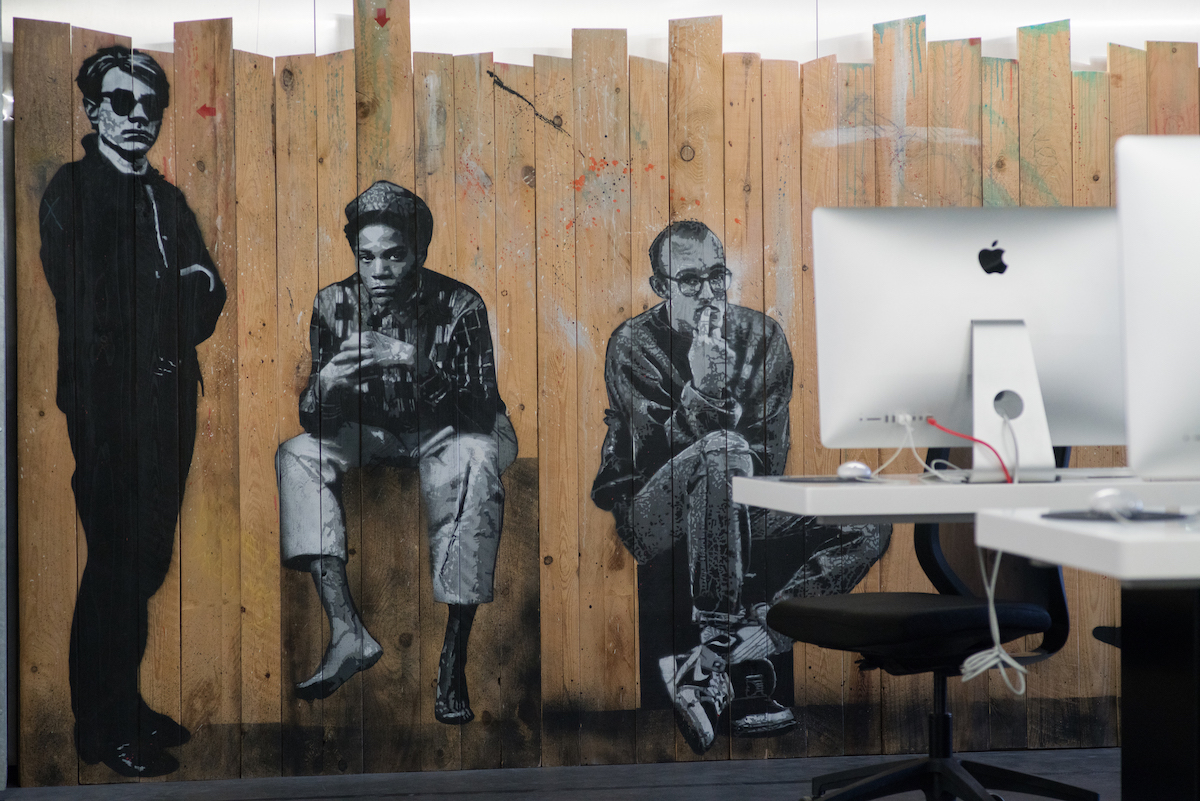 How important is it for you to meet the artists who created the artwork?
I really like to meet them, especially since I usually first met the artists before buying their works. Now, I just enjoy meeting the personalities behind the works I discover—especially since I very often cooperate with them on different exhibitions' scenography.
When did you fall in love with a piece of art for the first time? What was it?
It was 1999, I was 24. And at a charity auction I found myself by chance, I saw a work by Miss Tic, this historical street artist, that caught my eye because I used to live in the Butte-aux-Cailles district in Paris, where the artist's works were everywhere. I bought it on impulse.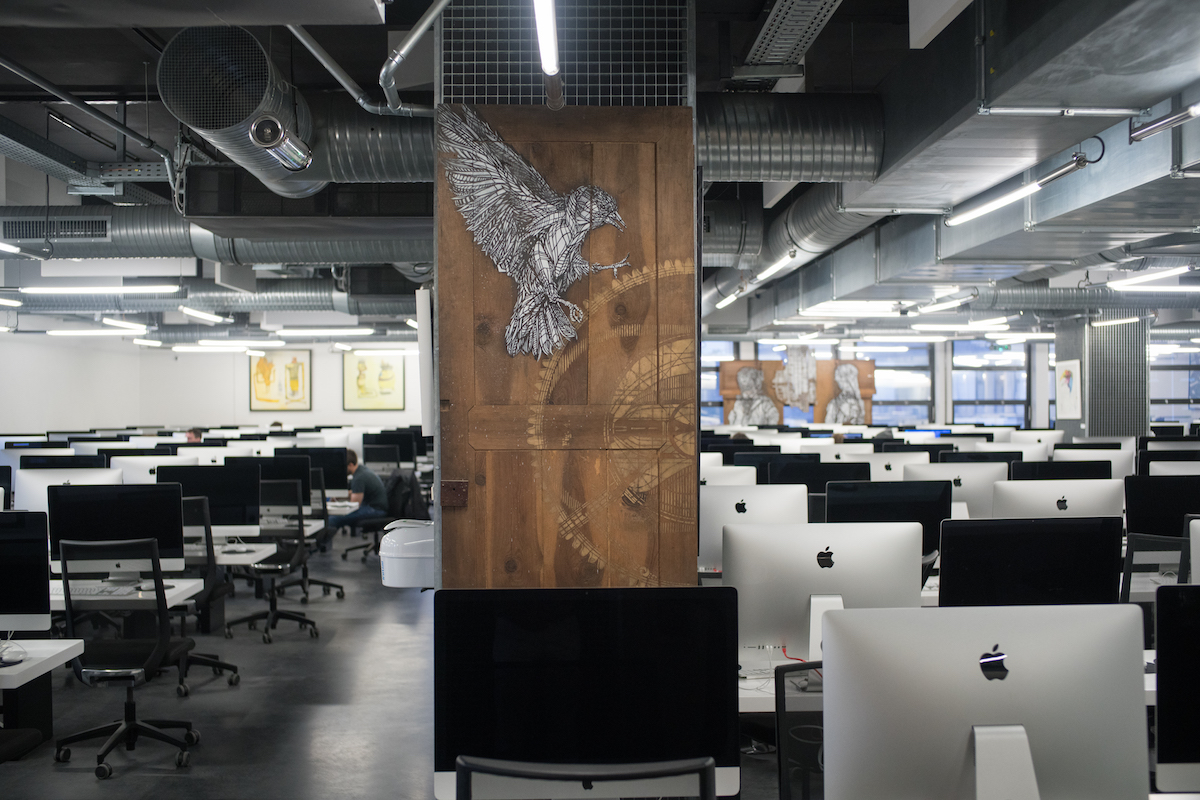 Why is it important for you to collect works by Street artists?
My first exhibition for Art and You Gallery was composed of 50% of street art and 50% of contemporary art, but I knew I couldn't really be good at everything; and I wanted to share my passion, which means I needed to be good at what I was doing, so I decided to focus on what interests me most and start to specialize. Moreover, the very DNA of street art is sharing, it makes sense to support a movement that embodies my own values and ideas.
Is there any particular kind of art that has consistently attracted you, or anything that unites all the works you have acquired?
Most of the pieces I own are the consequences of meetings and mutual understanding with artists. I collect artworks from artists I believe in, works that tell me something about the world or about myself.

How many artworks do you own? What is the proportion of your collection being displayed at home and in Fluctuart?
Nowadays, I have around 500 artworks I acquired without any personal fortune, half are original works, and the other half are prints.
I have only 10% at home, all the rest is shown outside. Nothing is hidden in stocks, it is my policy to share as much as I can with the public, it is almost my motto. I think it is an insult to art, to hide it in a chest.
Your collection can be seen in a lot of places, can you tell us about it?
First comes Fluctuart, obviously, the floating museum in Paris (2, Port du Gros Caillou) where I organize temporary exhibitions with works from all around the world on top of the permanent exhibition constituted by the jewels of my collection.
But you can also find my collection exhibited in some less-conventionnal places, such as the incubator I created at the programming school "Ecole 42", 96 Boulevard Bessières, 75017 Paris, where visitors can see how the works accompany students and inspire them everyday.
And you can find a part of my collection in the Paris Office of Baker Mckenzie (1 Rue Paul Baudry) as well.
I am also working on a project with the biggest center for homeless people in France "la mie de pain", that I have been supporting for 20 years. I was really shocked by the life condition of the poorest in Paris when I arrived from the south of France. As always, these works will be loaned for free.
On top of these loans, I always invite artists to work in these places, paint on the walls. In every exhibition I curated, I wanted to create something interactive, have some interventions by the artists themselves.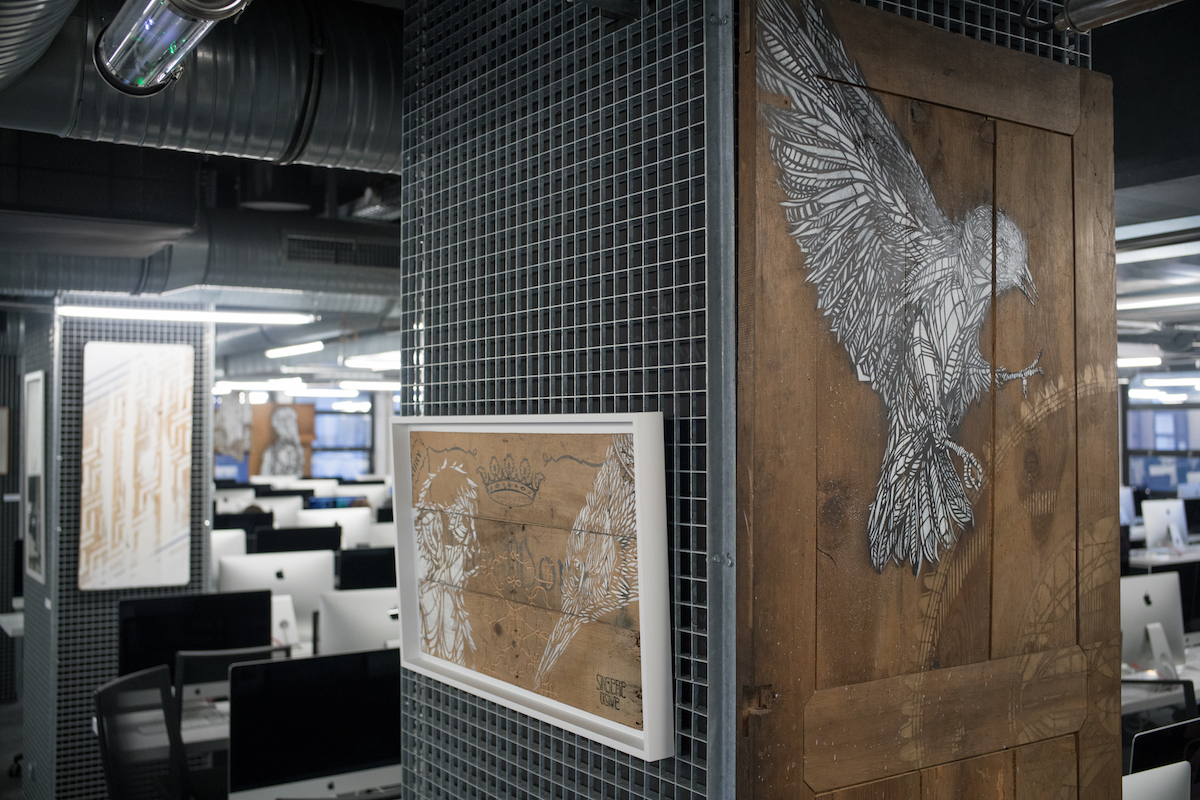 With such a specific approach, what considerations guide you to make a purchase?
Sometimes, I still end up buying impulsively, but since I know I am not collecting only for myself; I feel I have a responsibility that guides my choices. I am creating a corpus of the artists I develop and try to show, I must choose works that have a meaning in the career of the artist and in the movement he represents. But that is a mission I discovered over time, almost as a hidden law in my way of collecting. I think it is very important not to force this mission on a collector; there are all kind of collectors, and we need each of them. New collectors especially should feel free to buy what they like, even if they don't really know what they are doing, if they want to wait until they are qualified, they will never collect. Every day, I discover new French artists. It is impossible to be knowledgeable of all the new artists in the world.
Still, I am proud that my expertise has recently been recognized since I was asked to work on a new book of the "Que sais-je?" serial, focused on street art.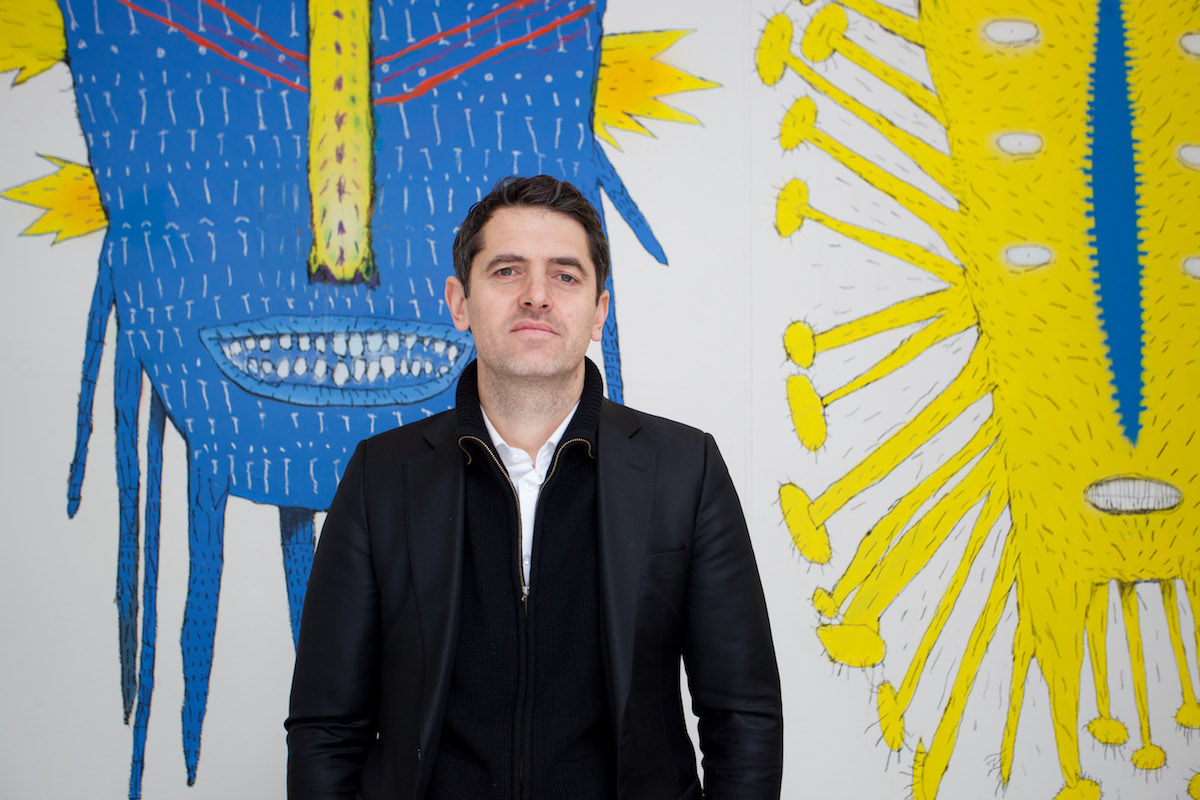 What is your most treasured artwork?
It is a very difficult question. I don't really have one artwork in mind, I have a more comprehensive vision, some works are like milestones though. I really like to see the collection as a journey.
But if I would have to take one as an example, I would choose a little Greco-Buddhist sculpture, from the 2ndcentury BC, it is a small sculpture that still has traces of polychrome that survived the centuries. I found it beautiful how this little artwork lived on for centuries. I also like the story how I encoutered it: it is a work I found by chance in Drouot auction house, during a small auction, without catalog. It is one of those art pieces I live with. I never speak of it since I always defend street art, but I have a small collection of archeological elements at home that are very important to me.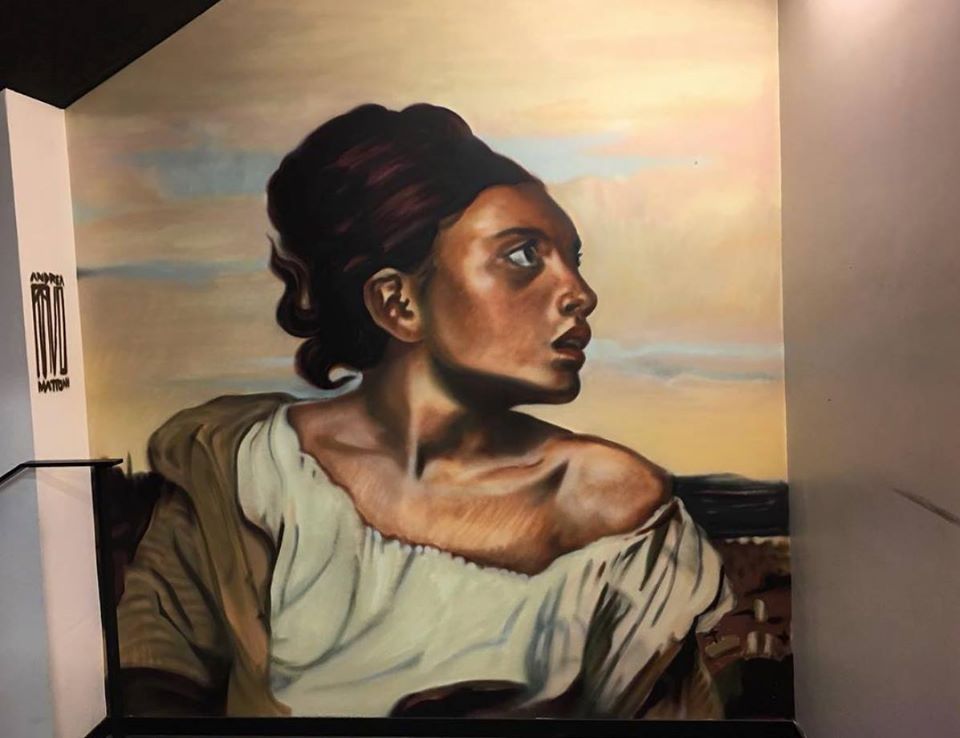 Fluctuart
What motivated you to set up Fluctuart? What is the challenge?
My current associate Géraud Boursin told me about this project to create a space on the Seine River. We started to work on it together, and day after day we saw it become more and more real.
One of the biggest challenges was to invent an economic model that works, there was no public funds, and our biggest ambition was a totally free entrance, with guided tours also totally free of charge: it is only fueled by private capital, we give thanks to the bar and privatizations of the place.
We built the boat for 4.5 million Euros, it was crazy, even now, 4 months after the opening, it is hard to realize that I managed to do it. We have 15 members in our crew and organize long exhibitions that last four to six months that we can offer to the public.
Can you tell us more about your current exhibition? And what is your next exhibition about?
We currently have an exhibition until April 19, 2020, our first major winter exhibition that we thought of as a "counter-exhibition" of Leonardo da Vinci's exhibition at the Louvre: 20 street artists from around the world, half of them are women (I am very proud of it), who will present their inspirations from the works of Leonardo da Vinci.
We visited the Louvre's exhibitions with the whole Fluctuart team and my friend, a curator of the Louvre: Ciril Gouillette. I believe it creates a fascinating bridge between ancient art and street art.
Our exhibition curator wrote a very exciting work edited by Gallimard: "Sous le street art, le Louvre". We are trying to show that both the masters of old and street artists are working in the same discipline.
Our next exhiition will start in May 2020: India will be in the spotlight for the summer. A dozen of the best Indian street artists (in Europe for the first time) will come to Fluctuart in partnership with the Embassy of India in France.
Can you name three artists who should be on our radar?
It's a difficult question, but I will try to select some diverse artists.
Firstly, the street artist Madame. I accompany her for years. She is under 40 and spent 20 years in the career. She just made a Monography and will be taken in the Open Space gallery, which should have a great positive impact on her career.
The second one would be Apolonia Breuille, she just graduated from Beaux-Arts de Paris and is a young artist with a very bright future.
And finally, a major figure of French street art: Zevs, he already has a great career in France, but is about to take it abroad. 
How did it change you as a collector when you became director of the ICART art business school?
I arrived at ICART at a critical age. What changed my life was the departure from the Pierre Cardin space; I spent 20 years there and learned a lot. I owe everything to Pierre Cardin who believed in me at the age of 20 and later gave me the opportunity to take over the management of his space at 30.
ICART allowed me to emancipate myself at some point, and to give a chance to young people in whom I believe, just like Pierre Cardin did with me; I am getting in touch with an army of future entrepreneurs and professionals in the art business who have the same dreams as I did when I was young. I try to transmit an energy to these young people: art is not a commodity like any other, it carries values.
Finally, these values interest me a lot. I have invited artists to come to ICART campus to create inside the school… I am happy to see the positive effects it has on students. This is where my mission as a collector meets my mission as a school director.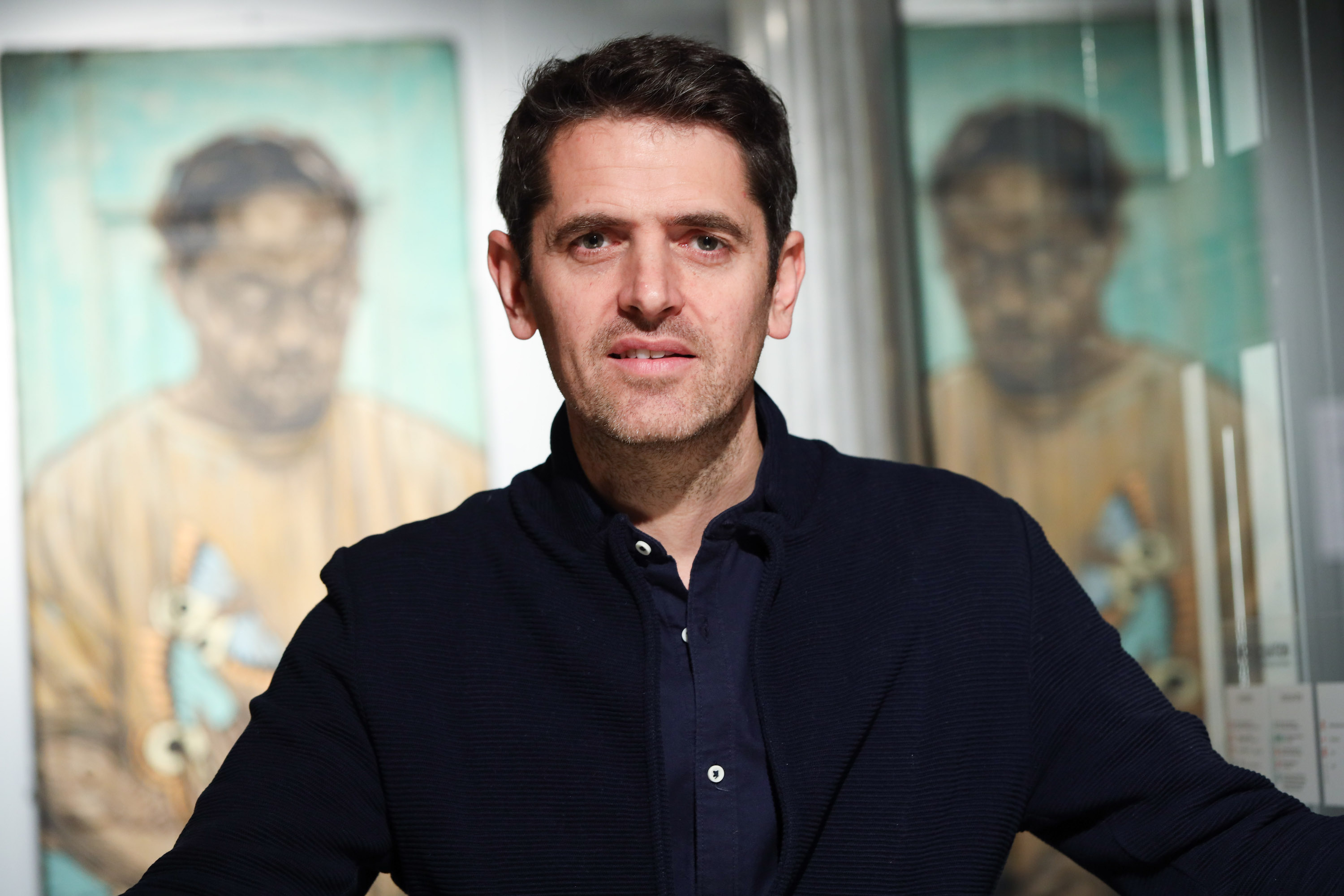 Related: Nicolas Laugero, Fluctuart
Instagram: @nicolaslaugerolasserre
A selection of artists Nicolas collects:
Banksy
C215
Invader
Maxime Drouet
Zevs
Interviewed by Max Mogan Gielniewski
Edited by Ricko Leung