What started out as innocently decorating his freshly renovated house with his wife Payal, developed into a serious passion for art collecting. Anurag Khanna's devotion to art drives him to meticulously research and learn about art for months on end before making a purchase. His unique and introspective way of collecting helped him sharpen his own individual taste all the while amassing a large collection of video art in just a few years. Awarded the title of "Young Collector of the Year" by Forbes Art Award India in 2014, the self-taught art enthusiast is one of the few Indian art collectors who collects this medium.
Anurag Khanna shares with Larry's List the reasoning behind his method, as he gives us four pointers every young art collector should do, and why he believes video art will become the next big hit in the art market.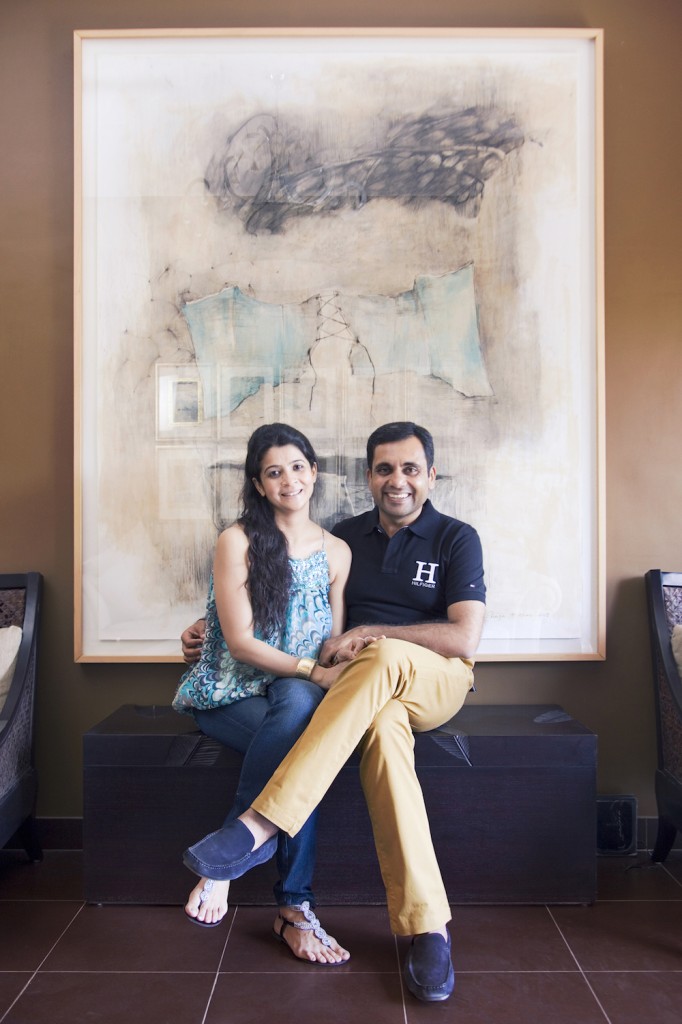 Thoughts on the Collection
Can you tell us the story of your first buys and how it motivated you to start collecting?
We were renovating our home as I was getting married and during a pre-wedding visit to Bombay I happened to like two paintings at a gallery there, which I ended up buying. These two works somehow happen to always be the topic of conversation between family and friends whenever we have guests over. I enjoy the dialogue around them at home and the positive energy they create around us and I think this definitely motivated me to start considering collecting as a hobby.
How has your collecting evolved from when you first started?
I started collecting intuitively as most people do and the focus was always to look at young Indian/Pakistani artists. However, I slowly got more and more serious about reading, looking, understanding and educating myself before collecting, and that changed the focus of the collection. From what started out as a hobby, changed into a serious passion where I have now landed up looking at artists from the Western world as well. It's a slow process and as you grow as a human being you tend to grow as a collector too. It is really about pushing yourself to look more, learn more and then gather the means to help acquire the works. Now there seems to be more of a focus and a structured method in the way in which I collect, mostly considering mid career artists, collecting them vertically if possible, and depending if I really like their work. There is no particular medium that I concentrate on but I enjoy the dialogue and the web-like connections my artists create in the collection.
What is the main motivation behind your collecting?
Just to live around beautiful objects and make life more meaningful for me and my family. For me, it is my way of finding peace and happiness in my life.
What is your focus regarding the artists in your collection?
The focus is to create a web in which a dialogue can take place between the artists and their thoughts, so that we can all have healthy conversations about politics, gender, social and personal issues. I try and collect artists who are born in the 1960s and/or younger as I relate to these mid career artists more and therefore enjoy living with the objects they create.
Does your collection have a uniting theme?
No I don't collect on the specificity of mediums and themes. There needs to be an overlap between the artworks we live with since such overlaps create their own story. For instance, Walid Raad could be making a political statement about Lebanon, while nearby Bani Abidi from Pakistan touches on similar political issues of wars, borders, barriers etc. I hate having a monotonous thought that drives the collection as it makes everything very boring.
How many artworks do you own?
Well the intention is to own key works from good artists within our budget. We may have around 150 works, but numbers are meaningless. It is just as good to have 50 solid works than to have many that are weak representations of the artists. The struggle should be to find the best works and get them home. Even buying one work a year is fine, as long as it helps takes things to the next level.
Which artwork would you say is the centerpiece of your collection?
There isn't one particular work or artist that takes center stage here. So many from Moyra Davey, Akram Zaatari, Guy Ben-Ner, Dayanita Singh, Aisha Khalid, Imran Qureshi, Hassan Khan, Nairy Bagramian, Jutta Koether, Simryn Gill, Chieh Chen-jen, Gabriel Kuri, Senga Nengudi are all leaving their mark as far as contemporary art history is concerned and I hope all of them, and others we have, will continue to make meaningful art. Behind a good collection is a combination of works that link to each other well. Having one star artwork around others that are meaningless does not justify collecting of any sorts.
Where do you display your collection?
We do our own shows in our office space where I am the curator. Our lounge is dedicated to showing video art and we currently have our first show displayed there right now. We have no specific timeframe to alter the shows, since we don't want to pressure ourselves into collecting quickly. It has to be enjoyed and that is what is most important for me. When I feel ready, I will bring down this one and put things in my storage and put up the next show.
Also our home has art all over as we try and live with them as much as possible.
Have you or will you plan to exhibit your art to the public?
Yes, we have already lent to museums and our artworks travel around, which bring us a lot of satisfaction. When the most appropriate opportunity comes up, I would definitely like to share the works with the public. Though, there is no rush as we don't do this to gather attention or publicity. If it has to happen, it will happen at the right time.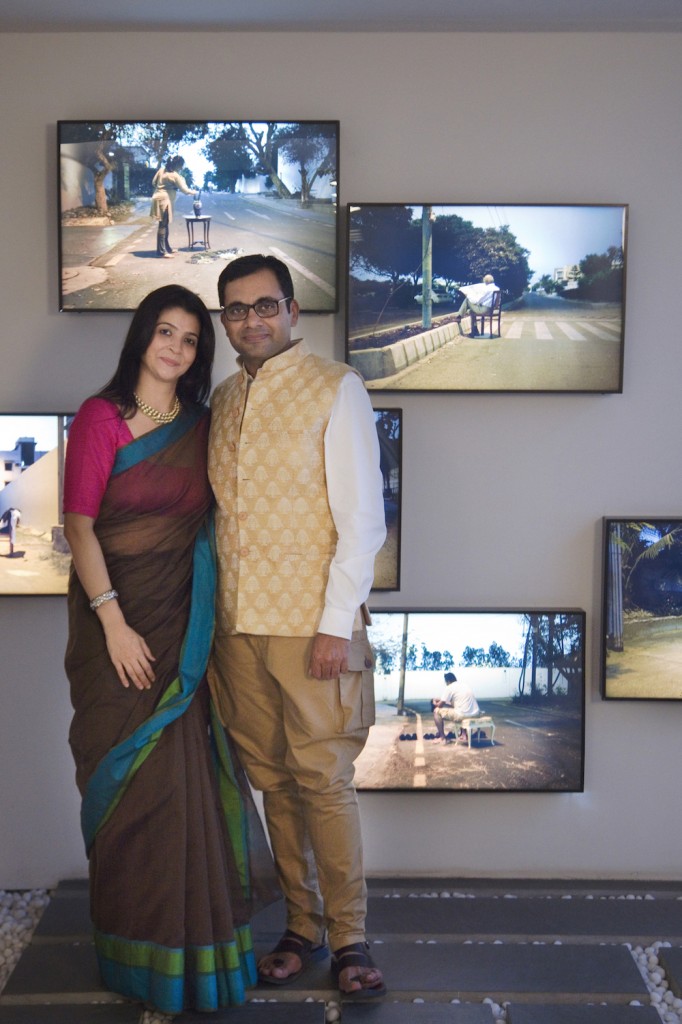 Collecting Strategy
From your interviews, you stated that you always conduct a vast amount of research about the artist or artwork before making an informed decision. How much time do you spend researching about an artist before purchasing the artwork? 
Yes I do have a specific methodology in the way I collect; it is really something I have developed on my own. I don't have an art history background and when you come from a position where you don't have a formal education about a subject, then you somehow have to work harder to swim across the ocean to find your way out. Since I am very passionate about it, I try and travel as much as possible to view art and meet the artists who catch my attention. I then try and get in touch with the gallery, that is if they are happy to give me time and educate me. From there, a relationship develops. It's the galleries who educate me on the artists, who send me books and monographs to read, who keep me informed about works and their exhibitions and answer to my numerous emails. I need a very patient gallerist and if this relationship develops overtime, then I would consider working together on various things. I am a very inquisitive person when it comes to art, so I am always full of questions.
Is the research some kind of art in itself?
Yes the research can be an art in itself. From the time I learn about the artists to finally acquiring the works, it is all developing in my mind. So, if you feel this approach to collecting is art, then I am happy to know that even I am creating art like my artist friends.
Considering you spend a significant amount of time on the Internet and email, have you ever considered browsing works on Instagram? What are your thoughts on Instagram and the art scene?
I am on Instagram and enjoy looking at art on it. It's a great medium and keeps me updated on art and exhibition shows in galleries and museums, but I wouldn't buy art from just looking at images on the app. If I come across works by an artist that interested me before, then I would call the gallery if the work is something we should have at home. However, to consider buying art by new artists just by looking at images online is not very comforting for me, especially in the case of paintings.
What would you recommend beginner collectors to research on before making a purchase?
I would recommend looking at shows from good galleries and talk to many people who are connected to the art scene. Having these conversations are a great way to learn and filter things. Overtime, one will see what artistic themes they relate to the most and what they really enjoy looking at. The more you look, the more you can filter and assemble your feelings together. One has to introspect to see what kind of works or artists keep coming back to them and whether they would want to live with such works. For me reading is very important. I consider artists who already have some history to them, which helps me understand their practices. Some simple rules one should follow are looking, reading, understanding and then following your heart.
Despite your need to research before making a purchase, has there ever been a time you wanted to buy a work on the spot?
Not anymore. Earlier when I started collecting I did it by intuition but the last several years I've always did research before considering acquiring a work.
It was mentioned in an interview you prefer to collect artist in depths. Would you say you are more of a collector of artists rather than of artworks?
I usually start with one work by an artist after my research and try living with it for a while. If I want to keep looking at the piece and get drawn to the same kind of work, then I start thinking of collecting the artist in depth; that is if I can afford it since prices for artists can change so quickly these days. If possible, I do try and generate a small set of works by artists I like the most. It is like creating a big web but having smaller webs in them that tie many artists together.
What kind of relationship do you like to cultivate with the artists you collect?
We do try and meet the artists we collect. Many of the artists I have collected are actually dear friends of ours. It is a relationship I cherish very much be it over email, meetings, dinners etc.
Considering you do not like to be influenced by the suggestions from the art world, whose recommendations do you trust if you happen to be hesitating in buying an artwork?
Frankly the final call is always mine. I don't like to be influenced by people and I always do what my mind and heart tells me to do. A good collection has to reflect who you are as a person and the artists you have collected in depth. From this, the works will start to reveal the concerns that affect you the most as an individual.
Yet, only a gallerist can influence me in my decisions, as I trust some of them very much.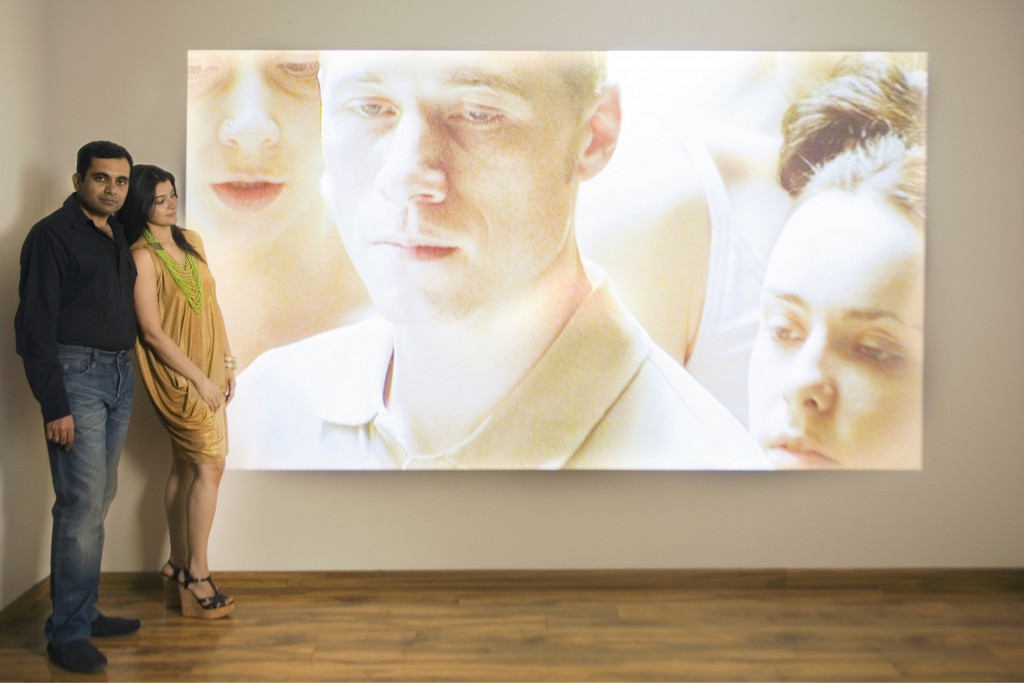 Collecting Video Art
What is your attraction to video art?
Video art demands attention and time, which appeals to me a lot. It is not a medium you can trade easily so I feel one needs guts to collect it. Also, it is a pure art form since it is less influenced by market driven pressures. If you wish to collect and think of sharing your treasures with a larger audience then it is a must have, but quality is important.
What themes interest you in video art?
I need to be able to sit through the video work and feel that it's been edited beautifully and flows perfectly. If I feel I can keep looking at it again and again, then I'll consider collecting it. I appreciate video works which are open ended, opaque and that do not have a set story line, wherein if you have seen it once, you do not need to see it again. I consider all of these factors before acquiring a video.
Which artists do you collect from this medium?
Alejandro Cesarco, Gerard Byrne, Naeem Mohaiemen, Sonia Khurana, Natalia Djurgburg, Victor Alimpiev, Matthias Muller, Hassan Khan, Akram Zaatari, The Otolith group, Bani Abidi etc.
Video art can sometimes be unpopular due its display challenges. Where do you display your video art collection? And how would you recommend video art to another fellow collector?
If you are considering collecting seriously, you can no longer ignore video art. However, you should not search and collect with one specific medium in mind. The art has to be strong enough to stand by itself and make its presence felt in the collection. Yes there are challenges to its display but it is so easy to store. Once you get used to the technicalities of sound, projectors, lights and so on, it is not that difficult.
How do you think the market for electronic art has changed? Do you believe that buying video art will someday be as common as buying photography or paintings?
I am sure about it. Overtime, everyone will embrace this medium as much as they embrace the others. Look at what is happening to photography now. In the 1960-70's no one would accept it as an art form. Now, it is as important as paintings and sculptures.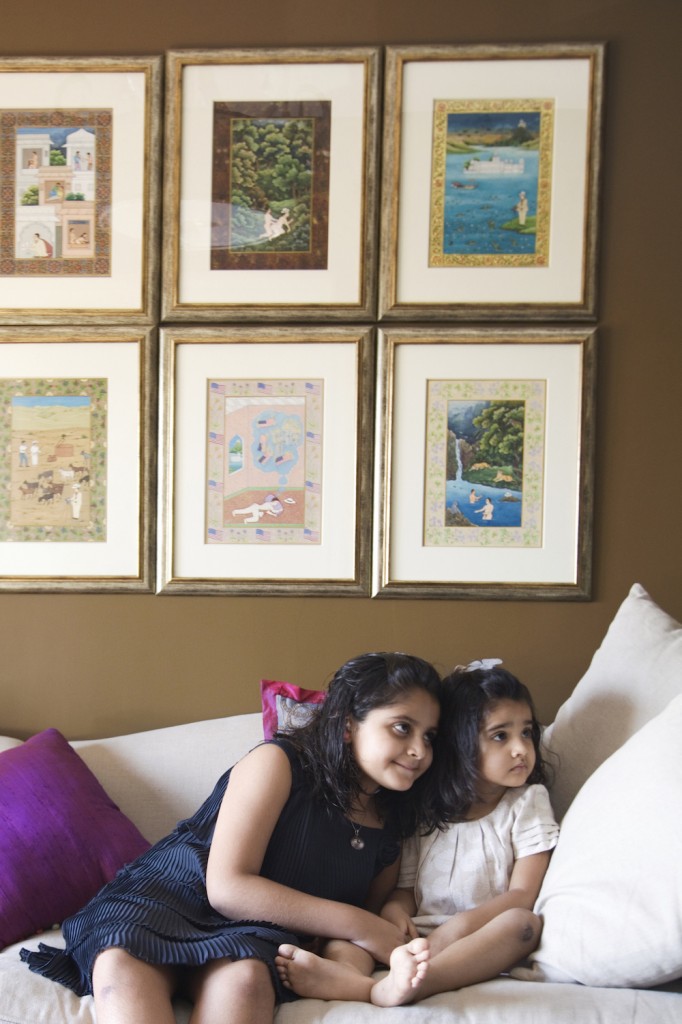 Thoughts on the local art scene
 What are your thoughts on the current Indian art scene?
The contemporary art scene saw great times until 2008 when the slowdown started. Nowadays, a lot of filtering is occurring  and only a few good artists will stand the test of time because of this. With the slowdown, I think everyone is curious to know what will come out of this. We are simply in a transition phase. The modern market is doing well and all the good artists will only get significant and valuable overtime.
Which Indian artists deserve our attention and whose prices are still affordable?
I am not that much into the scene right now and nothing interests me too much currently so am not a good person to ask this question.
What advice can you give to a collector who wants to acquire on a budget?
Buy less but buy quality works, there is no better way to collect.
Can you name 3 South Asian artists who should be on our radar?
Bani Abidi, Naeem Mohaiemen, Nikhil Chopra.
Read more about:
The artists he owns
Video Artists
Other
 Claire Bouchara