Kevin Poon is part of a new generation of art collectors in today's international art scene; passionately and instinctively collecting artworks as well as possessing a fantastic array of contacts from the best people in the business helping him decide on purchases.
Not only is Poon a blossoming art collector with an eclectic collection of emerging and established artists from Asia and the West, but he is also a successful entrepreneur owning multiple enterprises including retail stores and F&B outlets throughout Hong Kong. His most reputable company, cofounded with his childhood friend Edison Chen, is the funky casual streetwear fashion label CLOT established in 2003. Subsequently in 2004, he initiated JUICE, the retail concept store specialising in designer streetwear and accessories in Hong Kong, Beijing, Shanghai, and Taipei. Kevin Poon is also the mastermind behind the lifestyle concept store WOAW! which stands for World Of Amazing Wonders and the distribution company DISTRICT. What is more, the entrepreneur recently launched Elephant Grounds in Hong Kong, offering premium quality coffee beans and addictive ice cream sandwiches. His entrepreneurial journey has led the streetwear pioneer to embark on incredible collaborations with world star singers such as Pharrell Williams as well as renowned artists like KAWS.
Identified as the tastemaker of all things hip in Hong Kong, Kevin Poon unveils how his hip hop background influenced his artistic palette and shares his new millennial art collecting habits.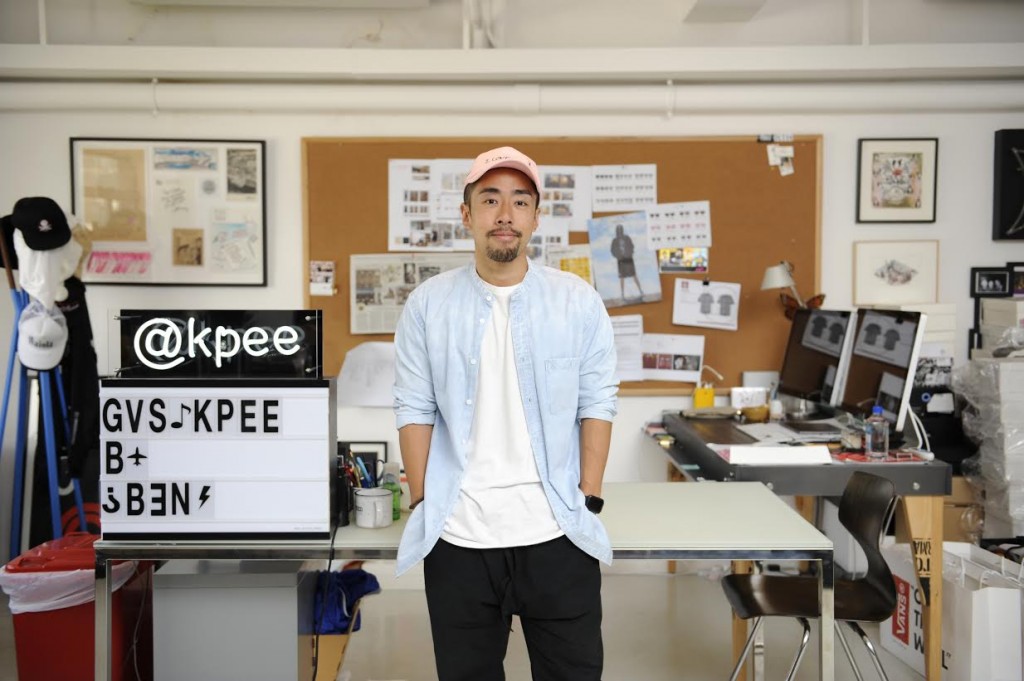 Courtesy of Kevin Poon.
How did your attraction for art begin?
It was maybe around 2003, Endo Noriaki had a show with his brand "Devilock" when we did a small show presenting different artists. KAWS was in the show as well. That's when I realised: "that's kind of cool!" seeing all these sculpture and types of art.
I'm a big supporter of hip hop music, and hip hop has four pillars: Mcing, Dj-ing, breakdancing and graffiti. As I grew up in that kind of environment, I started to get into this kind of graffiti and street art situation. Through that, as we started getting older, we realised we weren't going to be doing stuff on the street anymore and that's kind of how my taste level got elevated – by getting into different types of art, whether it be contemporary and so on. And I think I am a collector by nature. I like to collect a lot of different things. It then became a natural progression for me to start looking at different things and collecting art pieces. Also, with my Chinese roots, I started to get into Chinese contemporary art as well.
When did you start?
I don't really remember actually. I used to collect a lot from friends. I would hear about a friend doing this and I would think, "Oh yes, well let me get a piece". So that's really how I got started. I don't really remember what was my first piece exactly. I definitely had something from José Parlá earlier on, Futura 2000 etc.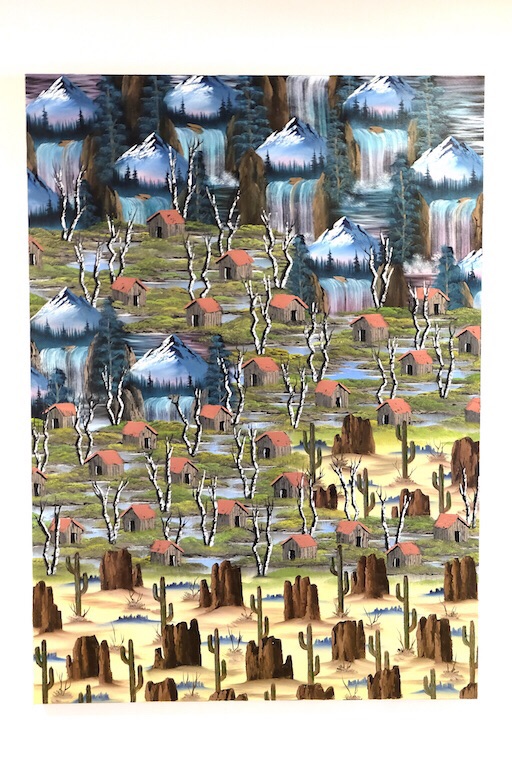 By Neil Raitt and in Kevin's collection. Courtesy of Kevin Poon.
What would you say is your main motivation behind your collecting?
It's just for my personal pleasure: to collect cool stuff.
What is your focus regarding the artists in your collection. Are they more emerging artists or more on the established side?
I don't really have a set formula of what I like to collect. Lately I've been collecting a lot of emerging artists who've been creating a lot of stuff, like Jonas Wood, those types of artists. Tomoo Gokita, Daniel Arsham, Wes Lang, Sayre Gomez, Michael Manning, and Neil Raitt and Sterling Ruby – a mixture of artists. It is just styles that I like: there's no rhyme or reason.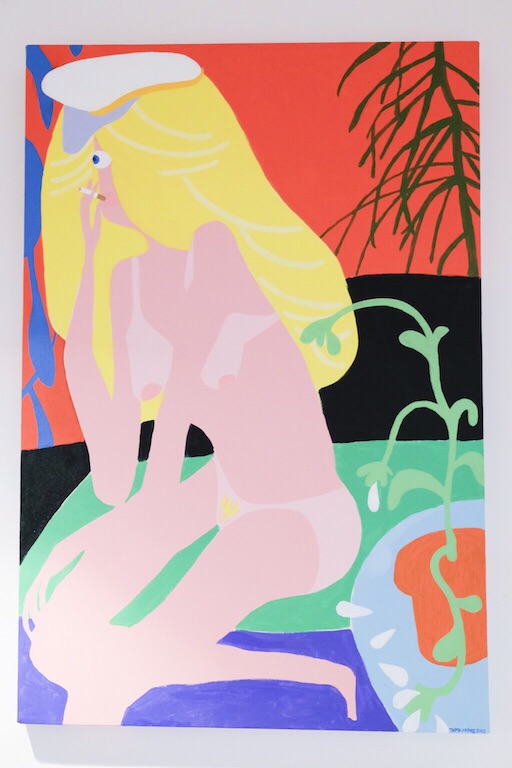 By Todd James and in Kevin's collection. Courtesy of Kevin Poon.
Which artists haven't you acquired yet but wish to? Is there an artwork or artist that got away?
Yes, I would love to own a Takashi Murakami piece. George Condo, Yoshitomo Nara, Aaron Curry. The list goes on.
Where do you display your collection?
I have a lot of stuff in storage, as well as in the office and at home.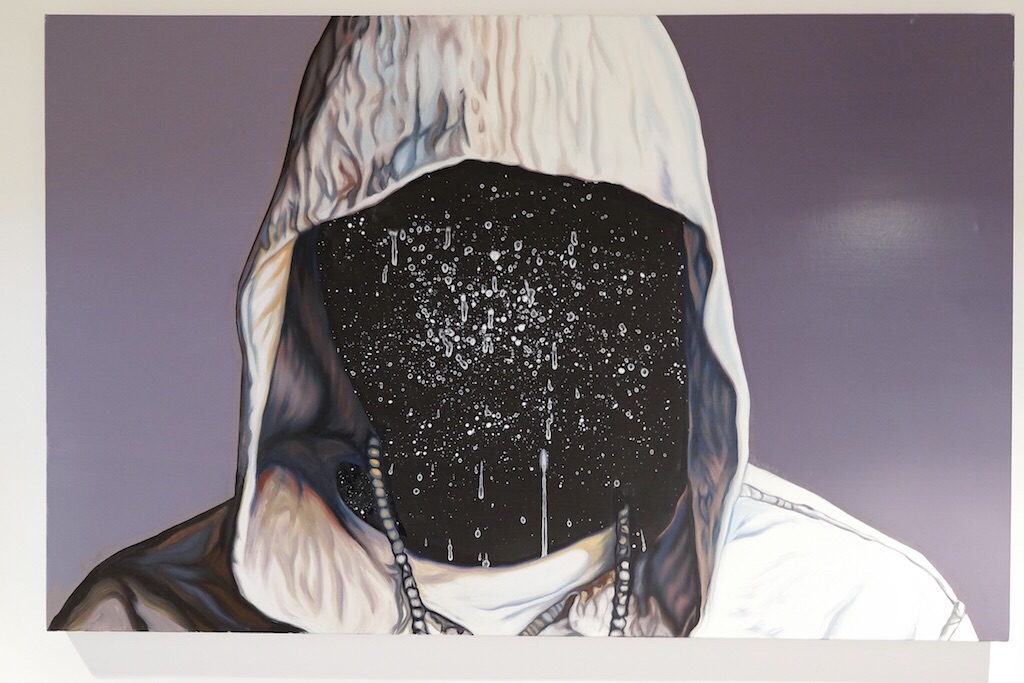 By Jin Meyerson and in Kevin's collection. Courtesy of Kevin Poon.
Have you every presented your art collection publicly?
No.
Would you be tempted into doing so?
Not in the near future, no.
Why?
Because, I guess, no one has invited me to do so.  So it would be strange if I ran a space and hung all my art and invited people over. I feel that would be weird.
However, if a museum asked me to loan pieces or if someone would be interested in working with me, then I would be happy to explore that. But for the moment, I am really busy with my business endeavours and this is more of a hobby.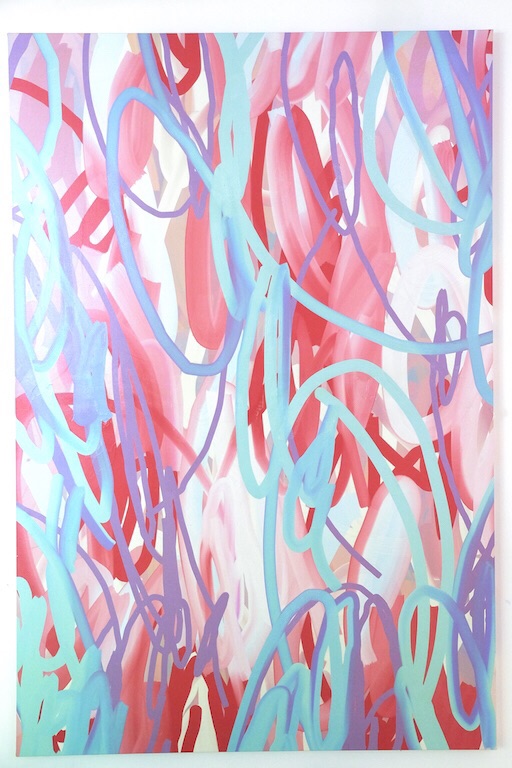 By Michael Manning and in Kevin's collection. Courtesy of Kevin Poon.
Who do you rely on when deciding to make a purchase?
I just have a group of friends. I listen to two friends, who are really cool: Darren Romenalli from LA and Michael Dupouy from Paris. We are kind of collecting around the same style. Obviously I have a lot of friends who are working in a lot of galleries, like Gagosian Gallery and Emmanuel Perrotin and so I sometimes ask them.
Where do you usually buy pieces?
It's a mixture. Sometimes, I'll get it directly from the artists if I have a direct relationship with them or if they are really emerging. Sometimes I'll get them at art fairs. I've picked up a few things from Art Basel Hong Kong, Art Basel Miami, NADA, Paddle8, Gagosian Gallery, Emmanuel Perrotin gallery, Team Gallery, It really depends.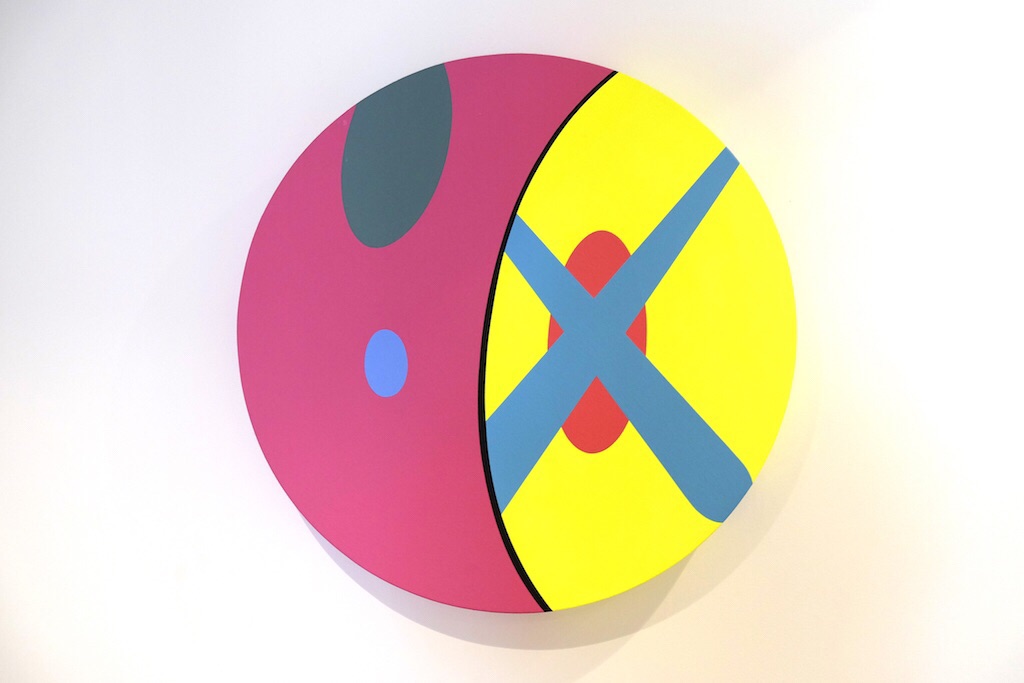 By KAWS and in Kevin's collection. Courtesy of Kevin Poon.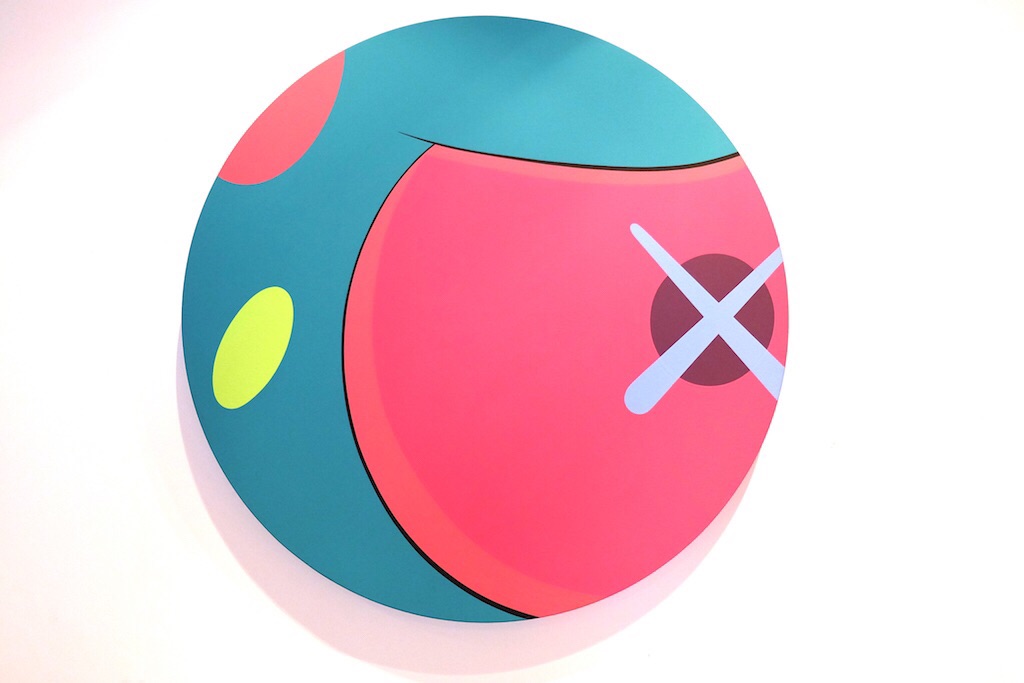 By KAWS and in Kevin's collection. Courtesy of Kevin Poon.
You are friends with the New York artist KAWS?
Yes. Brian is a dear friend of mine, and really like his stuff, it's really interesting to watch him reach new heights with his works.
Do you also collect some of his work?
Yeah I have a few of his pieces.
What attracts you to his body of works?
Well first of all, I got to know him and he's an excellent human being first of all. And second of all, I'm very attracted to the way he uses colours in his paintings and how he uses a lot of characters and adding his touch to them. I really like his style and his career path, so I follow him as a friend quite endearingly.
Are there any local artists in Hong Kong you admire?
King of Kowloon is kind of cool.
As a millennial collector, do you happen to buy works online?
Yes, sometimes.
Do you that frequently or is it just spur of the moment?
No, I'm following auctions all the time. Sometimes I'm not even able to see the work and I just make decisions based on PDFs.
Distinguished as a tastemaker of all things hip in Hong Kong, are you considered a tastemaker in art collecting among your art circles?
I'd like to know too!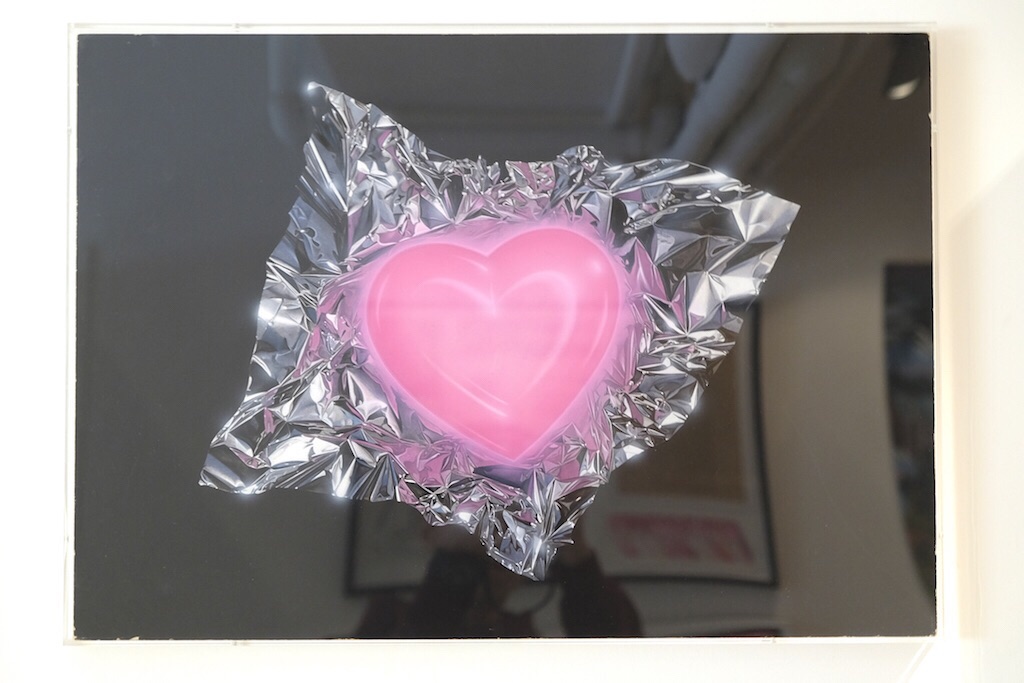 By Hajime Sorayama and in Kevin's collection. Courtesy of Kevin Poon.
Which tastemakers do you follow in the art world in Hong Kong or abroad?
Just the friends I mentioned earlier so Romenelli, and Dupouy. Obviously in Hong Kong there are a lot of great collectors, like I follow Alice Lung who is a curator for a Perrotin art gallery.
You must travel a lot then with such international friends. Do you travel a lot for art?
I definitely try to work around it. It's pretty much a full time job if you try to go to all the art fairs. Every month there's something, if it's either FIAC; now it's Miami and I opted out of that. I really wanted to go but my work didn't allow me to take off, but yes I like to make an excuse to go see art any day!
Read more about
A selection of artist Poon collects