The young art collector, Javier Lumbreras, a native of Spain, has built a cultural heritage that reveals the past and the present of various places and cultures. He is also the founder of Artemundi art fund, which will become a charitable fund in future. In recent years, he has devoted himself to building the Adrastus Collection, an emerging art collection which points to the contemporary definition of society. This is why he chose the Jesuit School of Arévalo as the home for this art collection and as an experimental museum project, by conditioning under 15,000 m² overall, including 5,600 m² only for exhibition space and furnishing the building with a series of facilities which will hold a wide range of experiences and enveloping programs.
Larry's List talked to Javier Lumbreras, his wife Lorena Lumbreras as well as Patrick Charpenel, curator of their collection, about how the private museum came to life, how such art museum might transform the city/region and other topics around their collection.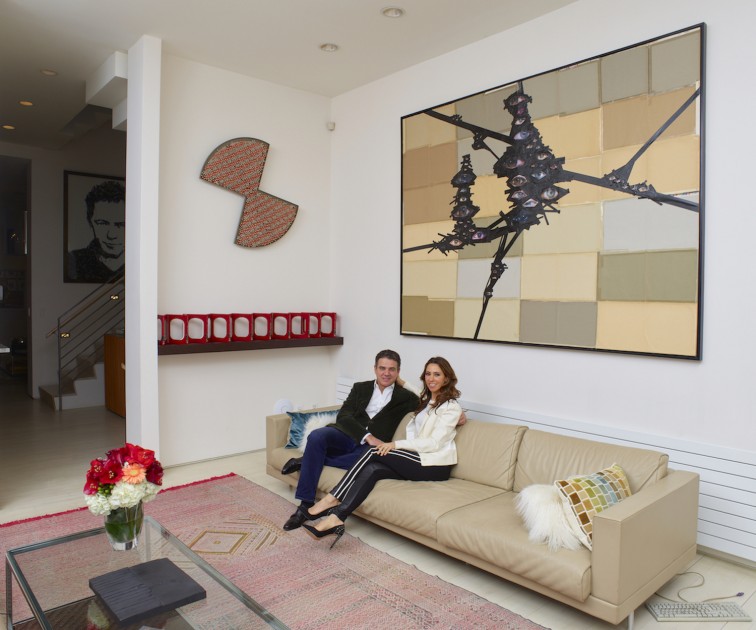 With Javier Lumbreras
Mr. Lumbreras, when did you start collecting art and why?
I started in the 80's, but it was not until the new millennium that Adrastus Collection was named and conceived as a detonator project, with the nature and vocation to generate social change, sustainable intellectual stimulation and perpetuate well-being. I mainly decided to do so because I have always believed that art has the power to trigger enhanced understanding of ourselves and to build vibrant societies. I trust in the incalculable social value of this activity. Collecting is not merely to accumulate products of a same class, but to complexly articulate these materials. Thus, to collect is to connect, to arrange, it is to structure a set of things in order to give them meaning.
Why? Contrary to most, my activity derives from a rational exercise and the inevitable need to be useful to others. The collection therefore is a tool, not a goal.
We know that the focus of your collection changed during your collecting journey. Please tell us more about it.
Adrastus Collection started its activities when I began collecting art about thirty years ago. Fifteen years later the collection took a new turn, when along with my wife Lorena, we took the mission of forming a collection that reflects the best of the artistic creation of early twenty-first century and at the same time emphasizes the contradictions and diversity of artistic expression in this era of globalization. The collection is in constant evolution because the thematic contents are thought over and challenged by their radical expressions in a humanistic and multicultural framework. The collection is immersed in the eidetic process and emerges from the topics with greater significance in the context of the current international society, and functions as an important social catalyst. For this reason, it is in constant evolution as society changes itself.
Why did you decide to focus only on artworks produced after the year 2000 by artists who didn't have a major museum retrospective yet?
Our aim is to acknowledge the artworks that are produced in certain cultural margins, pieces that were originated and circulated within the peripheries of capitalism and western hegemonies. We aspire to create a platform that gives visibility to those voices which are always far from the market's microphones and free from the western traditional viewpoint. We also want the collection to be a reflection of the time we are living in, a portrait of the social, political and philosophical issues and contradictions of the beginning of 21st century.
Next to being a collector, you founded a separate business, the Artemundi art fund, which achieved outstanding returns (17% average per annum). Artemundi will become a charitable fund in the future. Please tell us more about your plans for the fund and why you made the decision to make it a charitable fund.
Artemundi is an investment fund that I created as a consequence of my passion for art and my finance background. What better business occupation for an art advocate? This activity – diametrically opposed to the collection in criteria, methodology and objective – brings together artworks from artists with solid secondary market records from the 19th and 20th centuries in order to create a balanced art portfolio, the main objective of which is to assist achieving a financially independent museum endowment.
This not-for-profit activity seeks to back new acquisitions, renovation and expansion schemes, improve visitor services and sponsor aspiring programs.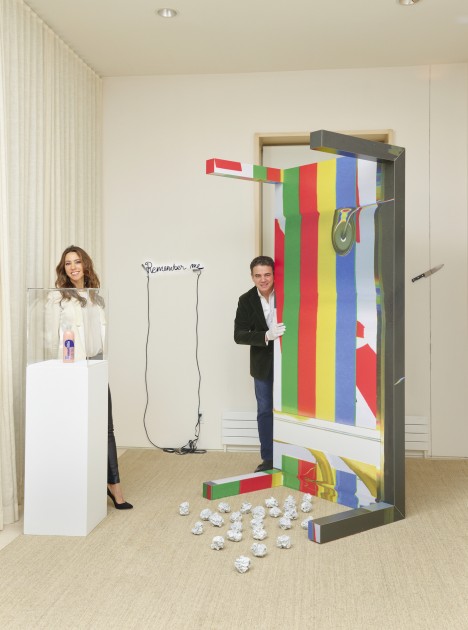 You are restoring a Jesuit School in Arévalo to build a private museum. Why have you chosen exactly this place?
We always knew the collection would have to serve a social purpose and that it would have to find a permanent home to achieve this goal. Several cities in different countries where considered. After five years deliberating, Arévalo was simply the best of our available options for a number of reasons. Moreover I descend from ancient Castilian roots. I spent my youth in Arévalo and Madrid until higher education. I left Castile when I was still young, but Castile never left me. I wanted to bring prosperity to my community of birth with this singular project and leave a mark to inspire future generations to be open, tolerant and giving.
We envision restoring and honoring the architectural importance of these 16th century buildings to integrate their intellectual and academic histories as centerpieces of a contemporary art museum, investigation, archival, conservation and production center for the 21st century. This dual focus provides unique opportunities for the project to change the path of deterioration – to place architectural restoration within the context of a rejuvenated patrimony that will safeguard the Arévalo region's strong history and cultural identity.
Arévalo is crowned as the masterpiece of our collection. This is the same city that received the multiculturalism of the Jews, Muslims and Christians before the reunification of the kingdoms of Spain, and is the scenery of Mudejar architecture, austere but magnificent palaces and churches, as well as the home of illustrious characters such as Isabella I of Castile and St. Ignatius of Loyola that excel among others. Arévalo is the conjunction of the intellectual knowledge represented by the logistical level, the historical relevance and the educational vocation epitomized in the Jesuit College and the emotional knowledge that Adrastus Collection brings for the creation of ideas or concepts. The uniqueness of this initiative is crystallized by the radical nature of contemporary art and the history of the place. This pairing is at the same time a generator of identity, metamorphosis and knowledge. It goes beyond a contribution to the community, it seeks to transcend and blur horizons with each relational experience between the object and the subject. In addition, Adrastus Collection and the city of Arévalo will become a joint project that transcends the frontiers of knowledge previously mentioned in an effort to find a synthesis between territory, architecture, gastronomy, tourism and contemporary art. This project will serve as an axis from which Arévalo dialogues with the world, capturing the transformative power of radical contemporary art to revitalize the local economy through employment and professional opportunities, celebrating and sustaining the city's cultural and intellectual life.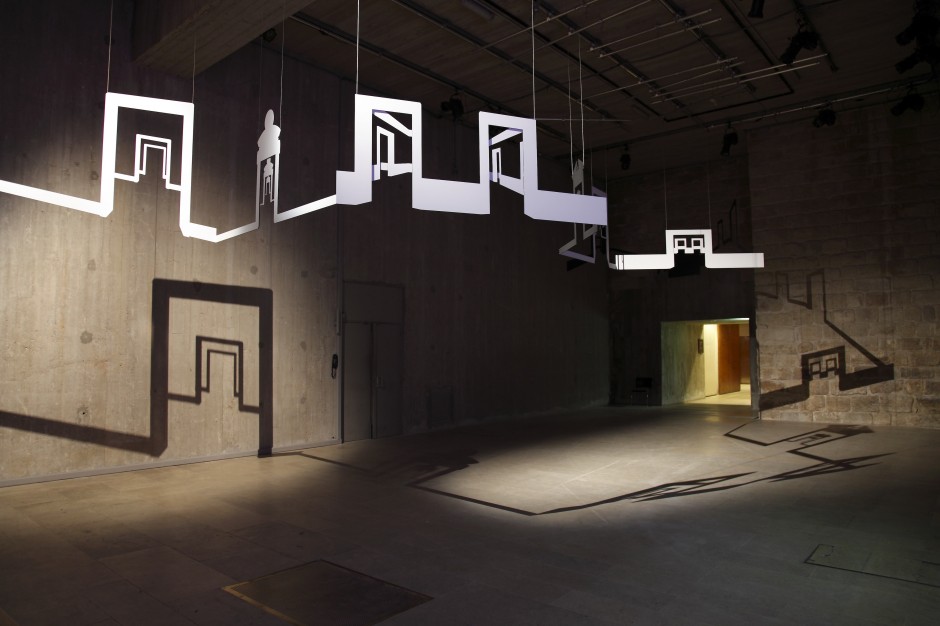 Who is the architect you have chosen to build the museum? How involved are you in the planning?
Tatiana Bilbao has been appointed as the architectural studio for this project. Tellingly represented at both the Chicago and Venice architecture biennials this past year, the Mexico City–based talent has been winning international accolades for a diverse practice that's grounded in a humanitarian spirit, whether she's designing a dramatic mountainside villa, a sleek university technology center, an art-filled botanical garden, or smart affordable housing. Through a multicultural and multidisciplinary office, the work of Tatiana Bilbao tries to understand the place that surrounds us in order to translate its rigid codes into architecture. It tries to regenerate spaces in order to humanize them as a reaction to global capitalism, opening up niches for cultural and economic development. Her work includes a botanical garden, a master plan and open chapel for a pilgrimage route, a biotechnological center for a tech institution, a house that is built with 8,000 USD, and a funeral home. Tatiana was the recipient of the Kunstpries Berlin in 2012, the Global Award for Sustainable Architecture Prize in 2014 and named as Emerging Voice by the Architecture League of New York in 2009. Her work is part of the collection of the Centre George Pompidou in Paris, France, the Carnegie Museum of Art and the Art Institute of Chicago. Bilbao has been visiting professor at Yale School of Architecture and Rice School of Architecture. Lorena, Patrick, myself and the rest of the board of Fundación Lumbreras – Colección Adrastus are working closely in each phase in the evolution of the architectonic project with Bilbao's studio, along with the Mayor of Arévalo and the State Government of Castilla y León.
What is your vision for the museum in the next 10-15 years?
As a laboratory of experiences, the museum envisions a society of revitalized communities where all people – local residents and visitors alike – are inspired by the transformational power of 21st century art to shape the understanding of ourselves and to improve our collective quality of life. This initiative does not only involve the rehabilitation of a complex of important historical buildings, it is also intended to include a whole program dedicated to art of the 21st century. Its goal is to form part of the city, spreading, merging and integrating with other programs, as well as the natural and architectural landscape that only Arévalo can offer. Our intervention seeks to adapt to the scale of the context and the integral intervention in the format of a mid-size museum but with a large exhibition area in square meters, as well as complementary programs and activities to be developed in a secondary manner in the set. The new center is not intended to be considered as a static space containing art waiting to be seen. Inspired by the cultural and historical richness of the venue, as well as its educational background, this project aims to develop a program which will produce a linkage with the region: a) Curatorial and Museum Program focused exclusively in the best of the artistic production of the 21st century; b) Extended Program composed of an investigation center, restoration center, artistic residencies, conferences and workshops; and c) the Extended Experience which will include cultural and architectonic tours, historical interaction of the Muslim, Christian and Jewish cultures, gastronomic ecosystem and an exterior public walkthrough. This proposal aims to be part of a multicultural and plural experience where the city of Arévalo is the main and grand masterpiece.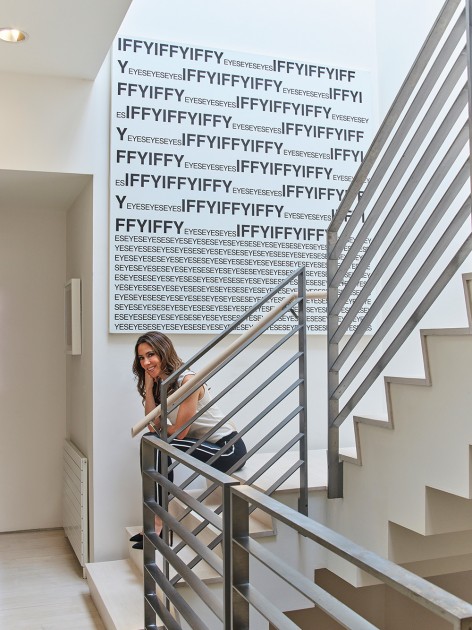 With Lorena Lumbreras
Do you think that it is also the responsibility of art collectors to support young artists?
I wouldn't dare to say it is the collector´s responsibility to support the artist, since that is precisely the gallery´s  work. A good gallery never loses an artist, they "marry" them for life and support them during their career to reach their fullest potential. As a contemporary art collector I consider truthful, however, to search for an artist outside of the mainstream of the big gallery names or collection trends, using merely one´s own knowledge and/or gut feeling, and making a leap of faith every now and then.
Your collection is very diverse. It includes works by Seghal, Bove or Saraceno. How do you decide on which works you are buying?
Choosing an artist or an art work is one of my favorite things. We have a fantastic and professional team behind us lead by Patrick Charpenel on the curational side and we travel to various fairs and Biennals around the world, with the aim of looking for a one of a kind piece. We search for art works that relate to us in a personal way and that gives us food for the soul after seeing them. Although we converge on some works, our attention also drives us toward different themes. For example, Javier is more inclined towards the poetic and minimalistic representation of reality while I am drawn to a more ludical and philosophical approach to it. When deciding what to buy, Javier and I sit together and talk about the piece and the way we read it. This ends up being a conversation about the meaning of life, the perception of time, the understanding of reality, the way we apprehend and approach life and all that comprises it.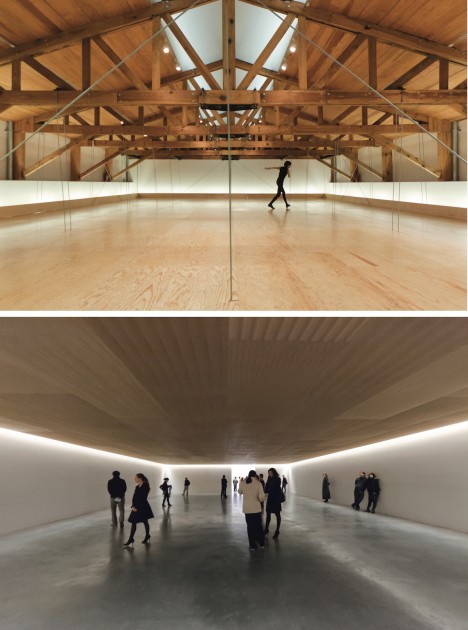 How important is it for you to meet the artists you collect in person?
While Javier would rather buy art without meeting the artist first, to avoid being influenced by their personality, I feel the opposite. I truly love meeting the artist and having the opportunity to dig deeper into their minds. It gives me a better understanding of their work and the way it was created, and it adds an anecdote or two to the collection. As a journalist my nourishment comes from getting to know people, in an interview or in a simple talk. I wish one day I could get to know most of the artists that comprise our collection.
Do you think that it is possible to transform and help a region such as Arévalo through building a contemporary art museum?
I think more than ever we need art to hold us together in a broken and polarized world. Art has the power to defeat time. Art has no boundaries, no religion, no race or gender. Art expands the mind and the soul. It is through art that we understand not only the world around us but also ourselves. By building a Contemporary Art Museum in Arevalo, we are looking to create a whole ecosystem around it, so that it can transform the everyday life of a city and of the whole region.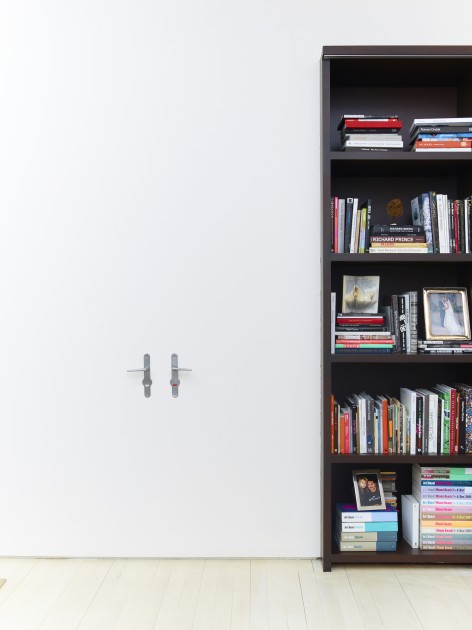 With Patrick Charpenel, curator of Adrastus Collection
Adrastus collection includes a work by Tino Seghal. Could you please explain to our community how it is even possible to display a work by the artist?
Tino Sehgal is an artist who instead of presenting objects, performs experiences with the human body. For this reason, his works begin to exist in the moment in which a collector, a gallery or an institution decides to activate them.
Could you give an advice to young and fresh collectors?
My advice is aimed at collectors who do not seek to accumulate a large number of pieces, but articulate a series of experiences in a complex way. For that reason I recommend that the collector should define a priori the identity and line of their collection so they can later (a posteriori) break the rules and stretch the limits of their own collection.
Can you name three emerging artists who should be on our radar?
Iman Issa, Jonathas de Andrade and Opavivará.
Do you try to create a dialogue between the works in your collection?
Yes, and this is specifically what gives strength and meaning to a collection​ of art​. A collector has to try to build a structure and bring toget​h​er a totality of elements that are strategically related ​to each other ​in such a way that they acquire value and meaning​.​
The planned museum will somehow challenge the classical white cube museum. Please tell us more about your plans for the museum.
A museum, before seen as a space, is a platform that is instituted with the purpose to recognize, investigate and disclose objects and concepts that have a cultural value. Thus, museums should operate as laboratories of experiences, centers of education and research, and as platforms of political resistance. In museums, our environment and consciousness of our own being is built to a great extent.
Do you think that the white cube museum is old-fashioned and will be replaced by another type of museum in the future?
Yes and no. On the one hand artists and curators have overrated the architectural structure called "the white cube". Now it is possible to develop an artistic project within economic, legal, and social systems. On the other hand, the galleries and the showrooms operate as laboratories for certain types of exercises, and I believe that the experiments that are performed within these places have not yet been exhausted.
What are the differences between the role of art collectors and the role of public institutions in exhibiting art? Are you enjoying more freedom and flexibility?
An art institution must have a very well-defined identity, mission, vision and objectives. Museums design their programs from these fundamental concepts, collectors can operate in a more intuitive way without having so many anchors and without so many commitments.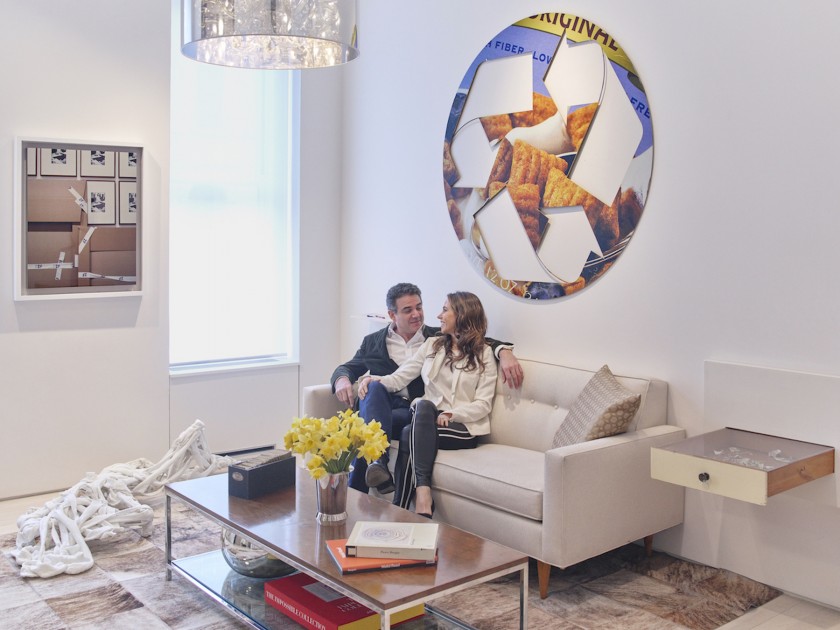 Related: Adrastus Collection
A selection of artists Javier and Lorena collect:
Haegue Yang
Kelley Walker
Louise Lawler
Roman Ondák