"Art can change society, especially when it becomes a part of people's life," said George Wong, the executive chairman of the Parkview Group in Hong Kong. He is the eldest son of property tycoon C. S. Hwang. His massive and wide-ranging art collection includes the largest Salvador Dali collection outside of Spain, works by Western masters, imperial Chinese stone Buddhist carvings and over 10,000 contemporary Chinese artworks. Many of his collections can be viewed across Parkview Group's diverse properties and museums. In recent years, he set up Parkview Arts Action, which has been organising a touring exhibition "On Sharks & Humanity" in order to raise awareness of the extinction of sharks through art. Larry's List is glad to share a glimpse into his strong belief in the power of art.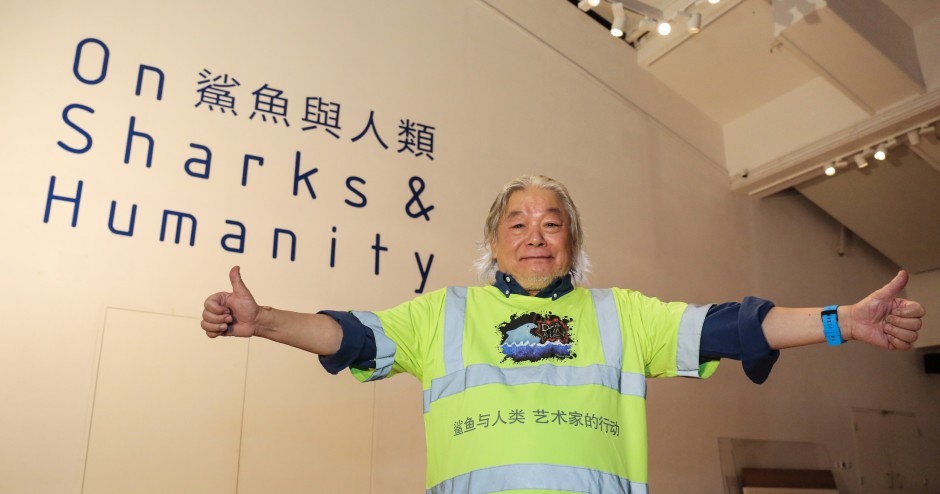 Parkview Arts Action
What is your motivation behind founding Parkview Arts Action?
Parkview Arts Action is an arts organization that aims to harness the transformative power of art to raise awareness of critical environmental issues and inspire change among global communities. Parkview Arts Action is dedicated to providing a platform for artists to address pressing environmental issues. Our ambition is to support and encourage debate between arts, business and scientific communities, advocacy organizations and the public around environmental sustainability.
Parkview Arts Action was founded in 2014 when we were working on the launching of   the edition of "On Sharks and Humanity" at the Oceanographic Museum of Monaco.
The project was very challenging and innovative: for the first time 3 different institutions — a private corporation (Parkview Group), a museum (Oceanographic Museum of Monaco) and an NGO, (in our case WildAid) collaborated together to achieve this ambitious goal of raising awareness and encourage people to take action to protect sharks and stop eating shark fin soup. Sustainability, environmental protection, respect for nature and passion for art are the core principles of our company philosophy and we decided to found Parkview Arts Action to combine these elements together. I can say that Parkview Arts Action is a natural extension of Parkview Group's commitment to improving environmental sustainability across its commercial ventures and its support and patronage of arts.
What societal changes do you want to bring about in Hong Kong and globally through the organization?
Hong Kong is one of the most important entrepôts for the world shark fin trade and one of the largest importers and exporters in value terms. Hence, the efforts to bring about the social change to protect sharks and to stop the consumption of shark fin soup need being ramped up and constant reminders.
The aim of bringing "On Sharks and Humanity" to Hong Kong is to raise the awareness of the urgency of stopping the consumption of shark fin soup and to encourage people to take action to protect sharks by addressing their emotions through art.
Hong Kong is Parkview Group's headquarters too, so it is very important to have the exhibition here. We were invited by the Hong Kong Maritime Museum to host the exhibition in their space, and we thought that this was a very good and meaningful opportunity: in the lights of the fact that raising awareness about ocean conservation is an important objective within the agenda of both Parkview Arts Action and the Hong Kong Maritime Museum, we feel confident that the prestige of this institution will enforce the power of the conservation message carried by the "On Sharks and Humanity".
What is your vision of the organization in the next five years, and what are other upcoming projects?
Parkview Arts Action will develop a program of touring art exhibitions, featuring art which addresses urgent environmental issues (for example, protection of rhinos, elephants, air quality, water pollution, waste and recycling) and involving Chinese and international artists. These exhibitions can be staged in conjunction with our international partners (museums and galleries) or presented in our own museum space, like in Singapore, where we hosted the fourth edition of "On Sharks and Humanity" at the Parkview Museum. Each exhibition organized under the umbrella of Parkview Arts Action will tour China and other international venues and will involve also local artists according to each venue as we feel that this would help strengthening the relevance of the message within the local community. At the moment and for the near future, we want to still focus on "On Sharks and Humanity" in order to make sure that the message about the importance and urgency of protecting sharks can reach a large and international audience. We are considering to bring "On Sharks and Humanity" to other locations in Asia (where the issue of shark finning and trade is more relevant) and to other countries around the world to make sure the message can get a widespread coverage as well as a global resonance. As a developer, I feel that engaging in sustainability and environmental issues is a moral obligation.

"On Sharks & Humanity" Exhibition
What was the initial trigger to make an exhibition about sharks and shark finning?
I love shark fin soup. But about ten years ago, I decided to stop eating it because I became more aware of what's happening to the shark population. Even at official government functions, shark fin is no longer served. The issue is critical. Ocean conservation is an important global issue in terms of sustainable development, and sharks play a pivotal role in maintaining the balance of marine ecosystem. However, sharks are at stake of extinction: even though recent date have showed a decrease in the consumption, millions of sharks are killed every year mainly to supply the demand for shark fin soup. This is a very crucial issue, and I felt the urgency to play a role in raising awareness.
For the very first stop of this touring exhibition at the Oceanographic Museum of Monaco, we had also the support of HSH Prince Albert II of Monaco, who was keen to host the exhibition in the museum given the fact that he is very passionate about ocean conservation and sustainability. Indeed, Prince Albert Foundation is mainly focused on issues related to ocean conservation and marine biodiversity. It was a big success from the very beginning. Then, after Monaco, we wanted to go back to China but in order to have more global resonance, we brought the exhibition to Russia (Ekaterina Foundation in Moscow). Then, in National Museum of China, the biggest museum in the world, "On Sharks and Humanity" attracted 200.000 visitors in 2 months. It was a big success, considering also the fact that National Museum of China doesn't usually host exhibitions of contemporary art. Our cause was too important though, and our art was very good as well. Now, the exhibition is in Singapore and will be launched in Hong Kong soon: in both locations, the topic is extremely relevant as consumption of shark fin is still high. Alongside with this, we are exploring opportunities in Thailand (Chinese community is still consuming shark fin soup), India (it's an opportunity to have more resonance in the continent) and maybe Taiwan, Europe. The movement of "On Sharks and Humanity" will continue.
How did the selection of artists in the exhibition come about?
Most of the artworks were commissioned according to the topic and the artists volunteered to do the work with their heart, believing in this good cause. The curator and I together reviewed the works. Some of the already existing works were selected on the basis of their relevance to the topic. We combined very different artists together: my grandsons, younger artists, very established ones: they all came together to engage in this cause. We had artists from China, Taiwan, Hong Kong, Singapore, Germany, US, Austria, Spain, France.
Is art the best way to create awareness with the people? If yes, why?
Art has been proved to be a very effective instrument to raise awareness about the importance of environmental protection and sustainability among the general public: it addressed directly humans' emotions and feelings, and therefore, it contributes to initiating changes and good actions. I can tell you that in all the locations, where we presented this exhibition (Monaco, Moscow, Beijing, Singapore), when surveys were conducted among the visitors of "On Sharks and Humanity", it emerged that the goal of spreading the message to stop eating shark fin soup and raising awareness about the importance of ocean conservation was well achieved: people interviewed stated that after the exhibition, they realized the scale of the issue; and those who declared to have tried shark fin soup, pledged not to consume it anymore. According to a recent survey carried out by WildAid, as a result of the raising awareness campaigns and of related activities like our exhibition, 85% of the participants in the survey had stopped eating shark fin in the last 3 years. Art can change society, especially when it becomes a part of people's life.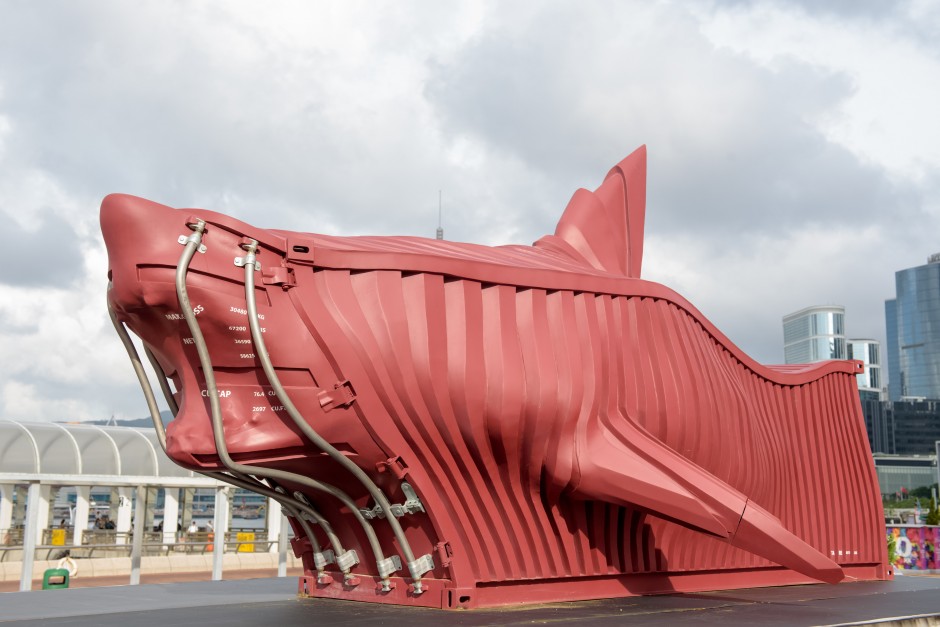 Which audience do you target for this show?
We target a large audience: our message is directed to Chinese people and Chinese communities around the world because the habit of eating shark fin soup is deeply rooted among Chinese communities; however, the exhibition aims at spreading the message to the global community. Everybody should be aware of the importance of protecting sharks and of the risks they are facing now because of overfishing and consumption. Of course, it is important that the message is widespread among younger generations too. They are the one who can change the world.
How far do you also activate the means of social media to target a global audience to convey your message?
We have a strong presence in social media like Facebook, Instagram, Twitter to have a global exposure and to share updated news with all our followers. Moreover, social media is the new language of younger generations.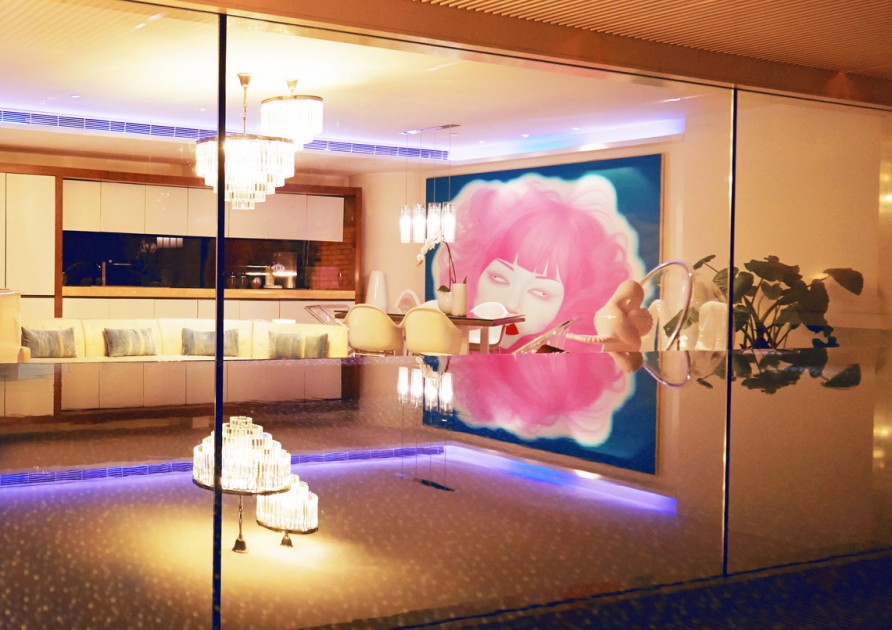 Collecting
What is the main motivation behind collecting?
For me collecting is a hobby, I have been always collecting things, I have a very systematic collection-oriented mindset. When I was younger, I started collecting stamps, posters, coins, records. After school, I slowly started collecting artworks: I love history, and therefore, I love history of art: I started collecting Chinese Classical Art, European masters, and then in the last decades, I have focused more on contemporary art. Artists have such an influence on me because they create art through their own language. Being a developer with an education background in architecture, I always had sensitivity for art. In all my properties, be it a hotel or office building or shopping mall, I try to put art in various spaces – even the toilets. I started collecting contemporary art and at the same time I started getting involved with artists, talking to them and exchanging ideas and points of view. The step forward was to incorporate art into my business.
It is rare to see such a broad collection of art, ranging from archaic bronze works to contemporary works by Zeng Fanzhi. What is the principle behind that?
I think that such a rich and multifaceted collection demonstrates the power of art and the versatile character of artistic language. Also, as I said before, I'm amazed at the history of art. There's so much to learn and so much to get lost in. I collect artworks including Chinese archaic bronze, Buddha Stone carvings, Chinese traditional art, calligraphy and ink paintings, European masters, both European and Chinese modern and contemporary art: I have works by modern and contemporary masters such as Van Gogh, Monet, Chagall, Magritte, Picasso, Dali, Pisarro, Bacon, and also Zhang Xiaogang, Zeng Fanzhi, Yue Mingjun, Wang Guanyi, Liu Xiaodong. I have also Japanese, Korean, Indonesian artists, and lately, I started developing a large collection of Italian ad Austrian contemporary art. This is all part of this learning process. And I think, after years of working hard, I now have a bit of money to spoil myself by buying art I like.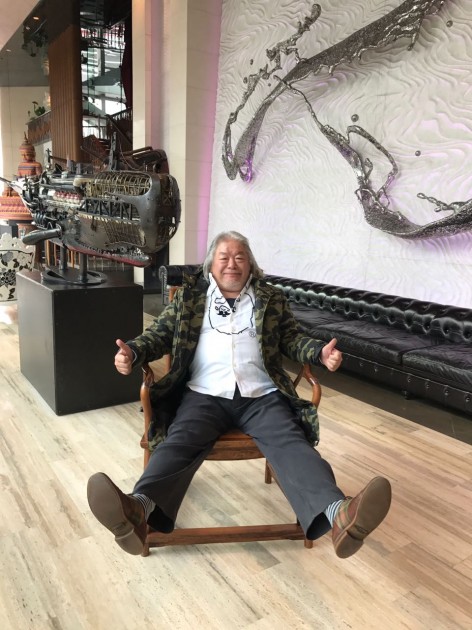 Is there any particular type of art that has consistently attracted you?
I started with traditional art, now I am more focused on contemporary art because it has no limit and no boundaries. It's a totally free space of creativity where you can do everything you want. I have always loved Chinese traditional art in a consistent way.
Is there any theme / topic / thing that unites all the works you have acquired?
My art collection is very multifaceted and versatile and all these pieces have in common in the fact that I like them and they enrich my life. I have a room just dedicated to Buddha stone carvings in Hong Kong; then I have a room just for Chinese ancient bronzes. I collect Chinese traditional ink paintings and calligraphy, European Modernism and contemporary art. So my collection spans very different styles and generations. What I like to do is to present portions of my collection with a systematized and historicized approach. For example, last year at The Parkview Museum Beijing, I presented an exhibition about Italian Contemporary Art from the 1960s to present days, to show the developments and changes within the artistic movements throughout the historical changes. I like also to present my collection in thematic exhibitions where I can mix Asian and Western artists in an artistic dialogue, and so we launched a series of exhibition called "Bridging Asia- Europe".
Do you remember the very first art piece you have collected?
I think it was a work from a European great Master that I got in London.
How many artworks do you own by now?
I've collected art for years. I'm good at math, but I've never sat down to count how many artworks I have. I must have tens of thousands – so many; in fact, curators told me I should hold exhibitions so these works can be shared with other people. This is why artworks are always present in all my properties. I like the idea to display my artworks and to allow people to enjoy them and to get to know them. I don't collect to hide, I collect to share. This is also why I plan to have a museum in every building.
On Arts
You mentioned before in an interview that "you try not to repeat what others have done and try to make a revolution". How do you realize that through your art collection?
Including my art into my business philosophy, sharing it with the public and make it part of daily life is a way to demonstrate the multifaceted character of contemporary art and also to increase the value and the prestige of my properties. Blending art into property development is my distinctive character. This is why I want to create museums in all my properties. Art becomes part of the building and vice versa. The public is very responsive: when they see artworks in public space they touch them, they take photos; you can see that they are curious to try and listen to the language of contemporary art.
I also believe in the educational role of art, and this is why, besides organizing exhibition addressing environmental issues, I always make donations of artworks to other museums (for example, I donated Dali's sculptures to the National Museum of China) and to universities (Nanjing University, Jingmei University). I want to provide a new and global platform of inspiration for the younger public and for the students.
You display your collection in Parkview in Hong Kong and Beijing. Do you consider this as a private museum?
I display artworks in my properties: I believe It is very interesting to think that you give people an opportunity to strengthen their appreciation of art in daily life while they walk around in a shopping mall or enjoy their time in hotels. I also display artworks in specific exhibition spaces which I always create in my buildings.
I recently opened up The Parkview Museum in Singapore, after Hong Kong and Beijing. As mentioned before, these museums allow me to strengthen the value of the building, and they give me an opportunity to present new artworks all the time. These museums aim to enrich the local art scene by providing a local and international platform for artistic expression and popularization of contemporary art. The Parkview Museum involves international and local artists to create thematic exhibitions that demonstrate the multifaceted and versatile character of contemporary art, brought together by a high level of art professionalism and curation. They are open to the public free of charge, to encourage the integration and appreciation of art in everyday life.
You also said that you would build museums wherever you go, in all your properties. What is the main motivation for building museums?
I want to have a Museum in every property I have: I already created museums in Hong Kong, Beijing and Singapore; in the future, I am planning to open them in Guangdong and Shanghai. The idea is to present a coherent calendar of rotating exhibitions which will be presented in all the museums. For example, the Parkview Museums in Beijing and Singapore has full exhibition calendars until 2019 presenting most of the works of the collection but also integrating them with some artworks in loan from public and private institutions, especially in the case of thematic exhibitions. They are very attractive for the public and it is a good opportunity to display my collection as well as to combine it with other artworks from different institutions. However, 90% of the artworks that I display are from my collection.
It is well known that you also have great interest in a number of collectibles incl. wine, spirits, furniture etc. Can you rank them in an order? Which rank does contemporary art have?
As I mentioned, I am a collector of many things since I was young. Besides collecting art, collecting cigars, wines, whiskies are also some of my more interesting hobbies. I think when you collect something; first of all you must have a genuine interest in it. Collecting requires research, knowledge, connection, time and patience, you can't build a collection overnight. I think my collections of cigars, wines and whiskies are not so different from my art collection. In each there are elements of history, culture, specifics and interpretations. The only difference is you can have a more direct connection with cigars, wines and whiskies because you can consume them, and that brings another level of understanding and appreciation. Having said that, I guess that's not so different from engaging with the artists themselves and building a personal connection. For example, when you taste a nice bottle of French wine from the 1940's, you start to think about what was happening in the world at the time? It was during the period of World War II and France was occupied by Nazi Germany. What was life like then for the wine makers? What was the wine-making equipment that they used? Fascinating, isn't it? Is this bottle of French wine really better than its 2014 counterpart? Maybe not, but the knowledge of its history and culture enriches us and provides a different kind of satisfaction, not that of taste but of the human psyche. I can't tell you how I would rank my collections in terms of importance. They are all important to me as they are all an integral part of my life, make me who I am, just as design and architecture also.
The exhibition "On Sharks and Humanity" is opening on June 28, 2017, at the Hong Kong Maritime Museum: http://www.parkviewartsaction.com/
Follow the exhibition and the collector George Wong via Instagram: @parkviewartsaction
Want to get a VIP tour through the Parkview Collection by the art curator of the collection, Mrs. Lucie Chang: follow and tag Parkview Arts Action's Instagram (@parkviewartsaction) and Larry's List Instagram (@larrys_list ). We will select one winner by July 1, 2017. 
And special offer for all readers: Use the QR code to get complimentary access to the "On Sharks and Humanity" show at the Hong Kong Maritime Museum.