At the end of 2018, the Public Art Depot of the renowned Museum Boijmans Van Beuningen will be opened in Rotterdam. It will make the entire museum collection accessible to the public and will therefore be a global pioneer. Visitors will be able to see what is going on behind the scenes in a museum depot for the first time. Furthermore private art collectors will be able to store their own collections under ideal museum conditions. The Public Art Depot is designed by the Rotterdam-based architects MVRDV and will feature exhibition halls as well as an enormous storage spaces for art.
LARRY'S LIST Head of Business Development, Max Bossier has visited Museum Boijmans Van Beuningen in Rotterdam, and spoke to Sjarel Ex to discuss this exciting and unprecedented project.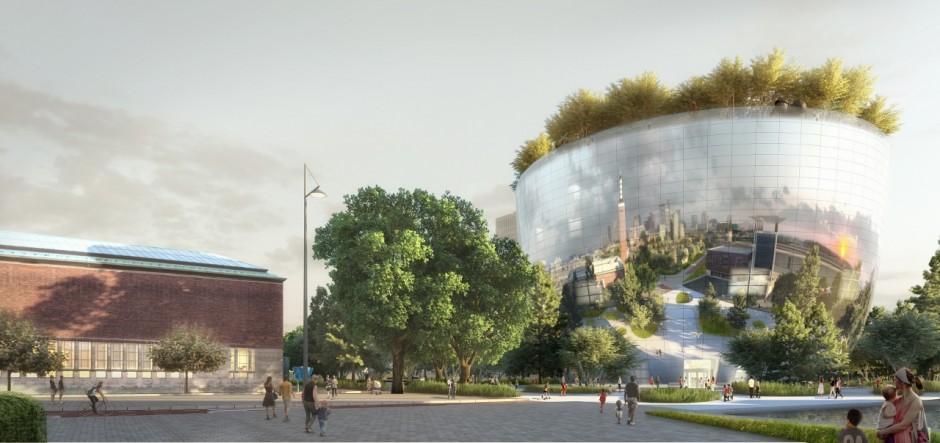 How did you get the idea of building a publicly accessible art depot?
The idea came to me quite unexpectedly some years ago, when we noticed an increase of requests to see pieces in the museum storages. The collection of the Museum Boijmans Van Beuningen consists of 145,000 works, of which 30,000 works have been donated in the past 170 years. Many families and former owners kept asking to see these works which cannot always be on display. There is more. Foundations that financially support purchases often ask to show these works on a (semi-)permanent basis. Moreover, next to requests to see works that are stored in the depots, often questions were asked about conservation issues and (handling) techniques. All these developments, and more, made us think about a 'backstage' museum experience.
Are there any other museums with a public art depot in the world acting as a role model for you?
We do not know a place like this that you can enter without an appointment and without specific motivation beforehand. Of course, there is the Schaulager in Basel, where the Hoffmann family collection is stored, which served us as an important role model.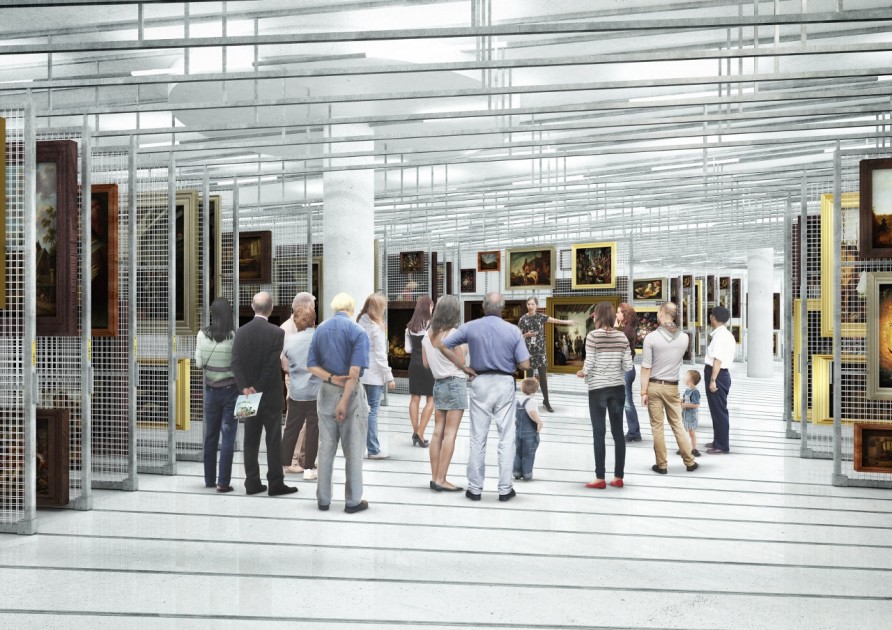 How is the project financed?
With a private donation of 20 million euros and a bank loan of 32 million euros, that the museum will pay back over 40 years. Our income will be coming from different sources: selling tickets of course, but also out of the restaurant sales, renting out storage spaces to private collectors,  performing art handling services and giving advice to collectors, and finally, with a fee that the municipality will pay in return for taking care of the art collection of Rotterdam. 
How many artworks will be stored in the depot and how will they be stored?Approximately 70,000 works from our collection and a still unknown number from members of the public or the private sector. Of course, all storage facilities are utmost professional and meet the highest museum standards. Besides housing the collection of the Museum Boijmans Van Beuningen, we will be offering accommodation and collections management services to private collectors for their artworks. They can rent a storage facility, accompanied by an exhibition space, and collaborate with other collectors in exhibiting, networking and sharing expertise.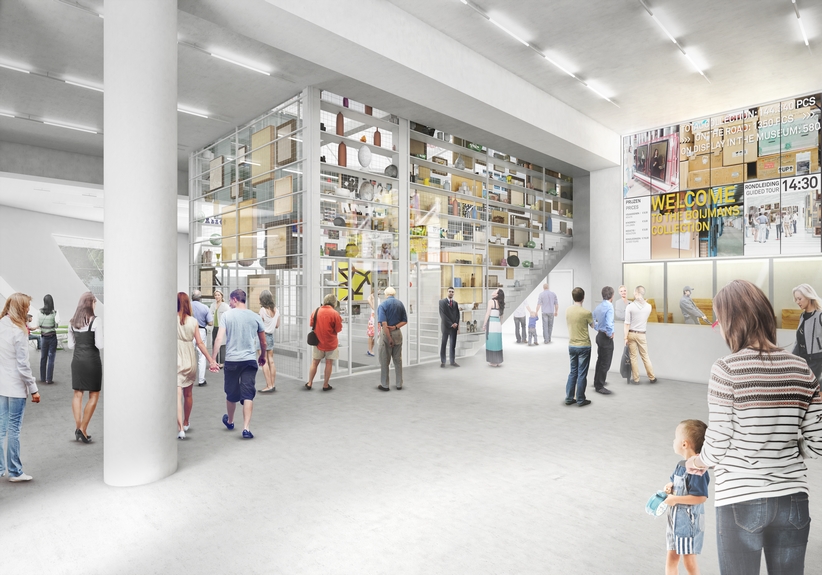 Security seems to be an important topic regarding a public art depot. Is it more difficult to provide all safety arrangements for the artworks than in a normal exhibition?
The artworks are going to be as safe as they are now in the exhibitions and in our current depots. The collection building is designed for its purpose, so as an 'open vault'. We take care of security 24 hours a day, in order to meet all necessary constructive, mechanical, electronic and labour-enforced safety needs.
There will be three different ways for the public to access the building. Via the ground floor, the visitors can make their way up to the roof terrace for free – getting a glimpse at the works in the depots from the elevator. Visitors who want to take a glimpse behind the scenes of the museum can buy a ticket that allows them to wander around in the majority of the large building. The storage depots will be visible through windows only and safeguarded. These depots are only accessible with a special guided tour.
Can you tell us a little bit more about the architecture of the building? Who are the architects and how will the depot look like?
The design was made by architect Winy Maas from the Rotterdam-based architecture company MVRDV. The 39.5-meter high building will look like a bowl, its mirrored walls will show the panorama of the city in a reflection over 360 degrees. The building has six floors, a staff entrance (and separated circuit) for logistics and art handling, and another entrance for visitors. 50% of the building is accessible after buying a ticket; the other 50% is accessible only with guided tours (max. 12 persons). All over the building, you will be informed about how the Museum Boijmans Van Beuningen is taking care of cultural heritage: the visitors can watch the conservatory process, enjoy displays, storages, galleries as well as the roof garden including a sculpture garden, an exhibition space, a grand-café/restaurant and 80 birch trees.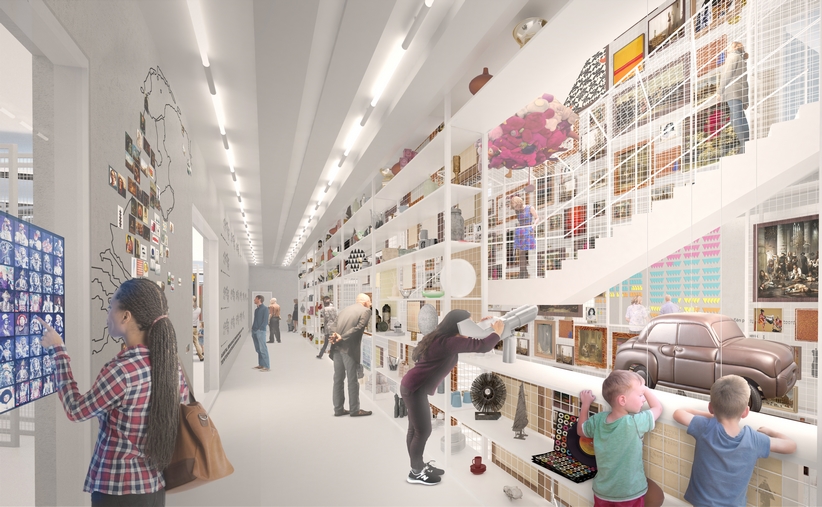 You are planning to rent out space to private collectors. How will this cooperation look like? What kind of space can the collectors rent?
The collections of a selected club of top private collectors will be shown alongside the renowned public collection of the Boijmans museum in one building. We have approximately 1900 m2 for private collectors, divided into compartments ranging from 171 up to 402 m2. These are for rent, either per compartment or per square meter. In addition, we are planning to arrange a free zone, where the collectors can decide whether the premises will be publicly accessible or will be kept anonymous. We will be incorporating art handling services and restoration ateliers in the building. These services from the museum are available on request. One space is especially for collectors to store big pieces away from housekeeping and little children at home.
Why should a private collector rent a space in your depot? What kind of advantages does your space provide compared to other storages?
The museum works on a very high professional level; the building will be state-of-the-art, and very secure; there will be a lot of knowledge and information accumulated; you can connect with other collectors; and the services that the museum can provide make collecting easy, light and joyful – also for future generations.
The professional context as well as network that we are offering to the collectors is very advantageous. Additionally, the collections will have enormous visibility, since they will be always accessible.
Will there also be exhibitions in the depot? A collaboration of private collectors would be an interesting approach.
Yes, every floor will have a 'small gallery' for exhibitions. On the fifth floor, there is even a gallery of 1000 m2 to show installations and collections on a temporary basis. Private collectors can be directly involved in curating the exhibitions.
All plans for the buildings are accessible on our website: www.boijmans.nl  (public art depot: http://collectiegebouw.boijmans.nl/en/).​
Would you like to get more information how you as a collector can work with the museum depot? Please write to us at contact@larryslist.com.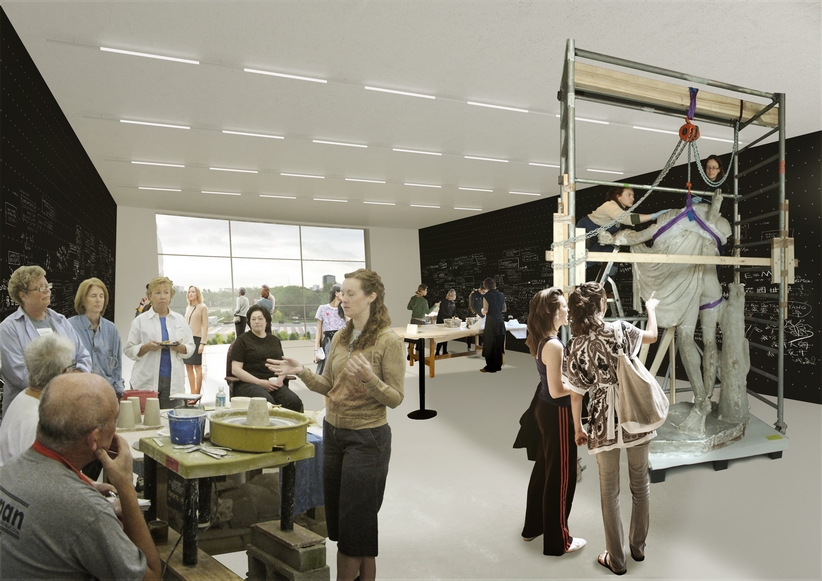 Biography of Sjarel Ex
Before becoming director of Museum Boijmans Van Beuningen in 2004, Sjarel Ex used to be the director of the Centraal Museum Utrecht and an academic researcher at Amsterdam's Free University (VU).  He studied art history at the University of Utrecht and has worked as an exhibition curator and in numerous management and consultative positions while he has also published widely on the De Stijl movement.
Would you like to get more information how you as a collector can work with the museum depot? Please write to us at contact@larryslist.com.