Next week on 3 – 4 December in Hong Kong, Phillips is staging its Fall Auctions of 20th Century & Contemporary Art & Design in association with Poly Auction. The Evening Sale and the Day Sale draw together a rich diversity of Western and Asian artists, including highly sought-after names, as well as auction debuts in Asia for works by rising stars. Among them are a number of unmissable female artists, from modern abstraction to contemporary abstraction, from A-listers to up-and-coming artists, including Yayoi Kusama, Christine Ay Tjoe, Chen Ke, Tala Madani, and others.
LARRY'S LIST has highlighted 9 top lots by women artists from the two Sales for our collectors.
1)    YAYOI KUSAMA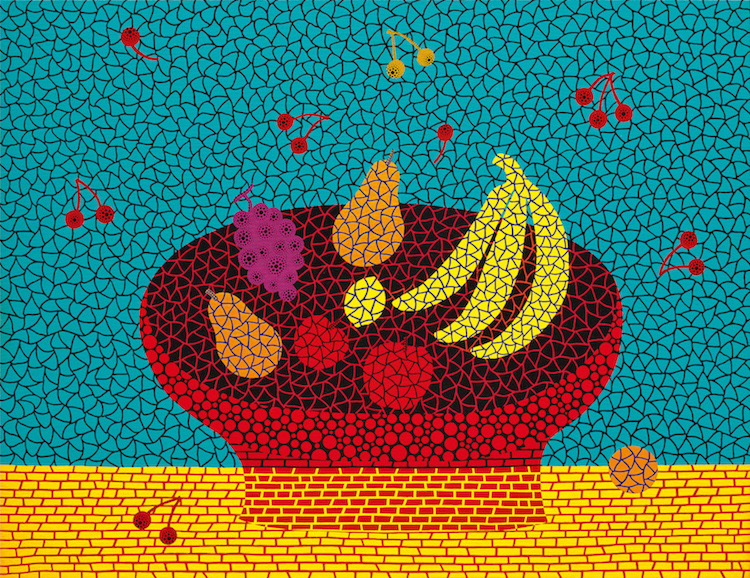 Fruits (EPSOB), 2011
acrylic on canvas
112 x 145.5 cm. (44 1/8 x 57 1/4 in.)
Estimate:
HK$7,000,000 – 12,000,000
€763,000-1,310,000
$897,000-1,540,000
'Fruits (ESPOB)' follows Kusama's fundamental concept of "Infinity Nets", which arose in the 1950s, through the use of two core forms – nets and dots. The painting's turquoise background is covered with an infinite net of black-outlined triangles. The delicate fine lines stretch and connect in a seemingly unconscious manner, leaving viewers in a trance between figurative and abstract representations. The depiction of fruits parallels Kusama's dedication to pumpkins as a personal motif. Her use of repetition highlights each fruit as an important symbol, similarly to how she found solace in pumpkins as a relief from anxiety, obsessive thoughts, and hallucinations.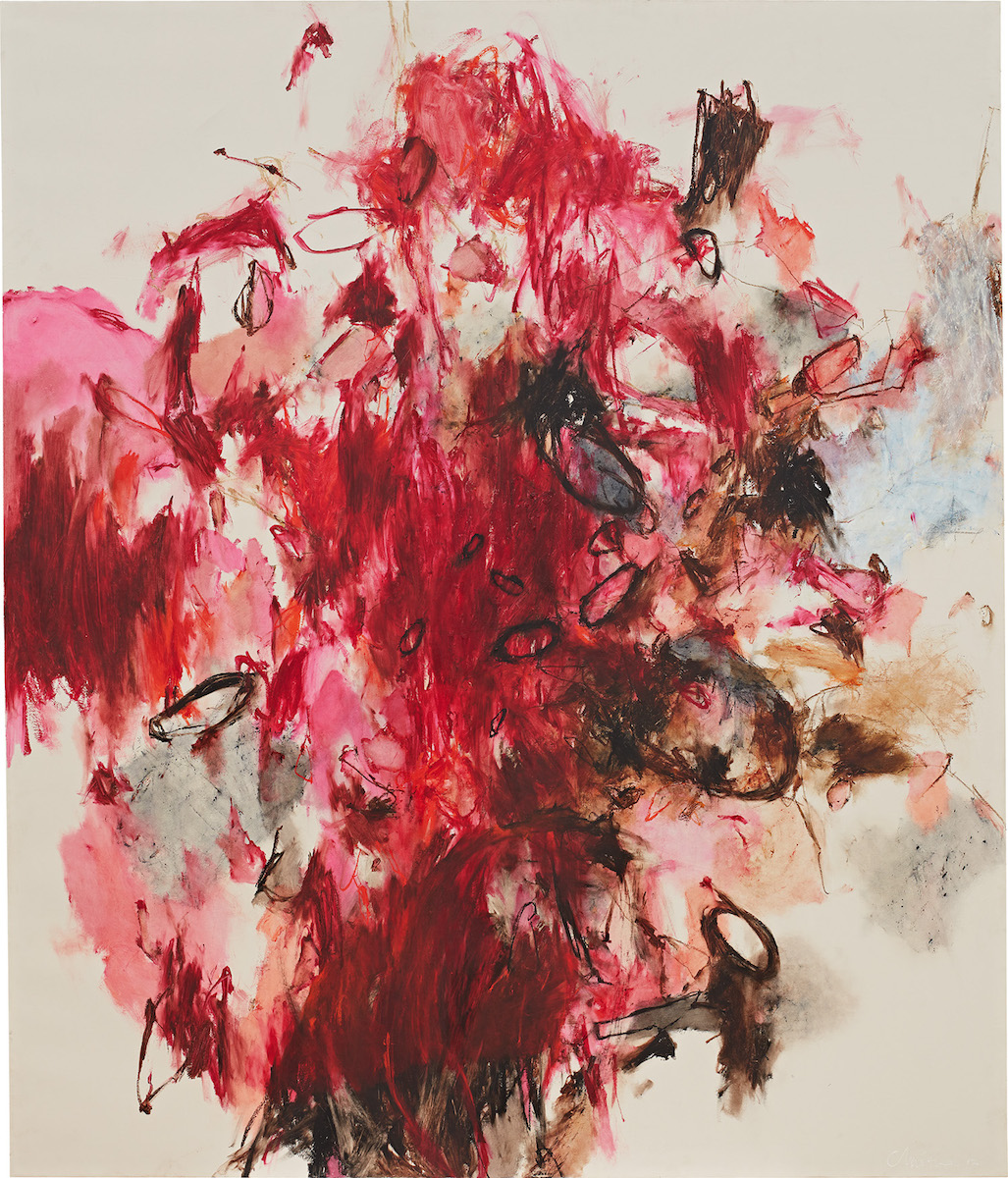 When Black and Red Could Hardly be a Circle, 2013
oil on canvas
202 x 173 cm. (79 1/2 x 68 1/8 in.)
Estimate:
HK$4,000,000 – 6,000,000
€436,000-654,000
$513,000-769,000
Christine Ay Tjoe is one of the leading contemporary Indonesian abstract artists of her generation. 'When Black and Red Could Hardly be a Circle' showcases Ay Tjoe's inimitable style, with an innate understanding of the relationship between line, space and colour. The expressive gestural qualities and frenetic energy immerse the viewer in waves of raw emotion and candid depths of vulnerability. Moreover, it is representative of the artist's seminal year of 2013, when her art evolved definitively from figuration to abstraction.
3)    YAYOI KUSAMA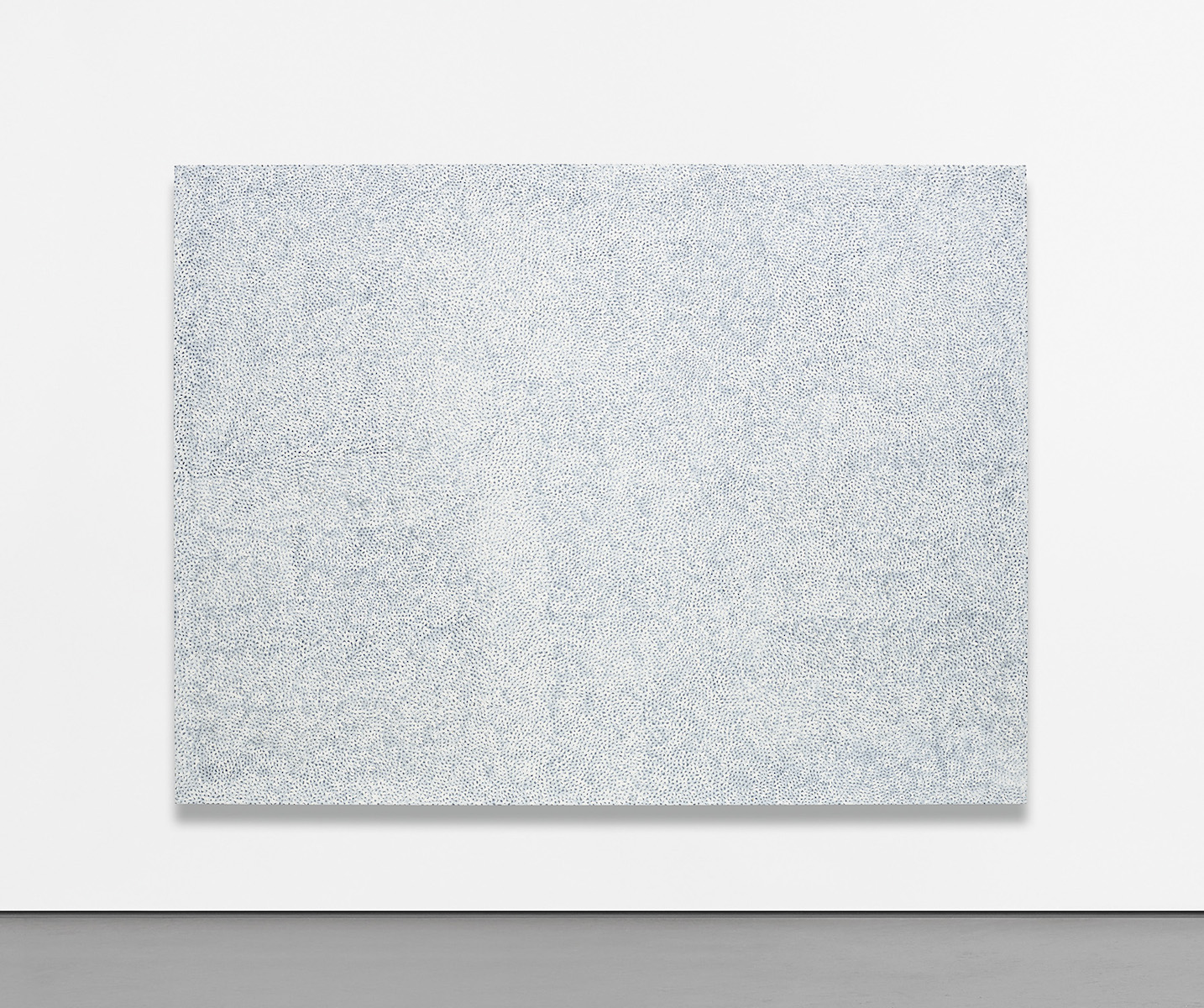 INFINITY-NETS (QRTWE), 2007
acrylic on canvas
194 x 259 cm. (76 3/8 x 101 7/8 in.)
Estimate:
HK$15,000,000 – 20,000,000
€1,630,000-2,180,000
$1,920,000-2,560,000
'INFINITY-NETS (QRTWE)' is an exceptional oeuvre that continues the legacy of Japanese artist Yayoi Kusama's most celebrated and emblematic 'Infinity Nets' series. As highly personalised expressions of the artist's persona, Infinity Net paintings can be regarded as the catalyst that has made Kusama one of the few non-Western artists to achieve international recognition so rapidly in the post-war era. While 'INFINITY-NETS (QRTWE)' recalls the artist's earliest white net paintings, it is equally unique in its sophisticated restaging of Kusama's immediately recognisable motif.
4)    LALAN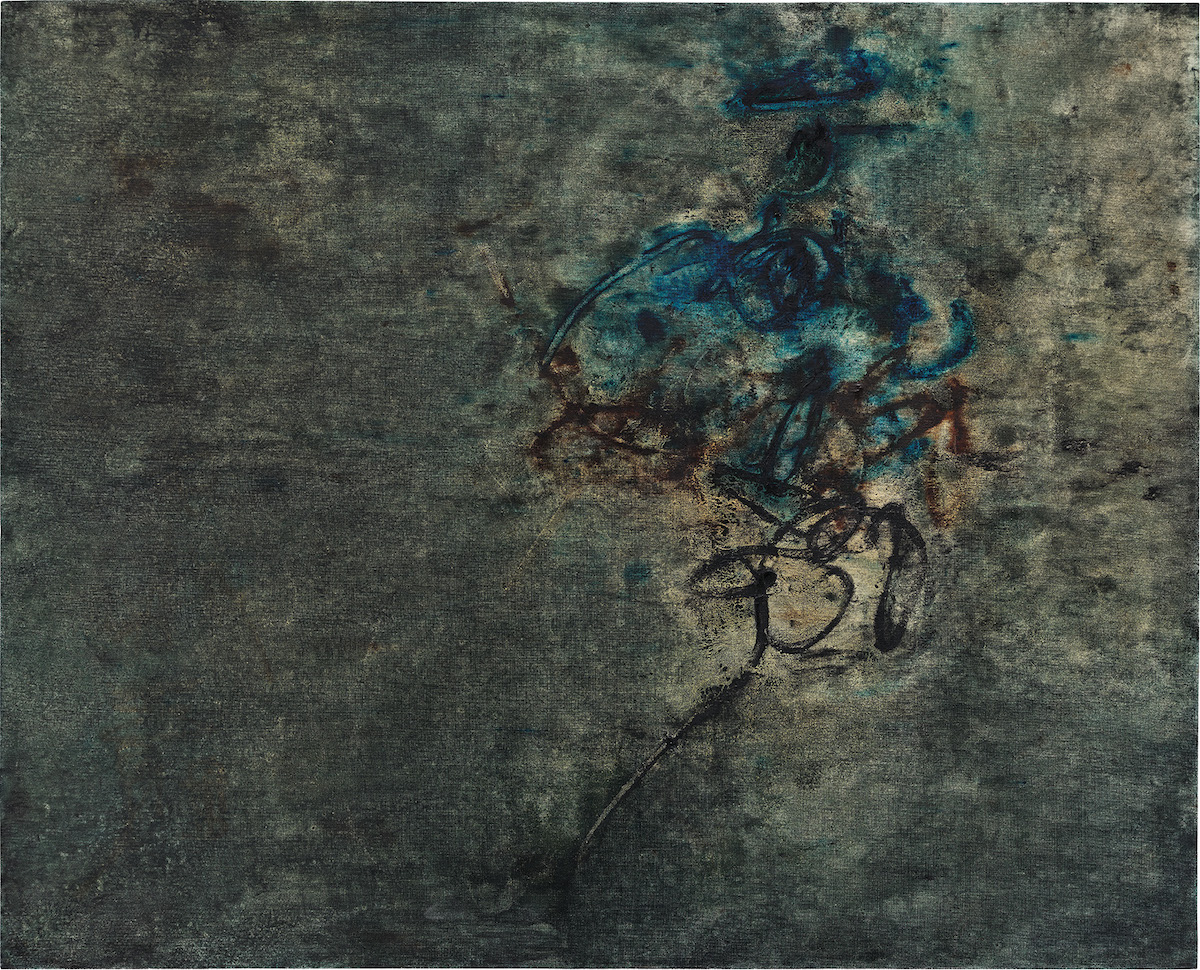 Efter Regnen (After the Rain), 1968
oil on canvas
81 x 100 cm. (31 7/8 x 39 3/8 in.)
Estimate:
HK$750,000 – 1,000,000
€81,900-109,000
$96,200-128,000
Lalan was a multidisciplinary artist uniting ink, calligraphy, painting, music, and dance in her artistic practice. Perhaps obscured by the success of her former husband Zao Wou-Ki, Lalan only received the recognition she deserved decades later— similar to some other post-war female artists, such as Lee Krasner, Joan Mitchell, Elaine de Kooning, who were merely relegated to the title of wives of famous husbands. 'After the Rain', titled in Danish, demonstrates the synthesis of Lalan's music and dance and her infusion of Chinese calligraphic practices, and also presents one of her most enduring motifs: water.
5)    CHEN KE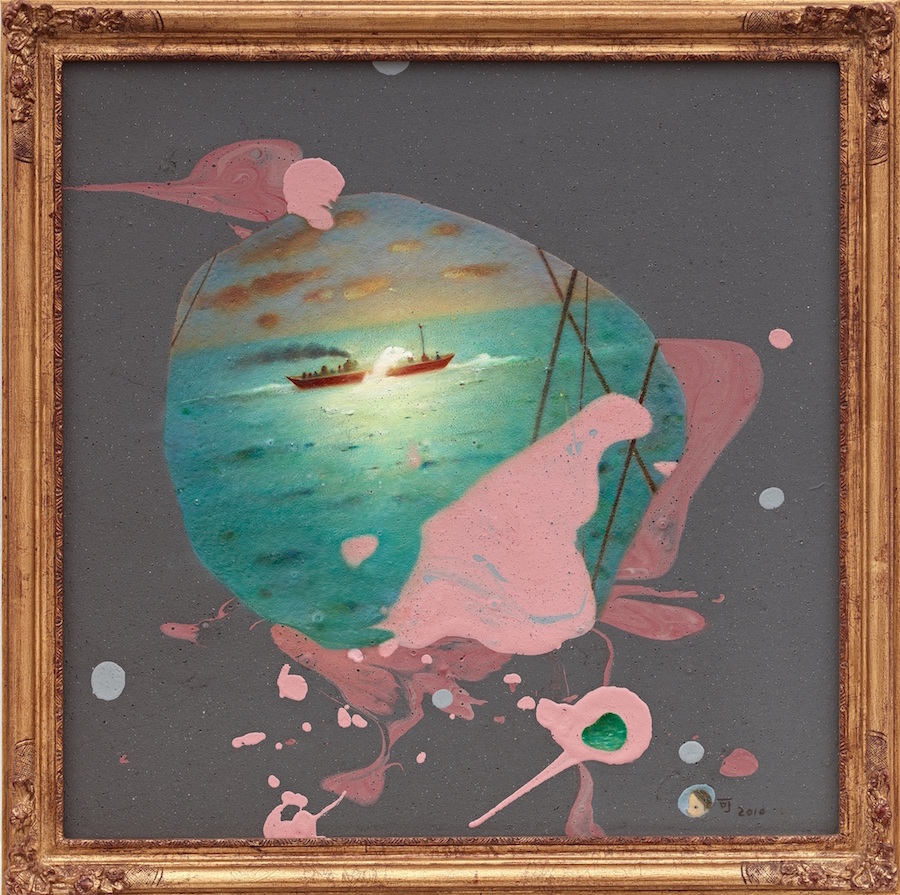 Breaker, 2010
oil on canvas
50 x 50 cm. (19 5/8 x 19 5/8 in.)
Estimate:
HK$100,000 – 150,000
€10,900-16,400
$12,800-19,200
Having gained recognition for her luminous and tender portraits of pink-cheeked childlike subjects, Beijing-based Chen Ke is one of China's most influential young contemporary artists. In 'Breaker', the artist constructs subtle layering of thin, semi-translucent paint layers on top of a dark, pumice-like ground. Meditating on the nature of childhood, it alludes to a mythical space somewhere between fiction and reality, between contradictory ideas of utopia and lost paradise. Her works can be found in the Sigg Collection, Switzerland and Minsheng Art Museum, Shanghai, amongst others.
6)    SONG YIGE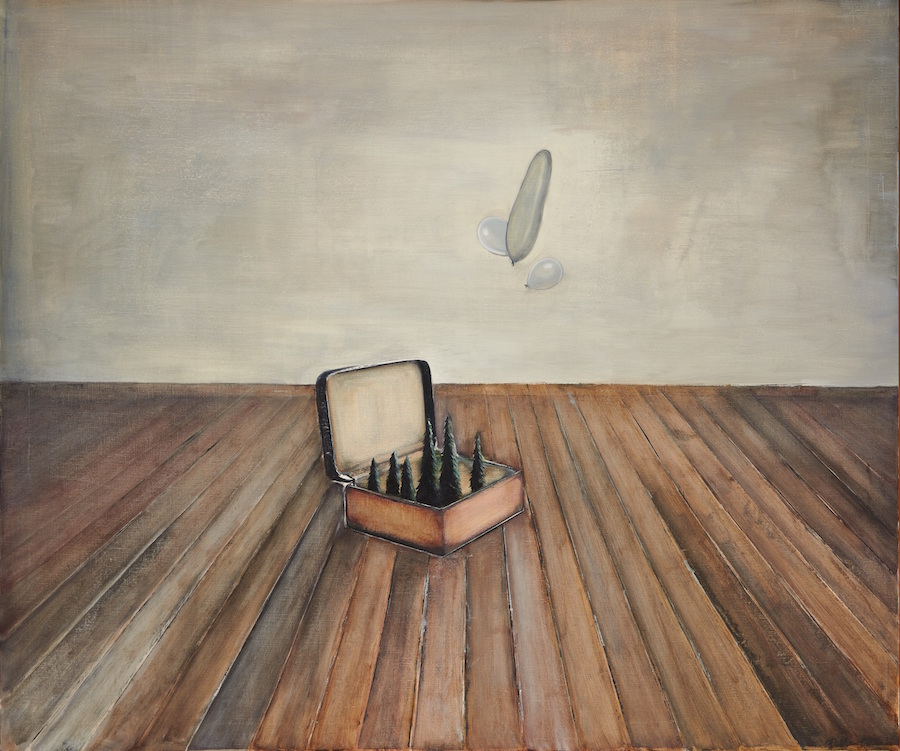 Out of Control, 2011
oil on canvas
128 x 153 cm. (50 3/8 x 60 1/4 in.)
Estimate:
HK$150,000 – 250,000
€16,400-27,300
$19,200-32,100
Deviating from the conventional post-1980s symbolism favoured by her Chinese contemporaries, Beijing-based Song Yige utilises classical representation and figuration to explore the ambiguities of contemporary society. Her works frequently refer to her childhood and to the overwhelming sense of isolation of youth. Mundane objects carrying the presence of lived history are depicted starkly isolated in the centre of surreal compositions. In 'Out of Control', the jarring contrast with the cold, richly painted background points to a sense of darkness and of the unknown enveloping the present.
7)    TALA MADANI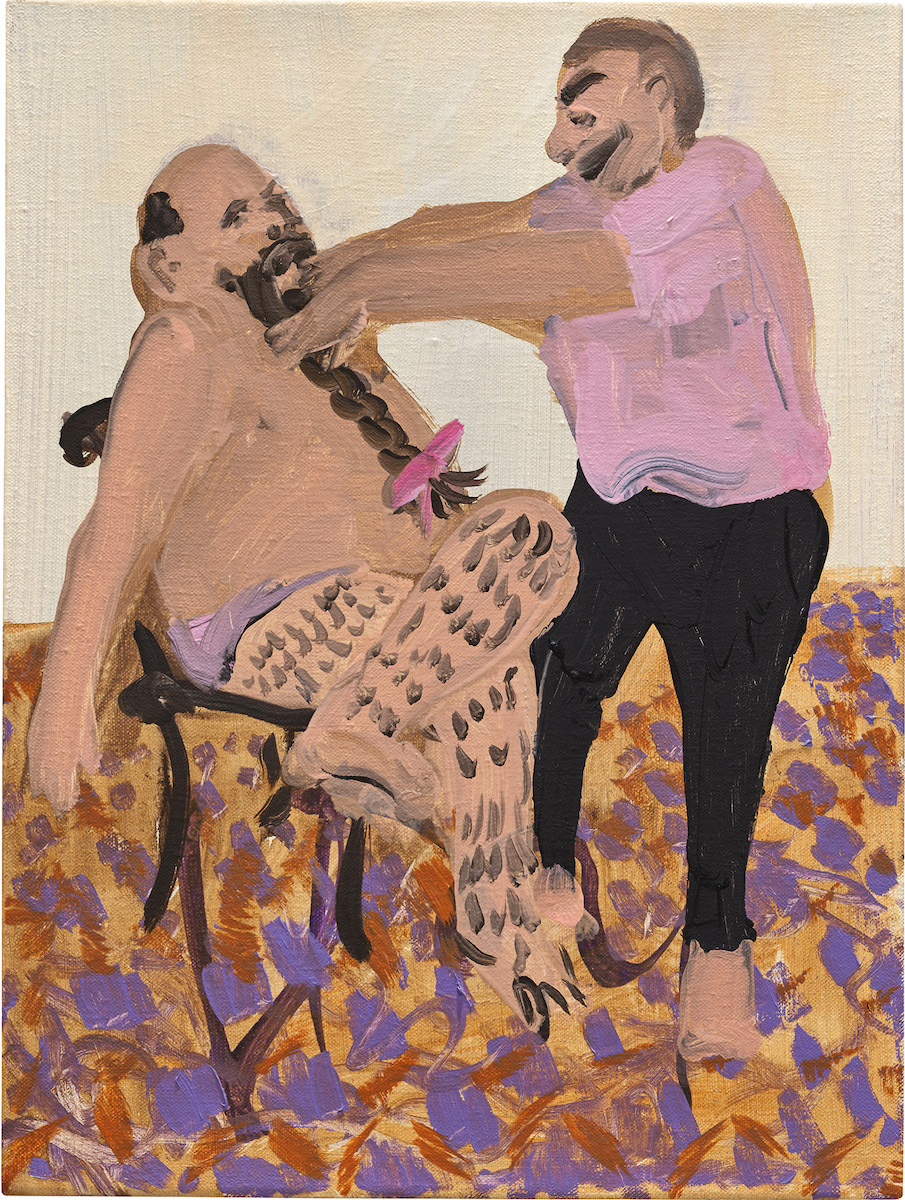 Braided Beard, 2007
oil on canvas
40 x 30 cm. (15 3/4 x 11 3/4 in.)
Estimate:
HK$50,000 – 70,000
€5,500-7,600
$6,400-9,000
Iranian-American painter Tala Madani's provocative and humorous portraits comment on cultural and sexual identity. Against the background of female rituals such as sleepovers, spa treatments, and bake-offs, Madani's paintings imagine the goings on at men-only events. Madani subverts the tropes of stereotypical Middle Eastern masculinity by depicting men at play and leisure through the lens of a distinctly female imagination, such as here in 'Braided Beard'. It stems from her Iranian heritage, where social etiquette strictly limits contact between members of the opposite sex.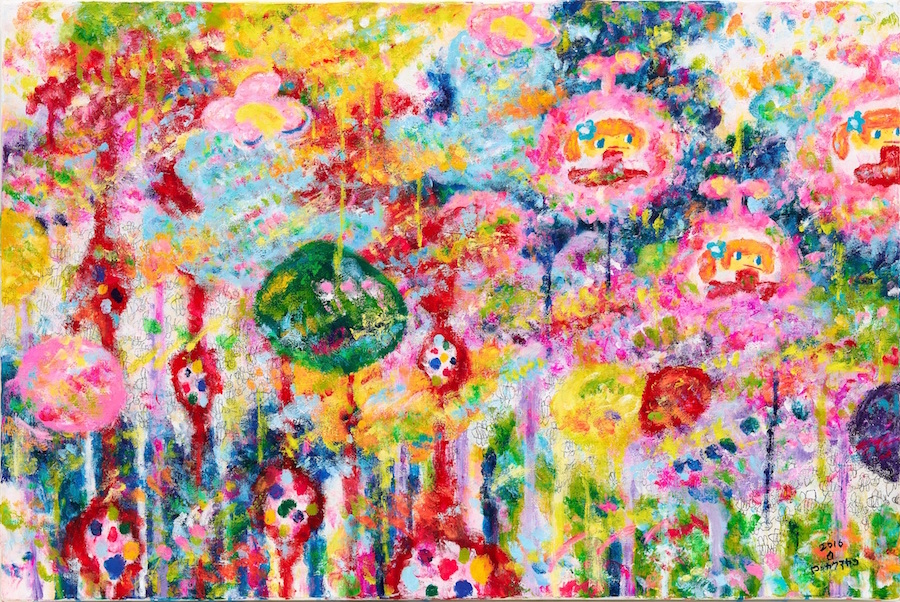 Untitled, 2016
acrylic on canvas
60.2 x 90.3 cm. (23 3/4 x 35 1/2 in.)
Estimate:
HK$200,000 – 300,000
€21,800-32,800
$25,600-38,500
Inspired by the imagination and lack of rules in children's drawings, Japanese artist Ayako Rokkaku's iconic style features mostly female figures with candid facial expressions. 'Untitled' illustrates three figures on vividly coloured backgrounds, littered with flowers, and rainbow-like smears— composing a colourful and happy dream world. Her unique technique, directly applying acrylic paint to canvas with bare fingers and hands, is easily recognizable on this current painting. "Reality and feelings can find expression in paint in a way that is not possible in words," says Ayako Rokkaku.
9)    YAYOI KUSAMA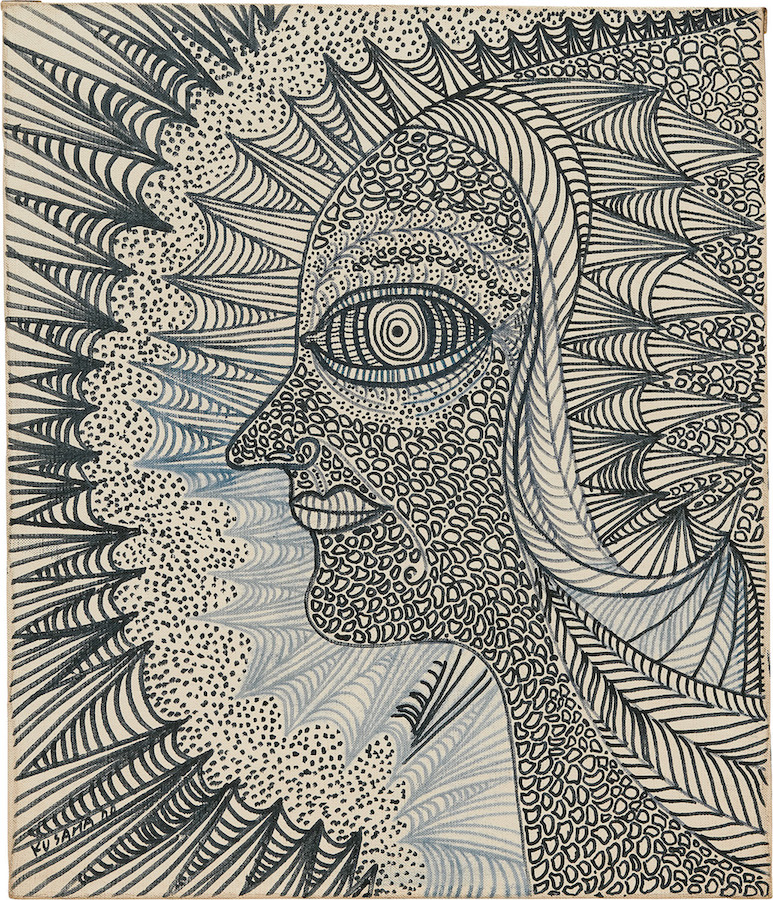 Untitled, 1970
marker pen on canvas
53 x 45.5 cm. (20 7/8 x 17 7/8 in.)
Estimate:
HK$1,200,000 – 2,200,000
€131,000-240,000
$154,000-282,000
This present lot 'Untitled (1970)' is a triumphant self-portrait executed during Yayoi Kusama's time in Japan, after almost 14 years in New York. 'Untitled (1970)' captures an artist working at her peak. Kusama uses the mesmerising maze of dots and lines to portray herself as a radiant goddess, constructing a powerful identity.