Later this month on 26, Phillips will kick off the fall season in Hong Kong by presenting a selection of works by the world's most sought-after artists. From Richard Prince to Yayoi Kusama, from Jean-Michel Basquiat to Yoshitomo Nara, a number of star lots from the 20th Century & Contemporary Art & Design Evening Sale are leading the sale which is expected to realise more than HKD 120 million. Design works will include awe-inspiring pieces by Finn Juhl, Hans J. Wegner and Gio Ponti.
Larry's List recommends the top 10 highlight from this auction to our collectors.
1)    RICHARD PRINCE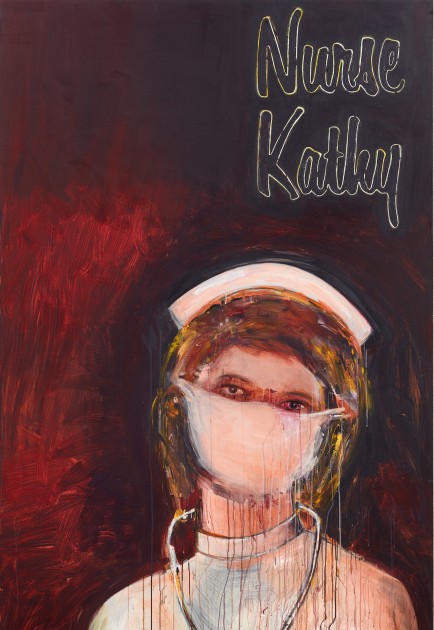 Nurse Kathy, 2006-2008
inkjet and acrylic on canvas
213.7 x 137.1 cm
Estimate:
HK$31,000,000 – 41,000,000
€3,420,000-4,530,000
$3,970,000-5,260,000
Undoubtedly a highly influential figure of American contemporary art, if not a global icon of post-modern art, Richard Prince is represented in the sale with 'Nurse Kathy', from the 'Nurse' series which surveys the clichés and fetishisation of womanhood. Showing an eerie and deliberately graphic figure of a nurse concealed by a surgical mask, Prince reveals, through the painting, the stereotypical views of femininity as mere fantasy by removing any sexual notions and instead imbuing the scene with malevolence.
2)    JEAN-MICHEL BASQUIAT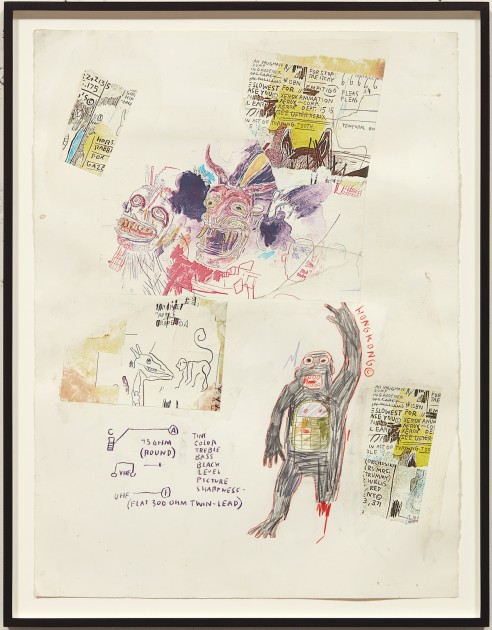 Hong Kong, 1985
graphite, coloured pencil and Xerox collage on paper
76.2 x 57 cm
Estimate:
HK$3,900,000 – 5,500,000
€430,000-607,000
$500,000-705,000
From a dragon's head, a waving 'King Kong', to grotesque face mask of sorts and the top half of a horse's head, Basquiat reinterprets the symbols and characters that populate the Hong Kong in his most distinct style and bright colours. This is an extremely rare piece featuring the Jean-Michel Basquiat's memories of an exciting and exotic new city, as well as the artist's youth and vitality.
3)    YOSHITOMO NARA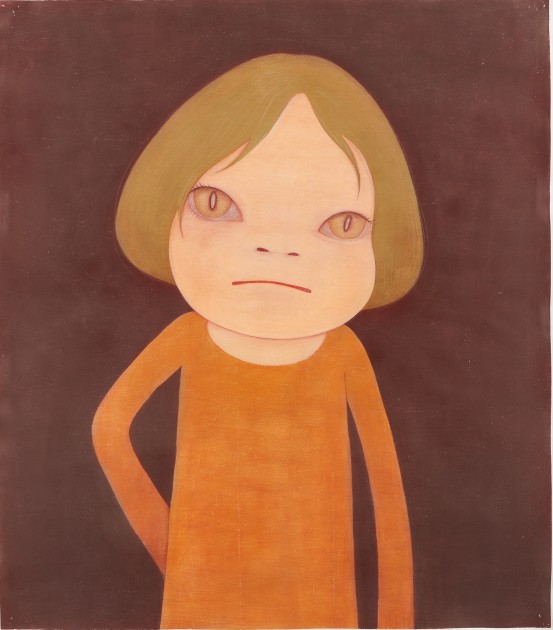 Not Now, 2003
pastel, acrylic and coloured pencil on paper
134.6 x 119.4 cm
Estimate:
HK$6,000,000 – 8,000,000
€662,000-883,000
$769,000-1,030,000
In contrast to the quick reactive expressions of Nara's earlier works, the protagonist of 'Not Now' is emotionally detached from her surroundings, demonstrating a position of resolution and control. Nuances in the figure's composure and emotive capabilities represent a recent shift in the artist's attention towards more spiritual and philosophical considerations and more contemplative sensibilities in Nara's work.
4)    YAYOI KUSAMA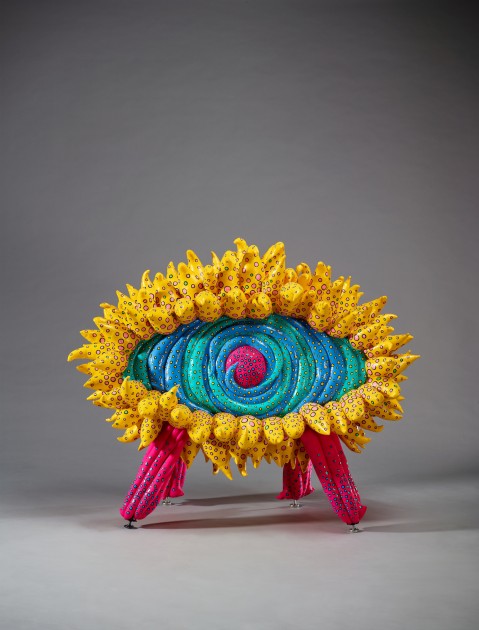 Abode of Heart, 2012
mixed media
100 x 130 x 70 cm
Estimate:
HK$2,800,000 – 3,800,000
€309,000-419,000
$359,000-487,000
Kusama's works have made their way into public and private collections around the world, from MoMA to The Broad and the newly opened How Art Museum in Shanghai, while the artist has also opened her own Yayoi Kusama Museum this year. 'Abode of Heart' celebrates Kusama's polka dots drawings, vivid colours, demonstrating Yayoi Kusama's creativity and echoing the wonderland in her dreams.
5)    ROY LICHTENTEIN


Landscape with Poet (Study), 1995
tape, painted paper, and printed paper on board
213.4 x 76.2 cm
Estimate:
HK$4,500,000 – 6,500,000
€497,000-717,000
$577,000-833,000
A product of a half-century long love affair with classical Chinese art, Roy Lichtenstein's Landscapes in Chinese Style is one of the famed Pop-Art pioneer's most nuanced, analytical and breathtaking series of productions. The study is important as it is one of the earliest known vertical format works of its kind that the artist created.
6)    GEORGE CONDO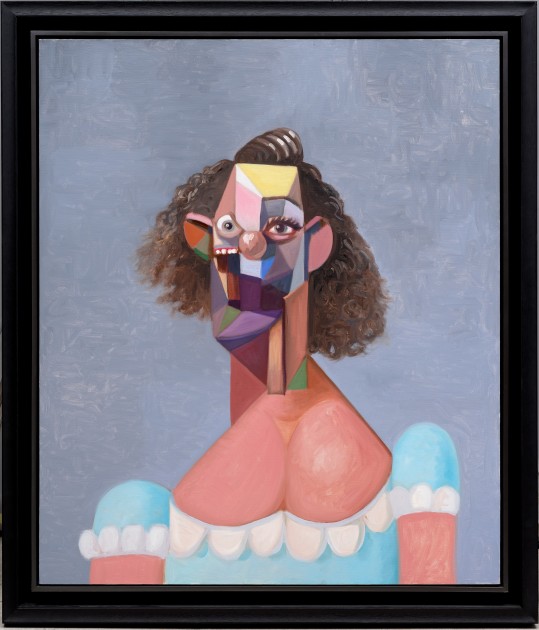 Young Girl with Blue Dress, 2007
oil on canvas
127 x 106.5 cm
Estimate:
HK$3,000,000 – 5,000,000
€331,000-552,000
$385,000-641,000
Get the Condo for your condo. 'Young Girl with Blue Dress' showcases one of George Condo's unmistakable muses and is filled with the unique energy that informs Condo's greatest paintings. In this work, Condo has used Old Master techniques and subject matter to create an image that is at once timeless and contemporary.
7)    GEORG BASELITZ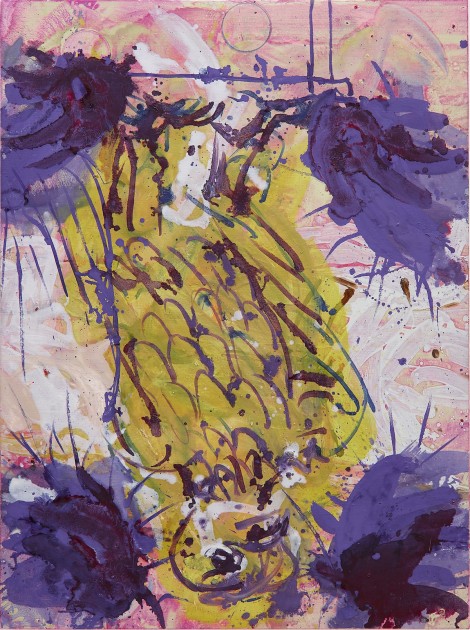 Hinterglasvogel, 1997
oil on canvas
130 x 97 cm
Estimate:
HK$2,000,000 – 3,000,000
€221,000-331,000
$256,000-385,000
'Hinterglasvogel' is a paradigm of the artist's emblematic inversion motif – a pure abstract painting or a bird perching on a handrail? The canvas can look apparently different if rotated by 180 degrees. With the inverted motif serving as his response to post-war German art, this semi-abstract figurative painting conveys Baselitz's key belief that one's perception can be dramatically altered through representation.
8)    CECILY BROWN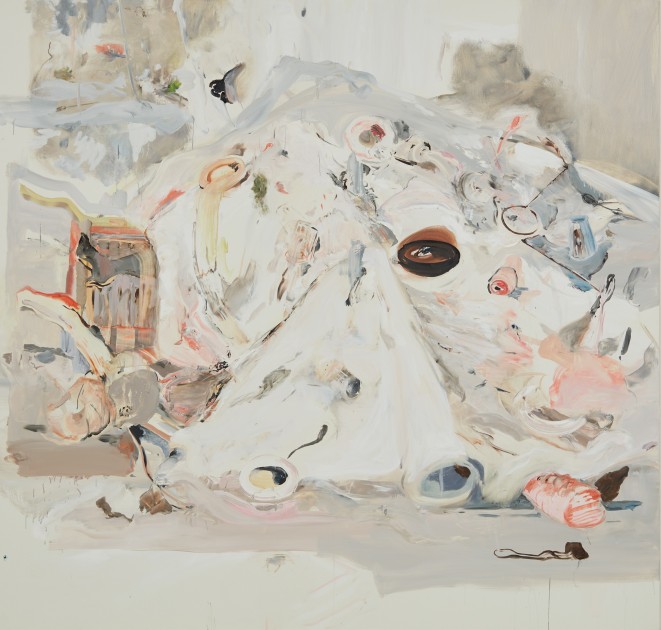 The End, 2006
oil on linen
215.9 x 226.1 cm
Estimate:
HK$4,000,000 – 6,000,000
€441,000-662,000
$513,000-769,000
'The End' comes from a crucial period in Brown's career when she began to draw influence from the formal genres of Old Master paintings, particularly landscapes, still-life and interior scenes. Its importance is attested to by its immediate inclusion in Brown's major solo retrospective at the Museum of Fine Art Boston in late 2006. Upholding widespread critical acclaim through the maintenance of her iconic aesthetic, Brown's paintings today sit in international institutional collections including the Solomon R. Guggenheim Museum, New York; the Whitney Museum of American Art, New York; and Tate, London.
9)    ADRIAN GHENIE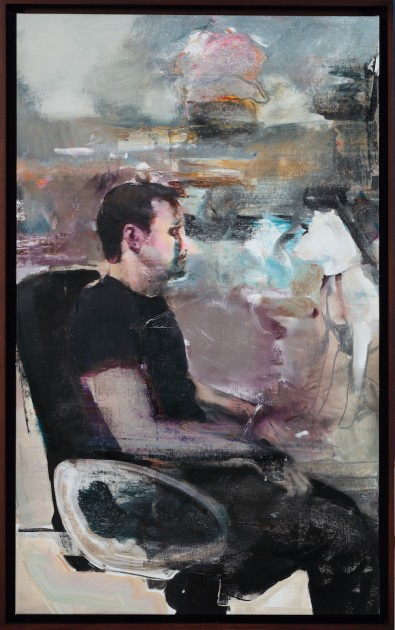 Self-Portrait as a Monkey, 2010
oil on canvas
145 x 84 cm
Estimate:
HK$6,000,000 – 8,000,000
€662,000-883,000
$769,000-1,030,000
'Self-Portrait as a Monkey' is important in Ghenie's oeuvre and stands as a crucial precursor to his seminal 2015 Venice Biennale exhibition, 'Darwin's Room', which interrogated the scientist's multivalent legacy. Galvanised by this critically acclaimed show and reflected in the acquisition of paintings by numerous international public institutions in recent years, Ghenie has become inarguably one of the most important and coveted painters of his generation.
10)    HANS J. WEGNER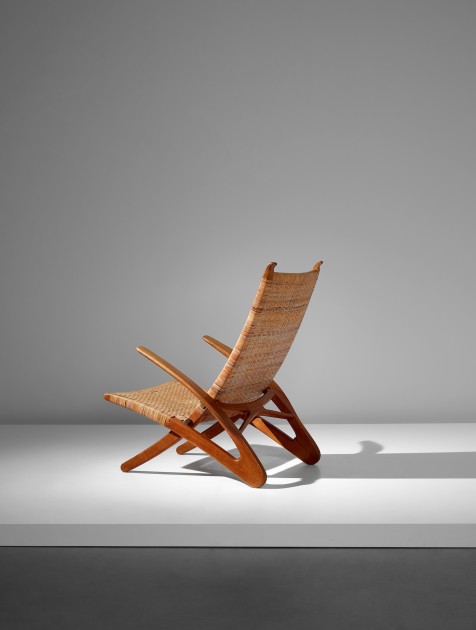 Rare 'Dolphin' folding armchair, model no. JH510, designed 1950, produced late 1950s
oak, cane, brass
98 x 72.7 x 90.3 cm
Estimate:
HK$750,000 – 1,200,000
€82,800-132,000
$96,200-154,000
The architect Hans J. Wegner infused a deep sense of playfulness into his 'Dolphin' lounge chair, which conveys the movement and energy, specifically the lyricism and speed of a dolphin in the ocean — culminating in the sculptural carved cantilevered armrests that boldly project forward motion. 'Dolphin' is a poetic example of modernist beauty and superb craftsmanship and demonstrates the designer's deeply felt humanist interest in furniture's adaptability to human forms and needs.