Zao Wou-Ki, Zeng Fanzhi, Marc Chagall, Yayoi Kusama, Andy Warhol, Xu Lei, Wang Guangle… Christie's Shanghai is starting strong with two sales dedicated to artworks by Asian and Western contemporary masters and emerging artists: FIRST OPEN | Shanghai and 20th Century & Contemporary Art on 24 September.
The FIRST OPEN series provides a unique platform to promote emerging Chinese artists. This season, it offers collectors around 80 artworks featuring Asian and Western contemporary artists as well as a selection of Asian contemporary designers.
Meanwhile, the evening auction of 20th Century & Contemporary Art features around 40 masterpieces from internationally renowned artists.
Larry's List highlights 10 artworks from these auctions. And what's more: do not miss which collectors are already collecting works of these artists!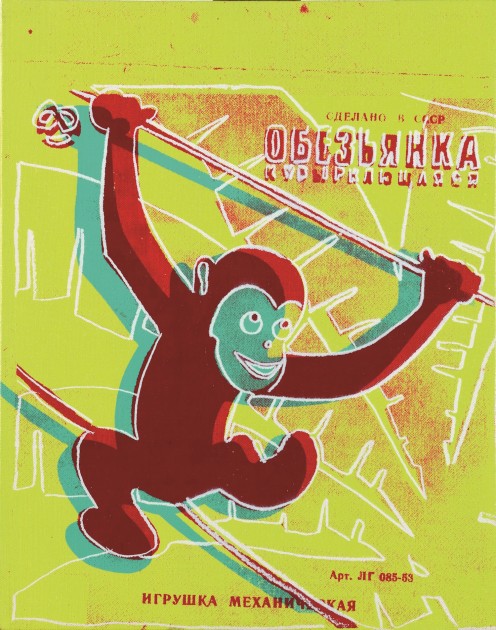 1)  ANDY WARHOL
Collectors of Andy Warhol: Frieder Burda, Michael Chow, Steve Wynn (data provided by Larry's List)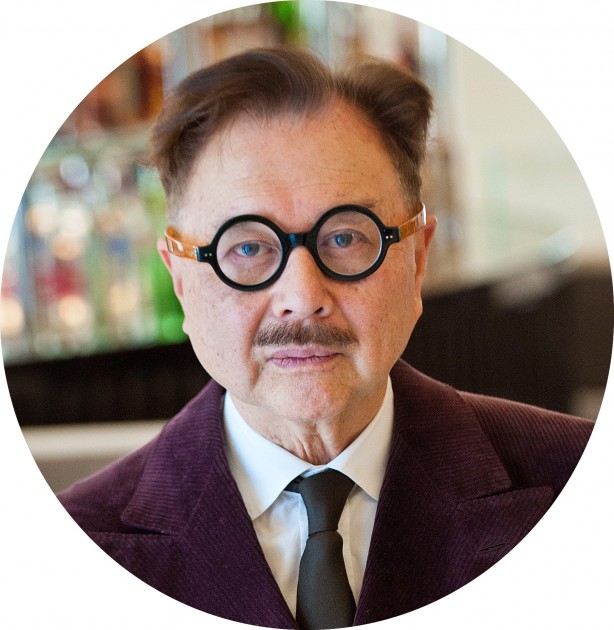 Michael Chow was a friend of Andy Warhol:
"Andy's worries were that the art of classical painting was getting lost. But it's sort of ironic that he almost singlehandedly destroyed that kind of painting! When he was a kid he always did transfers, and later on he broke through with the silk screen, part of a Duchamp way of thinking."¹
Resplendent in banana yellow, Andy Warhol's Monkey (1983) glows with the spirit of twentieth-century childhood— a vision of the innocence of youth seen through the prism of contemporary media. Warhol brings his image— the Russian packaging for a tin monkey figurine— to life with the striking and deceptively simple use of colour he had mastered: silkscreened in a rich red against the glorious yellow of the work's background, with the shadows rendered in a dark teal, Warhol's palette draws out the elegant, graphical simplicity of the original design, perfectly teasing out the way in which a few choice outlines can conjure up a world of imagination.
"Monkey (Toy Painting) (1983)"
Estimate: RMB 1,100,000 – 1,300,000 / US$ 150,000 – 200,000
Sale: 20th Century & Contemporary Art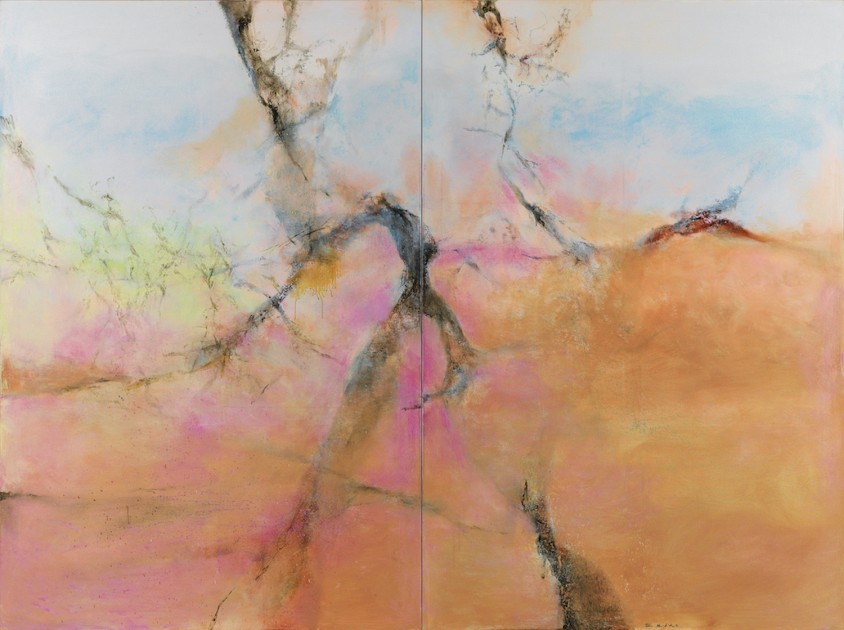 2)  ZAO WOU-KI
Collectors of Zao Wou-Ki: Wang Wei and Liu Yiqian, Zheng Hao, Mingzhe Lin (data provided by Larry's List)
A collection of six works by Zao Wou-Ki created between 1950 and 2008 will lead the Shanghai autumn sale. The compositions span different mediums ranging from oil paintings to works on paper and epitomize more than half a century of Zao's artistic journey. The top lot among this collection is 24.12.2002 – Diptyque II, which was consigned from a European collection and has never before been on the market. Completed on Christmas Eve, the 24th of December, this 24.12.2002 – Diptyque is one of the finest testaments to Zao Wou-Ki's abilities during this period. Measuring 1.95 meters tall and 2.60 meters wide, this grand diptych will be on public view both in Beijing and Shanghai.
"24.12.2002 – Diptyque (2002)"
Estimate: RMB 12,000,000 – 22,000,000 / US$ 1,900,000 – 3,000,000
Sale: 20th Century & Contemporary Art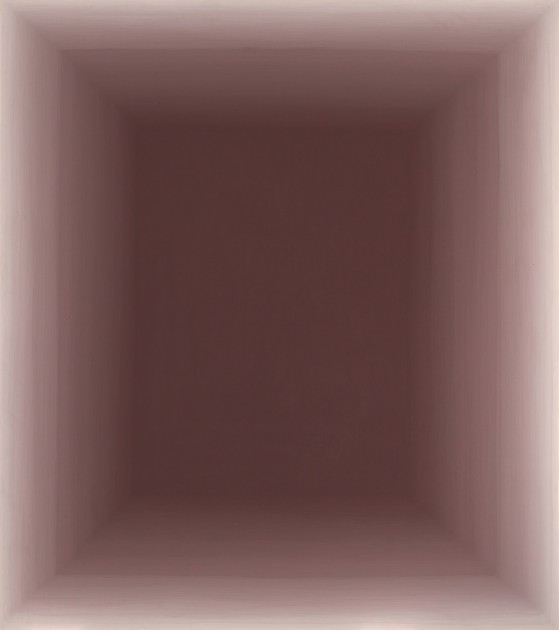 3)  WANG GUANGLE
Collectors of Wang Guangle: Yang Bin, Judith Neilson, Don and Mera Rubell (data provided by Larry's List)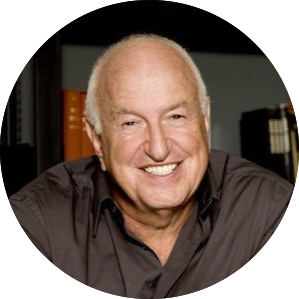 Don and Mera Rubell, who set up an exhibition focusing on the younger generation of artists in China in 2014, commented:
"Wang Guangle leads the whole abstract group…"²
Time plays a critical role in the work of Wang Guangle, whose works require painstaking amounts of patience and labor to produce. Whether painting tiny irregular terrazzo tiles, or layering the innumerable coatings of paint that were required to produce this work from his 'Time Series', Wang's works explore the phenomenological effects of time, and how we experience it in relation to light. His works are both visual experiences in their own right, as well as a documentation of the time and energy invested in making the work, highlighting the significance of process in his art.
"090917 (2009)"
Estimate: RMB 1,000,000 – 1,500,000 / US$ 160,000 – 230,000
Sale: 20th Century & Contemporary Art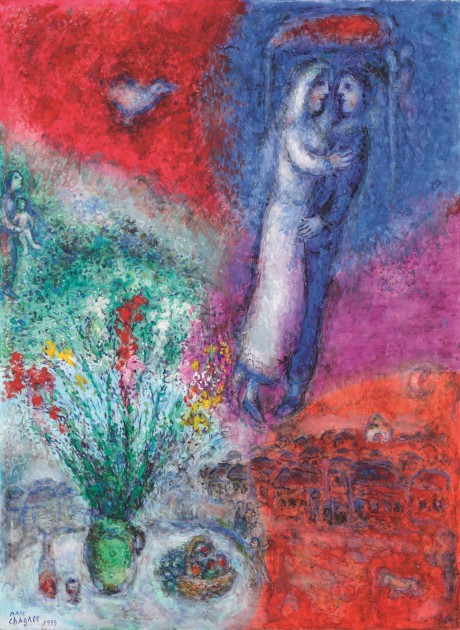 4)  MARC CHAGALL
Collectors of Marc Chagall: Juan Antonio Perez Simon, Maja Oeri, Norah and Norman Stone (data provided by Larry's List)
Painted in 1979, Les Mariés contains many of Marc Chagall's most famous motifs and themes, with flowers, romance and an overarching dreamlike atmosphere brought vividly to life by a range of fantastical elements that populate the composition. Created during a period of intense reflection and retrospection for the artist, Les Mariés demonstrates the central importance of memory in Chagall's work, particularly as he entered the later years of his life and began to look back on his time through rose-tinted glasses of retrospection.
"Les Mariés (1979)"
Estimate: RMB 17,000,000 – 24,000,000 / US$ 2,500,000 – 3,500,000
Sale: 20th Century & Contemporary Art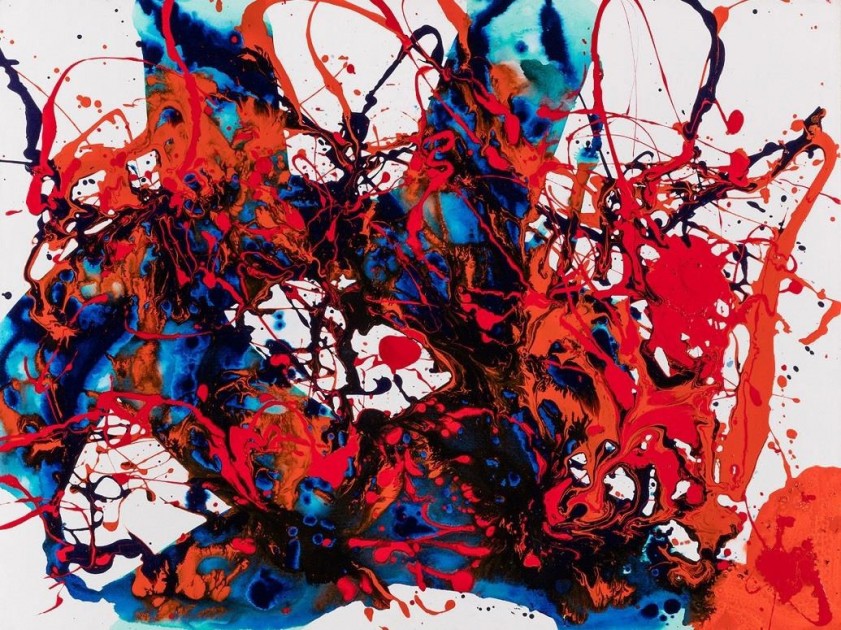 5)  SAM FRANCIS
Collectors of Sam Francis: Helga de Alvear, Heiner Pietzsch, Grazyna Kulczyk (data provided by Larry's List)
Painted during the final year of his life, Sam Francis's Untitled (SF94-020) (1994) is an inspirational display of artistic spirit, a ferocious demonstration of the will to create brought to life with the artist's typically masterful handling of colour. Against a blank white field, Francis puts the two primary colours— oceanic blue and blood-red in counterpoint, embodying them with form in a conflict between order and disorder, structure and chaos. The result is a composition of high emotional pitch, the vivacity of Francis' colours combining to bring the white of his paper itself to a point of brilliant incandescence.
"Untitled (SF94-020) (1994)"
Estimate: RMB 850,000 – 1,200,000 / US$ 120,000 – 180,000
Sale: 20th Century & Contemporary Art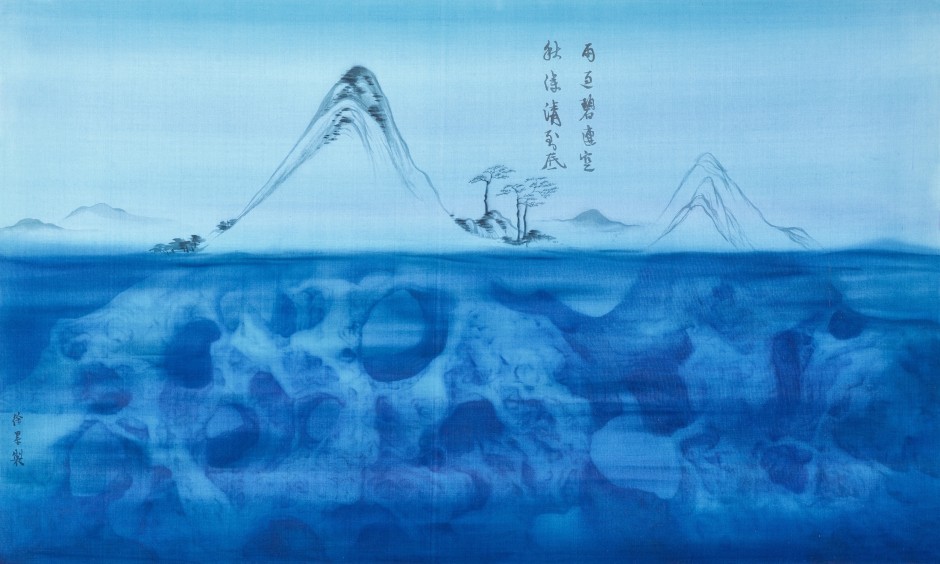 6)  XU LEI
Collectors of Xu Lei: Wilbur L. Ross, Liu Lan (data provided by Larry's List)
Working with ink on silk, Xu Lei's dream-like compositions pay tribute to the gongbi (fine line) style of classical Chinese painting. In his imagined worlds, submerged scholar's rocks and floating mountains are rendered in soft shades of azure blue— a favorite color of the artist. Xu's works are magically surreal, combining the methods and visual elements of classical painting with a distinctly contemporary aesthetic and humor, subtly blurring the boundaries between tradition and modernity.
"Green Mountain After Rain (2014)"
Estimate: RMB 2,000,000 – 3,000,000 / US$ 310,000 – 450,000
Sale: 20th Century & Contemporary Art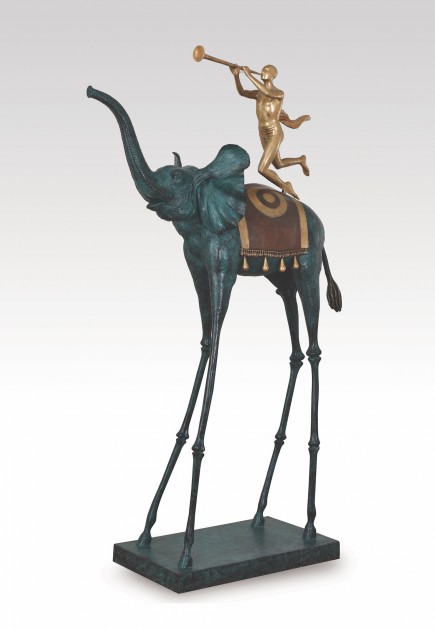 7)  SALVADOR DALÍ
Collectors of Salvador Dalí: Helga de Alvear, Rosa de La Cruz, George Wong (data provided by Larry's List)
Eléphant du triomphe, is one of the most iconic and instantly recognizable subjects by Salvador Dalí— one of the most prominent proponents of Surrealism. This large-scale sculpture is one of only eight to have been cast in this size. In the eyes of Dalí, the elephant is an iconoclastic symbol of the future and one of his favorite images. It is often depicted on top of spider-like legs, emphasizing the contrast between robustness and fragility, much like the contrast between the past and modernity.
"Eléphant du triomphe (1975)"
Estimate: RMB 2,800,000 – 4,000,000 / US$ 400,000 – 600,000
Sale: 20th Century & Contemporary Art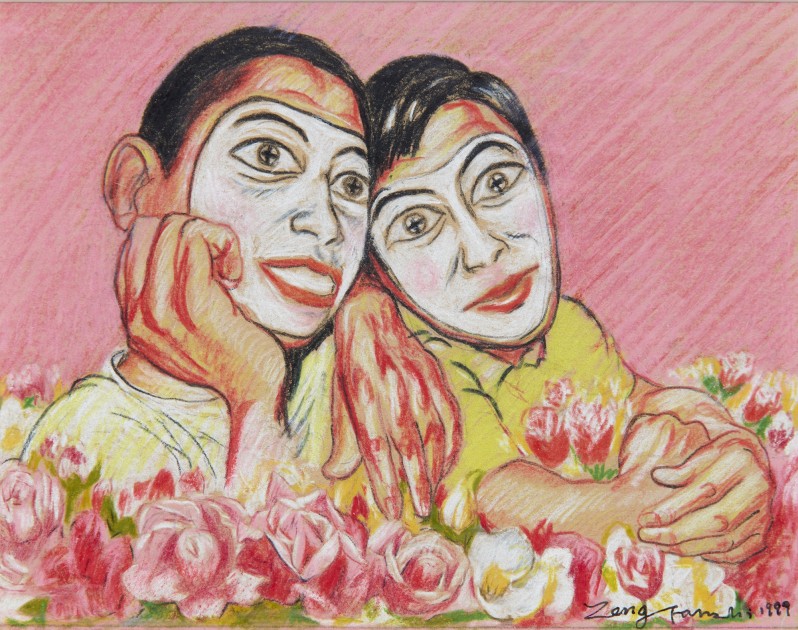 8)  ZENG FANZHI
Collectors of Zeng Fanzhi: Wang Wei and Liu Yiqian, François Pinault, Sylvain Levy, Budi Tek, Jens Faurschou (data provided by Larry's List)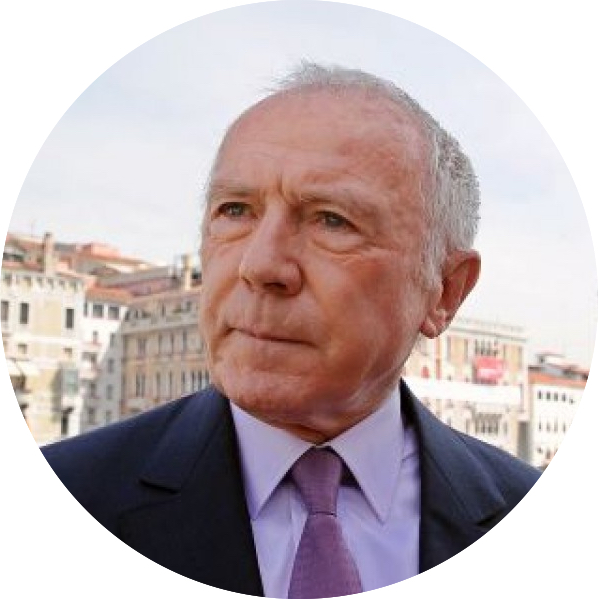 François Pinault, owner of one of the artist's favorite paintings, a portrait of Lucian Freud, and displaying it in his Belgravia home in London, once said:
"Whether drawing from abstract or figurative paths, whether resounding in expressionist or meditative tones, works by Zeng Fanzhi derive their exceptional power from a permanent tension between memory and the present, between a strong historical legacy and a contemporary reality that is constantly shifting."³
Dating from 1999, this Untitled (Mask Series) work continues using the brilliant colours that characterize earlier works from the same series, while the use of watercolour pencils gives the work a unique and unaffected sincerity. In producing Untitled, Zeng chose not to use water for mixing or blending with his coloured pencils, but instead, retained the unique chalky quality of their lines and strokes. This seemingly unsophisticated simplicity continues in Zeng's handling of the background with parallel hatch marks. Watercolour pencils cannot cover a surface like oils; applied lightly, they produce sketchy lines, while in heavier applications they take on more of the density and strength of oils, and only repeated applications produce the sense of layering and rich colour seen here.
"Untitled (Mask Series) (1999)"
Estimate: RMB 380,000 – 580,000 / US$ 57,000 – 87,000
Sale: FIRST OPEN | Shanghai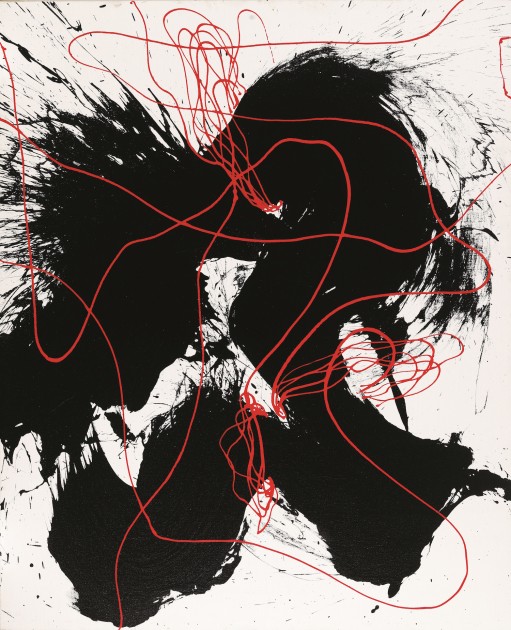 9)  QIN FENG
Collectors of Qin Feng: Frederick L. Gordon (data provided by Larry's List)
Through powerful and uninhibited brushwork, Qin Feng's work manifests a physical energy and persuasively evinces the vitality of calligraphy, as the gestural brushstrokes invite the viewer's eye to roam freely across the pictorial plane, encouraging contemplation on the beauty of flowing, calligraphic strokes of black ink. For Qin Feng, the red line "connects the past and the present, the East and the West, memory and history, so that it inherits and preserves what is the most genuine in culture."
"Series Desire Scenery 030 (2014)"
Estimate: RMB 280,000 – 380,000 / US$ 42,000 – 57,000
Sale: FIRST OPEN | Shanghai
Contemporary Scholar's Studio, the curated section in the FIRST OPEN sale, features 30 diverse works of art ranging from furniture, ink paintings, photography, white jade carvings, Yixing clay teapots, bonsai trees, to handwoven bamboo vases. The selection of works is brought together under the concept of the modern-day scholar's studio, with each object speaking to a modern lifestyle, which embodies taste and refinement.
"Pinus Thunbergii Parl"
Estimate: RMB 500,000 – 700,000 / US$ 75,000 – 106,000
Sale: FIRST OPEN | Shanghai
---